DISCLAIMER: This content is provided for informational purposes only and is not intended as legal, accounting, tax, HR, or other professional advice. You are responsible for your own compliance with laws and regulations. You should contact your attorney or other relevant advisor for advice specific to your circumstances.
So, you've decided to open up a restaurant… now what? The good news is, you have a lot of company. More and more new restaurants are opening up every year, with 6,500 restaurants opening in the United States in September of 2020 alone. During a pandemic, no less. The good news is, this means you aren't going about opening your new restaurant alone. Thanks to all of the restaurateurs that have worked hard to pave the path to success for you, opening a restaurant is more achievable than ever before.
Let's take a look at everything you need to know before opening your restaurant and see the foolproof eight week program leading up to opening day.
The information discussed in this article is provided for informational purposes only and should not be relied upon as financial or legal advice. For financial or legal advice, you should consult a professional financial advisor or your attorney.
What Should I Know Before Opening a Restaurant?
Before you scroll any further let's make it clear that the first thing everyone needs to know before they decide to open a restaurant is that it is a lot of work. Whether you are going at it alone or you have partners to help carry the load of this process, the process of designing and opening a restaurant is a full time job in and of itself — and that is before the restaurant even opens to the public and the real work begins.
Before you quit your job and go all in on opening the restaurant of your dreams, here is everything you need to know:
Before anything else, create your restaurant business plan with considerations for everything from the theme of your restaurant to restaurant financing, location, and staffing.

Determine your ideal customer and research their demographic so you can determine the best ways to attract and retain loyal customers.

Think about how you are going to staff your restaurant. Are you going to hire strangers or do you have preexisting relationships with your prospective hires?

Secure financing for your restaurant. Will you be applying for a business loan for your restaurant? If so, you'd be wise to start the process sooner rather than later as finding enough financing can take months for new restaurants.

Take stock of the competition. Are there other restaurants in your area that have a similar menu or theme as yours? That doesn't necessarily need to deter you from opening your spot, but it is always a good idea to take a temperature check of the local industry before opening day to see how your establishment fits into the local culinary environment.

Create your menu, including a menu engineering analysis. At this phase of the process you don't need to have every single one of your menu items picked out and all ingredients accounted for, but you do need to have a solid idea of what your restaurant will be offering customers. Sure it can be tweaked when necessary, but your menu isn't something that can be completely changed on a moment's notice. Therefore it's essential that you take the time to thoroughly plan out your menu before opening.

Be specific about your restaurant concept. When you are pitching your restaurant to financiers and during the restaurant marketing process, your concept will play a big role in attracting the right kind of attention to your establishment.

Finally, you'll need to choose the perfect location for your restaurant. For nearly every restaurant the location is just as important as the menu. To help you get started on finding the best place to put down your restaurant roots, here's Restaurant Real Estate: How to Find a Site for Your Restaurant.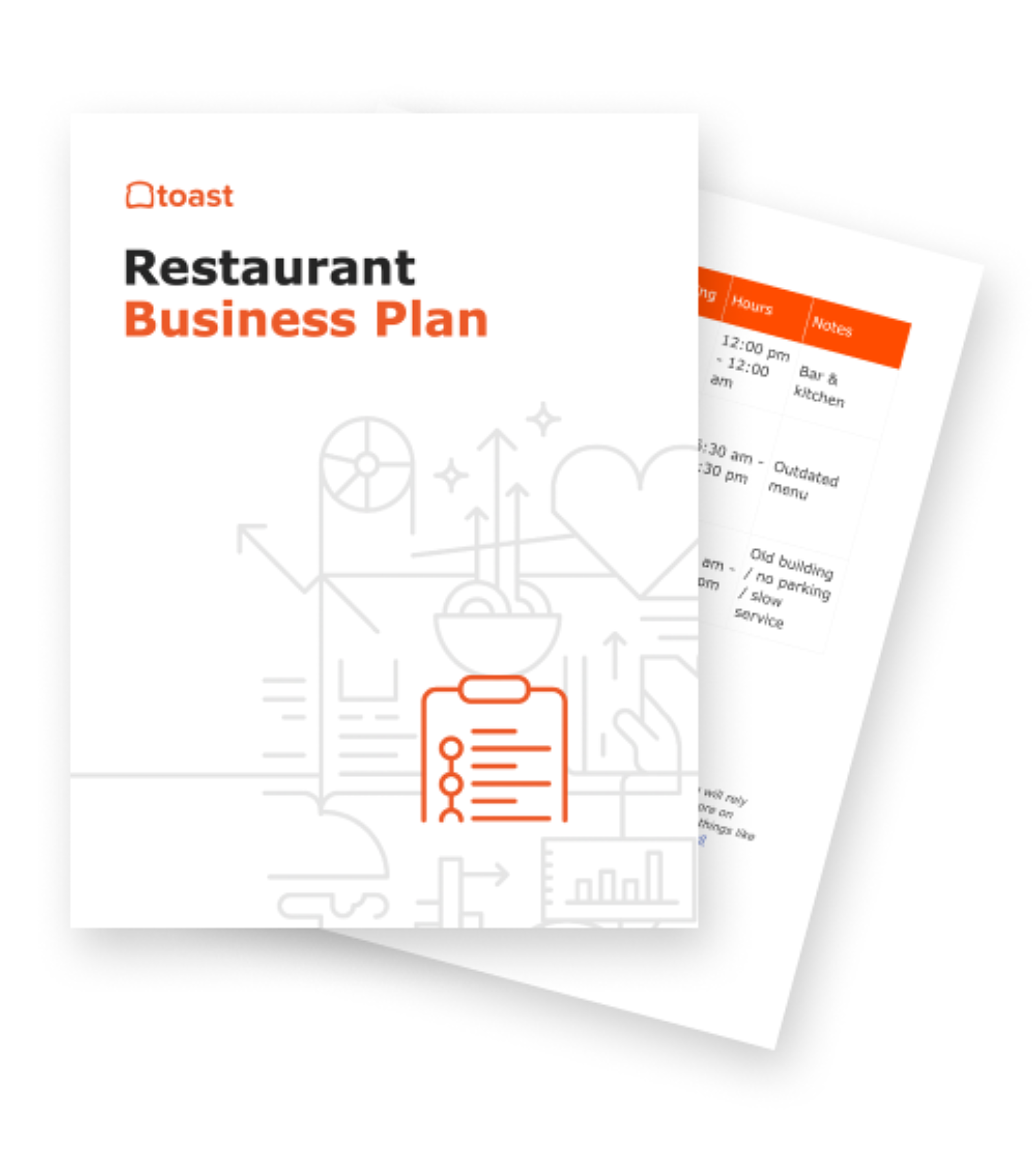 Restaurant Business Plan Template
No matter where you're at in your restaurant ownership journey, a business plan will be your north star. Organize your vision and ensure that nothing is overlooked with this free template.
Download
Your Restaurant Timeline to Opening Day
One of the most essential ingredients in the opening-a-restaurant-stew is patience. This is not a process that can be rushed and it should instead be approached strategically, as the complex operation that it is. So much of opening a restaurant is about meeting deadlines and checking things off of your to-do list only to find that the list is never ending. With the right mindset and plan of action this process can pivot away from the overwhelming and become the exciting, vibrant experience that restaurant planning should be. To set you on the path to success, here is your detailed eight week timeline to your restaurant's opening day.
8 Weeks Before Restaurant Opening:
The two months leading up to the grand opening of your restaurant can fly by if you aren't paying attention. To be sure all systems are go for opening day, make each day of these two months matter. During this week you should be focused on:
Finalizing your pre-opening budget

Obtaining the necessary paperwork, licenses and permits, background materials, and fulfilling all legal requirements (getting a head start on the paperwork process is essential)

Evaluating local distributors and determining where you will get your products from

Begin ordering all necessary equipment including your tabletop items, utensils, decorations, and POS system

Finish designing your menu boards and exterior signage

Order any necessary office equipment including computers and office furniture
---
Read this next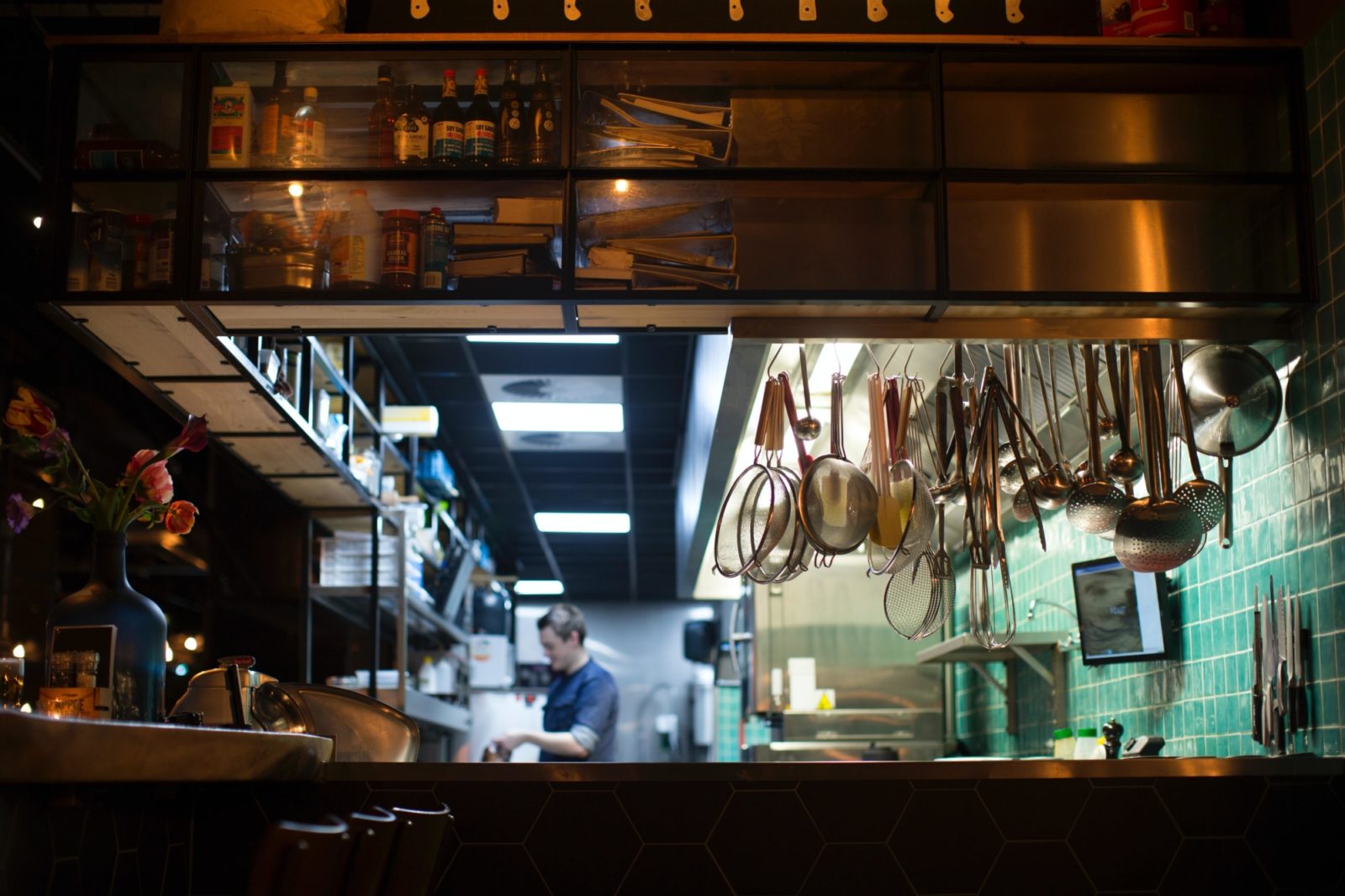 Essential Restaurant Kitchen Equipment: The Ultimate Checklist
Do you have the essential restaurant kitchen equipment and supplies you need? Check off this list to make sure your restaurant kitchen is all set.
7 Weeks Before Restaurant Opening:
Now that you've got the ball rolling, be sure not to lose that momentum. If it's necessary for your restaurant, this is when you'll want to arrange for a moving company to deliver your dining room furniture. Besides that, this is still the decision making phase of restaurant opening. During this week you will have to make final decisions about:
Trash, recycling, laundry, and extermination services

Safety matters such as fire extinguishers, smoke alarms, security systems, and create your emergency exit procedure and map

Software such as finalizing your restaurant POS system and obtaining the necessary scheduling and management software

Banking by establishing your banking system and accounts
Additionally, from this point forward until the paperwork is completed and all necessary restaurant permits and licenses have been authorized, each week you should be checking on the status of your health department license as well as your business license and liquor license (if applicable).
Week 7 is also when you can start preparing to market your restaurant. Take this time to choose where you want to conduct interviews and host pre-opening parties to inform the press, stakeholders, and VIPs about your opening.
For information on obtaining the necessary licenses and permits to operate a restaurant, check out our resources for restaurant owners here.
---
Read this next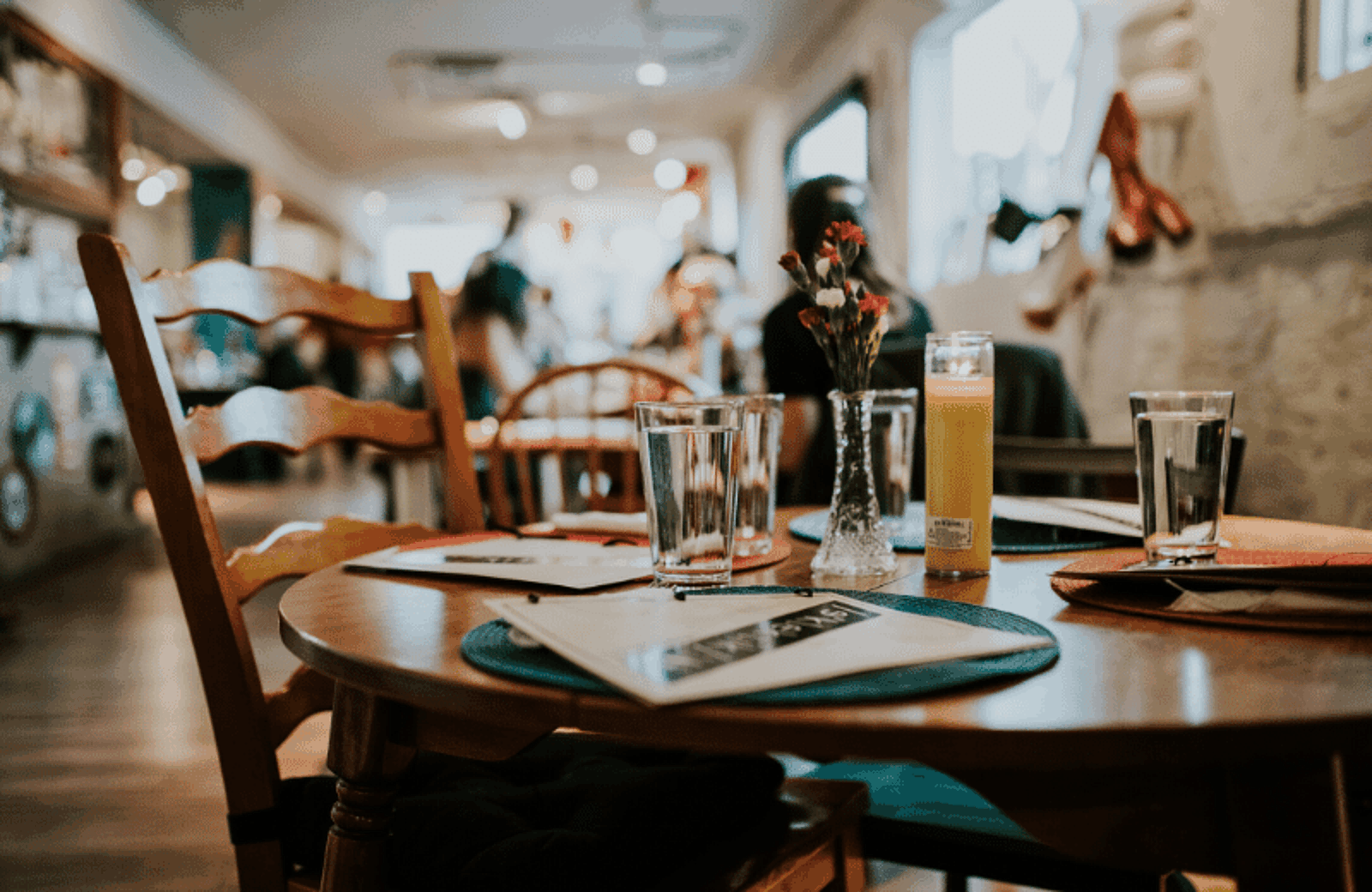 15 Licenses and Permits Needed to Open a Restaurant
The licenses and permits needed to open a restaurant and how to go about getting each of them.
6 Weeks Before Restaurant Opening:
A month and a half before opening, this week is all about making sure you are on track for your restaurant's opening day. In addition to checking on all of the aforementioned licenses and permits, this is when you should also check and log all inspection dates of your facility and equipment to ensure everything is (and remains!) up to date. This is also when you'll finish setting up your office communications, order books, inventory system, as well as your maintenance and cleaning calendar.
At this time, you'll place another order for restaurant supplies and equipment. This week the order should include:
Signage such as mandatory health and safety signage, as well as "Opening Soon" "Now Hiring" and "Grand Opening" external banners, and engraved signs for necessary information like bathrooms, "No Smoking", and operating hours

Anything you didn't yet order for your dining room like kid's amenities such as high chairs and booster seats and hostess station equipment

All menu materials including covers, inserts, to-go menus, kid's menus, and any specialized menus such as catering or delivery only

Restroom necessities such as hand towels, air dryers, soap and soap dispensers, bathroom decorations, and trash bins

Staff attire including restaurant uniforms, name tags, and aprons
On the marketing side of things, start writing your guest list for any and all pre-opening events or parties you plan on throwing.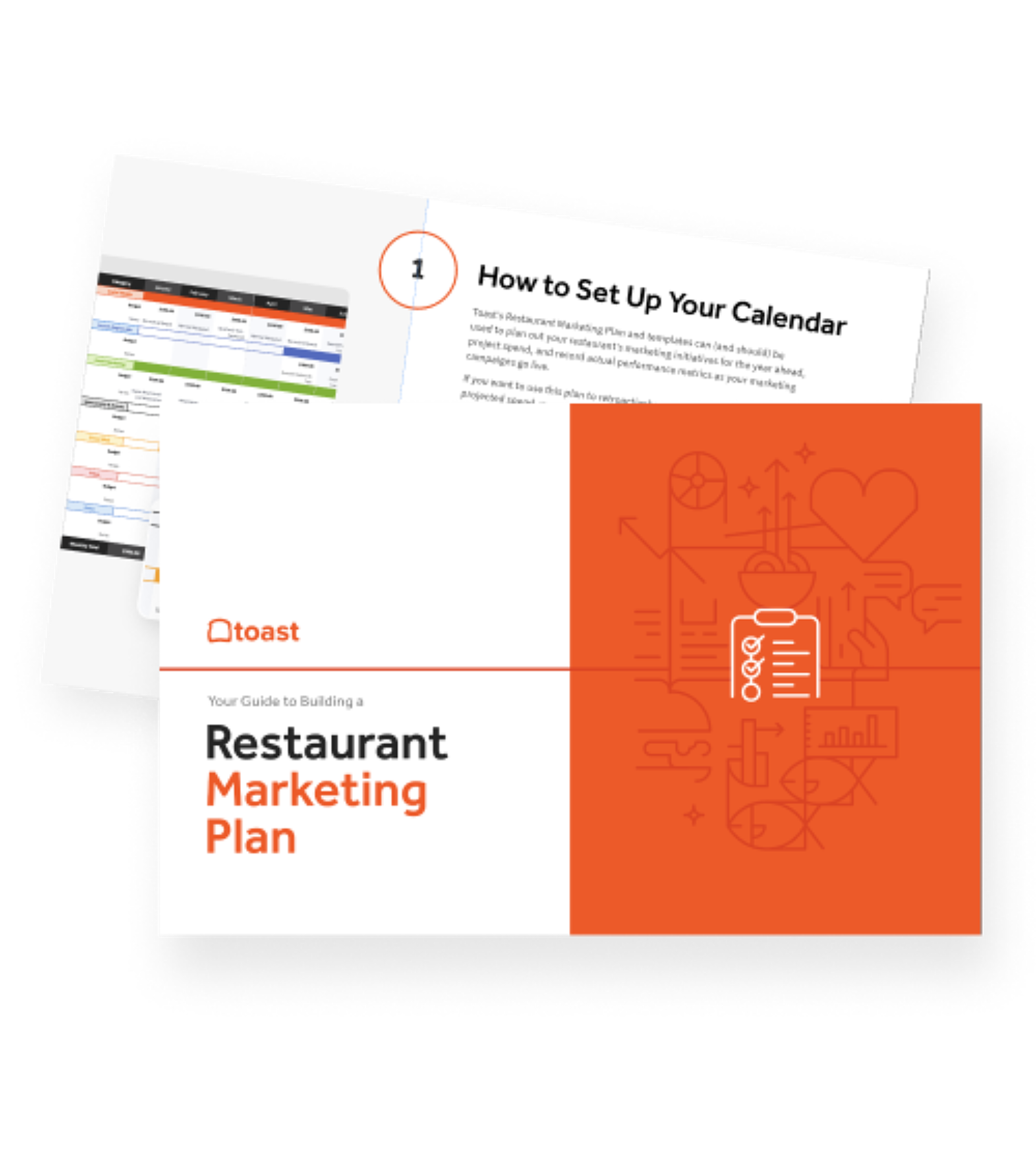 Restaurant Marketing Plan
Create a marketing plan that'll drive repeat business with this customizable marketing playbook template and interactive calendar.
Download
5 Weeks Before Restaurant Opening:
In the weeks between when you've placed orders and you're waiting for your products to arrive, there are still a lot of things that can be done to further prepare your restaurant for opening day. Namely, take this as an opportunity to finalize your vendor partnerships, order any miscellaneous supplies you forgot to order last week, and schedule your fire and health inspections for the weeks to come.
In the meantime, take some time during this week to focus on finalizing your staffing. Check in on the results from your Help Wanted ads and start scheduling and preparing for employee interviews. Don't forget to also prepare your employee training schedule and resources in order to streamline the onboarding process once you've made your initial round of hires. Additional employee preparation includes:
Creating an employee filing system

Develop your deposit procedures

Order all necessary food and supplies for training sessions and mock shifts

Create dining room seating charts and create waitstaff sections

Set up a petty cash system
Need more resources on building a team of restaurant staff? Here's the Complete Guide to Hiring and Managing Restaurant Staff.
---
Read this next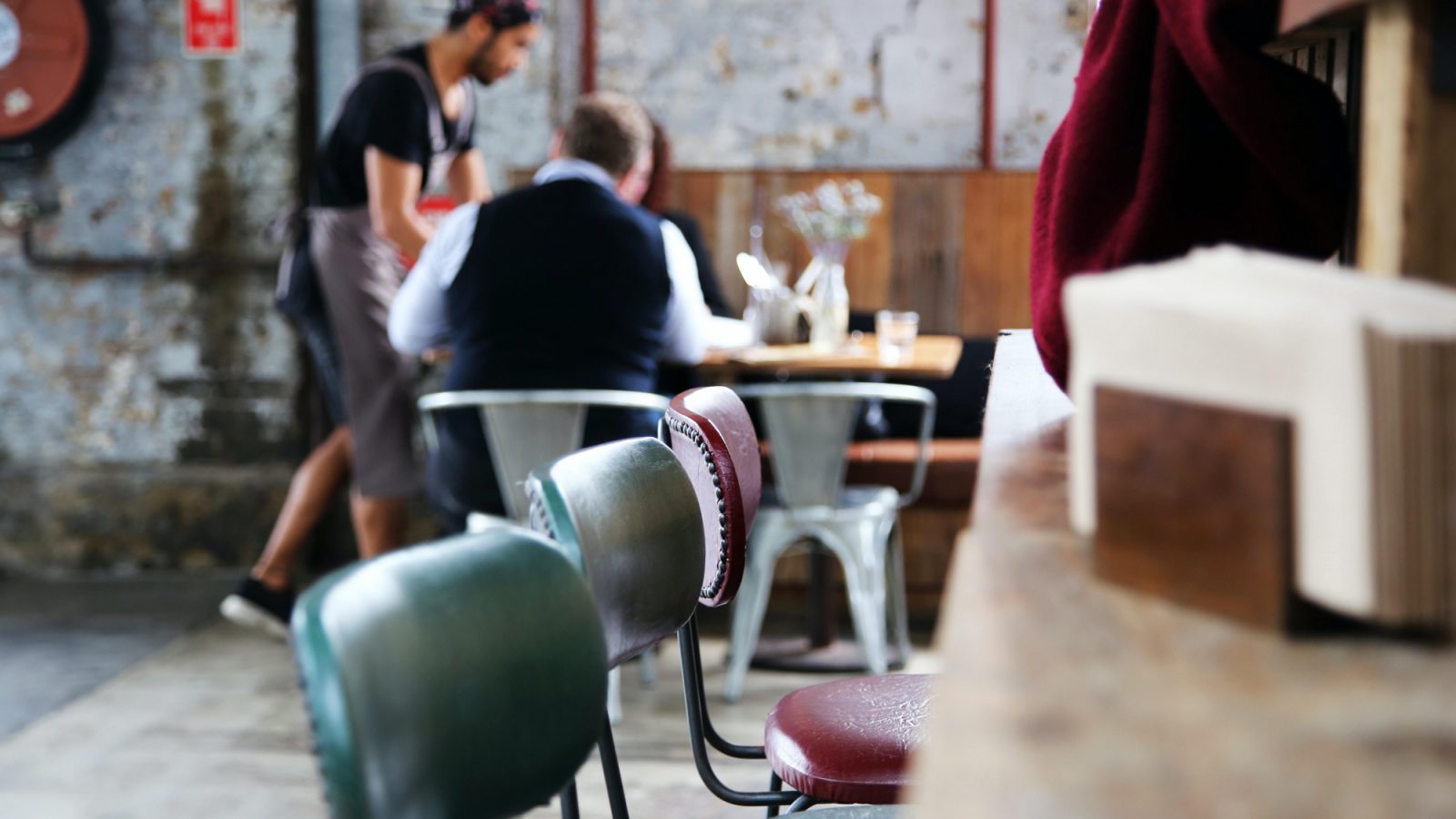 The Complete Guide to Hiring and Managing Restaurant Staff
Recruiting, hiring, retaining, and managing restaurant staff is a top concern for restaurateurs. In this guide, we cover everything you could ever need to know about how to attract high-quality restaurant staff and keep them around for years to come.
4 Weeks Before Restaurant Opening:
This is the week where your restaurant should start looking and feeling like a restaurant. As your dining room and office furniture arrives, you should be able to start designing your space. Rearrange tables, chairs, and bar stools to create your dining room layout.

Remember, restaurant table design conveys a lot of meaning to customers, design your restaurant with intention in order to create the right dining environment for your guests.
This is the week you'll be conducting interviews and making your hires. To prepare, make sure your POS and register are all set up and ready to be used during training. Use what you learn about your staff during employee training to create your opening week schedule during this time.
Other things to consider this week are:
Create your emergency equipment shutoff procedure

Choose an Internet service provider

Review all OSHA materials with your management team

Continue to prepare yourself for opening night and send out opening night invitations and a press release to local media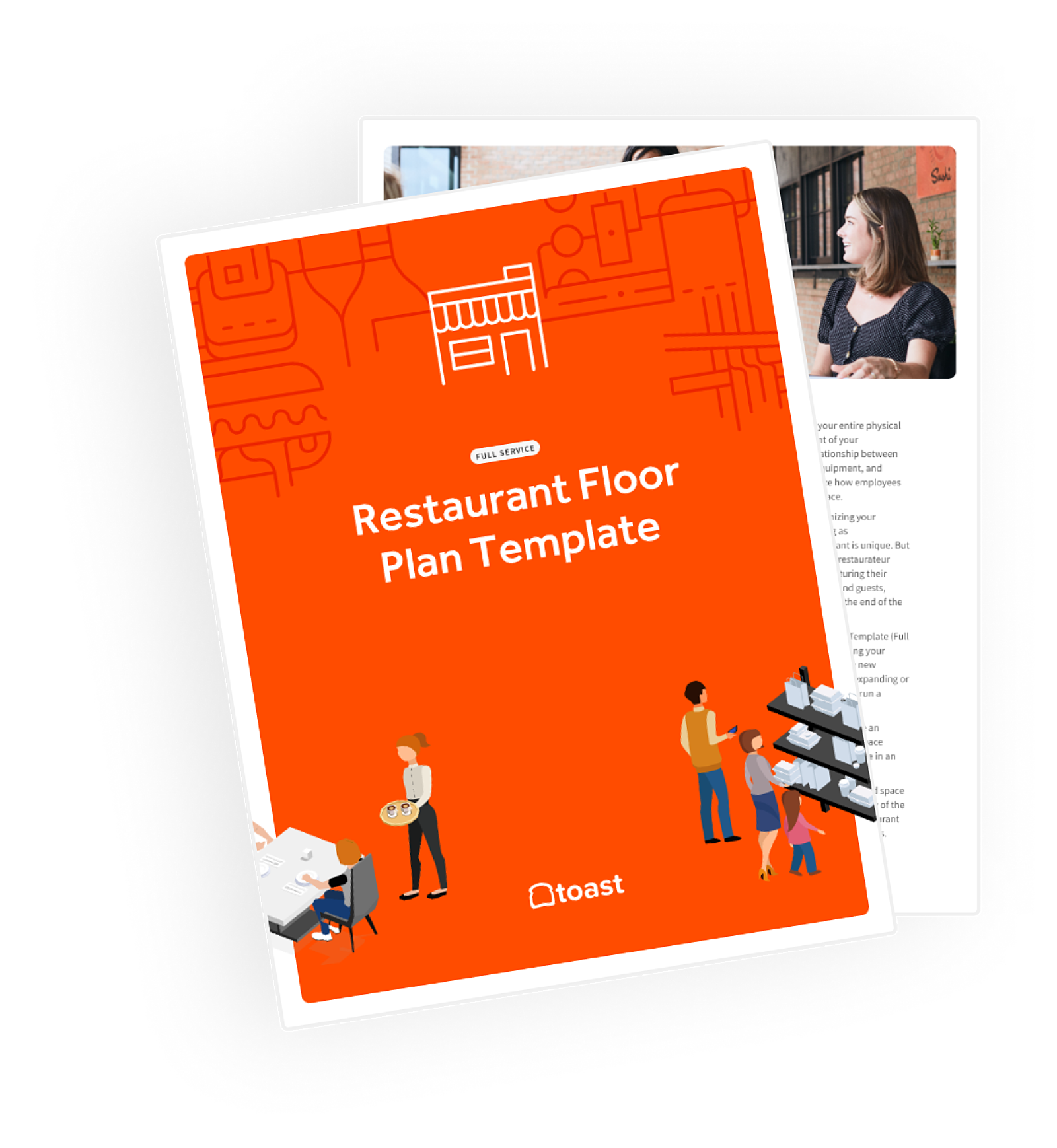 Restaurant Floor Plan Templates
Use these restaurant floor plan templates to get inspired as you map, or reimagine, the layout and space setup for your restaurant.
Download
3 Weeks Before Restaurant Opening:
Is opening night only three weeks away? Wow, turns out time flies when you are incredibly busy! To keep your head on your shoulders during these last crucial weeks, try to maintain a balance between the small, individual tasks you still need to finish and the larger looming projects that are almost finalized.
At this point your new employee training should be off to a strong start. As they familiarize themselves with your restaurant, remember to:
Sign them up for HACCP training and certification courses

Train them on alcoholic beverage service (and get them certified in alcoholic beverage service if they aren't already)

Double check that your employee uniforms have arrived

Gather documents such as employer-employee agreements, W-4 and I-9 forms, cash register policies, and any other necessary resources
Additionally, this week the rest of the supplies and equipment you ordered should be scheduled to arrive. To remain organized during this process, create detailed inventory sheets and delivery schedules for all of your vendors. Once it arrives, check to see that everything is of quality and then begin installing it in the restaurant, remembering to keep repair instructions in a designated spot known to all employees. At the end of this week conduct a safety audit on the entirety of your restaurant.
---
Read this next
2 Weeks Before Restaurant Opening:
Two weeks out from opening day, all of your orders should have arrived by now. If anything hasn't been delivered to your restaurant yet, contact the appropriate vendor to find out why.
Now that you have everything you need for opening day you can finish setting up your restaurant. During set up, be sure to test your equipment including:
Running temperature checks on all fridges and freezers

Calibrating the temperatures on your stoves, ovens, and fryers

Organize your supply stations

Set up your hostess station with all the necessary tools

Lighting timers for exterior signage

Determining dining room light levels for each meal service
Once everything is functioning as it should, hang your signage as well as the required safety posters. Finally, end this week by placing your first alcoholic beverage order and take a deep breath, you're almost there.
---
Read this next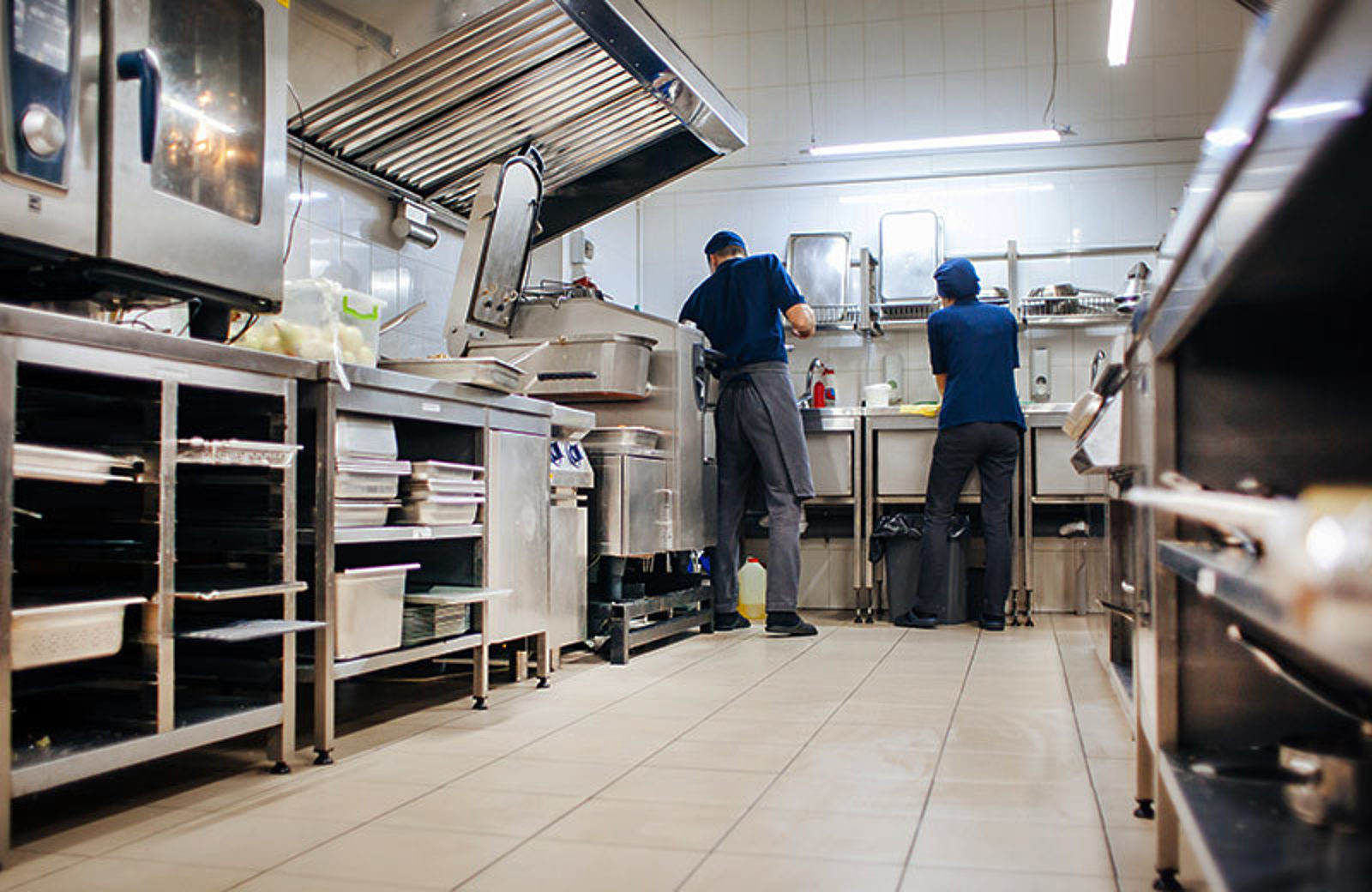 Restaurant Cleaning Checklist: The Ultimate Guide
Use our restaurant cleaning checklist to create a cleaning schedule for your restaurant to improve general health and safety. Get our restaurant cleaning checklist now.
1 Week Before Restaurant Opening:
The final stretch! Opening day is coming into view which means it is time to focus on what still needs to be accomplished. The good news is, because of all the excellent preparation and planning you've done up until this point, this last week is completely manageable and you should arrive on opening day without too many roadblocks in your way.
All that is left to do is finalize your decor, clean absolutely everything (internal, external, and all equipment), and hold your final inspection. Once you've received the necessary certificates and finalized your opening week schedule all that is left for you to do is head to the bank. Then, you're ready to finish your training sessions with one last practice run of opening night and voila! You're ready to open your restaurant!
Send out some posts on social media to announce the big day and maintain an active social media presence for your restaurant. Starting out a relationship with your new customers will only be strengthened by the direct connection, and you'll get free publicity when your signature dish ends up on your area's local foodie blog.
Congratulations on opening your restaurant! It's time to celebrate your success at the grand opening. For one last dash of inspiration to get you on your way, here are The Best Grand Opening Ideas.
Related Restaurant Opening Resources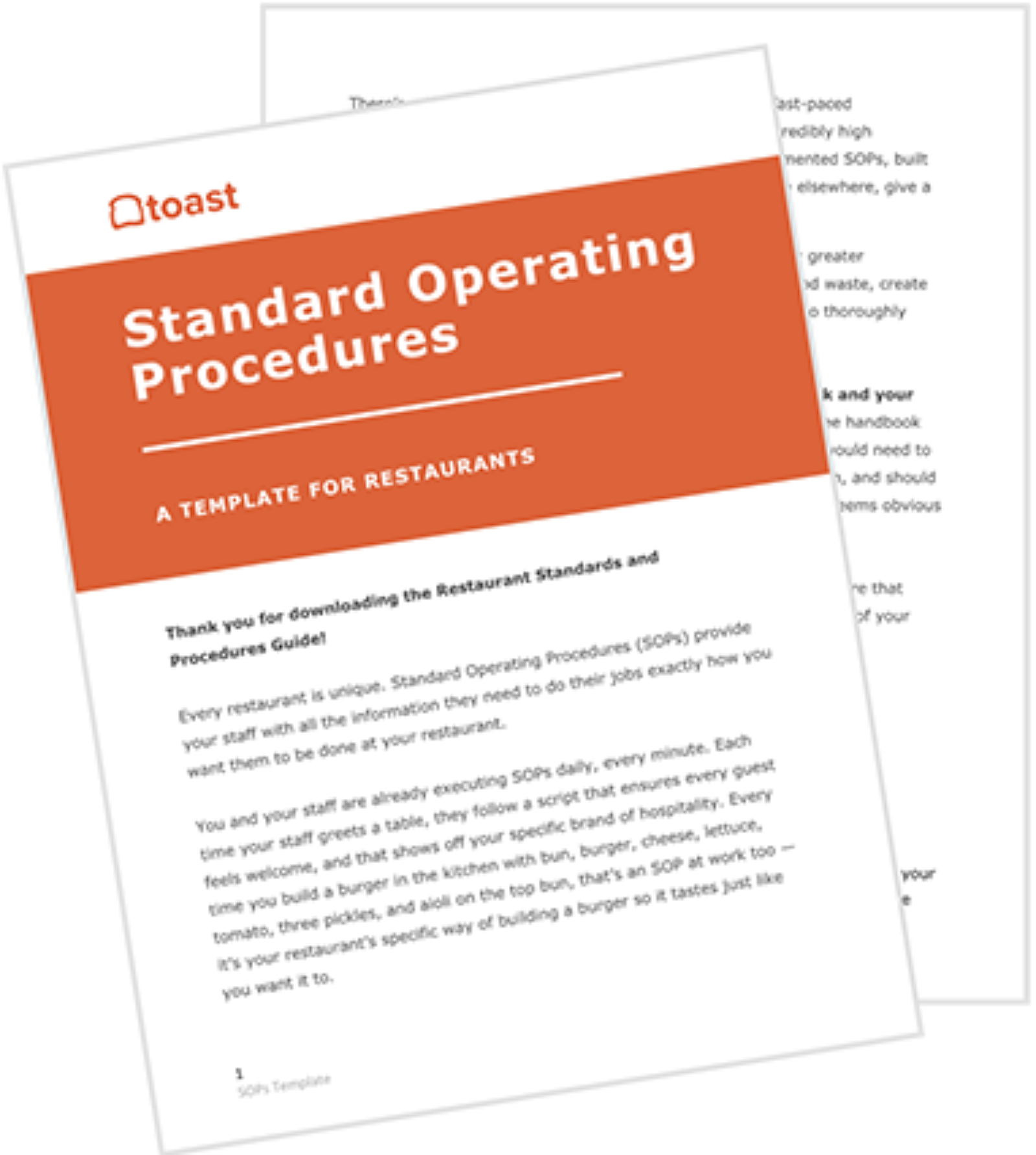 SOPs Template
This template will help you create SOPs for your entire business, so you can create consistency and easily train employees.
Download