DISCLAIMER: This content is provided for informational purposes only and is not intended as legal, accounting, tax, HR, or other professional advice. You are responsible for your own compliance with laws and regulations. You should contact your attorney or other relevant advisor for advice specific to your circumstances.
Your potential guests have thousands of restaurant options – approximately 660,000 – to choose from when deciding what and where they want to eat. It goes without saying, but finding a way to stand out and entice guests with your mission, vision, and dishes is imperative if you want your business to thrive.
At the center part of your restaurant marketing strategy is how you plan to acquire and entice customers.
In this post, we'll be talking about identifying, understanding, and marketing to your restaurant's target customer.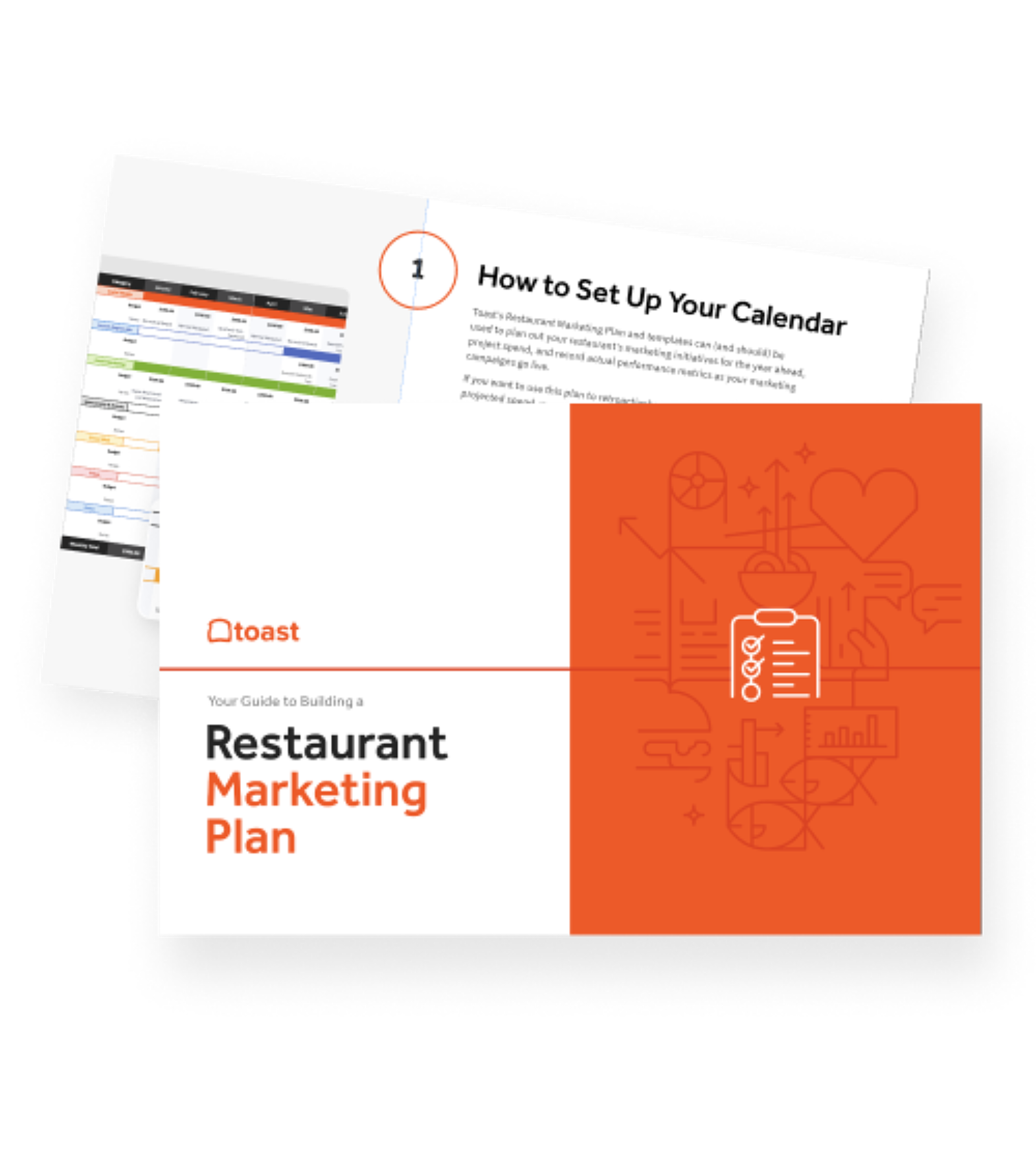 Restaurant Marketing Plan
Create a marketing plan that'll drive repeat business with this customizable marketing playbook template and interactive calendar.
Download
How to Target the Guests You Want to Visit Your Restaurant
No matter what you do, your restaurant isn't going to be everyone's cup of tea.
The sooner you accept that, the sooner you'll find success by attracting the people who do believe in your restaurant's brand, mission, and vision. This group of people is also known as your target market, or target customer: the group of potential customers whose behaviors, preferences, and values align with yours.
By being more diligent with who you target through your restaurant marketing, you increase your likelihood of creating a repeat customer out of every guest.
1) Know Everything About Your Target Customer
Before you get to the actual marketing of your restaurant, you need to sit and think about who exactly you're marketing to.
The process of understanding who your customers are (or, if you haven't opened yet, who you'd like them to be) takes time, careful observation, and a little analysis.
To help you identify your customers on a general basis, you can develop your restaurant's buyer personas. A buyer persona is a model of who you think your most common customer is. Businesses often have more than one buyer persona, so you can create several to align with the guests you cater to most.
Come up with an outline of your most frequent guests. Are they families with kids under 10? Are they college students? Are they the corporate lunch crowd? A helpful exercise is to have the manager-on-duty record a very brief daily summary of the types of guests they saw come in during their shift. Do this each day for a month in your manager logbook, and you'll have a pretty accurate foundation to build your personas on. It can just be a sentence or two along the lines of "lots of families today" or "had four corporate lunch meetings."

To get better insight into the demographics of your customer base, try sending out a survey to customers on your restaurant's loyalty/rewards program via your restaurant's CRM solution. Ask questions about your restaurant and other restaurants your customers may frequent, but also consider asking questions about their other interests, including what types of social media they're active on and where they prefer to receive communication. This will help you when it comes to reaching your audience. Consider offering a promotional discount to those who participate or the chance to win a gift card to your restaurant.
Using the insights you collect, develop your restaurant's buyer personas; it helps to give each persona a name. Here's an example:
Restaurant Concept: Southern-inspired tapas and cocktail bar in the city.
Persona A: Penny Professional
Gender: Female
Age: 25-35
Profession: Manager level professional
Buying Behavior: Typically comes in with her co-workers or meets up with friends after work for a round of drinks. Visits for large group birthdays, engagements, going-away parties, and other special occasions. Spends $40 or less.
What They Read: Bustle, Refinery29, Brit + Co.
What They Watch: Netflix, Hulu, E!, Bachelorette, Shonda Rhimes programming.
Social Media: Instagram, Snapchat, Pinterest, VSCO, Facebook just for school friends & family.
Buyer personas aren't just helpful for marketing your business, they're also an incredibly useful restaurant sales tool for your staff. Train your front of house staff to recognize and sell to each individual buyer persona you identify. For example, Penny Professional might not be too interested in your top-shelf bourbon, but she'd probably be keen on a colorful, Instagrammable cocktail.
2) Get Started With Ads
Once you have an idea of who your customers are, you need to figure out where they are and what they like in order to target them most effectively with your marketing.
If you're trying to appeal to families, Facebook ads aimed at parents is wise, while college students might be more receptive to on-campus ads, Instagram marketing, or promotions that involve free cover charges or discounted food and drinks.
For example, if you own a sports bar and want to attract the younger game-day crowd, your target demographic is likely men between the ages of 25 and 45, who follow websites (and social media accounts) like Barstool Sports and Bleacher Report, participate in Fantasy leagues, send their friends funny memes on Instagram, and love beer – both craft and domestic.
Connect with your distributor and run a Sunday game-day promotion with a well-known beer brand – like Bud Light or Coors Light – where guests are given freebies or swag. Advertise this promotion on your Instagram account, as well as via Instagram ads using the logo and beer's branding.
3) Invest in SEO
Attracting passersby to your business is no longer a sustainable customer acquisition channel, though you should still invest in making your restaurant's outward appearance pop to win yourself some foot traffic business.
Discovering new restaurants most often happens digitally, across a number of websites, with the majority coming from Google.
It is estimated that Google processes over 63,000 searches per second, 5.6 billion every day, and 2 trillion every year. Google users are now looking for activities and dining options on the go: 63% of searches on Google are done on a mobile device; between 2015 and 2017 "[insert business type] near me" searches grew 900%.
It's a very smart business decision to not only get your restaurant listed on popular search engines like Google, but also to optimize your restaurant's website in order to appear as a listing when a Google user types in a search related to your business, like "Italian restaurants near me," "restaurants with happy hour near me," or "cheap eats near me."
4) Use Digital Marketing and Reservations Apps
Digital restaurant marketing can be intricate and time-consuming, ultimately taking your focus away from what matters most: creating a memorable dining experience for every guest.
To make marketing easier on you, companies like OpenTable, Resy, GrubHub, UberEATs, and LevelUp include a baked-in marketing solution for the restaurants who sign up to use their platforms. When a consumer uses one of the above mentioned sites (or their apps) to search for dining options, your restaurant will show as one of the results.
The nice thing about these sites is that they have multiple purposes, and can help you facilitate your restaurant's online ordering capabilities, manage reservations, or manage your restaurant's loyalty/rewards program, along with marketing your business and making it discoverable to their huge audience: OpenTable books approximately 31 million diners per month while GrubHub has 17.7 million quarterly active users.
Besides signing up for one of these restaurant aggregate sites, you need to get your business listed on TripAdvisor and Yelp. They're immensely popular – TripAdvisor has over 460 million visitors, while Yelp sees 178+ million visitors a month. 76% of consumers say they trust the advice provided in online reviews as though it came from a close friend. Make sure you claim your business on both Yelp and TripAdvisor.
Your Restaurant's Bread and Butter: Your Customers
Before you plan your marketing tactics for the year, it's important to know who best to market to. After all, your customers are the basis of your restaurant's success, and your marketing should meet them where they are. For more information on marketing your restaurant, download our Restaurant Marketing Plan.
Related Restaurant Operations Resources