Customers have become very vocal about their foodie experiences over the last few years now that Yelp is no longer their only outlet for frustrations and criticism, and we've frequently seen restaurants take a very negative and public approach to such feedback. When someone can make even the most minor infraction seem like an all-out demolition of an innocent night out, it can feel personal.
You can avoid the situation escalating to viral proportions, however, by handling customer complaints with care.
If a customer made the same complaints in person, would you huff and puff and burn the restaurant down? Call him or her names in a fit of rage? Of course not. You should approach online feedback as you would face-to-face feedback. The most important thing to remember when addressing negative comments is to really listen, sympathize, and offer a solution. But it's not always that simple.
Here are five common customer complaints restaurants see most often on social media and how you can handle them.
1. Service Complaints
One of your servers may have forgotten about a table. Or maybe there was an unexpected rush when you were understaffed. Unfortunately, many customers will vent on social media instead of speaking to a manager. This is frustrating because you want customers to have a great experience, and you want to rectify the situation while you can. Try to move the conversation offline when handling service complaints.
"I'm so sorry; no one likes bad service. Would you mind emailing [manager@email.com] and letting us know what happened?"
"Thank you for the feedback. We'll discuss this with our staff ASAP and hope you'll give us a second chance soon."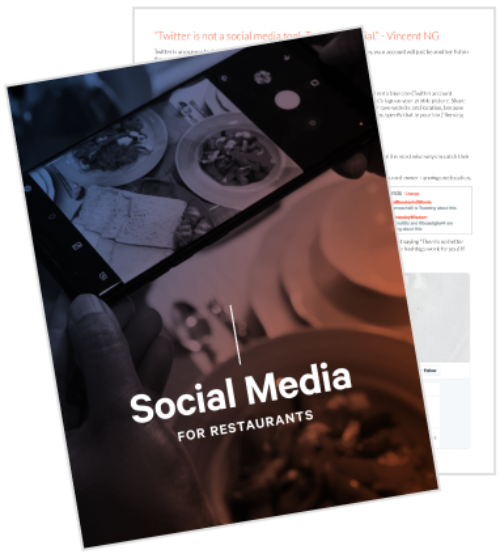 The Guide to Social Media for Restaurants
Develop a social media prescence for your restaurant, connect with your guests, and grow repeat business.
Download
2. Food Complaints
The food was cold, the pasta had no flavor, I didn't get what I ordered, the sandwich was soggy.
You can't please everyone, but you can actively try. Locate the source of the complaint; is the sandwich bread soggy? Perhaps you need a different bun. Does the pasta need more salt? Do some quality inspection.
"I'm so sorry you didn't enjoy your experience and thank you for bringing this to our attention. I will speak to the kitchen to make sure it doesn't happen again. If you'd like to give us another try, we'd love to make it up to you."
If you can swing a comped meal or a round of drinks, offer it up, and make sure you know when they're coming in again so you can ensure everything goes smoothly. If they tweeted about a bad experience, they're also likely to share how they enjoyed a better experience.
3. Food Poisoning
Even if it seems impossible that someone could get food poisoning at your restaurant, reports of illness should be taken seriously. The first and most important thing to do is to move the conversation from social media to email.
"This is the first case we've heard about... Could you please email [manager@email.com] and let us know more about your meal? Chef will also inspect the kitchen and ensure all ingredients are secure."
Here, you've demonstrated that you're taking the complaint seriously, are going to investigate, and are going to work with the customer on a solution. That's the most anyone else needs to see. Taking the conversation into a more private sphere could save you very public grief from a frustrated, sick, and angry customer as well.
However, just because the complaint is private doesn't mean you can let it go unresolved; make sure to follow up. Keeping in good communication will show that you're genuinely interested in the wellbeing of your customers.
4. Operational Complaints
I have encountered many a complaint regarding wait times and empty tables as a social media consultant for restaurants. We know it's the nature of the game, but if someone walks in without a reservation at 7 PM on a Saturday and complains about having to wait a couple hours, you can politely suggest a reservation.
"I'm sorry about the wait. We tend to get very busy on Saturday nights! We offer online reservations if you'd like to make one for your next visit: [link]"
You've also likely seen people point to empty tables and say, "But that one's open!" This happens online, too.
"We know how odd it looks when you see open tables and are told there's a wait, but trust us, we do our best to seat everyone ASAP! Those tables are being held for reservations. If you'd like to make one, please visit [LINK]."
A polite nudge never hurt anybody.
5. Lifestyle
Don't cater to gluten allergies? Not a vegetarian-friendly place?
Now's your time to be a good neighbor. Suggest other restaurants in the area that are better suited to their needs. Of course you don't want to turn away service, but if you genuinely are unable to work with them, try to provide a better solution. Your neighbor will appreciate it, and the customer will, too. Your neighbor may even return the favor some day!
We don't offer vegan options here, but we are 5 minutes away from Local Menagerie, which serves gluten-free, vegan, and vegetarian options.
What customer complaints do you see often on social media, and how do you handle them?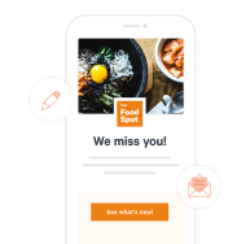 Learn how guest marketing tools can help you get your customers coming back.
Read more