Social media is a crucial part of running a modern business and is becoming a popular restaurant marketing channel that helps you expand your customer base and turn first-time visitors into regulars. A social media strategy — whether it's as simple as always posting photos of your specials and promotions across every channel, or you're leveling up and promoting your posts on your best-performing platforms — is a crucial part of your restaurant marketing strategy.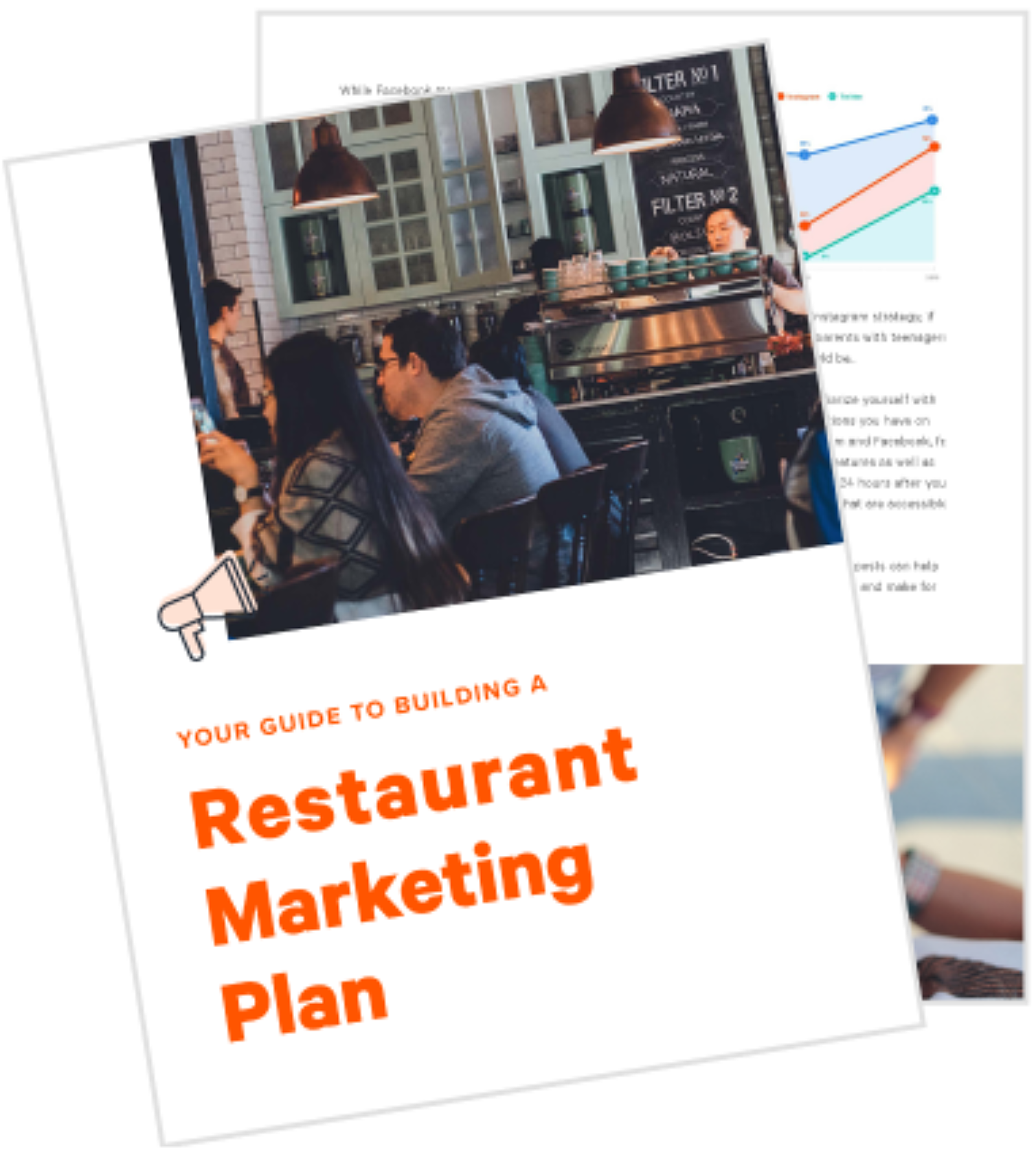 Restaurant Marketing Plan
Create a marketing plan that'll entice and engage the customers you want with this customizable marketing plan template and interactive calendar from Toast.
Download
Why Is Social Media Important For Restaurants?
So what is restaurant marketing and how can it help my business? Take Instagram as an example. According to Social Media Today, 30% of millenial diners actively avoid restaurants with a weak Instagram presence. And as restaurant customers become more digitally oriented, it's critical to define an online presence and identity that stands out.
Provides information and opens communication with customers

Gives your restaurant the opportunity to be found online

Allows you to share your food and recipes visually online

Adds professionalism and legitimacy to your restaurant
Nowadays, your restaurant should also be using social media as a channel to keep the lines of communication open between you and your guests in addition to a marketing channel.
How Restaurants Use Social Media
Restaurants use social media to connect with patrons in fun, useful, and creative ways. Here are some of the ways restaurants are using social media sites like Facebook, Instagram, Twitter, and more:
Post high quality items of food

Post seasonal, daily, or weekly menus

Showcase customer content

Communicate with customers

Share recipes

Show behind the scenes shots and videos

Highlight employees like chefs, servers, bartenders, and others
How Do I Promote My Restaurant Using Social Media?
To create an online social media presence for your business, follow these steps:
Create a business profile on Facebook, Instagram, Twitter, Pinterest, or YouTube for your restaurant.

Use your restaurant logo and colors on your profiles so your page will be easily recognized.

Add a bio to each page you create and include your restaurant's website, location, hours, menu, and how to contact you.

Post content and use the restaurant social media marketing tips below to engage with customers and attract new ones.
How often do restaurants need to post on social media?
A general rule of thumb is to try to post on your business social media accounts at least three times per week, or you'll risk losing engagement with your followers. Try to post several times a week and use the tips below to find creative restaurant social media content ideas that are sure to resonate with your audience.
Whether you manage your restaurant's online presence yourself, you've delegated the task to a dedicated team member, or you've hired someone to be a full-time marketing manager for your restaurant, it's always helpful to get inspiration from other restaurants who are killing the social media game and driving digital traffic to their business.
Here are 11 ideas to inspire your restaurant's social media strategy. For each one, we'll share an example of who did it well, what they did, why it's awesome, and in cases where it's a more involved type of post, how to pull it off.
11 Social Media Marketing Tips for Restaurants
1. Show Off What's Behind the Scenes
Who they are: Wave Asian Bistro & Sushi in Mount Dora, FL
What they're doing: Aside from sharing high-quality photos of their deliciously prepared dishes, Wave also regularly shares behind the scenes videos and photos from what goes on in the kitchen.
Why it's awesome: These days, restaurant-goers love to see how the food gets made in restaurant kitchens — in fact, there are countless extremely popular YouTube series that spotlight how a restaurant makes a signature dish. You can easily attract new guests by chiming in with photos or a video on social media showing how food gets made in your restaurant. The best part is your kitchen staff are already doing the work that your customers want to see; you just have to film it.
How to pull it off: Make sure the kitchen is spotless when you film and showcase your most mouthwatering dishes. You can choose to show the whole process of making a dish, and upload it to YouTube, as Wave does, but even a 10-second clip of filleting a fish can be really effective. You want to show off the skills and talent of your staff, and entice new guests to come try your amazing food.
2. Create a Consistent Voice
Who they are: Sweetgreen, national chain
What they're doing: Sweetgreen has built an iconic brand centered on fresh and sustainable food. Their clean and modern aesthetic is consistent in everything they do — whether you're on their mobile app, in a store, or following them on social media. The same vibrant photography is used across all their marketing materials, and they use a casual, fun tone. The Sweetgreen brand is recognizable even when their logo isn't on the screen.
Why it's awesome: There's no doubt that Sweetgreen thought long and hard about their social media strategy (and probably hired an agency to help). But even without professional help, it's possible to create consistent messaging and imagery for your business. It extends your restaurant brand beyond the four walls of your location.
3. Respond to Online Reviews
Who they are: Chop Shop, three locations in Colorado
What they're doing: The managers at Chop Shop are constantly monitoring their Yelp business page. Almost every review has a response, both good and bad, with a personal note addressing the reviewer's comments.
Why it's awesome: By addressing negative reviews and showing appreciation for positive ones, the Chop Shop team has created a transparent and friendly persona online. They're not afraid to talk about their flaws and make a public attempt to improve upon them. The managers use negative reviews as an opportunity to learn about their business and to turn unhappy customers into brand advocates. Even if you're not able to address every post on your review page, it's a good idea to address your disgruntled customers and try to turn that relationship around.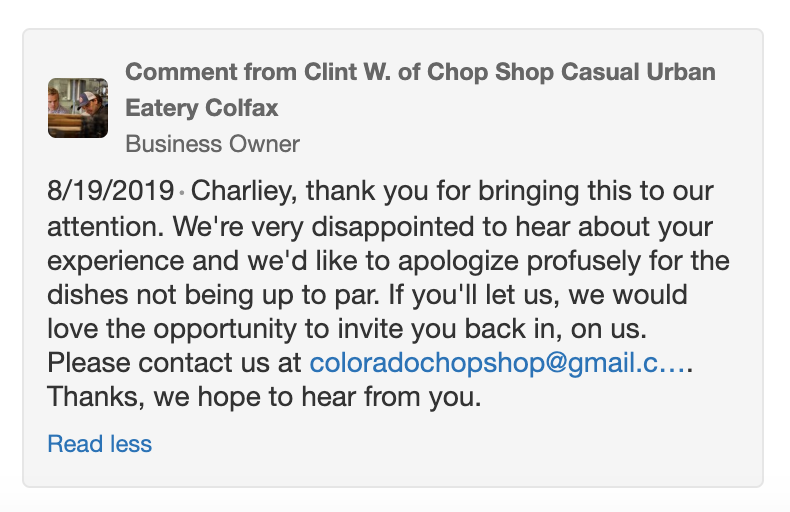 4. Use Social Media to Drive Email Signups
Who they are: Steak 'n Shake, national chain
What they're doing: Steak 'n Shake use their Instagram bio to point guests to their email signup — and they add a very tempting incentive: a free "Double 'n Cheese 'n Fries" if they sign up.
Why it's awesome: Email newsletters are one of the best ways to get to know your guests and to drive repeat visits. If a customer gives you their email, it opens up the wide world of restaurant email marketing: you can get in touch to share coupons, birthday discounts, special events, and much more.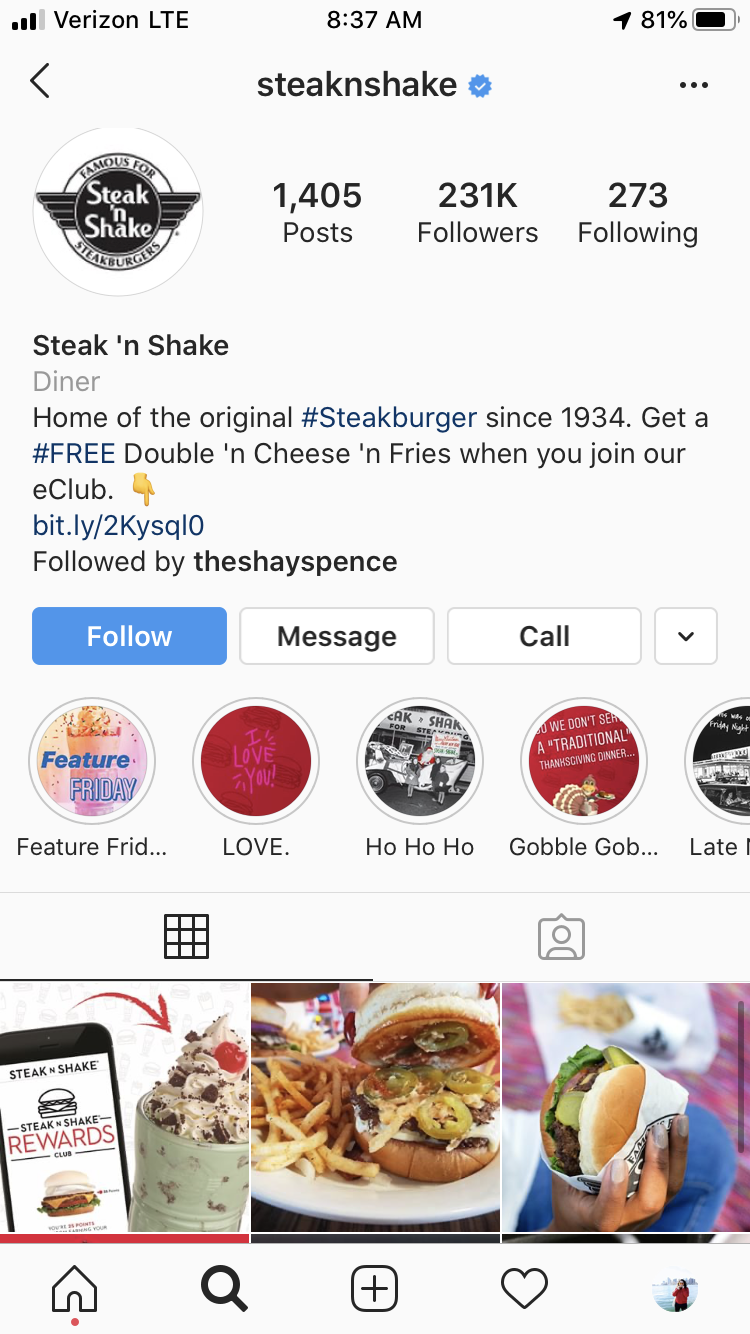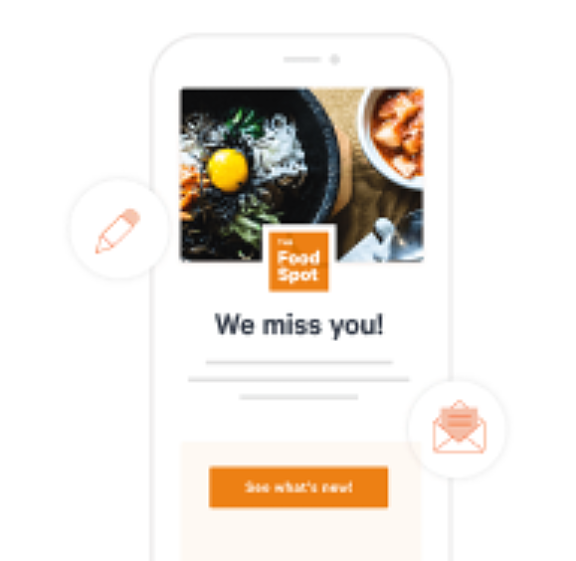 Learn how guest marketing tools can help you get your customers coming back.
Read more
5. User-Generated Content
Who they are: Wingstop, national chain
What they're doing: User-generated content, or UGC, is a restaurant's best friend. UGC is photos, tweets, and other forms of social media made by your guests that show your brand in a positive light. You can repost any UGC that you find online about your restaurant, as long as you credit the original author in the social media post. Wingstop takes advantage of any and all UGC, including funny memes and tweets from their customers.
Why it's awesome: In short, your raving fans are doing 95% of the work for you by taking photos of your business or talking about it publicly. By reposting their content, you connect with them and show other guests that you are in touch with your community while letting your customers hear from their peers, instead of from you, that your business is worth visiting. Diners are excited to share their user generated restaurant content on social media—85% of restaurant-goers report they'd post about a positive restaurant experience.
How to pull it off: When reposting memes and other funny posts about your restaurant, make sure they're in line with your brand. If you have a funny, lighthearted tone like Wingstop, memes can be great.
6. Spotlight Your Employees
Who they are: Sandwich Hag
What they're doing: Spotlighting your employees is always a great move on social media. It shows your potential guests that you care about your staff as individuals, and you celebrate their strengths. At Sandwich Hag, owner Reyna Duong employs her brother Sang, who has Down syndrome, as well as many other staff members with different abilities, and many of the restaurant's Instagram posts highlight the team's strengths.
Why it's awesome: Profiling the people behind any business is a great way to humanize the experience for customers. Posting pictures from "behind the scenes" or sharing funny anecdotes about the staff can make followers feel more connected to the business and the people that make it possible. In the post below, Sandwich Hag goes above and beyond, sharing an important announcement and emotional post about taking time for family and figuring out work-life balance in the industry, accompanied by an awesome photo of Duong and her brother, Sang.
7. Ask Questions to Engage Followers
Who they are: Mei Mei
What they're doing: Improve engagement on social media by asking fun questions and encouraging responses. Followers are more likely to remember the content of the post, like the fact that Mei Mei has a special of sweet corn fritters if they interact with it in some way.
Why it's awesome: Social media is about more than just telling your followers what's happening at your restaurant. It's also about listening to them. Platforms like Facebook, Twitter, and Instagram are a great way to create a two-way dialogue with your customers. The question and poll functions on Instagram stories are particularly engaging and fun for potential customers to use. Asking questions can inspire followers to engage with your posts and to interact with you, rather than simply continuing to scroll to the next story, or down the page.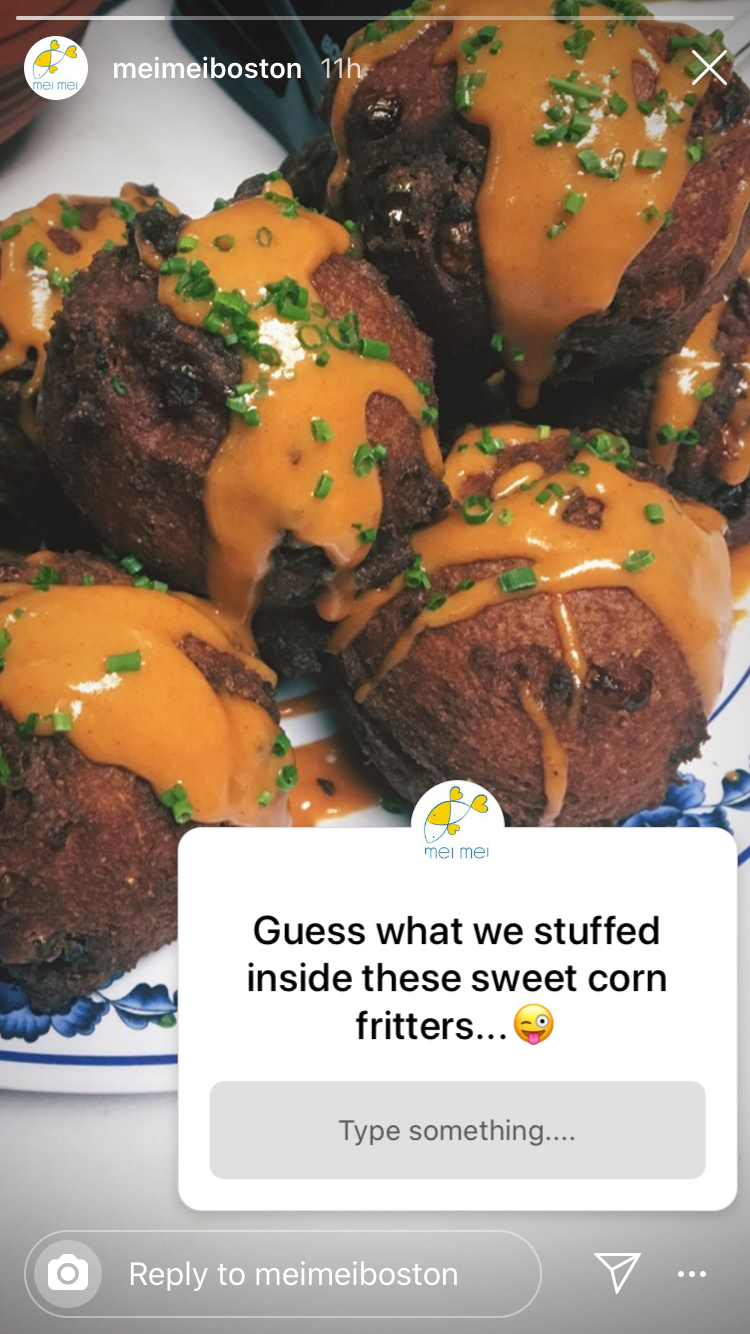 8. Capitalize on Trending Topics
Who they are: Upper Crust Pizzeria
What they're doing: Social media was abuzz when a vicious Nor'easter named Stella hit Boston, so Upper Crust Pizzeria chimed in on social media using the already trending hashtags (#openinBOS) and a photo of their team bundled up with a local weatherman.
Why it's awesome: Jumping on topics that are already trending on social media is a great way to increase exposure for your posts, especially if you have a clever take on the topic. Marketers call this strategy "newsjacking" and use it as a way to be seen by everyone following the popular trend. Upper Crust also took this opportunity to show off their staff (see #6 on this list).
9. Host Social Media Contests
Who they are: Capriotti's Sandwich Shop in Las Vegas, NV
What they're doing: Everybody loves free stuff! Capriotti's teamed up with a local news radio station to offer a $100 gift card to a lucky winner who tagged their friend in the comments of their Facebook post.
Why it's awesome: There are a million types of contests you can run on social media. They're quick wins for both your restaurant and your fans. By asking guests to participate in fun trivia questions, riddles, fill-in-the-blanks, photo contests, caption contests, or even just by tagging their friends, the restaurant is building rapport with guests and encouraging engagement online.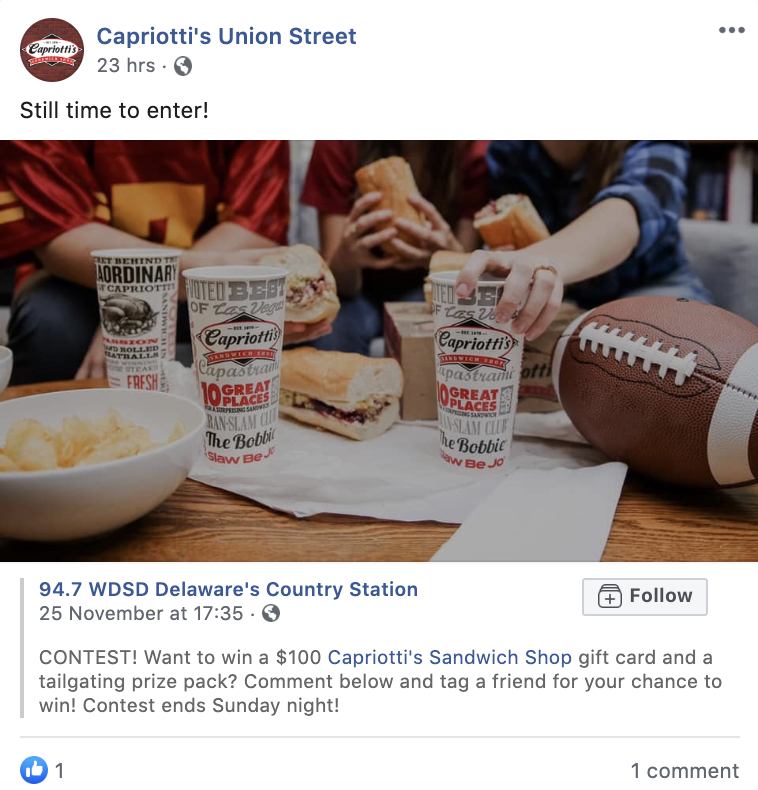 10. Spotlight your Vendors
Who they are: Donna's Toronto in Toronto, Canada
What they're doing: Showcasing the vendors who provide the ingredients that make your food so amazing is a great way to show you care about everyone who makes your restaurant great — and helps you reach the clientele of those vendors. For example, Donna's highlights that the bagels in their Reuben sandwich are from a local bakery called Harbord St Bakery — and Harbord St Bakery also shared a post saying that they're providing bagels for Donna's for a special.
Why it's awesome: Both businesses are driving their raving fans to the other's business — it's a great way to build your restaurant community, in terms of customers and potential collaborators and vendors. Additionally, restaurant clientele loves to know about where the ingredients in their favorite dishes come from, and if you show that you support other local businesses, you can attract new customers that are looking to support their community.
While starting and maintaining a vibrant social media network can seem like a daunting task, the bottom line is that it's about people. Social platforms provide a direct line of communication with existing and potential customers. Use these examples of social media for restaurants as inspiration to kick your business's social media marketing into shape. Need more guidance in building a marketing plan for your business? Check out our restaurant marketing plan template below.
11. Tell Your Customers the Best Ways to Support You
For restaurants that have never offered any kind of off-premise orders, or are building in a new process, it can help to tell your audience exactly how to order takeout to best support your business.
Who they are: Taylor Shellfish Farms
What they're doing: Using social media (and video!) to inform their audience about the behind the scenes operation during COVID-19, while instructing customers of the best and safest way to support the business.
Why it's awesome: They are speaking from the heart and addressing that this isn't business as usual, and asking for support and empathy in this difficult time while showing appreciation for the support they've received so far.
To say customer communications is difficult during a time of crisis is a given - that's why larger franchises and corporations have entire teams dedicated to crafting the perfect message. However, staying true to your restaurant and acting with empathy and humility will help ensure that your guests know you're making the right decisions for your people.
Restaurants are all about community. Why should that stop when your customers walk out of your doors? Developing a social presence, and being able to correctly utilize it as a marketing channel, carries your community online and allows customers to interact with you even when they aren't with you.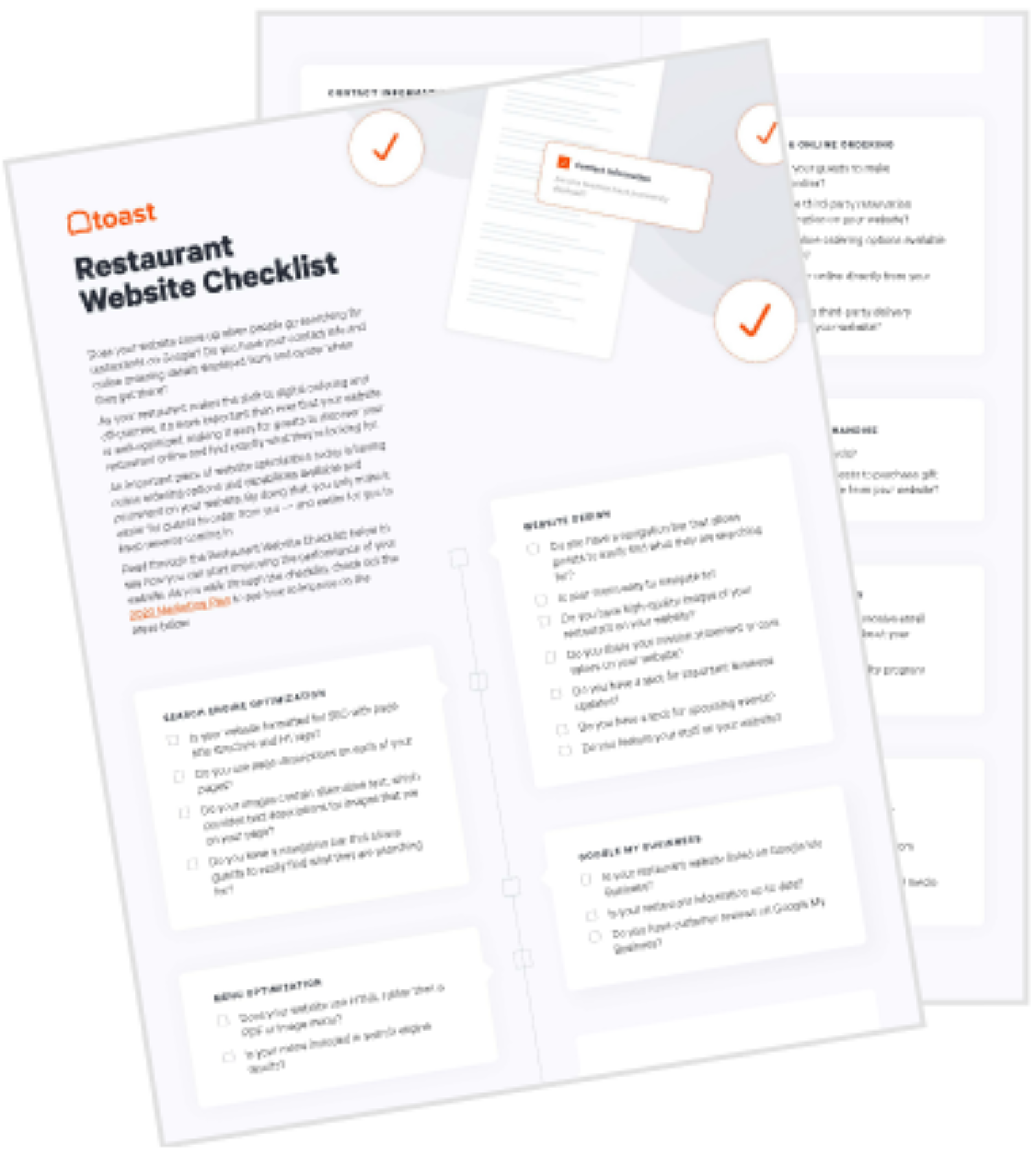 Restaurant Website Checklist
This template will help you update and optimize your website, so guests can easily find and order from you.
Download