Social Media for Restaurants
Learn how to use the right hashtags and engage your audience with irresistible visual content.
---
What's Inside?
Instagram`
A dominant visual social media platform where patrons can see your photos.

Snapchat
The fast and fun way to reach targeted millennial customers.

Facebook
The one that started it all with 1.7 billion active users.

Twitter
The site that lets your share timely content immediately to reach new faces.
---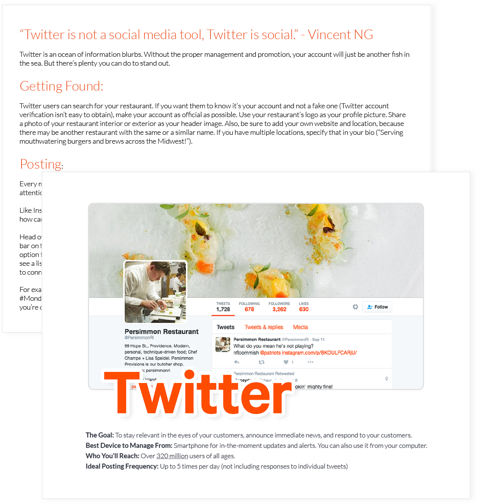 Why does social media matter in my restaurant marketing plan?
Billions of people use social media. This is not a fad, and it's not something that can just be used by individuals to communicate. Social media now has an immense presence in conducting business, especially for restaurants.
According to Zagat, 75% of people who browse food photos say they have chosen a place to eat based on social media. That means by just simply posting a photo of your food, you could be bringing in your next customer.
Today, more people are eating in restaurants than ever before. Diners love to research their options on Google and look at their social media sites before choosing a location. That means you need an awesome social media presence.