How to Use Facebook Ads for Restaurants
Facebook ads for restaurants are an effective way to expand your reach and attract new loyal customers.
Facebook ads for restaurants are a great way to attract new customers and turn them into regulars. It can be daunting to know where to begin, so let's break it down.
First, a bit about Facebook itself. You might think of Facebook as a social platform you use to stay in touch with friends and family.
But for businesses, it's an information gold mine. Facebook's huge data network allows business owners like you to get very specific with advertising outreach. In other words, Facebook gives you the ability to advertise only to the people who would be most likely interested in your establishment.
Many restaurant owners and operators are tempted to "boost" their Facebook posts and target a big, broad audience. The problem with that strategy, however, is that those people might have little interest in visiting. If you've tried using Facebook ads and feel like you've been burned, a lack of audience targeting might be the kindling that started the fire.
The key to Facebook success is taking a smarter, more strategic approach.
Check out our free marketing plan here, social media guide here, and then read on for the specifics of using Facebook as a powerful restaurant marketing tool.
RESOURCE
Restaurant Marketing Plan
Create a marketing plan that'll drive repeat business with this customizable marketing playbook template and interactive calendar.
Best Facebook Ads for Restaurants: 15 Tips for 2022
Facebook's reach and scale is massive. Businesses overall have the potential to reach over 2.3 billion monthly active users. What's more, 78% of American consumers have found products to buy on Facebook, according to a recent study. Most of that commerce is from ads shown to users as they scroll through their Facebook feed.
Facebook marketing for restaurants is a great tool to reach target customers because each ad is highly customizable. When creating an ad, you're given a wide range of options when it comes to deciding who you want to see the ad, based on location, demographic, and profile information.
You then set a budget and determine the duration of time the ad will be live. You can also choose what type of engagement you're looking to spur with this ad campaign — clicks, views, impressions, likes, shares — direct Facebook's algorithm toward those goals.
Here are 15 tips to learn how you can save money on your advertising budget and attract more guests by taking a smart, targeted approach with Facebook ads.
RESOURCE
Guide to Restaurant Social Media Marketing
Learn how to optimize your social media presence to showcase your brand, tell your story, attract new customers, and engage with your audience.
1. Start with your current customers
Your current customers already love you — so target them first. These are the people most interested in a promotional offer; they'll want to hear about a new menu item.
How to do this: upload your current email lists, text marketing lists, and online ordering lists to Facebook Ads Manager, which will match the information with current Facebook users.
From there, you can target current customers with your restaurant's ad on Facebook. Ads that target customer lists get the most interest, and they're also the lowest-cost Facebook ads you can run.
You can also create a separate list of your customers who haven't joined your email list, loyalty program, or provided other direct methods of contacting them, but have visited your website after coming from Facebook, by using the Facebook ad pixel.
Installing the Facebook ad pixel on every page of your website lets Facebook identify your website visitors so you can target them with an ad. In three to six months of tracking website clicks with the Facebook ad pixel, you will have built a large target audience of people that have shown an interest in your restaurant.
2. Create a "warm audience" list
The next step is to create a "warm audience" list: people who have interacted with either your Facebook page or with content you've posted on Facebook. But for whatever reason, these people haven't yet been to your restaurant. These potential customers know who you are and what your restaurant is, so it'll be easier to get them to visit.
A cold prospect, by contrast, doesn't know you, your restaurant's brand, mission, vision, or purpose. It takes more time, energy, and money to introduce yourself and your services to these people — and the return on investment (ROI) can be harder to justify.
And be sure to take advantage of Facebook Custom Audiences. Facebook groups your website visitors into an audience of "interested" customers. Target your website visitor audience and your audience built from customer lists to get great results from your Facebook ads.
3. Find out who else you should target
As a restaurant owner, operator, or marketer, how do you decide who to target when creating your Facebook ads?
You develop buyer personas based on your most loyal dining customers.
To learn more about identifying your target customer and how to develop buyer personas for your Facebook restaurant ad, check out our post How to Entice Your Restaurant's Target Customer.
Facebook provides tools that allow you to analyze your current customers and to create audiences that are similar to your current customers.
Facebook Audience Insights allows you to learn more about your current customers including geography, demographics, lifestyle, and purchase behavior. The more you know about your customers, the better you can tailor your message.
Facebook Lookalike Audiences analyzes the demographics and interests of the people in your current audience and then finds people who "look like" them.
Use Lookalike Audiences when your custom audiences are representative of your current customers. For example, if your email list is an active and accurate representation of your current customer base, this would be a good custom audience to use to create a lookalike audience.
4. Advertise to "new" customers
A "new" customer is a person in your local market that is unaware you exist.
When creating your ad on Facebook, target the people in your local market that would most likely be interested in your restaurant using factors like demographics and interest categories.
How this might work: Say you're a family-friendly gastropub with an extensive craft beer menu. Within the Facebook Ads Manager, create an audience that fits one or more of your restaurant's buyer personas, like men between the ages of 25 and 55 who have children, live within a 10-mile radius of your location, and have liked a beer-related page on Facebook. This audience can then be saved to use to target future Facebook ads.
Then, exclude the custom audiences built from your customer lists and website visitors so only new people will see your ads.
Your ad copy should include a short statement about why someone would be interested in your restaurant. You should expect less interest in your Facebook ad when targeting new customers, and you should also expect to spend more money when advertising to new customers over a longer period.
5. Every ad you run should actually be two ads
The best approach is to split the ad into two ads: One ad targets your interested customers, while the other ad targets new customers.
The reason why lies in how Facebook displays your ads. Facebook's goal is to get you the best ad results for your budget. If you run one ad targeting everyone in your local market, Facebook will put your ad in front of the people that would most likely be interested in the ad. Unfortunately, that will skew the ad results and end up displaying the ad to your already interested audience.
By mixing new customers with interested customers, you end up increasing your average ad costs.
You can spend less money on your ads and get better results if you run two ads. One ad targets only your interested customers (current customer audience and website visitor audience). The second ad targets your local target market and excludes the interested audience.
Designing ads this way ensures you are never spending money targeting the same people with two ads. Over time, adjust the amount of money budgeted for the two ads to optimize for the best possible results.
6. Target people visiting your area
Facebook targeting options allow you to target everyone in an area, including people who are visiting. This is perfect for restaurants in tourist areas or for restaurants near where people work.
Facebook uses location data from a person's mobile phone, allowing your ad to display on the mobile devices of people in your area that meet your targeting criteria.
7. Update your website visitor audience lists
All marketing lists like email or text lists get stale over time. Customers move or lose interest in your restaurant, which is the primary reason email open rates decline over time.
Facebook, on the other hand, only tracks visitors for up to 180 days. Targeting your website visitor audience with Facebook ads ensures the audience is always fresh and most likely interested. You can also choose to shorten the number of days you consider a customer to be "fresh."
8. Capitalize on seasonal opportunities
Facebook ads can be a big sales driver for seasonal opportunities like the Super Bowl. Your catering web page is one of several restaurant catering pages visited by a potential buyer looking to host a Super Bowl party. Lucky for you, you're tracking the people that have visited your catering page with your Facebook ad pixel.
Over the next few days, your potential customer will be shown Facebook ads pushing your Super Bowl catering. This is known as "remarketing," and it is commonly used by retailers to target people with an ad for the product they just looked at.
9. Target specific interests
The graphic below shows the different sites where you can track what a customer is interested in.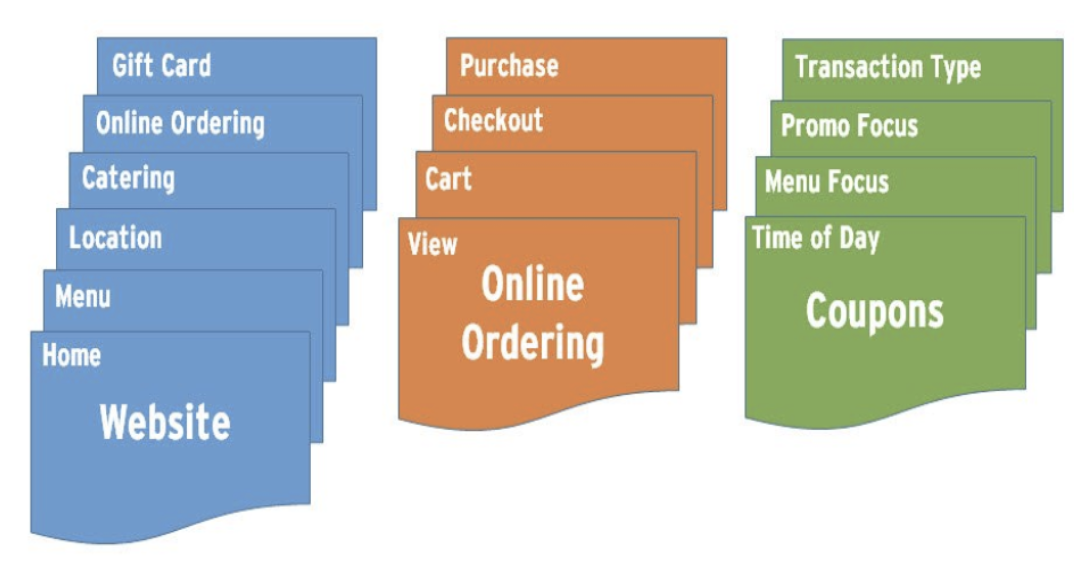 Tracking interest on your website
Tracking website visits is relatively easy with a Facebook ad pixel on each page. However, to know that a customer was specifically interested in gift cards or catering requires that you have a webpage dedicated to that service.
Similarly, splitting your menu into breakfast, lunch, and dinner web pages can help when targeting Facebook ads promoting your business for different times of the day. The best audience for a Facebook ad with a lunchtime offer are the people that have clicked on your lunch menu.
Targeting customers interested in online ordering
When running a Facebook ad for online ordering, the best audience is the one including people you know have visited your online order site, and the hottest audience is the one that includes people that have already placed an online order through your site.
For online ordering, Facebook also provides special tracking codes that can be added to the online ordering buying process — typically on the "view," "add to cart," "checkout," and "purchase" buttons. This way, you can identify customers that have completed an online order.
The targeting power of coupons
An overlooked tracking opportunity for restaurants are digital coupons. The following are some of the ways restaurants use a coupon promotion to increase revenue:
Type of transaction: catering, delivery, online ordering, dine-in, carry-out

Time of day: breakfast, lunch, dinner, late-night

Day of the week: Mon, Tue, Wed, Thu, Fri, Sat, Sun

Promotion focus: happy hour, kids, early bird, catering, buffet

Menu focus: entree, dessert, appetizer, new item

Location: specific location, city, metro area, state, region
If you categorize your coupon offers by the type of coupon offer and track the clicks using the Facebook ad pixel, you now can identify custom audiences based on the offer that interests them. By tracking the coupon through to redemption, you can identify the customers that stopped in to use a targeted offer.
10. Use email marketing to help build your Facebook custom audiences
Email is a powerful marketing tool. A whopping 87% of guests say they appreciate hearing about specials and discounts from their favorite restaurants, according to Toast research.
The most effective email marketing messages include coupon offers or discounts, drive the customer to view additional website information, or start the online ordering process.

With the Facebook ad pixel installed on coupons, your website, and your online ordering pages, you will be able to automatically add customers to Facebook audiences with specific interests because of your email marketing messages.

11. Use Facebook ads help grow your email marketing list
When running a Facebook ad with a special offer, land the customer on a web page where the customer requests to have the offer emailed to them. Allow customers to opt in to your email list after completing the form.
Adding the email opt-ins to your email marketing list allows you to target all of the people that requested the coupon with future email marketing messages, helping to build and nurture your guest relationship.
12. Determine what works best — email marketing, Facebook ads, or both
Run the same promotion in both mediums and test the results. Add pixel tracking to the coupon so you can track where the customer got the coupon. Be sure to redeem the coupon offer so you can also track which marketing method — be it email or Facebook — drove the most customer visits.
13. Stop showing ads to people that purchased
Facebook allows you to stop showing your ad to people that have taken the action you wanted from the ad.
For example, suppose you want to drive customers in the door with a great coupon offer for a new menu item. Your ads will continue to be shown to people that have not stopped in and redeemed the coupon for the new menu item, but Facebook can be set up to look for people that have redeemed the coupon and stop showing that specific ad to them.
14. Don't worry about the number of followers
You can have zero fans. You just need a Facebook page to run Facebook ads.
If you have no interest in managing your Facebook page, you can set it up so visitors to your Facebook page see a post directing them to your website. Just make sure to complete the standard information, like an About Us page, hours of operation, and a link to your online menu. Upload a logo for your profile image and a cover photo that shows a mouth-watering image of your signature menu item.
Lastly, set your notifications so you are immediately notified if someone provides feedback or messages you about your restaurant.
15. Use cross-platform functionality
The ad you create on Facebook can be shown to people on Instagram — even without an Instagram account.
Instagram is owned by Facebook, so you have the same targeting capabilities.
Your ads can also be shown in the Facebook Audience Network. The audience network is a collection of mobile apps where you can show ads using the same targeting and measurement tools used on Facebook. Essentially, running ads in the Audience Network extends your reach beyond Facebook and into mobile apps that meet your targeting criteria.
Harness Facebook Data to Find, and Keep, Your New Customers
Getting great advertising results tracks to targeting the right audience with the right message at the right time. And in digital advertising, Facebook has the largest available audience of active users to target your messages. Knowing how to best reach this audience is key in actively engaging and growing your customer base.
Looking for more information on how to run your next Facebook ad, step-by-step? Check out this post here.
FAQs
Do Facebook ads work for restaurants?
Yes! Facebook ads are very effective in marketing restaurants and driving traffic to digital ordering, social media, and your website. Facebook advertisements are a great tool for restaurants to use to reach target customers because they're highly customizable to your unique concept.
How can I promote my restaurant locally?
There are so many ways to promote your restaurant locally. Social media, email marketing, print advertising, and search engine optimization are all extremely effective ways to get your restaurant name out there. Check out our restaurant marketing plan for more ideas to engage your local community.
Related Restaurant Marketing Resources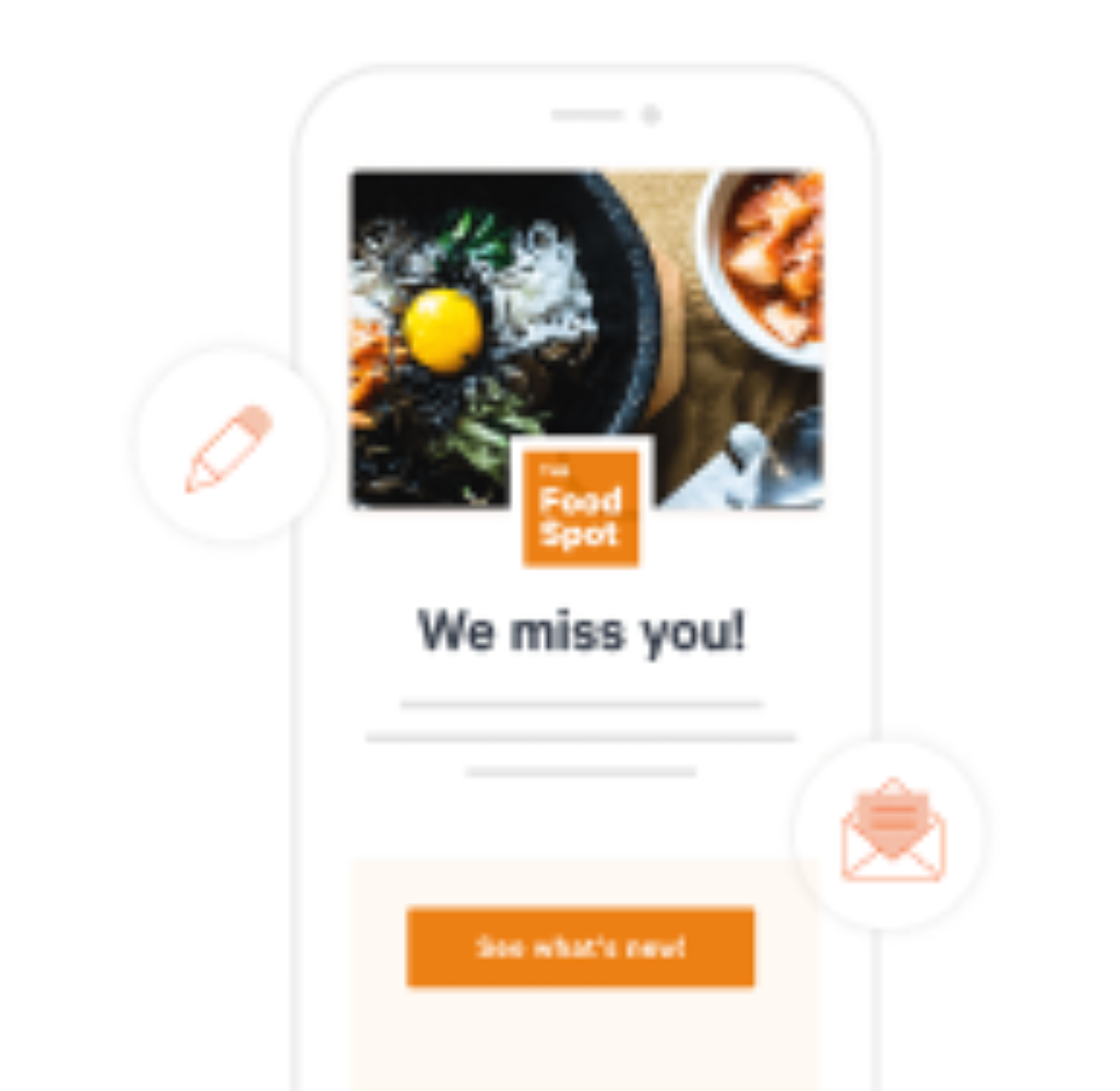 Tech Tip
Learn how guest marketing tools can help you get your customers coming back.
Read more
DISCLAIMER: This information is provided for general informational purposes only, and publication does not constitute an endorsement. Toast does not warrant the accuracy or completeness of any information, text, graphics, links, or other items contained within this content. Toast does not guarantee you will achieve any specific results if you follow any advice herein. It may be advisable for you to consult with a professional such as a lawyer, accountant, or business advisor for advice specific to your situation.
RESOURCE
Restaurant Marketing Plan
Create a marketing plan that'll drive repeat business with this customizable marketing playbook template and interactive calendar.