Bars and nightclubs are among those most impacted by the COVID-19 pandemic. Social distancing isn't easy in crowded clubs, causing many nightclubs to struggle over these past two years to stay afloat. Yet, as the desire to return to normalcy grows, the industry is beginning to recover with more people flocking to nightclubs to interact and celebrate.
As of 2021, there are over 60,000 clubs and nightclub businesses open in the United States, as compared to over 70,000 in 2012. With the world returning back to its social self, this means - if you're looking to open one of your own - now is definitely the time to do it.
Whether you're opening up the next hot club in your big city, or starting a smaller club in your town, your club's success comes down to staying true to your vision and having an awesome concept or theme. This will allow you to create a club that attracts more new and loyal customers no matter what.
Here's a list of inspirational restaurant ideas to help you create the club of your dreams!
Restaurant Floor Plan Templates
Use these restaurant floor plan templates to get inspired as you map, or reimagine, the layout and space setup for your restaurant.
Get free download
Real-Life Inspiration for Nightclub Owners
Before you can open your nightclub, it's important to nail down the overall concept you have in mind. Ideas for your club can be pulled from anywhere, although it certainly doesn't hurt to research real-life nightclubs.
There are a variety of things that have inspired budding nightclub owners and other restaurateurs to start their businesses. Here are a few:
Creating opportunities for employment in the community

Filling a hole in the market or community

A deep love of music, food, and beverage

Building a legacy for friends and family

Bringing a much-loved theme to life

Representing a great music genre that deserves to shine
Once you've identified what the theme of your nightclub is, you can start to dig into the details. These details will form your brand message, the words that express exactly what your nightclub is about and what it offers to guests.
Here are two excellent examples of brand messages that tell us precisely what each nightclub is all about.
"E1's ethos is rooted in friendship, clandestine parties, and the elements that make London's club culture so dynamic: unwavering commitment to the music, resourcefulness, and the cultivation of community. For Londoners both national and international, temporary and permanent. E1's founders instilled these core ideals inspired by their own experiences in London's club scene." – E1
"We have a hunger, an energy, and a stamina that I don't think any other ownership group that's coming into this place would ever have. We have a lot of ideas for what Miami needs as far as voids. We want Space not to just be the after-hours spot. We want Space to come in and plug some holes that have been lost in the development of Miami." – David Sinopoli, Club Space
20 Nightclub Ideas and Concepts
No matter what your niche is, the more unique and innovative your nightclub is, the better. These 20 one-of-a-kind club ideas are guaranteed to inspire you and fill your future dancefloor.
Impress with a game-changing view
A beautiful view is sure to bring in a crowd. The PHD Rooftop Lounge at Dream Downtown in NYC offers just that – amazing drinks and music with an unbeatable view of the New York skyline.
Go back in time
The 90s and early 2000s are BACK. Consider hosting "throwback" parties, playing songs, and music videos from decades past. There's no limit here – Retroclubnyc is known for playing dance music from the 70s, 80s, and 90s, along with old-school cocktails, bringing all kinds of people onto their dance floor.
Bring in rotating DJs
A DJ can make or break a night out, and many clubgoers make their decision on where to go based on who is DJing that night. Whether you're bringing in celebrity DJs or local performers, get the schedule out there so guests can show up for their favorites. One way to do this? Publish your DJ schedule regularly on social media - tagging the DJs in posts - so that people will follow their favorite DJ straight to your club.
Embellish your drinks list
People come to clubs to dance. But, they also come to clubs to drink. The Nines in NYC channels old-school glamour into their lounge, with a drink list to match. People flock for the live music and also the lavish cocktails served in sophisticated glassware that makes anyone feel a little fancy.
Transport your patrons to a warmer place
Who doesn't dream of sipping cocktails on a white sandy beach? Give your patrons a taste of the island life with a tropical oasis theme. Tropicana Beach Club in London nails this theme perfectly, with vibrant colors, decor, and an amazing tiki drink list to match.
Play music videos
Music videos inspire clubgoers to dance. It also adds more character to your club, serving almost as digital decor. Pro-tip: playing videos to pair with your club themes (whether it's decades or genres) is a solid way to bring more people onto your dancefloor.
Level up with an ocean view
Forget beach-themed - just open your club on the beach! LIV nightclub is located right on the beach in Miami, attracting high-profile clubgoers, from celebrities and DJs.
Give back to the community
Patrons get a drink, you get a packed bar, and a local charity gets a hefty donation - everyone wins in this situation, right? It's never a bad idea to donate to a good cause, no matter the business you run. Look for a local charity or organization that supports a cause that speaks to you, and see if they're interested in hosting their next event at your club!
Add a bit of magic
Take a page out of David Copperfield's book and put on a show at your club. At Magic Lounge, bartenders double as magicians, serving up spell-binding cocktails. The club even has full-on magic shows and magic lessons.
Get rid of tipping
Consider switching to a gratuity-free employment model. Paying employees a higher hourly wage is not only incentivizing for your staff but can also appeal to guests as well. Many nightclubs and other food and beverage businesses are really thriving with a no-tip, profit-sharing model – learn more here.
Take advantage of your building's architecture
If you're lucky enough to run a club out of a unique or historic building, you can let the architecture do all the talking. The Tunnel Bar, a nationally-recognized cocktail lounge, is built out of a tunnel once used to board trains at historic Union Station. The bar's interior plays off the building's history and shape, making it an extremely desirable place to grab a drink.
Create a special menu
Adding new cocktails regularly can entice customers to come back again and again. If you offer food along with drinks, think about changing out appetizers periodically and even pairing them up with new drink offerings. And, don't forget to incorporate feedback from guests to know which menu items to stick with or get rid of.
Add karaoke
Karaoke and clubs go hand in hand. Karaoke nights are a fantastic way to get the crowd involved. No one can resist belting out nostalgic classics like "Ice Ice Baby" or "I Want It That Way." You can host your own karaoke nights or partner with a popular local DJ to guarantee a large turnout.
Partner with a local alcohol company
If your vodka or gin sales are through the roof, consider partnering with a local distillery to save money and connect with your community. This is a great way to promote your business to a whole new customer base and support your community while you do it.
Incorporate your culture
Many nightclub owners and bartenders like to pay homage to their heritage by serving up their culture's traditional drinks. For example, guests can sip on a Cuban libation at Miami's Cafe La Trova or Philadelphia's Cuba Libre Rum Bar.
Host events
On off-nights, don't be shy to host exclusive events for clubgoers in your city. You can create a special menu for the night, host a popular DJ, or have a signature cocktail menu – either way, you're guaranteed to gather a crowd.
Go big or go home
When it comes to drinks, sometimes bigger can be better. Get the buzz going about your nightclub with outrageously oversized drinks that are sure to amaze. Voodoo in Las Vegas is known for its massive cocktails and crazy presentation. The lesson here? Make your drinks Instagram-worthy!
Streamline operations with technology
Technology makes the dining experience easier and more efficient for everyone. Consider adding handhelds, QR code ordering, or other convenient touchpoints to your club. It's the little things that will transform your customer's experience.
Learn more here about how technology can benefit your nightclub.
Restaurant Opening Calculator
This calculator lays out some of the fundamental financial costs of opening a restaurant, so you can start planning and bring your dream restaurant to life.
Get free download
Feel Inspired?
People come up with nightclub or restaurant concepts every day. But, what matters most is how you bring them to life. Opening a nightclub requires hard work and, most importantly, following your dreams. With these two things in your belt, you'll see how your nightclub ideas will turn into an exciting and profitable reality!
Related Nightclub Resources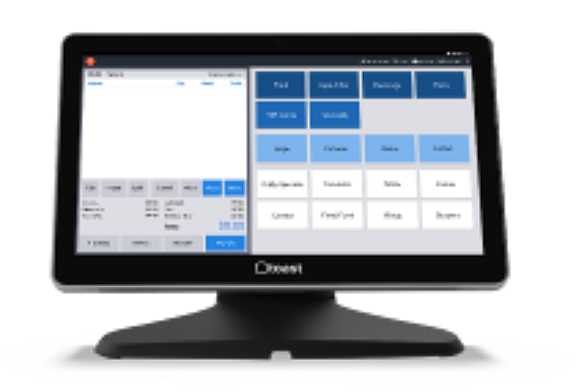 Learn how a better point of sale system can help you run your restaurant.
Read now
DISCLAIMER: This content is provided for informational purposes only and is not intended as legal, accounting, tax, HR, or other professional advice. You are responsible for your own compliance with laws and regulations. You should contact your attorney or other relevant advisor for advice specific to your circumstances.