DISCLAIMER: This content is provided for informational purposes only and is not intended as legal, accounting, tax, HR, or other professional advice. You are responsible for your own compliance with laws and regulations. You should contact your attorney or other relevant advisor for advice specific to your circumstances.
Business Plan for Nightclubs Guide
Dreaming of opening a nightclub where your guests come to drink, dance, and unwind? It can be a rewarding and lucrative businesses venture, but owning and running a club is also hard work. Nightclubs often have high overhead costs because of the licenses required for on-premises alcohol consumption and the high rent of busy, often centrally located downtown venues.
Curating a space for friends to gather, meet new people, dance, and experience musical acts is a delicate balance and requires planning to execute smoothly. Publicizing your club and the events you coordinate, balancing the costs of liquor sales, staff wages, and artist's fees, and researching to create quarterly financial projections are all necessary parts of planning to open your nightclub. That's where your business plan comes in.
Why You Need a Nightclub Business Plan
Whether you have a clear picture of how you want your nightclub to run or your vision is just starting to coalesce, a restaurant business plan helps you to answer all the questions that you'll need to answer before you open your doors.
Building a business plan for your nightclub will get you to start making concrete decisions about the ambiance of the space, the bartenders you'll hire, the types of events you'll hold, and what your drink menu might look like. It also gets you thinking about the operational and financial details of starting a complex business like a nightclub.
Bringing the most popular DJs and their fans to your nightclub that your lighting engineer and sound technician have crafted into a sublime experience requires planning a lot of small, overlapping, intricate details – details that you can map out with this business plan.
How to Write a Nightclub Business Plan (Description, Examples, Proposals)
Writing projects can be difficult to kick off, especially with so many ideas swirling around your head at once. That's why this fully customizable business plan template is the perfect place to start imaging your next nightclub. Dive in and keep reading to learn how to customize it for your new nightclub business.
Related Restaurant Resources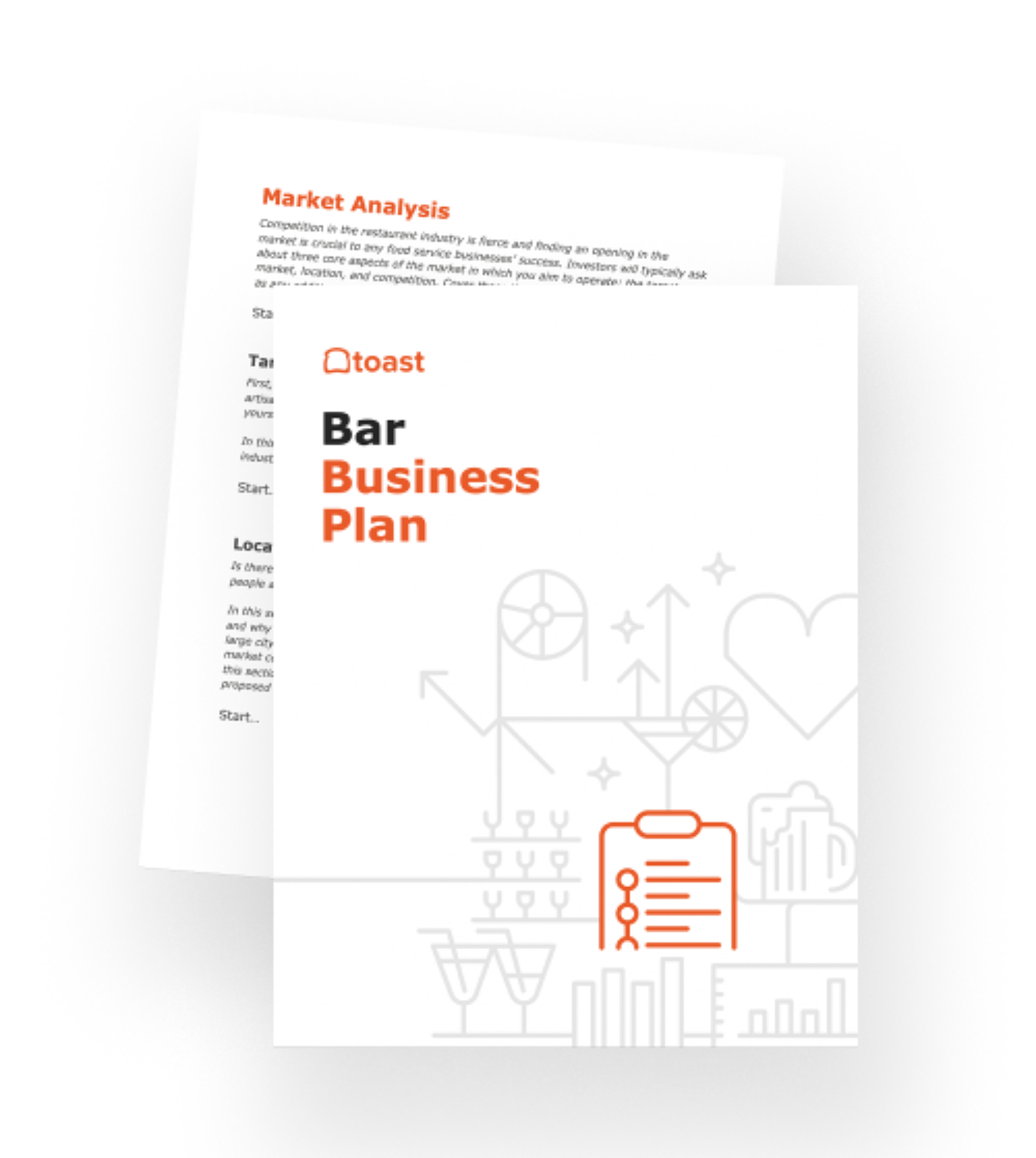 Bar Business Plan Template
Use this free bar business plan template to easily create a great business plan that organizes your vision and helps you start, grow, or raise funding for your bar.
Download
Elements of a Nightclub Business Plan
Executive Summary
As the first section of your business plan, the executive summary is your chance to make a convincing first impression. A lot of investors might be skeptical of putting money into a nightclub before it's profitable, but this is your best chance to get them interested.
Write the executive summary with your audience in mind, taking opportunities to persuade those people to keep reading your plan for a nightclub and to potentially invest. Go over a general view of the budget, the business's mission and core values (and the music you'll spotlight!), and a coherent vision for your brand.
You likely have a picture of the location and the client base you want to attract because a nightclub is only as good as its loyal patrons – describe to your potential investors what consumer your nightclub caters to and how you plan to get them in the doors of your club rather than the ones on the next corner.
Company Overview
The company overview works with the executive summary to provide a comprehensive and concise look at your business plan, but the company overview is more practical than attention-grabbing. This section should work as a glossary for the rest of your nightclub's plan.
Introduce your vision for the nightclub, the products and services the club will offer, information about the ownership structure, and financial projections. You might also start to introduce your publicity strategy, your plan for communicating your brand to customers, and the experience your club will provide.
In that vein, the company overview is a chance to describe the conceptual vision for your nightclub's brand with logos, branded graphics, what will be unique about the club, and a vision for the aesthetic of the space.
Team and Management
Staffing for a nightclub is deceptively complex – bartenders and their managers are the only public-facing employees of a nightclub but promoters, janitorial staff, designers, event coordinators, accountants, and internal staff to manage the operations of the nightclub are just some of the additional roles nightclubs need to fill.
Use this section to make a plan for the structure of your nightclub's business model from the top to the bottom and don't forget to define your role in that structure. Detail what kind of jobs you will be creating, how you will find talent to fill those positions and the kind of environment you expect your employees to create for customers and each other.
Your labor costs are a major factor in the budgetary considerations of your nightclub, as well, so it's crucial that you don't miss anything in this section that might affect the accuracy of the financial projections you present to investors.
Sample Menu
A creative craft cocktail menu could be your prime opportunity to make profits from your nightclub. If you're going for a more upscale vibe, hire a genius head bartender for research and development – they will be one of your most valuable investments as a nightclub owner because they can develop delicious, inexpensive drinks for which customers are willing to pay premium prices.
Consider the kind of experience you want to offer guests of your nightclub. A carefully curated craft cocktail menu adds to the coherence of your brand but creates a certain expectation for customers and staff that simple, classic drinks don't. A menu featuring 60 varieties of small-batch bourbon creates a different atmosphere than cheap shots and mixed drinks — but keep in mind that every city also needs a nightclubs that offer the bottom shelf stuff and cheap beer, and they often manage to make a killing as well by catering to the early 20's crowd.
---
Read this next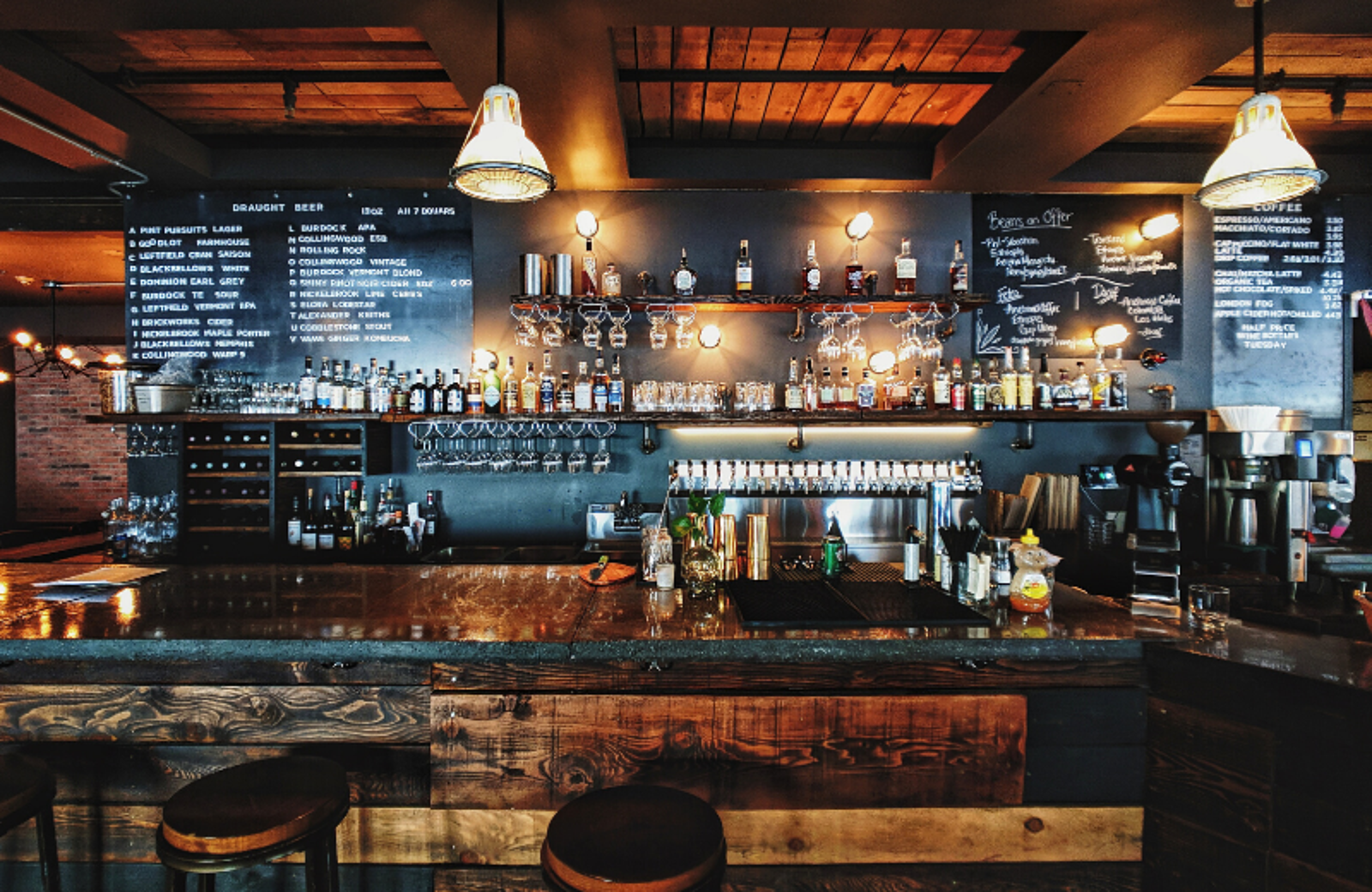 Ideas to Inspire Your Bar Menu's Design
Looking to refresh your bar menu, or make a new one from scratch? Check out these tips and examples to bring your ideas to life.
Market Analysis
Location is critical for a nightclub, because unlike many other restaurant business models, the primary product and service is the space you open to the public. The other clubs, bars, and restaurants in the area contribute to (or steal customers from) your market.
Competition for nightclubs will likely be the other clubs in your immediate area, but might also extend to the other nightclubs that offer a similar experience to the one you're imagining in your city or region. Provide details about how you plan to attract a portion of the customer base that already frequents those competitors.
Consider, too, how your menu factors into what kinds of customers will be likely to spend the money for the experience you provide, including parking near or transportation to the club, the cover or door price for events, the cost of drinks, etc. All of those things factor into who you can consider as part of your customer base in an area.
Marketing and Publicity
Once you pinpoint the kinds of customers that are likely to be interested in the space and experience you imagine for your nightclub, craft a plan to get those customers to visit with a marketing and publicity strategy.
Make plans to use the hype of a grand opening or the reach of social media to spread the word about your nightclub and get people interested in the experience. If you plan to book some exciting events or musical acts, write about those in this section of your business plan.
A solid marketing and publicity strategy lets your investors know that you're not just business savvy, but that you can convince customers to buy what you offer, and will help to impress them into investing or partnering in your nightclub.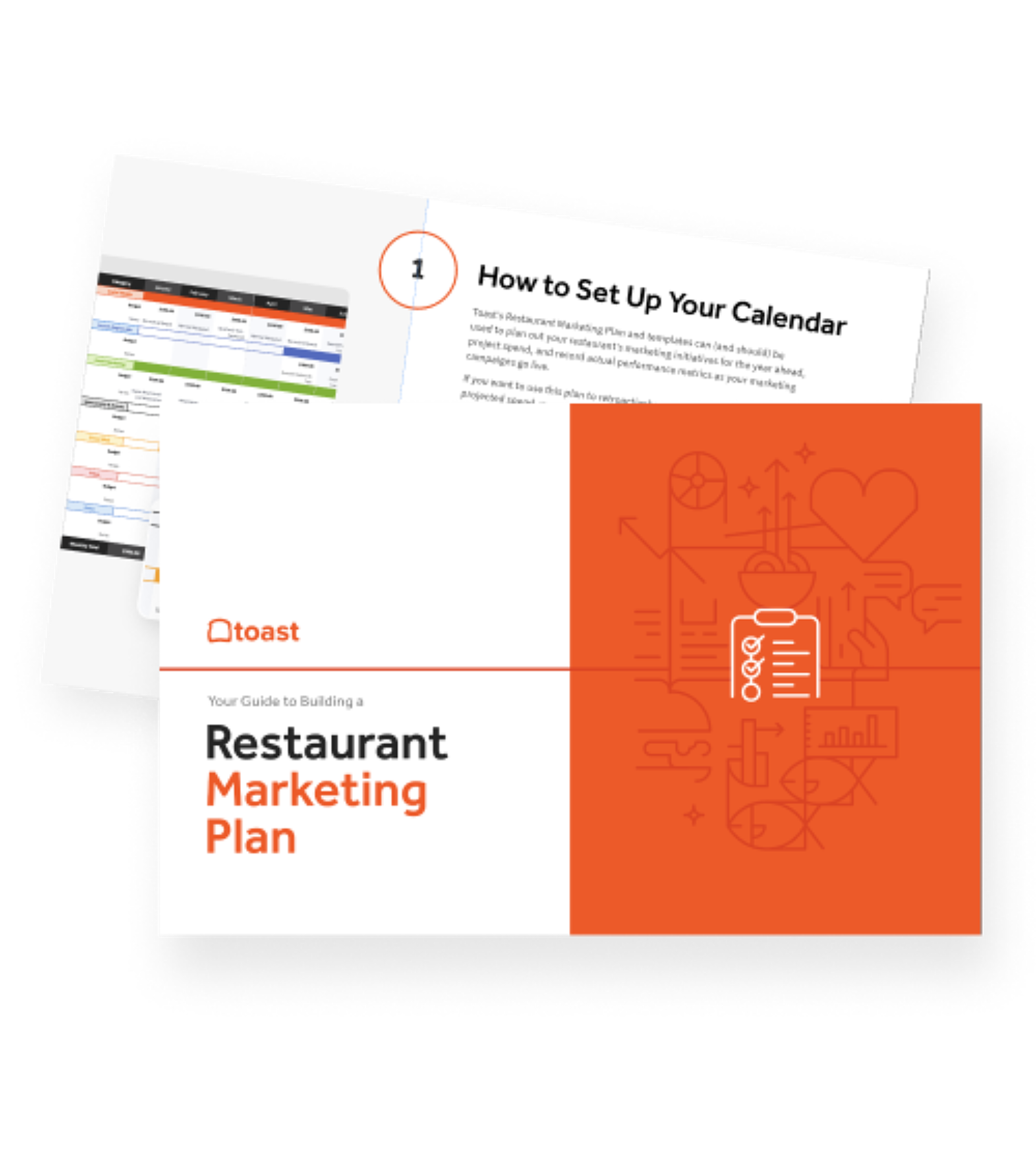 Restaurant Marketing Plan
Create a marketing plan that'll drive repeat business with this customizable marketing playbook template and interactive calendar.
Download
Branded Graphics
One of the most fun parts of planning a new business is working with designers to create graphics that will represent your nightclub's brand. Consider how the typography of your nightclub's name and the design of the logo contributes to the experience you want to provide visitors.
Use this section of the business plan to communicate with potential investors the conceptual details of your brand and how you will represent that with graphics. Include information about how you will generate brand recognition among your customers and what that will accomplish for your club.
Business Operations
The business operations section of your nightclub's plan is arguably the most critical because this section will become the north star for your business's operations from daily to quarterly. This section can't be too detailed – use it to imagine everything from how your nightclub will operate from open to close, to how it will become and remain a profitable venture over the years.
Include in this section information about the point of sale, security for your club, alcohol sales and inventory tracking, accounting, and the suppliers and event promoters with whom you plan to work.
The details of this business operations section will be a valuable resource to you from the moment you finalize plans for your nightclub. As you move through the steps of opening and operating your new business, you'll revisit this plan as an outline of your initial vision.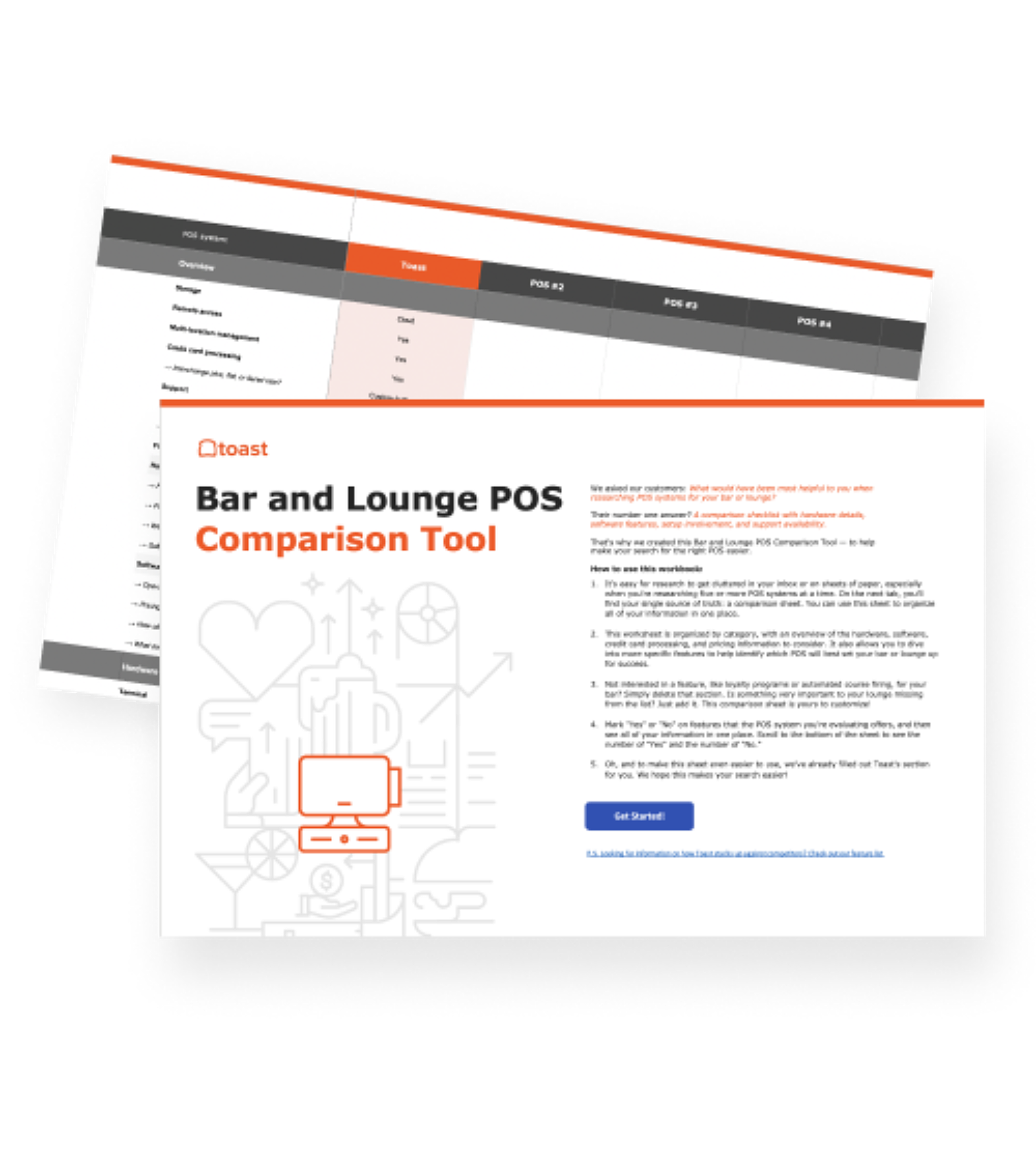 Bar and Lounge POS Comparison Tool
A free, customizable Bar and Lounge POS Comparison Tool to research and compare point of sale systems in one Excel spreadsheet or editable PDF.
Download
Financing and Loans
The least fun part of planning to open a nightclub is figuring out how to pay for it: you're likely to need between $550,000 and $850,000 in startup costs alone, and the risks of owning a club are relatively high compared to other ventures in the hospitality industry. Flex your financial muscles for investors in this section by creating detailed plans and projections for financing the project.
Nightclubs are expensive, and it's critical to consider all of your opportunities to secure funding – lines of credit, small business administration (SBA) loans, merchant cash advances, crowdfunding, commercial real estate loans, equipment financing, purchase order financing, and bank or alternative loans are just some of the ways you can plan to back your project.
---
Read this next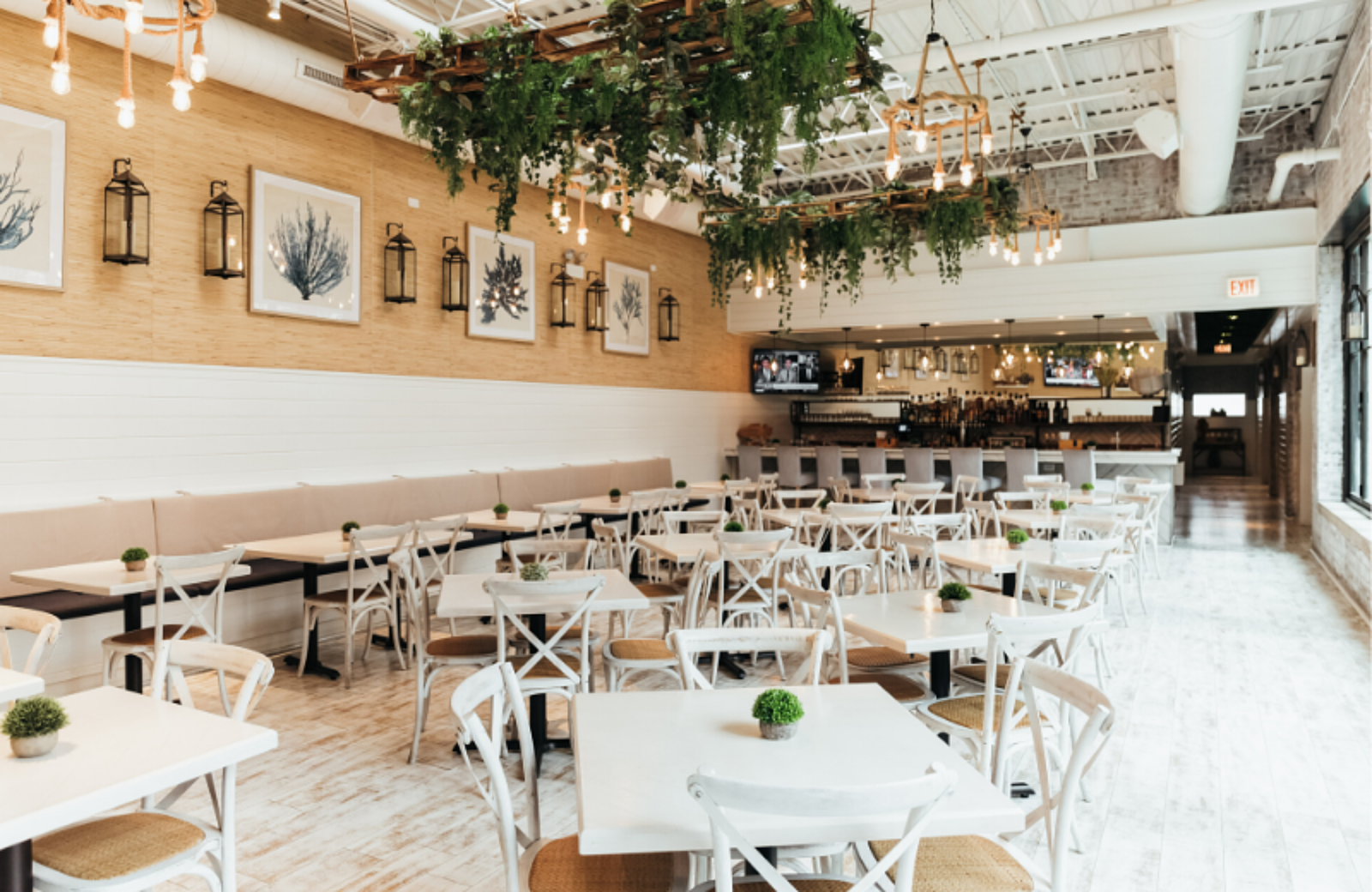 The Complete Guide to Restaurant Financing and Loans
Whether you're opening a new restaurant, expanding your concept, or renovating within your existing four-walls, you're going to need capital to make it all happen.
Sales Forecasts and Operating Expenses
The operating expenses of a nightclub include staffing and labor, alcohol, booking musical acts or events, licenses, insurance, equipment to store and make drinks, rent, marketing, etc. which should all be balanced against sales forecasts in this section of your business plan.
Business plans commonly include a break-even analysis which compares the sales required to break even with the cost of expenses each month. Investors will be interested in the potential for profit and loss in order to assess the risk of contributing to your business, but a profit and loss statement for a business that isn't open yet requires some educated projections.
A cash flow analysis shows investors that the company can support itself without additional investments by detailing planned spending on labor, supplies, and operations. Be sure to consider how the costs unique to your brewery, such as cleaning supplies or seasonal labor costs, balance at the end of each quarter.
How to Present Your Nightclub Business Plan
There are a few ways to prepare to communicate with investors about your business plan and get them interested. Remember that the way you talk about your business should be tailored to the situation you find yourself in — you don't want go into hours of detail if you're at a chance friend-of-a-friend meeting with someone who might be interested in investing, so get your elevator pitch ready and include something memorable and compelling to wrap it up.
Send your business plan to investors and banks far and wide – put your concept and plan in the hands and minds of as many people as possible. You can't hear no (or yes!) unless you ask. You can also try out networking events with potential investors and financiers.
Once you secure a meeting with a potential investor or partner, you'll want a more detailed presentation that presents all the key elements of your business plan and your nightclub goals.
It's good to anticipate potential questions and prepare answers for questions you encounter for the first time. When networking, be honest and genuine, even if you don't have a ready answer for each question that comes your way, let them know you'll follow up with an answer when you do.
Related Nightclub Resources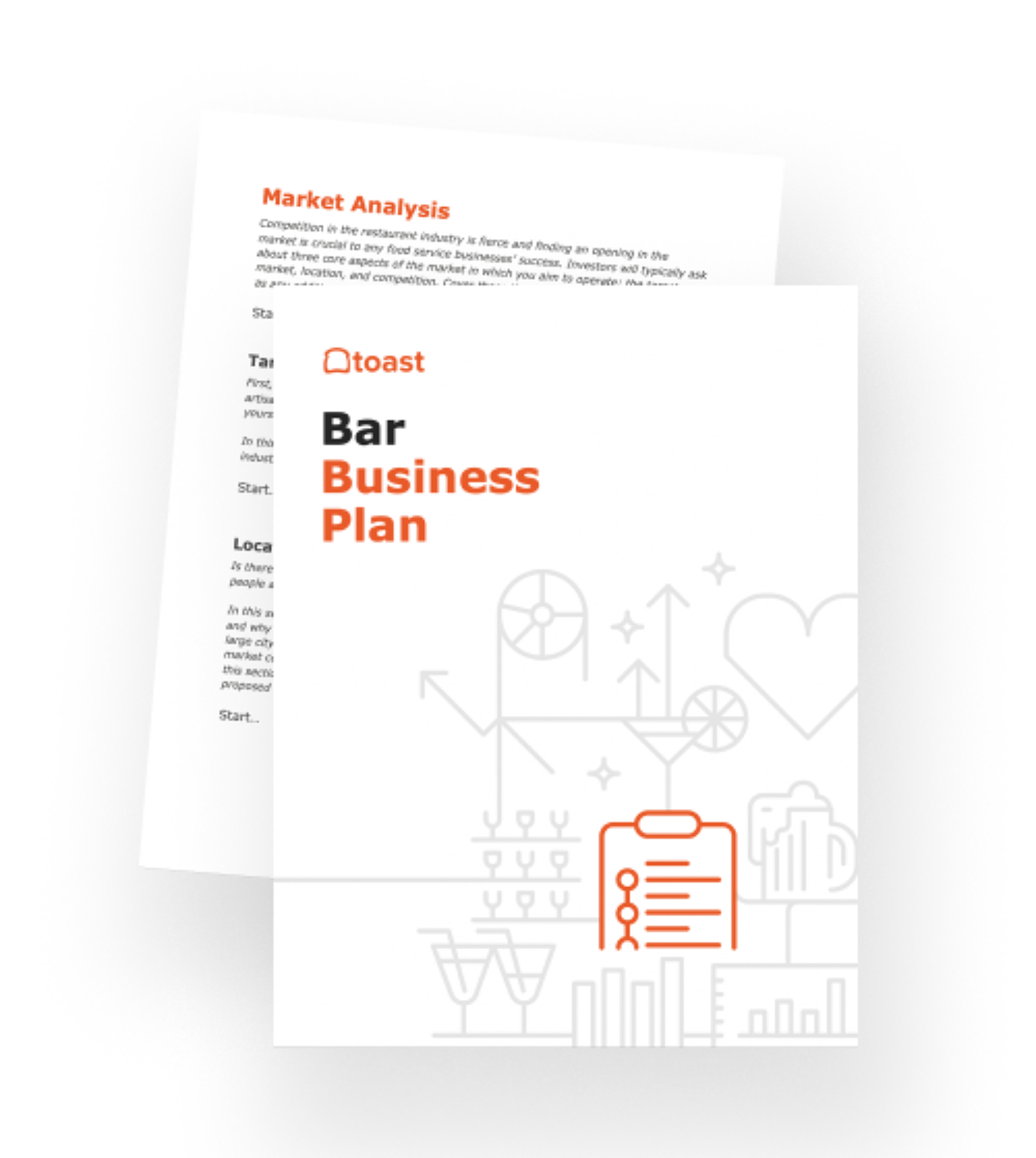 Bar Business Plan Template
Use this free bar business plan template to easily create a great business plan that organizes your vision and helps you start, grow, or raise funding for your bar.
Download