DISCLAIMER: This content is provided for informational purposes only and is not intended as legal, accounting, tax, HR, or other professional advice. You are responsible for your own compliance with laws and regulations. You should contact your attorney or other relevant advisor for advice specific to your circumstances.
The nightclub industry is changing, and bar trends are bringing the business in a new direction.
Instead of flashy cocktails and bottle service, customers in bars and nightclubs are gravitating towards a more experiential way to spend their nights (and their dollars).
I sat down with an owner, investor, and consultant of restaurants and nightclubs, Jon Gillespie, who shared some of the biggest bar trends this decade has seen, what's next for the business, and what similar concepts can do to achieve success.
Read on for the five biggest nightclub and bar trends of 2018, or listen to our chat with Jon on The Garnish Podcast!
Tackle the Challenges Facing Restaurant People
Toast and Fast Casual teamed up to share tips on tackling restaurant challenges such as increasing competition, food costs, hiring and training staff, and more.
Get free download
1) Experience is More Defining than Ever Before
You get to the nightclub, pay a hefty cover, sit in your roped off area, and...then what? Couldn't you do the same thing in a better-lit and more quiet setting back home?
If you're looking to open a bar or nightclub concept, be warned: those on the hunt for an unforgettable night adventure aren't looking for the same things they used to be. People aren't spending high covers for the "traditional" nightclub experience anymore.
"The event-driven, extremely expensive DJ trend has started to decline," Jon explained. "In addition to that, the over-the-top bottle service trend has definitely declined.
"The concept of multifaceted venues is more and more appealing to younger demographics. People like the idea of being able to go to one space and have multiple experiences, and by having those multiple experiences, we find we're able to keep them longer.
"We live in a very connected world and people are always on their phone, there's things always going on, and people like change, so I think the multi-concept venues appeal to that as there's multiple things going on so you don't get as bored."
2) People Want to Eat – Even After 9 p.m.
This bar trend spoke to me personally, as a night out isn't complete without a good bite to eat. Luckily, it appears I'm not alone, because the bar scene is trending towards late-night menus.
"We've definitely been noticing a lot more interest in late-night dining – so most of our concepts are serving food later. And they're not just moving to a set late-night menu," Jon told us, "We're actually offering a full dining experience later at night."
To keep the fun mood flowing all night long, Jon's restaurant serves up creative food for his millennial target market. Adult pizza rolls and a Lunchable-style charcuturie are his ways of calming appetites (and raising his bottom line).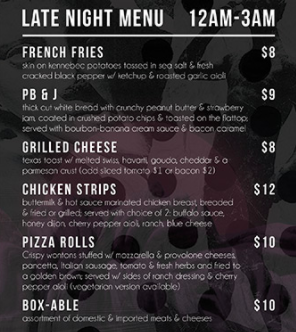 3) Tequila and Whiskey are Trending Upwards
"We've noticed that whiskey – specifically bourbon – and tequila have definitely become way, way more sexy than they used to [be], and actually one of the new ones on the rise is mezcal, so those are all definitely trending products."
The numbers back Jon's statements.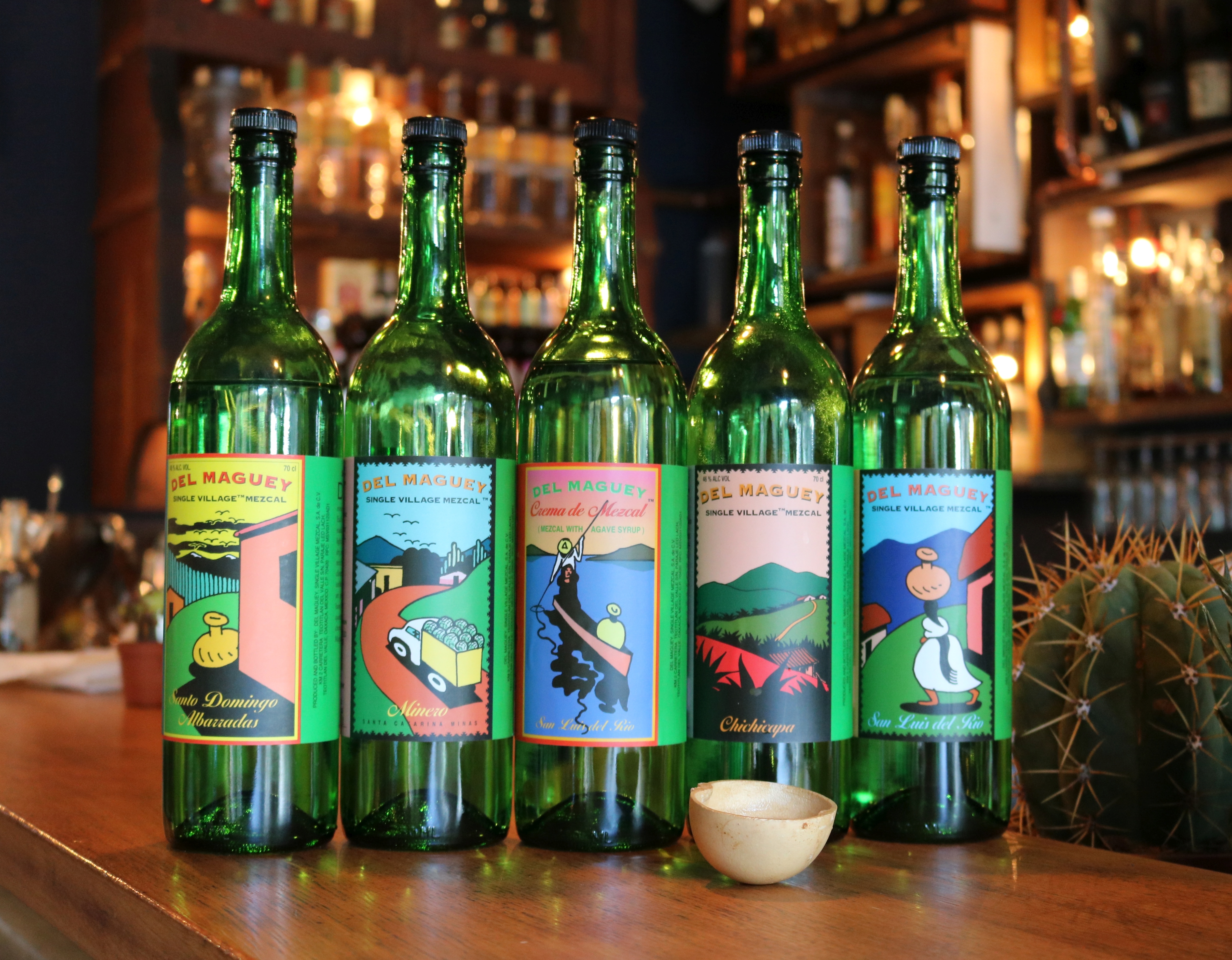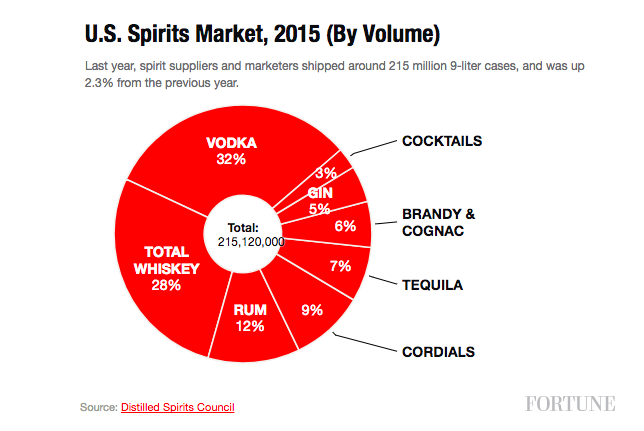 Bourbon whiskey has seen a steady growth in consumption since the spring of 2008 – with an increase of more than one million monthly drinkers from the autumn of 2016 to the spring of 2017.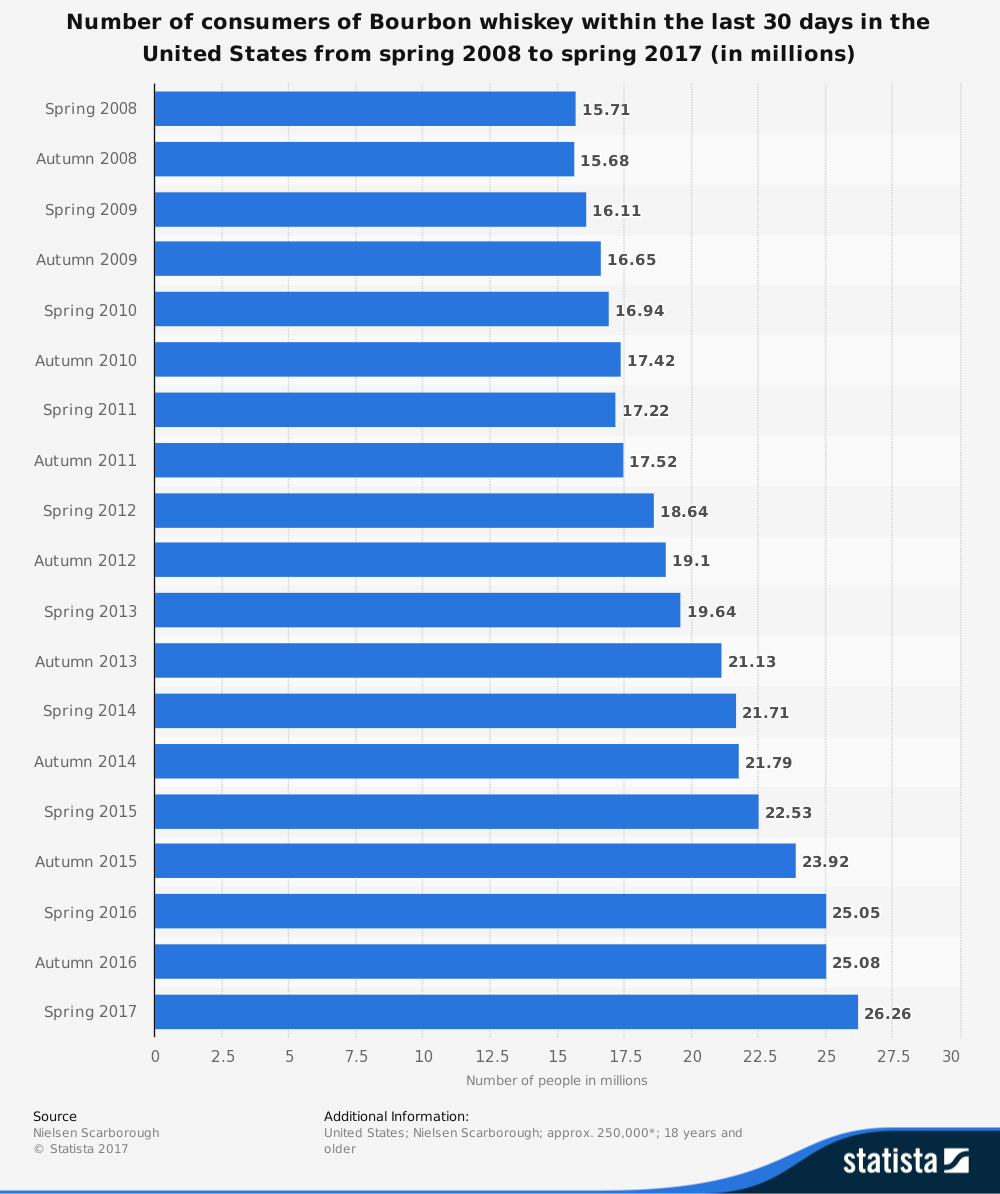 Does your venue have the right inventory in place to keep up with these alcohol and bar trends? Make sure you're equipped with the bar POS system to leverage important metrics like drink popularity and profitability.
4) The Bar Business Has Fundamentally Shifted
"The whole idea of just being able to build a nice-looking venue and charge an exorbitant amount of money is something that does not work nearly as well as a venue that creates an experience," Jon told us.
This means that your potential guests are ready to spend their money at your bar or nightclub – but only for the right offer.
"People don't have problems with paying money for things, but they want an experience," said Jon. "The experience has become much, much more important, and that goes to dining, nightlife...everything."
When I asked why this was, Jon gave a simple, one-word answer – "millennials."
When I asked him to clarify, he told me this:
"Compared to the previous generations, [millennials] are probably not in the same fiscal shape that previous generations were, so the concept of spending a 10X markup on something like a bottle of vodka is not as appealing. But if you give them a worthwhile experience, then they might see value in it.
"Anybody can go to the store and buy a bottle of vodka," he said, "but if there's something happening with that bottle of vodka – something memorable, something that's tied into a life event – maybe that's something more special."
5) Technology is Changing the Industry
With a background in big data and finance, Jon was quick to talk about how technology has warped the nightlife industry for both professionals and their patrons.
"There is technology for the sake of technology, and then there's technology that makes sense, and I feel like I keep seeing a lot more technology that makes sense," he said.
In many of Jon's restaurants and bars, he uses Toast's restaurant POS system, a point of sale built specifically for the bar and restaurant industry. Jon identified many of the benefits of Toast and explains how the platform helps him discount properly, understand customers and build relationships with them, remain profitable, and provide valuable insight to his marketing teams.
Eager to bring new, better systems to your bar or nightclub? Learn more about Toast's Bar POS System.
About Jon Gillespie
Jon Gillespie is a restaurateur and hospitality industry consultant, focusing on high volume FSRs with a flair for nightlife. He works with BDG Hospitality and Dineamic Hospitality Group.
Before transitioning to the restaurant & hospitality industry, Jon established an extensive understanding in data, technology, and finance throughout his career.
You can find Jon's restaurants around the country, from the successful fusion concept of Barrio to the multifaceted nightlife venue at LIQR BOX of Chicago, Illinois and Sophia's: A Supper Club in Austin, Texas — just to name a few.
Listen to our full interview with Jon Gillespie on iTunes or wherever you listen to podcasts!
Related Nightclub Resources