DISCLAIMER: This content is provided for informational purposes only and is not intended as legal, accounting, tax, HR, or other professional advice. You are responsible for your own compliance with laws and regulations. You should contact your attorney or other relevant advisor for advice specific to your circumstances.
Nightclub culture can be traced back to the dawn of civilization (nearly). With nineteenth-century roots in cabaret, the spirit of nightclubs has arguably always been alive in our communities in some form or another. After all, all you need to open a nightclub are entertainment, drinks, and an energized community to serve.
Ever since the first modern nightclub in the United States was built in 1886, people have been flocking to clubs in droves. That first nightclub— Webster Hall in New York City— was a catalyst of change for nightlife across the country. Suddenly late-night dancing, drinking, and mingling were not only socially acceptable but encouraged by the subsequent booming of the nightclub industry.
Jump to a century later and see that by the 1970s, nearly every major city in the United States has embraced nightclub culture. Blame it on the youth of every new generation or the simple fact that people have always enjoyed having a space where they can let loose every once in a while - either way, the nightclub industry isn't going anywhere.
As of 2022, there are over 62,000 active bars and nightclubs in the United States. For nightclub owners, this means that standing out will require a unique restaurant marketing strategy that not only attracts customers, but keeps them flocking back to your dance floor, bar, or lounge area week after week.
So, what does it take to effectively market a nightclub? It depends on your target audience, location, and current brand awareness. And which strategies you choose to invest in.
To get you started, here's everything you need to create an effective nightclub marketing strategy — as well as three key tactics you can use to keep your club full every night you're open.
Restaurant Marketing Plan
Create a marketing plan that'll drive repeat business with this customizable marketing playbook template and interactive calendar.
Download
What is a nightclub marketing strategy?
Think of your nightclub marketing strategy as all the ways you are actively trying to bring in new and existing customers. Your strategy will include the entirety of your marketing efforts, from the initial branding of your nightclub to each one-off promotional campaign you run. As you introduce your nightclub to the community and foster relationships with club attendees, you can gradually check marketing initiatives off of your list.
To guide the creation of your marketing strategy, begin asking yourself questions like — what is your purpose for opening a nightclub? What do you hope to accomplish through running your club? Who is your target demographic of nightclub attendees? It's questions like these that will help you to curate a marketing strategy that is unique to your club's identity.
How much should I spend on nightclub marketing?
Before you head off to brainstorm campaign ideas with your marketing team, you first need to determine your marketing budget. Generally speaking, the typical business spends between 3-10% of their sales on their marketing budget. Depending on your needs — the location of your club, the scope of your marketing efforts, and your overall marketing goals — this budget may fluctuate.
If your nightclub is already open and operating, you can calculate a more accurate nightclub marketing budget by analyzing your monthly profit margin, inventory turnover rate, and market share. Once calculated, there are a few tactics nightclub owners can use to lower their marketing costs if their budget is less than they'd hoped it would be.
For example, if you have a tech-savvy relative or friend, enlist them to run your social media accounts. Or, before shelling out a chunk of your budget to a PR or marketing agency, leverage your existing network of friends, family, and local business associates for their expertise. If you play your personal connection cards just right, you just might be able to lower your nightclub marketing costs quite a bit.
Nightclub Marketing Ideas
Effective nightclub marketing is the result of creative campaigns, innovative promotional efforts, and a focused targeting strategy. To generate marketing ideas that are the best fit for your nightclub, remain true to your club's unique branding and mission.
To get you started, here are four nightclub marketing strategies to consider:
1. Become the Host with the Most
Incentivizing guests to first step foot into your club is the biggest challenge you'll face while marketing your nightclub. To make a good first impression on your community, you need to give them a solid reason to choose your club over the other club(s) down the street.
When it comes to marketing a good time, don't overthink it. To give locals a reason to scope out your space, host events that speak to their interests. Everyone loves a theme. Tap into trends, upcoming holidays, and even current events to organize theme nights that will have party attendees lined up around the block. Or, invite local business owners for a complimentary cocktail hour or exclusive event to show off the spaces you have to offer, letting their imaginations do the rest.
Remember, hosting isn't just reserved for themed nights at the club or for headlining entertainment. To expand the reach of your hosting abilities, consider throwing events at your nightclub space such as:
Award ceremonies

Private events

Charitable events

Product launches

Sneak previews
2. Partner Up
Brand partnerships are a reliable way to attract new nightclub guests while strengthening business relationships along the way. The best part is - many alcohol brands and sponsors love to partner with nightclubs. Whether your partnership is just for the night, a weekend, or is an ongoing thing, being able to offer promotional drink specials is a key way to promote the unique experience your nightclub offers.
When JD.com first launched their virtual nightclub experience in March of 2020, they partnered with a collection of global alcohol brands like Budweiser and Remy Martin to provide attendees with as much of the traditional nightclub experience as they could from the comfort of their own homes.
As a result of this creative partnership, promoted liquor brands saw a 70% sales increase and promoted beer brands saw a 40% increase when compared with sales from the previous day.
3. Influencing Fun
Influencer marketing is not just for social media and digital campaigns. When it comes to elevating the nightclub experience from being just any old Saturday to being a night to remember forever, sometimes all it takes is inviting the right people.
By partnering with influencers to host events, celebrate special occasions, and promote drink specials, nightclub owners can offer a rare opportunity to attendees — the opportunity to party with fame. It can be a lasting way to bring certain demographics into your club, associating your space with unexpected celebs and VIPs.
Hiring celebrities and influencers to make appearances at nightclubs can be a guaranteed way to attract customers. "These appearances can mean a substantial increase in overall revenue," says Steve Gietka, a leader in the entertainment and resort industry.
Take Kim Kardashian's 2010 appearance at The Pool at Harrah's Resort (a nightclub in Atlantic City) for example. In just two days, the club raised over $160,000 on cover charges alone.
4. Leverage Guest-Generated Content
Although it looks a little differently in the age of the internet, word of mouth remains a powerful marketing tool. Translating this classic strategy into our modern world means leveraging natural guest-generated content to promote your nightclub.
Most likely, your nightclub attendees are already promoting your club on their private pages. Your attendees have surely posted pictures or videos of themselves and their friends enjoying their time at your club, with many probably even tagging your nightclub in their posted content. And, now that your community of attendees has already done the work of creating promotional content for your club, all you need to do is reshare this content with your larger nightclub community.
Saved By the 90s, a traveling dance party and club night, partners with Outsnapped, a photo booth that encourages their guests to share high-quality photos and videos from the night.
By sharing guest-generated content, you're allowing this content to be shared with a larger audience. When people see their friends, coworkers, or even strangers out at your club having a blast, they'll be eager to join in on the party. Just remember - you want to keep your guests feeling comfortable and happy. So, always ask for permission to use any guest-generated content before reposting or sharing it.
---
Read this next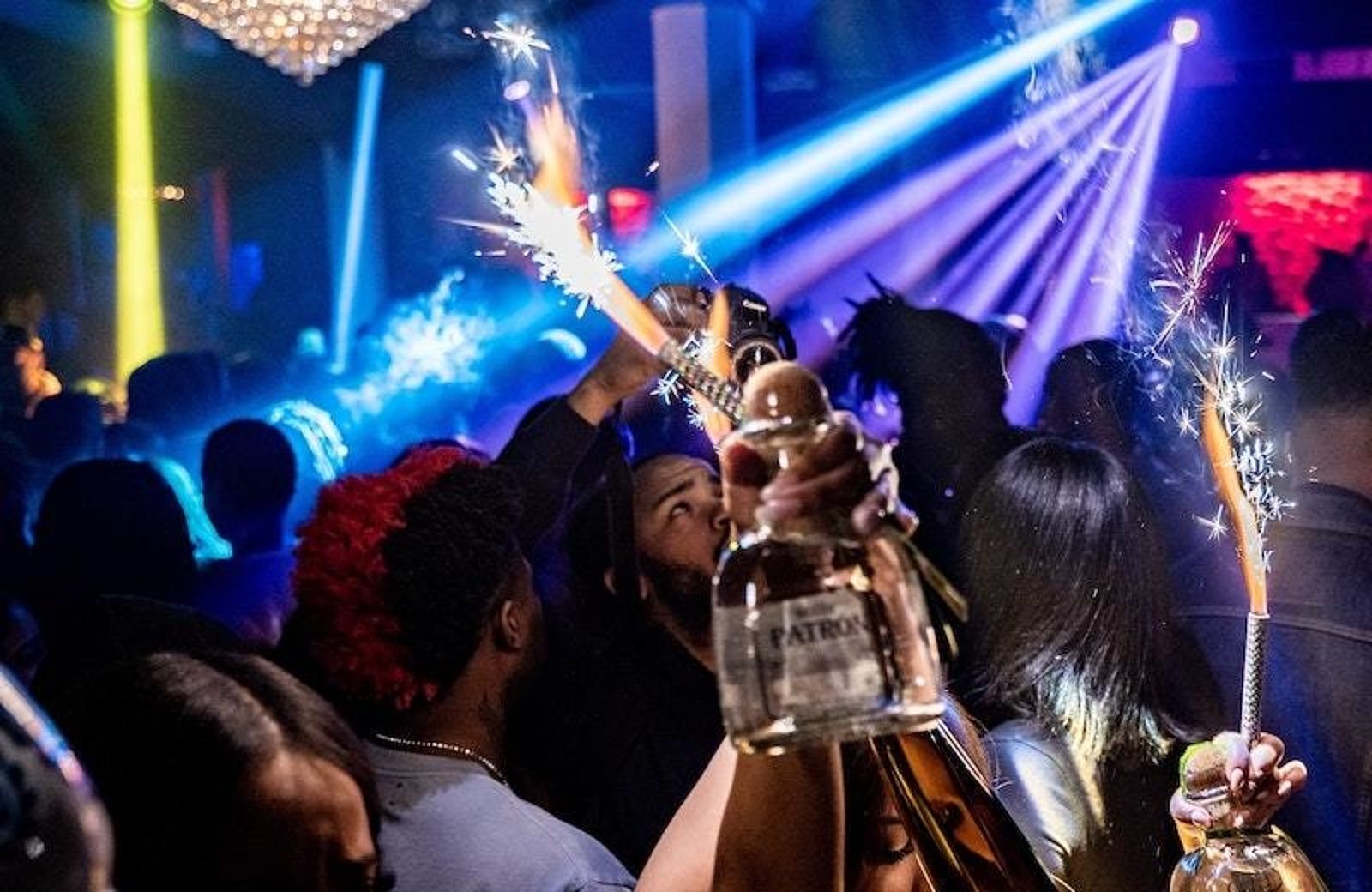 How Much Does it Cost to Open a Nightclub?
Here are all of the startup costs for opening a nightclub, and the tools and resources you need to create a restaurant business operating plan.
How to Measure the Effectiveness of Your Marketing Strategy
Now that you've begun launching your various marketing strategies, you're probably eager to begin reaping the benefits of all your hard work. To do so requires ongoing monitoring and measuring of your marketing strategy.
Ask yourself - which of my marketing strategies is overperforming beyond expectations? Which strategies could use some retooling to reach their full potential? By conducting ongoing monitoring of your marketing strategy's effectiveness, nightclub owners can make simple tweaks and adjustments to their ongoing marketing strategy — as opposed to waiting until a campaign has ended to determine its results.
To measure the efficacy of your marketing strategy, start by revisiting your goals. What had you hoped to accomplish by this point with your current campaign? Which of your goals are you on track to meet and which need a little extra attention to be reached? Only once you've developed a comprehensive understanding of your marketing goals can you effectively measure the success of your strategy, and update your budget accordingly.
What are the most common nightclub marketing strategies?
Sometimes the best marketing strategy is the most obvious one. Classic strategies are classics for a reason! To attract your target crowd, consider using one of these common nightclub marketing strategies:
Infuse personalization into every stage of your marketing campaign to boost familiarity with your nightclub.

Create a social media marketing strategy across the most popular platforms your target demographic uses.

Invest in local advertisements and online targeted ads.

Improve your organic reach by strategizing the SEO of your online presence and sticking to current SEO trends.
What are effective marketing strategies for new nightclubs?
Promoting a new nightclub is a bigger challenge than marketing a club that already has name recognition. To draw in crowds, you need to meet your ideal audience where they are and be a part of local nightlife conversations. You need to think creatively about how will you make a winning first impression with your new nightclub.
When crafting your marketing strategy, remember that being the new kid on the block isn't necessarily a bad thing. Instead, leverage the anonymity of your nightclub by infusing your introductory marketing campaign with an air of mystery. Once they're curious, your target audience will be lining down the block to try out your new place for themselves.
To successfully introduce your new nightclub to the community, be sure to:
Establish an active online presence for your nightclub, where potential guests can start familiarizing themselves with your brand before opening day.

Embrace your unique brand identity to set yourself apart from the local competition when initially attracting customers.

Host a blowout for your grand opening with promotions and special guests, to cement your nightclub as an exciting new establishment.
What are effective marketing strategies to increase revenue from existing customers and get them to spend more at your nightclub?
Now that you've attracted guests to your nightclub, it's time for you to do it over and over again. It isn't enough to host one successful grand opening or a string of crowded evenings. Your nightclub won't be completely integrated into the community until you've managed to attract a group of enthusiastic regulars.
Here are a few ways that nightclub owners can keep their guests coming back for more:
Create Opportunities for Guest Involvement
A key way to show your guests how much you value their loyalty is by inviting them to participate in the club's success. By creating opportunities for guest involvement, nightclub owners can ensure they are consistently providing their club attendees with a desirable experience.
Since the best way to find out what your guests want is to ask them, consider allowing your guests to vote on aspects of your nightclub, with an in-person or online poll, such as:
Drink specials and promotions

Types of entertainment

Special guests and influencers

Themed nights
Use Strategic Promotions
Drink specials and promotions are a tried and true strategy for attracting customers week after week. In general, don't overthink the promotions you run. Two-for-one beer specials, half-off cocktails on Thursdays, and bar vouchers with expiration dates are all simple and effective promotions.
Here's a tip: resist the urge to offer the hottest selling drinks at your nightclub during promotions. Instead, research the less popular liquor brands your serve to tap into your creativity and transform them into a hot ticket promotional item that introduces your guests to a new drinking experience.
And, when it comes to promotions, you can't forget about the visuals. Your menu needs to be eye-catching, both physically and digitally. To guarantee your promotional drink menu snags the attention of potential guests, don't miss these menu design tips.
Are you ready to pump up your nightclub marketing strategy?
Now that you have everything you need to create a successful nightclub marketing strategy, it's time to get the party started by running your first campaign. Remember to tap into what makes your club special and the unique experience you have to offer your guests. Once you do, all that's left to do is crank up the tunes and get the drinks flowing.
Related Nightclub Resources