DISCLAIMER: This content is provided for informational purposes only and is not intended as legal, accounting, tax, HR, or other professional advice. You are responsible for your own compliance with laws and regulations. You should contact your attorney or other relevant advisor for advice specific to your circumstances.
Your restaurant's menu is one of the first things your guests will interact with, sometimes before a cashier or server, and always before your food. That's why it's crucial to make sure your menu makes an outstanding first impression.
A menu with too many items, poor wording, bad photos, or incongruous design will detract from a diner's experience, putting pressure on your food and service to make up for it. A beautiful, well-written menu that fits seamlessly with your brand will make your guests feel like they've chosen the right restaurant, right off the bat.
A thoughtfully designed menu can also make a significant impact on revenue by drawing attention to profitable menu items and leaving a lasting impression with guests. While it's tempting to focus only on what looks pretty, a menu redesign is way more effective if you've analyzed the profitability and popularity of your menu items through menu engineering analysis. Take that data and use it to your advantage when designing your menu by drawing the reader's eye to your most profitable items.
These 10 restaurant menu design ideas and tips will help you make strategic decisions about how your menu should look. Keep reading to learn how to design a menu and get inspired by restaurants that are doing it well.
Restaurant Menu Templates
Use these menu templates as a starting point for your menu design or to give your menus a refresh.
Get free download
10 Menu Design Tips and Examples
1. Consider Eye Movement Patterns
Some menu engineering specialists say that when reading a menu, our eyes typically start in the middle of the page, then move to the top right, then top left, referred to as The Golden Triangle. Others say that people's eyes will immediately go to the top of the page or the top right corner.
But according to a according to a Korean research study in the Journal of Global Business and Technology, a third of your diners are more likely to order the first item they see, and a San Francisco State study says that guests read menus like a book, starting at the top left.
Tip: Cover your bases. Put high-margin dishes at the top left, top right, and center of your menu.
The menu at Alimentari & Vineria Il Buco, in New York City does just that and places profitable items in all three of these areas.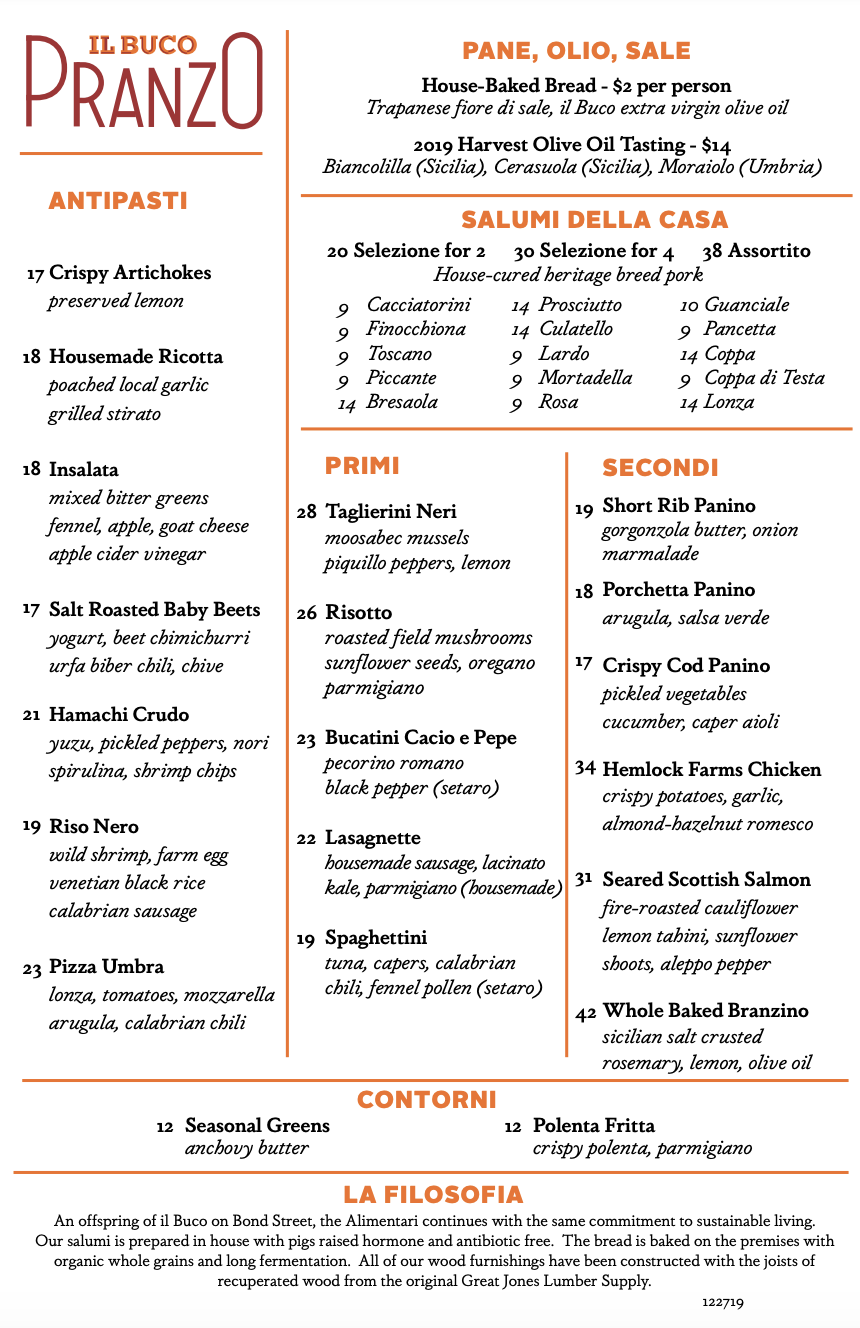 2. Use White Space Well
The human eye hates clutter. Studies show that good of white space improves reader comprehension by up to 30%. If you want your menu items and descriptions to shine, plan to incorporate a solid amount of white space into your food menu design.
Tip: Leave some negative space to improve aesthetics and ensure the guest isn't overwhelmed.
Audrey at the Hammer, in LA, does a great job with this. They highlight their name in a creative way — across all four corners of the restaurant menu — and the white space around each section helps the reader process the information and choose their perfect dish.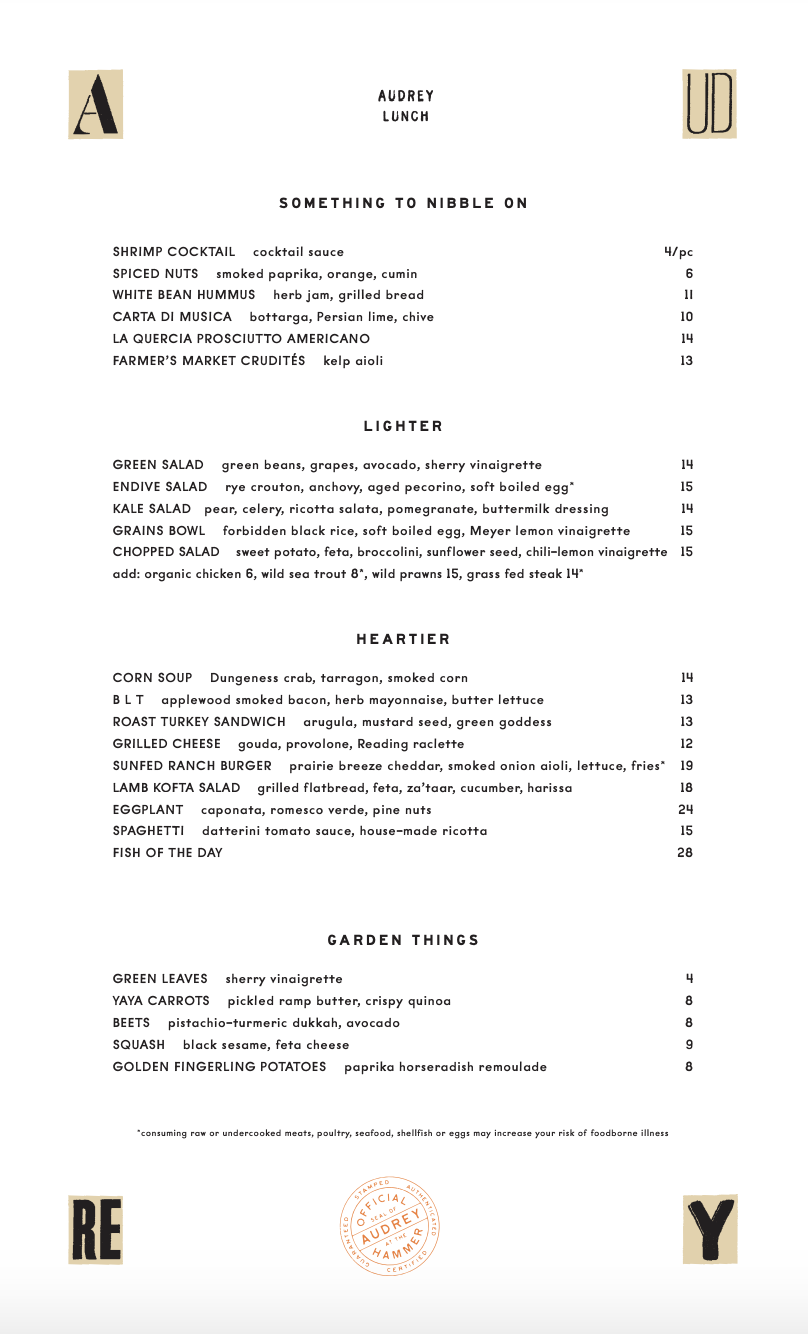 3. Use Boxes and Color for Visual Direction
If a menu item is important — or even better, you know it's profitable — highlight it! Walk your guests through your menu using design elements that put the spotlight right where they should be looking.
If you're able to, hiring a graphic designer or artist to create your menu can be a great way to make sure your brand sticks with a diner. A menu design professional can also help you design your menu in accordance with any menu engineering data you have: they can expertly use lines, color, and illustrations to draw attention to your Star menu items (high profit, high popularity) and your Puzzles (high profit, low popularity).
To learn more about menu engineering, check out our full-length free online course.
Tip: Find an artist or graphic designer who can help you develop your brand and make your menu stand out.
Birdie G's in LA has a standout menu that's not only beautiful and memorable, but draws attention to the menu items they want their guests to order. They worked with graphic designer Sheila Buchanan, who used beautiful color combinations and little birds dotted around to bring the menu to life.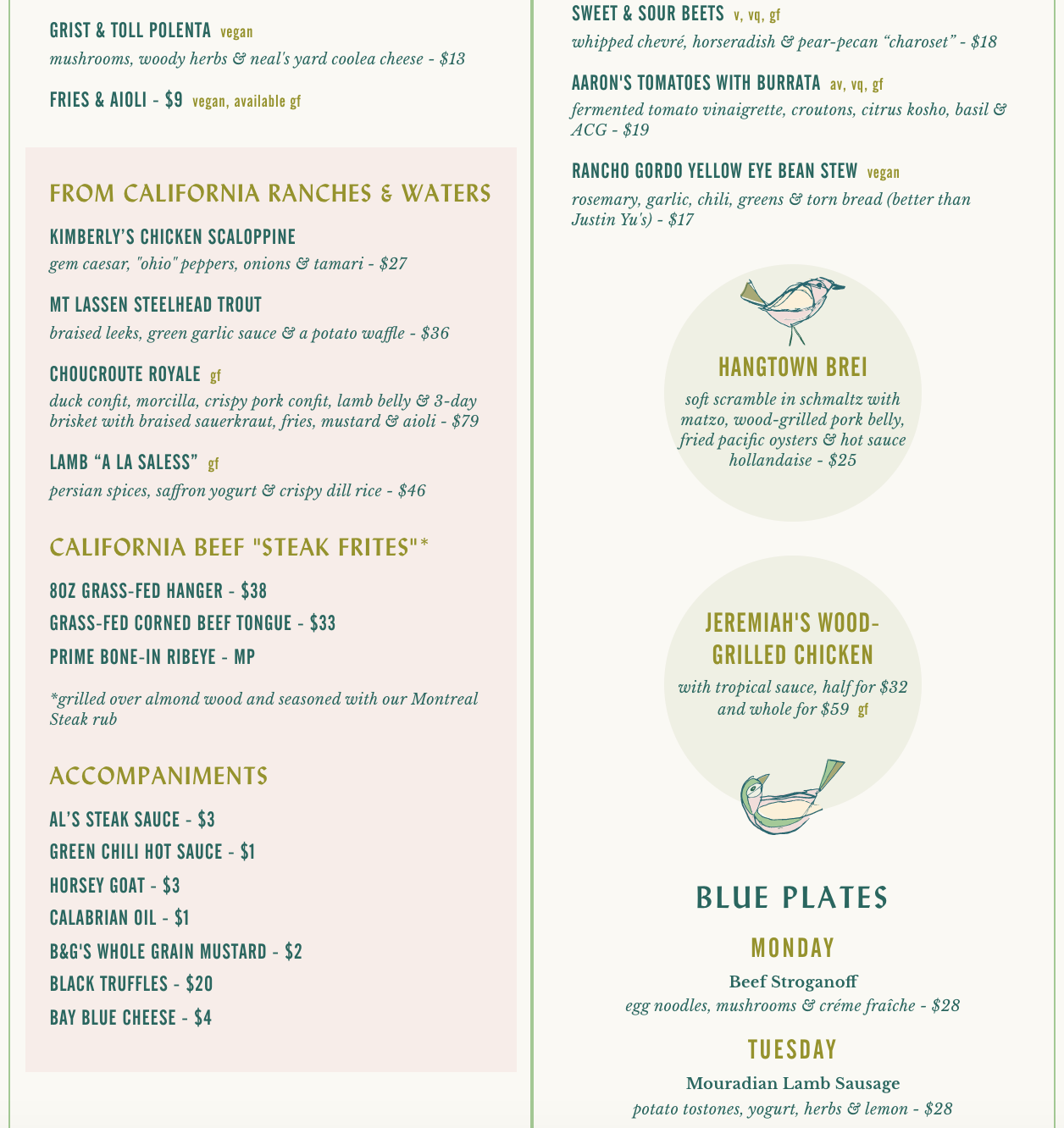 Menu Engineering Course
Take this course to make the most of your menu. Learn about menu psychology and design, managing your menu online, and adapting your menu to increase sales.
Get free download
4. Say Goodbye to Dollar Signs ($)
A study at Cornell found that diners who ordered from a menu without dollar signs ($) spent significantly more than those who ordered from a traditionally priced menu.
When it comes down to it, your guests know what the number next to the menu item means. Dollar signs trigger negative associations about spending money, so omit them altogether.
Tip: Consider removing dollar signs, and don't list prices in a single column, because it immediately invites comparison.
At REYLA in Asbury Park, NJ, their clean, beautiful menu is divided into clear categories and the prices are listed without dollar signs.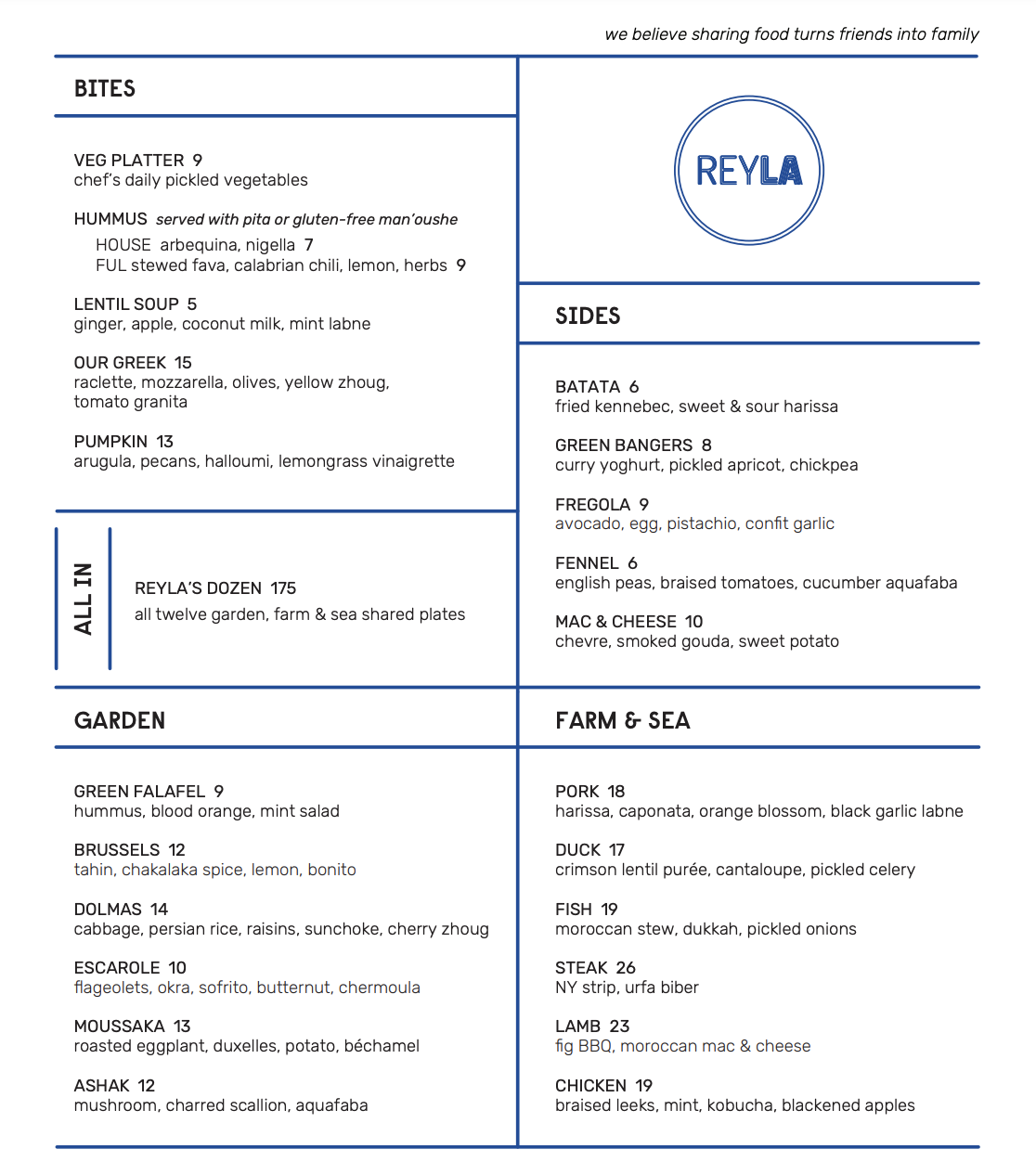 5. Reduce the Burden of Choice
A study at Bournemouth University found that there's a sweet spot between too few and too many menu choices. Diners are already overwhelmed with choosing where to eat. Once they've settled on your restaurant, don't make them sift through hundreds of options.
It's also important to note that every item on your menu should be unique to help your guests decide. It may seem like having two different steak dishes may create a feeling of abundance, but really it just makes it harder for your guests to choose and the two items compete with each other.
Having a super-long menu can also hurt sales: When it takes longer for guests to place their orders, it slows down the table turn time, so your front of house staff will serve fewer guests in a shift. For back of house operations, too, a short menu is much simpler to manage and can lead to the better execution of every dish.
Tip: Keep your menu short and curated.
Evolution Cuisine in San Antonio, TX, does a great job with this. There's 4-5 menu items per section, and every dish on their menu is unique: no item is stepping on the toes of another.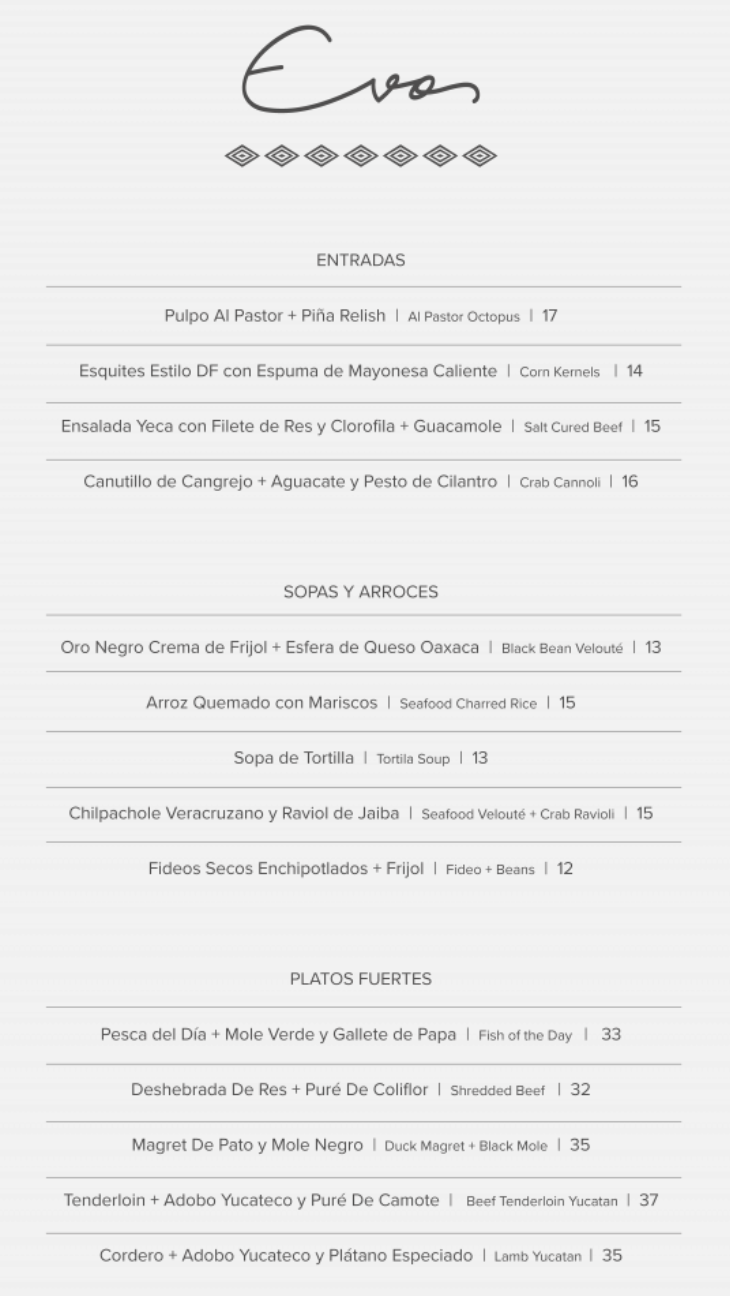 6. Harness the Power of Words
Use menu item descriptions to communicate the taste of a dish. Words like "savory," "buttery," and "crisp" elicit a visceral reaction of hunger. Use descriptions to convey the restaurant's personality and the love you put into every dish.
An experiment by Dr. Brian Wansink at Cornell University found that descriptive menu labels increase sales of an item by 27%, and they result in customers feeling more satisfied with their meal. This, in turn, led to more favorable customer feedback (as long as the item lived up to the glowing description).
Tip: Using highly descriptive language when writing your menu description.
SuMiao Hunan Kitchen in Cambridge, MA has fantastic descriptions. Their menu explains their dishes with words like "daily catch tilapia", "thirteen spices," "wok-tossed". This menu has a great balance of being descriptive without getting too wordy. It matches the fun and food-focused tone of the restaurant perfectly.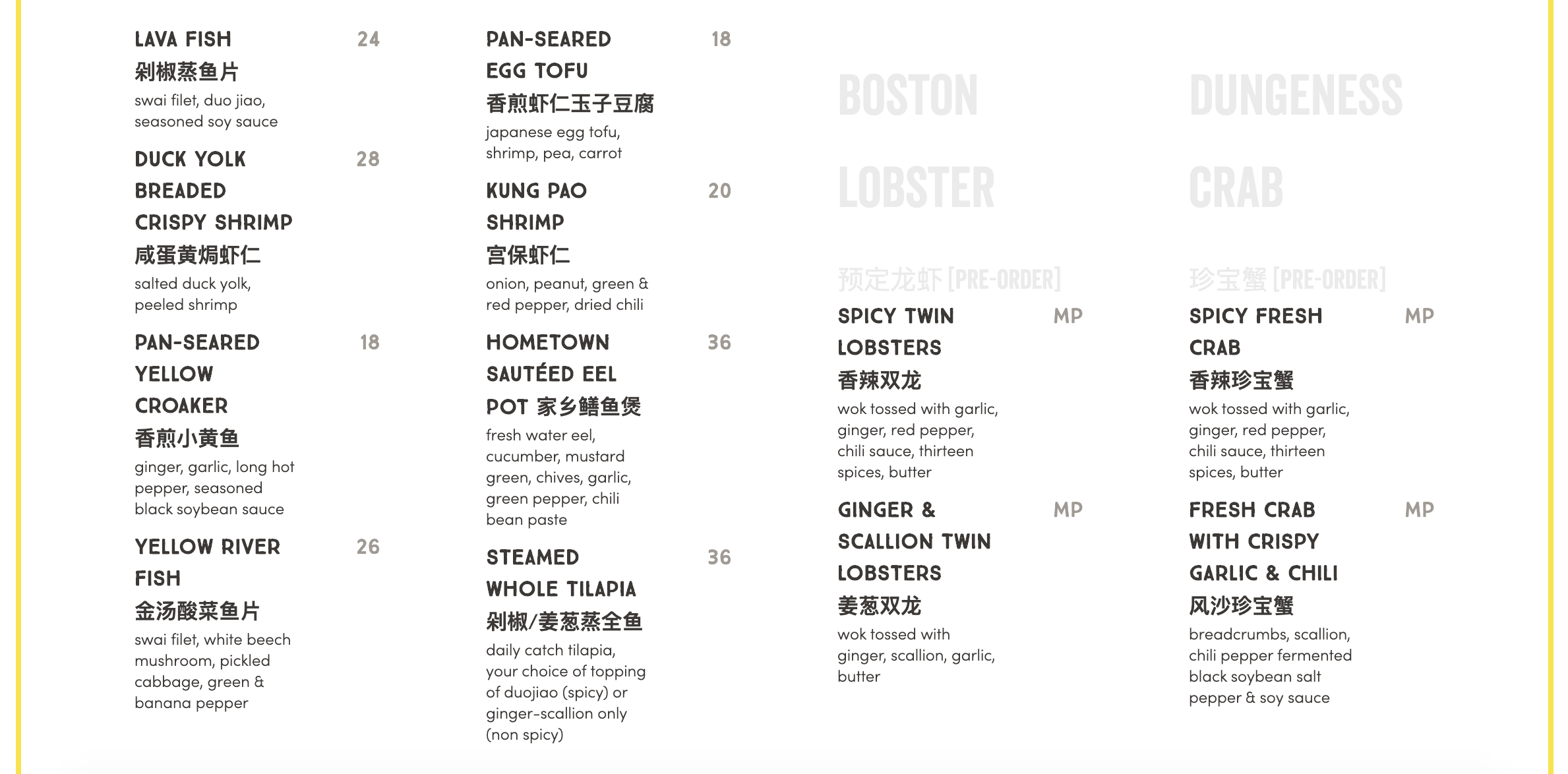 7. Consider Using Photos
Renowned menu engineer Gregg Rapp found that including a nice-looking picture alongside a food item increases its sales by 30%. A word of caution, though: Don't use mediocre photos on your menu or on your social media. Better to use no photos than bad photos.
Note that if you don't want to use photos on your menu — especially since it can be very expensive to print them — you can write out your restaurant's Instagram handle on the menu with a call-out like "check out our Instagram if you want to preview any of our dishes." You can even add a QR code or bit.ly link for easy access. Make sure your Instagram is chock-full of beautiful photos, and update it regularly.
Tip: Especially in digital menu board design, consider using high-quality photos of high-margin items to entice diners — same goes for your online ordering page (more on that below).
At Douzo Sushi in Boston, MA, the whole menu is showcased with high-quality photographs set on a black background. It's visually exciting and can get diners to order something they've never had before.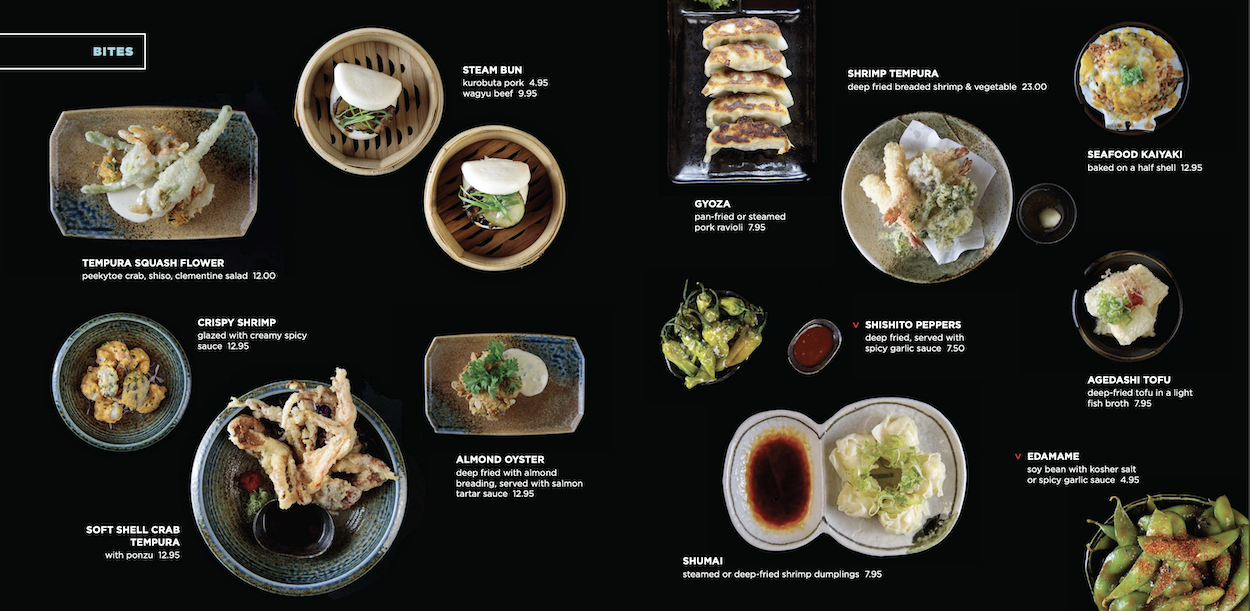 8. Design with All Senses and Needs in Mind
When creating your physical restaurant menu design, you want to make sure that above all, it's usable and legible for all your guests.
Make sure your menu's size is manageable. If it's too big, it'll be awkward to hold at the table. Too small, and some guests will have trouble reading it.
Another thing to consider for your guests with visual impairments: If your menu is up on a board above a prep area, like in many fast-casual restaurants, they might have trouble reading it. The solution here is to print a few copies of the menu in a large font to have on hand and offer them to guests who need it.
A digital menu through an easy access QR code is also a good idea here. Set up a large QR code that guests can scan on their phones, and allow them to look up close at the menu. With a digital menu, you can also make quick changes as you 86 items.
As for the other senses, make sure your menu feels nice to the touch. Choose sturdy paper, and depending on the style of your restaurant, you might want to laminate your menus or print them on cleanable cards so you don't have to replace them as often.
---
Read this next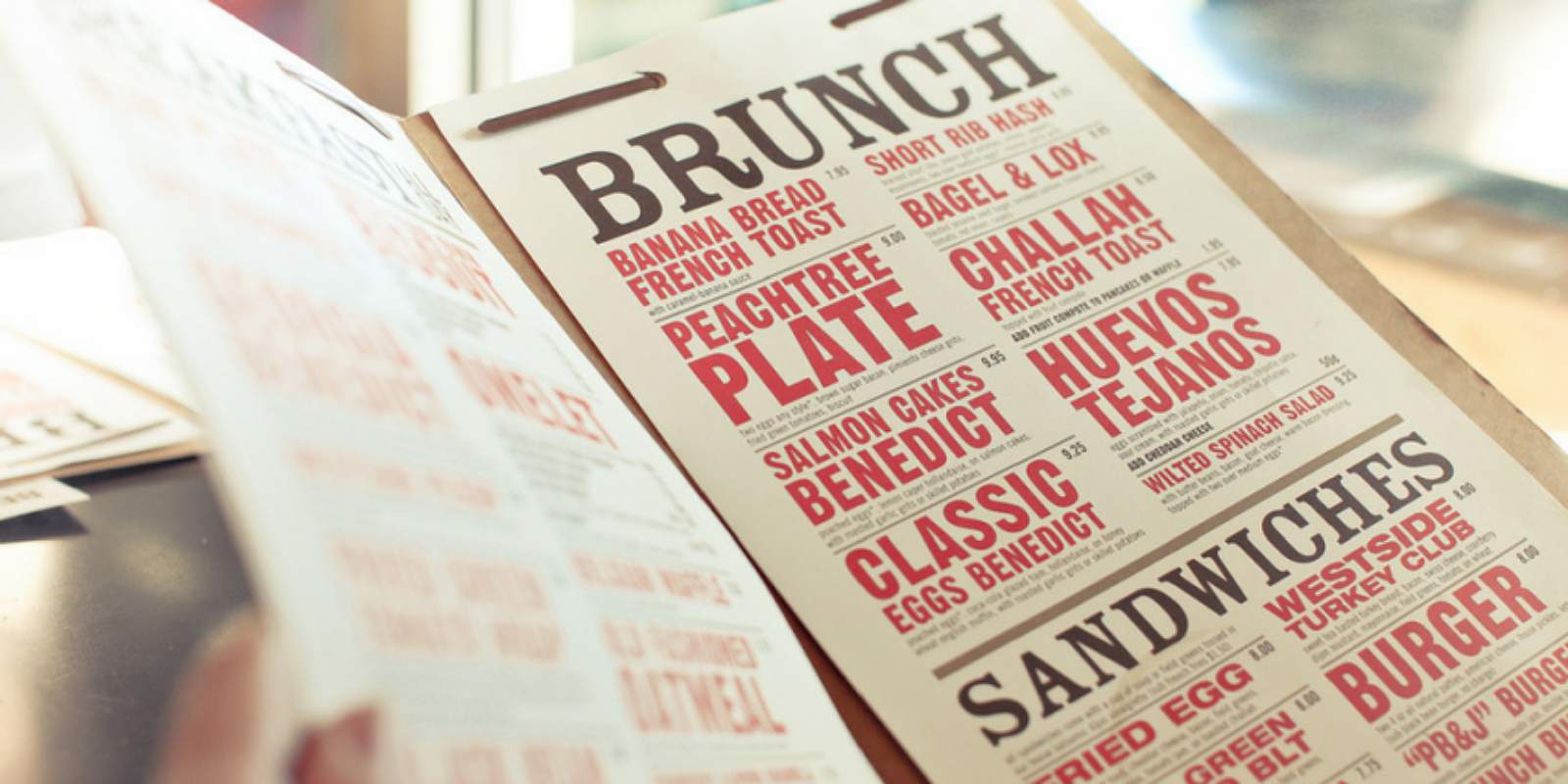 How to Make a Restaurant Menu From Scratch in 10 Steps
Everything you need to know to develop, engineer, and design your perfect restaurant menu.
9. Stay True to your Brand and Personality
At the end of the day, you want to make sure that your restaurant menu fits in well with your overall restaurant brand. Beyond your food choices, your color scheme, font, spacing, and composition are all important to portray the style and vibe you're going for. A bar menu is going to look very different from a fine dining restaurant. And a fast-casual restaurant is going to have a completely different menu set-up than a sit-down restaurant.
Design for your customer, food, and concept – and make sure you stay true to your brand every step of the way.
Boston's Saltie Girl does this well. Their menu perfectly encapsulates their brand and overall restaurant experience through colors and illustrations. At a quick glance, you know it is a seafood restaurant and raw bar, and their colors and images give off a fresh, summer feel.