Need new ideas to revamp your bar menu?
When designing or redesigning the menu for your bar, there are a few pointers to keep in mind. Coming from my previous experience as a bar manager, here are some important things to consider.
How often do you change your drink options?
How many drink options are you do you offer?
What kind of drink options do you have to offer?
Keep those considerations in the back of your mind.
You also want your bar's menu to match the theme or concept of your bar and be easy to read and understand, while also allowing you to sell your most profitable options.
Check out these tips and design examples to bring your bar menu ideas to life.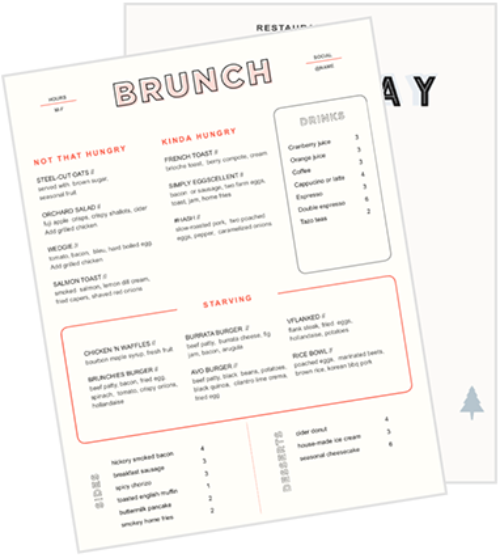 Restaurant Menu Templates
Use these menu templates as a starting point for your menu design or to give your menus a refresh.
Download
1. Keep Your Bar Menu and Your Food Menu Separate
Your drink menu should take up little space on a table or bar, making it easy for guests to put it to the side so they can then focus on the food menu.
You want people to be inclined to order another drink.
Consider a standing menu or a table tent. Even if you have too many menu items for a small standing menu, get creative in keeping the physical size small.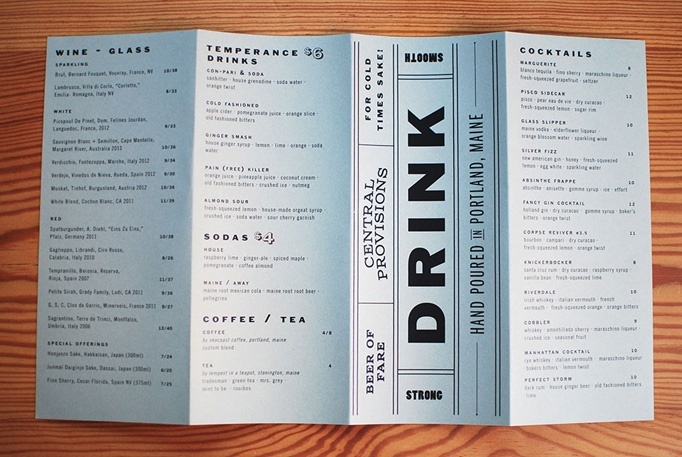 Large font will entice guests to look at what options you offer. Remember to also accentuate your most profitable items also through menu engineering. You can italicize or bold these items, but to make your menu more interesting, try using a different font altogether.
2. Choose the Right Material to Create Your Bar Menu
If you change your drink options often, the material you use for your bar menu should be cheap and easy to swap out when updated. Use paper that's not too expensive, but not basic and cheap like copy paper.
Card stock is likely the best option – especially when pinned or wrapped to a harder surface like below. But consider all options, and remember to recycle.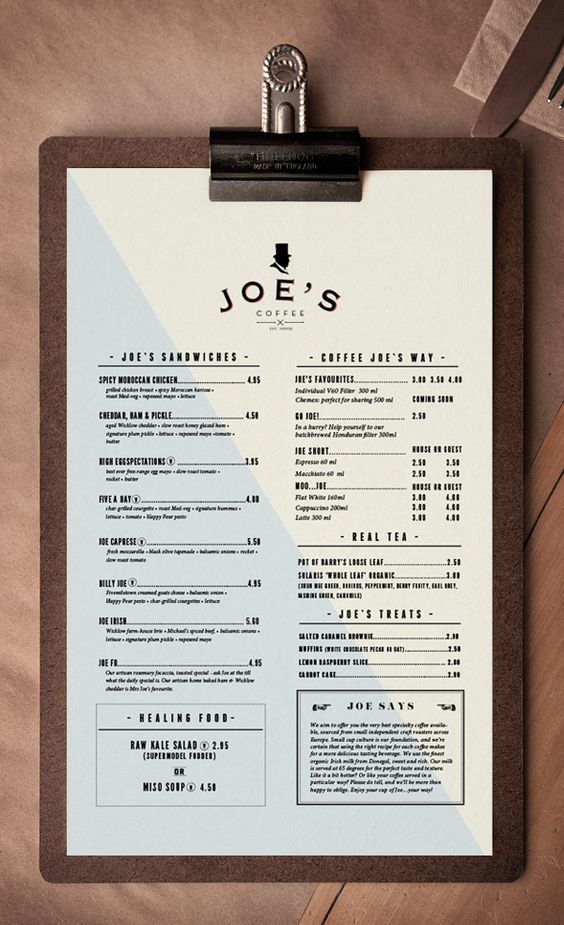 Also, make sure that your menus are easy to clean. No one likes a menu that has old ketchup or gunk on it.
If your bar or restaurant is small, consider using a large menu on a wall that's easily visible from everywhere. Use chalk or some other erasable ink so you can easily update the menu. And, when you're updating your bar menu, make sure you're also updating it in your restaurant or bar's point of sale system so your staff can keep up.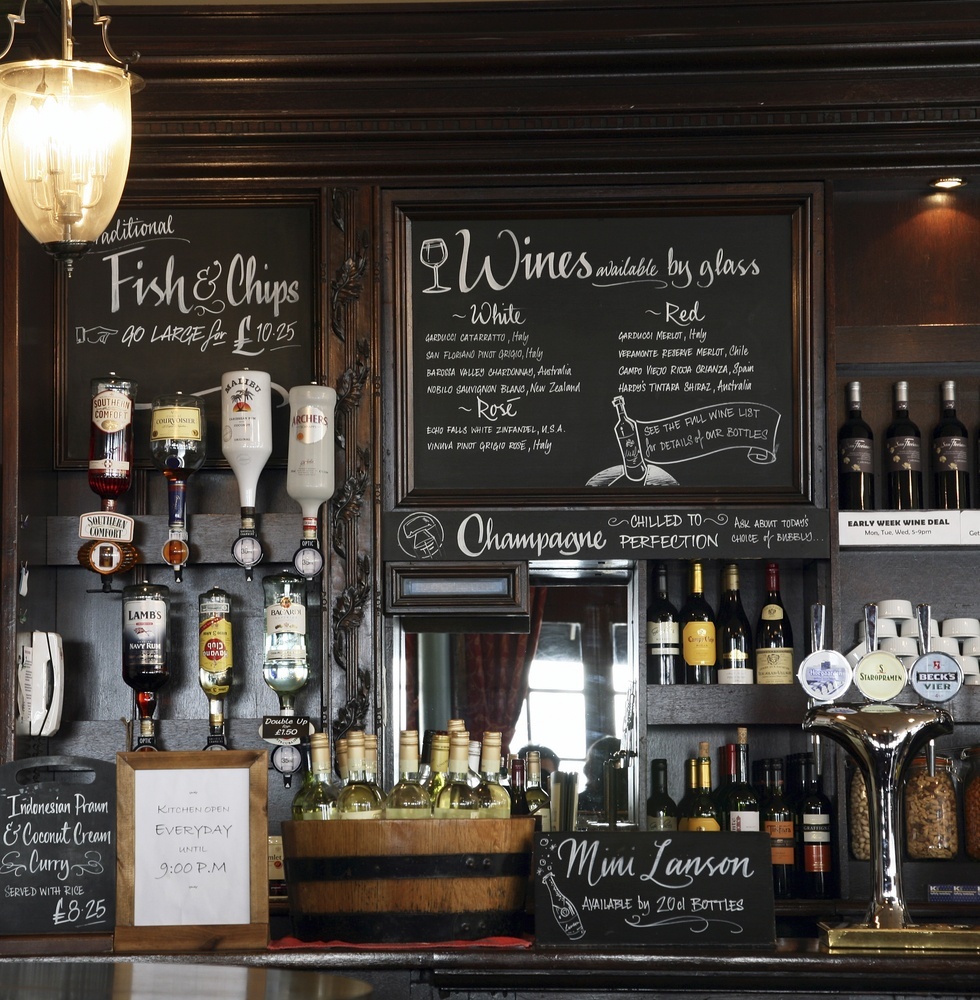 3. Match Your Bar Menu to Your Theme or Concept
A bar can be virtually any theme. Make sure that your bar menu – along with the rest of your menu – fits in nicely with your theme so your guest experience is more consistent and memorable.
Let's look at some noteworthy examples.
Example #1: Notable and Foldable
For a first example, let's look at this drink menu from a Japanese sushi restaurant.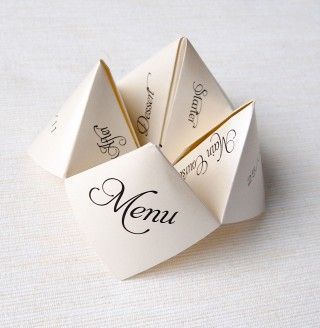 Why not have your bar menu be an easily foldable piece of origami or, if your drink menu is small enough, fold it into an origami fortune teller like the menu in the picture. That's a pretty unforgettable and interesting way to entertain your guests while also enticing them to ordering another drink.
Example #2: Blast From the Past
Running a bar that has some history to it?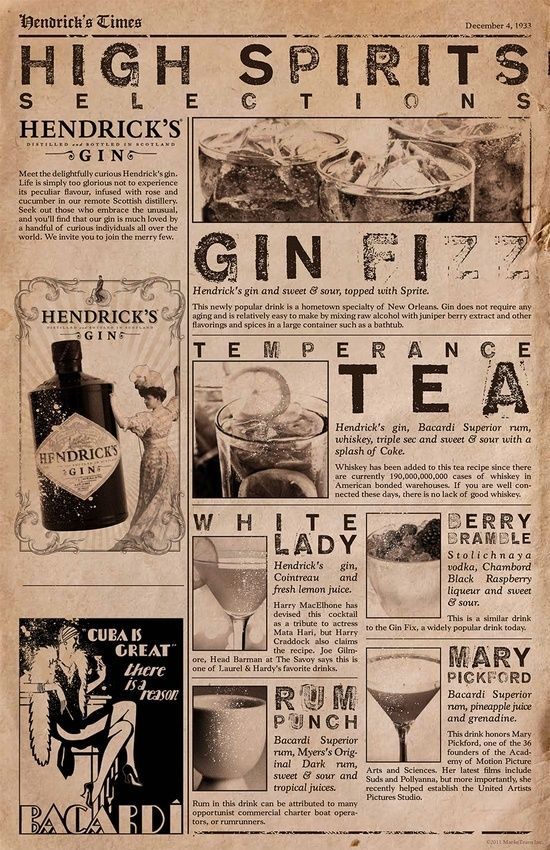 Consider a menu designed as a newspaper. It's interesting-looking, and also offers easy ways to make your most profitable items stand out with different font sizes and photos. Make the date of the newspaper the date that your drink menu was launched, the day the restaurant was came to fruition, or the present date if you change your menu often enough.
Example #3: Hanging Happy Hour
Own a tiki bar or a bar with a big outdoor area?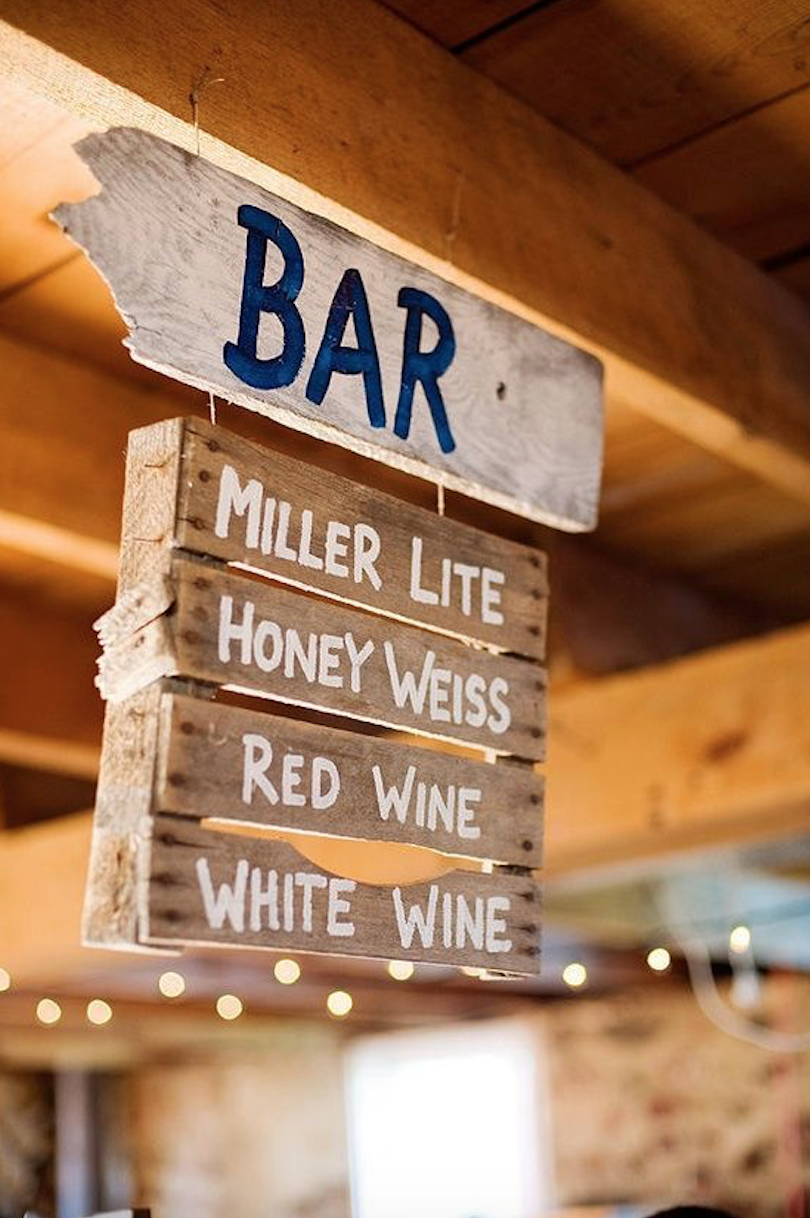 A hanging menu that stays in place and is easily visible from wherever guests are sitting is a good option. Anything and everything can be your canvas, and it doesn't have to be expensive – if you own a seaside bar, you can use driftwood or old surfboards as your backdrops.
Quick Fixes for Bar Menu Success
Designing your bar menu for profitability isn't easy, but there are a few quick fixes you need to take into account no matter how you've decided to set it up.
First thing's first: Lnow which menu items are more profitable and more popular than others, using sales reports from your bar POS system. This helps when it comes to pricing, placement, and more.
From there, here are a few tips and tricks to design to sell those profitable offerings:
Don't use the same color for every item listed. You want your most profitable drinks to be highlighted, so consider a drastically different color from the rest of your menu.
Have your revenue drivers up top. People read menus from the top right to the bottom left, so place your stars as the first items guests will read.
Bring attention to your menu's star items. Highlight best-sellers by putting them inside of boxes.
Be creative. Try bolding or italicizing certain menu items, use different size fonts, or different fonts all together.