DISCLAIMER: This content is provided for informational purposes only and is not intended as legal, accounting, tax, HR, or other professional advice. You are responsible for your own compliance with laws and regulations. You should contact your attorney or other relevant advisor for advice specific to your circumstances.
A strong bar menu is made up of more than delicious bites and a drink menu. Great design, an evolving drink list, and compelling copy can boost customer engagement and help you sell more drinks.
Whether you're getting ready to open a bar, or redesigning your existing restaurant menu, there are a few pointers to keep in mind. As a bar manager, owner, or operator, consider:
How often do you change your drink options? Adding new drinks monthly or seasonally keeps things exciting for guests and keeps customers coming back to see what new items you're offering.

How many drink options do you offer? You don't want to overwhelm your customers with too many options, but want to have enough so that there are a couple to fit everyone's tastes.

What kind of drink options do you have to offer? You want to make sure they fit your bar's overall aesthetic as well as the desires of your target audience.
Organizing your menu clearly, including fun descriptions, and highlighting your most profitable signature items are all great ways to get your guests to engage with your best-selling and revenue-driving items.
In menu engineering, there are four categories of menu items: your stars (high profit, high popularity), your puzzles (high profit, low popularity), your plowhorses (low profit, high popularity), and your dogs (low profit, low popularity). This goes for drinks menus, too!
To find your star drinks so you can highlight them on your menu, look through sales data and reports from your bar POS system and then use our free menu engineering worksheet below. Then you can dive into our design ideas with your stars — and your growing bottom line — in mind.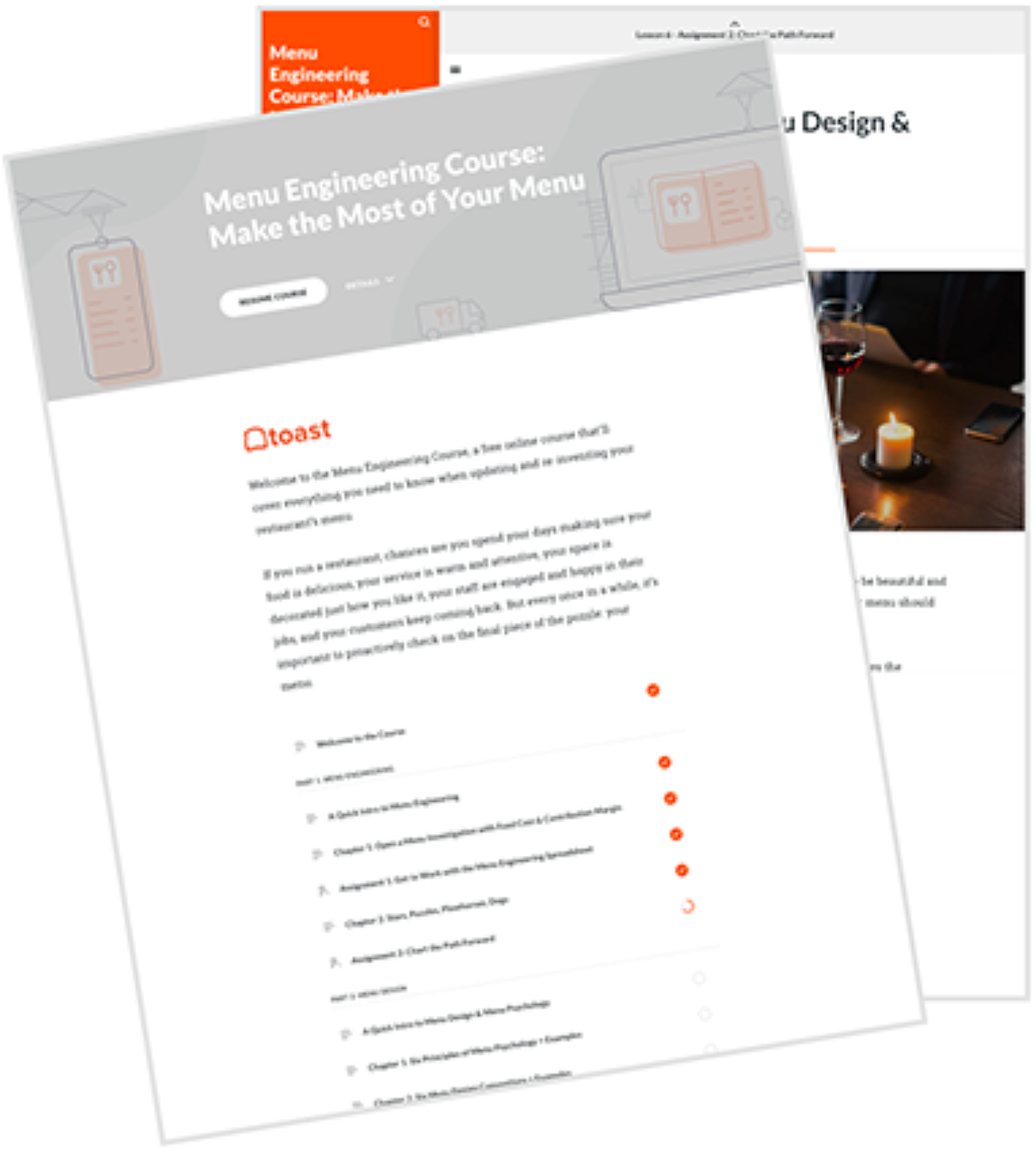 Menu Engineering Course
Take this course to make the most of your menu. Learn about menu psychology and design, managing your menu online, and adapting your menu to increase sales.
Download
Place Your Stars in Full View
Once you know your star drink items, place them at the top-right or top-center of your menu - the first two places that your guests' eyes will go to when perusing your menu.
You can also go another route and call out your stars with various colors. You want to draw the eye to your most profitable drinks, so consider writing it in a drastically different color from the rest of your menu.
Check out how Plonk Missoula in Missoula, MT features their pinot noir flight at the top of their beautiful menu.
Match Your Bar Menu to Your Theme or Concept
Make sure that your bar menu – along with the rest of your menu – fits in nicely with your theme so your guest experience is more consistent and memorable.
Bar Brava in Minneapolis, MN does a great job of keeping their look consistent from their website to their drink menu to their social media.
Use High-Quality Photos or Get an Artist to Sketch Your Drinks
Studies have shown that including an enticing photo alongside a menu item can increase sales by up to 30 percent. Add a few beautiful photos of your best-looking cocktails – especially if they come in a fun glass or are especially Instagram-worthy.
A word of caution, though: Don't use mediocre photos on your menu. It's always better to use no photos than bad photos.
If you're keeping your menu small and don't want to use full-size photos, it's also a great option to work with an artist who can create sketches of your drinks to go along with the aesthetic of your bar. At Water Bear Bar in Boise, ID, their menu includes beautiful drawings of each cocktail.
Esotico Miami did the same, in a style that matches the bar's tiki vibe.
Write Creative Copy, and Highlight Drinks with Font Size Changes
Extend your restaurant's brand and personality through titles and descriptions.
Interesting titles and amusing descriptions delight guests, and they help you build and define your restaurant's brand and tone. Citrus and Salt in Boston, MA menu is as fun and creative as their restaurant decor, and the drink names are creative and sometimes punny. (One of their drink options is "I Didn't Text You, Tequila Did")
Even on your small menu, sparing use of large font sizes will entice guests to look at the different categories of options you offer. Or to make your menu more visually engaging, try using a different font altogether to call out your stars.
While it can be tempting to use a wide variety of fonts on your menu, it's usually best to keep it to one or two font families for a clean, easy-to-read, cohesive look.
Powered by Froala Editor
Play with Bold Colors, and Use Shapes and Callouts
You can use boxes, shapes, and lines to call attention to specific menu items, or as mentioned above, you can highlight them in different font colors.
Or for a memorable, maximalist look, go with a bright background like Sidecar in San Diego, CA. They also use tons of shapes and fonts to draw the eye to all their different items.
Powered by Froala Editor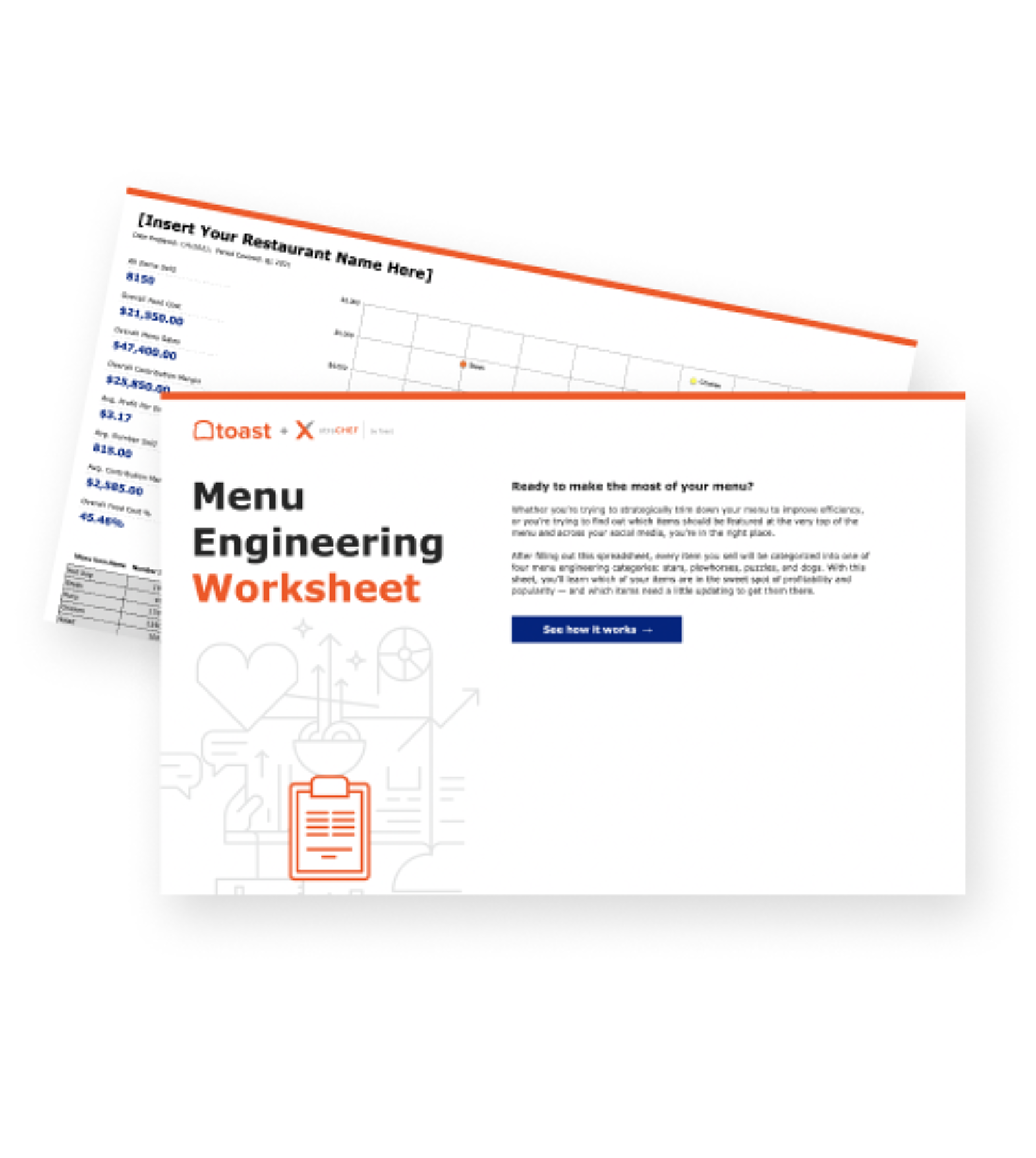 Menu Engineering Worksheet
Use this menu engineering worksheet, complete with intricate menu engineering formulas, to determine areas of strength and weakness in your restaurant's menu.
Download
Separate Your Bar Menu and Your Food Menu
Your drink menu should be accessible but also small enough to stay on the table once the food menu has been cleared away — that way, guests will be more inclined to order more drinks.
Consider a standing menu or a table tent. Even if you have too many menu items for a small standing menu, get creative in keeping the physical size small.
Central Provisions in Portland, ME have their drinks and food menus separate, but they match beautifully and are small enough for the drinks menu to stick around through the meal.
Powered by Froala Editor
Choose the Right Material to Create Your Bar Menu
If you change your drink options often, the material you use for your bar menu should be inexpensive and easy to swap out when updated. Use paper that's not too pricey, but is still sturdier than copy paper. Card stock is likely the best option – especially when pinned or wrapped to a harder surface like a small clipboard.
Check out this creative use of weathered-looking card stock and metal rings by Bible Club in Portland, Oregon:
Also, ensure that your menus are easy to clean or cheap to replace. No one likes a menu splattered with dried ketchup.
Build the Menu Off the Table
If your bar is small, consider using a large menu on a wall that's easily visible from everywhere. Use chalk or some other erasable ink so you can easily update the menu. And when you're updating your bar menu, make sure you're also updating it in your restaurant or bar's point of sale system so your staff can keep up.
Own a bar with a big outdoor space? A large hanging menu that stays in place and is easily visible from wherever guests are sitting is a good option. Anything and everything can be your canvas, and it doesn't have to be expensive – if you own a seaside bar, you can use driftwood or old surfboards as your backdrops. A hanging menu is a great place to highlight your star drinks so that guests can glance around and be tempted to order them at any time through their visit.
And for any bar in a high-foot-traffic area, a sandwich board is always a great idea.

Powered by Froala Editor
Showcase Specials (+ Seasonal Cocktails)
Offer new and inventive cocktails each month – and make them front and center on your menu and your social media.
They can be centered around the season (like an apple cider mule in the fall or a cranberry margarita in the winter), specific holidays, or a special event. Seasonal and themed drinks are a great way to change up your menu throughout the year and entices customers to come back often to see what the new drink of the month is.
Earl's in Boston, MA offers a new $7 drink every month, ranging from the March Collins Cocktail to the December Winter Sangria.
Make Your Bar Menu Work for You
No matter your bar's vibe — from dive to high-end wine bar and anything in between — your menu should work in harmony with the rest of your business's look and feel. And more than anything, your bar menu should help you sell more of your most profitable and popular drinks so you can continue delighting your guests for years to come.
For even more inspiration, check out the free, customizable menu templates below.
Related Bar Business Resources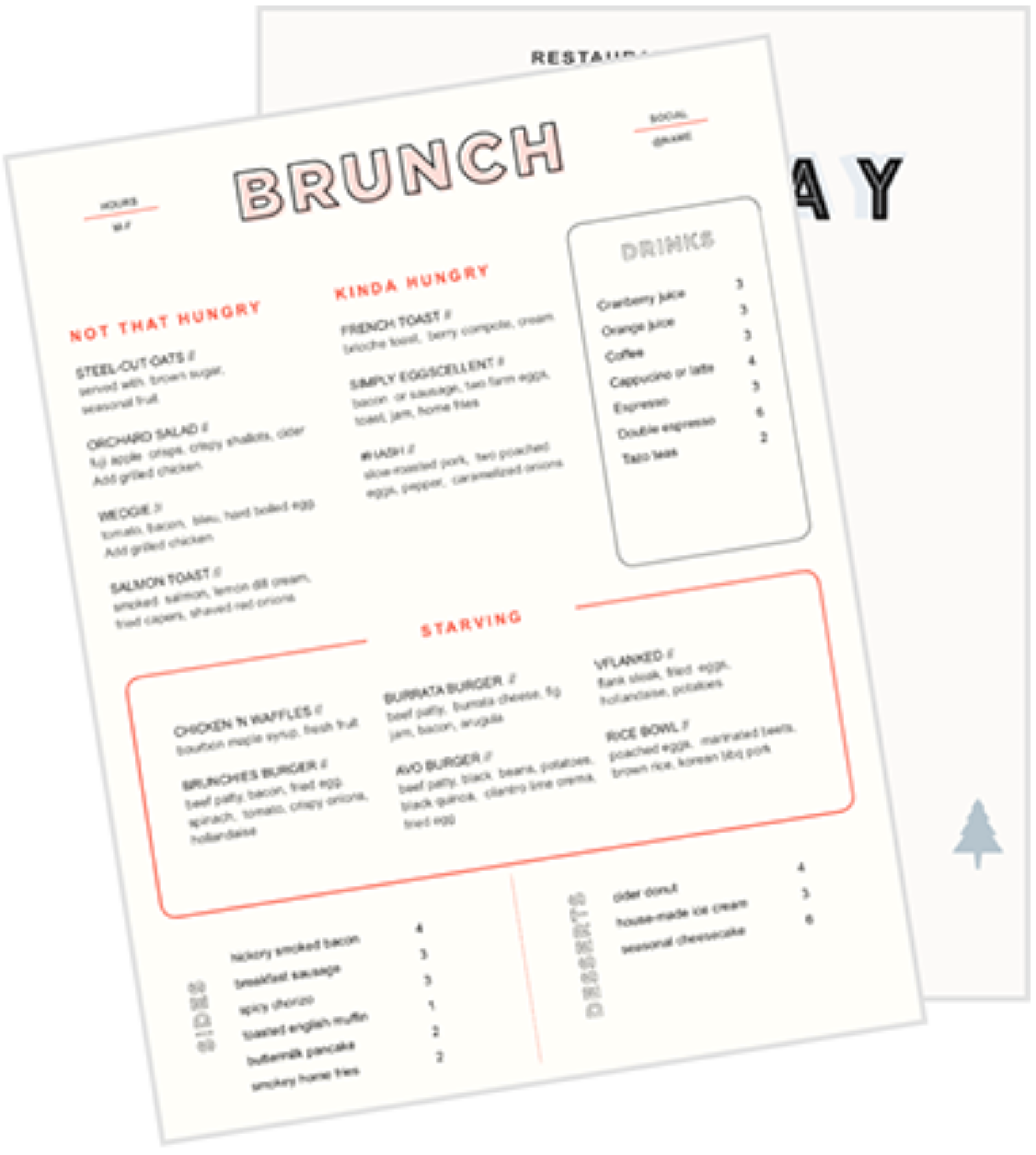 Restaurant Menu Templates
Use these menu templates as a starting point for your menu design or to give your menus a refresh.
Download