As the frequency of dining out continues to grow, restaurants are expanding how they're delighting their guests.
One way to delight an abundance of new and existing customers – without giving away seats in your restaurant – is with a catering menu.
In the last year, the catering industry contributed about $45 billion to the economy. Imagine whisking that number up in with your restaurant's revenue.
A full-service catering company will see a profit margin of 10-12 percent, while a normal full-service restaurant will see a 4-7 perfect profit margin. If you restaurants' profit margin went from 7% to 17%, wouldn't that justify introducing a catering menu to your full-service operations?
In this article, we'll talk about:
How to come up with catering menu ideas.
How to build a catering menu.
Why restaurant catering can only benefit your business in the long run.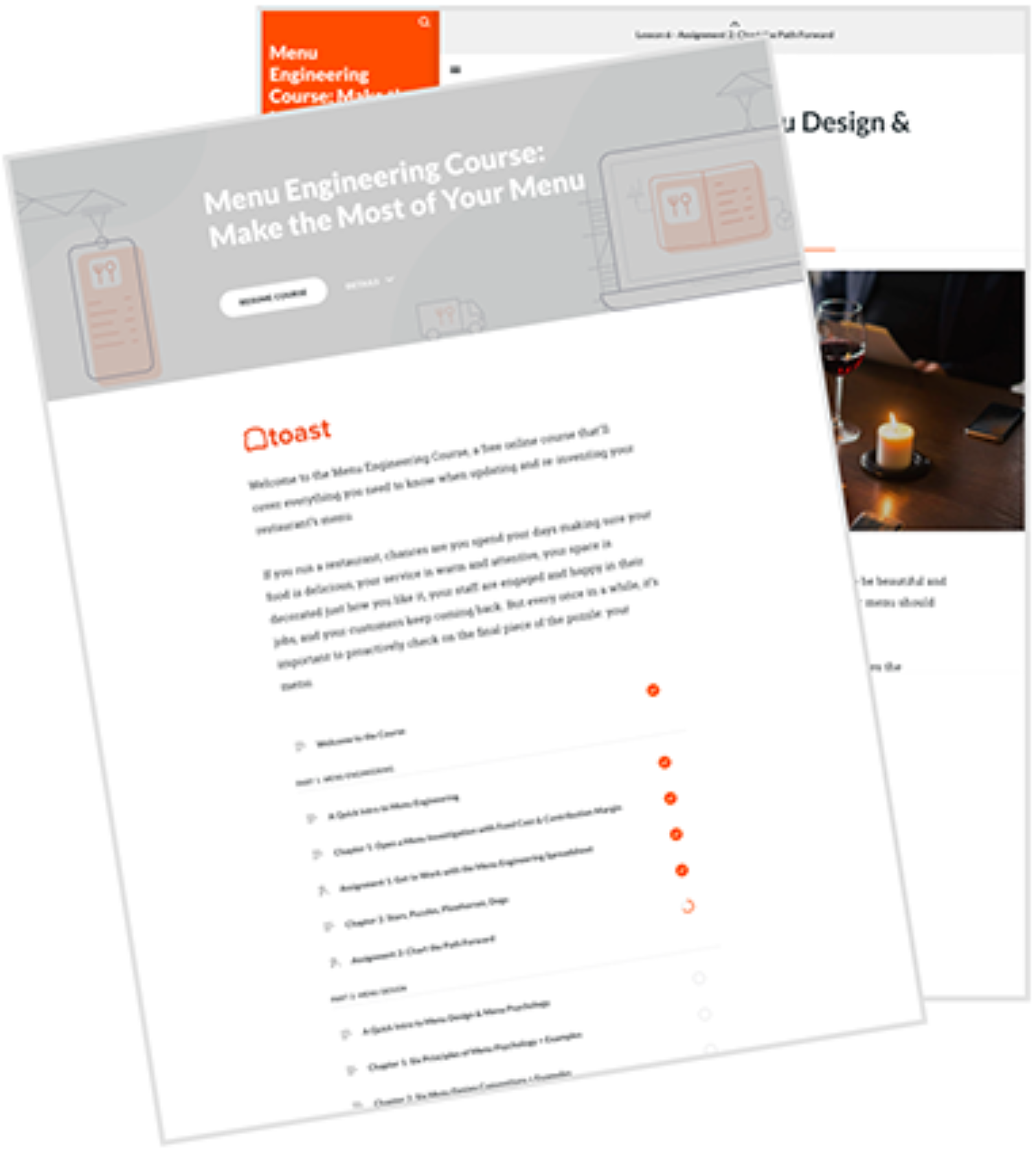 Menu Engineering Course
Take this course to make the most of your menu. Learn about menu psychology and design, managing your menu online, and adapting your menu to increase sales.
Download
Catering Menu Ideas
In creating the catering menu – just like creating the restaurant menu – you get to make all the choices that are best for your restaurant and your guests.
There are a couple different types of menu options you can choose from, but the two main options would be:
Buffet style
Plated and served
There are so many wide ranges of themes when creating a catering menu. The menu is yours to decide and modify. Here are a few ideas and examples to get you started.
1. An Offshoot of Your Current Menu
Nothing wrong with sticking to the classics. This will help guests and customers and regulars love your restaurant even more, as you'll be offering guests' favorite dishes at scale.
One example of this is Cassie's Pizzeria in New Jersey. Their catering menu includes many of the dishes and sandwiches available on their main menu.
2. A Themed Catering Menu
If you offer multiple unique dishes, or if your restaurant has a specific cultural or signature theme, you can employ this in your catering menu. For example, Greek or BBQ; your catering menu should adapt actual dishes to the consumers' wants and dietary needs.
3. Seasonal, Farm-to-Table, or Rotational Menu
If your restaurant sources farm-fresh ingredients or wants to play up to the seasons, allow this to be reflected in your catering menu. This will ensure your guests are getting the best flavors and freshest foods. This might require some frequent rewriting of your catering menu, so be aware of this time commitment before running on this path.
4. Guest Request
Remember – the customer is always right.
If they want your restaurant's take on a specific dish or cuisine, and you feel you can meet their needs, take a shot at it!
No matter what kind of catering menu you offer, make sure your regulars know that you offer catering. Below, see how Darna calls out their catering program in their restaurant over Instagram.
How to Build a Catering Menu
Step 1: Match the Catering Menu With Your Restaurant
It's important for the catering side to mirror similar quality and pricing of the original full service menu. Chef Avery Ritcher of Black Tie Catering Company combines the last two ideas from the previous section – guest requests and seasonal – to offer a set menu based off the Maine harvesting seasons with the ability to expand out of that if the guest wishes to do so.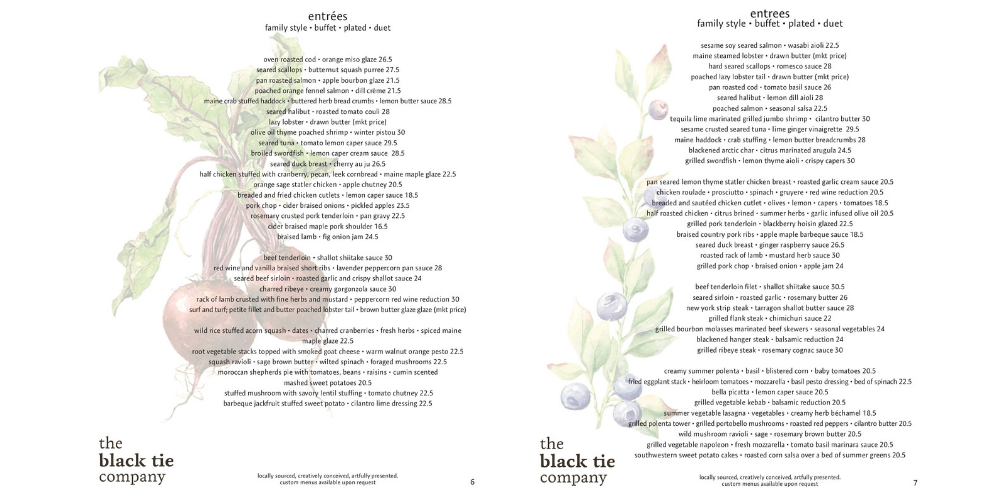 Richter follows the farm-to-table aspect and the seasonal growing patterns in Maine. I reached out to her and asked what she thinks it takes to build a great catering menu.
She told me the following:
"Each chef, when catering, is striving for a creative and memorable dish so that the guest will remember, enjoy, hence come back for their next event or meal."
Step 2: Know Your Numbers
Below are some metrics to take into account when building a catering menu. These are crucial for this new revenue stream to be successful.
Cost per Plate (Total Food Cost ÷ Total Guests Served)
Cost per Person
Number of Guest
Labor Hours
Profitability
You can determine profitability of your catering venture by adding the cost of food, labor, and materials (heaters, food trays, tables, etc.), and subtract that from your gross revenue. Keep in mind that time spent prepping for the event and working the event should factor into labor cost.
Gross Revenue - Food Cost - Labor Cost - Materials Cost = Profit
These metrics and equations are crucial for the restaurateur to be aware of in order to make profit from the catering sector.
Step 3: Price the Catering Menu
The chef or restaurant owner should already have an idea of gauging costs from the regular restaurant menu, and you should know how to price catering menu items appropriately, profitably, but not too aggressively.
A markup of three times the cost of food for a catering menu is appropriate, and too high of a markup can send your customers running.
Keep in mind – customers are usually prepared to spend hundreds, thousands, or even tens of thousands of dollars on catering, so they'll be eager to cut costs wherever they can.
Step 4: Set Up Your Schedule
Offering catering year-round will ensure the best "catering revenue."
Wedding season may be the busiest time for catering, but there are other events that happen outside of the May to September timeline that your restaurant could value in having a catering menu. Expanding from the day-to-day restaurant functions with catering will help your servers, your brand, and overall revenue source for your restaurant, so why limit that to just one season?
That said, catering takes time and resources that your restaurant may not be able to afford to go without. Maybe one or two events in the fall and winter don't justify keeping catering around for the full year, so do some testing and determine what's best for your restaurant.
Let's Get To It!
These small tips and tricks will help you decide how to expand your restaurant into having catering functionality, which in the end will help bring in a new revenue stream and grow your business, and without drastically growing your expenses.
Keep your menu strong by expanding its accessibility and with the right menu engineering best practices.