DISCLAIMER: This content is provided for informational purposes only and is not intended as legal, accounting, tax, HR, or other professional advice. You are responsible for your own compliance with laws and regulations. You should contact your attorney or other relevant advisor for advice specific to your circumstances.
What Do You Need to Start a Catering Business? (Checklist)
Although the restaurant industry at large took a hit last year and is still in recovery mode, the catering industry is one facet that has proven to withstand the pandemic. As of 2021, the catering market in the United States reached $15.4 billion, with 8% growth this year alone.
After nearly two years of doing much more cooking at home than usual, consumers are ready to relinquish some of that responsibility for it comes to their gatherings. While big-time wedding and conference catering might be the first to come to mind, many caterers specialize in much smaller functions, like Thanksgiving or Christmas dinners, baby showers, and other celebrations.
If you're one of the many prospective catering business owners out there right now preparing to join the industry, here's a step-by-step checklist for opening a restaurant business.
1. Choose a Catering Business Format
Catering businesses are versatile, creative types of food businesses that have the potential to operate out of a variety of spaces. The increasingly popular "ghost kitchens" are an ideal format for a catering business — they provide a space to cook and prepare food without offering seated dining of any kind.
Catering businesses can fall into the following formats:
Brick and mortar catering establishments: Based out of a brick-and-mortar restaurant location that offers tastings or events.

Ghost kitchens: Using a rented, leased, or purchased prep space like a ghost kitchen or commercial kitchen, often close by event spaces or popular event destinations.

Home-based: Many catering businesses start from people's homes and stay that way until they outgrow the available kitchen and prep space.

Mobile catering trucks: Caterers often need small trucks to operate, and some even prep food on the go using mobile catering trucks.

On-site: Some catering businesses prepare food on-site and don't have a physical location.
How do I start a catering business from home?
Broadly, there are two types of catering services: on-site and off-site. For on-site catering, meals are prepared at the event space, and with off-site catering they are prepared before arriving at the event. Running a catering business from home can be a great way to start with low overhead.
There are many prerequisites to operating an off-site catering business out of your home, including:
Learning if your state and county allows for you to operate a business out of your home — work with a professional on this step and make sure your potential business is compliant.

Finding out if your personal kitchen meet all health department guidelines (which may include things such as enhanced ventilation systems or three-compartment sinks)

Considering if have the necessary ingredient and supply storage available
Whichever business format you choose for your catering business, know that you can always grow and evolve over time. When the time comes, you can open a brick-and-mortar location or change your business format.
2. Write your Catering Company Business Plan
As you move forward, your catering company business plan will serve as the blueprint for your opening and operating processes. The ideal business plan is thorough and covers startup costs, ongoing operations, marketing, and other strategic business considerations. By the end of writing your business plan you should have a clear plan to execute your vision.
A comprehensive catering company business plan includes:
An executive summary of your history as a business owner, your purpose for starting the company, and your strategy to ensure success.
An outline of your projected financial growth.

An outline of your marketing and sales strategies for the first few years of business.

A general market analysis of your competition and the industry, on both a local and national scale.

The name of your catering company (just remember to first run your name through the U.S. Patent and Trademark Office to see if your name has already been taken).
To begin analyzing what you need to launch your catering company, use the Toast Restaurant Business Plan Template as a jumping-off point and customize it to fit your business's needs.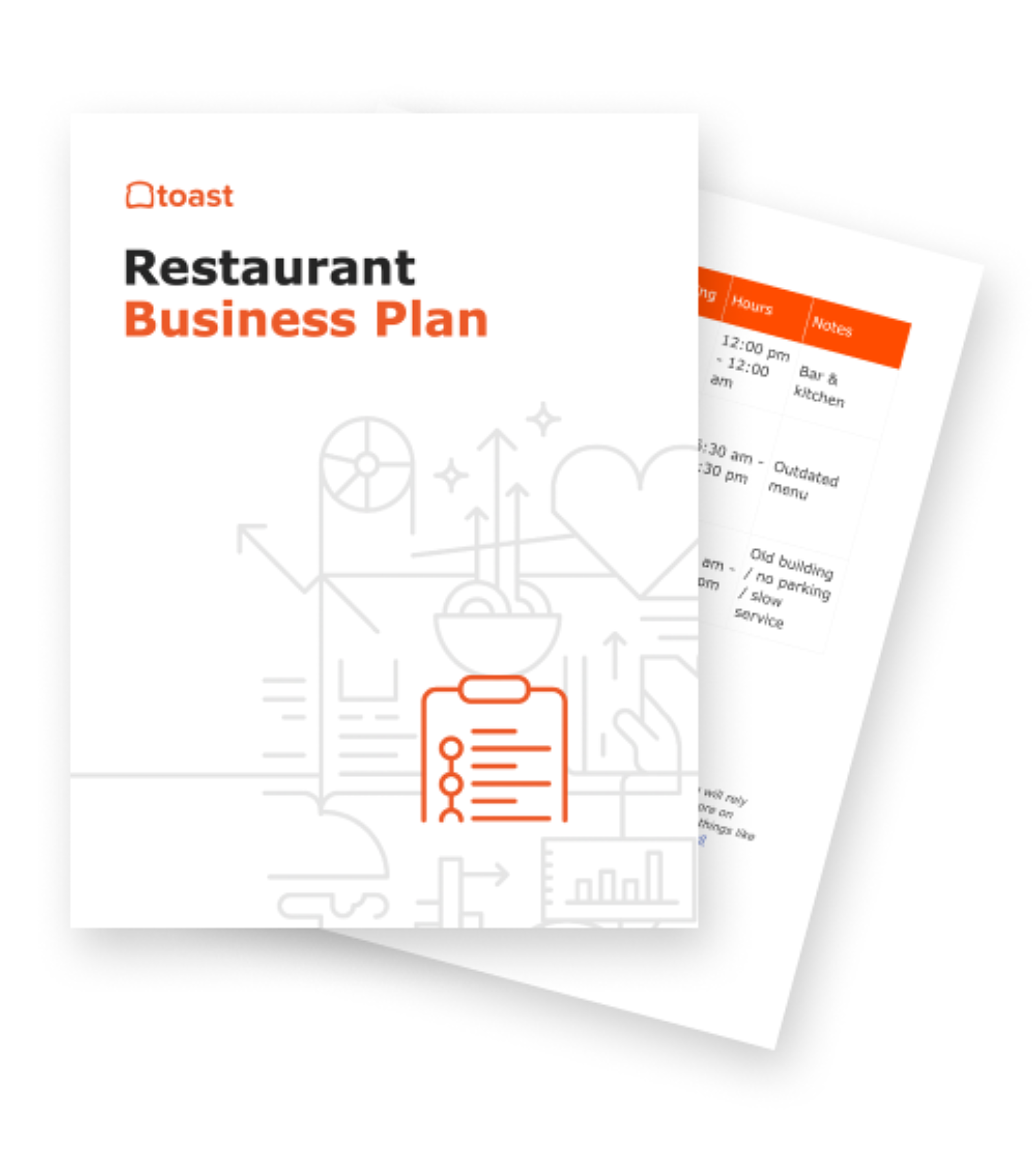 Restaurant Business Plan Template
No matter where you're at in your restaurant ownership journey, a business plan will be your north star. Organize your vision and ensure that nothing is overlooked with this free template.
Download
3. Find the Right Location for your Catering Business
Finding the right location for your catering business is all about determining where your ideal customer is located. Because catering businesses serve a variety of venues and locations, the idea here is to determine where to focus your marketing efforts.
In order to determine your target customer, ask yourself questions like:
What types of events do I want to serve? What size? 25 guests or 500 guests?

Where are our ideal type of events hosted? Survey venues in the area you want to cater to and collect information from local event planners.

What are my ideal customer's challenges? How can I solve them?

Who are my competitors in the space and what areas do they serve?
Once you determine where your ideal customer spends their time and money, you'll have an idea of which venues to form relationships with, and then you can look for a conveniently located shared commercial kitchen space, or your own location.
4. Obtain the Necessary Food Sales and Business Licenses and Permits
When it comes to getting the license and permits you need to open a catering business, start with local requirements. In most cases, each state (and even some counties) will have their own regulations and deadlines for new business paperwork.
The licenses and permits needed to open a catering business include, but are not limited to:
Food handler's license

Sales license

Catering license

Zoning permits

Health and safety inspection
You may need to file one permit before you can apply for another license, and so forth. To ensure you aren't missing any deadlines or requirements, start the procurement process as early as you can and outline all of the paperwork you'll need for your catering business before filing the very first application. Work with a professional in your area who's helped other catering businesses get started.
5. Collect the Necessary Restaurant Tax, DBA, and EIN Information for your Catering Business
In addition to getting on top of restaurant business licenses early, it's also a good idea to begin collecting your tax documentation as early as possible, too. Any kind of business documentation has the potential to be delayed. Start your research and application processes ASAP to have the best chance of staying on track for your restaurant's opening day.
Through your in-house or favorite third-party tax professional:
Familiarize yourself with all of the restaurant tax requirements in your area.

Choose a business structure and establish your restaurant as a business.

File for your DBA (aka your catering business' trade name).

Apply for your EIN (employee identification number) to start hiring employees and filing income and payroll tax returns.
Again, investing in professional help for this step can prevent headaches down the line.
6. Design your Catering Business Branding, Marketing, Promotion, and Advertising Strategy
For new and emerging catering businesses looking to make a name for themselves in a crowded field, it will be your branding that sets you apart from the competition. What is the unique appeal of your catering business? What do you have to offer customers that your competition is failing to provide? Questions like these will shape the branding of your catering business.
Once you've got a few events under your belt, your food and the amazing experience you provide will become fodder for excellent word-of-mouth marketing, but until you've actually done those first events (and even after!), a solid marketing strategy will help you grow.
Once you've defined what makes you special, incorporate those elements into your marketing and advertising strategy to ensure that you are presenting cohesive, accessible, and clear messaging to your audience ahead of your opening.
To create the best marketing and advertising strategy for your catering business, think through these questions:
What forms of online marketing will you use?

What is your social media marketing plan?

Will you use influencer marketing?

Which organic marketing practices will you use?

How can you advertise directly to your target audience?
While resources may be tight in the beginning, setting your business up online will help you be discovered by new customers. Here's a guide on how restaurants should use Google My Business and local search to attract new customers in a certain local area.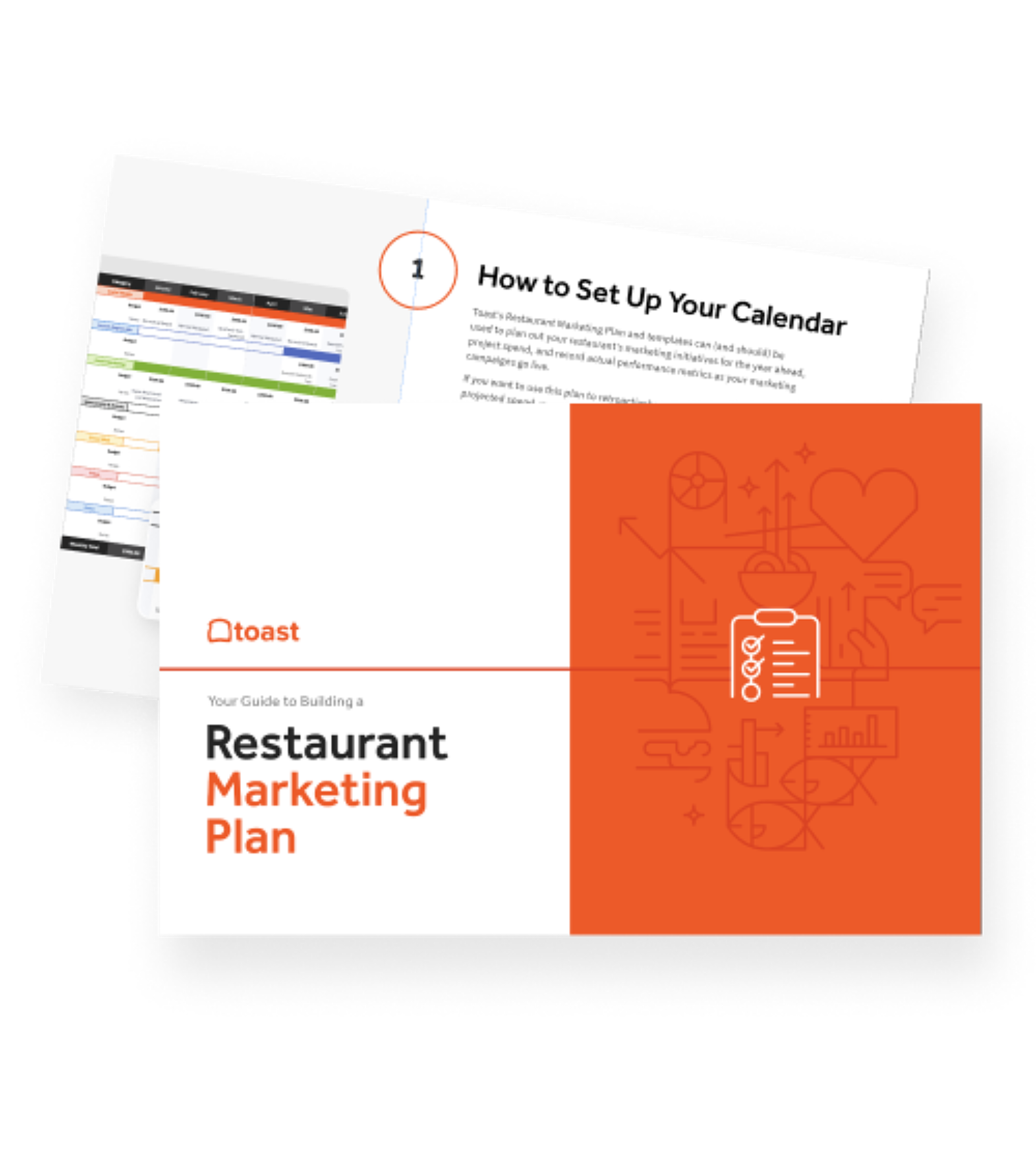 Restaurant Marketing Plan
Create a marketing plan that'll drive repeat business with this customizable marketing playbook template and interactive calendar.
Download
7. Determine your Catering Business Finances, Operating Expenses, and Sales Forecasts
Opening a catering business is no small decision. It costs anywhere from between $10,000 and $50,000 to open a catering business, and the typical catering business owner can expect to make between $30,000 and $80,000 each year.
With such a range of finances to manage, depending on the size and primary location of your operation, it's important to maintain a comprehensive view of your catering business finances.
Restaurant Finances + Operating Expenses
Catering business operating expenses may include:
Food

Utilities

Equipment

Appliances

Transportation

License

Permits

Packaging

Marketing

Labor
Remember to prepare for potential additional startup costs such as equipment repairs and supply chain shortages.
Restaurant Sales Forecasting
To effectively project your catering business sales, start by subtracting those expenses from your projected revenue. Then, use a monthly estimate to project out your growth (once you've been operating for a few months you can use the more accurate month over month growth rate to project growth).
If you haven't yet, it's recommended to open a business bank account to keep your personal and catering expenses separate from one another. In some states, this step is mandatory, so work with a professional on this step and make sure it's all done correctly.
8. Gather all of your Restaurant Business Funding and Loans
There are many different ways for new restaurants and catering businesses to procure funding. In addition to the various government loans, many new establishments succeed thanks to the generosity of small business loans.
Funding options for your catering business include:
Opening a business line of credit with a local or national bank

Individual equipment financing

Startup business grants

SBA Microloans for small-businesses
---
Read this next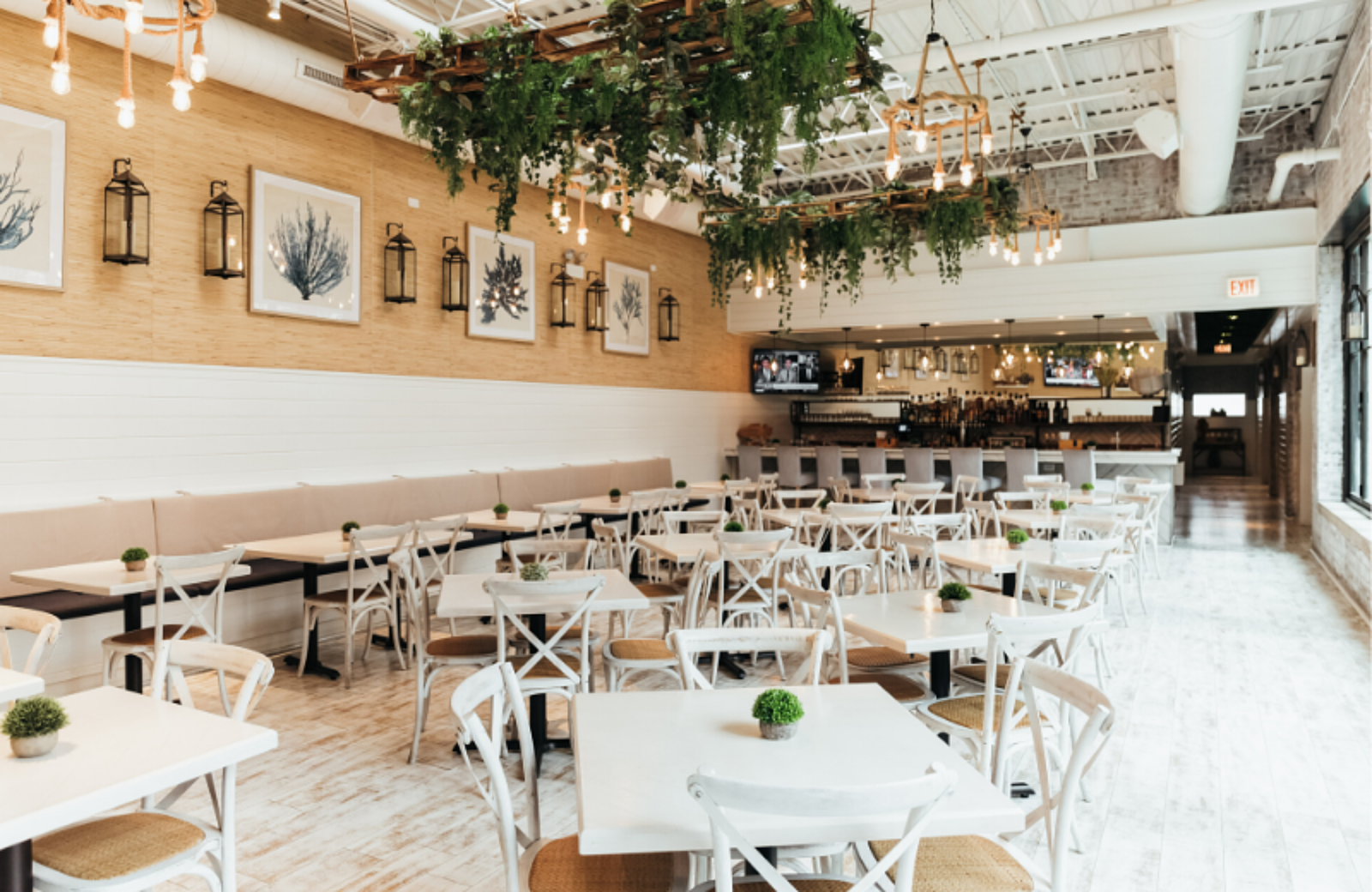 The Complete Guide to Restaurant Financing and Loans
Whether you're opening a new restaurant, expanding your concept, or renovating within your existing four-walls, you're going to need capital to make it all happen.
9. Create your Catering Company Menu
When it comes to running a successful catering business, it will be your menu that differentiates you from the competition. Additionally, catering menus face different challenges than a typical restaurant menu.
After all, offerings from a catering menu often need to be prepared in bulk and simultaneously, and — depending on the location of the event being catered — often need to be pre-prepared in one location and completed in another. Therefore, it is essential that the items on your menu are flexible enough to be prepared in any environment (within reason, of course) and can efficiently be made in a mass quantity.
To help get you started, here check out Catering Menu Ideas: How to Build a Catering Menu for Your Restaurant.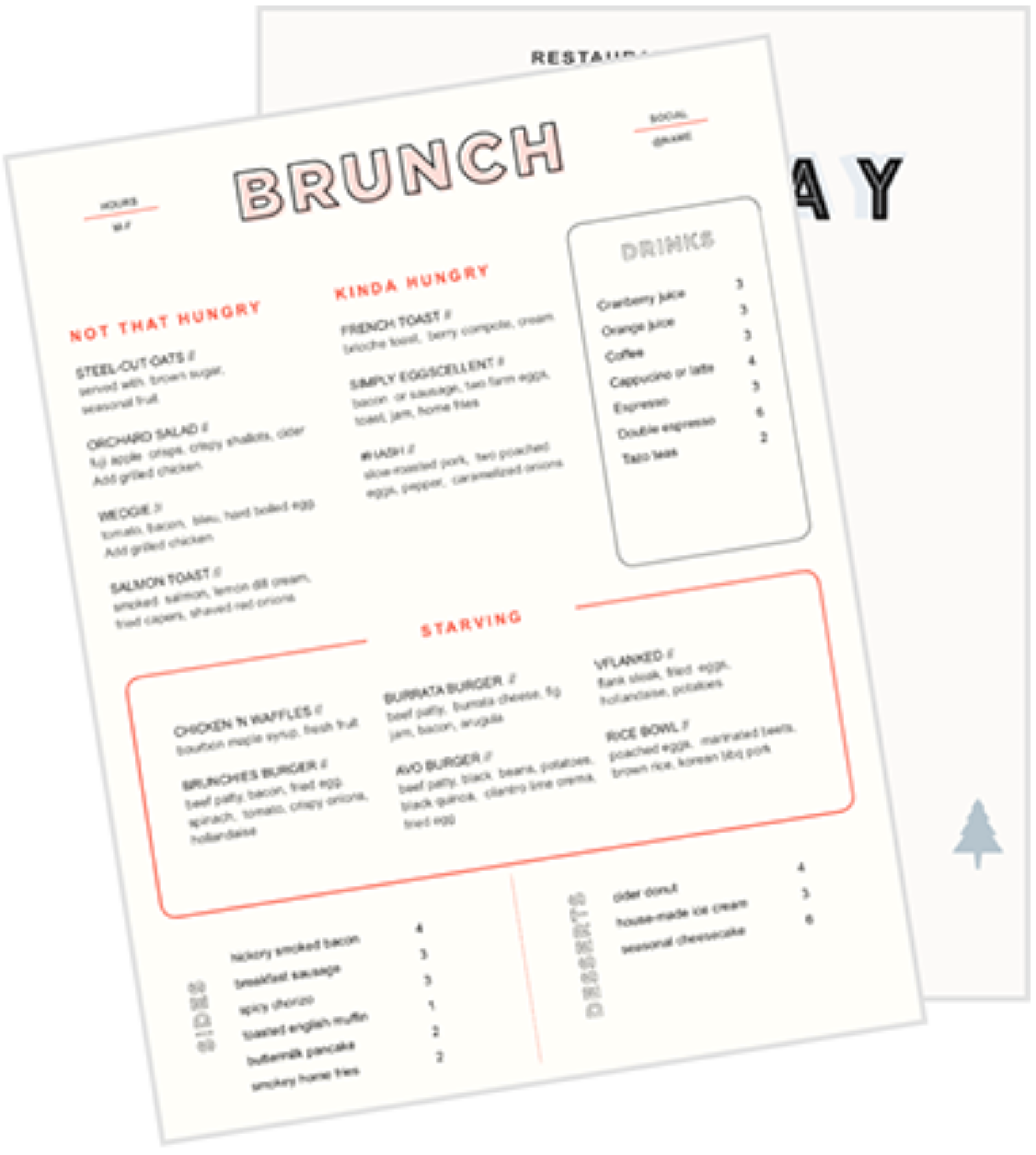 Restaurant Menu Templates
Use these menu templates as a starting point for your menu design or to give your menus a refresh.
Download
10. Purchase and Track Your Catering Inventory
Once you've created your catering menu you should have a firm grasp on all of your inventory needs. Revisit that menu and determine every single ingredient, product, supply, and piece of equipment you will need to create your dishes. Then, it's time to begin shopping around for suppliers.
When choosing your supplier you should look for wholesale platforms and local retailers that:
Offer inventory within your budget

Have good reviews from your peers

Are clear and consistent communicators

Provide you with real-time shipment updates
11. Buy a Catering Business Point of Sale System
The best POS systems for catering businesses are designed to save you time and headaches as you open and scale your operation. To choose the right system for your company, look for a POS system that is user-friendly and allows you to optimize your payment process.
Toast's POS system is ideal for catering businesses because:
They are portable, so caterers can take it with them on the road to any venue (like Toast Go™).

The simple interface allows users to quickly train employees on the software from anywhere.

Using a POS system reduces risks of theft or discrepancies.
Learn more about Toast's Fully-Integrated Restaurant POS System.
12. Craft the Atmosphere and Persona of your Catering Business
Catering businesses can do one of two things depending on the events they cater: they can either fade into the background of an event or they can provide the atmosphere of the event itself. The purpose of your catering business will depend on the needs of the event you are catering.
For example, catering a themed wedding reception could require you to provide guests only with specific meals and nothing else. On the other hand, a corporate event may ask a catering business to provide themed meals or be responsible for the entire atmosphere of the event.
Whichever is requested by the event, it's the responsibility of the catering business owner to ensure that they communicate their responsibilities effectively with the event coordinator.
Many catering businesses partner with event planners, event designers, and bartending services to offer more comprehensive packages to potential clients. With your business goals in mind, craft a strategy for your catering business that serves your mission, vision, and values.
13. Hire your Catering Business Team and Management
All that is left to get your catering business up and running is to hire an all-star team.
Depending on the specific offerings of your catering business, you may need to hire:
A chef and sous chef

Cooks and prep cooks

Servers and wait staff

Drivers

Bartenders
To streamline the hiring process, you can use an industry-specific hiring platform such as Bacon.Work for catering staff.
Bring your Catering Company Dreams to Life
To finalize your catering business plans and get your operation up and running, complete your strategy with help from the Restaurant Business Plan template and resources.
Related Catering Business Resources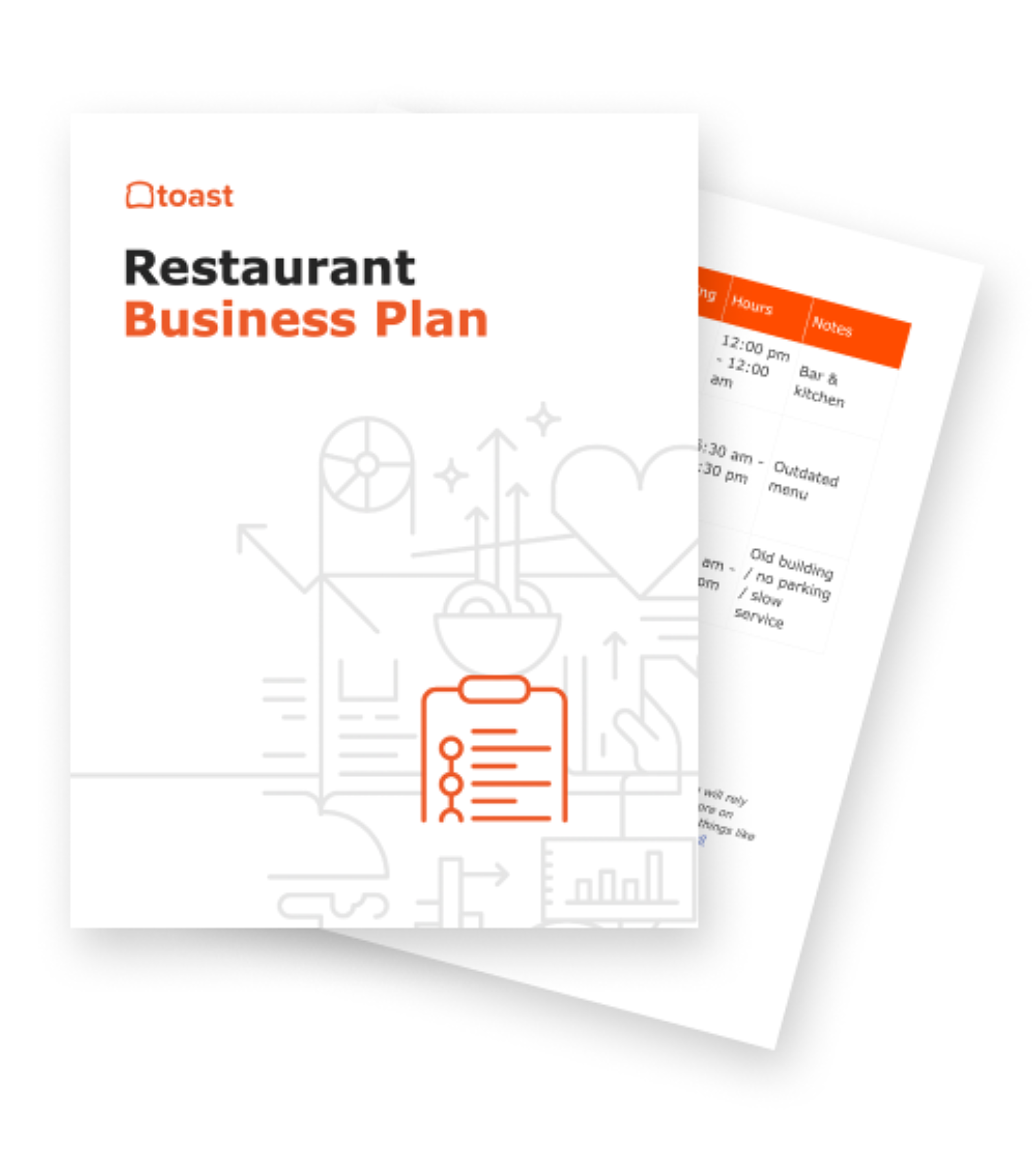 Restaurant Business Plan Template
No matter where you're at in your restaurant ownership journey, a business plan will be your north star. Organize your vision and ensure that nothing is overlooked with this free template.
Download