DISCLAIMER: This content is provided for informational purposes only and is not intended as legal, accounting, tax, HR, or other professional advice. You are responsible for your own compliance with laws and regulations. You should contact your attorney or other relevant advisor for advice specific to your circumstances.
How to Run a Bakery: 8 Running a Bakery Tips
Owning a bakery is the perfect job for early risers with staff management skills and a passion for baking, sharing, and eating sweet treats.
Maybe you've got a croissant recipe that yields perfect lamination and flaky, tender layers. Or, you're constantly being told that you should sell your elaborate layer cakes. No matter your background, if you're passionate about baking and don't mind seriously early mornings, owning a bakery might be your ideal path to pursue.
In this article, we'll get into what it takes to run a successful bakery in 2022, from the operational costs to tips and tricks to help new bakeries get off the ground and to help existing bakery businesses grow.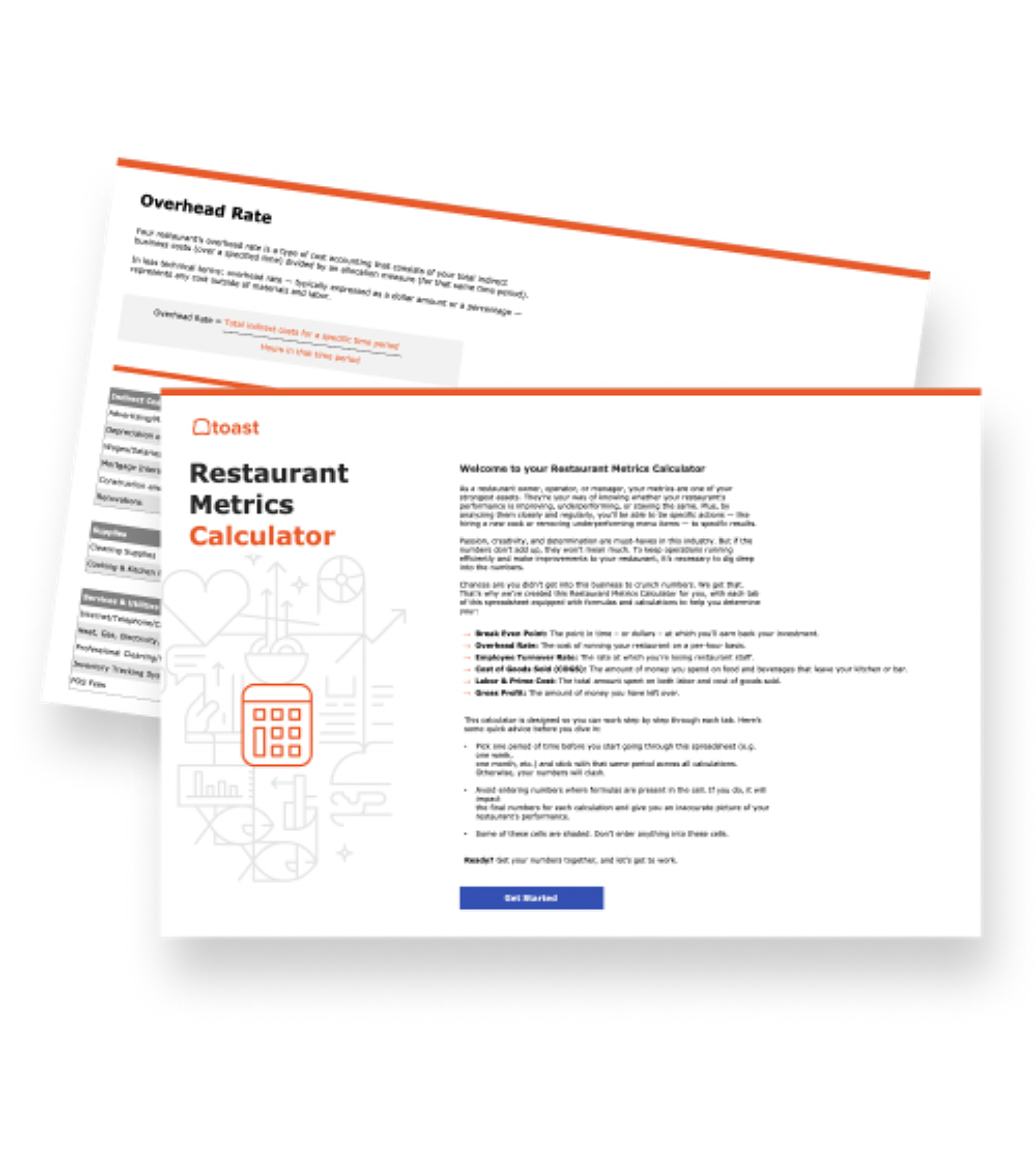 Restaurant Metrics Calculator
Use this free calculator to calculate the key restaurant metrics needed to understand the health and success of your business.
Download
8 Tips for Managing & Optimizing Key Bakery Operations Costs
1. Keep a Close Eye on Rent and Overhead
Most bakeries will rely on neighborhood foot traffic and passers-by to generate most of their business, which is why finding the perfect location is an important first step. Before signing on the dotted line, do your due diligence. Research the area and the landlord. Then, negotiate the lease to ensure your overhead is as low as possible.
Overhead includes all the expenses of your business except staffing and inventory. It's all the things you'll need to pay regardless of whether the bakery is operating or not: rent or a mortgage, utilities, internet, insurance, and some professional services like accountants. Track these expenses often, as some are fixed and others are variable.
2. Apply for Licenses and Permits, and Find a Lawyer
Every new business needs to go through the process of getting licenses and permits, like an occupancy permit and food handler's permit, plus an EIN. Here are the 10 Licenses and Permits Needed to Open a Bakery - check out this list and your local requirements so that you can get going on the applications for each permit. They can take time!
Working with a lawyer throughout the opening process can be a great investment. These professionals can help ensure your business starts on solid legal ground, preventing issues down the line.
3. Hire and Train Bakery Staff
Running a bakery means asking a lot of your staff. Hours are tough for bakers, junior bakers, dishwashers, managers, and cashiers. Bakers often have to come in by 4 am - at the latest - to get the day's bread, cakes, and pastries ready in time for the morning rush. Finding experienced bakers can also be a challenge. However, as long as you have one great baker on staff who's willing to train the team, hiring junior bakers with little to no experience can be a good strategy (as long as they're dedicated!)
But, let's be real - without great baked goods and friendly service, a bakery can't function.
That's why it's so important to treat your staff well and pay them a living wage for your area — even if that's well above the minimum wage. Tips are few and far between in bakeries, so it's even more critical that their base hourly wage, or their salary, be enough to live on. Providing good pay (as well as benefits like health insurance) is the most obvious and most effective way to ensure that staff feel engaged and appreciated at work.
To learn about new staffing models and see some examples of hospitality businesses going out of their way to keep their staff happy, watch our free video course on restaurant staffing.
4. Track Food Cost and Revenue
Even though the ingredients in most baked goods are about as cheap as they come — with flour and sugar as notable examples — the hours of labor that go into each pastry you sell make it harder to break even and profit.
One approach many bakeries take to supplement their revenue is to offer coffee beverages and bags. Coffee has a much larger markup — on average, it's 80%. These margins can help increase the average transaction size. You can even partner with a local roaster and sell their coffee at your bakery, having them sell your baked goods at their shop.
Regardless of your approach, it's vital to dive into your POS and inventory data to determine your daily, weekly, monthly, and yearly food costs. It's likely that in the past year, you've seen profitability go down because of the increased cost of virtually everything due to inflation and economic instability. So, find ways to mitigate these additional costs to stay profitable, such as menu engineering, cutting down your menu, or raising prices.
5. Market Your Bakery and Attract New Customers
The top tasks in bakery marketing are keeping your bakery website and Google listing up to date. Many customers will interact with your business online before they ever set foot in your store. Ensuring your menu and hours of operation are always accurate lets them know what to expect from your shop.
Marketing a bakery also involves a lot of food photography - it's easy to draw in customers with mouthwatering photos and videos of your offerings. You just have to publish them on the right channels! The same goes for bakery promotions, like end-of-day discounts or BOGO deals. These offers perform best if you do everything to inform your community about them.
Social media is a great place to start — Instagram and TikTok are visual mediums perfect for highlighting bakeries. It's also worth testing out email marketing, partnerships, event sponsorships or catering, and flyers too. Try one strategy at a time, helping you measure what's working and what could use some improvement.
6. Bakery Interior Design and Atmosphere
Bakeries can range a lot in how they look: some go for a rustic, cozy atmosphere, while others go for minimalist and open, where you can see into the kitchen and watch baked goods be made.
Whatever bakery design you choose, make sure your pastry cases and cake fridges are always spotless and appealing, with appropriate lighting that makes every item look delicious. Your bakery floor plan should also flow logically, with clear markers that show guests where to order and where to pick up.
7. Professional Services Round Out Your Bakery's Operational Needs
When owning a bakery, you'll have to hire people to take care of making the baked goods, selling them, and cleaning up every day. Chances are you'll handle most management tasks like payroll and tracking P&L performance. In addition, you might have a general manager to help with scheduling, accounting, and more.
There are a lot of skills that bakeries will need every once in a while. Yet, that doesn't warrant a full-time permanent hire. That's where professional services come in.
Specialty ovens require specialty repair techs. Tax season requires the help of a trusted accountant. And if you know you need to start marketing your business but simply can't find the time to do it, contracting a social media or general marketing expert can be an incredible help in growing your business.
Once you decide what services you need, leave wiggle room in your budget to account for these services when you need them.
8. Technology and Bakery Equipment
Bakery equipment will make up a sizable part of your investment unless you're taking over an existing bakery. So, ensure you have the specialty ovens, dough sheeters, pastry racks, pastry cases, cooling racks, and small wares you need to create all your delicious baked goods.
Also, we're no longer in an era where running a bakery with pen and paper (and spreadsheets) is an effective management strategy. A bakery point of sale system can make every part of your operation simpler, from item costing to staff management to making sales to accounting and payroll.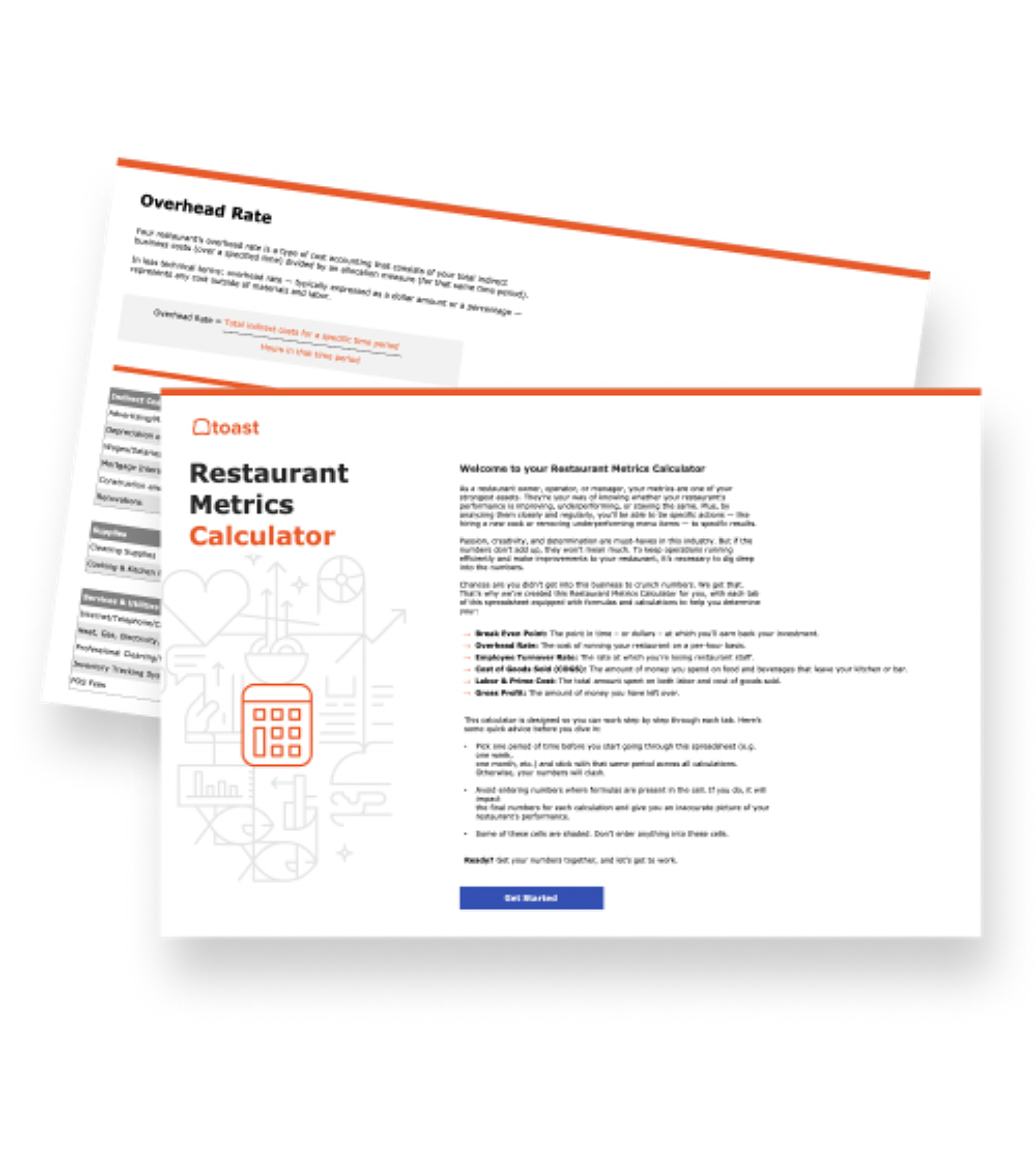 Restaurant Metrics Calculator
Use this free calculator to calculate the key restaurant metrics needed to understand the health and success of your business.
Download
How to Successfully Run a Bakery With No Experience
Eat baked goods all around your city. We know, we know, we're twisting your arm. Explore the bakery landscape around your area, finding out what people are making and how. These experiences will help you decide where your niche could fit in.

Shadow a bakery owner and a baker for a few days. You'll learn the ins and outs of the business by following an owner around and seeing how much they juggle. It can only take one shift to appreciate the commitment and skill it takes to be a baker.

Learn from online courses about hospitality business management.

Let your staff teach you the ropes. Starting a bakery with no experience requires a healthy dose of humility. Know that your staff will have much more experience in bakeries than you will, so learn from them at every level and step of the way.
How Longtime Bakery Owners Improve How They Run Their Bakeries
Tips to Grow Sales and Improve Margins
Bakery marketing. As mentioned above, there are many strategies to try, from bakery promotions to social media to email marketing. Find out which ones work for your community and your business, and do more of those.

Do a round of menu engineering. Dig deep into your food costs and sales history, finding out which items are profitable, which ones are popular, which are both, and which are neither (and might need to be taken off the menu). When you find your menu's stars, redesign your menu board to highlight the items you want your guests to be ordering.

Let guests order ahead. When someone is rushing to work and decides they want a pastry from your bakery, let them order ahead with a great bakery and cafe point of sale system. They can pop in and pick up their treats on the go, with the convenience of bringing them back day after day.

Cater for offices and parties. Not only will this help you get the word out about your business to a large group at once, but you'll be able to charge more for your services and have a guaranteed high-revenue day on the books.
Tips to Manage Costs While Increasing Revenue
Learn from your bakery data. A great bakery POS will have detailed reporting and analytics functionalities that help you find areas of overspending. Your POS will also share insights like which baked goods are selling like hotcakes and which ones receive little attention. You will also be able to analyze your performance this week compared to the same time last year.

Prevent food waste with an automated inventory platform. These systems can alert you to price changes from vendors and help you figure out where to cut back on your controllable costs.

Increase prices. It's not fun, but these days, it's largely unavoidable. Let your customers know that ingredient prices have skyrocketed and that you want to stay in their community for a long time, so price increases are a necessary evil.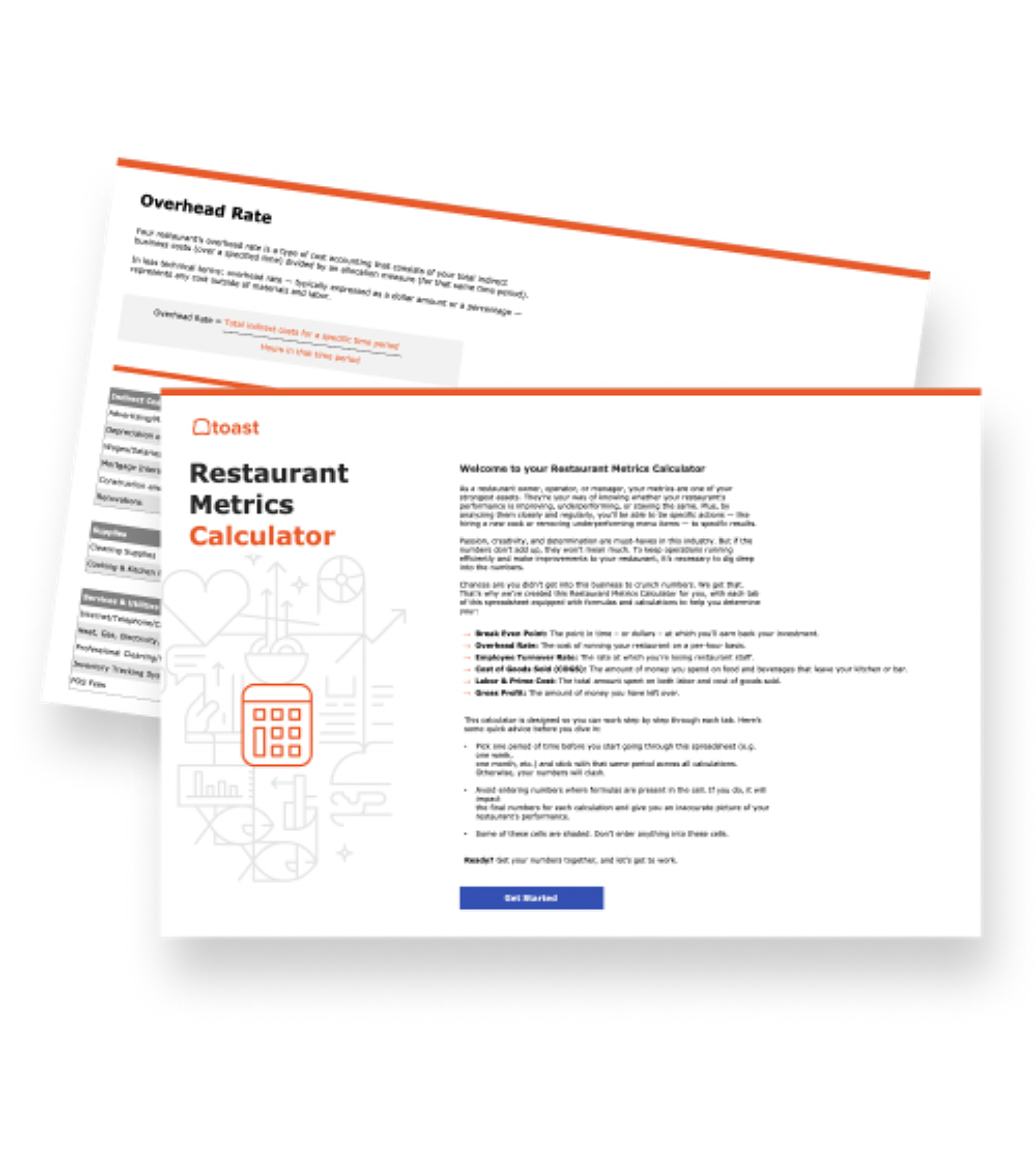 Restaurant Metrics Calculator
Use this free calculator to calculate the key restaurant metrics needed to understand the health and success of your business.
Download
Operating Costs Breakdown and Benchmarks for Successful Bakeries
Bakeries are typically much cheaper to open than other hospitality businesses. They can operate out of smaller spaces, don't need much (if any) seating, and can run with fewer staff members. Today, it costs between $15,000 and $100,000 to open a bakery, depending on whether you're starting in your home kitchen or if you'll be in a commercial space with seating.
Once you're ready to open, there will be ongoing expenses to consider and budget for. They typically fit into the following categories:
Restaurants operate on a tiny 3-5% profit margin, and bakeries are about the same. Though they can have lower inventory and staffing costs, the average check size is much smaller at a bakery than at a restaurant. That means revenue is lower overall, but any expenses will eat into profit more quickly.
How to Stay Up to Date on Bakery Trends
Read bakery industry publications. Bookmark On the Line, Baking Business, Bake Mag, and Bakery Business.

Follow social media pages of local bakeries, especially on Instagram and TikTok.

Follow and check on industry-specific social media hashtags that apply to your business and your offerings: #bakery, #bakeries, #croissant, #cake, #weddingcake, #cupcakes, #fritters, #bakersdozen, #baking, #localbakery, #[your city]bakery.
Feed Your Community with the Best Baked Goods
Bakeries are beacons of joy. Future-proof your bakery business by investing in your team and the right technology and equipment.
Learn more about how a bakery POS can save you accounting headaches, help you manage your staff, and keep your community coming back to try all your offerings.
Related Restaurant Resources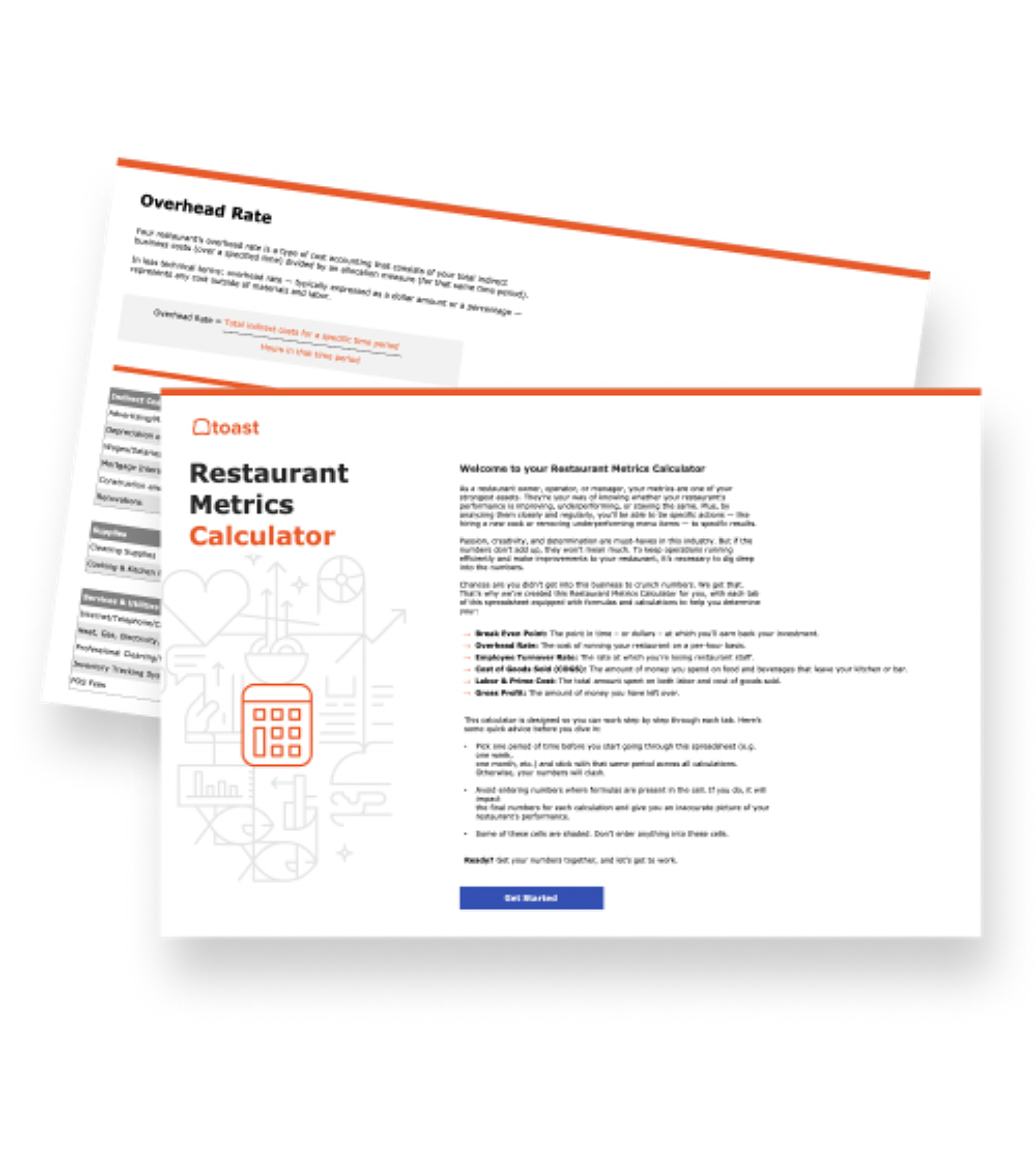 Restaurant Metrics Calculator
Use this free calculator to calculate the key restaurant metrics needed to understand the health and success of your business.
Download