DISCLAIMER: This content is provided for informational purposes only and is not intended as legal, accounting, tax, HR, or other professional advice. You are responsible for your own compliance with laws and regulations. You should contact your attorney or other relevant advisor for advice specific to your circumstances.
How to Run a Nightclub: 8 Running a Nightclub Tips
If you love music and facilitating epic nights out, owning a nightclub might be a career path for you. It's an exciting prospect to get to spend your weeks curating visiting artist lineups, working with DJs, creating drink specials and cocktails, and coordinating memorable events.
But although you'll often be surrounded by crowds, lights, music, and flowing drinks, running a nightclub is very different from partying at one. There's a lot of staff management, cleaning, paperwork, and administrative work involved in keeping a nightclub running smoothly.
We'll go over everything a new nightclub owner needs to know when getting into this business — and even longtime nightclub owners will pick up a few tips in order to stay successful in 2022 and beyond.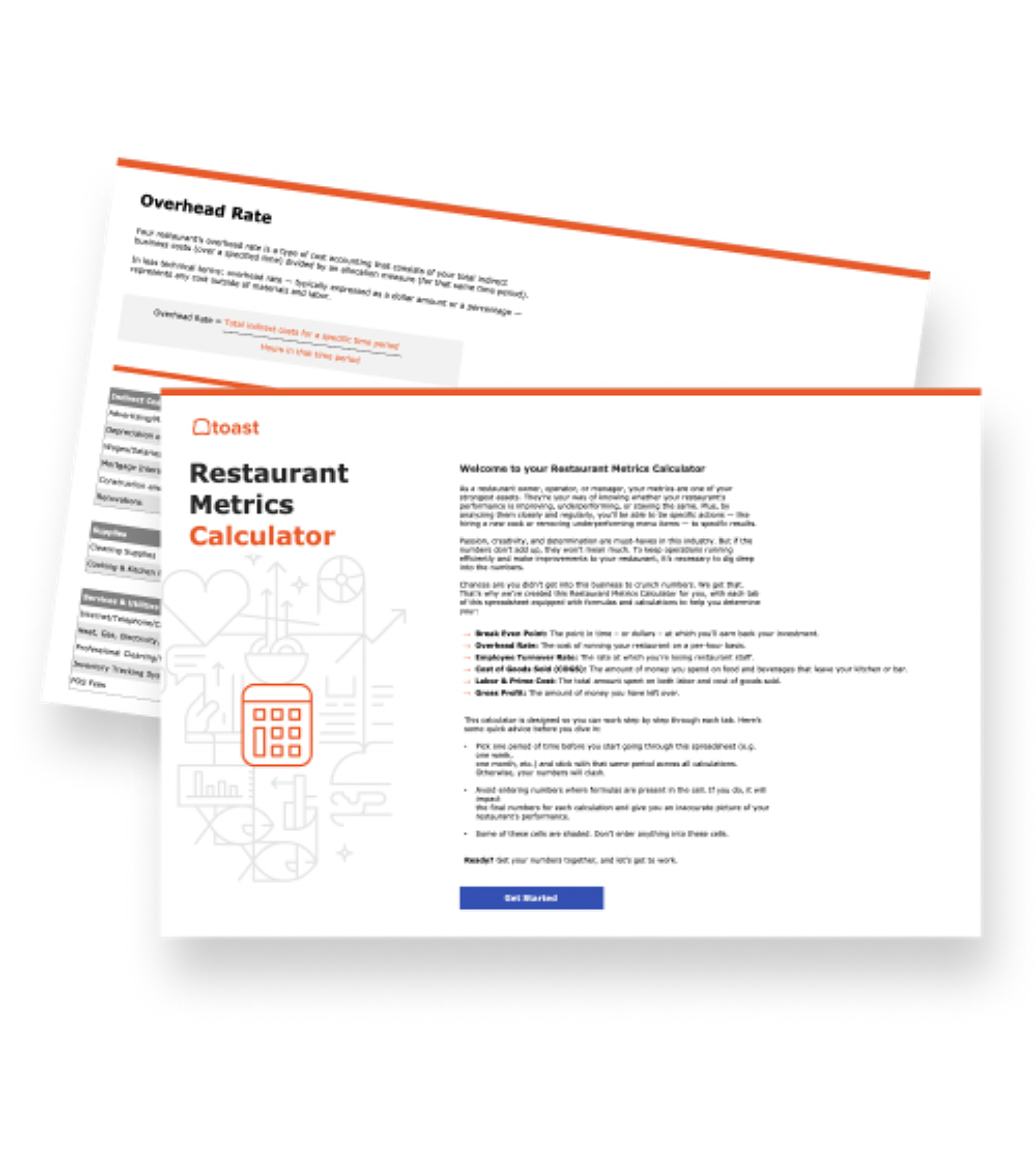 Restaurant Metrics Calculator
Use this free calculator to calculate the key restaurant metrics needed to understand the health and success of your business.
Download
8 Tips for Managing & Optimizing Key Nightclub Operations Costs
Negotiate and Track Rent and Overhead
Finding a nightclub space is often trickier than securing a location for a restaurant or a bar. First of all, nightclubs are typically very large, even if they're in city centers. It makes the cost of a space much higher, and it means there's often fewer options to choose from. But wherever you find your ideal nightclub location, reviewing and negotiating your lease is an important early step in the process.
Ensure your nightclub business plan is as iron-clad as possible, and that you're able to demonstrate your ability to cover the cost of rent or a mortgage for such a large space.
When trying to determine how much money you'll need to open a nightclub, you'll also have to figure out your average overhead costs. This includes all the costs of starting and running a nightclub whether you're open or not, like rent, electricity, gas, water, internet, admin/legal costs, and insurance. Keep an eye on these costs as you operate, because some will fluctuate more than others.
Stay on Top of Nightclub Licenses and Find a Trusted Lawyer
You'll of course need a liquor license, but there's also many more types of permits to get for your nightclub before opening your doors. Talk with other nightclub owners in your area, look into the guidelines for your jurisdiction, and apply for all the permits and licenses you need as early as possible — they can take a long time to process.
It's important to have a good lawyer that you trust. They can help you with licenses and permits, and also help you manage the liability that comes with operating a business that serves alcohol and offers live music and events.
Find and Train the Best Nightclub Staff — and Pay them Well
Your bartenders, security, in-house DJs, dishwashers, and cleaning staff are the backbone of your business. As the owner, you'll always be busy, but your team will be the ones ensuring your patrons are having a fun and safe night out.
That's why it's important to find room in the budget to pay at least a living wage—ideally better than that. Offering benefits like health care is another way to attract and keep the best staff in your area.
The markup on liquor is extremely high, which is why nightclubs can be so profitable — more on that below. Spread the wealth and these profits around to your staff and you'll find that your turnover goes way down, which saves the business money on hiring and training.
In a nightclub, creating a safe work environment is critical. Create robust safety policies for your staff, because working around drunk people and a constant flow of alcohol can be dangerous. Take care of your team and teach them to take care of each other as well — they'll feel safer and happier at work, and know they can come to you in the event that something does go wrong.
Track Pour Costs Often
Even in a relatively high-margin business like a nightclub, inflation has caused the cost of everything to skyrocket, from equipment to liquor to mixers to napkins. So it's more important than ever to track pour costs, price your drinks correctly, and curtail waste.
According to Binwise, the ideal pour cost per drink is 20%. Here's an example for a rum and coke that uses $2 worth of ingredients to make:
Drink Price ($) = Ingredient Cost ($) / Ideal Pour Cost (%)
Drink Price ($) = 2 / 0.20
Drink Price = $10
Using a nightclub point of sale can help you track your costs and find out which menu items are selling and which ones aren't. This will help you price your drinks to drive profit.
Market your Club and Run Promotions
How can you attract people to your nightclub? Marketing.
For nightclubs, marketing can mean securing a sought-after performer or DJ to play at your venue. It can include drink promotions and discounts on slower nights, or theme nights like '80's night, Metal Mondays or Techno Tuesdays. Devotees of a specific genre will be inspired to come out even on a less than popular night of the week, if they know their favorite songs will be bumping. $10 pitchers of draft beer, $3 shots, and discounted cocktails before 11pm can also bring out people in droves.
You can and should experiment with social media, as it's a very low cost and high-reward marketing channel for nightclubs. Whenever you have an event, promotion or theme night coming up, share on social media ahead of time and then take videos and photos to share during the night in order to drum up even more excitement.
And don't overlook simple strategies like putting up posters and flyers in your neighborhood — they may be low-tech, but they still help get the word out.
Create a Fun, Exciting, and Safe Atmosphere with Great Club Design
Nightclub design is particularly interesting because your patrons will never see your place with the overhead lights on. Create various areas for your club's floor plan, including tables for sitting and drinking, a large dance floor (or two), a stage for performers, and cozy couches for recharging after a string of unmissable songs.
Work with an experienced lighting designer to add flashing lights, disco balls, lasers, colored lights, and whatever else goes with your club's brand and genre.
To ensure your patrons' safety, have emergency and fire preparation systems installed and maintained. And place signs in the bathrooms with instructions about what to do if someone feels unsafe, whether it's ordering an angel shot, reaching out to a specific staff or security member, or using a text line to discreetly call for a ride home.
Invest in Professional Services
When you need them, you really need them. We're talking equipment repair techs, booking agents for major acts, furniture cleaners, lawyers, tax accountants, and more. Find service providers who work with nightclubs regularly so you know they'll have the specific expertise you need.
Get the Best Nightclub Technology and Equipment
Nightclubs make so many sales in one night that it's easy to lose track with a typical cashier system. To find out helpful business insights like which drink specials are pulling their weight, which nights are drawing in the beer drinkers and which ones bring in vodka shot-takers, as well as which nights have been a little understaffed lately, invest in a great nightclub POS. It will make your life way easier around tax season, help you manage your inventory and staff, and support you in growing your business.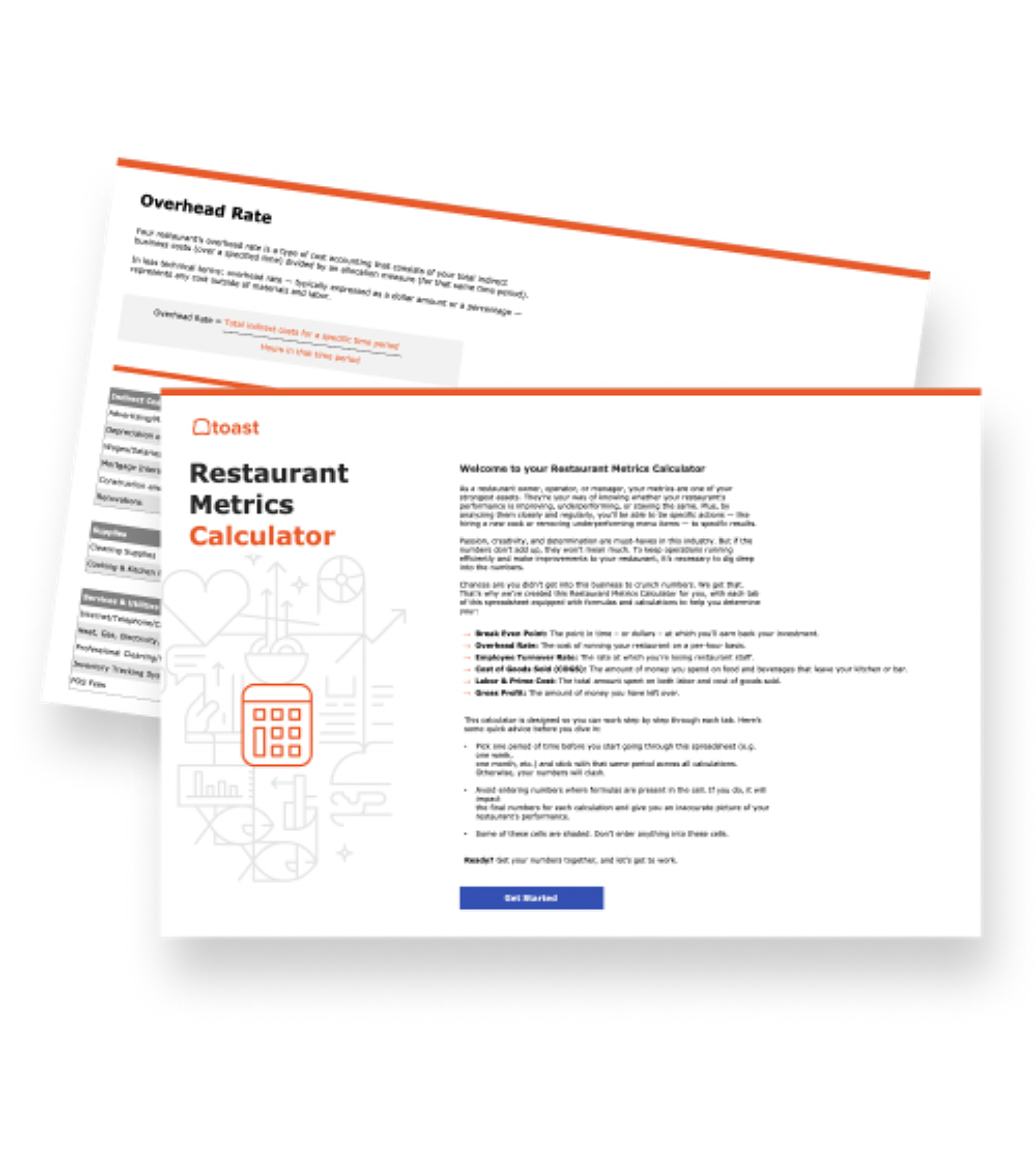 Restaurant Metrics Calculator
Use this free calculator to calculate the key restaurant metrics needed to understand the health and success of your business.
Download
How to Successfully Run a Nightclub With No Experience
Invest in industry articles and online courses. Make sure you know the basics before you dive into club ownership, like how to read a P&L, how to price drinks and calculate pour cost, and how to manage a team.

Reach out to club owners in your city and learn from them. Set up meetings and absorb all their hard-earned wisdom like a sponge. Learn the nuances of running a club in your city, like which landlords to avoid and which laundry and liquor suppliers give the best prices.

Shadow a club owner. You'll learn so much on your feet, and witness next-level problem solving skills.

Learn from your team and support them always. As a first-time owner, your staff will be the ones showing you the fundamentals of running a club, so lead with humility and take their feedback and advice.
How Longtime Nightclub Owners Improve How They Run Their Nightclubs
Tips to grow nightclub sales and improve margins
Invest in nightclub marketing. As mentioned above, letting your community know about your venue is as easy as posting regularly on social media, keeping your website and Google listing up to date, and putting up flyers around the city. Throw events and host performers that draw in crowds.

Manage inventory. Even when you only serve beer, shots, and cocktails, it's critical to keep an eye on inventory and supplier prices, especially since prices are fluctuating so much these days.

Run nightclub promotions. As with any other hospitality business, promotions must be thoughtfully designed and tested before you decide to run them every week. Maybe half-price pitcher Wednesdays brought in such a big crowd that the lower margins didn't matter. Or maybe no cover charge Thursday was too big of a loss, and wasn't worth the handful of new customers. Make sure you're providing enough incentive to attract new guests and bring people in that you haven't seen in a while. That said, you shouldn't take a big hit on your bottom line. Check your POS dashboard to see how successful certain promotions have been, and eliminate any that aren't working.

Upsell without overserving. Offer top-shelf liquor or pricier cocktails as a way to increase average check size, but know when it's time to cut off an unruly patron, no matter how much they're willing to spend.
Tips to manage nightclub costs while increasing revenue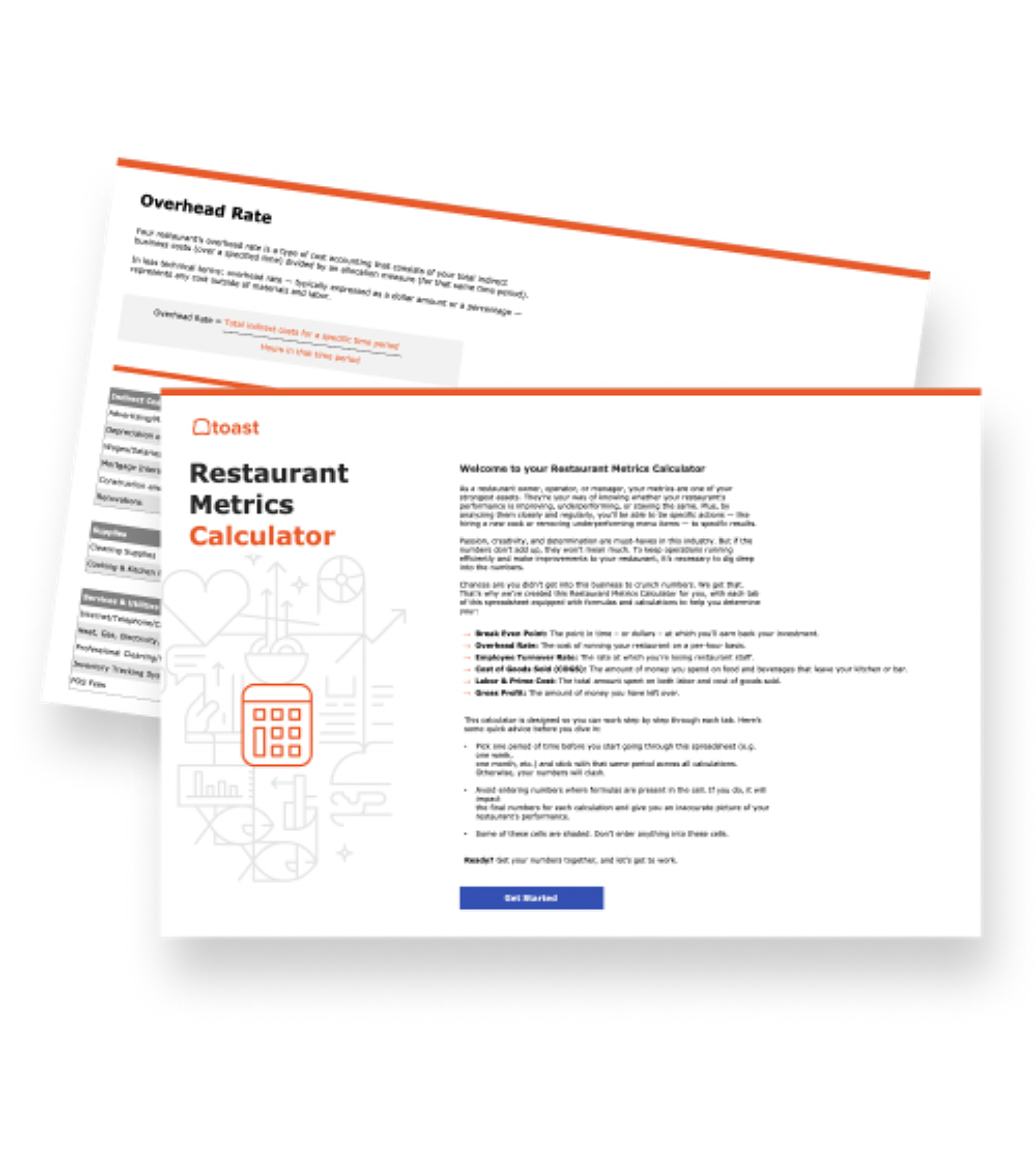 Restaurant Metrics Calculator
Use this free calculator to calculate the key restaurant metrics needed to understand the health and success of your business.
Download
Operating Costs Breakdown and Benchmarks for Successful Nightclubs
It takes between $240,000 and $840,000 to open a nightclub. And once you're up and running, there are operating costs to consider.
They typically fall into the following categories:
Labor cost

Liquor cost

Overhead (including location costs)

Professional services

Technology + light and sound equipment

Performer and artist fees
Labor usually costs hospitality businesses about 30-35% of revenue. It used to be a little lower, but with increased cost of living, paying staff well is the best way to keep them on your team for years to come. Liquor, beer, and wine costs range between 15% (for liquor) and 40% (for wine) of revenue. Hospitality utilities typically cost around 5% of revenue, but it can be much higher at large nightclub locations.
Location costs, professional services, and audio and light equipment can vary significantly depending on where the club is and how big it is. Securing the best acts and DJs is expensive, with nightly fees skyrocketing if the performer is at the top of their game.
Nightclub profit margins
Because they only sell alcohol and can implement cover charges, the margins of nightclubs are a lot more forgiving than that of restaurants, which makes owning a nightclub very appealing. Even with high location costs, a nightclub is likely to make a 10-15% profit margin on average, which is 3-5x higher than restaurants. This is largely due to the very high volume of customers they can service each night, and the markup on alcohol being much, much higher than the markup on food.
How to Stay Up to Date on Nightclub and Beverage Industry Trends
Find nightclubs in your area on social media and follow them to learn how they promote their businesses and what kind of drinks, music, and dancing they offer. You can also follow hashtags on Instagram and Tiktok like #clubbing, #newyorkclubs (but with your city), #rave, and #clublife.

Read hospitality publications like On the Line, Binwise, and Bar Business.

Though it might be the last place you feel like going on your day off, visit local clubs in your area and see how they operate.
Keep the Music Playing All Night Long
Running a nightclub is a lot of fun. With the right tech and the best team, you can rake in profits while building a place where your community can dance the night away. The best nightclub POS systems—including the Toast Go 2—are built for the club environment, and made to help you sustain and grow your business for years to come.
Related Restaurant Resources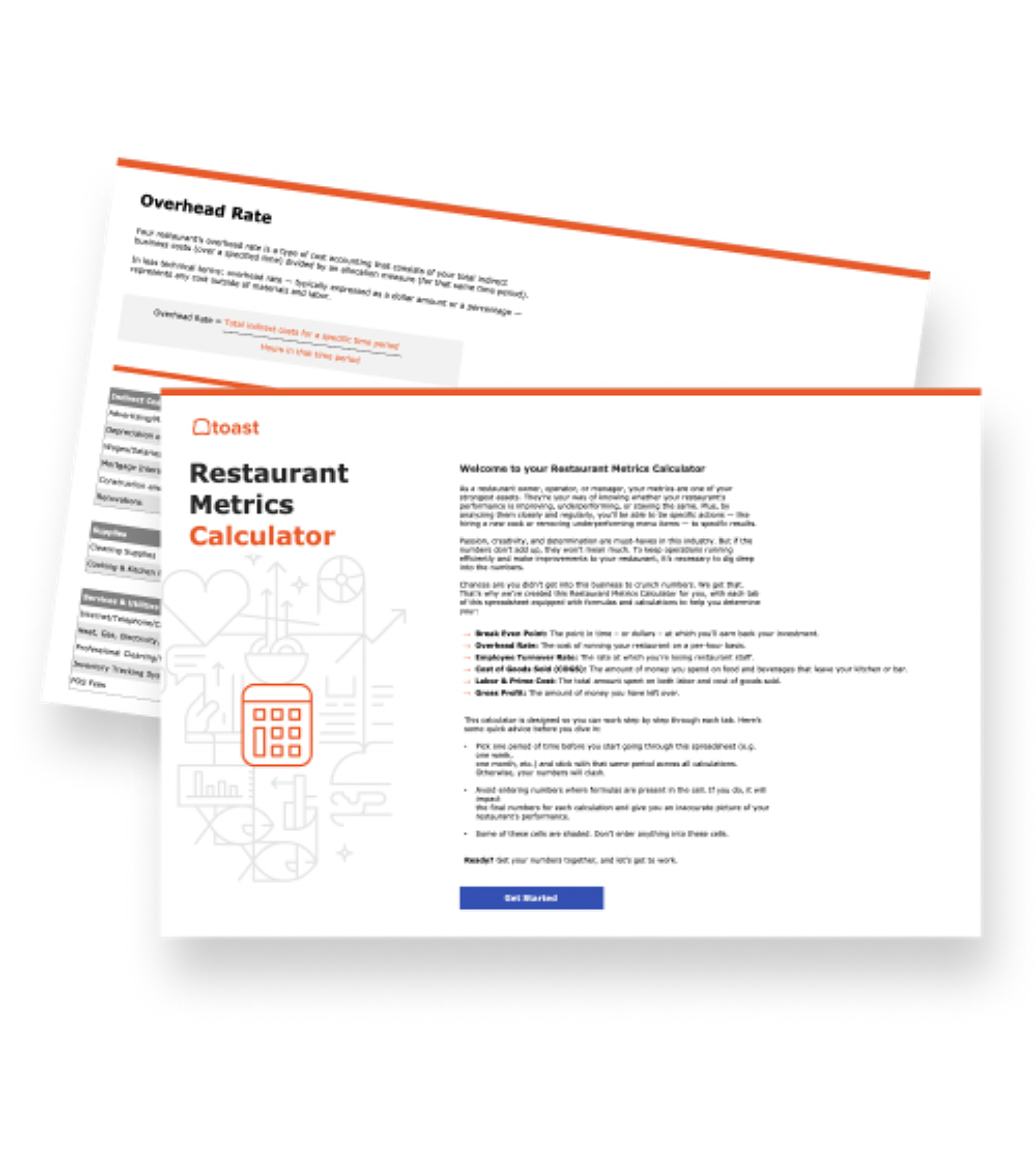 Restaurant Metrics Calculator
Use this free calculator to calculate the key restaurant metrics needed to understand the health and success of your business.
Download