DISCLAIMER: This content is provided for informational purposes only and is not intended as legal, accounting, tax, HR, or other professional advice. You are responsible for your own compliance with laws and regulations. You should contact your attorney or other relevant advisor for advice specific to your circumstances.
How to Run a Food Truck: 8 Running a Food Truck Tips
Running a food truck is an incredible way to connect with your community, share your unique food concept, and serve a wider audience. But, the flexibility and freedom to take your restaurant business on the road comes with specific logistics. You'll need to keep a close eye on local regulations and permits, use wireless POS technology that's reliable even without Wifi access, and set up modern systems like ordering ahead.
The most successful food truck business owners have automated systems and smart technology that helps them stay organized with managing these details. These systems appeal to a more high-tech audience used to restaurant apps and online experiences.
Whether you're a new food truck operator or a veteran of the food truck industry, these food truck tips can help you improve your restaurant operations, down to the nitty-gritty details, saving your business money along the way.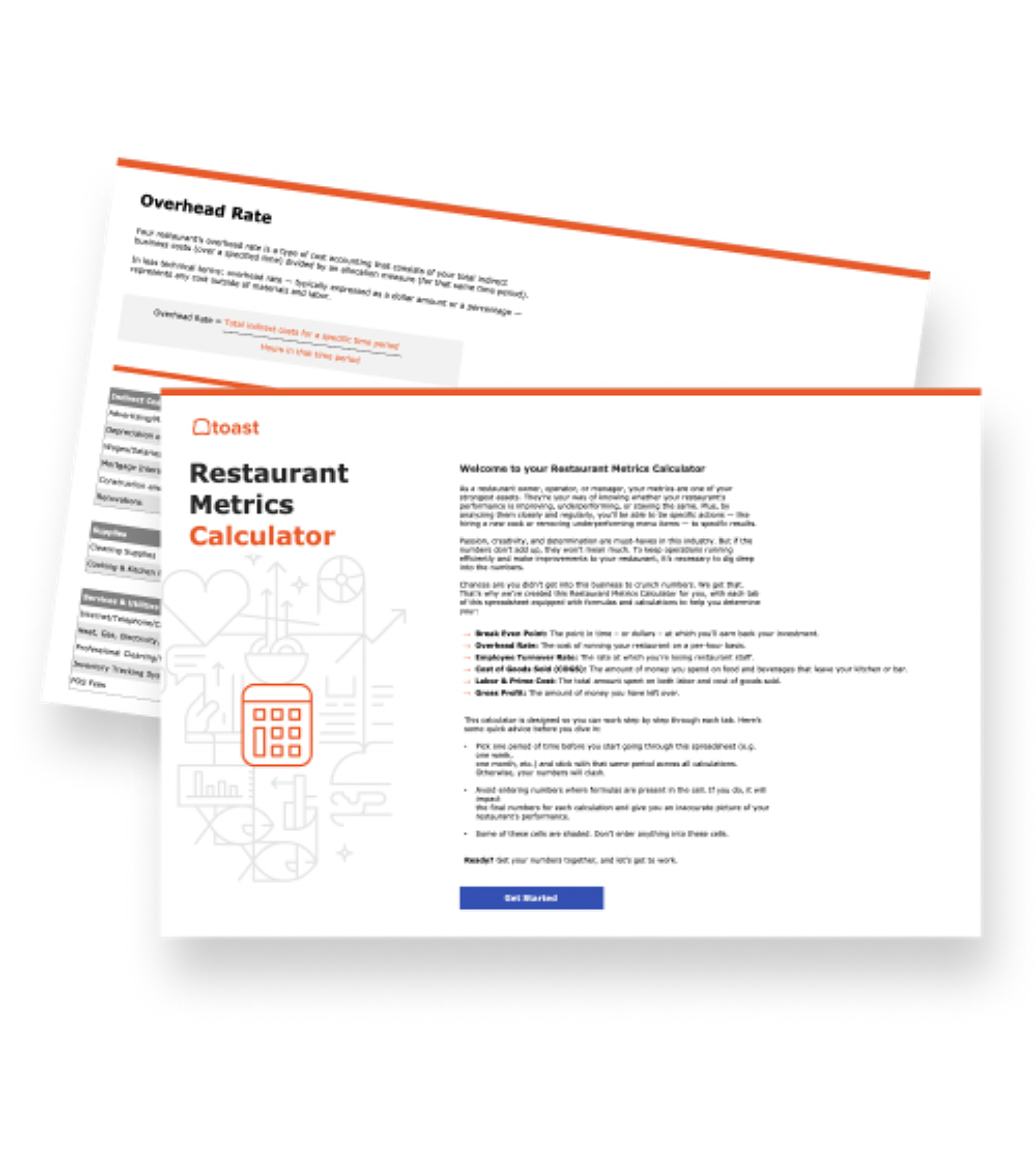 Restaurant Metrics Calculator
Use this free calculator to calculate the key restaurant metrics needed to understand the health and success of your business.
Download
8 Tips, Tricks, and Resources for Successfully Running a Food Truck
1. Closely manage parking space costs, truck payments, servicing costs, and overhead
Deciding whether you'll choose to rent or purchase a truck for your business depends on your financial data and projections. Compare prices in your area, and consider the costs of equipment, ongoing maintenance, and restaurant overhead.
For food truck businesses, overhead costs can include truck payments, gas, equipment, internet, administrative tasks, or professional services. An accountant can help you navigate these costs and other miscellaneous ones.
Look at these numbers month over month, or quarter after quarter, so you'll catch any spikes in costs or unexpected bills right when they happen.
2. Maintain legal permits and restaurant licenses
Restaurants require multiple permits and licenses to operate, like your business license, food service license, and parking permits to park your truck and sell food. These licenses are usually specific to individual states or towns/counties.
Bookmark these 13 licenses and permits needed to run a food truck business so you can learn what you'll need legally to run your business. Keeping up with these permits and regulations will save your business tons in fines, tickets, lost business, and legal fees.
3. Optimize your labor cost percentage
Restaurant labor costs are increasing by the month, and business owners are trying to keep up with rising food prices, labor shortages, and increased demand for their products.
Optimize your labor costs by calculating your food truck's labor cost percentage. Once you have a benchmark, you can take steps to run your operations more efficiently so you can pay your employees fairly.
To lower your labor costs as a restaurant owner, try:
Scheduling fewer employees and leveraging technology like online ordering and digital checks

Increasing your food and drink prices, letting your customers know why

Keeping track of your average labor costs and examining spikes or drops

Forecasting sales by season or month, then adjusting your staffing accordingly
4. Be smart about food costs
Managing food costs is more than just buying more of what's selling and hoping for the best. With a proactive approach, you can watch your food cost percentage and analyze which menu items are the most cost-effective. If you notice that an ingredient price has increased, which is common now with supply chain disruptions and delays, you can pivot to a new item, explore a different vendor, or change the menu. Strategic menu design and menu engineering are two ways to maximize the profitability of your menu without sacrificing quality.
Regularly review food cost percentages for a quick snapshot of your spending on different menu items or ingredients.
5. Food truck marketing and social media
As audiences learned from the Favreau food truck film, Chef, creative marketing can help a food truck grow its audience and generate business like crazy.
Develop a food truck marketing plan that includes social media, email marketing, local advertising and partnerships, and an updated website and Google Business listing. Keep your specials current and post where you'll be ahead of time to drive a crowd.
6. Food truck design and branding
Find your food truck's voice, identity, and brand. Then, align it with your truck design, marketing materials, and signage. When customers can recognize your truck from a block away and immediately do a U-turn to catch you, you know you're doing something right.
Here's more in-depth information about building a food truck brand, with ideas and examples to inspire you.
7. Professional services
No restaurant owner is an island, and it takes crossing your Ts and dotting your Is to stay in business and continue to grow.
Professional services that food truck operators can use include:
Lawyers

Accountants

Equipment technicians

Graphic designers

Marketers

Web developers

Cleaning and detailing professionals

Truck repair technicians
8. Restaurant POS technology and equipment
When you operate a business that's on the move like a food truck, you need POS and hardware devices that can move quickly, are easy to use, and cater to your guest's needs.
As a food truck, you are updating your hours frequently. Make sure Google knows so that your customers know. POS systems like Toast integrate directly with Google, automatically syncing every change in location or open hours to your Google My Business profile. This small detail makes a big difference in how easy it is for guests to find you, buy your food, and share their experiences.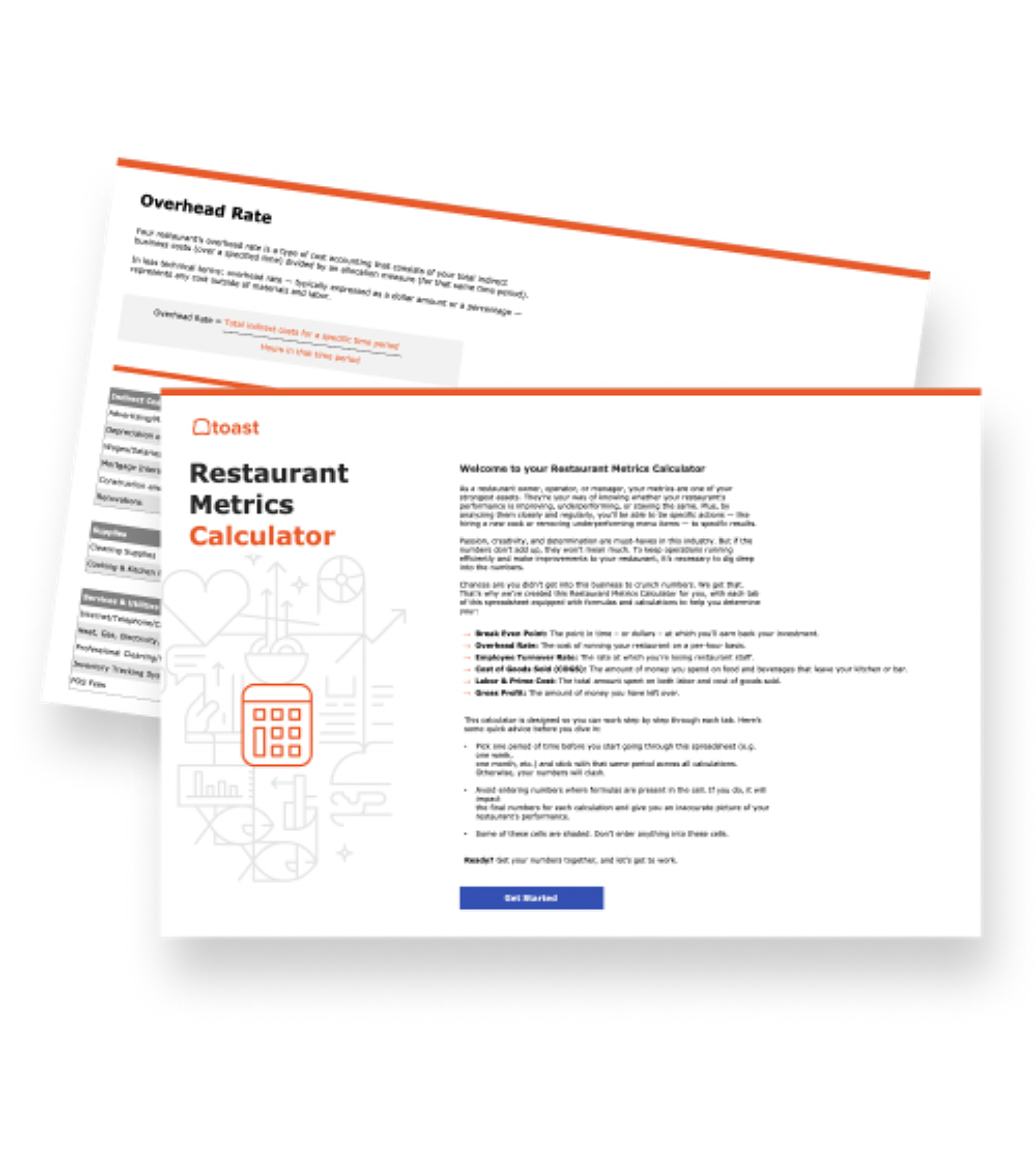 Restaurant Metrics Calculator
Use this free calculator to calculate the key restaurant metrics needed to understand the health and success of your business.
Download
Tips for Running a Food Truck With No Experience
It's hard to juggle everything that goes into starting and operating a successful food truck, so we've compiled some resources to help you avoid beginner mistakes. Here's how to set your food truck business up for growth and a great customer experience.
1. Join the community
For food truck businesses especially, it's important to establish a relationship with fellow business owners in the community. Since you may be parking your truck near their businesses, partner with them and showcase the benefits of bringing more foot traffic to the area. You can even join other food truck owners for local events and cross-promote your businesses on social media.
2. Organize your paperwork and any documentation
Keep all your documentation for licenses, permits, renewals, and legal requirements in order. You can also outsource this to an industry professional.
3. Track all of your data using technology
We're in the digital age. Manually tracking restaurant operations won't cut it when things change so quickly and customers expect personalized service. Set up your food truck operations systems to leverage automation, reporting, and analytics as much as possible. And make sure to choose a POS system that caters to your level of tech-savvy.
4. Invest in a winning restaurant team
Loyal restaurant employees are the key to a successful business. Regularly solicit feedback on employee sentiment and ways that you can improve, and your business will flourish.
How Food Truck Owners Can Improve Business Operations
Once you've nailed the essentials of opening and operating your food truck, you'll be ready to explore ways to grow, reduce operating costs, and improve the customer experience — without increasing your overhead. To stay competitive in the restaurant industry, you need to be constantly analyzing and evolving your business strategies, such as adapting to customer expectations, food, and utility costs, or other factors that may be out of your control.
Steps to make sales and margin growth even more impactful
Use menu analysis and seasonal specials to promote high-ticket items and remove costly unpopular items.

Partner with food influencers and other local restaurants or food trucks to expand your audience and generate more loyal customers.

Train your staff on upselling, loyalty programs, and text-message marketing to increase food truck sales.
How food truck owners can grow revenue faster than costs
With the right technology, restaurant owners can reduce overhead costs and improve the customer experience. Automate restaurant operations like sending receipts, promoting new items, and running inventory to reduce manual staff hours and improve accuracy. Technology like smart POS systems and integrated restaurant management tools can help surface trends you wouldn't have otherwise seen, minimize food waste, and save on in-season ingredients.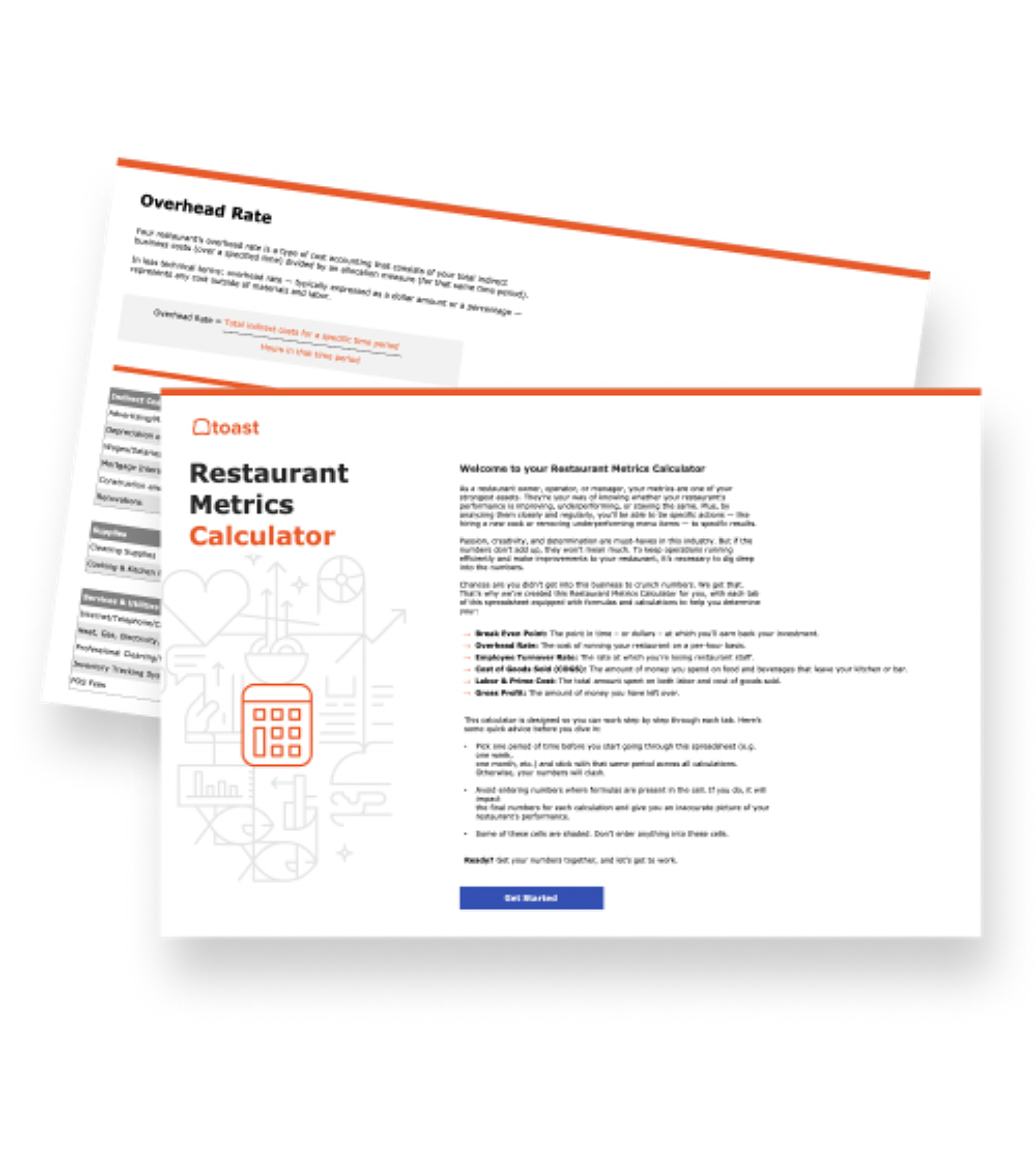 Restaurant Metrics Calculator
Use this free calculator to calculate the key restaurant metrics needed to understand the health and success of your business.
Download
Operating Cost Breakdown + Benchmarks for Food Trucks
The average startup cost for a food truck can vary based on location, cuisine, and whether you'll rent or purchase your truck and equipment. Generally speaking, the startup cost for a food truck ranges between $50,000 - $250,000.
When thinking about how to set up and run your food truck, think about your goals — do you want to expand your business to new areas and open more trucks? Or do you hope to grow your audience for your existing food truck business?
As you create your food truck business plan, here are some ranges for the expected ongoing costs and benchmarks for sales.
Food Truck Operating Costs and Benchmarks
Ongoing operations expenses add up to 85-90% of total sales, including utilities, food costs, labor, professional services, marketing, parking, permit costs, and technology. These expenses vary by the systems you choose and your location.
Here's a quick estimate of how much your operating costs might run every month:
Ghost kitchen/prep space: $1,000+

Parking/permits: $500+

Insurance: $500+

Utilities: $1,000+

Marketing: 3-6% of sales

Food costs: $30-35% of sales

Labor: 25-40% of sales
Expected Food Truck Profit Margins
Food truck businesses can expect to build a 3-5% profit margin, but this can take time. Average food truck revenue comes in around $20,000 - $40,000 — before expenses. Once you open your business, keep track of month-over-month growth, where and when you've had your most profitable weeks, and which items are selling the best. Then, continue to optimize your business strategy over time to increase revenue and reduce operating costs.
Ways to Keep Up with Restaurant Industry Best Practices and Trends
Restaurant owners need to keep up with local industry trends to stay competitive, along with national and international food and beverage industry happenings.
Here are a few ways to stay in the know, apart from connecting with your local restaurant-owner community and other peer groups.
Subscribe to restaurant industry publications like On the Line, Food Truck Operator Magazine, QSR and FSR magazines, and Modern Restaurant Management.

Keep up with F&B magazines like Food & Wine and Travel + Leisure to find inspiration, read features about food trucks or similar establishments, and hop on growing trends first. Cronut, anyone?

Listen to restaurant industry podcasts like Restaurant Unstoppable and Copper & Heat.
Drive More Food Truck Business With the Right Tools
Just like every chef has their favorite knife, gadget, or spice, food truck owners need the best restaurant operations tools and technology to keep their business growing. There are plenty of trucks out there - you want to make sure your brand stands out.
Explore how Toast compares to the competition to decide which POS platform has everything you need to grow.
Related Restaurant Resources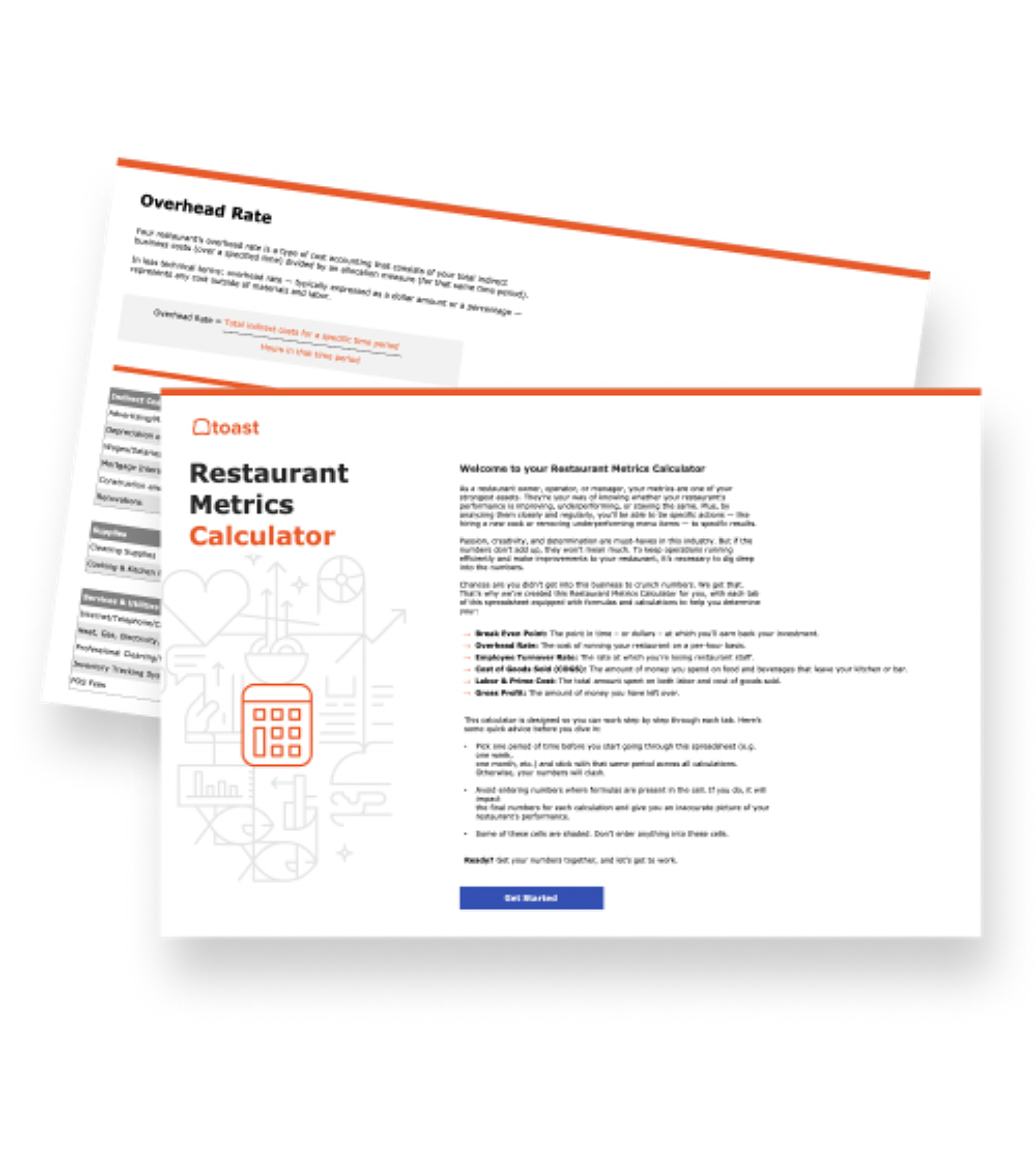 Restaurant Metrics Calculator
Use this free calculator to calculate the key restaurant metrics needed to understand the health and success of your business.
Download