How to Do Food Truck Branding (Ideas and Examples)
Compelling marketing and branding helps attract your target customers. In this guide, you'll find food truck branding ideas and examples of food truck brands we love.
Ever since the Oscar Mayer Wienermobile first rolled onto the scene back in the 1930s, chefs and restaurateurs have embraced food trucks as a way to meet customers on the go. Today, food trucks can be spotted everywhere, serving loyal crowds of hungry customers.
But the world of food trucks has expanded far outside of just hotdogs. As of this year, the number of active food trucks in the United States surpassed a staggering 35,500 (up 13.7% from 2021!), serving everything from dumplings to BBQ and every cuisine in between.
For many new or prospective restaurateurs, food trucks are more financially accessible than opening a storefront.
There's no time like the present to get into the food truck game. And to help you stick out amongst the competition, here are five steps to restaurant branding for your food truck, along with examples from successful food truck brands across the country.
RESOURCE
Restaurant Marketing Plan
Create a marketing plan that'll drive repeat business with this customizable marketing playbook template and interactive calendar.
How Do You Brand a Food Truck?
Before you can start brainstorming color schemes and marketing campaigns, you first have to develop a clear understanding of your restaurant brand. Ultimately, this will influence how your customers perceive and interact with your business.
Your food truck brand dictates how your business lives on in the minds of your customers. This means that from the first time anyone sees your logo on their Instagram feed (or on the side of your food truck as it drives down the street), your brand should be memorable.
Be sure to remain cohesive and consistent with your imagery, logo, menu, brand voice, font choices, and social media presence.
How to Create a One-of-a-Kind Food Truck Brand
Creating a memorable brand is all about leaning into what makes your food truck unique. A food truck brand should not only be enticing, but true to your spirit as an owner and restaurateur. Your brand should answer the question, "Why should customers choose your food truck over the opposing truck down the street?"
The key to making your brand unique is to tap into your purpose for opening the truck. Ask yourself the following questions:
What are you hoping to accomplish with your food truck?
What does your truck have to offer that the competition doesn't?
Why are you serving this food in this way?
What story are you telling?
What makes the experience of eating from your food truck necessary for the community?
These types of questions will drive the branding of your food truck.
To create a food truck business that resonates with your target audience, take the time to craft a brand that's true to who you are and, therefore, completely unique.
5 Steps to Building a Food Truck Brand
To craft a memorable food truck brand, follow these steps:
1. Develop a mission statement for your food truck.
Your mission statement will serve as the backbone of your food truck's brand. It should include your purpose for opening the truck and how you plan to achieve that purpose moving forward. It will dictate your company culture, the menu items you serve to customers, and your employees' experience.
When drafting your mission statement, think about the story you're telling with your business. To develop a mission statement that really resonates with your target customers, think about where you are and where your business is going. As you start your brand development journey, answer questions such as:
Who are you?
What are you doing?
Why are you doing it?
What are you hoping to accomplish?
How are you going to accomplish it?
2. Position your food truck brand in the market.
Determining your market position is integral to your business's success, no matter what industry you're in. Brand positioning (how your brand differs from your competitors) will determine how the masses think and feel about your food truck.
Remember, your food truck will be in competition with other trucks in your community. By understanding what's already out there, you'll become familiar with direct competition and learn how to strategically fill the gaps in the market and create a space just for you.
If there are already three taco trucks in your area, establish a new niche. Maybe these trucks are missing delicious vegan options, or nobody has quite mastered their fried fish taco yet. This will help with menu planning as well.
To position your food truck in the market, think of the four Ps:
Price— develop your restaurant menu pricing strategy to define who your direct competition is.
Product— the contents of your menu, including your menu design and restaurant theme.
Promotion— how you'll market and promote your food truck.
Place— the location of your food truck, including the routes and communities your trucks drive through. Additionally, which locations you need permits for. Many food trucks coordinate with other trucks, and partner with local flea markets or outdoor events.
Here's a tip: if you're having trouble determining your brand positioning, hit the streets and ask your neighbors and other voices in the local community who they think your biggest food truck competition will be.
3. Find your food truck brand voice.
To develop your food truck brand voice, try describing your business as if you were describing your best friend. Once you've identified the biggest strengths of your brand, develop them further to discover your brand voice.
Giving your business a personality through menu copy and marketing materials will keep your idea original and unique to you. Think about whether you'll adopt a theme based on your food offerings, your own personality, a clever food pun, or a regional favorite.
4. Develop the look and feel of your food truck brand.
Of course, an essential factor of your food truck brand is how it will look. Your restaurant logo and signage should be a natural extension of your brand voice. For example, if your truck is fun and bold, you likely won't use a dainty, cursive font on your menu. You'll opt for something stronger.
Your restaurant design will directly influence how your community perceives your food truck, and will determine if they pick your truck over the one parked further down the street.
Put yourself in the shoes of your prospective customers. What would it take to draw you in?
To develop the look for your brand that matches your predetermined brand voice, start by creating a mood board of colors, logos, and other aesthetics that inspire you. Once you've established a jumping off point for the visual elements of your brand, hand your mood board over to your graphic design team (if you have one!). If not, you can source freelancers, or take a stab at a visual identity yourself using a design tool like Canva or Figma.
5. Create a brand book for your food truck.
The key to a strong brand is consistency. When introducing a new food truck to the community, make sure every experience is aligned. With every interaction your customers have with your business, the goal is to strengthen and emphasize their relationship with your brand.
Taking the time to create a brand book (sometimes referred to as brand guidelines or a style guide) ensures that all stakeholders are operating off of the same, consistent brand information. It should include a breakdown of all brand elements, including your mission statement, market position, brand voice, and even how your business leaders will interact with the media.
Food Truck Branding Ideas We Love
Ms. Cheezious
Source: @mscheezious on Instagram
Welcome to a new age of artisan grilled cheeses. Ms. Cheezious started as a food truck in Miami, Florida before expanding to brick-and-mortar locations, proving that food trucks are often a great way to test a restaurant concept in your area. They have cheesy branding and comforting copy. Their brand is friendly and immediately recognizable, and who doesn't love puns?


Gastros
Source: Gastros Craft Meats
After finding much success selling their ethically-sourced, handcrafted charcuterie wholesale, Gastros in Providence, Rhode Island took their meats to the streets. By bringing their recognizable, sustainable brand directly to their customers, the Gastros team was able to expand their base.


Blaxican
Source: Blaxican Food
The Blaxican food truck is a staple of the Atlanta, Georgia street food scene. Blaxican has established their brand as a leader in both their local community and the national food truck community and celebrated their first decade in business last year. It's "la comida for your soul," and they deliver the hospitality to match their brand mission.


Truckmeister
Source: Truckmeister
Truckmeister, known as "Milwaukee's best food truck" is known for their burgers and bold branding. Regardless of where you find the Truckmeister truck around the city, you'll be greeted by signage that reflects their juicy burgers and makes you hungry just looking at it — a true mark of powerful branding.


The Kilted Kod
Source: The Kilted Kod
The Kilted Kod in Boise, Idaho is a family-owned business intent on always providing the best food and service to their neighbors. When the owners traveled to Scotland and tried fish and chips, they wanted to bring the flavors back to the community, where they'd never seen fish and chips offered before. By addressing a gap in the market, this business boomed and created more loyalists for a favorite from across the pond!


Put your branding on wheels.
A strong brand is what makes the difference between whether customers flock to your truck or the competition around the corner. And that brand will arise from thoughtful planning, killer designs and marketing, and strong menu execution.
A weak brand can slow you down worse than a flat tire on your truck. A strong brand is memorable and energizing, bringing new life to your customers every time they interact with you. And when you play your cards right, the best food truck brands attract loyal customers lining up around the block week after week.
To learn more about building a brand that excites, download our free Restaurant Branding Guide today.
Related Food Truck Resources
RESOURCE
The Ultimate Guide to Restaurant Branding
Use this guide to get tips on how to create a restaurant brand that stands out, attracts customers, and drives repeat visits.
DISCLAIMER: This information is provided for general informational purposes only, and publication does not constitute an endorsement. Toast does not warrant the accuracy or completeness of any information, text, graphics, links, or other items contained within this content. Toast does not guarantee you will achieve any specific results if you follow any advice herein. It may be advisable for you to consult with a professional such as a lawyer, accountant, or business advisor for advice specific to your situation.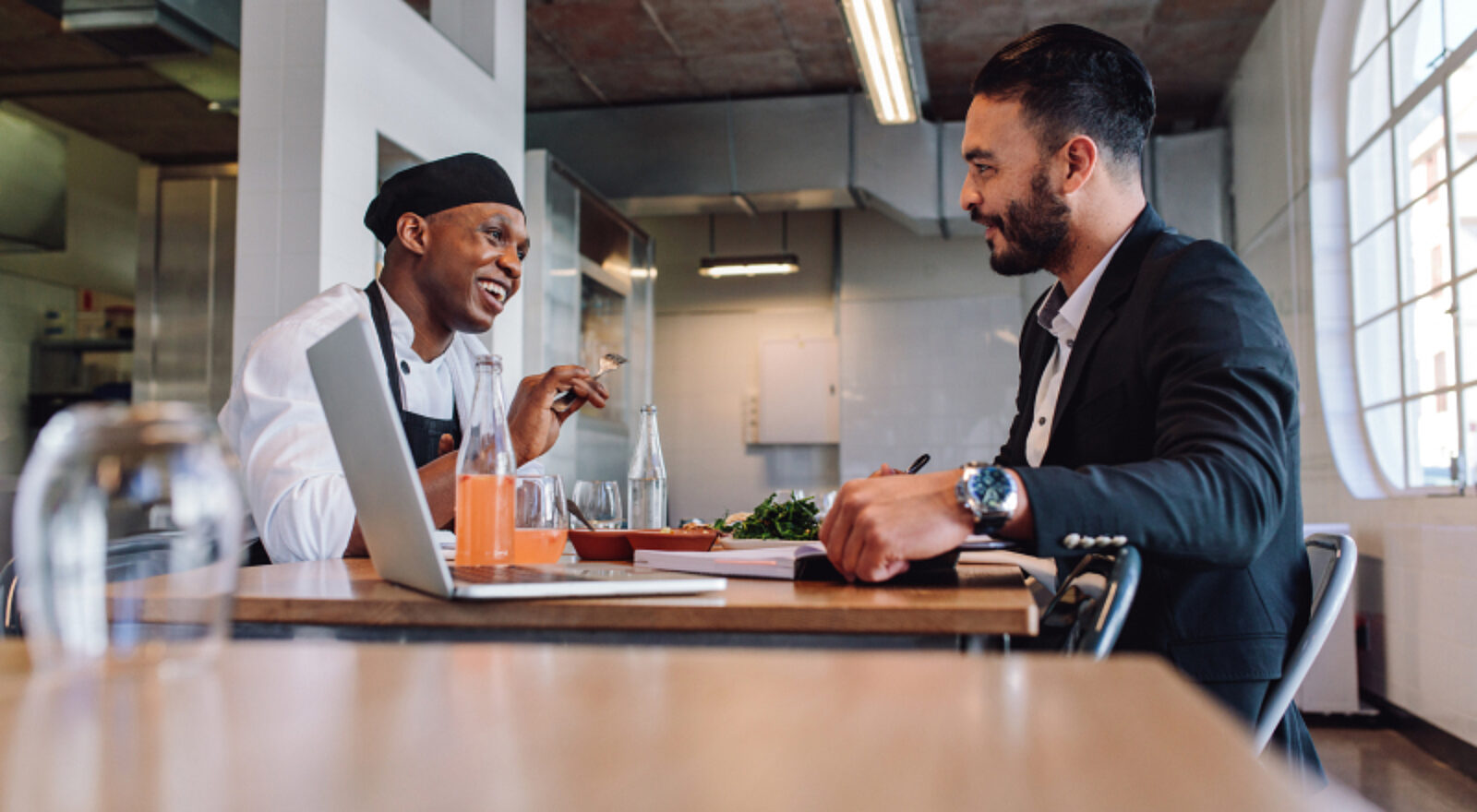 Become a Toast Local Partner
Level up your business by networking with Toast. Join our Local Partner Advocate Program and refer with confidence, as part of our growing community of restaurant experts.
Learn more