DISCLAIMER: This content is provided for informational purposes only and is not intended as legal, accounting, tax, HR, or other professional advice. You are responsible for your own compliance with laws and regulations. You should contact your attorney or other relevant advisor for advice specific to your circumstances.
How to Do Food Truck Marketing
Here's our guide to marketing a food truck, complete with all the ideas you need to get your next campaign started.
The flat top is hot and the fryer is ready. You've spent hours and hours testing your menu, to see how quickly you can cook each dish in the small space you have. Your friends and family love the concept. Plus, you know that your food tastes great. You've gotten the permits and hookups you need, and the food truck has a full tank of gas. You're all ready to go!
But, wait - what about attracting customers? The food truck business is incredibly competitive. No matter how great your menu is, you need a plan to reach as many potential customers as possible. This means putting together a solid restaurant marketing strategy that creates hype and lets people know how they can find your truck.
To set your marketing strategy up for success, here's everything you need to know to promote your food truck — including the ideal budget and ways to ensure that you have a line down the street every day of the week.
What is a Food Truck Marketing Strategy?
An effective food truck marketing strategy is as comprehensive as it is flexible. It'll serve as the starting point for all of your branding and promotional decisions moving forward, encompassing both your short-term campaigns and long-term goals.
Just remember - your marketing strategy is a living document. An idea you may had a month ago when you planned out your strategy may be irrelevant now. That's ok! Your marketing strategy is supposed to adapt and change, corresponding with current events and industry-wide marketing trends. This is key for it to stay strong and sustainable.
How Much Should I Spend on Food Truck Marketing?
Before you proceed with any initiatives, determine how much of your overall operational costs you can dedicate to marketing.
While your exact marketing budget will fluctuate depending on the location of your business and the scope of your strategy, know that the average business spends around 3 to 10% of their sales on their marketing budget.
Fortunately, there are many free or low-cost marketing tactics to craft a strategy within your budget. For example, you can hire a tech-savvy friend or neighbor to run your social media, compensating them with food. Or, if you're up to it, you can run your social media accounts yourself. The right viral TikTok can put your small business on the map!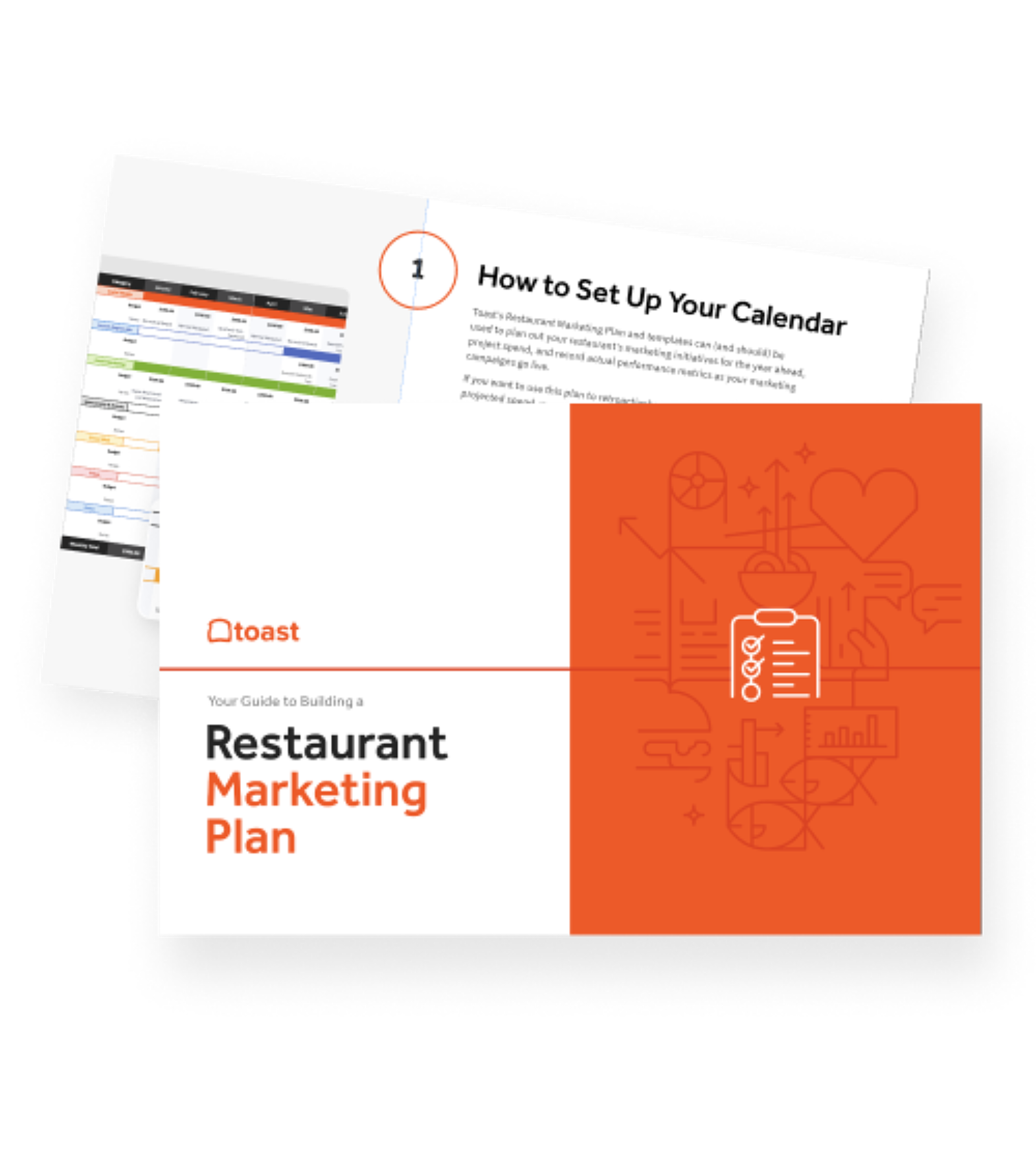 Restaurant Marketing Plan
Create a marketing plan that'll drive repeat business with this customizable marketing playbook template and interactive calendar.
Download
Marketing Ideas for Food Trucks
Marketing a food truck encompasses multiple things. It can include an email marketing program, social media promotions, word of mouth strategy, and keeping your website up to date. Here are a few food truck marketing strategies to keep in mind.
1. Develop Your Truck's Brand Identity
Your brand identity showcases your food truck's values and mission in everything you do.
Ask yourself - what makes my food truck unique? What sets it apart from the other food trucks in my community? Answers to these questions will reflect your brand identity's voice. This voice should be clear through all your communication channels, from your logo to your mission statement.
To develop your food truck's brand identity, consider the following:
Determine your target audience and ideal customer.
Hone your food truck's mission statement, priorities, and purpose.
Establish a brand voice for your food truck that's distinct and reflective of your mission statement.
Continue to evolve your brand identity depending on the results of your marketing campaigns.
2. Establish an Online Presence
Your food truck doesn't exist unless it has a website and/or social media presence, period. Your online presence is the best way for potential customers to discover your business anytime and anywhere.
As your truck becomes more established, your website should grow along with it. This means updating or redesigning your website as necessary. No matter what, always make sure there is a simple way to communicate with your business. Your website should include visible links to your online ordering and social media platforms. If you want to take your site to the next level, you can even install a live chatbot so that customers can have their questions answered immediately.
Social Media
Social media is critical for food trucks. Since it's a mobile business, customers often look to a food truck's social media pages for the most recent updates. This means it's crucial to keep your location and hours updated constantly, whether on Instagram or Facebook. No one wants a disappointed customer who mistakenly went to the wrong location.
Maintaining your social media accounts also helps your food truck stay competitive. Nowadays, if you're not regularly posting new content, your business will not reach more potential customers. Even if you're not on the road on any given day, you never want to miss an opportunity to introduce new people to your food truck concept.
The key to this is not only posting, but also engaging with your audience. Use Instagram stories to ask your followers where they want to see your food truck parked. Don't be shy to take photos of the new recipes and secret menu items you are testing. And of course, make sure your hours and location are always correct.
We understand that the daily demands of posting can feel overwhelming. But, social media is a critical step to reach new patrons and let your loyal ones know where you are!
The Cookie Monstah in Boston, Massachusetts is known for its tasty ice cream, cookie treats, and compelling social media presence. Crafting a memorable online identity ensures that - by the time their customers make it through their food truck line - they know exactly what to expect.
Here are some other examples of amazing food truck businesses using social media in unique ways:
Bing Mi - Portland Oregon - Instagram
La Maceta 52, San Antonio, Texas - Tik Tok
3. Partner with Bars and Breweries
Bars that don't serve food are always looking for ways to bring in customers (and keep them drinking!) Many of them partner with multiple food trucks and rotate them throughout the week. Breweries are excellent to join forces with as well. Many of them are located in industrial complexes further away from a city's metro area, giving plenty of room to park your truck and let your food truck line grow.
Don't be shy to reach out to your favorite drinking hole or brewery to see if they'd like to add a new concept to their food truck rotation. Once you get on a regular schedule, the local brewery or bar-goers might just become new loyal customers.
Here are some examples of food truck businesses that partner with bars and/or breweries:
Tikila's and Hot And Buttered - Houston, Texas
Ponysaurus Brewing and Little Pizza Box - Durham, North Carolina
4. Embrace Traditional Marketing Strategies
We may live in a digital world. But, that doesn't mean that traditional marketing strategies are no longer effective. Geo-targeted online ads, ads in the local paper, hanging flyers in your neighborhood coffee shops, and mailing advertisements to your customers' front doors are all still reliable marketing initiatives.
To guarantee your traditional campaigns are resonating with your modern target audience, your marketing materials must stand out. Research before you send anything out, taking into account trends in the food truck and/or restaurant industry. Above all, make sure to infuse every single thing you send out with your signature brand identity. That is what will make your marketing memorable.
5. Create a User-Friendly Online Ordering Experience
Since 2014, online ordering and food delivery has increased by 300%. For food trucks unable or unwilling to offer takeout/delivery as an option to their customers, they're missing out on an opportunity to connect with new customers and strengthen current customer relationships.
The best part is - online ordering systems exist. Systems like the Toast Restaurant Online Ordering System makes it easy for food trucks to increase their sales with minimal effort.
How to Measure the Effectiveness of Your Food Truck Marketing Strategy and Make Adjustments
So, which of your marketing campaigns are producing the best results? Which are underperforming and could use a tune-up? Are any of your marketing efforts going completely unnoticed or unacknowledged by your target audience?
Don't wait until the end of a campaign to assess the effectiveness of your marketing strategy. By asking yourself questions like these as your monitor and measure your current campaign(s,) you'll be able to tweak your campaign while it's still in progress, reaping more marketing benefits.
To measure your marketing effectiveness, constantly revisit your short and long-term goals, your predetermined KPIs (Key Performance Indicators,) and any other success metrics you decided to track (like social media reach or new email subscribers.) Once you have a refreshed understanding of your goals, you can begin measuring the effectiveness of your marketing strategies.
What Are the Most Common Food Truck Marketing Strategies?
When brainstorming marketing strategies for your food truck, you don't have to reinvent the wheel. The most common marketing tactics are common for a good reason — they work!
Consider using one of these strategies:
Build your online presence with SEO best practices to make it as easy as possible for your truck to be found online.
Embrace current social media marketing trends to spread awareness of your food truck.
Personalize your marketing communications whenever possible (like during your next email marketing campaign).
What Are Effective Marketing Strategies for New Food Trucks?
The biggest challenge facing new food truck owners is making a name for yourself in an already crowded industry. The goal is to ensure that folks can find you when seeking out new eats in their area. Your job as a food truck owner is not only to attract customers but also to convince them to try your spot instead of one of their usual places.
In short - it's all about making a good first impression. How will you effectively introduce yourself and your food truck to the community? To start on the right foot with your target audience, make sure to:
Take the time to craft a unique brand identity.
Be active on social media to connect with your future customers on a more personal level.
Go all out for your grand opening to attract customers and establish a welcoming reputation.
Set up your Google Business listing and any other local search opportunities, creating optimized business profiles on sites like Yelp or Foursquare.
What Are Effective Marketing Strategies to Increase Revenue From Existing Customers and Get Them to Spend More at Your Food Truck?
Now that you've begun attracting guests, how are you going to get them to return week after week? Your truck can't succeed on a strong grand opening campaign alone. To build a roster of loyal returning guests, you'll need to dedicate time to ongoing marketing efforts.
Here are a couple of ways that food trucks can keep their guests coming back for more.
Use Email Marketing and Create a Loyalty Program
With Instagram and Facebook, why do I need email? While social media apps are used to find and attract new customers, email marketing engages with your loyal, returning customers. When customers sign up for your email list, they trust that they will be the first to know about news and updates, such as off-menu items, new merchandise, and exclusive discounts.
Your loyal customers are also the ones who will help you build hype for your food truck. This makes email one of the most powerful tools in your marketing toolbox because, in the long term, your most passionate customer base will do a lot of the marketing for you.
Toast has an exclusive online package that includes email marketing and loyalty, geared towards smaller restaurants and food trucks. You may not have the budget to use more advanced tools like MailChimp or ConstantContact. That's where our online Starter Kit 'Growth Plan' package comes in to help get you started.
Embrace Consumer-Generated Content
Including consumer-generated content in your market plan keeps your food truck connected to your community. Reposting pictures and videos that guests have taken translates the experience at your truck like no other.
This content can be used for more than just social media. User-generated content is great for email and traditional marketing methods too. Before you post, it is always best to ask for permission from the customer to ensure that they're comfortable with you reusing their content.
Think Big When Marketing Your Food Truck
It's time for you to launch your next marketing campaign. By staying true to your brand identity and harnessing your passion as an emerging food truck-eur, your marketing strategy will help you put your truck on the map and generate longer lines down the street.
Related Food Truck Resources