DISCLAIMER: This content is provided for informational purposes only and is not intended as legal, accounting, tax, HR, or other professional advice. You are responsible for your own compliance with laws and regulations. You should contact your attorney or other relevant advisor for advice specific to your circumstances.
Business Plan for Food Trucks Guide
When you decide to start selling Parisian croissants from a vehicle, the logistics of rolling out pads of butter and soft dough in the summer is just one of the hurdles that are in store. Even for more traditional food truck concepts — like sandwiches, tacos, or barbecue — running a food truck takes a lot more than just a perfect recipe and a truck outfitted with a flattop.
A food truck business is a great place to start for those looking to venture out into the restaurant industry. The operational costs are lower, you'll need fewer staff, and you can follow the crowds instead of hoping they come to you. But along with these benefits come other operational challenges, like figuring out fuel and power, working out parking permits, and cooking and serving in a tiny space.
But there's no reason to be intimidated: all you need is a plan. More specifically, a food truck business plan. For every step of opening a food truck, your business plan will be there to guide you. The operations of your truck – from everyday tasks to year-end paperwork – will run more smoothly if you use a detailed business plan as a north star.
How to Write A Food Truck Business Plan (Description, Examples, Proposals)
As a genre, business plans are pretty straightforward, which is why this food truck business plan template is a helpful tool for imagining and planning your next food truck. Download a customizable version of our food truck business plan template and read on to learn more about how to make it work for your food truck.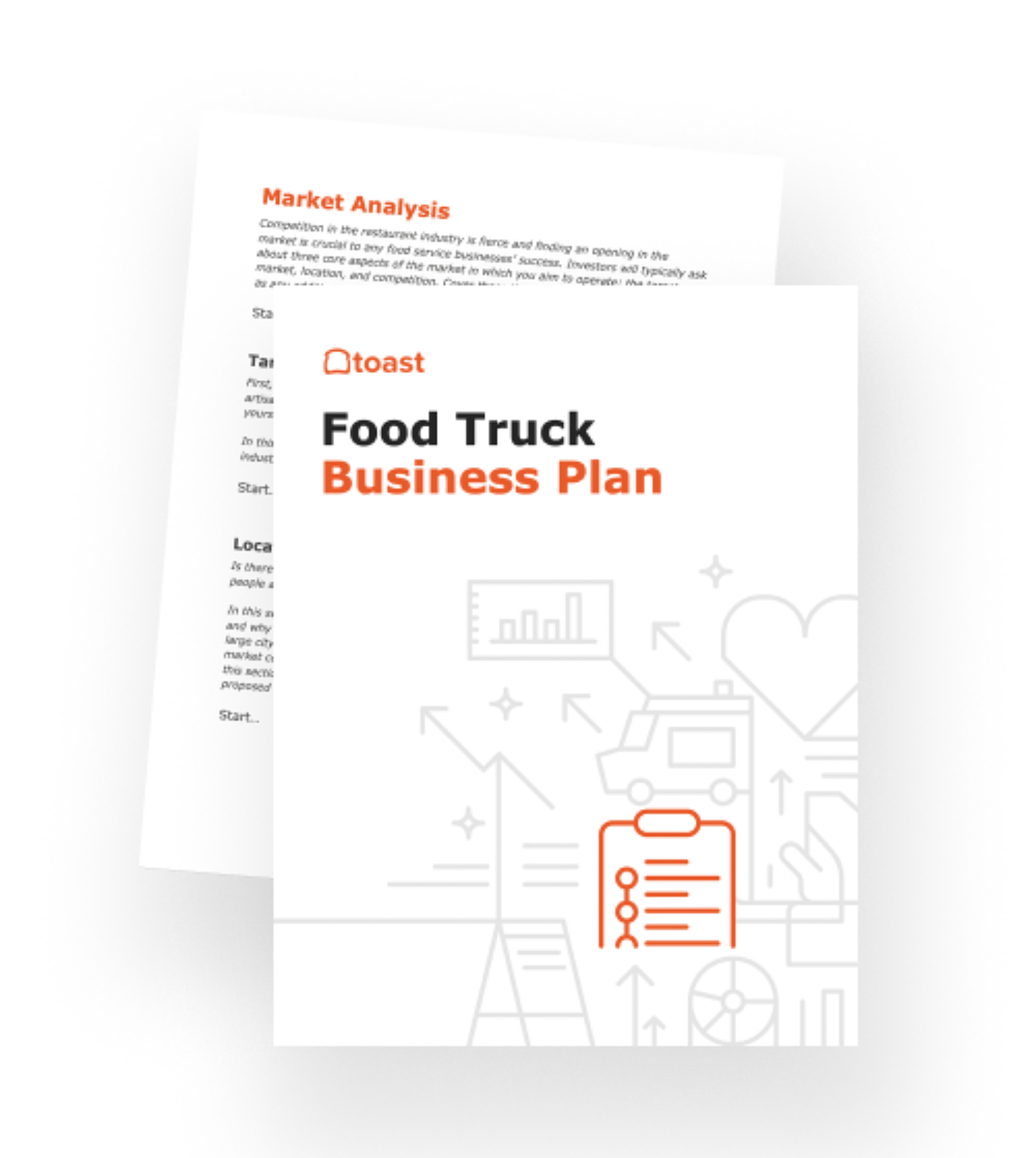 Food Truck Business Plan Template
Use this free food truck business plan template to easily create a great business plan that organizes your vision and helps you start, grow, or raise funding for your food truck.
Download
Why You Need a Food Truck Business Plan
As an owner, investor, or manager of a food truck, the business plan provides an organized guide to how you and your team will translate your passion for artisanal croissants or your grandmother's award-winning lobster roll into a lucrative, mobile business.
A food truck business plan is also a critical resource when it comes to finding food truck financing. Business plans let restaurateurs pitch their ideas to potential investors. Many business ventures require capital in the form of a personal loan or investment – your business plan is your ticket to meetings with those lenders, and will ensure you're prepared for potential investors' questions about everything from research and development to budget and your long-term goals.
Great food trucks roll out at the intersection of concept alley and action lane – meaning that you've got a unique idea that's possible to execute, and a brand that your guests will remember. All this, outlined in a business plan, will help you move forward.
Elements of a Food Truck Business Plan
Executive Summary
The first section of your food truck business plan is an executive summary – a concise introduction to and summary of your food truck concept. The executive summary introduces key elements of your business plan, such as an overview of the budget, the business's mission and core values, and a coherent vision for your product and brand.
As you write your executive summary, think of who will be reading it and how you might catch their attention, get them interested in your concept, and convince them to keep reading and potentially invest. In a world with food truck festivals and crowded office parking lots with half a dozen trucks to choose from, what makes your food truck stand out?
Company Overview
The differences between a company overview and an executive summary may seem subtle, but the company overview is a glossary for the rest of your food truck business plan rather than a summary - more practical than attention-grabbing.
The company overview introduces the type of restaurant, defines the product(s), and provides information about the ownership structure and your vision for the customer experience. You might also start to discuss your hiring and labor practices, when and where you plan to park the food truck for service, and the capacity for production.
The company overview is also your chance to communicate the more conceptual visions of your brand to investors. Consider including information about how your food truck's name, logo, color scheme, and presence make your customers feel and contribute to the experience
Team and Management
Food truck teams can be small – there are lots of food trucks that operate on a staff of one owner-operator-accountant-chef-server. Other food trucks are a roving version of a successful brick-and-mortar or an established local brand that have a full staff.
However your food truck's team will look, it's important to include a detailed and clear description of that team in your business model. Your staff will factor into other crucial elements of your business plan, such as the budget and food/beverage production, so it's important to have a concrete picture of your staffing needs.
Also consider including information about what kind of jobs you plan to create, whether they are full-time or part-time, how you will hire or train workers with the right skill set, and if you plan to provide them with any benefits or incentives.
Sample Menu
A sample menu is a unique feature of a restaurant business plan. Many food trucks are known for quick, consistent meals so your menu, and the food and beverage products you offer, are an integral part of your brand and business plan.
Consider the earlier example of a food truck that serves artisanal croissants and the unique challenges that business would present – having a specific menu for a food truck business plan is important because of the constraints of building a kitchen and storing all the necessary equipment to produce a menu while preserving space to cook in a truck.
A sample menu forces you to start thinking about how you will produce and deliver those items to customers – consider where you will store uncooked food, what cooking surfaces or tools you will need to prepare that food, and what you will use to serve that food to your guests in/from a truck.
Check out the simple but effective menu of the Chicken and Rice Guys truck, pictured below.
If you need some inspiration while coming up with your food truck concept, check out this list of restaurant concepts, this article on creating new menu items, and this set of menu templates.
Market Analysis
Competition in the restaurant industry is fierce and finding an opening in the market is crucial to any food service businesses' success. Investors will typically ask about three core aspects of the market in which you aim to operate: the target market, location, and competition.
First, identify if there is a demand for what you want to sell. If you are selling artisanal croissants, who is your target customer and how do you plan to deliver position yourself to deliver your flaky pastry to them?
Which introduces the second factor, location. Is there a demand for the product you offer in your area? In other words, will the people around the location of your food truck want to buy artisanal croissants?
And finally, is there any other competition in the market i.e. another business selling artisanal croissants? And if there is, is what you're doing different enough? Perhaps the simple fact that you can bring croissants to your customers with a food truck lets you access a niche that your competitors cannot.
It's important to research the routes to meeting your sales goals for your restaurant and communicate those routes in your business plan to potential lenders or investors.
Marketing and Publicity
Advertising a food truck can be a unique challenge – brick-and-mortar restaurants have the advantage of a consistent location, indoor seating, and can offer complete dining experiences in ways that food trucks can't.
Unique businesses require unique marketing solutions. Make plans to take advantage of social media to let your loyal customers know where you will be and craft a clear, cohesive branding strategy to announce what you do to potential customers.
Sid and Krupa Panchal, also known as the Bombay Food Junkies, do a great job of posting regularly on their truck's social media page, letting guests know where they'll be and what they can look forward to eating.
With a restaurant on wheels, location is a marketing strategy. Plan to move to the best possible spot to sell your fare depending on the time of day, week, or season.
Write about how you'll spread the word about your business and make plans for a loyalty program that incentivizes customers to market your business by word of mouth. Potential investors will be impressed that you have plans to increase their return on investment.
To learn more about food truck marketing, check out our full length post on building a food truck marketing plan.
Branded Graphics
One of the most exciting parts of building a business plan can be imagining a cohesive brand for your new business. Using sample logos, mockup vehicle wraps, branded menus, or mock social media posts to add a mystique to your plan and get potential investors excited for the food truck. Display that brand consistently throughout any presentations or documents portfolios that you design for your business plans.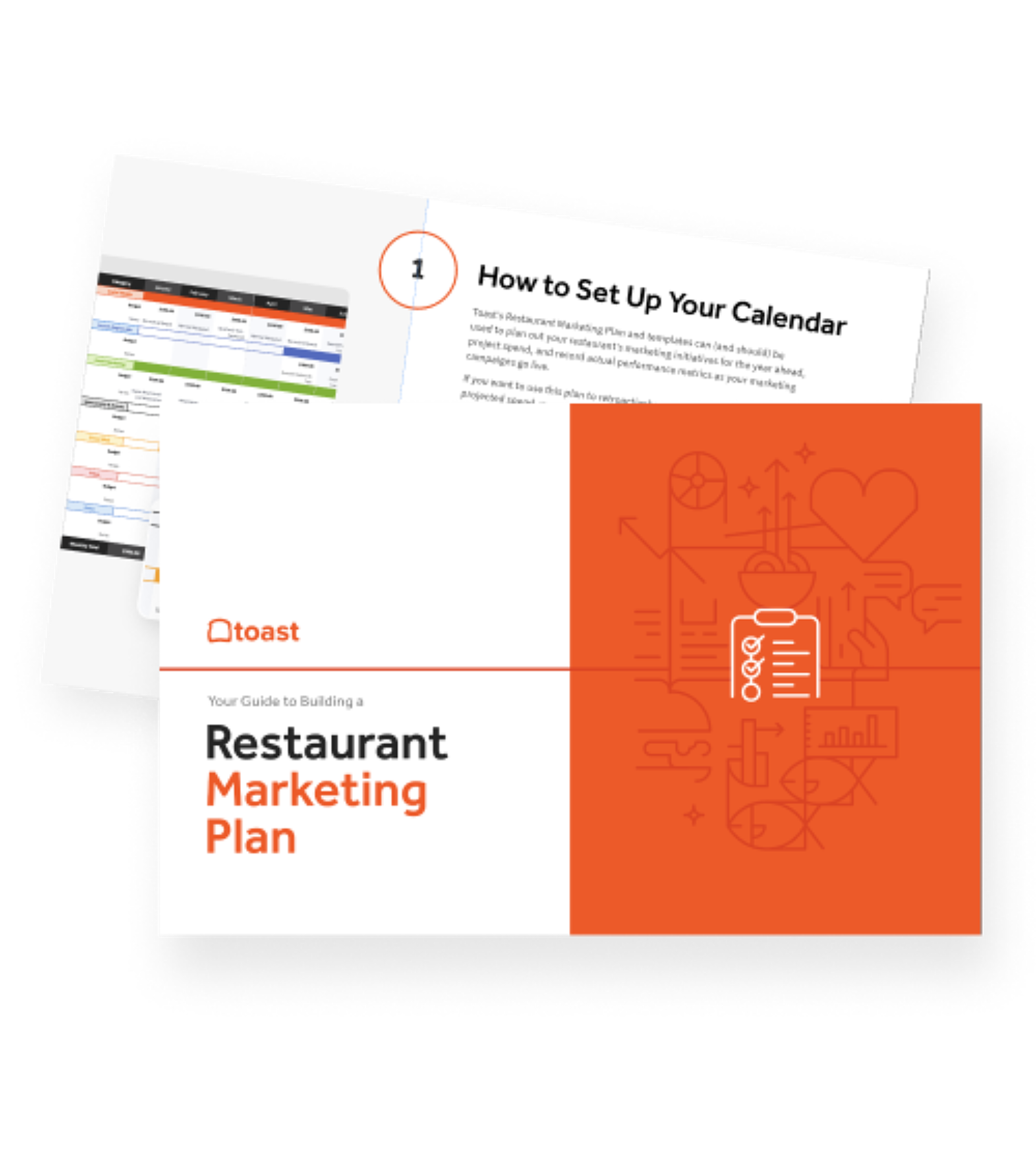 Restaurant Marketing Plan
Create a marketing plan that'll drive repeat business with this customizable marketing playbook template and interactive calendar.
Download
Business Operations
You wake up at 4:30 am to start baking by 5:15 and have fresh croissants and coffee ready to serve to your first customers at 6:30. You park the truck near a walking path entrance for the university campus in your town and the professors walking in from the nearby subdivision stop for croissants and drip coffee on their way in.
Business plans include information about customer service, the point of sale, sales and inventory tracking, accounting, and the supply chain of the products on your menu. Business operations concerns unique to food trucks include where you will park the truck and how that spot will let you access your customers.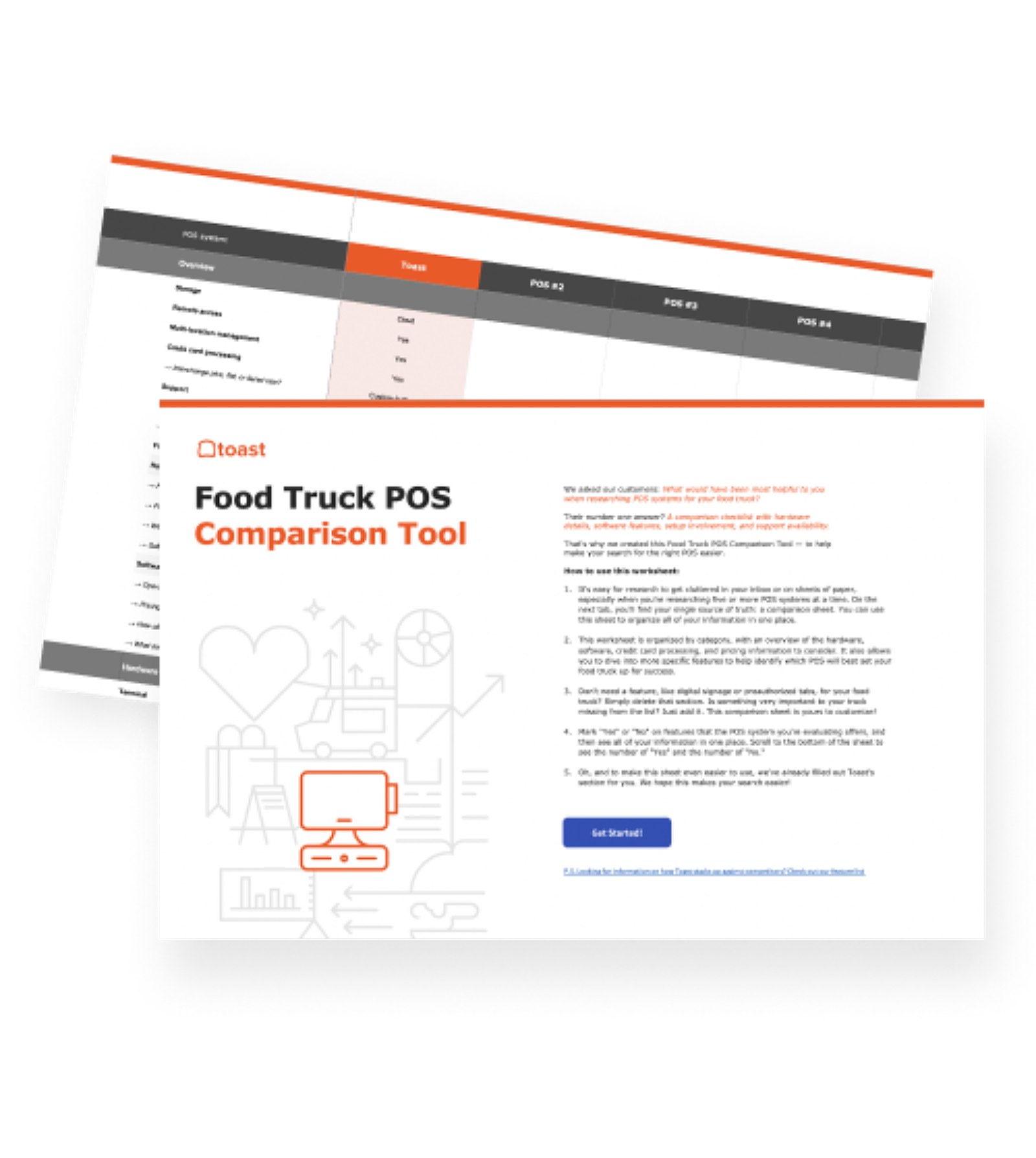 Food Truck POS Comparison Tool
A free, customizable Food Truck POS Comparison Tool to research and compare point of sale systems in one Excel spreadsheet or editable PDF.
Download
Financing and Loans
Part of what makes food trucks so appealing to first-time operators is that they typically come with a smaller price tag. Whether you choose to rent or buy a truck, it's likely to be an order of magnitude cheaper than diving into a brick and mortar restaurant. However, you're still likely to be looking at a startup cost of $50,000 to $60,000, so if you don't have that amount ready in the bank, you'll need to look for food truck financing.
If you're trying to figure out how you'll finance your food truck business, check out this financing guide which goes into detail about some of your options, like brick-and-mortar bank loans, alternative loans, small business administration (SBA) loans, merchant cash advances, business lines of credit, crowdfunding, asking friends or family members, commercial real estate loans, equipment financing, and purchase order financing.
Once you've come up with your food truck financing plan, it's crucial to include all the details about it in your business plan. Provide potential investors with information about other investors and detailed financial plans about projections and expenses.
---
Read this next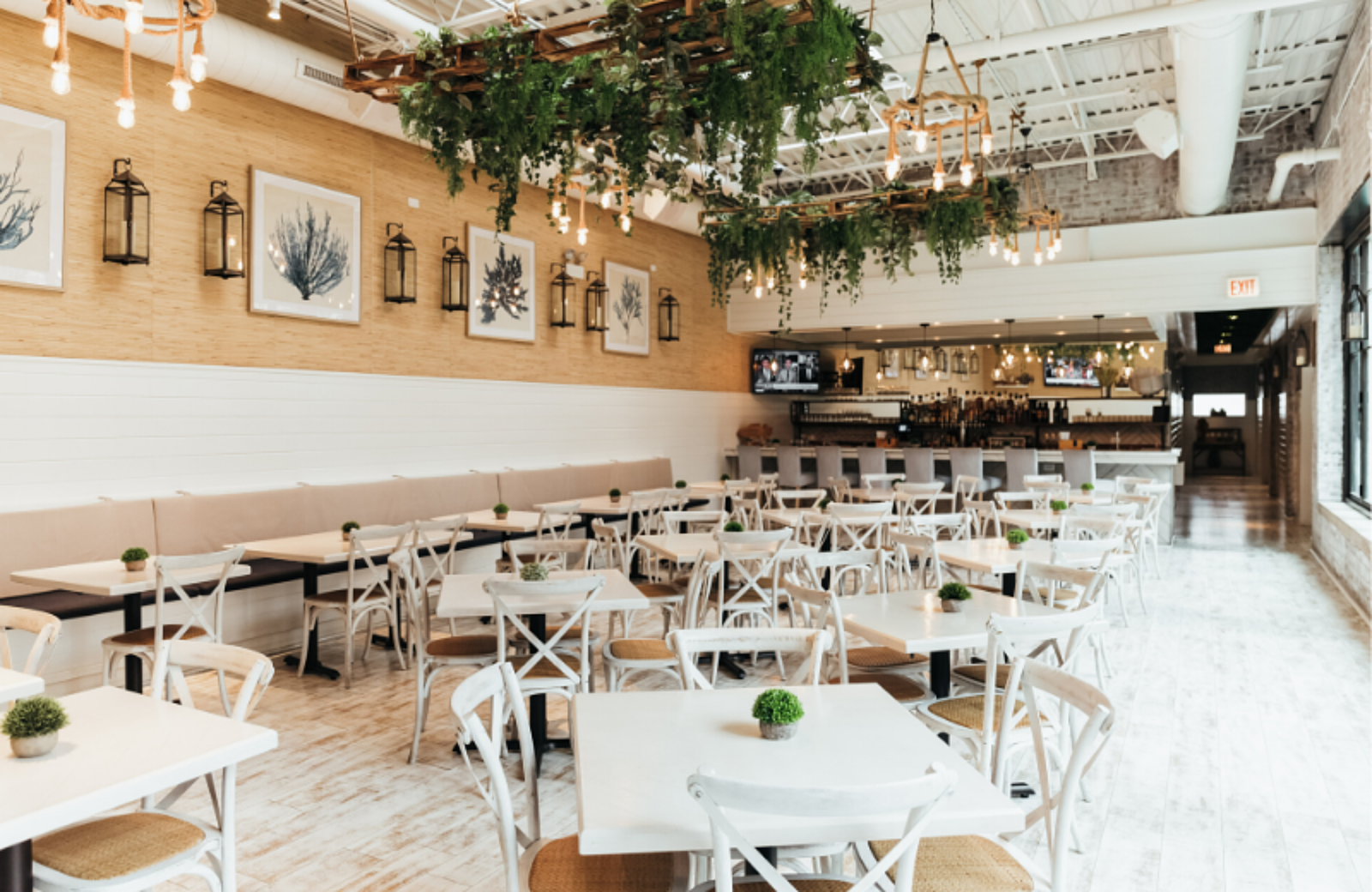 The Complete Guide to Restaurant Financing and Loans
Whether you're opening a new restaurant, expanding your concept, or renovating within your existing four-walls, you're going to need capital to make it all happen.
One common analysis to include in a business plan is a break-even analysis, which compares how much sales are required to break even with the cost of expenses each month. Investors will be interested in the potential for profit and loss before they contribute to your business, but to produce a profit a loss statement for a restaurant isn't open yet will require some educated projections.
Finally, a cash flow analysis will detail how you will spend money on labor, supplies, and operations which will show investors that the food truck can support itself without additional investment. Consider how the prices of your food, your own and your employees' salaries, and the costs of maintaining the food truck and menu production balance at the end of each fiscal quarter.
How to Present a Food Truck Business Plan
There are a few ways to prepare to communicate with investors about your business plan and get them interested. As you write and edit your business, you'll have become the world's only expert on your food truck. Remember that the way you talk about your business should be tailored to the situation you find yourself in.
First, send your business plan to investors and banks far and wide – put your concept and plan in the hands and minds of as many people as possible. You can't hear no (or yes!) unless you ask.
Perhaps you're at a networking event for local small restaurant owners and financers. You might want to have a 30-second elevator pitch prepared so that you can communicate everything you need to about your plan for a food truck quickly. Be sure to include something exciting or make an opportunity for questions to keep people talking.
Once you secure a meeting with a potential investor or partner, you'll want a more detailed presentation that presents all the key elements of your business plan – for a food truck, that will likely include the product, brand, and financial details.
It's good to anticipate potential questions and prepare answers for questions you encounter for the first time. When networking, it's good to be honest and genuine, even if you don't have a ready answer for each question that comes your way – investors will be interested in your charisma and savvy just as much as your ability to build a detailed plan.
Related Food Truck Resources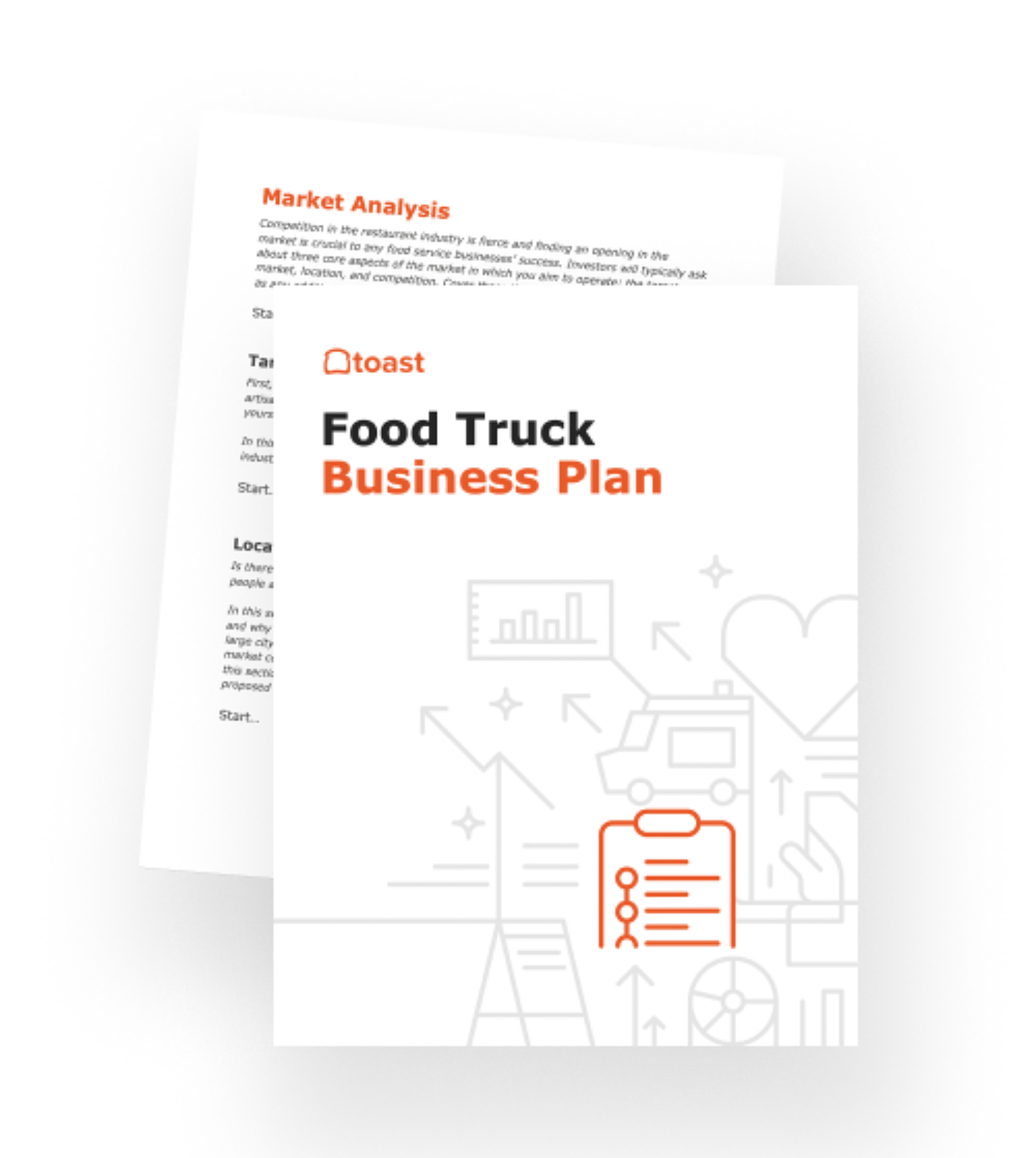 Food Truck Business Plan Template
Use this free food truck business plan template to easily create a great business plan that organizes your vision and helps you start, grow, or raise funding for your food truck.
Download