If you're wondering how to build a food truck from step one, you may be asking yourself: "Why does food truck design matter? Isn't this business all about the great food?"
Well, as the saying goes, we eat with our eyes first, and for food trucks, the feast begins when customers first spot your truck.
A food truck is a rolling billboard, so it's important to get the design right, even if that means investing more money up front. More importantly, your food truck's design will become the basis for your branding efforts. Your colors, logo, and overall vibe will be what your customers come to associate with your food, so the design is about more than just attracting hungry diners.
Don't get me wrong, you can still have awesome food and loyal customers if your truck features minimal design, but you're going to have to work twice as hard as the trucks with bright colors and clear design concepts to make that happen. This is especially true when you're serving at food truck festivals and fairs, where customers have dozens of choices. You want your truck's design to supplement the amazing food instead of forcing your food to work extra hard to get customers to the window.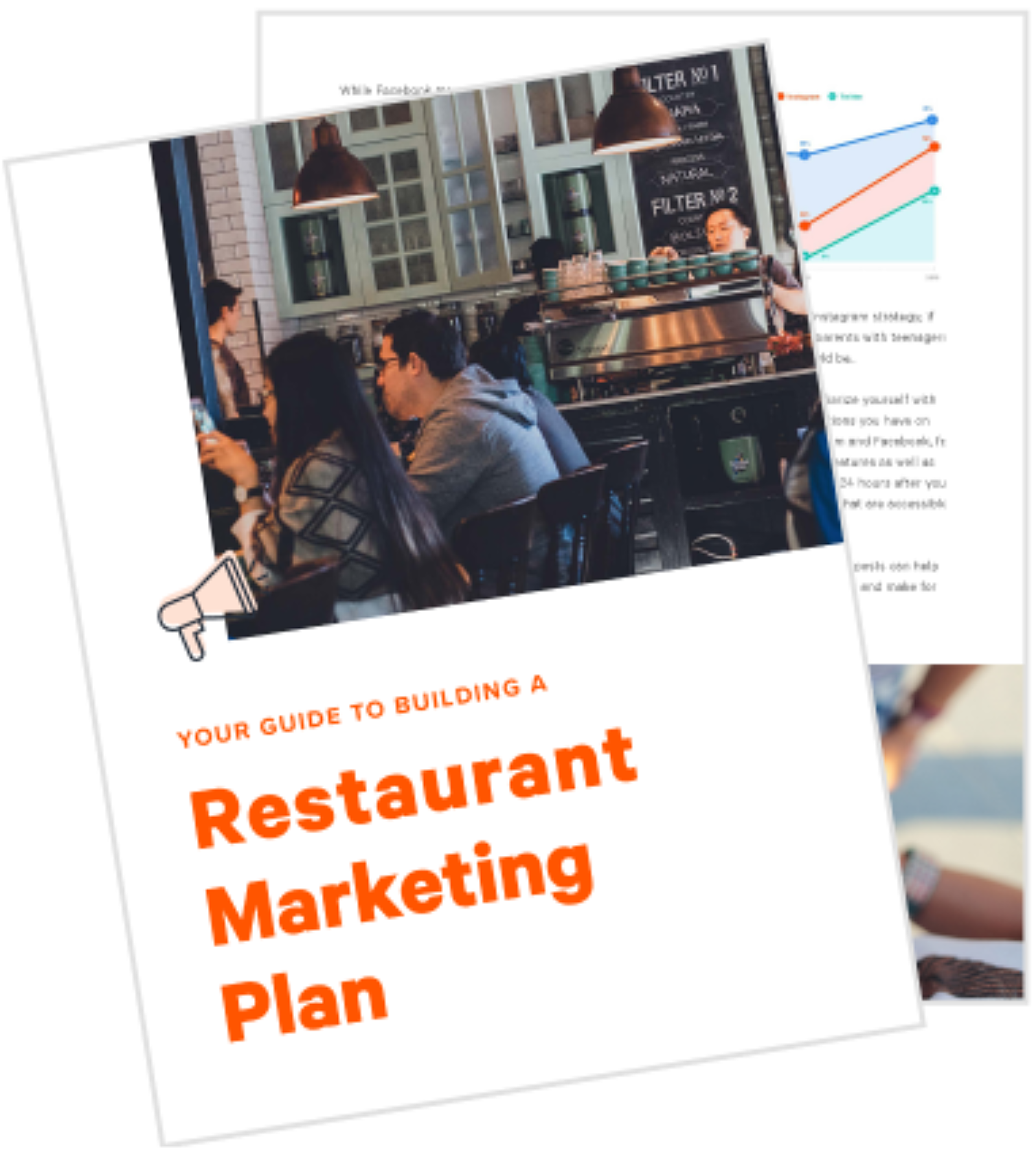 Restaurant Marketing Plan
Create a marketing plan that'll entice and engage the customers you want with this customizable marketing plan template and interactive calendar from Toast.
Download
Step 1: How to Find a Food Truck Designer
Unless you were an artist or designer before you got your start in foodservice, you'll probably want to hire a professional to handle your exterior food truck design.
You have plenty of options here, but it's important to work with a designer who allows you to talk about your vision for the truck. Your designer should welcome your feedback throughout the design process, to ensure you get a finished product that you're happy with.
Find Someone Who Will Work With You
So, how do you go about finding a designer? There are several avenues that can lead to an excellent food truck design.
For a lower budget option, you can source your design to an art student, offering them a chance to add to their portfolio while earning some cash. If that's not an option, a professional will be your best bet.
Some services will provide you with a detailed design, leaving the actual food truck wrap to another business, and others will go through the entire process with you.
Vinyl Wraps vs. Paint
Before you find a designer, you'll also have to make the decision of whether you want to use vinyl wraps or paint for the outside of your truck.
Vinyl wraps are more popular because they make it easier to get a precise design and can take advantage of graphics. However, wraps are more expensive, so you'll need to keep that in mind if you're on a budget. Another option is to do a mix of the two. This can be accomplished by painting your truck a solid color and then adding vinyl stickers that feature your logo or other images. This will save you money while still giving you the opportunity to design an eye-catching truck.
Step 2: Connecting Design with Your Food Truck's Brand
Part of the reason why food truck design is so important is the fact that your color scheme, logo, and design theme will become essential to the branding of your business. It's important that your design has a strong sense of who you are as a business.
For example, if you sell crepes and other French-inspired cuisine, it might be a good idea to design your truck with pastel colors and French-themed icons. If you're selling tacos, bright colors and fun graphics would be more appropriate. Not only does your design help you stand out, but it also helps customers identify the type of cuisine you might serve from a distance.
Match Your Design to Your Products
A dark colored, industrial-style truck probably isn't selling pastries, and a pastel pink-themed truck probably isn't selling pork BBQ. The subliminal messages of design give us these clues, and it's important that your truck is sending the right message.
How Will Your Truck Make Customers Feel?
A good question to ask yourself when deciding on a design for your brand is, "How do I want customers to feel when they see my truck?" Do you want them to get the sense that your food is fun? Elegant and upscale? Authentic? Masculine or feminine? If your design is driven by the answers to these questions, it will be easier to work into your branding and marketing efforts.
Don't Forget About Your Logo!
Your logo will also be a big part of branding your truck. Will you use a visual representation of your name? Or, will you show off the food you're selling with your logo?
Again, these questions will help guide the direction of your branding efforts. If you're looking to cater weddings with your truck, perhaps a more classic, upscale logo that simply showcases your name would be best. Alternatively, if you're looking to stand out in a busy city, your logo should be fun and can definitely be edgy. You should also note that the font used for your logo should be legible. You don't want to fall in love with a font that no one can read.
Step 3: How to Design Your Food Truck Menu
Your food truck menu is more than a board that displays your offerings, and it should also be treated as a part of your design. For this reason, it should match with your branding and color scheme. You'll also need to consider whether your menu board will be professionally printed or if it'll be a chalkboard sign that gets changed periodically.
This will depend on what you're actually serving, and if you frequently rotate dishes, then it might benefit to have a customizable sign.
Make it Easy to Read
However, the most important aspect of your food truck menu is that it is legible from a distance. If customers are waiting in a long line to order, they should be able to look at your menu while in line and decide what they're ordering by the time they get to your window.
This will help you keep your line times down, as well!
Step 4: Make Your Website Match Your Design Theme
Food truck design isn't all about the exterior of your truck.
If you go to the trouble to make sure that your truck has a design that can be branded, be sure to have a website and social media sites to match. An online presence is more important to food trucks than it is to any other type of foodservice business because that's where customers go to find out where you are every day. If a potential customer heard about your truck from a friend and wants to find you, they should be able to find your social media pages and a professional looking website. All of your web pages should also clearly display up-to-date information about where your truck is located for the day.
Step 5: Added Food Truck Bonus Features
Aside from the obvious features that your truck will need (a menu, an easily accessible ordering window, and a compelling design), there are also several special features that you can consider adding.
Food truck awnings can be helpful to keep rain from landing in the food as you hand it to your customers.
Fans can keep hungry diners cool in the summer.
You can also consider adding speakers to play music outside of your truck, and TVs that show off your menu or a slideshow of delicious food pics.
This is a space where you can get creative, and as long as your extras fit into your budget, they make fun added features.
Step 6: Finalizing the Interior Food Truck Layout
While the interior layout of your food truck is a major aspect of your business, we won't touch on it here. The way your truck is set up will be totally dependent on what you're serving, so it's impossible to give one-size-fits-all advice on this topic.
For example, if you run an ice cream food truck, you'll need a commercial freezer, but its size will depend on your sales volume. If you're serving up hot empanadas, you'll need a deep fryer, but space might dictate whether you go with a countertop or a floor model.
Unless you have a lot of experience with designing restaurant layouts, it's best to consult with a professional for more information. The way your equipment is laid out will have a big impact on your workflow, so we don't recommend doing this yourself.
Conclusion
Food truck design is totally dependent on how you want customers to feel when they see your truck. After you've been around for a while, they'll start to associate your colors and logo with the delicious food they crave. It's important to incorporate these themes into your website and social media, too.
Don't be afraid to get creative, as this will earn you extra points with diners. Starting a food truck can be overwhelming at times, but when you see your vision come to life, you'll realize how much of a difference a well thought out design can make.