15 Types of Essential Restaurant Kitchen Equipment
A new restaurant needs a number of essentials to run effectively, efficiently, and economically. Some of these essentials might be obvious, but here's a good checklist of the broad categories of kitchen equipment essentials you'll need in any new venture.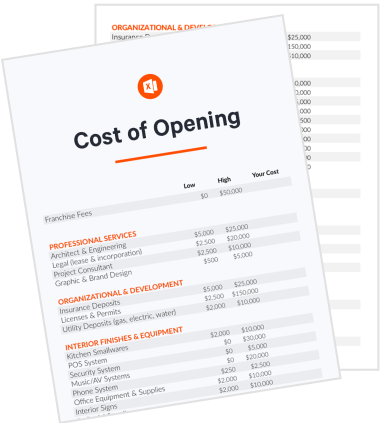 The Cost of Opening a Restaurant
How much does it cost to open a restaurant? Find out using this interactive calculator from Toast.
Download
1. Storage Containers
There's little that back of house workers love more than a new shipment of storage containers. Plastic liter containers, Cambros, and hotel pans of all shapes and sizes are the bedrock of every prep and line cook's operation. You'll also need lots of good tape — make sure it stays sticky even if it gets a little wet — and Sharpies for labelling containers over and over again.
2. Servingware
If there's nothing to serve the food on, there's no restaurant. You'll need tons of cutlery, plateware, bowls, ramekins, cups, and glasses. Consider the number of tables you can fit in your restaurant and how many guests you hope to serve every night when factoring in how much to buy. Also consider breakage: In the chaotic environment of restaurant kitchens, it's not uncommon to lose a plate or glass every few shifts, even more likely in high-volume operations.
3. Cooking Equipment
Consider what tools you'd need to execute your entire menu in one shift. Pots of all sizes, sauté pans, tasting spoons, mixing spoons, sheet pans, whisks, fish spatulas, ladles, bowls of all sizes, squeeze bottles, bench scrapers — the list goes on and varies widely depending on the type of food you want to make. You'll also need more of each item than you expect. While your dishwasher may be the most efficient one around, there will still be times when all the sauté pans are dirty, even if just for just a few minutes.
4. Storage Racks and Shelving
Properly-installed shelving can be a great solution for storing various appliances in your kitchen, as well as perishable and nonperishable foods. Having an organized storage system will also help streamline your operation. Keep the most-used kitchen equipment within arm's reach, and the stuff that's used less frequently on the top and bottom shelves.
Mobile storage racks are also endlessly useful. They're usually sized to fit 20 standard sheet pans and can be used for storing and transporting food.
5. Safety Equipment
Make sure your kitchen has proper safety equipment. A well-stocked first aid or medical emergency kit is crucial in a workplace that runs on fire and knives, but you'll also need things like fire extinguishers and domed safety mirrors that let people know when someone is rounding a corner. Check your local fire department guidelines before purchasing fire, safety, or sanitation equipment, and avoid potential complications by always keeping your kitchen up to fire code standards.
Ensuring your staff wear non-slip shoes and providing rubber floor mats to prevent injury from standing for long hours also play a big part in keeping your kitchen safe.
6. Freezers and Refrigerators
All commercial kitchens require a refrigeration system of some type. Without a fridge, you can't keep ingredients and prepared foods fresh. Freezers are also crucial for inventory management because it's much more cost-effective to buy 300 steaks and freeze them than to buy 10 steaks every day.
Industrial-grade refrigeration units are designed to meet the unique needs of the food industry. For example, they have the ability to cool large pots of sauce to a safe temperature in record time, so they're a key purchase for any food handling operation. You'll have to decide between reach-in units and walk-in units.
Although walk-in fridges and freezers have more storage space — and can be custom built to fit any kitchen — smaller restaurants may not need a walk-in unit. There are even outdoor refrigeration and freezing options available if interior space is an issue.
Make sure to seek professional help for installation and that you know how to properly maintain your unit, as they can be costly to repair.
7. Food Preparation Counters and Cutting Boards
Prep tables, counters, and cutting surfaces are essential to any commercial kitchen and come in various sizes. Choose preparation surfaces made of stainless steel, which is sturdy against corrosion, doesn't absorb bacteria from food and meat juices, and can withstand the harsh cleaning products used in commercial kitchens. On the line, you'll want food prep counters that have small refrigerators underneath them for easy access to food prepped for each station. Some also have refrigerated compartments on the counter itself.
As for cutting surfaces, choose either plastic or wooden cutting boards. Plastic boards are easier to sanitize but can develop deep grooves that can hide bacteria. Wooden boards are generally tougher to clean than plastic ones but don't develop grooves as easily.
It's crucial to have a color-coded system for cutting boards to prevent cross-contamination. Many kitchens use red for meat, yellow for chicken, green for veggies, and blue for fish and seafood.
8. Steam Table
If you want to keep sauces and prepped food warm throughout service, the best option is a steam table. They use warm water to keep food in metal containers warm and at a safe temperature for hours at a time.
9. Slicers
Slicers are often used to cut meat and cheese with speed and precision.
If your menu is heavy on sandwiches, for example, you'll want to purchase an electric slicer. Electric slicers are automatic, which can save you time and labor. Most electric slicers also allow you to turn off the automatic function and operate the machine manually. If your slicing needs are low-volume or infrequent, though, a manual food slicer is a better, less expensive option.
10. Mixers
If your concept involves house-baked bread or desserts, a commercial mixer is an important purchase. Just like slicers, it's important to choose a mixer based on the volume of food you'll need and how frequently the mixer will be in use.
If you need to mix dense doughs like that of bagels or pizza, buy a spiral mixer. Spiral mixers are named after the spiral-shaped agitator (the mixing appendage), and they mix at high speeds and are capable of handling fifty to six hundred pounds of dough.
For all other types of mixing, choose a versatile planetary mixer. Named after the way the mixing bowl rotates around the agitator, planetary mixers have lower mixing speeds than their spiral counterparts but allow you to make many different foods, from doughs to whipped cream to mashed potatoes. These mixers come in both countertop and floor types, which can handle up to twenty and two hundred quarts, respectively.
11. Food Processors
There are four types of food processors, each with different strengths and uses.
Batch bowl processors collect food as it's processed. These processors generally hold between one and six quarts of chopped food, but can also come in larger sizes. Most bowls are made of plastic, but stainless steel options are available for those who want more strength and durability.
These are the food processors most commonly found in home kitchens.
Continuous feed food processors allow you to constantly add food to the processing unit while it's running. As it operates, the processor dispenses food into a separate container, meaning you won't need to empty the bowl to keep the machine running. Continuous feed processors can minimize preparation time when processing large quantities of food, making them a great option for commercial kitchens.
Buffalo choppers are heavy-duty, all-metal food processors capable of chopping everything from small vegetables to tough meats. Although heavier than other food processing types, these units are sturdy and multifunctional.
Combination processors combine the properties of batch bowl and continuous feed units. You can add an attachment that collects chopped food in a side container or use the bowl instead.
12. Ranges and Ventilation
If your restaurant plans on making anything but salads and ice cream, you'll need a kitchen range. The range is the powerhouse of the kitchen, so it's important to choose one that meets your cooking needs. Like residential ranges, commercial units can be either gas or electric. If you'd prefer to have a visual, responsive cooking experience, go for a gas range.
Gas ranges make it easier to judge heat levels and change from high to low settings much faster than their electric counterparts. Alternatively, electric ranges have smooth, elegant, easy-to-clean designs and come in three sub-categories.
Standard electric ranges use coils to heat food. For smooth-top electric ranges, you cook directly on their flat surface. Electric induction ranges employ magnetic coils beneath a ceramic glass top to generate heat, but they require special magnetic cookware to work.
Keep in mind that any operation that uses heat to prepare food is required to have appropriate ventilation equipment installed. Range hoods, which sit on top of stoves and broilers, use fans to suck grease, moisture, and heat through filters and out of the kitchen. They can be custom built to fit any location.
13. Ovens
Most ranges come outfitted with an oven. If your operation centers around baked goods, it may be in your best interest to purchase a range with a convection oven setting. Unlike regular ovens, convection ovens have a fan and exhaust system that blow hot air around the food. They are an excellent appliance for roasting, toasting, making pies and cookies, or dehydrating.
However, for foods that are made from a batter like custards, cakes, and some breads, use a regular oven.
Depending on your menu, you may also need to get special restaurant kitchen equipment like deep fryers, flat-top grills, or an industrial salamander for broiling.
14. Sinks
Sinks are vital to any kitchen because they provide running water as well as space for hand washing, cleaning produce, defrosting frozen meat under running water, or washing the occasional cooking utensil as needed.
Health and safety authorities typically require commercial kitchens to install a triple-sink wash station and a commercial dishwashing machine, as well as a dedicated hand washing sink.
15. Kitchen Display System
Gone are the days of yelling out orders to the kitchen or tacking up hand-written tickets on the line. Many restaurants today are instead using kitchen display systems (KDS) to keep things moving efficiently in the kitchen and throughout the entire restaurant.
Mounted to the wall (or on a counter stand), kitchen display systems allow kitchen staff to view all open orders on one screen. This makes it easier for the kitchen to stay organized and fulfill orders accurately and on time, all while keeping things moving according to plan in the front-of-house, too. How? KDS receives POS orders in real time, improving ordering speed and accuracy. KDS can also aggregate all orders from kiosk, online ordering, and third-party channels.
Best-in-class KDS are also durable and built with hardware that can handle the heat of the kitchen, rated for higher temperatures and greater durability than iPad screens.
Restaurant Technology and Hardware Built for Restaurants
To run a successful restaurant today, you need technology that can keep up. Toast's new suite of custom-built, commercial grade hardware, Toast Hardware, lets you run your operations three times faster than you are today.