DISCLAIMER: This content is provided for informational purposes only and is not intended as legal, accounting, tax, HR, or other professional advice. You are responsible for your own compliance with laws and regulations. You should contact your attorney or other relevant advisor for advice specific to your circumstances.
Essential Bar Equipment List
There's nothing like an ice-cold draft beer, but delivering it requires refrigerators and keg equipment. And a cocktail might require bartending tools like a shaker, strainer, and a long spoon — not to mention a truly stocked liquor inventory. Set your bar up for success with all the right equipment for your business and your budget.
As part of your bar's business plan, consider what equipment is essential for your bar's operations and budget for the costs. Maintaining refrigerators and replacing glassware are just a couple of considerations of owning a new bar – this guide helps you build your essential bar equipment list.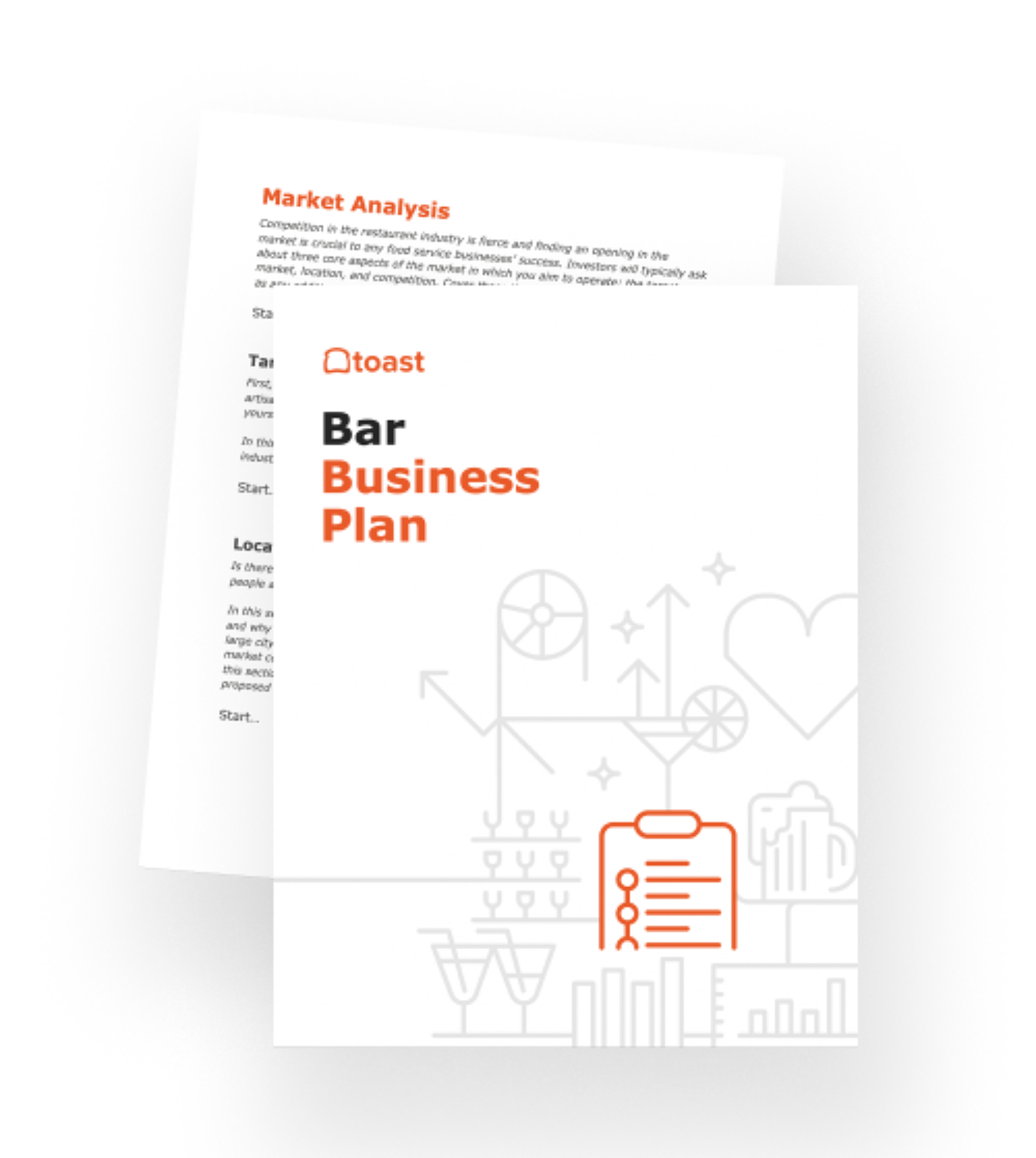 Bar Business Plan Template
Use this free bar business plan template to easily create a great business plan that organizes your vision and helps you start, grow, or raise funding for your bar.
Download
What Equipment Do You Need In a Bar
Whether you plan to serve domestic brews and well liquor or craft cocktails and small plates, you'll need a shopping list to get all the restaurant equipment needed to get your bar up and running.
Freezers and refrigerators
Ice maker
Keg equipment
Bar accessories
Coffee brewing equipment
Espresso machine
Drip brewer
Ranges, Grills, and Ventilation
Gas range
Flat range
Induction
Smokers
Small-space ventilation
Microwaves
Food prep surfaces
Food prep equipment
Knives
Cutting boards
Pots and pans
Mixing bowls
Food processors
Blenders
Mixers
Storage containers and shelving
Safety equipment
Gloves
Aprons
First Aid Kit
Date Labels
Sani-buckets
Bar rags
Food grade chemical supplies
Chemical Safety Data Sheets
Sinks
Compartment sinks
Disposal sinks
Handwashing sink
Dishwashers
Restaurant point of sale system
Kitchen Display System (KDS)
Serviceware
Table service essentials
Paper boats, plates, or clamshells
Utensils
Napkins or Linen
How Much is Equipment for a Bar
The back-of-house equipment costs alone for starting a bar can run between $20,000 and $40,000. Some states require bars to also operate kitchens, or you might opt for a beer and well-drinks only dive bar, or a sports bar, or a bar & grill. Opening a kitchen and a bar together could double those equipment costs. If you need restaurant or bar financing, check out your options in our Complete Guide to Restaurant Financing and Loans.
---
Read this next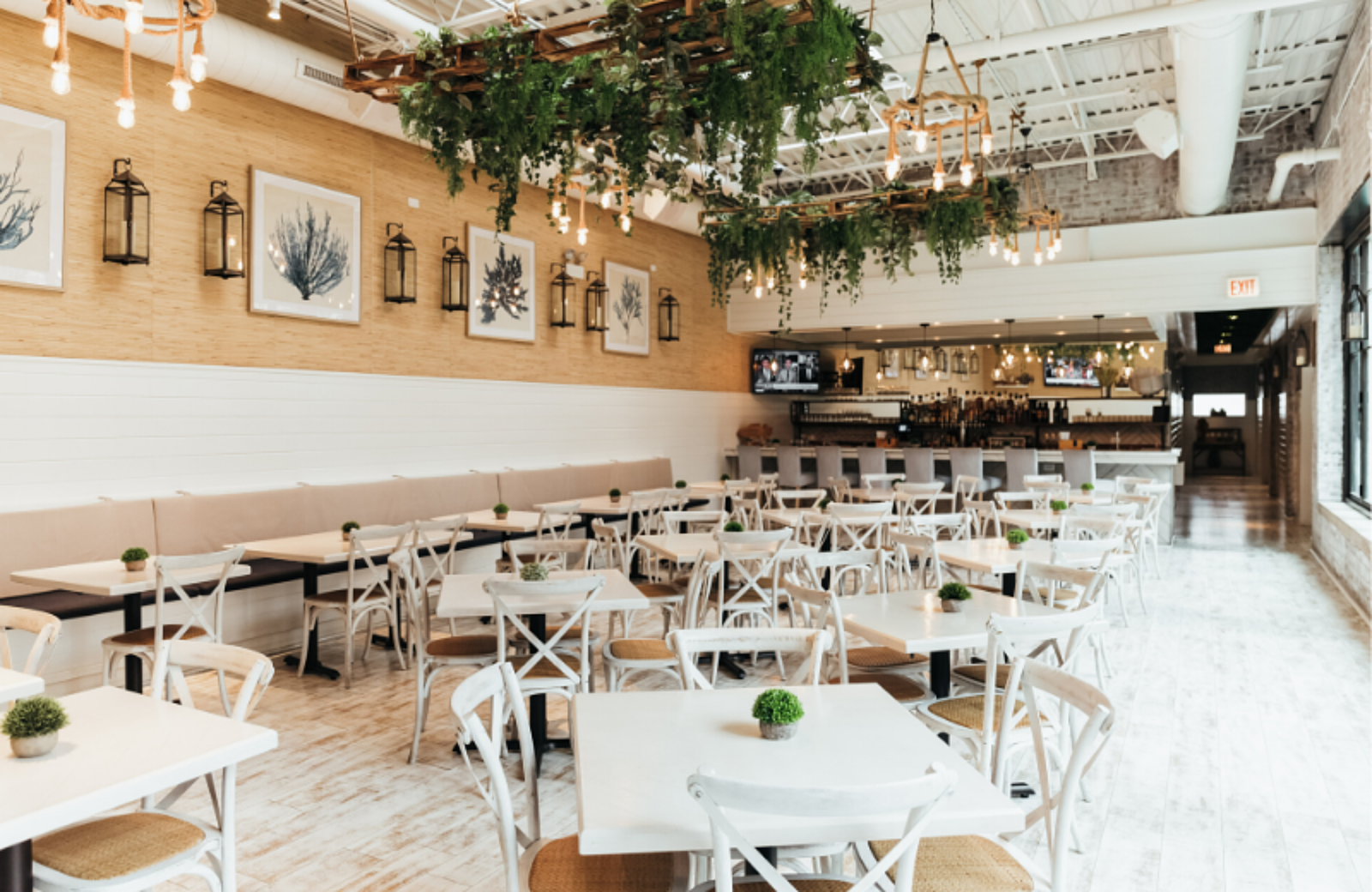 The Complete Guide to Restaurant Financing and Loans
Whether you're opening a new restaurant, expanding your concept, or renovating within your existing four-walls, you're going to need capital to make it all happen.
Things to Consider Before Buying Restaurant Equipment
The right equipment is a valuable investment for your bar. Imagine buying a fleet of used refrigeration units that you end up having to maintain every few weeks – the money you saved upfront is being drained away quickly on repairs.
Select equipment for your bar that will save you time, effort, and money down the line. Choose high quality equipment that is reliable and easy to clean and keep running. As with any restaurant business, the equipment you invest in is essential to keeping your bar operating smoothly.
Here's what you should keep in mind:
1. Quality
Bar equipment will be one of your biggest investments. Your bartenders can't pour cold drinks without ice or serve the perfect martini without shakers. Select equipment that is high quality and durable. Research large purchases before making any decisions and consider the details when buying heavy-use items. Talk to your peers in the industry and find out what brand of ice machine they love, and which one they'd never buy again.
2. Space
The space you have for your bar, and the amount you want to dedicate to refrigeration, is a crucial consideration. Buy equipment that fits into your space and will be easily accessible where you need it – you don't want your bartender to have to cross the bar to reach the domestic beer cooler.
3. Planning Your Kitchen
Bartenders are fine-tuned to produce beverages consistently and efficiently but even the best can't work with an unorganized bar layout. Consider seeking the advice of your head bartender when setting out the layout of the workspace. You might also consult a restaurant or kitchen planner that can help you envision the bar of your dreams with the space you already have.
4. Use and Cleaning
Maintaining your bar's equipment, especially refrigeration units, is crucial for its durability. Consider how easy it is to repair the equipment you buy – you might ask about maintenance and repairs from your equipment supplier. Also, when selecting all your bar's equipment, consider how easy it is for your bartenders to use and clean. Train staff on daily, weekly, and monthly cleaning tasks. Look for the NSF symbol on food equipment which ensures that it meets food safety certification standards.
5. Suppliers
The success of your bar will depend on your access to quality equipment. Your relationship with an equipment supplier is a critical one. The best suppliers will be honest about the technology, engineering, and safety of the products they sell and provide installation, maintenance, and repair services.
Sourcing Restaurant Equipment
Sourcing equipment is half the battle. Once you have a comprehensive list and a vision of your fully-equipped bar, start shopping around. Local restaurant wholesalers often have good deals, or you might buy it from a reputable online retailer, or rent equipment until you can afford to invest.
New vs. Used Equipment
New equipment might always seem like the best choice, but some expensive (and essential) pieces of equipment might be better bought used. Consider finding an oven or deep freezer that has been maintained over the years and plan to keep it up – you could save up front and over the course of your venture. If you do buy used, make sure it's from a reputable source.
6. Pricing
Budget for your bar equipment based on your available funds and the equipment you need – spend the most on the pieces that are most important to your bar's success. Buying used equipment might save you some money upfront but could cost more in maintenance and repairs later.
7. Financing or Leasing
If this article is making you anxious about affording everything it'll take to outfit your bar, financing or leasing equipment can be a good option to get your business started and take on less risk until you're sure the model will succeed.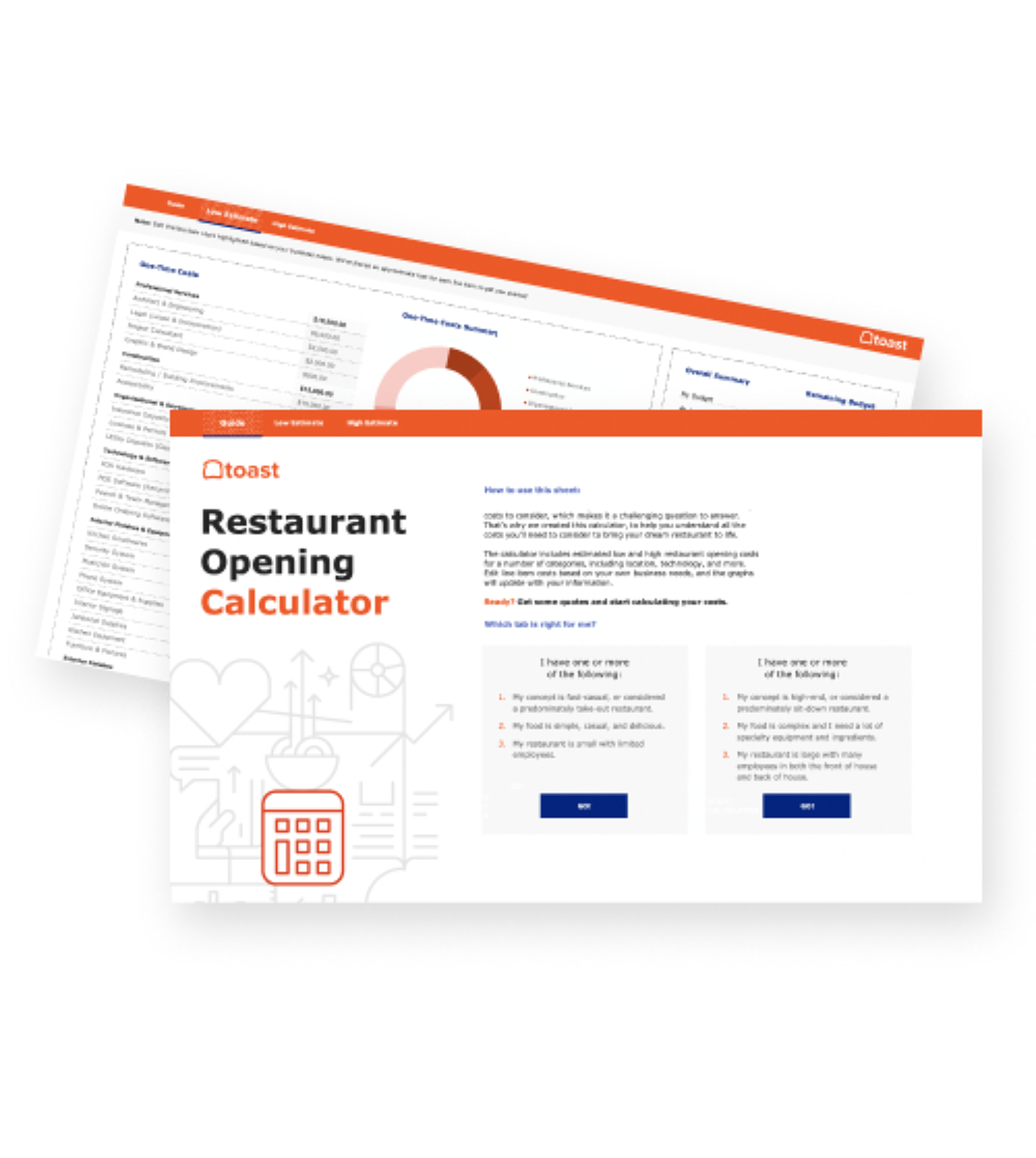 Restaurant Opening Calculator
This calculator lays out some of the fundamental financial costs of opening a restaurant, so you can start planning and bring your dream restaurant to life.
Download
Ultimate Bar Equipment Checklist
1. Freezers and refrigerators
Keeping drinks cold is the primary concern for bar equipment. You'll likely be looking at purchasing or leasing multiple types of refrigerators and freezers. Consider running keg lines from a large walk-in cooler or, if you offer just a few drafts, from a small cooler under the bar. Deep coolers are often used to store domestic beers behind the bar while standard half or full refrigerators are used to store drink ingredients.
You might consider a space for wine storage as well if your bar focuses on wine service. Storing and serving wine, liquor, and beer at the right temperatures is crucial for the taste and longevity of the products.
Ice maker
While they might seem like simple machines, ice makers are important to the success of a bar. Research a reliable ice maker before you decide on one and make and develop a plan to keep it clean and in good repair.
2. Keg equipment
Particular to the needs of a bar, keg equipment is necessary for any restaurant that wants to pour ice cold draft beers. Breweries will deliver full kegs, but your restaurant needs to be equipped to tap them. Plan to set up keg lines before opening your bar and spring for optional CO2 pressurization that will keep your kegs fresh for longer.
3. Bar accessories
All the shakers, strainers, bar keys, muddlers, corkscrews, and the rest are necessary for your bartenders to make classics or craft cocktails. Invest in quality bar accessories just as you would the rest of your bar equipment. Stainless steel equipment is durable and easy to clean and won't have to be replaced often.
4. Coffee brewing equipment
Espresso martinis have made a come back in a big way but you have to have espresso to ride the trend. Invest in some inexpensive coffee brewing equipment for those customers that like an Irish coffee or espresso cocktail.
5. Ovens, ranges, grills, and ventilation
Bars operate small to full-sized kitchens to offer eats with cocktails, wine, and beer. Some states require establishments that want to serve alcohol and liquor to have a kitchen open for the duration of service and you might be required to operate a kitchen to operate your bar.
Ovens
Commercial convection ovens circulate heat to evenly bake and roast while combination ovens use steam and heat distribution for steaming and roasting.
Gas range
Gas ranges are easy to control, versatile, and reliable. Many chefs prefer to cook over a gas burner than electric or induction. A gas range is always a solid investment if natural gas cost efficient and sustainable in your area.
Flat range
Flat ranges are sustainable, requiring very little electricity to operate for a long time. They are perfect for preparing certain kinds of foods – for grilling burritos, burgers, and sandwiches or cooking eggs, pancakes, and bacon.
Induction
Induction burners generate an electromagnetic current to heat a surface. Magnetic metals transfer heat the best and can be used to heat glass or other surfaces. Induction is a sustainable, versatile, space-conscious, and cost-effective option for your bar's equipment.
Ventilation
Operating a kitchen requires enough ventilation to ensure that the space, and your bar, don't get filled with the heat and smoke from ovens and ranges. Consider the size and space of your kitchen and ensure that your ventilation system has enough power to keep smoke and hot air out of the space you or your cooks have to work in. Ventilation is crucial for providing a safe kitchen environment.
6. Microwaves
Great for reheating or quickly steaming, microwaves are powerful kitchen tools that might not seem at home behind a bar could prove useful in small bar kitchens.
7. Food prep surfaces
When planning the layout of your bar and kitchen, remember to provide surfaces for your bartenders and cooks to work on. Working behind a bar where there is no place to set things down except in front of customers is a challenge.
Stainless steel prep counters are classic in kitchens because they are easy to sanitize and won't transfer unwanted heat to products. Poured concrete is a cost-effective alternative to stainless and is just as durable, but there are lots of other alternatives like wood and granite. Decide what makes sense for your cooks and bartenders.
8. Food prep equipment
All the small appliances, utensils, mixing bowls, and microplanes that are necessary for your production process should stay stocked in your bar – you don't want to be caught in a rush without a necessary piece of equipment.
Knives
Invest in a great set of knives — even if you don't have a kitchen, because garnishes also need to be prepped! — and learn how to keep them sharp for both safety and efficiency in the kitchen. You'll also want a sharpening stone to keep your investment in good condition.
Cutting boards
Quality cutting boards make a noticeable difference in the prep experience – boards with lips around the edge to keep liquid on the board or those that have handles for easy handling are restaurant equipment favorites. Make sure to buy various colors for different types of prepped food, like red for meat, blue for fish, green for veggies, and yellow for chicken.
Pots and pans
The kinds of pots and pans you use will likely be decided by personal preference and necessity but consider choosing quality pieces that will become assets to your bar's kitchen. Pots and pans are valuable, essential equipment that lasts a long time when maintained properly.
Mixing bowls
Mixing bowls come in a variety of materials that each have benefits and setbacks – plastic, stainless, ceramic, or glass. Decide which combination works for your bar's menu.
Food processors
Food processors are great for liquefying soups and sauces and ensure that you get an even chop or mince – a worthwhile investment.
Blenders
While they can be expensive, commercial blenders are reliable and powerful machines that will allow your bartenders to make piña coladas and other frozen drinks. You might spring for a drink tumbler if frozen margaritas or daiquiris are a staple of your bar's menu.
Mixers
A stand mixer might not be essential equipment for a bar, but you could find yourself in need of one. There are powerful handheld electric mixers that do the same tasks for a fraction of the cost (and counter space).
Storage containers and shelving
Storage is always a must, for safety and organization, and the cost can add up quickly. Don't forget to budget both space and money for storage. The liquor, wine, and beer your bartenders serve have to be kept somewhere. Store ingredients like fresh fruit for mixed drinks carefully so that they stay fresh and keep them properly labeled following food safety standards.
Consider storage for all this equipment, too. The small appliances and accessories all have to have a place in your bar. Keeping things organized will help your bartenders and cooks to work efficiently.
9. Safety equipment
All restaurants are held to food safety standards and must have certain equipment on hand, such as:
Gloves
Aprons
First Aid Kit
Date Labels
Sani-buckets
Bar rags
Food grade chemical supplies
Chemical Safety Data Sheets
10. Sinks
Sinks are necessary for prep, cleaning, and disposal, and in kitchens sinks must be dedicated for use. You'll need to equip your bar with a couple of sinks and a few more in the kitchen.
Compartment sinks
Three compartment sinks are a common way to meet food safety standards for washing and sanitizing cutlery, service ware, and kitchen equipment – wash, rinse, sanitize.
Disposal sinks
Disposal sinks, also often called bar sinks, are conveniently located to catch any liquid you need to throw out from washing or
Handwashing sink
Dedicated handwashing sinks must be available for employees in a kitchen space or near the bar so that employees can maintain safe food handling standards.
11. Sanitizers and Polishers
The large, commercial washing machines that occupy the "dish pit" area of many kitchens is a sanitizer that ensures that equipment and service wear is safe to use for food prep or service. Sanitizers have to be properly operated and maintained – dishes should enter the machine clean so that food waste doesn't build up in it.
Some bars use polishing machines that steam clean wine glasses to leave them without water spots or fingerprints for service, saving bartenders and service staff a lot of polishing time.
Bar point of sale systems provide a technological answer for a lot of the complexities of operating a bar or any restaurant business. Crucially, they provide a way to integrate inventory management, budgets, sales reports, and communication between the front- and back-of-house operations. Keep everything running smoothly with cutting edge interfaces for service and convenient logistical solutions tailor-made for bar life.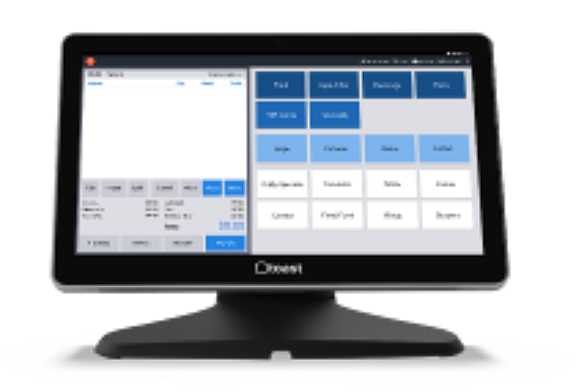 Learn how a better point of sale system can help you run your restaurant.
Read now
Kitchen display systems will let your cooks know what customers are ordering in real time – this might not be a concern for some bars without kitchens or table service. Your KDS sends orders to bartenders from servers or from both to the kitchen. They are integrated with your bar's point-of-sale system to keep everything in order and maintain smooth, efficient service.
14. Serviceware
Glasses and stemware are a necessary, and unfortunately fragile, consideration for any bar. Collins glasses, rocks glasses, wine glasses, and flutes all serve their purpose. It's important to decide on, and budget for, glassware that is durable and matches the vibe of your bar.
If you'll also be operating a kitchen, it's important to consider all the essentials you'll need for table or counter service so that your customers can enjoy a meal and drinks in the ambiance of your creation.
Table service essentials

Paper boats, plates, or clamshells for take-out service

Utensils

Napkins or Linen
Related Bar Business Resources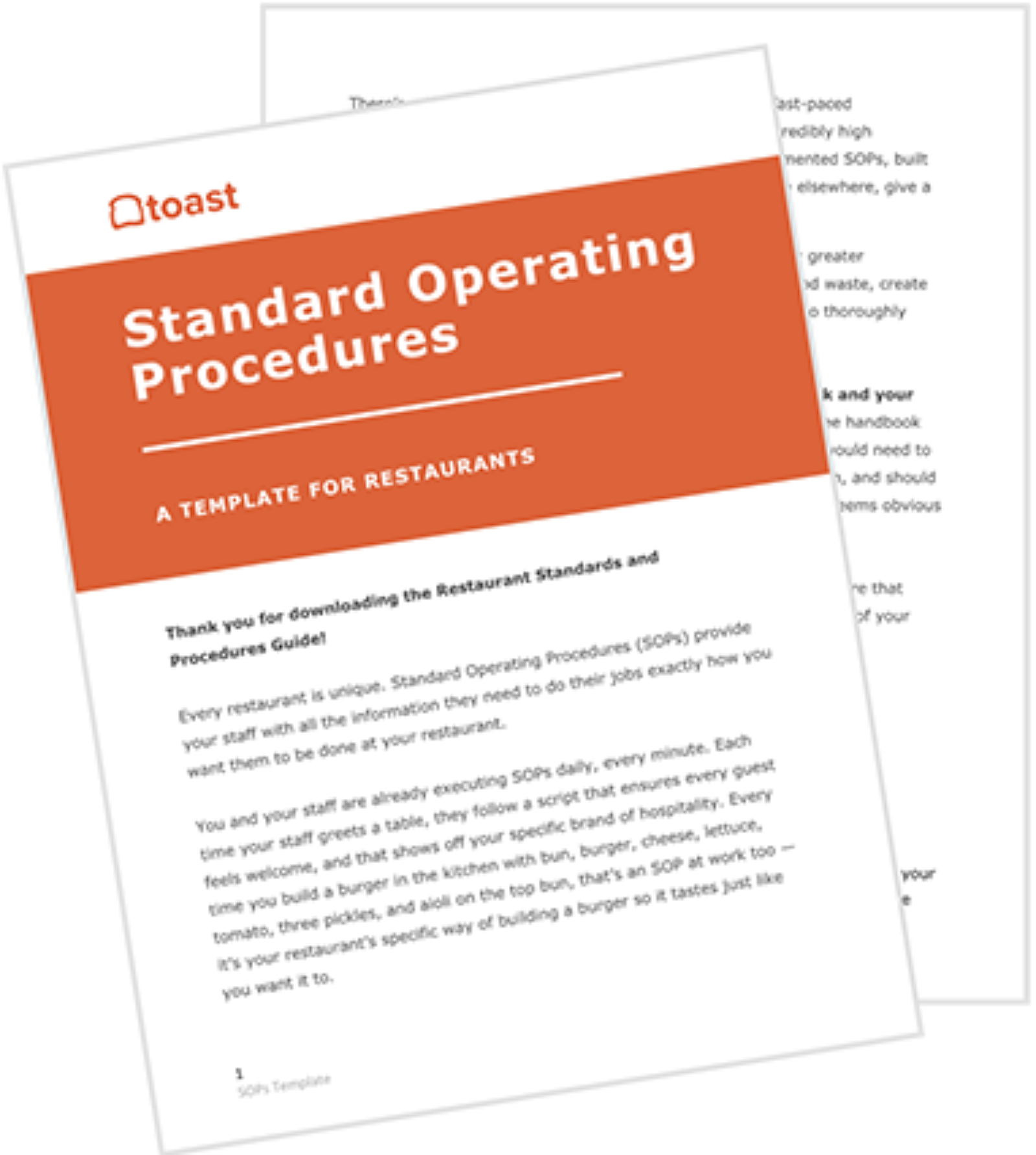 SOPs Template
This template will help you create SOPs for your entire business, so you can create consistency and easily train employees.
Download