How to Design a Bar: 20 Bar Design Concepts and Ideas
Aside from location and licenses, design is probably the most important thing to consider when you open a bar. Space for bartenders to work at maximum speed and servers to weave around tables to ultimately get drinks in as many hands as possible is absolutely imperative to making money.
But what is all of that worth without a memorable experience that will bring guests back?
Some of the best restaurant designs are deliberate decisions: Take Miracle of Science, where the location in the heart of MIT makes a science-themed bar a perfect fit. On the other hand, some bars like The Mad Hanna take on their own personality over time.
In this article, we'll discuss the best bar interior design ideas and how to apply them as you open your own bar. From gritty sports bars to cute cocktail bars, we've got you covered.
Ready to dive into bar decor? Let's get started.
RESOURCE
Restaurant Floor Plan Templates
Use these restaurant floor plan templates to get inspired as you map, or reimagine, the layout and space setup for your restaurant.
Restaurant bar design considerations
Creating a beautiful bar is important, but its functionality is essential. As a bar owner, you want to build a space your staff can comfortably work in and easily access all their bar equipment. Some equipment to consider when designing your bar & restaurant include:
Ice wells

Storage containers and shelving

Sinks (both handwashing and dump sinks)

Glassware (lots of it)

Server station area with garnishes

Draft beer lines/kegs
In addition to equipment, you want to make sure your bar area is as spacious as you can make it. One thing about the food and beverage industry is workers are always right now top of each other. It's easy to run into co-workers during a chaotic shift. Make sure there's enough space for your staff first and then you start considering wall art and ambiance.
20 of the best bar designs and concepts
Ready for some inspiration? Here are some of the best bar designs, setups, ideas, and concepts that can help you build your bar vision.
1. Bluebird Barbecue - Burlington, Vermont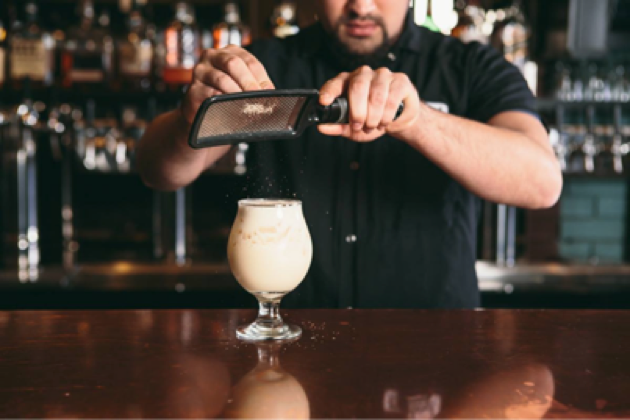 There is nothing like a beer bar that can make a good cocktail (and the barbecue is good too). Brick walls and lights made from old bottles and its location near Salmon Hole on the Winooski River will make you feel like you're living the down home country life, but expressive cocktails will give you the upscale city vibe.
2. The Broken Shaker - Miami, Florida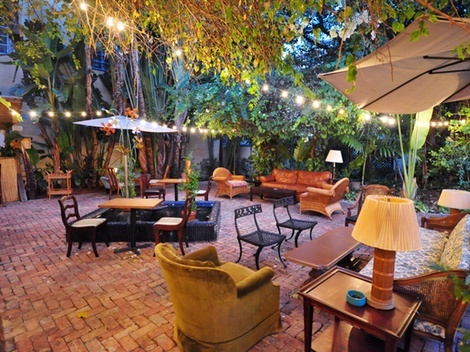 At The Broken Shaker, you can definitely see the vintage inspiration. The open air set up and a large, shaded patio, and vintage floral wall paper create an interesting dynamic. The bar is part of the Freehand Miami hotel, so you can take your drink from the bar to the pool if you stay as a guest.
3. Canon - Seattle, Washington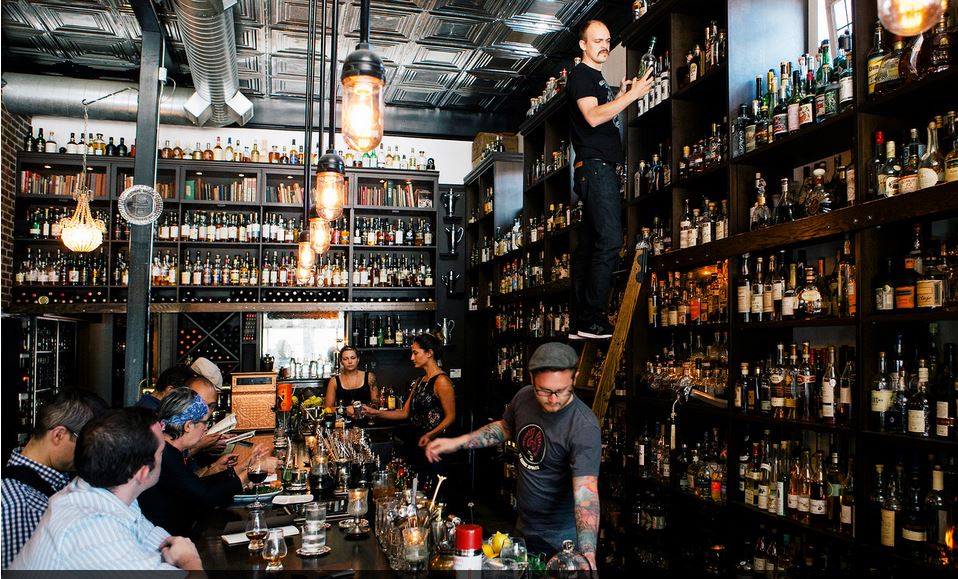 Aside from this intricate set up, the patio at this bar is what makes it great (the great drinks help, too). Purposely covered in greenery that provides privacy and interesting textures, the patio is the place to be. Plus, drinking a cocktail out of a lightbulb will probably add to the interest!
4. Congress Street Social Club - Savannah, Georgia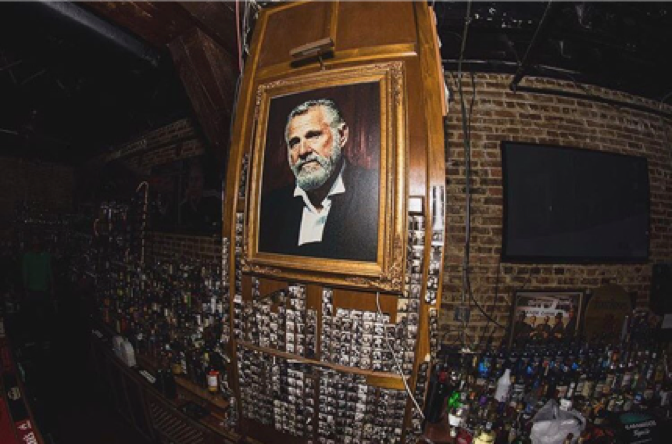 Beer, whiskey, and music are what makes up the Congress Street Social Club. A spacious outdoor patio with dim lighting for the evenings and a portrait of "The Worlds Most Interesting Man" are part of what makes this place so notable.
5. The Carousel Bar - New Orleans, Louisiana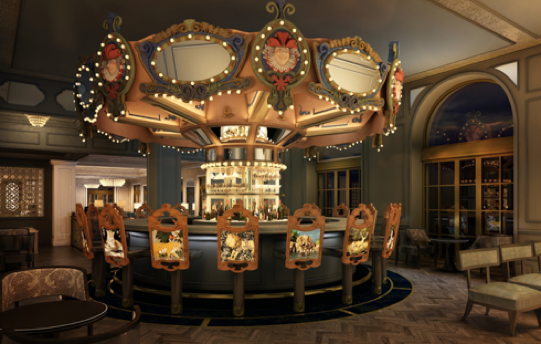 Another hotel bar, located in the Hotel Monteleone, this bar actually rotates (slowly, don't worry - about one revolution every 15 minutes). Located in the historic French Quarter of New Orleans, sitting at this bar is like taking a trip to yesteryear.
RESOURCE
Restaurant Menu Templates
Use these menu templates as a starting point for your menu design or to give your menus a refresh.
6. HiLot - New York, New York
This Alphabet City bar truly pays attention to detail. HiLot has everything from disco balls & retro bar stools to a bathtub in the restroom for pictures. Experience exquisite bar design and craft cocktails here, and then let night head next door to their sister bar, Joyface for bigger disco balls and lots of dancing. These bars have some of the greatest, most retro designs of all of New York, 10/10 recommend.
7. Dullboy - Jersey City, New Jersey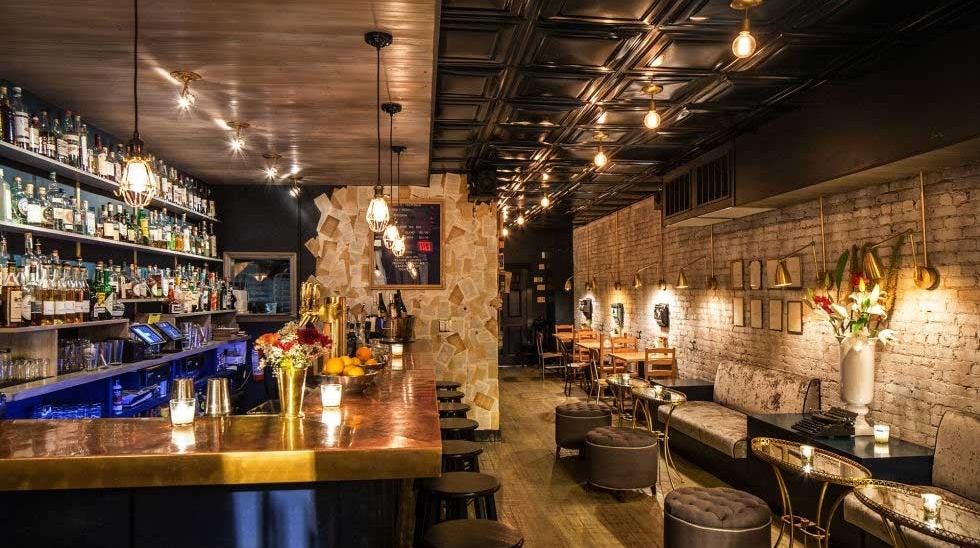 Named from the proverb, "All work makes no play," this bar is well-endowed with an exceptional cocktail list that features a daily stirred and a daily shaken special. It's the little things that make the design of the bar interesting, like tiki mugs, skull topped stirrers, mismatched picture frames, and typewriter imagery.
8. The Flower Shop - New York, New York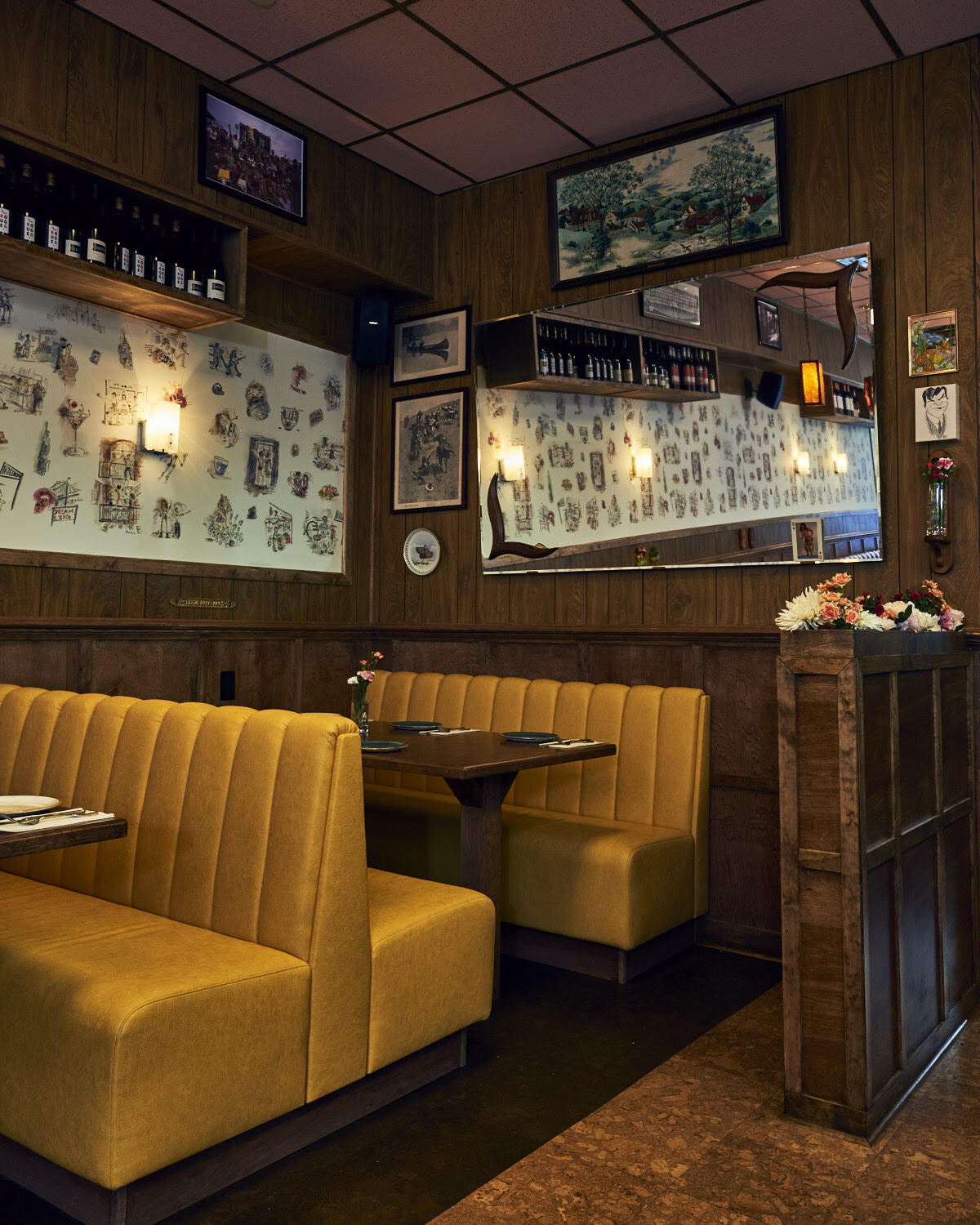 The Flower Shop is a pub located in the Lower East Side of Manhattan. This bar is designed with 70s-themed decor and features a downstairs with a cheetah print pool table. It's filled with retro booths, wooden details, and of course a disco ball. This might be the clearest example of a "cool bar" that we could find. We highly recommend this pub alongside its sister bar, Little Ways in New York City.
9. The Tunnel Bar - Northhampton, Massachusetts
Located within Northhampton's historic Union Station, The Tunnel Bar is a unique cocktail lounge that's well-known for its martinis. A train system used to actually run through this tunnel- and its decor theme has remained. Check out this bar for a unique experience that'll bring you back in time.
10. Loco Taqueria - Boston, Massachusetts
Loco has 2 Boston-based locations, one in South Boston and one in Fenway. Both of these bars are absolutely stunning, filled with colors and murals from head to toe. However, their South Boston location also features a lounge with an incredible bar design. We highly recommend checking this lounge out on a Southie Sunday!
11. Good Times at Davey Wayne's - Los Angeles, California
A place stuck between 1970 and 1980, this bar is specifically dedicated to David Wayne Houston. Hidden behind a vintage storefront, you have to open a refrigerator door to enter what could be a 1970s living room.
12. The Aviary - Chicago, Illinois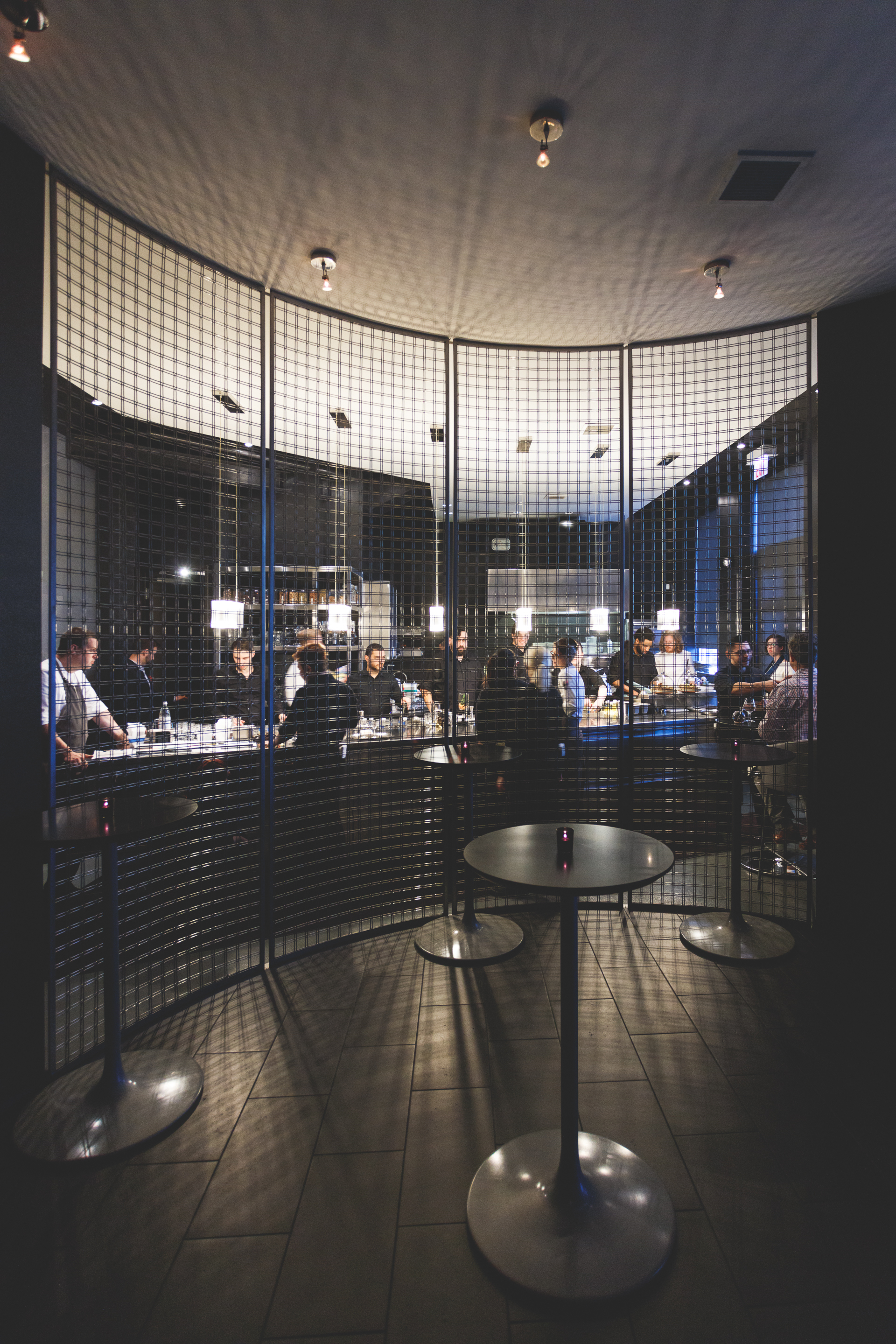 The Aviary is a cocktail bar that appeals to all 5 of guests' senses. In terms of sight, this bar was decorated Tom Stringer who said "its decor is inspired by gardens where the walls act as shaped hedges and the lights are like trees, is broken up into three distinct spaces." This sleek space is unique and crafts award-winning cocktails. Hidden below The Aviary is an intimate speakeasy called The Office, which has a completely different design of its own.
13. The Mad Hanna - Portland, Oregon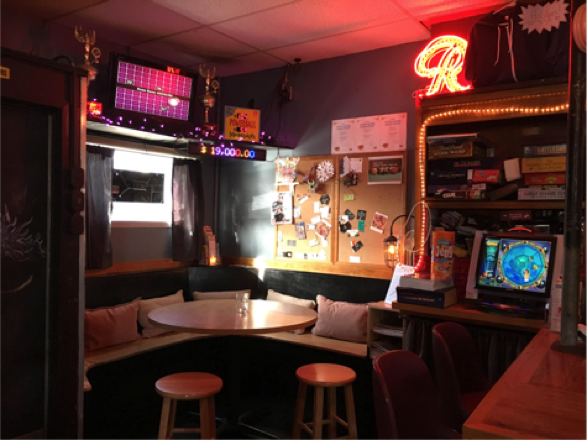 Looking for a place to experience a day in the life of a Portland regular? The Mad Hanna is the place to enjoy something between neighborhood and dive. Proclaimed by owner Liz Hanna as a place that will, "…always put up with a little bit of crazy…" Check out The Mad Hanna for an handmade infused cocktail, a cross stitching class, and a slot machine that will actually pay out.
14. Miracle of Science - Cambridge, Massachusetts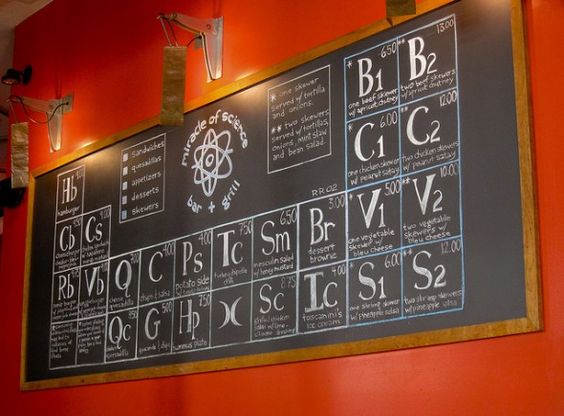 Somewhere to hang and be a part of the crowd, Miracle of Science is great hangout with a garage door as a window that opens wide in the summer. It's somewhere in between a cozy bar and your high school science classroom. You wont experience MIT the right way unless you visit this bar and these people. And most importantly, be nice, this is the BEST service staff you've ever met.
15. Occidental - Denver, Colorado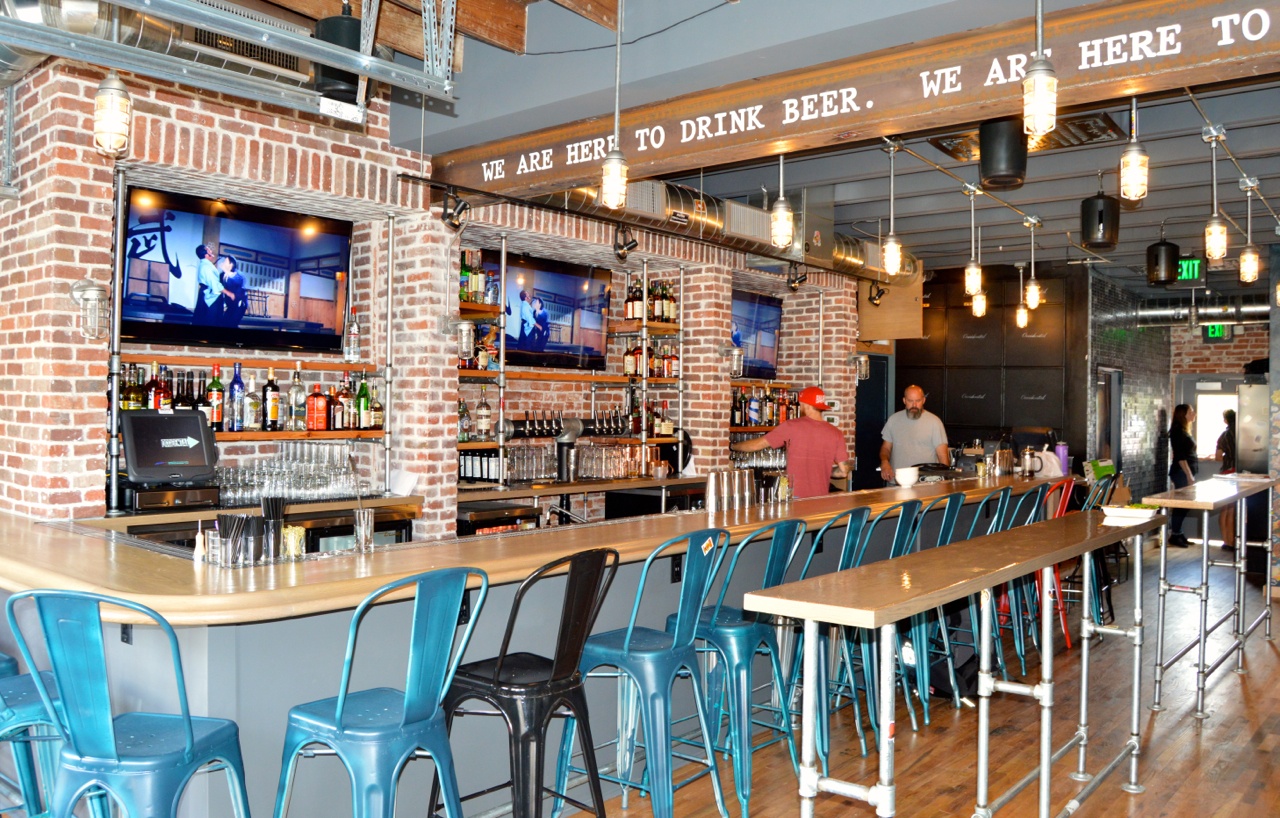 Occidental is a bar for those who don't run with the norm. A leather jacket and some punk will allow you to fit into this is a self-proclaimed counter-culture hangout in Denver. A bar on the outskirts with a skyline view; the brainchild of some of the best: Sean Kenyon and Todd Colehour.
16. Rik Rak Salon & Bar - Miami, Florida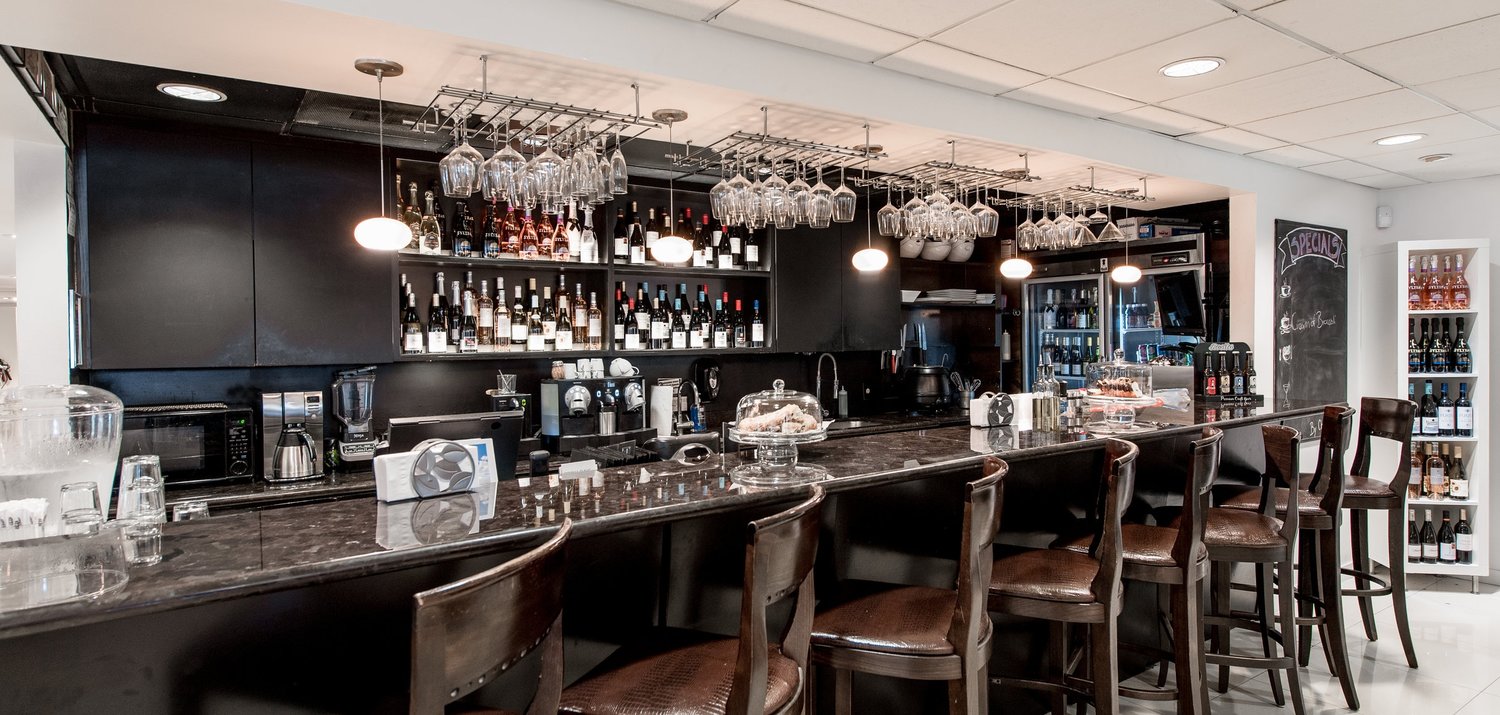 No one can say they wouldn't like a spa day and a glass of wine. A combination made in heaven, but found in few places besides your living room. If you'd like to check out a bar, a spa, and a boutique all at the same time, check out Rik Rak in Miami, and enjoy what they can offer.
17. The Safe House - Milwaukee, Wisconsin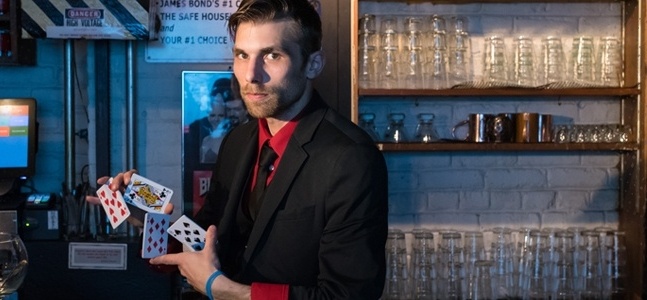 The Safe House is a spy-themed speakeasy that requires a password to enter and is filled with secret passages and trick doors. When this place came to be in 1966, the only publicity was word of mouth. If you'd like to enjoy a place with a game and a beverage, check this out.
18. Trick Dog - San Francisco, California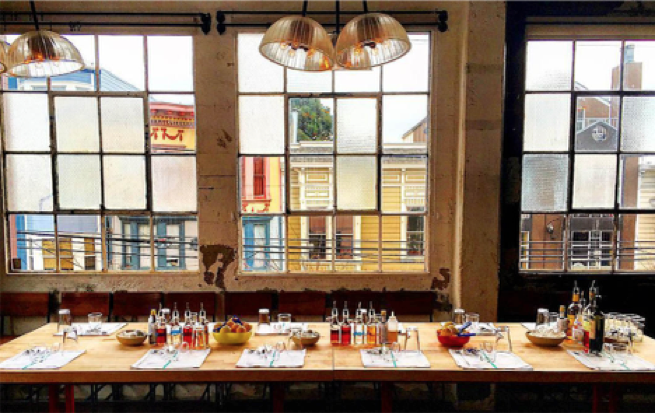 This bar sits inside of an old mill building, with wrought iron single pane windows that crank to open. Interesting light fixtures and high ceilings hold the history of this building in place, while still serving craft cocktails to guests in a comfortable atmosphere.
19. Whitechapel - San Francisco, California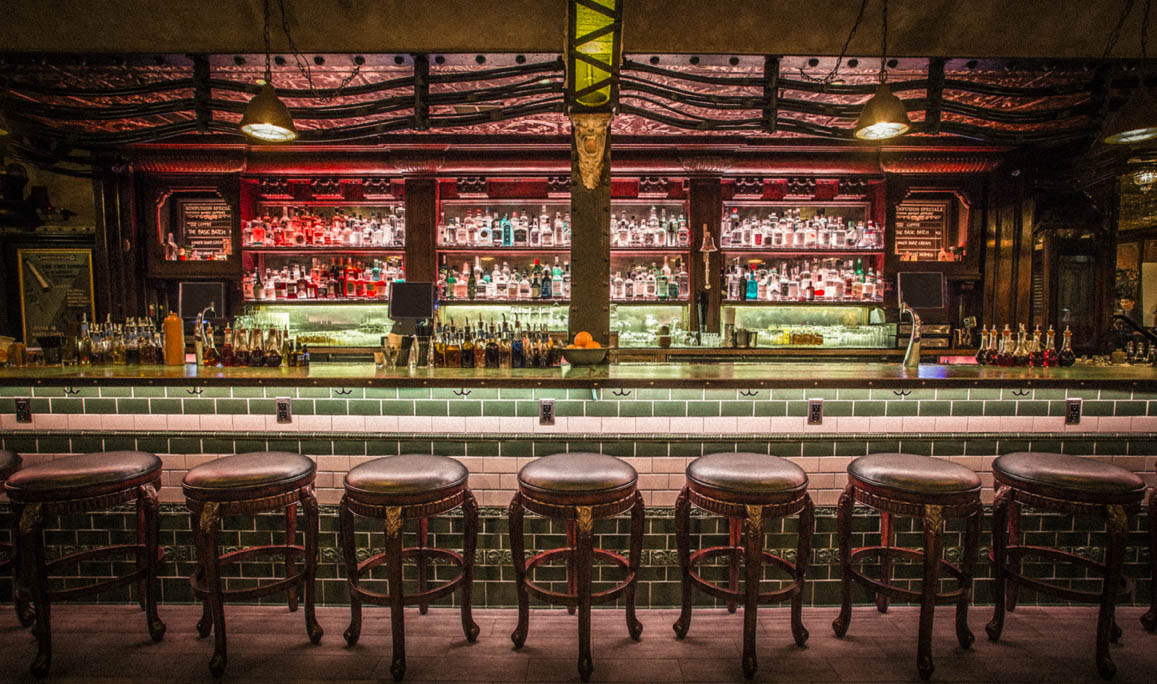 Gin has never tasted so good. Also known as, "The Gin Palace," Whitechapel is somewhere in between Steampunk and the Victorian era. Curved ceilings, subway tile walls, and velvet booths give you a feeling somewhere in between a subway tunnel and luxurious lounge.
20. Borrachito Taqueria & Spirits - Boston, Massachusetts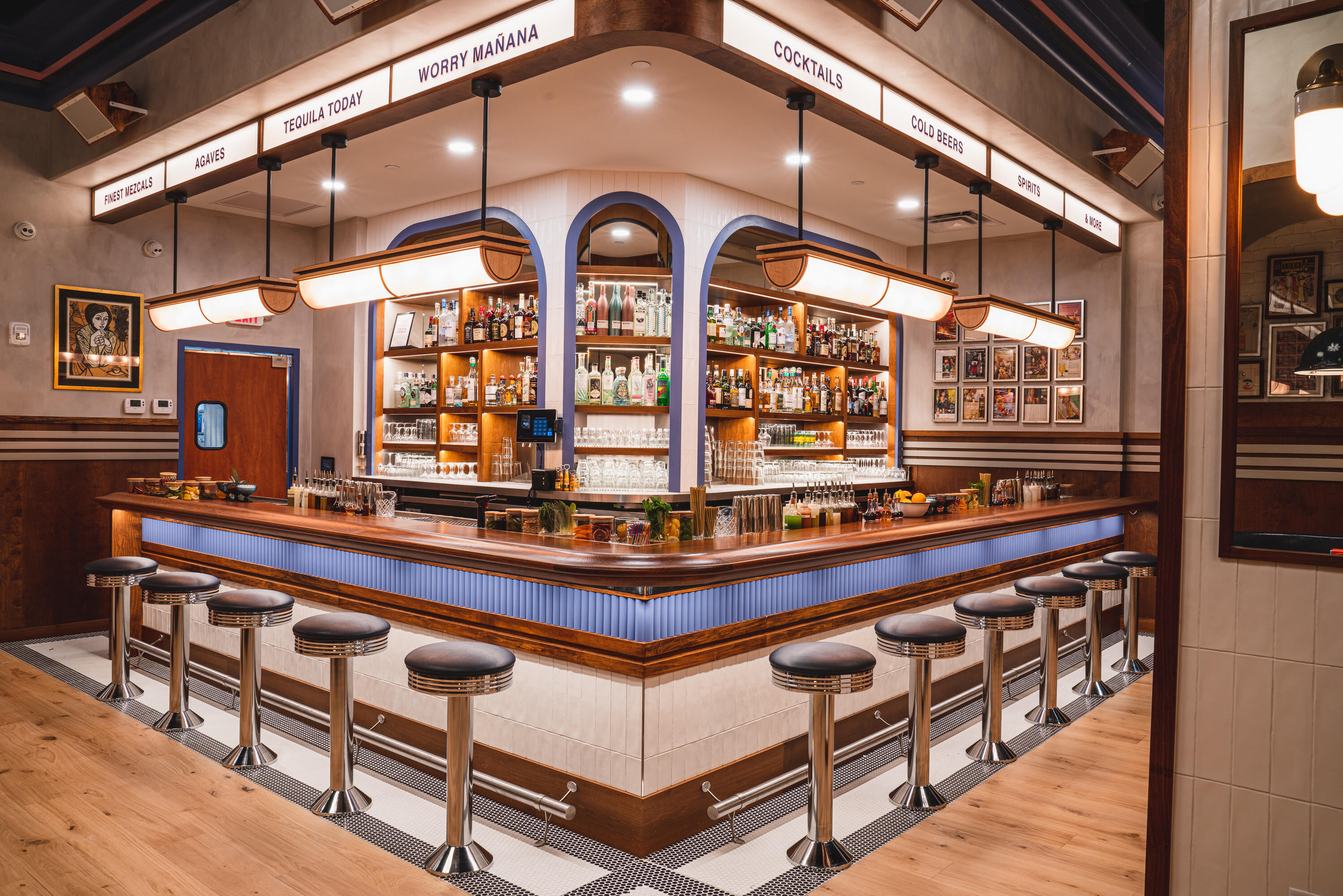 If you're searching for a unique, slightly hidden, bar in Boston's Seaport this is it. Borrachito is a taqueria & cocktail bar decorated in a blue color palette with retro booths, and old-fashion decor. This is a great spot for tacos and late-night dancing. You can also check out their East Village NYC location.
Set your bar up for success
Now that you've read about these 20 incredible bar design ideas, pick and choose what details make the most sense for your bar layout. What comes after that? Your bar will not succeed without the right staff. Great bartenders respect their craft and are creative, motivated, and excited to come to work every day. To find excellent candidates, you can use sites such as:
When you're hiring, don't forget about barbacks: the unsung heroes of the bar. For more information check out this article on how to hire a bartender.
Related Bar Business Resources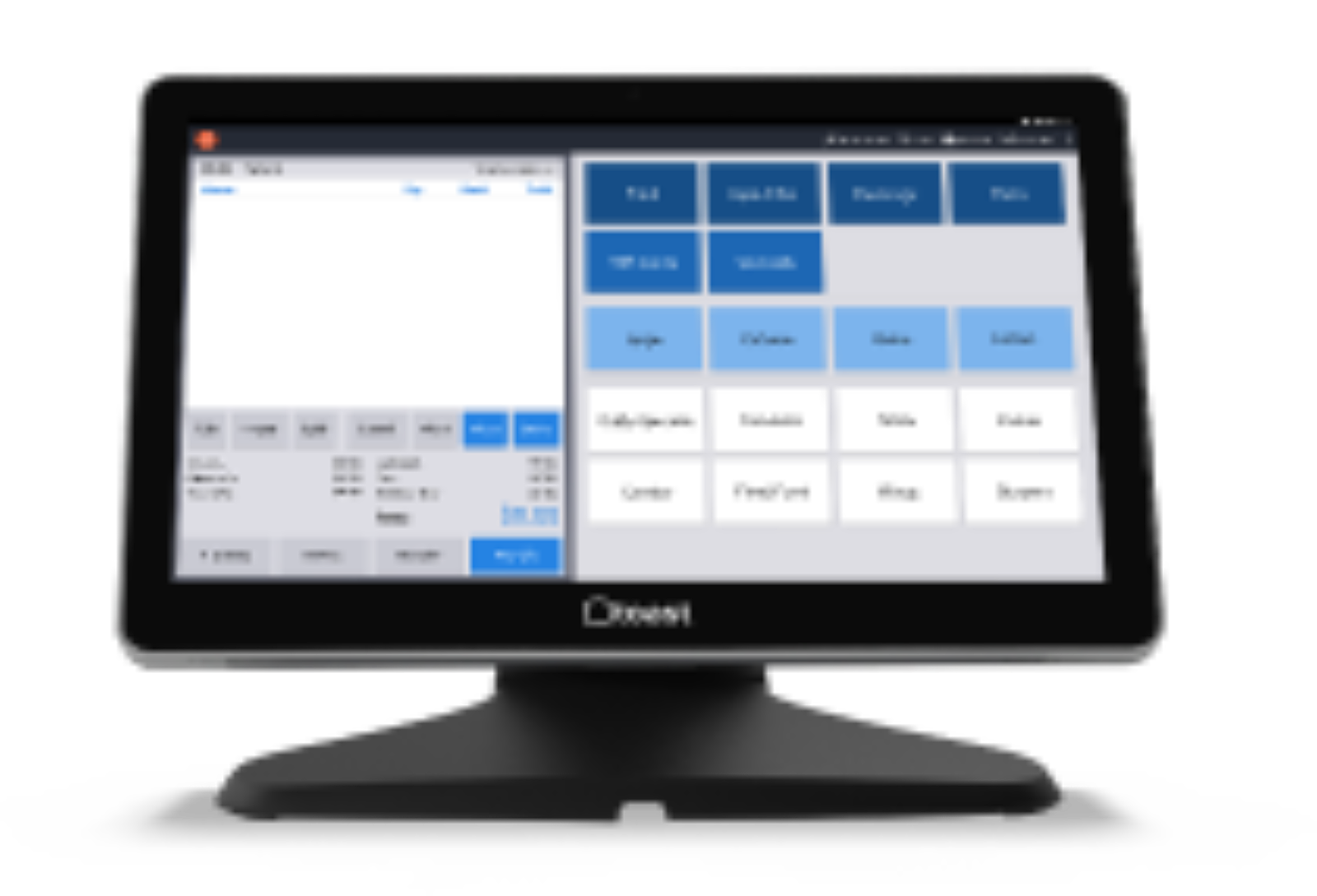 Tech Tip
Learn how a better point of sale system can help you run your restaurant.
Read now
DISCLAIMER: This information is provided for general informational purposes only, and publication does not constitute an endorsement. Toast does not warrant the accuracy or completeness of any information, text, graphics, links, or other items contained within this content. Toast does not guarantee you will achieve any specific results if you follow any advice herein. It may be advisable for you to consult with a professional such as a lawyer, accountant, or business advisor for advice specific to your situation.