DISCLAIMER: This content is provided for informational purposes only and is not intended as legal, accounting, tax, HR, or other professional advice. You are responsible for your own compliance with laws and regulations. You should contact your attorney or other relevant advisor for advice specific to your circumstances.
Business Plan for Bars Guide
How many times have you heard an exchange like "should I open a bar?" "dude, you SHOULD!"?
Many people dream of owning a bar, having their friends come by every week (or more), and getting to know their regulars.
Bars, pubs, taverns, tap houses, clubs – no matter what type of drinking establishment you're dreaming of, the defining feature is the sale of wine, beer, and spirits for consumption on the restaurant's premises, which comes with a set of responsibilities for the business owner and employees.
But before you can dive into the fun (and often hectic) day-to-day of being a bar operator, you've got a few steps to consider first. And one of the best ways to keep track of the never-ending list of tasks involved with opening a new bar is to write a detailed bar business plan.
A bar business plan does more than help you to transform your bar from a concept into your city's hottest venue, or your neighborhood's most beloved dive. Outlining your concept and name, your target market and how you'll reach them, doing the research about permits and licenses in your city and state, planning a menu, preparing a budget, securing funding, and most of the other legwork required are all organized through the process of writing a business plan.
How to Write a Bar Business Plan (Description, Examples, Proposals)
Even for the most creative bar owners, business plans tend to be pretty formulaic, so this bar business plan template is a helpful tool for imagining and planning your bar, pub, tavern, or club. Download a customizable version of this business plan template and read on to learn more about how to make it work for your bar.
Bar Business Plan Template
Use this free bar business plan template to easily create a great business plan that organizes your vision and helps you start, grow, or raise funding for your bar.
Download
Why You Need a Business Plan for your Bar
To a layperson, starting or owning a bar might seem like a job for sitcom characters, but bars, pubs, taverns, and clubs are the heart of nightlife and are an important part of the culture and society of any city or town. Bars, pubs, and taverns have a traditional place in societies as a meeting ground and place of rest.
Like it or not, when you open a bar, you enter that centuries-old tradition of bar culture which comes with plenty of responsibilities and expectations. A business plan lets you define the kind of space that your bar will provide, the ambiance, and what patrons you target — and it will help keep you on track while you tackle one section at a time.
Elements of a Bar Business Plan
Executive Summary
Business plans start with a concise summary of the concept for your bar and an introduction to the key elements of your business plan. This includes an overview of the budget, your business's goals and core values, and a clear, actionable vision for the products and services that define your brand.
Consider the audience you are writing for, including potential investors, management staff, and other owners, and imagine how you can grab their attention and pique their interest in your plan. From this introduction, your audience should have a good idea of your concept for a bar and what market space you're entering.
Company Overview
The company overview is a companion to the executive summary that is more practical than conceptual and attention-grabbing – it works as a glossary for the rest of your business plan, defining your bar's products, information about ownership, company structure, and your vision for the customer experience.
You might want to include information about labor and hiring practices, the location of your bar, and the bar's capacity for service – how many people can your venue hold if it is primarily a social hub, a music venue, or a sports bar, or something in between.
This is also your opportunity to communicate the aesthetic aspects of your plan to stakeholders. The bar's name, logo, color scheme, vibe, and the general type of ambiance and venue you want to create can all be included in a company overview.
Team and Management
Bartenders occupy a unique space in the foodservice industry and the bartending position is often considered a prestigious role among service professionals. Bartenders have specialized knowledge about wine, beer, liquor, and spirits and use their creative abilities to suggest pairings and craft cocktails.
Bartenders are the primary labor force of a bar, but table servers, barbacks, kitchen staff, management, and even technical producers for lighting and audio all play a part in creating the ambiance of bar and club spaces.
Provide investors with information about how you plan to structure your bar's business. What will the management staff be responsible for and what is their position in the chain of command? Do you want to offer patrons table service? What about a regular DJ or lighting tech?
Don't forget to include information about who will be creating marketing and publicity for the bar or events – will you market your business, hire a marketing professional or firm, or hire a manager that can market your business in addition to their other duties?
Also consider including information about what kind of jobs you plan to create, whether they are full-time or part-time, how you will hire or train workers with the right skill set, and if you plan to provide them with any benefits or incentives.
Sample Menu
A sample menu for a bar might seem idiosyncratic – wine, beer, and cocktails are on the menu – but a sample can be useful for defining your brand and giving interested stakeholders a concrete vision of the products and services your bar will offer.
For instance, if you build a food menu of any sort, that gives investors information about the quality of the products you plan to offer and the types of clients you will attract with what you plan to sell. A sample cocktail menu that features top-shelf liquor or a list of local beer and wine offerings will communicate what markets supply chains you plan to enter and rely on.
A sample menu forces you to start thinking about how you will produce and deliver those items to customers – consider where you will store valuable bottles of wine and spirits, the logistics of serving draft beer, the focus on drinks or food, down to the small details like glassware and stemware.
---
Read this next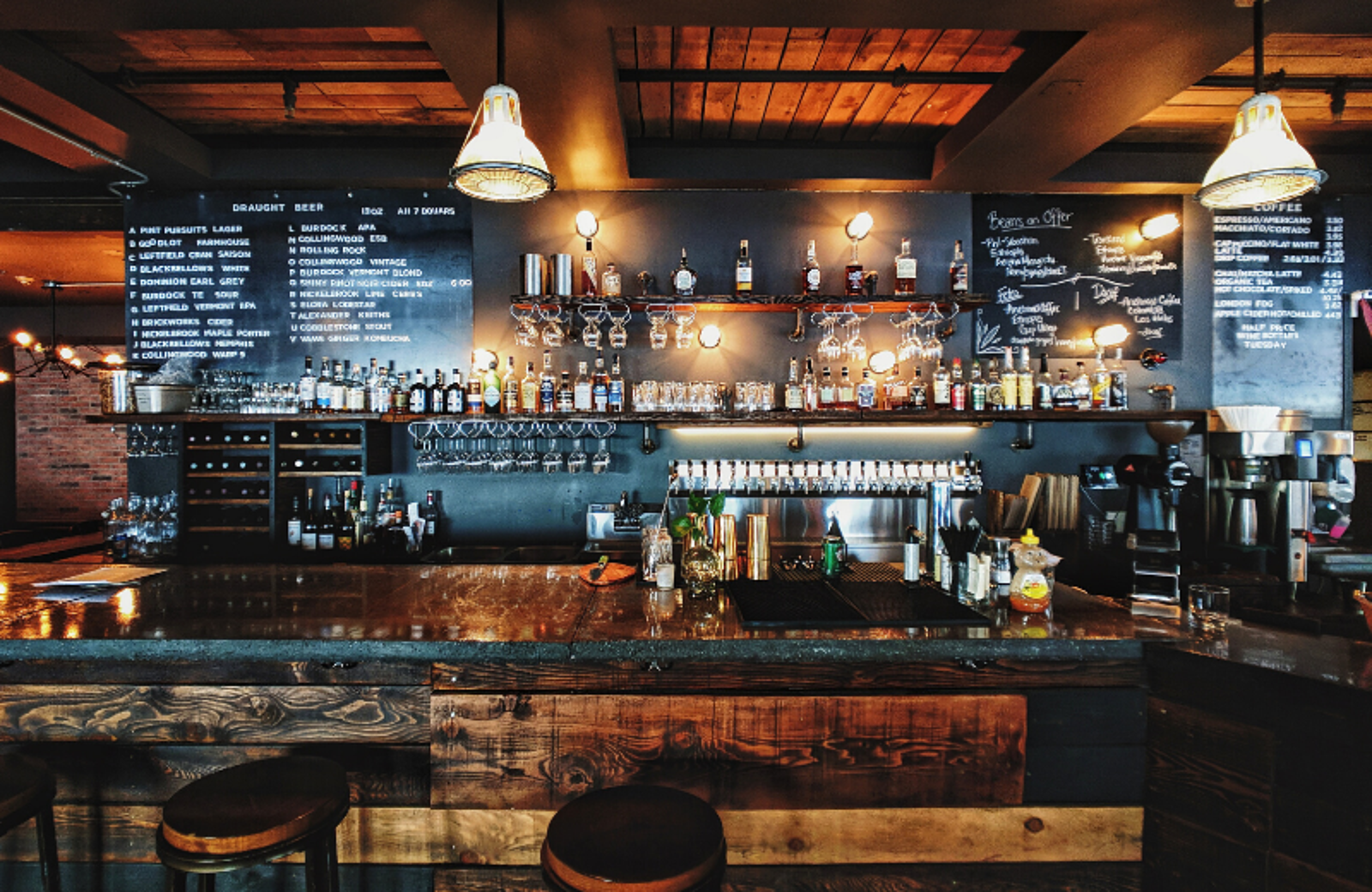 Ideas to Inspire Your Bar Menu's Design
Looking to refresh your bar menu, or make a new one from scratch? Check out these tips and examples to bring your ideas to life.
Market Analysis
Market for a bar is unique – bars can be in competition with the local restaurant industry or in competition on the local bar scene, or they can occupy some space between the two. A good example of this phenomenon is the sports bar.
The sports bar is a restaurant in its own right but attracts clients seeking a specific experience and products – beer, cheap spirits, and a TV in line of sight at all times sound like an ideal sports bar experience. That business model puts that space in competition with other local bars and restaurants that have TVs, even if they don't prioritize the sports bar culture.
However, a sports bar and a craft cocktail bar could be successful as neighbors because they attract clients seeking a different type of experience. It's important to consider what openings there are in your local market for bars and what share of the clients seeking the experience you provide you could realistically attract.
These routes to success, the opening in the market, and your plans to attract the customers that occupy that opening are considerations that can help your business plan to impress potential investors and make them feel secure investing in your concept.
Marketing and Publicity
Marketing tactics for bars, pubs, taverns, and clubs are as unique as configuring a market analysis – how your market will be unique to the kind of space you're creating for customers.
Word-of-mouth marketing is invaluable for bars. If you provide a customer with the experience they're seeking, they're likely to bring customers along with them to your business. Additionally, the opportunities you have to market your bar will coincide with the venue you create.
If your bar is primarily a social venue, you might market a happy hour, whereas a music-focused bar has opportunities to market upcoming shows, relying on the popularity of the performers you book.
Creating a plan for your marketing strategy and listing potential avenues of marketing and publicity for your bar will let potential investors see that you are already thinking about the share of customers your business will attract and serve and elucidate your plan to succeed in the market you enter.
Restaurant Marketing Plan
Create a marketing plan that'll drive repeat business with this customizable marketing playbook template and interactive calendar.
Download
Branded Graphics
One of the most exciting aspects of building a cohesive brand across your business plan is creating branded graphics that convey your brand's concept to both potential investors and customers. Think about how you might represent the ethos of your bar and the experiences that you plan to offer your customers through graphics and the design of your business plan's documents.
Business Operations
Business plans include information about customer service, the point of sale, sales and inventory tracking, accounting, and the supply chain of the products on your menu. Consider the role you plan to play in the business – do you plan to be an owner/operator and manage the place yourself or hire bar managers to craft drink recipes and delegate staff?
Bars can offer a range of products and services and it's crucial to work out the details of management, entertainment, and production as you complete your business plan. You might also include expectations for how you plan your bartenders, servers, and managers to factor into your customers' experience.
How bars treat customers is an important consideration unique to selling liquor because who you can serve is regulated at the state and federal levels. Your plan for business operations should acquire include the licenses and permits required to serve alcohol in your state and how you will ensure that your staff follows guidelines for serving alcohol.
Small bar business models might see a staff of two bartenders standing in for every role from cash management to line-cook while larger spaces might have staff dedicated service and support staff. Balancing expectations for employees, management, customers, and planning to deliver consistent products and services is complex and doing that work in a business plan communicates that you're poised to launch a successful bar.
Bar and Lounge POS Comparison Tool
A free, customizable Bar and Lounge POS Comparison Tool to research and compare point of sale systems in one Excel spreadsheet or editable PDF.
Download
Financing and Loans
If you are seeking to secure funding, have already secured partial funding, or have a plan to fund your bar, pub, tavern, or club, it is crucial to include that information in your business plan.
Whether you're going the route of an SBA loan, a microloan, a line of credit, or any of the other many financing options available to those looking to fund a hospitality business, this is the section where you'll share with your audience how you'll be footing the bill of your bar dreams.
And if you're still figuring that out — and using this business plan as part of your investor pitch — outline how you'll be using the funding, and provide detailed financial plans about the projections of profit and expenses of your business.
Sales Forecasts and Operating Expenses
The operating expenses for a bar include the costs of labor, insurance, inventory, equipment, rent, utilities — the list goes on. But there are also expenses for permits and licenses that are unique to businesses that plan to serve alcohol, so be sure to budget for state licensing and bartending permits so that you can serve alcohol while adhering to the proper protocols.
One common analysis to include in a business plan is a "break-even analysis" which compares how much sales are required to break even with the cost of expenses each month. Investors will be interested in the potential for profit and loss before they contribute to your business, but producing a P&L statement for a bar that isn't open yet will require some educated projections.
Finally, a cash flow analysis details how you will spend money on labor, supplies, and operations which will show investors that the bar, pub, tavern, or club can support itself without additional investment. Consider how the cost of wine, beer, and liquor, local taxes, employees' salaries, and the costs of maintaining the bar's furniture, equipment, and tools balance at the end of each fiscal quarter.
How to Present Your Bar's Business Plan
There are a few ways to prepare to communicate with investors about your business plan and get them interested. As you write and edit your plan, you'll have become the world's only expert on your bar. Remember that the way you talk about your business should be tailored to the situation you find yourself in.
First, send your business plan to investors and banks far and wide – put your concept and plan in the hands and minds of as many people as possible. You can't hear no (or yes!) unless you ask.
Perhaps you're at a networking event for local small restaurant owners and financiers. You might want to have a 30-second elevator pitch prepared so that you can communicate everything you need to about your plan quickly. Be sure to include something exciting or make an opportunity for questions to keep people talking.
Once you secure a meeting with a potential investor or partner, you'll want a more detailed presentation that presents all the key elements of your business plan – for a bar, that will likely include the market niche, customer experience, type of venue, and financial concerns.
It's good to anticipate potential questions and prepare answers for questions you encounter for the first time. When networking, be honest and genuine, even if you don't have a ready answer for each question that comes your way – investors will be interested in your charisma and savvy just as much as your ability to build a detailed plan.
Related Bar Business Resources
Bar Business Plan Template
Use this free bar business plan template to easily create a great business plan that organizes your vision and helps you start, grow, or raise funding for your bar.
Download