DISCLAIMER: This content is provided for informational purposes only and is not intended as legal, accounting, tax, HR, or other professional advice. You are responsible for your own compliance with laws and regulations. You should contact your attorney or other relevant advisor for advice specific to your circumstances.
If you've ever sat at the bar and watched bartenders do their thing — making cocktails, pouring beers, schmoozing, splitting checks, and taking payments — you've likely also watched another figure darting around behind the bar: a barback.
Barbacks flit from bar station to bar station, refilling garnishes, polishing glasses, stacking napkins, hauling kegs, bringing glassware back from the dishwasher, helping punch orders into the bar POS, and chatting amiably with customers who have questions. Barbacks, much like bussers, have a more behind-the-scenes role in the front of house, and they're instrumental to bar's success.
Whether you're getting ready to open a bar, or are looking to improve operations at your current bar by hiring the right candidate for this essential role, keep reading. In this post, we'll explore what a barback is, how much a barback makes, and common barback duties.
What is a Barback?
Barbacks are the equivalent of a busser, except in the bar environment rather than the kitchen environment. The barback makes sure that bartenders have everything they need (like glasses, garnishes, stocked bottles, fresh kegs) at all times. They're also on the floor more often than bartenders, helping to clean up spills and retrieve more supplies from the walk-in, so they're adept at overseeing what's happening in the front of house and in the back.
Barbacks are often hired with no experience. They just need to have a great attitude, a willingness to learn, and the ability to lift a certain amount of weight. Barbacks tend to shadow and support bartenders, making this role an ideal stepping stone for someone who wants to be a bartender one day. Almost all bartenders start out as barbacks first, and they can spend anywhere from 6 to 18 months as a barback before moving up, depending on how fast they learn.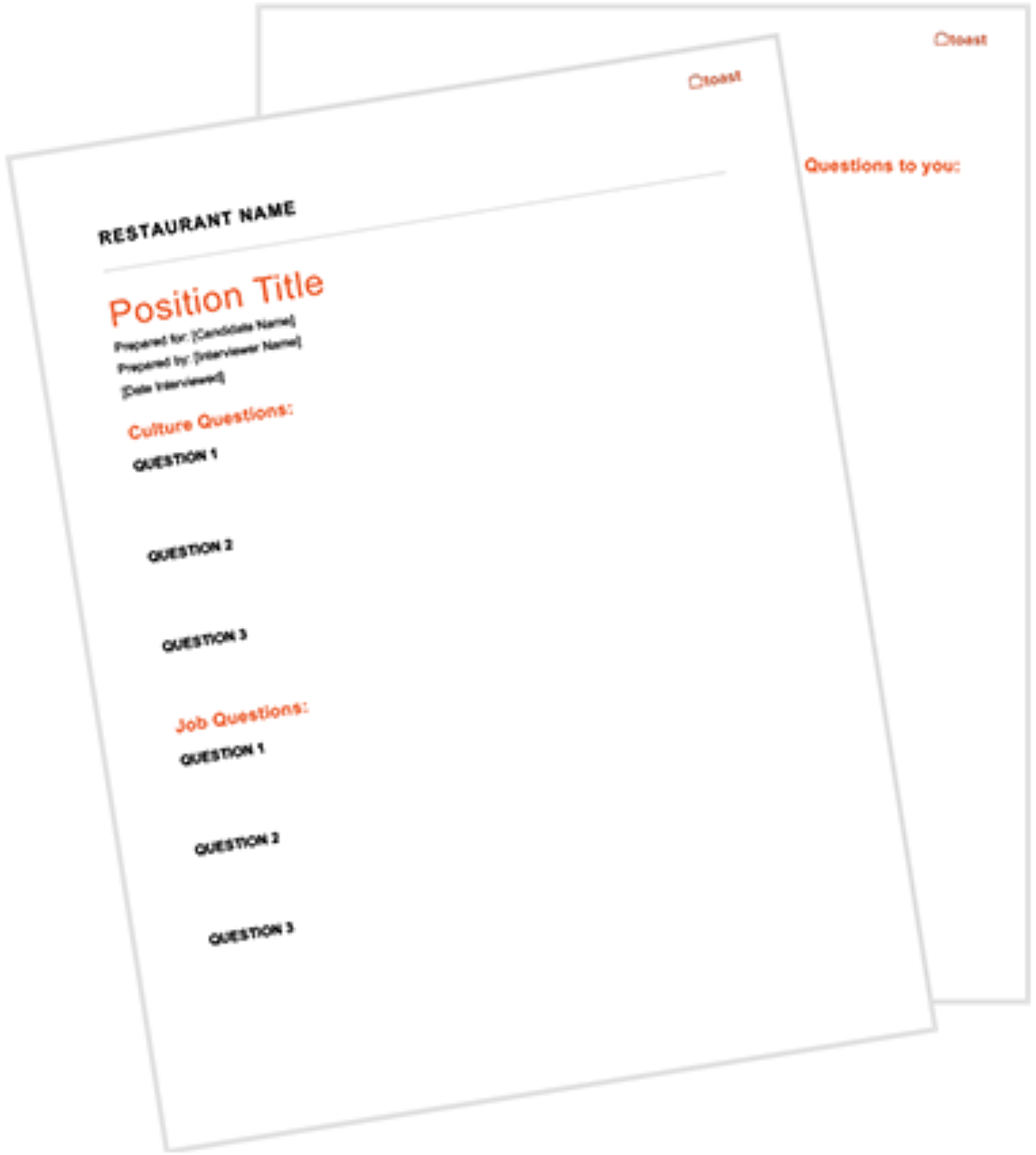 Job Description Template
Write great restaurant job descriptions with this job description template, a customizable Word doc that outlines responsibilities, requirements, and more.
Download
What are a Barback's Duties and Responsibilities?
What does a barback do on a day-to-day basis? Here's a breakdown of what they can expect their shifts to look like before, during, and after service:
Before Service
Keep the bar fully stocked at all times.

Prep garnishes (lemon and lime wedges and wheels, herbs, bloody mary garnishes, pickles, olives, etc), and label and date containers.

Juice citrus, pour into squeeze bottles, and label and date them.

Fill olive and lemon trays.

Refill ice wells.

Restock liquor bottles.

Change out beer kegs.

Replenish napkins, toothpicks, ashtrays, peanuts, and other counter items.

Maintain clean bar rags in each bartender's station.
During Service
Clean counters.

Clean glasses and dishes.

Run drinks and clear glasses.

Clean drink spills and sweep broken glassware.

Help the bartenders with anything they need.

Relay key info to security, such as if a line is forming outside, if someone is drinking out of an outside bottle, and if someone appears to be underage or too rowdy.

Help out with punching orders into the POS system as needed.

Take out the trash or recycling throughout the shift (and wash hands after handling any garbage).

Collect empty glasses from the bar.
After Service
Clean counters.

Take out the trash or recycling throughout the shift (and wash hands after handling any garbage).

Clean furniture.

Clean glasses and some dishes.

Set up and tear down the bar at each shift.

Restock all bar containers for the next shift, including juicing citrus for bar use the next night.

Unclog sinks.

Mop behind the bar.

Clean no-slip mats behind the bar.

Put away all liquor and beer deliveries that came in during the day.

Track opening or closing liquor inventory.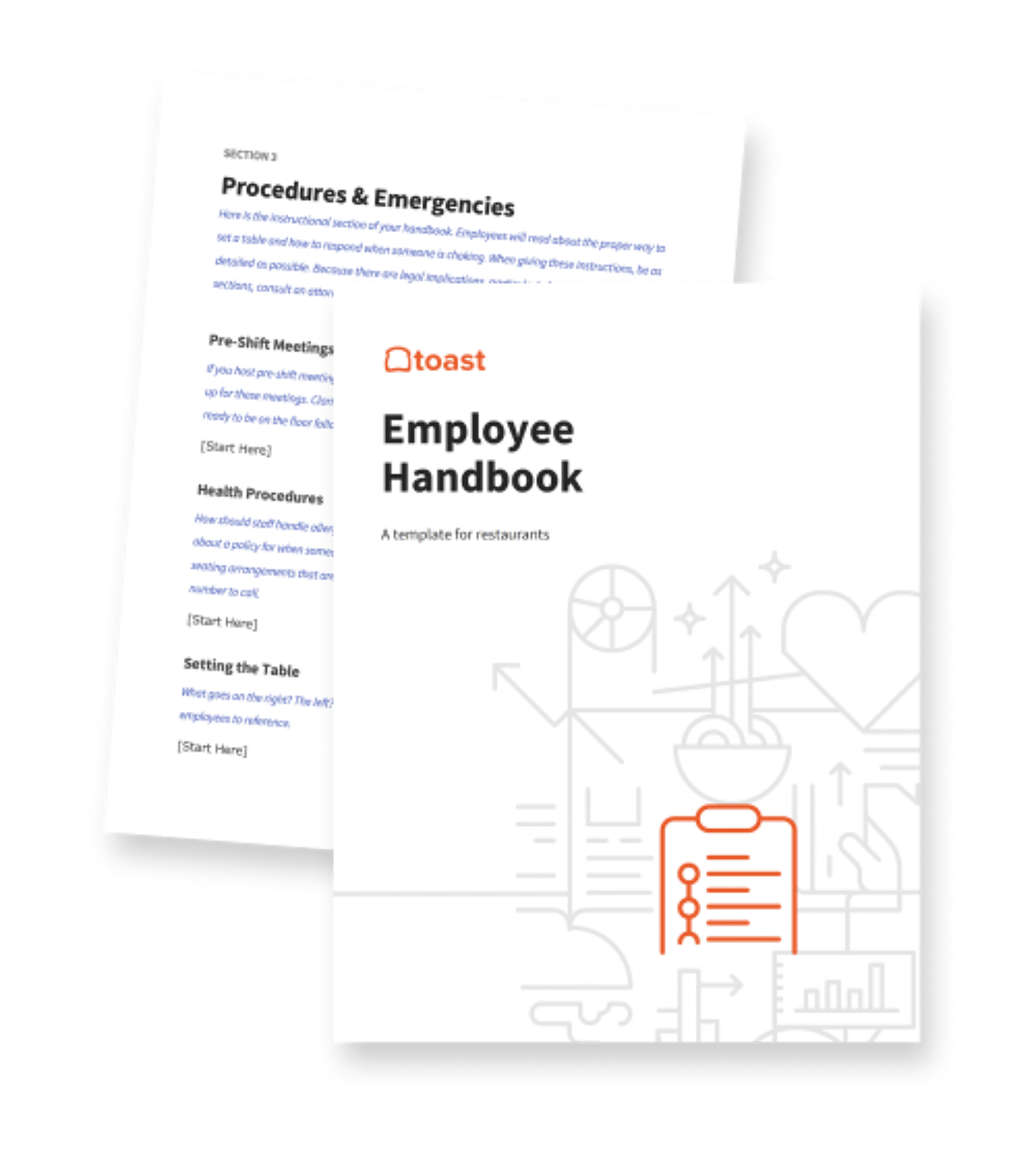 Employee Handbook Template
Outline your restaurant's staff policies in this customizable Word doc to help restaurant management and staff get on the same page.
Download
How Much Are Barbacks Paid?
Barbacks are usually paid hourly, plus tips. The minimum tipped wage varies by state, but the national average annual salary for barbacks is $27,316 before tips, according to Glassdoor. Most restaurants tip out their barbacks, which can leave them making more than non-tipped positions like cooks and dishwashers.
In many cases, each bartender will tip out the barback at the end of the shift, anywhere from 1-2% of sales or 5-20% of tips, according to Bars and Bartending. If a busy bartender makes $200-300 in tips per night, the tip out could be anywhere from $10 to $60. Now, multiply that by however many bartenders there are, by however many days of the week that barback works ... you get the gist.
However, that all depends on your establishment's policy on tipping, tip pooling, and tip sharing. Every bar has nuanced policies on barback and bartender tipping. Learn more from restaurateurs and bartenders in this Reddit thread.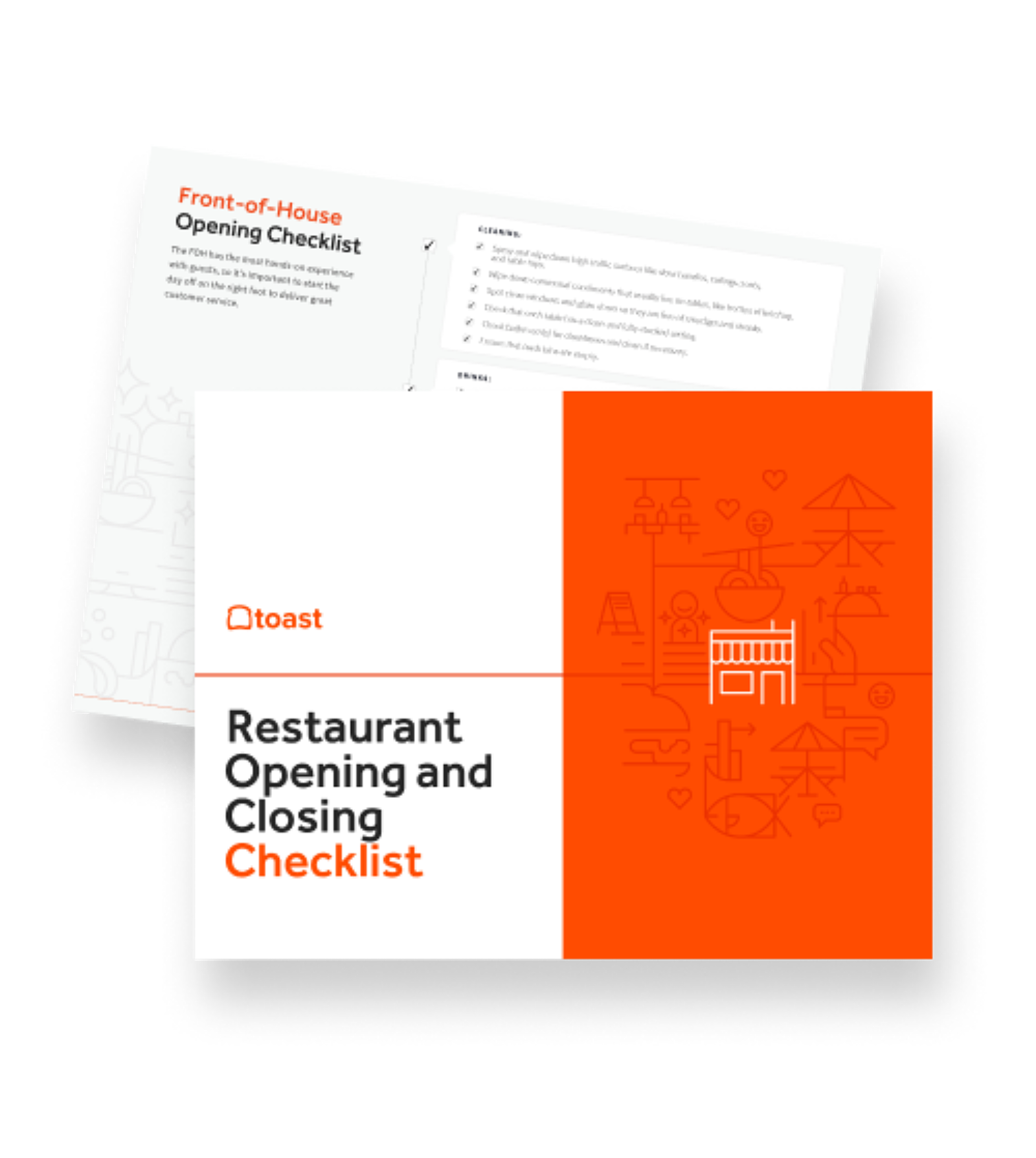 Restaurant Opening and Closing Checklist
The beginning and end of a shift can be frantic. Use this free PDF checklist to set your front-of-house staff up for success.
Download
What to Look for in a Barback
Make sure to check your local alcohol serving laws before hiring a new barback. While the legal drinking age is 21 in the United States, barbacks and even bartenders can be under 21 depending on your state's on-premise alcohol serving laws — make sure to Google those. For example, In Colorado, the age to serve alcohol is 18, while in Washington it's 21. Some states place conditions on bartenders or barbacks under 21 years of age, requiring that a manager or supervisor age 21 or older be present when the person is tending bar, or that the bartender under 21 take special beverage server training.
According to bar blog A Bar Above, "a good barback will keep the ship afloat and no one will ever know there was a problem."
Here's what you should look for in a barback:
Hard Skills
- Organized
- Energetic
- Process-oriented
- Clean
- Good with numbers and quick math
- Good communication skills
- Good physical strength
Soft Skills
- Attentive
- Good conversationalist
- Flexible
- Quick thinker
- Assertive
- Punctual
- Curious
You've identified your blueprint for finding the ideal barback. Now comes trying to bring that person into the fold.
How to Hire a Barback
Your front-of-house workers (FOH) are the friendly faces customers associate with your restaurant, a category barbacks follow squarely into. So, how do you go about bringing workers onboard capable of doing the job?
To start, determine the parameters of the job and put them in the scope of preferred skills you want in a barback. According to The Complete Guide to Hiring and Managing Restaurant Staff, barbacks should have and express the desire and potential to one day be a bartender. Look for that potential in all your barback hires and for someone who can remain one of those friendly faces for the long haul.
How To Write a Great Barback Job Description
What does a barback do? Like any job description, you only have so many words to succinctly and comprehensively discuss what a barback does, so don't waste time. Provide the name of your establishment, where it's located, what the expected pay is, and what day-to-day barback responsibilities (including attire, start/end time, and most important daily tasks) candidates can expect. Once that's established, briefly describe the workplace culture to let candidates know that their job is just as much about the attitude you bring in as the effort put forth to get the job done.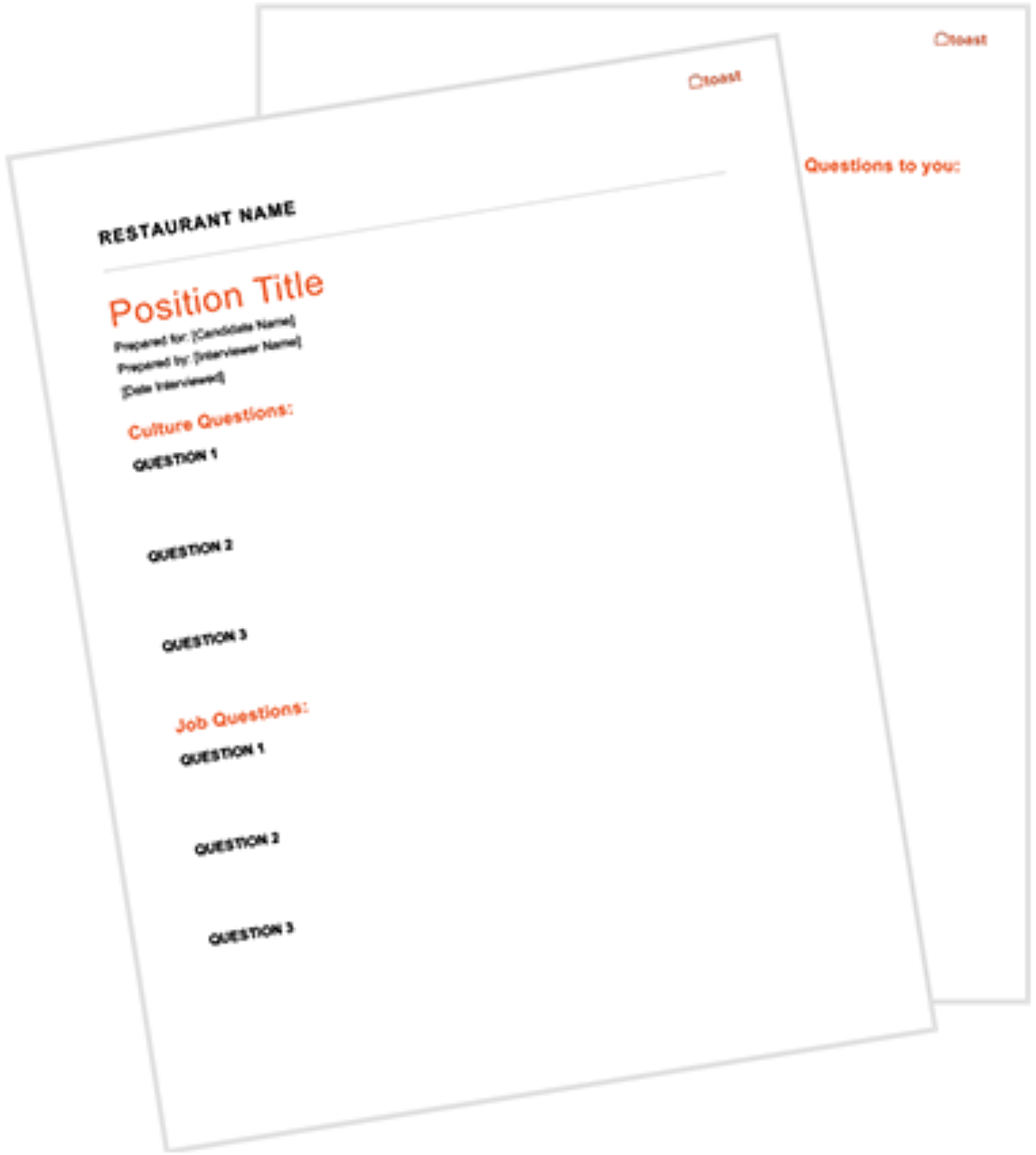 Job Description Template
Write great restaurant job descriptions with this job description template, a customizable Word doc that outlines responsibilities, requirements, and more.
Download
Barback Training Tips
You've got your hire in there. You've defined the job, listed the responsibilities, and found a candidate. How do you get that person up to speed on how things are done at your establishment? Try these tips:
Get them familiar with the facilities. Barback responsibilities are varied, but a catchall duty is the need to jump from table to table, from behind the bar to front of the house, and all points in between. So, get your hire ready by giving them a full tour of where everything is and what's needed to operate as efficiently as possible. Show them where spare items are, where the cleaning items are, and all the tricks that help them do everything they need to do when they need it to be done.

Drill them on the menu. On the most ideal and busy nights, your barback will jump from order to order without much down time outside of any scheduled breaks. Therefore, make sure your barbacks know every item on tap, every drink and food special available, and update them on any new menu items. This will be more of an ongoing education, so make sure your barback makes staying curious and updated on new menu items a habit.

Give them room to grow. Through all the responsibilities and running around, don't lose sight of the fact that your barback has ambition. The idea is to get this person ready to either temporarily or permanently assume a bartender role if the opportunity arises. Provide them the freedom to make those strides by letting them tag in on mixing drinks and other senior administrative tasks usually reserved for bartenders. If a regular bartender can't make it in or a busy night necessitates the need for another body, you'll be happy you gave the apprentice a chance to get their feet wet.
Promoting Your Barback to a Bartender
You've hired a barback that's put in their dues and done everything asked of them. If they're doing it consistently and showing the ability to grow into a more advanced role, start the process of doing just that. Provide barbacks slots to bartend and show their ability to take the role on full-time. Then, work them into the rotation and start the process for hiring a barback all over again. Eventually, you'll have a staff that's well-trained and prepared to keep things flowing regularly.
Related Bar Business Resources