DISCLAIMER: This content is provided for informational purposes only and is not intended as legal, accounting, tax, HR, or other professional advice. You are responsible for your own compliance with laws and regulations. You should contact your attorney or other relevant advisor for advice specific to your circumstances.
There's so much competition for amazing staff in the restaurant industry right now that boring job descriptions just don't cut it.
Job postings should be thorough and provide all the info a candidate might ask about during a job interview: pay, benefits, availability required, and anything else specific to the role. But restaurant job descriptions should also incorporate your team's core values and offer a snapshot of what life's like with your team.
It can seem tedious to write long job postings, but you'll save time in the long run by ruling out candidates whose needs, skills, or personalities don't align with what you can provide in terms of workplace culture or compensation.
Illustrating your restaurant's core values will help you attract candidates that add value to your team and mesh with your management style, and if you're hiring the right people from the start, they're more likely to stay with you long term.
What Are Core Values?
Core values are the driving principles behind how you want to run your business. They're your standards, your beliefs about how work should be done.
Core values are not to be confused with your restaurant's mission or goals, which both have to do with what you want to accomplish. Core values are how you want your employees and community to feel while you're working toward your goals.
According to a Glassdoor survey, values are among the top five things job hunters seek when searching for a company to work for. Sharing your values through recruiting campaigns will help you bring in the all-star servers, chefs, and managers you're looking to keep around.
If you don't have your core values set yet, think about your best employee and your relationship with them and work backwards from there. Why do they love working at your restaurant? What, specifically, do you do as an employer to make it a fun and supportive environment? Write down everything that comes to mind and choose anywhere between three and 10 words or phrases that encompass what makes your workplace and customer experience special.
Once you've chosen your core values, hang them in the break room and put them on your website. Having a values page on your website, or listing your values on your careers page, are both great ways to attract applicants.
Now you're ready to use those core values in your job postings.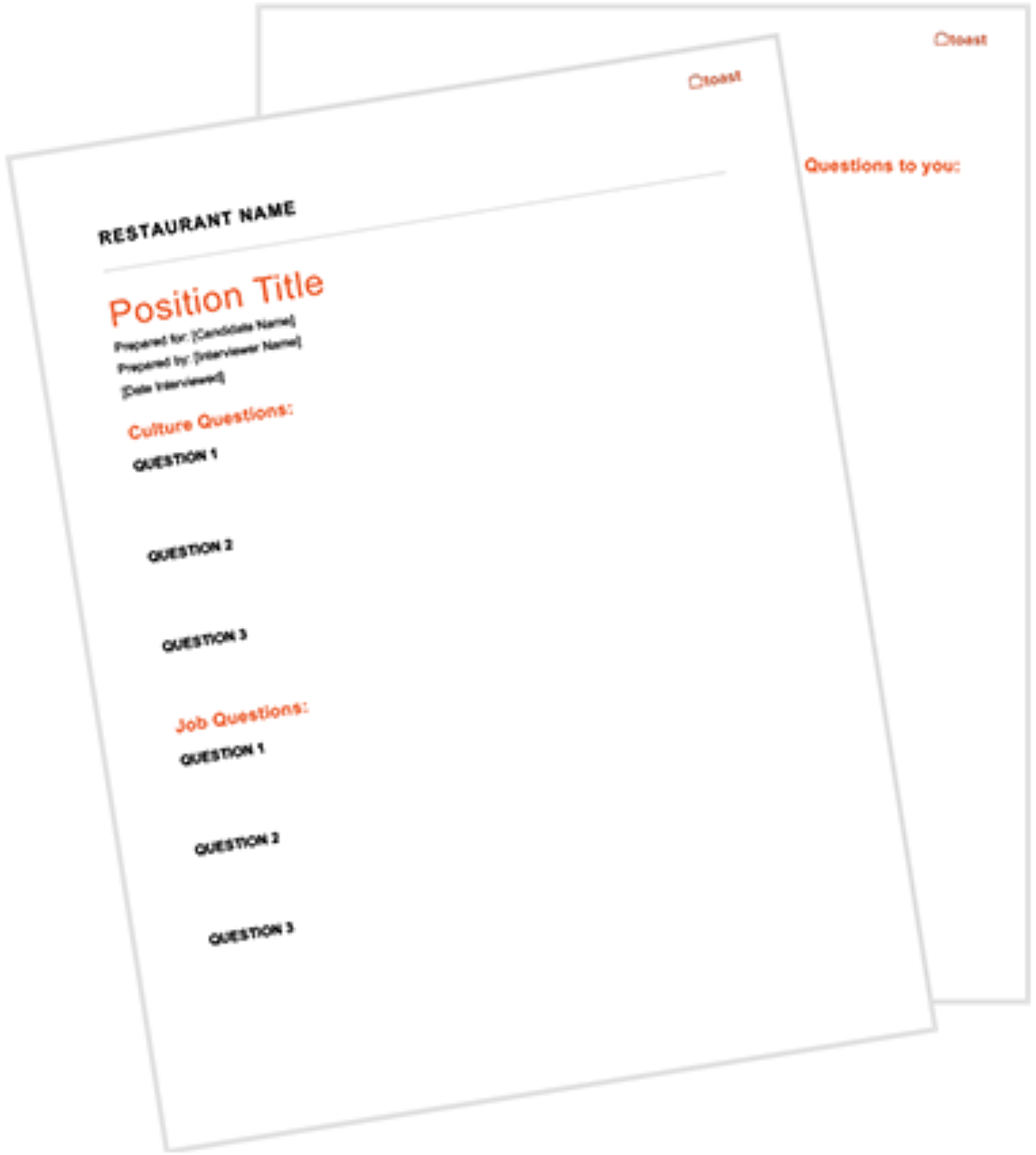 Job Description Template
Write great restaurant job descriptions with this job description template, a customizable Word doc that outlines responsibilities, requirements, and more.
Download
How to Incorporate Core Values Into Restaurant Job Descriptions
When incorporating your core values into your restaurant's job postings, explain how you bring them to life.
One of the best examples we've seen of a value-driven job description is from Homeroom Mac & Cheese, based in Oakland, CA. This is a restaurant built on extremely strong core values. Erin Wade, the restaurant's founder, is known for hiring inclusively, supporting her diverse team's growth with training, and her team's original approach to dealing with sexual harassment. We spoke with her earlier this year about how she empowers her team, and standing behind core values is a huge part of that.
Here are Homeroom's core values, from their website.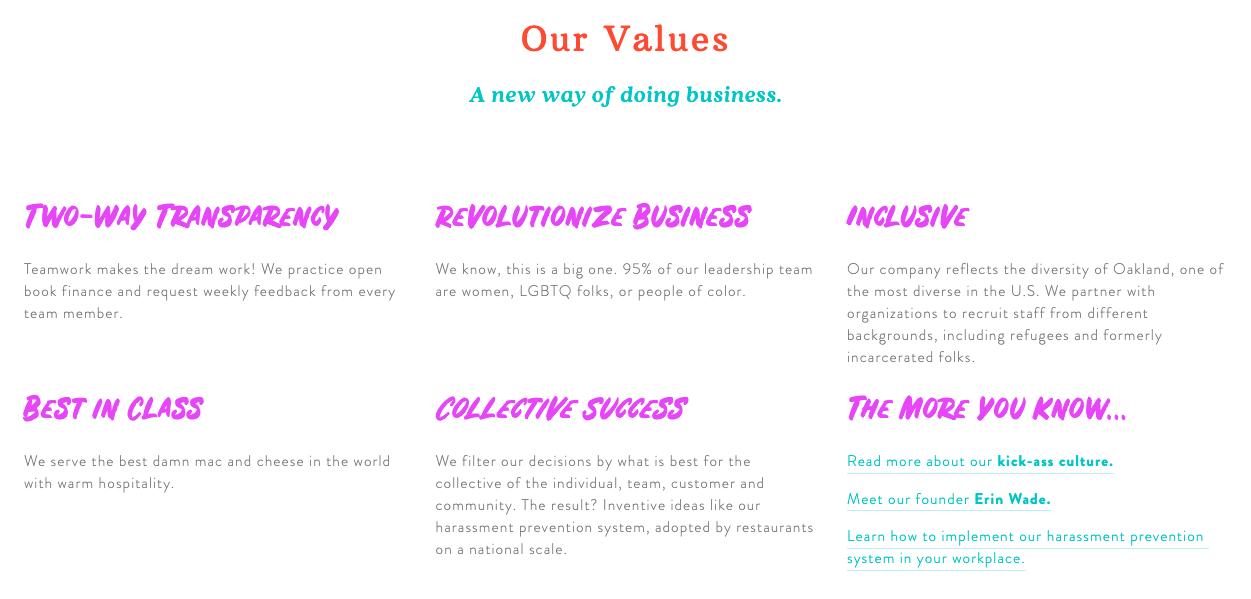 Homeroom also goes above and beyond with their job descriptions. The one for their floor manager, found on their careers page, is a great example of a well-rounded, values driven job description that covers all the bases. It's written in a direct, fun, conversational tone, gives tons of information about the role, the company, and highlights the restaurant's commitment to its core values.
Let's walk through it section by section.
Job details
Level: Management
Job Location: Homeroom Restaurant - Oakland, CA
Position Type: Full Time
Salary Range: $19.00 - $22.00 Hourly

WHAT WORKS
First, they get the details out of the way right at the top, including the pay range. It's understandable to be wary of posting your pay ranges on your job postings if they're on the lower side, but it's important to be transparent from the beginning. Making employees waste time on applications for jobs that don't cover their needs not only wastes their time, it wastes yours, too.
Restaurant description
Hello There! Through collective success, female leadership, progressive compensation and other radical ways of running a business, Homeroom is leading by example in creating a better community for all. Join the movement. Yes, we make the best Mac + Cheese in the world, but we're also about being part of something bigger. No more business as usual. We have set out to revolutionize the business by showing that a collective success model, where our team, our business, our community and YOU can all win!
WHAT WORKS
In the description, the candidate gets all the info about the restaurant's mission and goals, which set them apart from any other restaurant. A candidate whose values mirror that of the restaurant's will be thrilled to apply for this job based on this section alone.
The team
We're all friends here. We're made up of people of all different beliefs, cultures, colors and backgrounds with one thing in common…we're in this together. We're here to make a difference in our community, and in ourselves. And while it's hard work, we support each other and have fun doing it! When you work with us, you have a voice. In fact, we expect to hear from you. You have the opportunity to learn and grow with the company and will be supported with training and tools to reach your goals.
WHAT WORKS
In this brief introduction to the team, the job description shows the restaurant's commitment to diversity and openness as well as the opportunities given to those who work at Homeroom.
The role
As a Homeroom Floor Manager, you'll serve as a key member of our Homeroom leadership team. You will be responsible for overseeing the restaurant meets our commitments to customer service, team member enjoyment and high standards in a busy environment. Your responsibilities will include:
Ensure customer experiences are at or above our standards.
Serve as a brand ambassador with a presence that helps ensure every customer receives an excellent experience that compels them to return.
Observe that processes are followed and identify and suggest opportunities for improvement.
Conduct a smooth opening, transfer of shifts and/or closing that makes sure the restaurant continually serves customers at our standards from open to close.
Oversee that all team members are fulfilling their job duties.
Have a strong understanding of Homeroom products, offerings and events.
Ensure the team member experience is fun, safe and enriching.
Lead in a manner consistent with Homeroom's values that provides an upbeat and supportive climate for our team.
Help staff address difficult circumstances and minimize stress in a busy environment.
Quickly identify and resolve any threatening situations within the restaurant.
Communicate well with all employees and serve as a teammate with the kitchen team.
Verify CA break policies and scheduling requirements are adhered to.
Identify any repair needs or ongoing scheduling challenges that can be improved and seek solutions.
Achieve rotating departmental objectives, which may include:

Departments include facilities, beverage and service.
Conducting inspections and/or interviews
Forecasting sales and creating weekly schedules to support business.
Waste management and food safety inspections.

Properly staff the Front of House to support Homeroom's business needs.
Manage call-outs and ensure properly staffed for shifts.
Welcome new hires and ensure they receive timely and sufficient training that sets them up for success.
Conduct reviews and coaching sessions with team members according to the schedule or developmental needs.
Know and ensure CA food safety standards are met by all team members.
WHAT WORKS
This extremely thorough list of responsibilities not only shows the candidate what they'll have to do day-to-day in the role, it also shows that Erin cares enough to take the time to list them out. Most job postings are pretty vague with a handful of bullet points, while this long list makes Homeroom stand out.
The perks
Life is expensive! We believe in paying well.
Free, delicious Mac + Cheese.
We're committed to giving you growth opportunities to reach the positions you aspire to.
We pay 50% of medical benefits for eligible employees. We have FSA and Commuter benefits too.
WHAT WORKS
They keep this section simple, because the benefits speak for themselves: partial healthcare coverage, good pay, growth opportunities, and free mac and cheese.
What they're looking for
Available to work weekends
18 or older
Eligible to work in the U.S.
Awesome and energetic
2-5 years of junior management experience, preferably in the quick-serve and/or restaurant setting.
Proficient in Mac OS; Microsoft Office Suite; Gmail; and other ordering/restaurant systems.
WHAT WORKS
They briefly outline the ideal availability and experience a candidate should have. Based on the role, their expectations are reasonable and they keep the requirements to a minimum.
Diversity and equality as a value
Homeroom embraces diversity in a serious way and is proud to be an equal opportunity employer. Based in one of the most diverse cities in America, we're committed to having a staff that reflects the broadest spectrum of our community with a variety of backgrounds, perspectives and skills. The more inclusive we are, the better our work (and our world) will be. Little Mac LLC, DBA Homeroom, provides equal employment opportunities (EEO) to all employees and applicants for employment regardless of a person's actual or perceived race, color, ancestry, national origin, place of birth, sex, age, religion, creed, disability, sexual orientation, gender identity, weight, or height.
WHAT WORKS
Many companies include sections like these, showing that they're an equal opportunity employer, but Homeroom explains their rationale for wanting a diverse group of workers in this section as well. Again, they go the extra mile.
Value-driven job descriptions take time. But they're worth it.
Anyone can write a run-of-the-mill job description for a new restaurant job, but it'll likely result in run-of-the-mill applicants.
If you want to attract and hire restaurant staff who will help you build a truly great restaurant business, take the time to write in-depth, clear, and exciting restaurant job descriptions.
Job postings that highlight why your restaurant rules will be worth the effort when high-calibre candidates submit their applications — and when your awesome work environment and culture keep them around for a long time.
Related Restaurant Resources