Content warning: This post contains discussions of sexual harassment.
In 2010, attorney Erin Wade found herself craving mac and cheese after a long day at work. After throwing together her dad's recipe, she had an "ah-ha" moment: She was ready to leave behind her law career, and her next move would be to open a mac and cheese restaurant.
A year later, Homeroom was born. But, as any restaurateur might guess, the path to opening was bumpier than Erin expected.
The hurdles she faced were largely financial. "I had gone to banks to try to get a loan, and, at least at the time, following the financial crisis, there was no bank that would loan money to me. And I was someone with an almost perfect credit score," she said. "But it's because it's such a volatile industry, and such a risky one to enter, banks just will not loan to people that don't at the very least have experience. But generally, they just won't loan to first-time restaurateurs, period."
Erin Wade's Vision for Homeroom, in Her Own Words
This feminist restaurant company is paving the way towards making restaurant work safe and enjoyable for all.
To finance Homeroom, Wade ended up using her life savings and taking on a lot of credit card debt. "It's a really scary way to finance a restaurant, because if you go under, you're going to at some point get hit with pretty gigantic amounts of interest." And even though Wade and her husband built chairs, chandeliers, and anything else they could build instead of buying, Homeroom still opened with only two weeks of operating expenses in its bank account. "If it had not immediately been successful, it would have immediately failed," she said.
Luckily, the restaurant, located in Oakland, CA, was a hit — turns out that serving everyone's favorite comfort food made to order is a pretty great business model. But it wasn't enough for Erin Wade to open a restaurant that just served world-class mac and cheese. She also wanted it to be a safe, enjoyable place to work for people from all walks of life.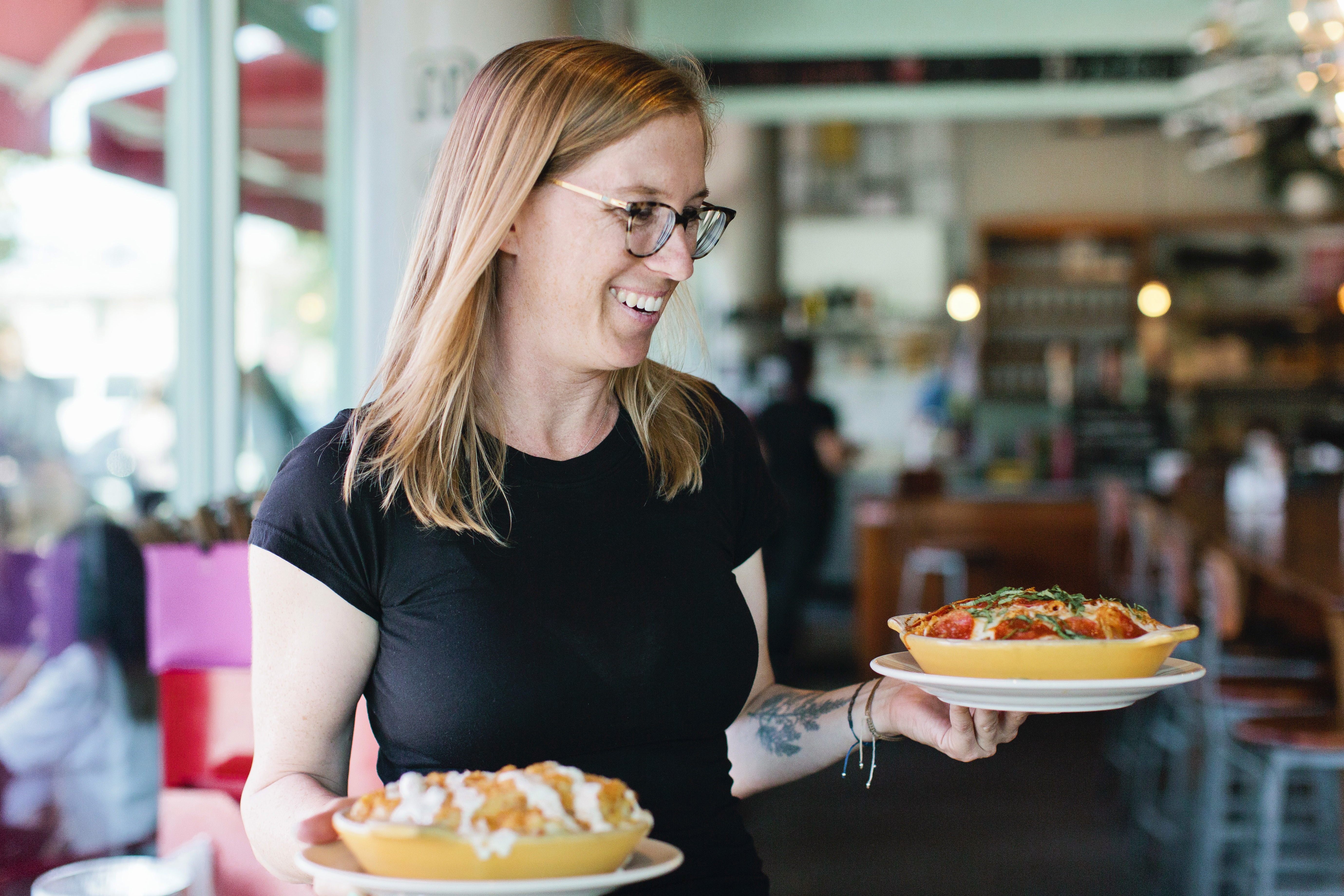 Homeroom's commitment to building an inclusive restaurant starts at the beginning of the hiring process — starting with where they look for employees.
We seek out people with diverse life experiences. And I'm not talking just in terms of race or gender.
"We also work with organizations that place refugees, we hire people who are formerly incarcerated, and former foster youth. We're really looking to have a company that's as diverse as [Oakland, CA], the city that we live in, which is one of the most diverse cities in America," said Erin.
Once a new employee is hired, they're given a two-hour cultural orientation, run by Erin herself, to emphasize the company's commitment to inclusion and to teach it as a core value. "We talk about it, and we train for it, and then we really try to live it."
And they do: More than 70% of the company's leaders are women and people of color, and they promote almost exclusively from within.
We work in an industry where women and people of color comprise most of who are in the lowest paid positions in the industry. But once you start going up that power ladder, you start seeing a lot less women, a lot less people of color.
Another way Homeroom is working to change the status quo is by creating a more democratic work environment that strays from the traditional, hierarchical, boss-employee relationship. When issues of customer harassment started cropping up, staff turned to Erin to report it, but she gave them the agency to develop an anti-harassment system themselves.
"I know I've written a lot about our anti-harassment program, but our staff developed it," she said. "Unfortunately, almost four years ago, a number of female staff members emailed me with the topic saying 'Harassment.' And I was like, 'Oh God, what is going on?'"
As it turned out, the harassment these women were reporting was coming from customers, not from co-workers. "Pretty much every woman who worked for us had a story, which was super sad. I had no idea. I was shocked. It was the first time anyone had ever reported it." She decided to call a problem-solving session. "Maybe 15 to 20 women on our staff showed up for that meeting and came up with this system we use to this day to deal with harassment."
The system is simple but extremely effective. "What we came up with is this color-coded system where a yellow refers to behavior that is nothing more than a vibe, just a creepy vibe that you get. An orange is a creepy vibe plus ambiguous language. Something, for example, like 'I like your shirt.' Depending on how someone says it, it could be super gross or completely benign, right? And then a red is overtly sexual language — 'You look sexy in that shirt' — or touching."
During a shift, the affected staff member reports the color to their manager, and they don't have to explain what happened right away. Erin explains, "In the case of a yellow or an orange, the manager goes in and takes over the table. And in the case of a red, and the manager goes in, takes over the table, and asks the guests to leave."
It's an approach that cuts off harassment at the source, blocking it from escalating. "What's been so amazing is that we came up with it as a way of dealing with the problem, but what it's actually done is really help curb the problem," explained Erin. "No one really walks into a restaurant and sticks their hand up someone's shirt, which is the incident that set this off. But what they do do is they start by checking that person out. And then they lob low-level inappropriate comments at them. They're testing the waters. So when you change the power dynamic at that [point], it tends to stop it from escalating into a bad situation."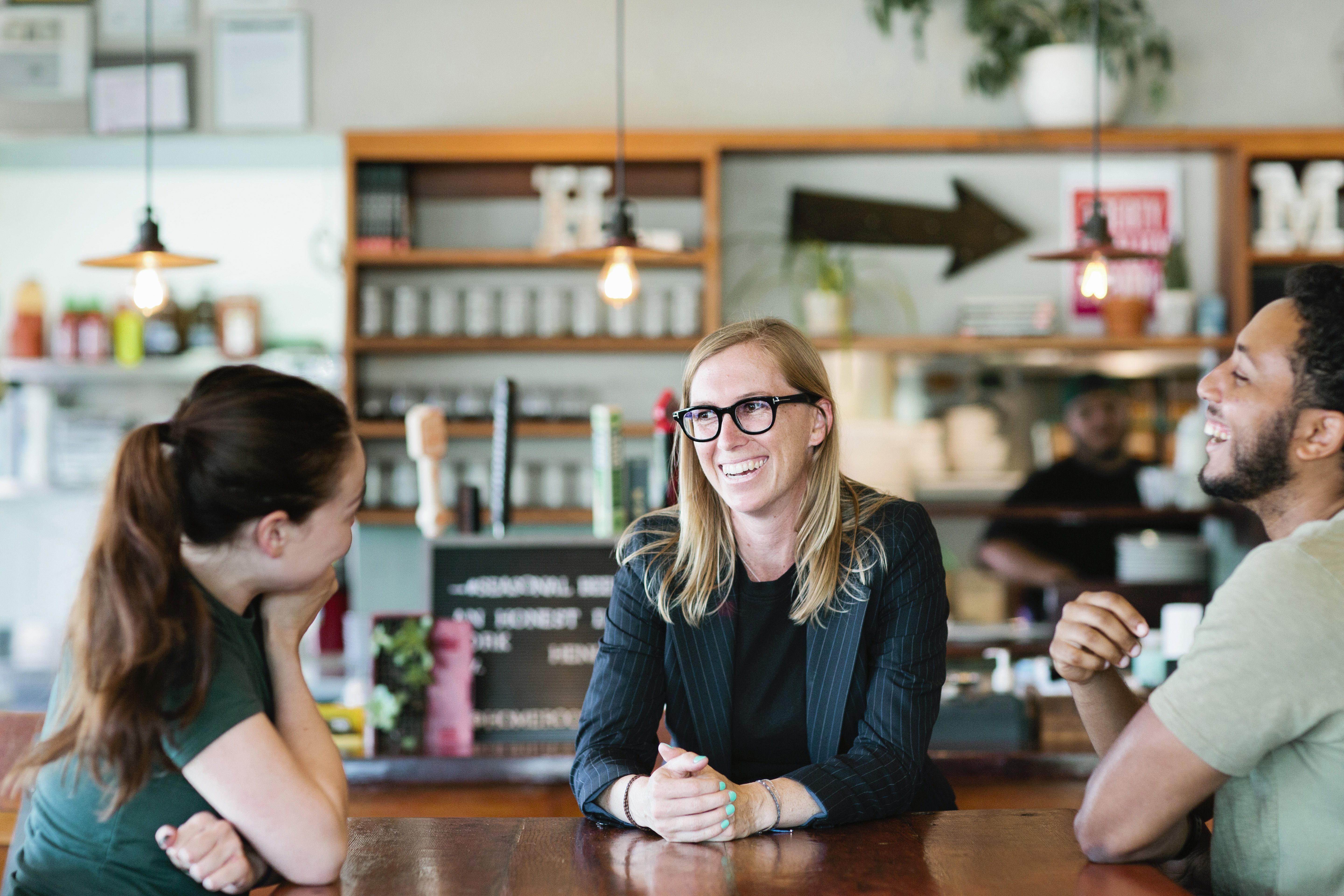 This system has shown a marked reduction in incidents of harassment in the restaurant. "When we first held that meeting, sadly, every woman had a red story," said Erin. "Now, they're happening maybe once a year. It's really uncommon. And it's a really elegant system 'cause it's super easy to use. It's not complicated. You can use it on the floor of a busy restaurant. And, most importantly, it doesn't rely on managerial judgment of 'Is this harassment/is this not?'"
Erin Wade wrote an op-ed in the Washington Post about this system, believing that by getting it out there and showing other restaurant owners and managers how to implement it, she could immediately help solve the problem in other restaurants. But she realized that the implicit trust she has in her staff is not present everywhere, and this level of trust is a crucial ingredient in the system working. She's now working on a training system to help other restaurants get there.
"We do just generally believe our staff, you know, and the system is set up to do that, and a lot of restaurants are not really based on a model of trust and transparency. But I want to get restaurants that maybe aren't based on that model to still use this, because I think it can make a huge, huge change in our industry if more restaurants picked it up," she said.
The framework is also applied internally for identifying internal harassment issues, though it's not as easy to manage because you can't kick out an employee in the same way that a customer can be asked to leave. That being said, Erin explains, "It's still a helpful framework for putting people's behavior into buckets, but what a company wants to do with behavior in each of those buckets is very individual to each organization."
Another part of employee management that varies widely from business to business is compensation, but Homeroom also goes beyond industry norms in this area to make sure staff feel both safe and valued.
Erin and the Homeroom team holds a weekly meeting where management discusses the restaurant's finances with the staff, but that's only the beginning. "We're a mission-driven company that talks about our values and our purpose at work, because that's really what makes work interesting and exciting every day. But I think we also check some of the other boxes – we pay really well," said Erin.
"Our starting wage is close to $17 an hour. If they're here for more than a year, we do annual bonuses based on our profit – it's a form of profit sharing." High-level positions are filled from within, which is a great way to keep turnover low and prove to new staff they have a reason to stick around.
"If you know you're working somewhere that you're valued, where you have a future, that has a purpose and a mission, you know, I think you'll always have great employees, no matter what the market looks like."
Related Restaurant Operation Resources
Funding a Restaurant
Coming up with the money to start a restaurant is no easy feat. Here's how Joanne Chang and Charles Bililies did it, and how Emiliana Puyana helps people do it every day.
DISCLAIMER: This content is provided for informational purposes only and is not intended as legal, accounting, tax, HR, or other professional advice. You are responsible for your own compliance with laws and regulations. You should contact your attorney or other relevant advisor for advice specific to your circumstances.