According to the National Restaurant Association, 9 out of 10 newly hired restaurant managers start out at entry level. In other words, only 10% of new restaurant managers have an ounce of restaurant management experience when they start the job.
So even if you're promoting a rockstar server or chef, that doesn't mean they'll be a great restaurant manager right out of the gate, especially without the right training.
According to Toast research, even for profitable restaurants, hiring, training, and retaining staff is the biggest collective challenge for the industry right now. In fact, profitable restaurants are placing more emphasis on training their staff than not-so-profitable restaurants are. This tells us good staff training will lead to more cash in your drawers.
Training is even more important for restaurant managers, because they typically have the largest impact on your restaurant's operations, team, and guest experience. Some restaurants — especially the larger ones — invest a ton in making sure their new managers are successful. Take Olive Garden, for example.
As a Manager-in-Training, you'll participate in an extensive, 12-week training program. During the first phase of the program you'll receive an 8-week concentrated overview of each employee and manager position. In the second phase you will travel to the Darden Restaurant Support Center in Orlando, Florida for four days of additional specialized training. When you return from Orlando, you will begin the final phase of focused training as a Culinary, Staffing & Training or Service Manager. You will be assigned a coaching manager that will act as a mentor for the remaining three weeks of your training. During this period you will experience, hands-on, day-to-day operations in managing the department that you will be responsible for leading upon graduating from the MIT program.
Most restaurants can't dedicate this much time and money to staff training, but once you've hired the perfect restaurant manager, you need to take advantage of every opportunity to get them on board and up to task if you want to set them up for success.
In this guide, we'll outline how to train your restaurant managers in-house and point you to restaurant management courses and resources to help you train managers effectively.
Want to create a restaurant manager training manual as you go? Oh, cool — we already made one for you. Use this training manual template to create your own manager training guide.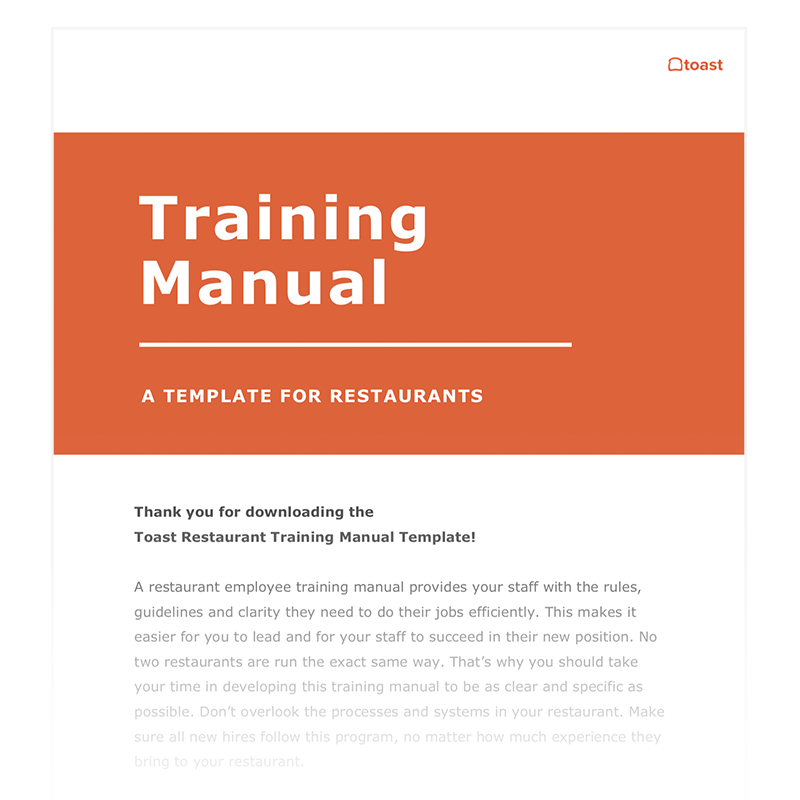 Training Manual Template
Use this restaurant training manual template, a customizable Word Doc, to provide your staff with the rules, guidelines, and clarity they need to do their jobs efficiently.
Download
1. Teach Managers Your Business's Values
When you sit down with your new manager on day one to go through your restaurant's employee handbook, discuss your restaurant's core values, how you and your staff enact them, and why you're passionate about the work you do.
Why? Today's restaurant workers have strong values. They're more concerned about the impact of their choices on larger world issues, and this is a big motivator. Nearly 9 out of 10 millennials (those between the ages of 22 and 37) would consider taking a pay cut to work at a company whose mission and values align with their own, according to LinkedIn's Workplace Culture report.
Taking the time to sit with a new employee to kick off their training will instantly set you apart from the competition. Showing staff how they impact the larger success of your restaurant will motivate them to show guests why it's such an awesome place. This small gesture early on can help a person feel greater pride in their workplace, which is key for employee retention. Happy employees stick around longer, become brand ambassadors, and are more inclined to provide outstanding customer service.