DISCLAIMER: This content is provided for informational purposes only and is not intended as legal, accounting, tax, HR, or other professional advice. You are responsible for your own compliance with laws and regulations. You should contact your attorney or other relevant advisor for advice specific to your circumstances.
Whether you own, manage, or work in a restaurant, it's a lot of work. Sometimes, to help you get by, you need advice, resources, or a voice to get that extra insight or confidence from. Fortunately, there are plenty of restaurant blogs and websites that can help.
Take a quick look at these questions:
Want to learn how to run and market your restaurant with greater confidence?
Looking for restaurant management tips and advice from other restaurant people?
Ever find yourself struggling to find a source of truth for tips on restaurant technology, metrics, and staffing?
Think you have time in your busy day to research restaurant publications, never mind read them?
Your answer to that last question might be a no – restaurant people are always busy and on the go – but chances are your answer to the first three is a resounding yes.
One of the best ways to continue to improve your business, increase customer satisfaction, and give your profits a kick is to make the time to learn from others and dig into best practices.
So you don't have to spend your precious time searching, we put together this list of the top nine restaurant management blogs and publications every restaurateur should be following. They're beautifully designed and brimming with resources and industry insights – all to give you the answers you need to get by and succeed.
FastCasual.com reports on the important news, events, trends, and people in the ever-growing fast casual restaurant industry segment.
Their team covers the latest food and beverage trends, top markets for growth, and hot concepts – alongside a wide range of topics including franchising, operations, marketing, and technology. Plus, their content is multi-format, featuring articles, interviews, slideshows, videos, research, and more.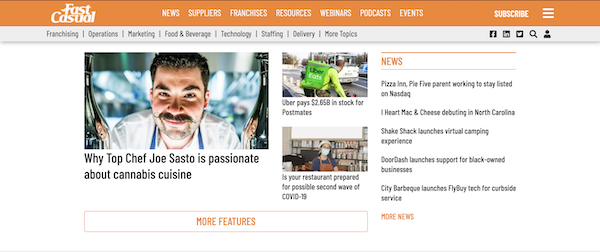 Our favorite article: What you need to know about the most popular food delivery apps
Author Daniel Mattia takes an unbiased approach to comparing the biggest food delivery apps in the world. He writes, "I set out to create a fact-based analysis of Postmates, Doordash, Grubhub, and UberEATS, four of the most popular food ordering apps for restaurants. This analysis is meant to serve as a guide for members of the foodservice, freelance and app design communities, as well as anyone else interested in the human element to the many segments of the on-demand economy."
Restaurant Business is a leading media brand in the commercial foodservice industry, with a focus on entrepreneurship, innovation, and growth.
Their team writes on industry analysis and trends, alongside the latest news, expert advice, and growth strategies for restaurant owners. The goal? Show restaurateurs how to capitalize on trends, new concepts, changes in consumer tastes, new purchasing strategies, and best practices.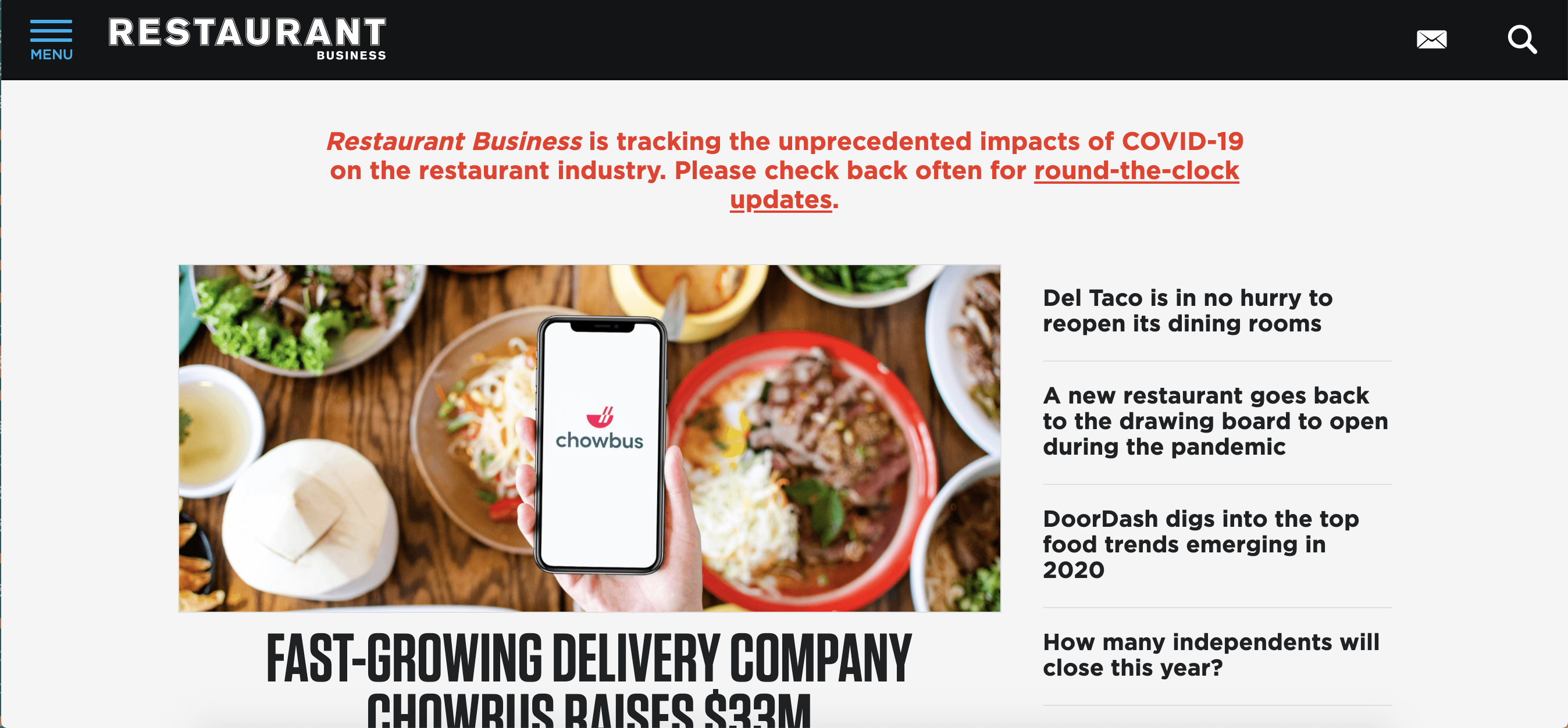 Our favorite article: The Top 500 Chains
In this feature, the Restaurant Business team dives into Technomic's Top 500 Chain Restaurant Report, ranking the world's biggest restaurant concepts and sharing insights from the wins and losses of industry giants.
Open for Business is the blog by OpenTable, sharing weekly news roundups, tips, resources, and Q&As to help restaurateurs run successful businesses.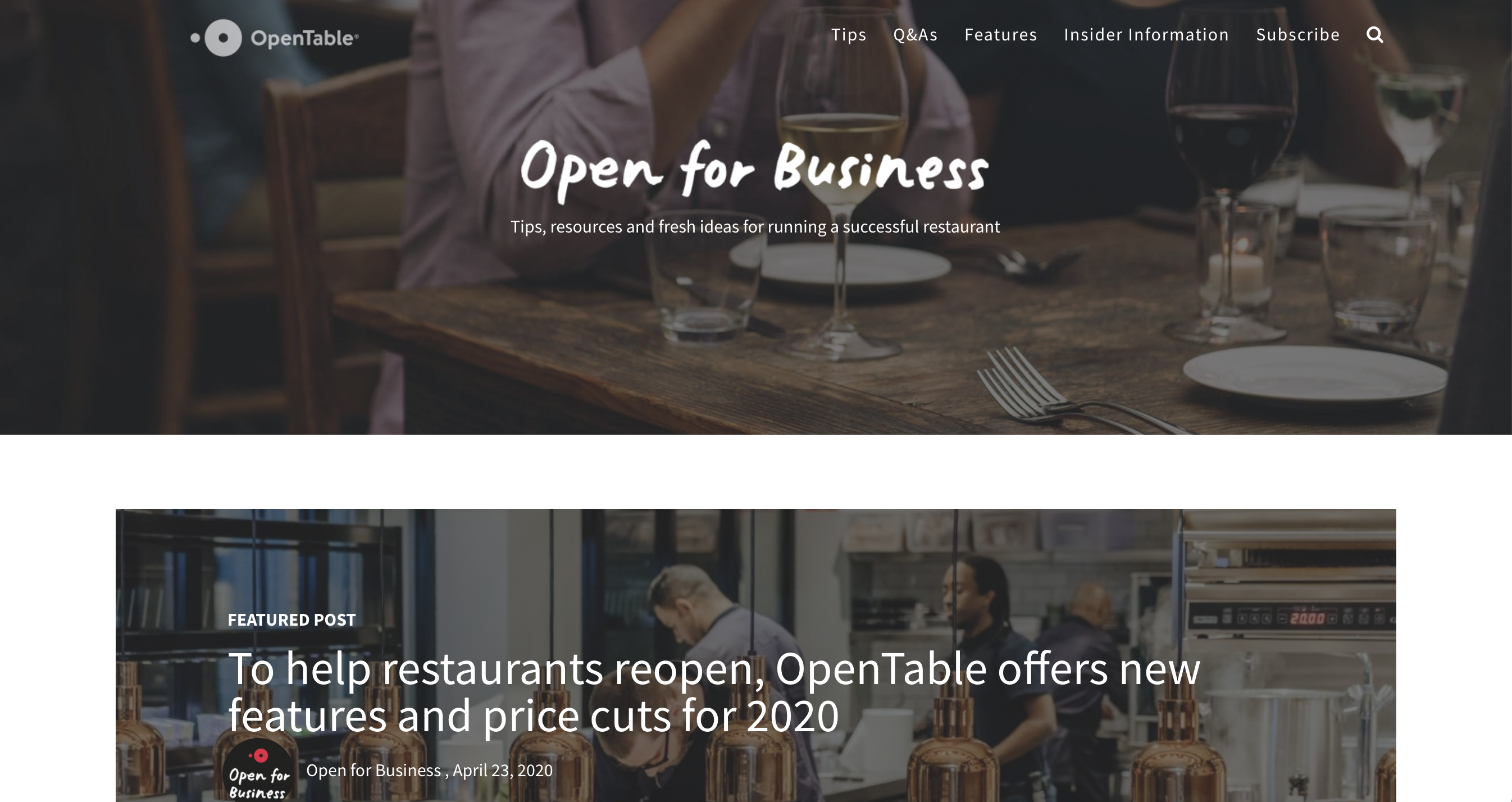 Our favorite article: 12 Ways to Make Your Restaurant More Sustainable
In this article, Olivia Terenzio shares insights on sustainability from conversations with three restaurant operators who've made sustainability a top priority. She writes, "In our conversations with these leaders, we learned that changing restaurant operations to be more sustainable is a process and an evolution, and your team must be committed to make it work."
Modern Restaurant Management is a website dedicated completely to bettering your restaurant, encompassing the topics of marketing, operations, design, equipment, finance, and law.
It's updated frequently, so you won't miss a beat of info that might help your restaurant. There's also video content – a great tactic for engaging website visitors.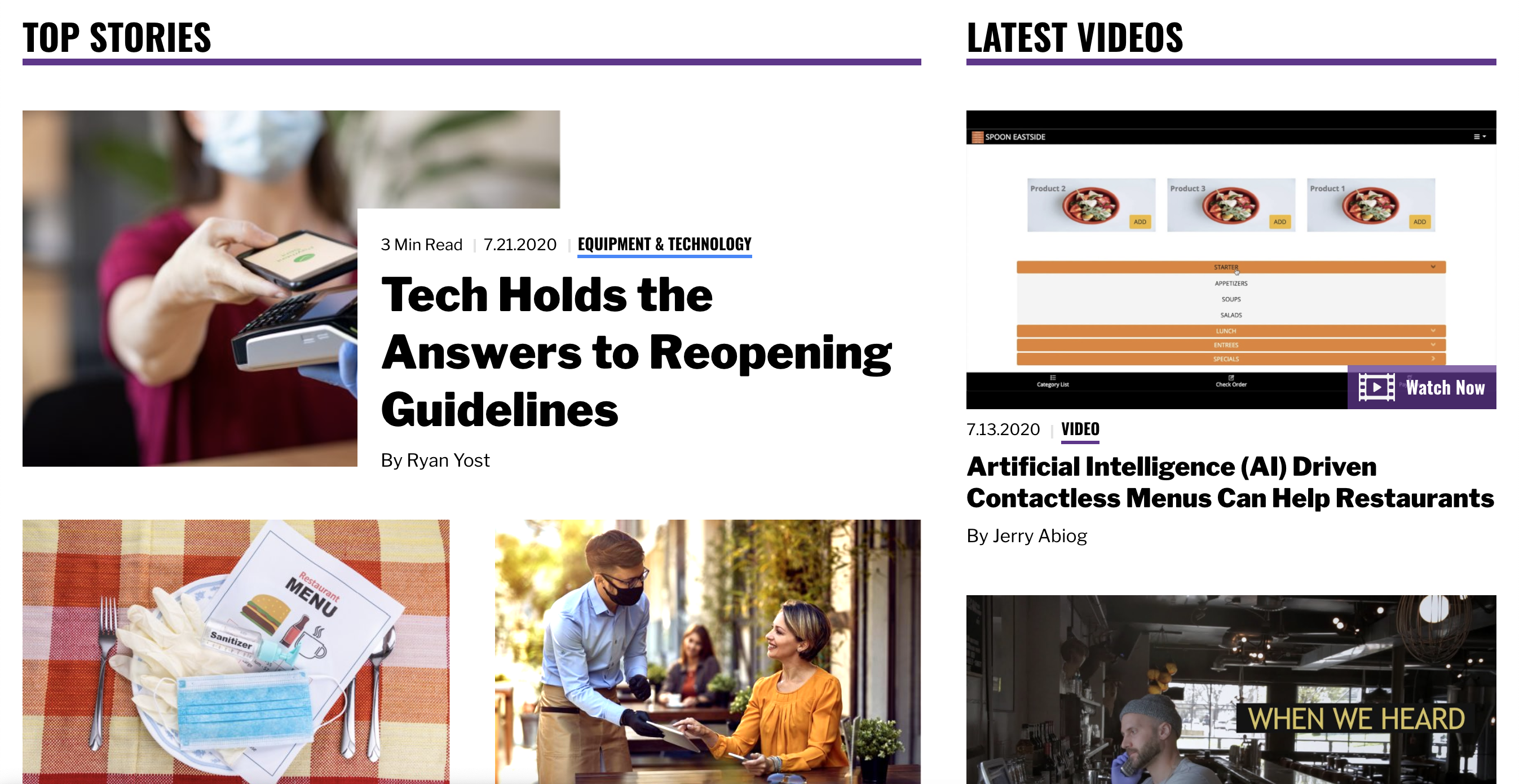 Our Favorite Article: Tips vs Service Charges: Navigating the Murky Waters of Restaurant Gratuities
This helpful article breaks down the difference between tips and service charges, helping employers make the correct distinction – and avoid penalties.
Uncorkd is a helpful tool for restaurants, and their blog is even more helpful for bars and FSRs that sell alcohol. The blog also has a weekly restaurant industry roundup known as "The Check Out: Weekly News Bites for Restaurants." Instead of scouring Google News or digging through the internet for the latest in restaurant news, these weekly updates will do just fine.


Our favorite article: The Ways to Win Over Millennial Drinkers and Diners
Uncorkd really does understand the problems facing restaurateurs in today's competitive environment. Appealing to millennials is a wise move for restaurateurs. Not only does this demographic make up a large amount of the population, but securing a repeat visitor at a younger age can create a regular for life. Their tips are honest and useful, and will get more guests in their twenties coming to your restaurant in no time.
Civil Eats shares daily news to help people think critically about the American food system. They publish stories that shift the conversation around sustainable agriculture in an effort to build economically and socially just communities.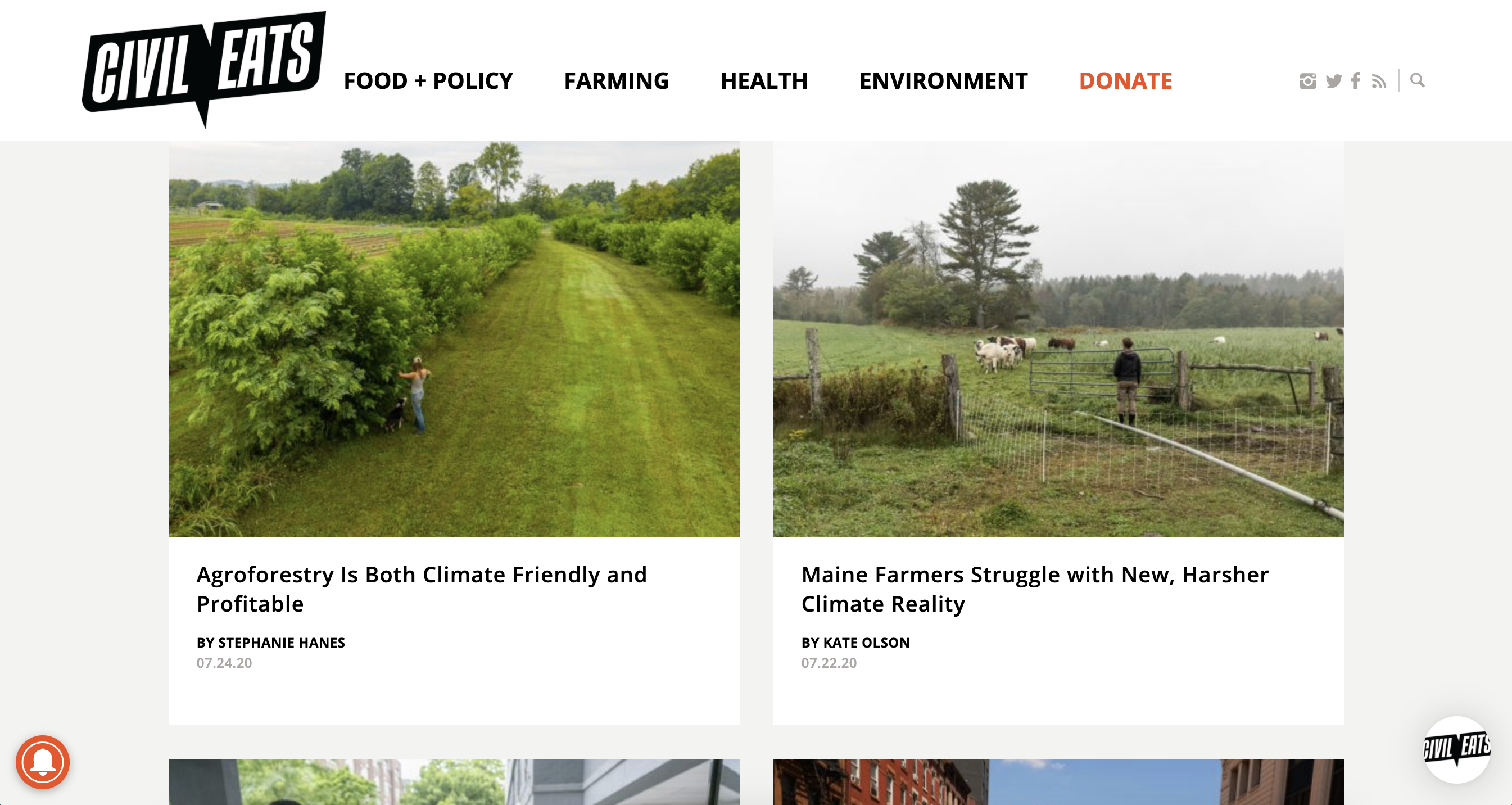 Our favorite article: Behind the Rise and Fall of Growing Power
This feature by Stephen Satterfield digs into the downfall of Growing Power, an influential Milwaukee-based non-profit, and raises larger questions about the risks of scaling up urban agriculture in today's complex philanthropic world.
The BentoBox Blog is dedicated to extending hospitality online, empowering restaurants everywhere through informative how-to's, hospitality news, in-depth features, and more.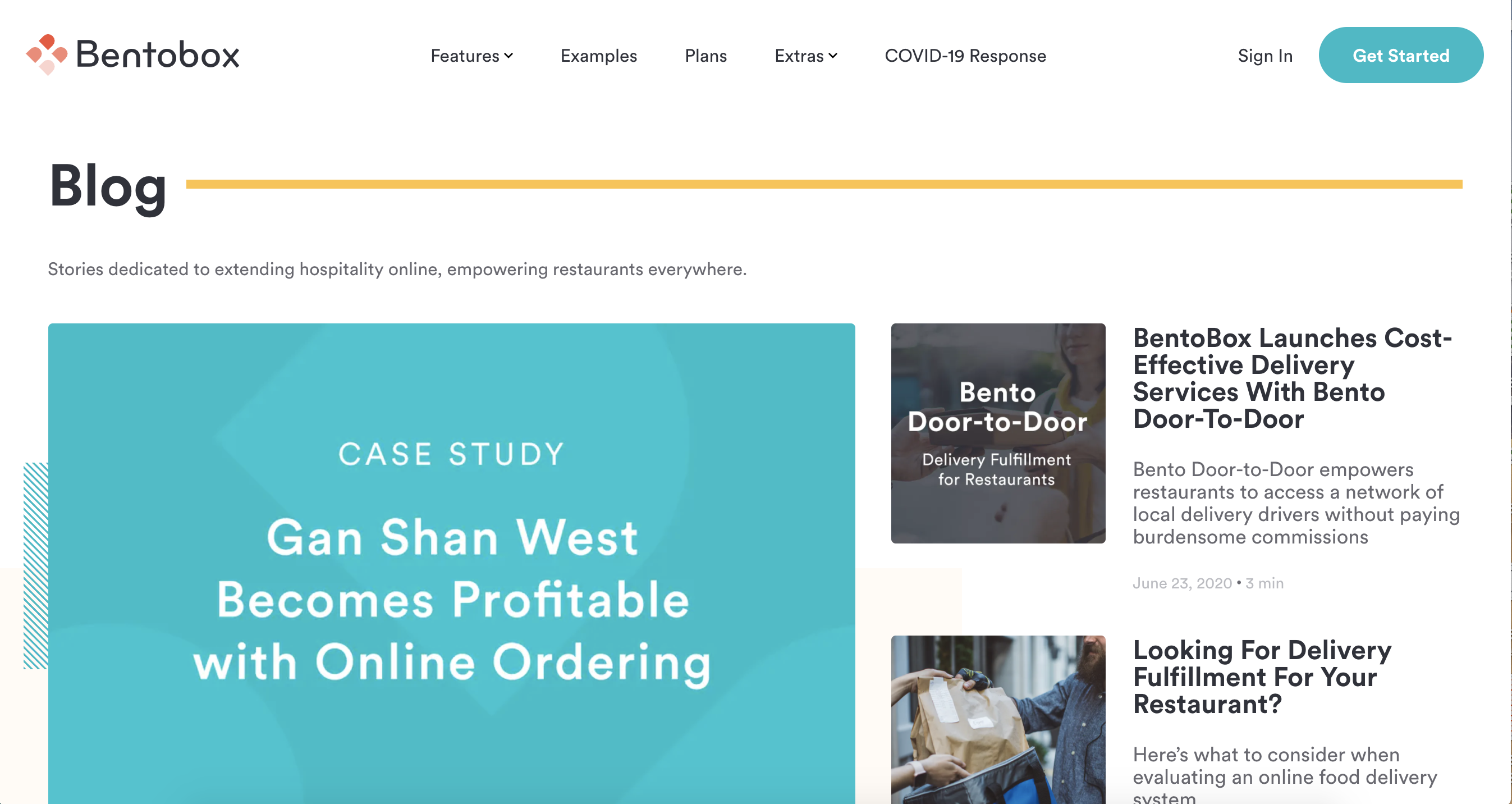 Our favorite article: The Best Restaurant Websites of 2020
Every year the BentoBox team puts together a list of their favorite restaurant websites based on a set of criteria: overall design, attention to detail, and the unique features that restaurants use to create a powerful first impression to visitors. A helpful place to look if you're looking to get inspired.
Restaurant Hospitality is a blog and magazine with a smorgasbord of full service restaurant news, menu advice, and restaurant management tips. Chefs, restaurant owners, and restaurant consultants all post here, offering an assortment of unique views on the restaurant hospitality experience. New articles are published several times a day and feature restaurant events, growing food trends, back of house advice, and top chef inspiration.

Our favorite article: How to Improve Your Profitability: Notes From The Road
Chef Adam Weiner appeals to owners to stop crunching numbers and start looking at your establishments from the customer's perspective. He outlines his worst experiences at restaurants, including menu confusion, mobile-unfriendly websites, and empty coffee pots. Stay away from these mistakes to keep your business profitable.
Eater has become a massive media brand, with a site focused on national news, stories, and guides, along with 25 local sites in the United States, Canada, and England.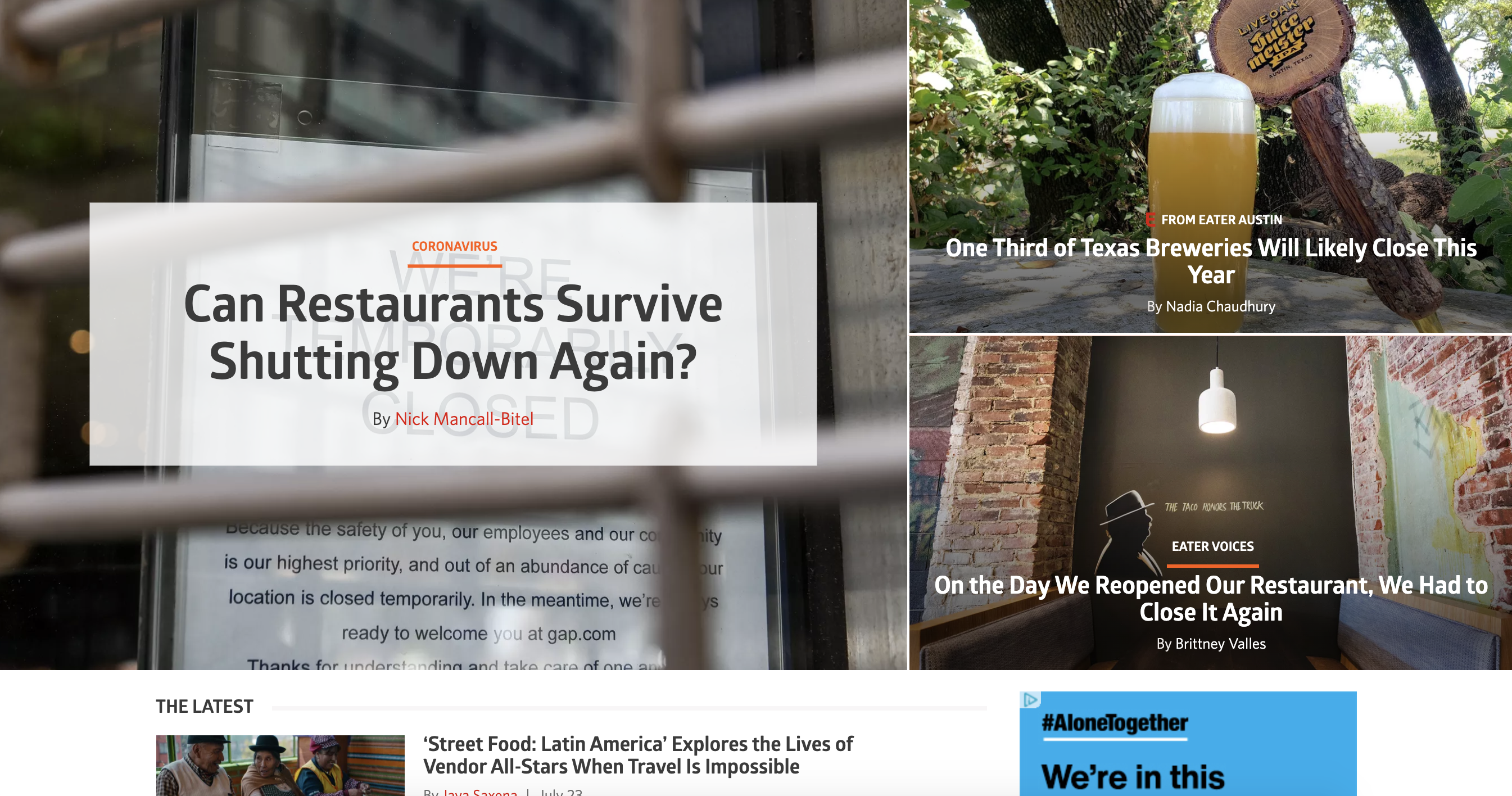 Our favorite article: Restaurants Reopening Promise a 'New Normal.' 'Normal' Was Never Something To Aspire To.
With protests and marches occurring across the country, alongside restaurants reopening in the midst of a global pandemic, writer Meghan McCarron asks who reopening is for and why we would want to return to "normal."
She writes, "Large, peaceful protests are met with militarized police presence; protesters allege the police initiated the violence, and people whose businesses were looted allege the police ignored them in favor of the peaceful protesters. As ever-more-draconian curfews came down across the city with little warning, restaurants rushed to shut their doors and workers were trapped by transit shutdowns. Other restaurants were damaged in the uprisings and looting. While restaurant owners, bleeding cash and reeling from months of closure, may not all recover, to focus on their plight sounds more like fighting for brunch than for black lives. The question weighs heavier than ever: Who are we reopening for?"
What Are Your Favorite Restaurant Management Blogs and Websites?
Bookmark these blogs and websites as resources, subscribe to them, and regularly visit them to get inspired and keep up with what's going on in the industry. And subscribe to On the Line to get real stories, dispatches from industry folks, and not-so-typical advice for the hardest-working professionals in the world. Right in your inbox.
Related Restaurant Resources