It's been a long day. An angry customer wrote a scintillating review on Yelp. Your favorite waitress just announced that she's resigning. But no matter how terrible your day was, you will always need to check your restaurant reports.
Gone are the days of updating an Excel sheet and staring at cells of numbers for hours on end, manually tracking restaurant data. Most point of sale systems now offer reporting integrated into the software. Software as a service or SaaS POS systems, in particular, allows you to access these reports in real-time, in the cloud, and on any device, rather than only on the back-office system.
Even more advanced POS software allows you to customize and prioritize depending on the restaurant metrics most important to you, whether you're the CEO, restaurant owner, or restaurant manager.
To seek out guest feedback, 29% of restaurateurs use manual comment cards, another 31% ask for feedback on their printed receipts, and 25% use a rating scale in digital receipts, according to the 2019 Restaurant Success Report. Toast Restaurant Technology Industry Report. 73% of diners agree that restaurant technology improves their guest experience, and 95% of restaurateurs agree that restaurant technology improves their business efficiency.
How are you using POS software to streamline your reporting? What reports are saved on your dashboard? What reports are you running this week to monitor trends in your restaurant?
Let's take a look at the top 10 reports every restaurant owner should run, often, with their restaurant POS software.
1. Restaurant Sales Reports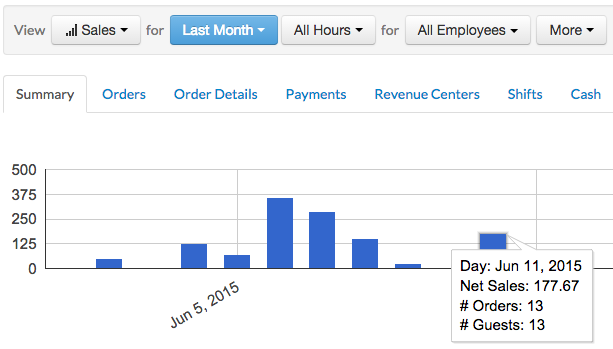 Of course, number one is sales. Your restaurant sales are the cornerstone of your business. The sales report dashboard on your POS provides an overview of all transactions completed during a selected time period. It should also include net sales, gratuity, tips, total guests, table turn time, and a breakdown of all service types and payment methods. The sales report on your dashboard should provide a scannable overview of the restaurant performance metrics you really care about, at a high level. From there, you can drill down to specific categories such as individual items sold, tips collected, credit card types, sales by a server, and more, to determine your strategy for saving money and optimizing your menu.
2. Sales Exceptions Reports
Sales exception reports allow you to quickly view an overview of all voids, discounts, and refunds. A blank exception report indicates that your team is running efficiently, whereas a clogged exception report may indicate that your team needs extra training. The reports also allow you to identify the specific servers and managers who are giving and approving sales exceptions — voiding receipts, discounting food, and offering refunds. With this report on your POS dashboard, you can see the total number of sales exceptions, total amount, and void percent that each of your staff members has given, and closely monitor your staff's productivity.
3. Labor Reports
Labor reports provide detailed insight into how your labor is translating into sales. The report on your POS dashboard should provide a summary of each of your employees, including labor cost percentage. That waitress that's leaving? You can run a report on her real-time productivity to see if she's slacking off during her last two weeks. You can also export payroll reports, pool tips, edit time entries, and compare her to your least favorite waiter to determine if your favorite waitress was as awesome as you thought she was.
4. Payouts Reports
Depending on your tipping policy, your waitstaff may be taking payouts at the end of every shift. According to the U.S. Chamber of Commerce, employee theft in the restaurant industry is between $3 and $6 billion dollars. When your staff has easy access to the cash register, and they think they're not being watched, they may easily take out an extra quarter — or 10 — for their payout. With an integrated POS system, you can track these payout reports alongside your labor reports to determine your most (and least), productive employees.
5. Product Mix Reports & Menu Reports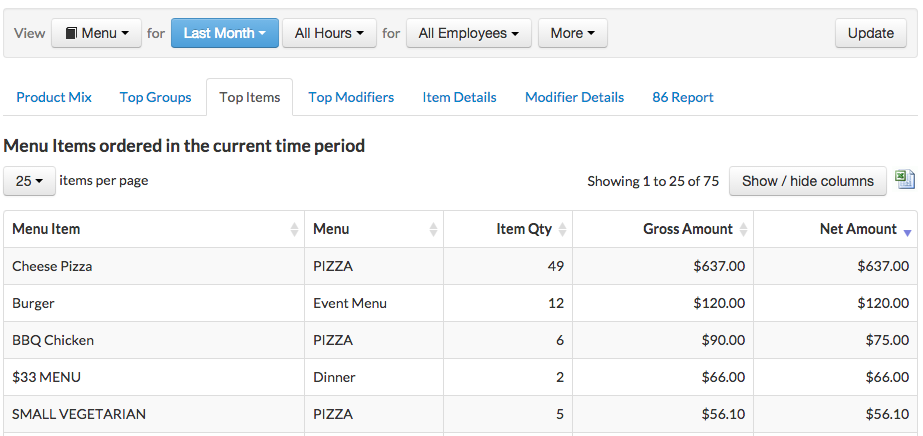 A restaurant's success centers around the food it makes, right? After you've hired the perfect chef and labored over a menu, it's time to track how it's performing. Product mix and menu reports automatically track menu sales and use that data to show you exactly how your menu items are affecting your sales. Identify the top menu groups, items, and modifiers. If you want to drill down even more, check out how your menu is performing by time and day of the week. Every day, easily identify the items that are directly contributing to restaurant sales — and consider dropping those that aren't.
6. Accounting Reports
In this world, nothing can be said to be certain, except death and taxes. Benjamin Franklin was onto something there. As the daughter of a CPA who managed the accounting for several restaurants, I know how stressful tax season can be, especially when your reports need updating and your accountant is pulling all the stops for you. With your POS software, you can track a restaurant's assets, liabilities, revenue, and expenses. This general ledger report will do all your bookkeeping for you, so all your accountant has to do is prepare the tax return, saving both you and her money and time.
7. Guest Behavior Reports
If your POS system has a customer relationship management (CRM) system that captures your customers' contact information and order history, you can track guest behavior. Use customer reports to identify customers who visited your restaurant the most or spent the most amount of money, and then send them a targeted email as thanks. Do a deep dive into individual customers, viewing detailed information like their average check, days since the last visit, and most frequently ordered items, to learn more about the guest experience at your restaurant.
8. Gift Cards & Rewards Reports
Offering gift cards and rewards at your restaurant? You must be tracking how these campaigns are running. The gift and rewards report gives you insight into all active rewards and gift cards, including information about all transactions using these cards. View the current balance or points, first and last transaction date, and a detailed breakdown of all gift and rewards cards. Why should this be on your dashboard? Because it's important to gauge the effectiveness of your loyalty program at your restaurant. If it's not working, check out these 5 reasons why.
9. Kitchen Reports
Often, a restaurant's productivity is measured by front of house activity. However, if you have a busy kitchen, it's equally (if not more) important to track their success. If you have POS software that integrates with kitchen display systems, you can track tickets by hour (by net sales and average fulfillment time), tickets by fulfillment time (and by specific station), and ticket details, which gives you an overview of each ticket that comes to the kitchen as well as the fired time and fulfillment time. KDS reporting, alongside labor reporting, can give you a full view of what's going on in your back of house.
10. Catering & Delivery Reports
Catering and delivery may be a big part of the service at your restaurant. For example, pizza chains rely very heavily on smooth deliveries, while burrito restaurants may focus on catering. The catering and delivery reports should outline all upcoming orders that need to be fulfilled, sortable by time periods, items or products, as well as required delivery dates. With Toast, for example, you can see pending orders that have been submitted for delivery that have not been dispatched to a driver, in progress orders that have been dispatched to an on-duty driver, or delivered orders that have been delivered and rendered complete. You can then measure the time spent on delivery orders, to make sure your drivers are optimizing their time.
What Reports Do You Run on Your POS Software?
This is only a handful of the many reports you can run with your restaurant POS software. With cloud-based POS software, all of these reports can be fun in real-time, from any internet-connected device, so you can know what's happening right now at your restaurant, even if you're on vacation. As a point of sale system for your restaurant is a big investment, you want to make sure that you're making the most of all the features it has to offer — especially when it comes to reporting. What are your favorite POS reporting capabilities? What would you like to see in the future? Share your thoughts below in the comments!