No two restaurants are run the same. That's why employee training is so important: Even if a new hire has been in the industry for a few years, you'll still need to train them on the nuances and specifics of your restaurant.
And unfortunately, it's all too common to resort to the "fail fast" approach for getting restaurant staff up to speed – where employees make mistakes often but are quick to learn, but at the potential expense of the guest experience.
A surefire way to make sure your team is on the same page is to create a stellar restaurant training manual. A training manual provides your staff with the rules, guidelines, and clarity they need to do their jobs well. And this makes it easier for you to lead and for your staff to succeed. Heh. See what we did there?
Why Use a Restaurant Training Manual?
When you're caught up in the hustle of the day-to-day, a training manual acts as a guiding light and can alleviate some of the stresses that go along with training new restaurant employees.
Not only does it make your job easier, it can also help determine the success or failure of a new employee.
You've heard it a million times before: Staffing is a major issue for restaurants. That's why you should take your time developing your training manual to be as clear and specific as possible. Don't overlook any processes and systems you have in place at your restaurant. Make sure all new hires follow this program, no matter how much experience they bring to the table. Think of every new employee as if they're new to the game. It'll lead to a well-equipped and productive restaurant team.
Whether you're creating a restaurant employee training manual for the first time or looking to revamp your existing one, we've got you covered. In this guide, we break down the key elements of an effective training manual and how you can create one for your restaurant.
Follow along by downloading the restaurant training manual template.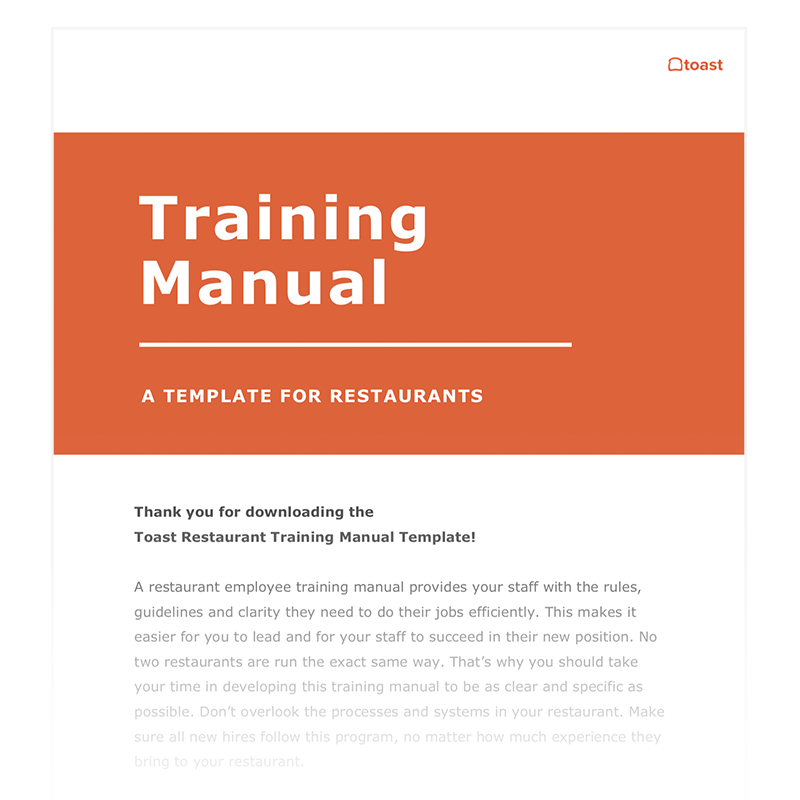 Training Manual Template
Use this restaurant training manual template, a customizable Word Doc, to provide your staff with the rules, guidelines, and clarity they need to do their jobs efficiently.
Download
Cover Page & Table of Contents
Before you crack open your restaurant training manual, start with the cover page. Basic branding and information is important here.
Add your restaurant's logo as well as information like your name, phone number, email address, and the restaurant's address.
Once someone opens up your training manual, the first thing they should see is a table of contents. This will help employees know exactly where to find whatever info they might need as they get ramped up. Using page numbers will be helpful here.