Think about it: When you're trying to make a good first impression with a new hire, is it better to have them serve tables or get cooking on day one, or send them home with a training manual and some homework? As it turns out, a short training period can go a long way and have a huge impact on employee happiness.
Training should go beyond an employee's initial onboarding. Ongoing on-the-job training and skills-based training not only keep restaurant staff clocking in day after day, they help employees see the industry as more than just a revolving door. Professional development training helps you show staff it's possible to build a long-term, viable career path in the restaurant industry.
In this how-to guide, we take a look at training's impact on staff retention and do a deep dive on all things training for new restaurant hires, from training programs you can offer to engagement strategies and so much more.
The Correlation Between Employee Training and Staff Turnover
According to the National Restaurant Association, there are currently 15.3 million employees in the restaurant industry. And there are estimated to be 16.9 million jobs in the restaurant industry by 2029. Despite this growth, the industry is seeing all-time-high rates of staff turnover, at a whopping 75% (based on results of the 2019 Restaurant Success Report).
Why? It's mainly because many restaurant employees feel that they're in a job they see as temporary, leading, eventually, to a transition to larger career goals with clearer avenues for professional growth.
It makes sense — who would want to be stuck in the same role for the rest of their lives without a way forward? But just as a career in law or education can be traced upwards with professional accomplishments and milestones, so can a career in the restaurant industry. It's just not super common right now.
Sure, you'll find employees who are there to simply clock in and clock out, but don't let that stop you from providing your team with opportunities. They really do want them.
A 2019 survey by TalentLMS on the state of training in the food and beverage industry reported that 62% of restaurant employees said a lack of training would make them leave their company.
Restaurant employees want more and better training for their jobs. They want more chances to move up within the restaurant and advance their careers. And while training and professional opportunities benefit your staff, they could also be the answer to your staff retention challenges.
What's the Difference Between Onboarding and Training?
Before we get into the weeds of employee training, let's answer one question: What's the difference between onboarding and training?
Onboarding is part of the training process, but you can think of it as everything that has to happen between handing over the offer letter and getting someone to their station. Onboarding activities usually happen during an orientation shift and can include:
Collecting and submitting important paperwork like W4s and I-9s
Setting up direct deposit
Outlining restaurant and team policies
Setting up benefits
Setting up the employee in your tech systems
Onboarding might also include some initial training, but it's usually a one-time process. Training, meanwhile, should start at the beginning and be ongoing throughout a staff member's tenure at your restaurant. It's the process of getting a new employee up-to-speed and ready to start in their role, but it shouldn't end there.
Regular on-the-job training and professional development have a positive impact on employees' confidence, motivation, loyalty, and performance levels.
Onboarding is important to getting a new hire going. Training takes things to the next level. It's essential to an employee's ability to succeed in a role, now and in the future.
---
Read this next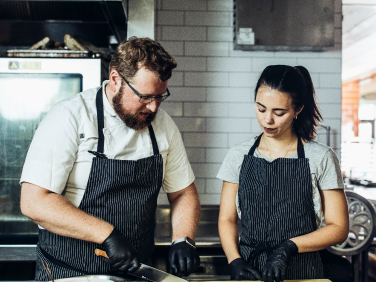 How to Onboard a New Restaurant Employee
A good onboarding process shows your new restaurant employee you care. Use this onboarding checklist to go above and beyond for your new hire and increase employee retention.