DISCLAIMER: This content is provided for informational purposes only and is not intended as legal, accounting, tax, HR, or other professional advice. You are responsible for your own compliance with laws and regulations. You should contact your attorney or other relevant advisor for advice specific to your circumstances.
Line cooks are the mighty force that keeps a restaurant running. Their skill set, passion for great food, and dedication to the team are what makes things work in any hot, sweaty, stressful restaurant kitchen. We'd be screwed without them. We kind of are.
As the restaurant industry faces a serious labor shortage, hiring for back-of-house roles has never been harder. Today, the promise of even a 25 cent increase in pay from another restaurant could be enough to lose a great line cook to the competition.
This hiring guide will help you find and recruit the kick-ass line cooks who will keep your restaurant's wheels turning.
Interview Questions Template
With culture questions, experience questions, and situational questions, this customizable Word doc will guide your interviews with prospective candidates.
Download
Types of Line Cooks to Hire
There are several types of line cooks you could bring onto your restaurant team, and the distinctions are important when you're hiring and setting pay rates and responsibilities. Depending on the size of your kitchen and menu, you might find yourself needing a mix of a few cooks.
Traditional line cook
Line cooks make up the bulk of cooks in the restaurant industry. They're found in corporate restaurants, hotels, and smaller independent restaurants. They're usually hired by experience and pay, with an assigned title of cook #1, cook #2, cook #3, etc. Cook #1 would be your most experienced and skilled, and line cooks, in general, have more experience and responsibilities than other cooks on this list. While they'll sometimes work a specific station, they often do just about anything and everything needed.
Short order cook
Short order cooks pump out food at an alarmingly fast rate. They're the least skilled in the "traditional" definition of a chef but have something few others have: speed. Short order cooks assemble and cook items and ingredients that are simple, ready-to-make, and don't require a lot of prep or technique. You'll hire them for a burger restaurant, simple breakfast spots, diners, or the more straightforward stations in your kitchen.
Prep cook
Prep cooks, as their name implies, handle the kitchen's daily food preparation. Prep cooks are often new to working in a kitchen, which is why you'll find them learning the basics, like chopping, mincing, labeling, defrosting, and generally preparing the kitchen to handle meal service.
Appetizer cook
The appetizer cook is responsible for preparing soups, salads, pasta sides, vegetables, and sometimes hot appetizers. This role is sometimes referred to as "vegetable cook."
Fish cook
The fish cook handles all seafood. At the chef level, they're known as a poissonier. Fish cooks will sometimes be responsible for ordering and organizing daily inventory and specials with your seafood vendor.
Fry cook
The fry cook manages the fryers and occasionally the grill station – particularly at fast food restaurants.
Grill cook
Grill Cooks are responsible for grilling – mainly meat and burgers, but it's not uncommon for veggies to fall onto their station as well.
Sauté cook
On top of sautéing all dishes that need it, the sauté cook is responsible for preparing the sauces that accompany those dishes and sometimes hot appetizers.
What Makes a Great Line Cook?
A great line cook is responsible, passionate, and reliable. They can handle pressure and, in fact, thrive on it. The busier, hotter, and more demanding service gets, the more they step up their game.
At a basic level, you need a line cook you can count on to show up. If a cook shows up late or misses prep, someone else will need to cover their work, delaying the entire kitchen's flow. Reliability is one of the toughest challenges in retaining great kitchen staff right now, and it's often related to pay, benefits, and working conditions. Read more on that in our retention section.
Line cooks need to be organized and clean. When the tickets start coming in, they need to be able to focus on the food without worrying about chopping up their mise en place. The last thing you want a line cook to be doing during the rush is scrambling around to get clean dishes.
And more than anything, it's a win if you can find a line cook who cares deeply about the experience they're creating for people through food. This type of drive will motivate anyone to get through a demanding shift.
Depending on your ability to ramp up and train your staff, you might be okay hiring a line cook with less of a skill set who's more of a behavioral fit for the team. If you're short on staff and need to fill a seat ASAP, you'll need a line cook with excellent knife skills or experience working multiple fryers. But if you've got the ability to provide skills training, you can focus on hiring for long-term fit over existing skills. To figure this out, talk to your current kitchen team. Ask them about the gaps on the line right now, the skills needed to fill them, and which skills they'd rather train for.
Hiring a Great Line Cook
If your restaurant depends heavily on line cooks, do whatever you need to do to hire and keep the good ones. Everyone wants to be a chef these days, but no one wants to start at the bottom, so line cooks are more difficult to find than they once were. Become the restaurant that young cooks know will be a stepping stone for their careers and you'll never struggle to find a supply of eager applicants.
On the flip side, if you're looking for a more seasoned cook, consider what's going to attract them. Senior staff don't leave for 25 cents more per hour like junior staff do — they leave because of working conditions. Seasoned cooks typically have families and more responsibilities. Respect their needs for time off. Give them schedules two weeks in advance. Appreciate the hard work they're putting in; otherwise, they'll put in that work elsewhere.
Writing a line cook job description.
Outside of team culture and behavioral qualities you might look for in an employee, the role of a line cook requires certain skills.
Line cook duties and responsibilities.
Food prep: Depending on the number and types of line cooks you have on the team, a new line cook will be responsible for prepping ingredients relevant to their station. Advertise for skill sets within your area of need (e.g. preparing fresh fish or cuts of meat, uniform chopping skills).
Food safety and hygiene: Line cooks need to maintain organized and clean food stations to ensure food safety standards. Advertise for any food safety certifications you require your employees to have.
Cooking with precision and speed: Explain the type of cooking the line cook will be responsible for. This could include the types of recipes they might need to follow, specific station requirements, or even a description of the type of lunch or dinner rush you experience and what that means for the pace of the work.
Communication and teamwork: Kitchens are tight, hot, and often dangerous spaces to work in. Line cooks need the ability to communicate and coordinate with their team, the chef, and the front-of-house staff. This includes showing up on time and working pre-shift, during-shift, and post-shift in an effective way that builds camaraderie with their team.
Line cook skills.
Skills you might advertise in a line cook job description include the ability to: Keep a professional attitude under pressure
Work in a fast-paced environment while keeping to deadlines and with precision
Be consistent in preparation, cooking, and presentation skills
Displays soft skills, such as listening, empathy, and self-awareness
Show speciality skills related to their station
Need a job description template to put these in? Cool, we made one for you.
A line cook salary.
According to the Bureau of Labor Statistics, the average hourly wage for a restaurant cook in 2018 was $13.26. Of course, this varies by restaurant type and state to state, and of this group, cooks in California made the highest hourly income. In terms of career progression and what you promise for salary growth, also in 2018, the average hourly wage for a chef was $23.30.
While brutal work environments and long hours contribute to the high turnover in back-of-house jobs, low wages are the biggest frustration for staff. If you can find a way to pay your kitchen staff a competitive wage, you'll be in a better position to hire the skilled candidates. Some restaurateurs are experimenting with new restaurant compensation models, like tip sharing and kitchen appreciation fees, to figure out how to make this work.
Where to look for line cooks.
You've got a ton of options.
Job sites are a great place to start, but you should also try advertising jobs across your restaurant's website, your social channels, on posters within your place, and even reaching out to local community groups. An employee referral program can also work wonders.
Reviewing a line cook resume.
A great line cook will have experience at high-quality restaurants and should have the proven ability to work cleanly and efficiently in a high-volume kitchen. But it's tough to find great kitchen staff today, so you might need to be flexible on some skills and train up on others.
Apart from the necessary skills and experience that align with the job needs, you should look for a few things in a line cook resume:
Experience in relevant roles within the speciality you're searching for
Experience at restaurants you know hold their cooks to a high standard
Extended tenure in previous restaurants
Specialization in the line cook role or more broad experience across a range of restaurant roles
Culinary training is likely a nice-to-have
Be flexible when scheduling calls and interviews.
Line cooks have a lot of job choice right now. You're busy, but be prepared to give your candidate several interview time slots, and even consider doing an open-call hiring hours to attract people who might be interested in learning about your business but don't want to commit to a full interview.
Questions to ask in a line cook job interview.
Here are a few of our favorite back-of-house interview questions to get you started:
Have you dined at our restaurant before? If yes, what was your experience like?
What's your favorite dish to cook and why?
What skills do you bring to the table that you believe will help us run an effective, efficient kitchen?
How do you ensure the quality of your work?
What made you apply with us and not another restaurant?
What's one thing that makes you want to stay working with a restaurant?
Offer a stage shift, but make it paid.
A stage shift is a chance for you to get to know a candidate's skills, experience, and behavior. It's also a chance for the candidate to see your kitchen team in action, so make sure they're on their game. Stage shifts should happen between an interview and a job offer, and you should keep them to less than a few hours. Instead of having a candidate work a station while they're staging, have them shadow one of your cooks and perform light prep duties at stations that are relevant to the role. In terms of compensation, get creative. Offer a free meal for two at the end of it or a generous gift card they can use whenever they want.
When hiring a line cook for your back-of-house staff, hold your hiring team to a certain level of quality while being flexible in your required skills. Hire the candidate who would be a better long-term investment rather than a short-term skill set. You'll find the right person.
Related Restaurant Operations Resources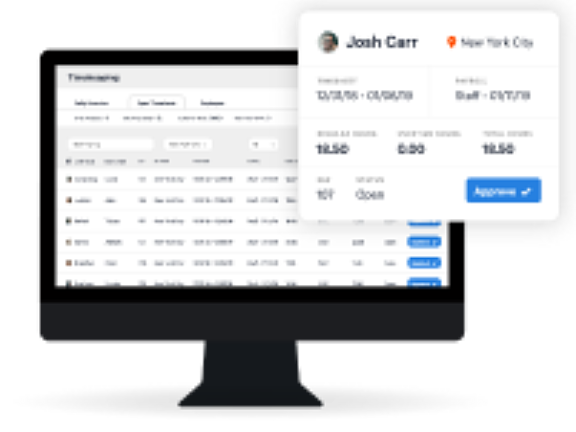 Learn how a better payroll system can save you time and make your staff happy.
Read now