DISCLAIMER: This content is provided for informational purposes only and is not intended as legal, accounting, tax, HR, or other professional advice. You are responsible for your own compliance with laws and regulations. You should contact your attorney or other relevant advisor for advice specific to your circumstances.
What should be included in a business plan for a restaurant?
Executive Summary
Company Overview
Industry Analysis
Marketing Plan
Operations
Financial Analysis and First-Year Projections
If you want to open a restaurant, you'll need to create a business plan. A restaurant business plan is the blueprint that outlines your entire vision, and it explains in detail how the new business will take shape and operate once the doors are open.
No matter where you're at in your restaurant ownership journey, your business plan will be your north star. Whether you're at the initial stage of considering opening a restaurant — thinking about what kind of food you'd serve, how you'd design the space, and how you'd want your customers to feel — or you're further down the line and it's time to start securing capital, finding investors and business partners, and thinking about real estate, you'll be referring back to your business plan constantly and it will keep you focused on the task at hand.
The Importance of a Restaurant Business Plan
A business plan provides business owners, stakeholders, investors, and leaders with an organized guide to how you'll make your vision for your new restaurant a reality, making sure that nothing is overlooked as you grow your business. When you're in the weeds with construction, licensing, staffing, and other operational stressors, your business plan will act as a roadmap and help you stay focused. Going forward without one can make the messy world of restaurant opening much tougher to navigate.
Restaurant business plans are also crucial for securing potential investors. In most cases, opening a new restaurant requires attracting some outside capital from hospitality investors or people who want to be your silent partners. Before they invest in your dream, they need to see that you've got a concrete plan for success.
The business plan shows investors that you've thought through every expense and every possible scenario. It provides them with a complete description of your plan — and why and how it'll succeed.
How to Write a Restaurant Business Plan (Description, Examples, Proposals)
Whether this is your first business plan or your 10th, it's always helpful to work off of a template designed for your industry. This restaurant business plan template contains all the most important sections of your business plan — you can download your customizable copy of the business plan template here, and read on to learn about the key elements that make a restaurant business plan successful.
Related Business Plan Resources
Restaurant Business Plan Template
No matter where you're at in your restaurant ownership journey, a business plan will be your north star. Organize your vision and ensure that nothing is overlooked with this free template.
Get free download
The Key Elements of a Restaurant Business Plan
Create a Branded Cover Page
Incorporate your branding with a cover page that features your logo, your brand fonts, and all of the relevant contact information.
Write an Executive Summary
The executive summary is the first section to write in any business plan. It introduces and summarizes your entire vision. This section should introduce the key elements of what will be discussed throughout the business plan, and should catch the reader's attention, make them feel invested in your idea, and entice them to keep reading.
An executive summary includes things like your restaurant's mission statement, proposed concept, how you'll execute on the plan, overview of potential costs, and the anticipated return on investment. This is also a great place to discuss your business's core values.
Write a Company Overview
In this section, you'll begin to explain all the elements that will define your proposed business.
The company overview introduces the basic information about the ownership structure, location, and type of restaurant, and then outline the vision for the customer experience — what's on the menu? What style of service will they experience?
You can also dive into how you plan to engage and retain great staff through good policies and a supportive environment.
Discuss your plans for the physical space of the restaurant in this section as well, including the layout, capacity, and hours of operation.
Finally, you can get into describing the restaurant's brand. What feelings will your restaurant's design evoke? What color scheme are you going for in your decor, and how will that translate to your online presence? Show that you've thought about it all already.
Include an Industry Analysis
Describe the existing conditions in the market sector that your restaurant will exist in, as well as in the specific location or area that you plan to open the restaurant.
This section should cover things like the growth of the local economy and industry, existing restaurants in the area, ongoing or upcoming infrastructure projects, nearby business and residential areas, and average foot and car traffic counts in the area.
1. Target Market
The restaurant industry is an extremely competitive landscape and finding your niche is crucial. What will make your restaurant stand out?
You should have a strong idea of who your restaurant will attract and who you hope will become your repeat customers. Describe your target market and how it compares to the restaurant industry as a whole in terms of diner demographics, characteristics, and behaviors.
2. Location Analysis
In most cases, aspiring restaurant owners don't have a specific location selected before they create and pitch the business plan, so focus on the general area or city you plan to open the restaurant and why you chose that specific area.
Be sure to include things like growth of the local economy, major citywide events, and infrastructure projects nearby.
Compare the existing market conditions to your intended target market. Potential restaurant investors will look at this section of the business plan carefully to make sure that the market in the proposed location aligns with the ideal customer profile.
3. Competitive Analysis
This section is where you dig deep on sharing which other businesses exist around your proposed location.
You'll be explaining the existing competitive landscape: Share the number of other restaurants in the area, paying particular attention to restaurants with similar concepts. Investors will want to understand what can make customers choose your restaurant over your competitors. What will make your food and service stand out? Will you be open for more hours per week than your competitors? Get into anything that will give your business an edge.
Using a competitive matrix — which you can find in this template — show that you have a keen understanding of what niche your business will serve within the existing web of businesses in your area.
Detail Your Restaurant Marketing Plan
The marketing section explains your strategy for promoting your restaurant before and after opening. If you're wondering where to start on how to market your restaurant, you can find a thorough guide here.
Identify specific tactics you will rely on before and after the restaurant is operational. If you're planning on working with a public relations manager, or launching a social media account to document the build-out of the restaurant and generate excitement, share that. If you've already got a sizable social media following on any platform, share that too.
Talk about which channels you'll rely on once you're up and running, whether it be email marketing, regular social media sharing, charity partnerships, or local TV or radio ads. Share if you'll be investing in a customer relationship management software to keep in touch with your loyal guests, or if you'll have some kind of loyalty program in place.
Put Together an Operations Plan
In this section, you should paint a picture of how the restaurant will operate day-to-day once it's open. Include in this section:
1. Staffing
What positions will you need and how many people do you expect in each of the different roles? How will you set yourself apart as a great employer? What will the approximate pay be for each position? How do you plan to recruit staff and what are the hiring criteria for each role?
2. Customer service policies and procedures
How do you expect to provide an excellent and consistent guest experience? What are the specific service values, policies, and procedures you will put in place and how will they be enforced or encouraged?
3. Restaurant point of sale and other systems like payroll
How will you track sales and inventory, provide takeout and delivery, manage labor, control cash, process payroll, and accept various payment types?
4. Suppliers
Where will you source your ingredients? Where will you buy equipment, including the one-time purchases and the things that'll need to be regularly replenished?
Complete A Detailed Financial Analysis with First-Year Projections
The financial analysis is often one of the last parts of a business plan. Investors expect to see a breakdown of how you plan to spend their money in the first year, as well as a comparison of the anticipated costs and projected revenue. There are a few major elements you should be sure to include in this section.
1. Investment Plan
In this section, you explain the initial investment you're hoping to receive and how you plan to spend the money in the first year. This will usually include kitchen equipment, furniture and decor, payroll, legal fees, marketing, and some working capital.
2. Projected Profit and Loss (P&L) Statement
The business plan is created long before the restaurant actually opens, so creating this profit and loss statement will require you to make some educated guesses.
You'll have to estimate the various costs and sales numbers included in a P&L based on the size of the restaurant, your target market, and the existing market in the area you've selected. You can use this interactive P&L template and guide to learn more about profit and loss statements and to create one for your future restaurant.
3. Break-Even Analysis
This one is pretty straightforward: Investors will want to know how much revenue you will need to bring in each month in order to break even once all of the various overhead and operational costs are factored into the equation. There are always going to be some variable costs, so make a note of what you expect those to be in your analysis.
Show how you expect to generate the required revenue, even in your slow months.
4. Expected Cash Flow
Your expected cash flow will depend on how often you expect to purchase inventory, the size of your staff and payroll, and the payroll schedule. Once your restaurant is operational, some months will be better than others. The cash flow analysis should help investors understand that, based on your expectations, your restaurant will be able to support itself even in the less fruitful months without requiring additional investments.
How to Present a Restaurant Business Plan
Once you've written your complete business plan, it's time to learn it inside and out. Investors will want to see that you're knowledgeable about every area of your business, and confident that you can pull it off.
When you feel ready, send off your business plan via email to anyone in your network who you think might be interested in investing in your business. Hopefully, you'll get some bites, and investors will want to meet in person to discuss the restaurant.
Some investors may want to see the information from your business plan in the form of a pitch presentation in addition to receiving the business plan as a printed booklet for their perusal. Create the presentation using a professional template from either Google Sheets or PowerPoint, and practice, practice, practice until you can do the whole presentation without referring to any notes.
Be prepared for every possible question you might be able to anticipate — and for those other questions that come out of left field, it's ok to be honest and say you'll find the answer and get back to them within a short period of time.
Restaurant Business Plan Template [Free]
Writing and presenting a business plan is no easy feat, but you don't have to go it alone. Download this free, customizable restaurant business plan template to get started.
Related Business Plan Templates
Restaurant Business Plan Template
No matter where you're at in your restaurant ownership journey, a business plan will be your north star. Organize your vision and ensure that nothing is overlooked with this free template.
Get free download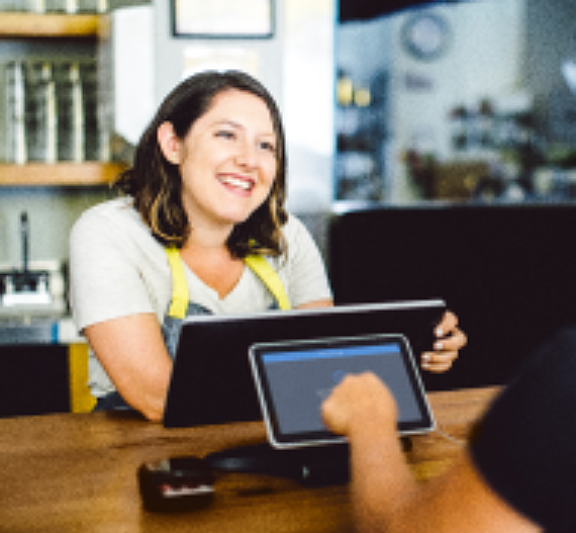 Get the right tools, technology, and advice — personalized for your restaurant.
Take the quiz