DISCLAIMER: This content is provided for informational purposes only and is not intended as legal, accounting, tax, HR, or other professional advice. You are responsible for your own compliance with laws and regulations. You should contact your attorney or other relevant advisor for advice specific to your circumstances.
Business Plan for Breweries Guide
Craft breweries are booming. While not every beer drinker has yet abandoned their favorite nationally distributed domestic, many beer lovers prefer the unique flavors of small-batch brews. A brewery business begins as a passion project for many but has the potential to become a lucrative, and relatively low-risk, bar or restaurant model.
Whether you're dreaming of an open-air beer garden or an industrial building with cans piled as high as the eye can see, or just a small restaurant space with a large back area with brewery equipment hard at work, starting a brewery requires a roadmap.
As with any writing task, getting started on a restaurant business plan can be a little intimidating, but working with a clear framework for your brewery business plan will help to guide every step of your venture. From development to distribution, your brewery will run more smoothly with a detailed business plan to guide operations.
Why You Need a Brewery Business Plan
Starting a brewery requires a complex sequence of licenses, permits, leases, and financing for everything from accounting and permitting to brewing beers to renting space to house large-scale brewing equipment. A business plan will let you get all the details sorted while acting as a resource for potential partners and investors.
A business plan will also prompt you to consider the market for craft beers in your location and how your brewery restaurant will fit into that market. Are you offering a unique experience to customers or are you hoping to compete with a robust local craft brewery scene?
How to Write a Brewery Business Plan (Description, Examples, Proposals)
The business plans are pretty formulaic, but it can be difficult to decide where to begin planning for your brewery. Luckily, this customizable business plan template is easily adaptable to your brewery – read on for useful tips about what will need to go into your brewery's business plan.
Related Restaurant Resources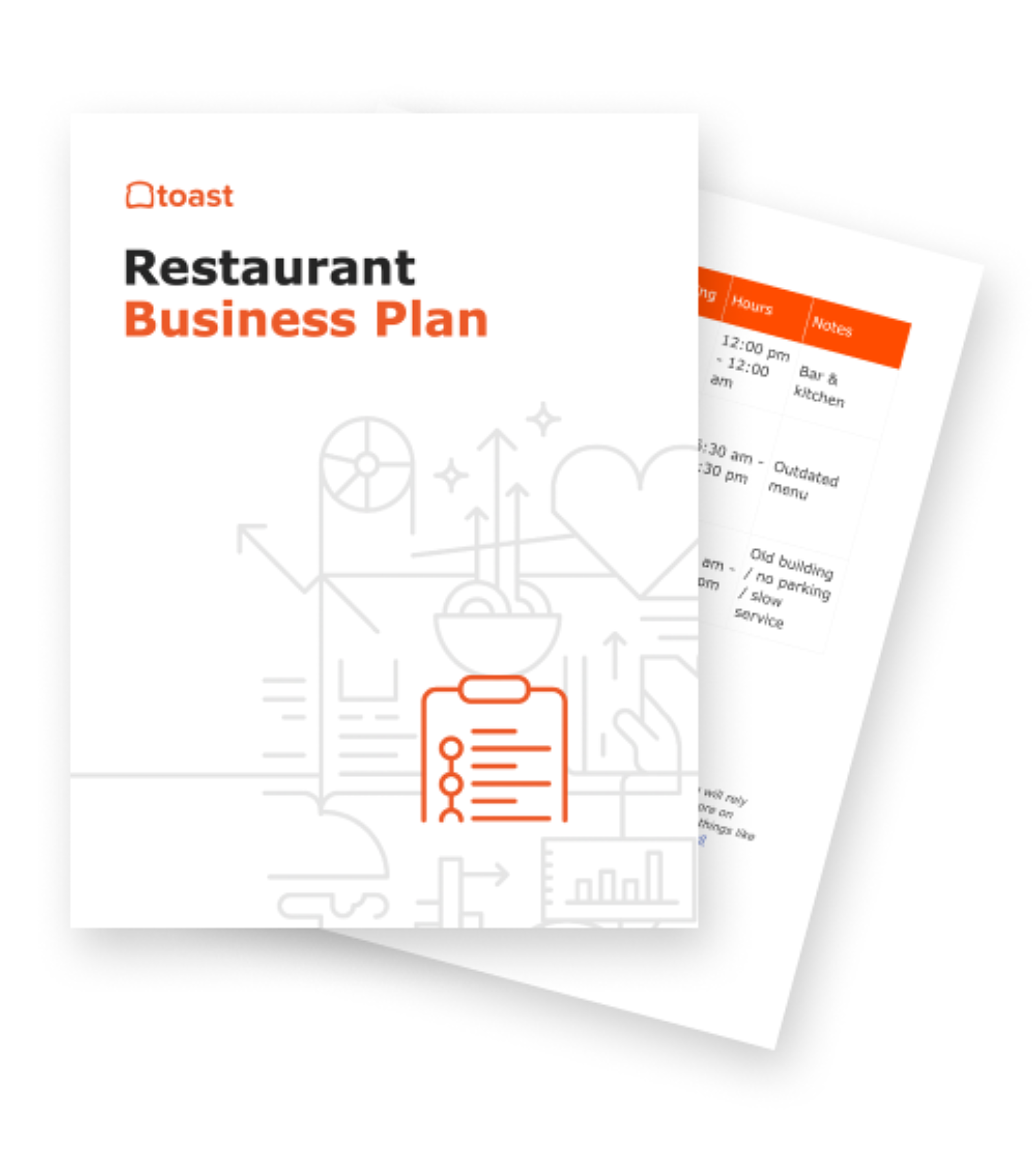 Restaurant Business Plan Template
No matter where you're at in your restaurant ownership journey, a business plan will be your north star. Organize your vision and ensure that nothing is overlooked with this free template.
Download
Elements of a Brewery Business Plan
Executive Summary
The first section of the business plan is an executive summary, which is a concise introduction to the concept and goals of your brewery. Use this section to introduce key elements of your business, such as the vision for the product, key information about the restaurant or public brewery space, and the distribution market.
As you craft the executive summary, imagine the investors and partners that you want this plan to attract. How might you catch their attention, get them interested in your concept, and convince them to keep reading? Craft breweries seem to be cornering the market – how will yours attract a unique share of the consumers or compete with other local brands?
Company Overview
The company overview works with the executive summary to provide a quick look at the rest of your business plan, but the company overview is more practical than creative. It will work as a glossary for the rest of your business by introducing key information.
Use this section to define the type of brewery/restaurant combination you envision, define your product, and provide information about the ownership structure and potential investors' place in it. Also consider including information about hiring for the roles you'll need to fill, the supply chains you'll be working in, your vision for the customer's experience, and a summary of financial projections.
Team and Management
The staffing needs for your brewery are unique to the business you imagine and the role you see yourself filling within the business. Are you a brewmaster who needs funding, or a financier with a hankering to invest in the talents of one?
Consider, too, the staffing needs of a brewery or restaurant depending on the scale of your operation. You might start by brewing a couple of drafts in a warehouse and scale up – and need very few employees – or jump into a brewery and taphouse that requires a full management, kitchen, and front-of-house staff.
Sample Menu
Breweries offer more than just beer – where your space will fall between a brewery and restaurant is defined in your business plan. The kinds of brews your craft and serve, the space that you operate in/open to customers, and the kinds of food you offer combine to produce the trendy brewery experience beer enthusiasts want. Some breweries choose to offer just packaged snacks like chips and the like, while others have a full-service kitchen.
Many also convert their extra warehouse space into miniature arcades or provide lawn games like cornhole for guests to enjoy while they drink at the brewery. The focus is always on the brews, but offering an experience gets people to visit and stay awhile, ultimately increasing the brewery's on-premises sales potential.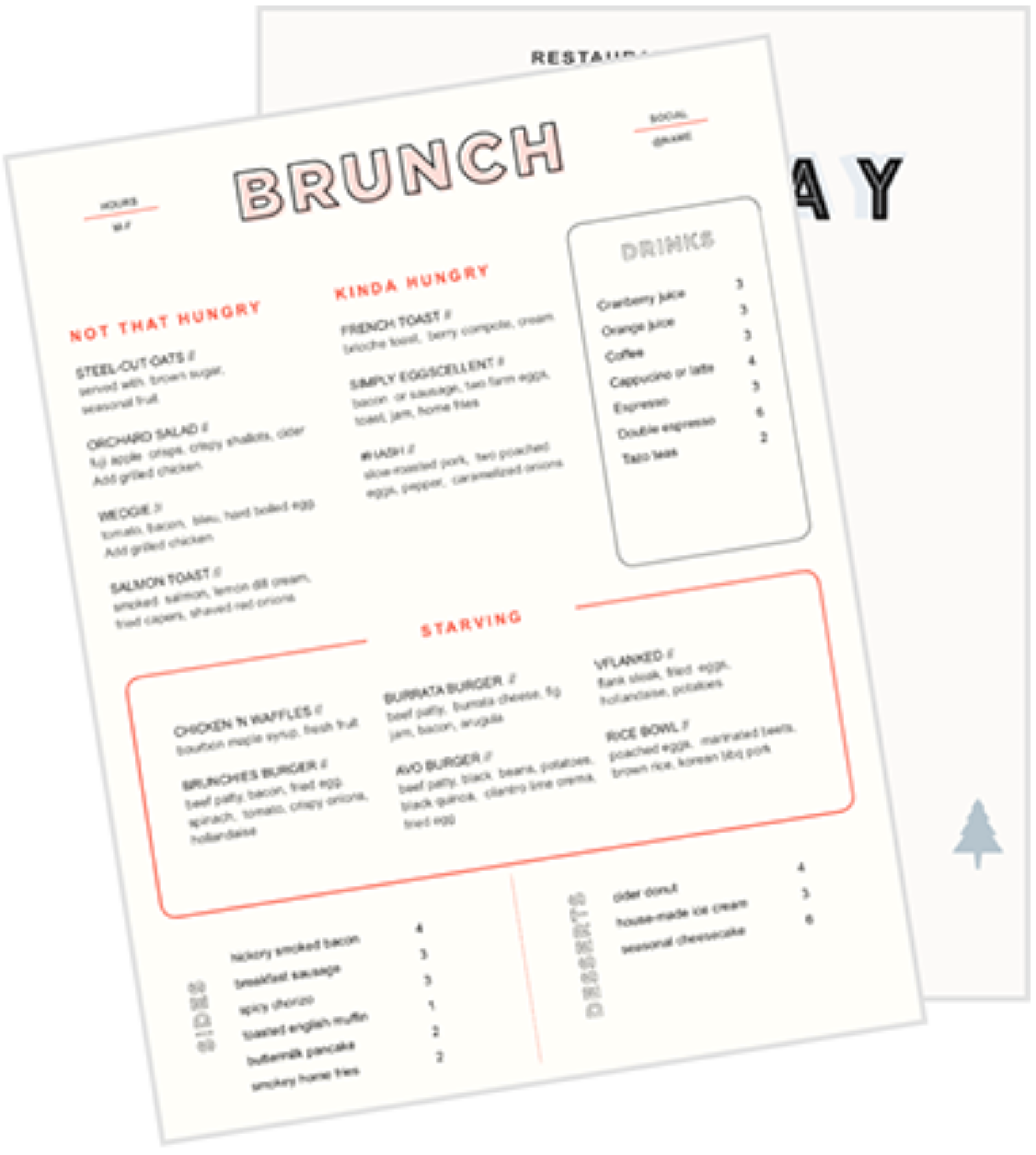 Restaurant Menu Templates
Use these menu templates as a starting point for your menu design or to give your menus a refresh.
Download
Market Analysis
A market analysis is crucial for the success of a brewery. Craft breweries make up 12.3% of the market share in beer sales for a total of $22.2 billion a year. This section is your chance to detail how you will capture some of that market.
Start by taking a look around – if there isn't a local craft brewery in your area, is there a clientele that would visit one? Perhaps you're in the middle of a vibrant craft brewer scene but have a unique product that you think will do well with the already established consumer base.
Providing these key details to potential investors is critical – consider projecting the much demand for the brews you plan to make and provide a clear pathway from your brewery to the consumer, either through the restaurant or distribution.
The market analysis is really about those three key factors: target consumer, location, and competition. Provide research-backed information in your market analysis to really impress potential investors or partners.
Marketing and Publicity
Marketing for your brewery includes more than just eye-catching label designs and your potential investors and partners will want to know that you've thought through how you're going to get customers to try your brews and keep them loyal to your brand. Social media is important, and email marketing can be a gamechanger.
Develop a coherent vision for your brand that both matches the spirit of your company's values and will be attractive to the client base in your market. Plan to take advantage of social media to make your customers aware of your brand and craft a cohesive and memorable content strategy.
Blue Mountain Brewery is a company based in Afton, VA, and they rent the inn and venue at their picturesque brewery. Their branding is quirky and bright with local flair, ensuring brand recognition and creating a cohesive aesthetic that can be translated to their product labels for distribution to the large Northern Virginia and D.C. metropolitan area.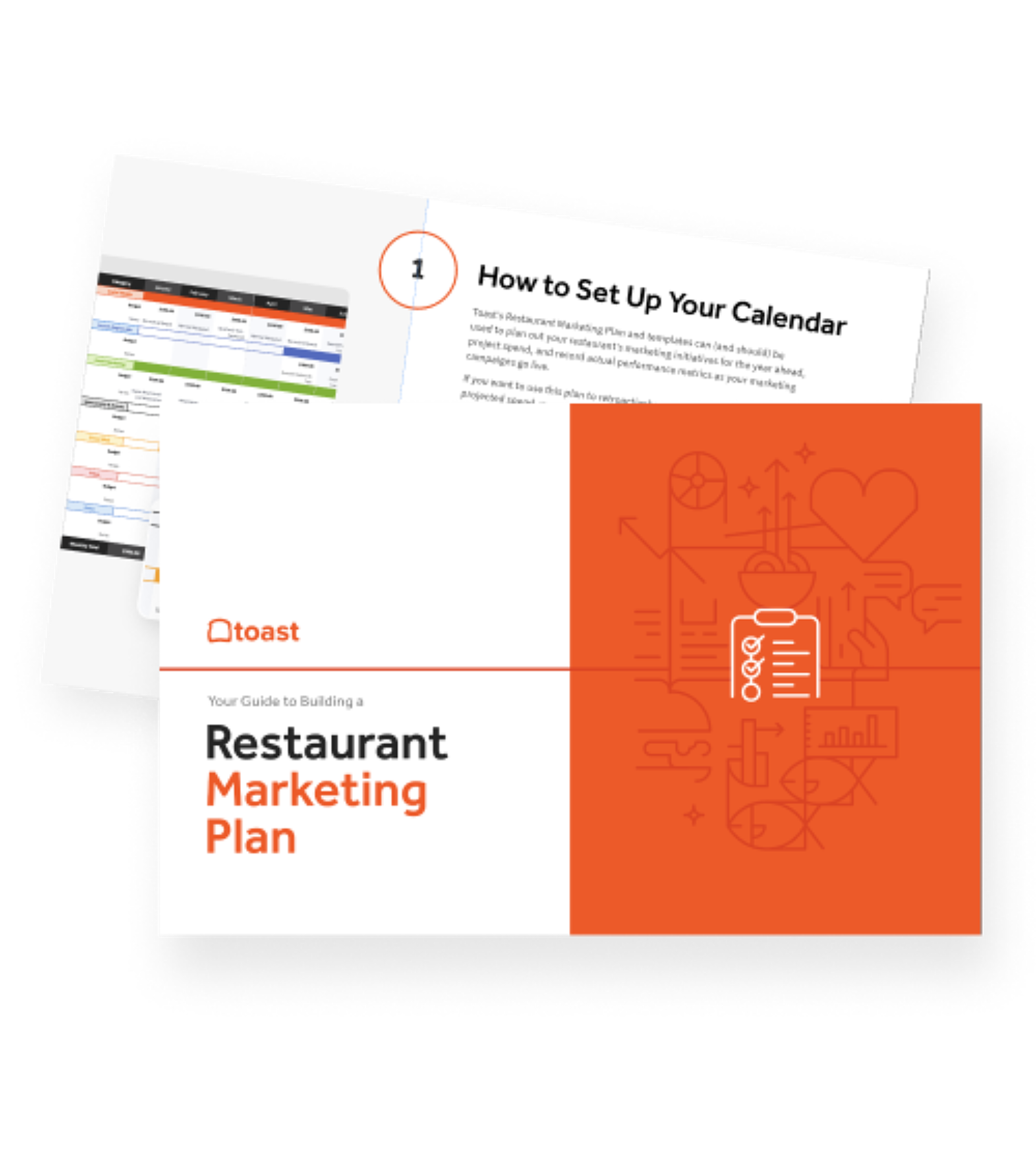 Restaurant Marketing Plan
Create a marketing plan that'll drive repeat business with this customizable marketing playbook template and interactive calendar.
Download
Branded Graphics
One of the most exciting aspects of planning to market your brewery is working with designers to create graphics that convey your brand's concept to potential investors and will become the cornerstone of your brand for customers. Think about how your logo will represent the ethos of your brewery and how it will influence the customer's experience of your brand.
Even if you envision scaling up to regional or national distribution, don't shy away from branding with the local customer in mind as they will likely be your first and most loyal customer base. Plus, beer aficionados across the country will love to collect your cans especially if they clearly represent speak where the beer is made.
Business Operations
Business operations sections include information about everything from the daily routine of the brewery and expectations for the client experience to the chain of command and management structure. Consider including information about sales and inventory, your point of sale (POS) system, accounting, and the supply chain for your beer's ingredients.
A brewery is a complex business model from production to distribution and adding a taphouse or restaurant to your business plan complicates it further. The business operations section will act as the north star for your operations from the daily to the quarterly – don't spare any details. This is the section you'll fall back on to answer any questions from investors or partners.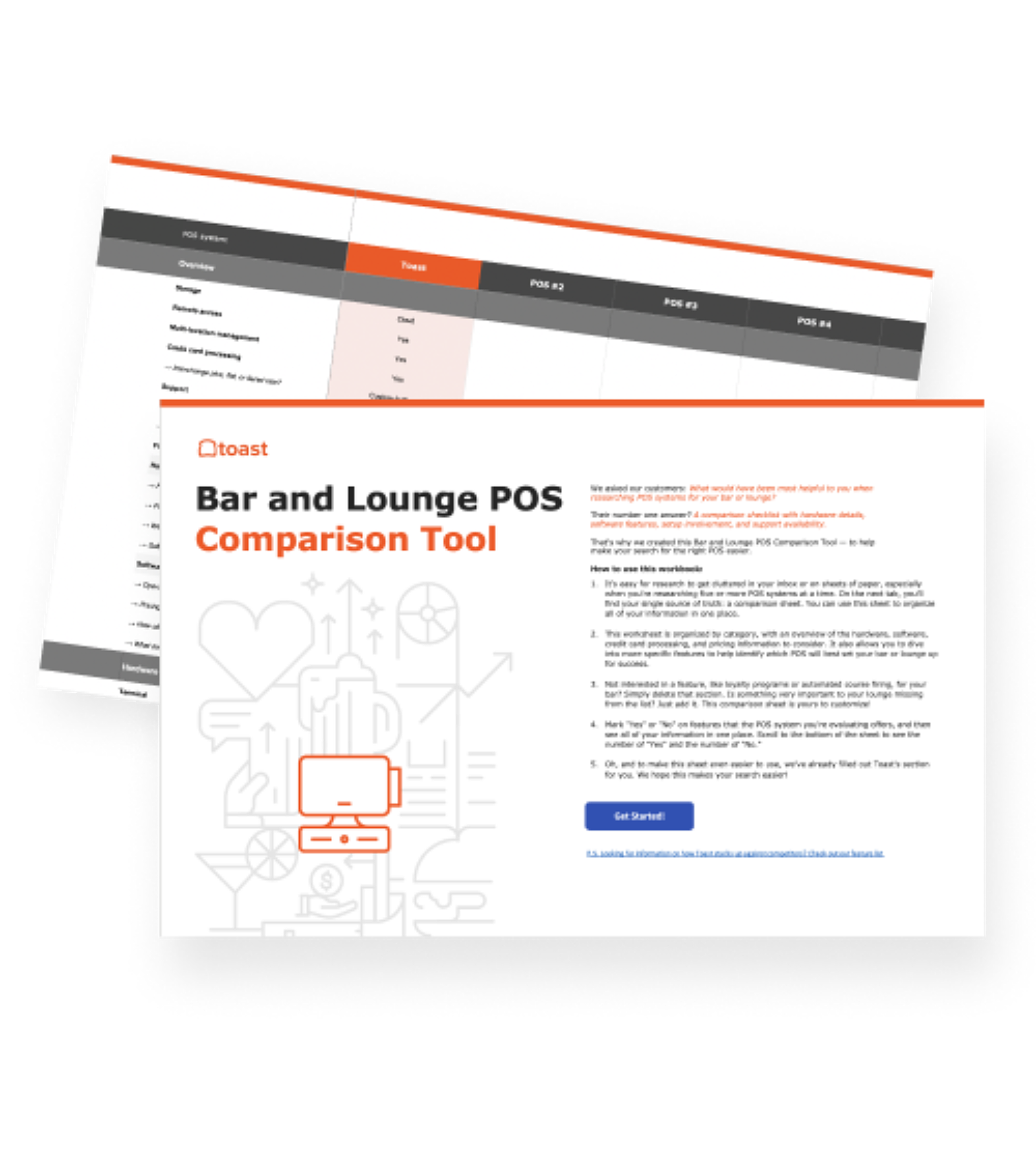 Bar and Lounge POS Comparison Tool
A free, customizable Bar and Lounge POS Comparison Tool to research and compare point of sale systems in one Excel spreadsheet or editable PDF.
Download
Financing and Loans
Whether you're starting a brewery based on your passion for great pilsners or because your friends convinced you to invest in opening a local brewery so they can hang out there, you'll likely need to secure some additional funding. Even so, it's crucial to carefully consider your finances and prepare to apply for any necessary lines of credit or loans.
This financing guide is a valuable resource: look through it to learn about funding options from brick-and-mortar banks, alternative loans, Small Business Association (SBA) loans, merchant cash advances, business lines of credit, crowdfunding, asking family or friends, commercial real estate loans, equipment financing, and purchase order funding.
Once you have a concrete plan to fund your brewery, provide potential investors with information about other partners and detailed financial plans with projections of profit and expenses of your business.
---
Read this next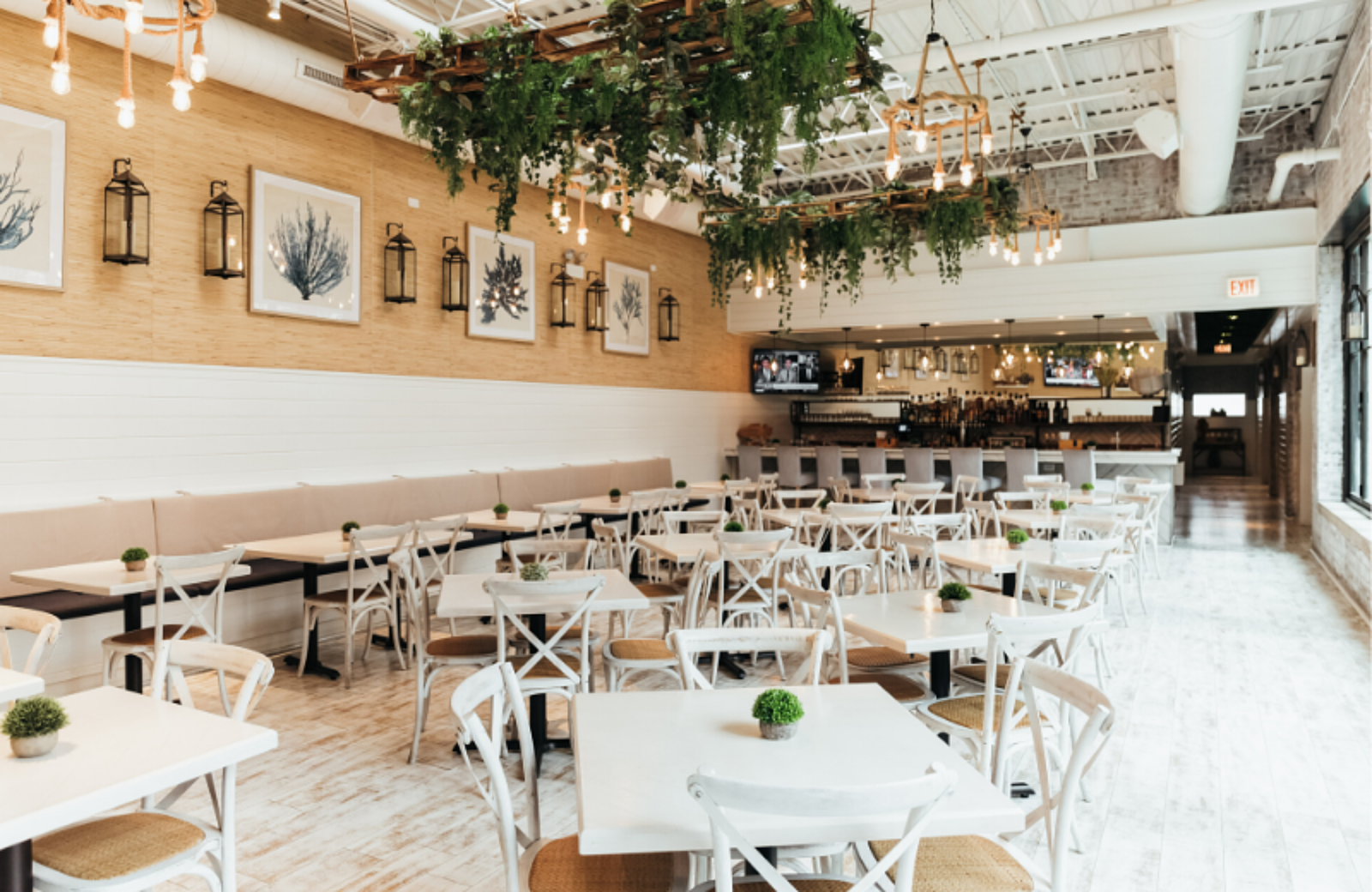 The Complete Guide to Restaurant Financing and Loans
Whether you're opening a new restaurant, expanding your concept, or renovating within your existing four-walls, you're going to need capital to make it all happen.
Sales Forecasts and Operating Expenses
The operating expenses of a brewery include the costs of equipment, water, hops, grains, labor, insurance, licenses, rent, marketing, etc. which should all be balanced against sales forecasts in this section of your business plan.
It's typical to include a break-even analysis in this section of your business plan, which compares the sales required to break even with the cost of expenses each month. Investors will be interested in the potential for profit and loss in order to assess the risk of contributing to your business, but a profit and loss statement for a business that isn't open yet requires that you make some informed projections.
A cash flow analysis shows investors that the company can support itself without additional investments by detailing planned spending on labor, supplies, and operations.
Be sure to consider how the costs unique to your brewery, such as bottling or kegging equipment, balance at the end of each quarter.
How to Present Your Brewery Business Plan
There are a few ways to prepare to communicate with investors about your business plan and get them interested. As you write and edit your plan, start memorizing the key points and takeaways so you're ready to talk about it at any time. Remember that the way you talk about your business should be tailored to the situation you find yourself in.
First, send your business plan to investors and banks far and wide – put your concept and plan in the hands and minds of as many people as possible.
Once you secure a meeting with a potential investor or partner, you'll want a more detailed presentation that presents all the key elements of your business plan – for a brewery, that will likely include the experiences at the core of your business.
It's good to anticipate potential questions and prepare answers for questions you encounter for the first time. When networking, be honest and genuine, even if you don't have a ready answer for each question that comes your way – investors will be interested in your charisma and savvy just as much as your ability to build a detailed plan.
Related Brewery Resources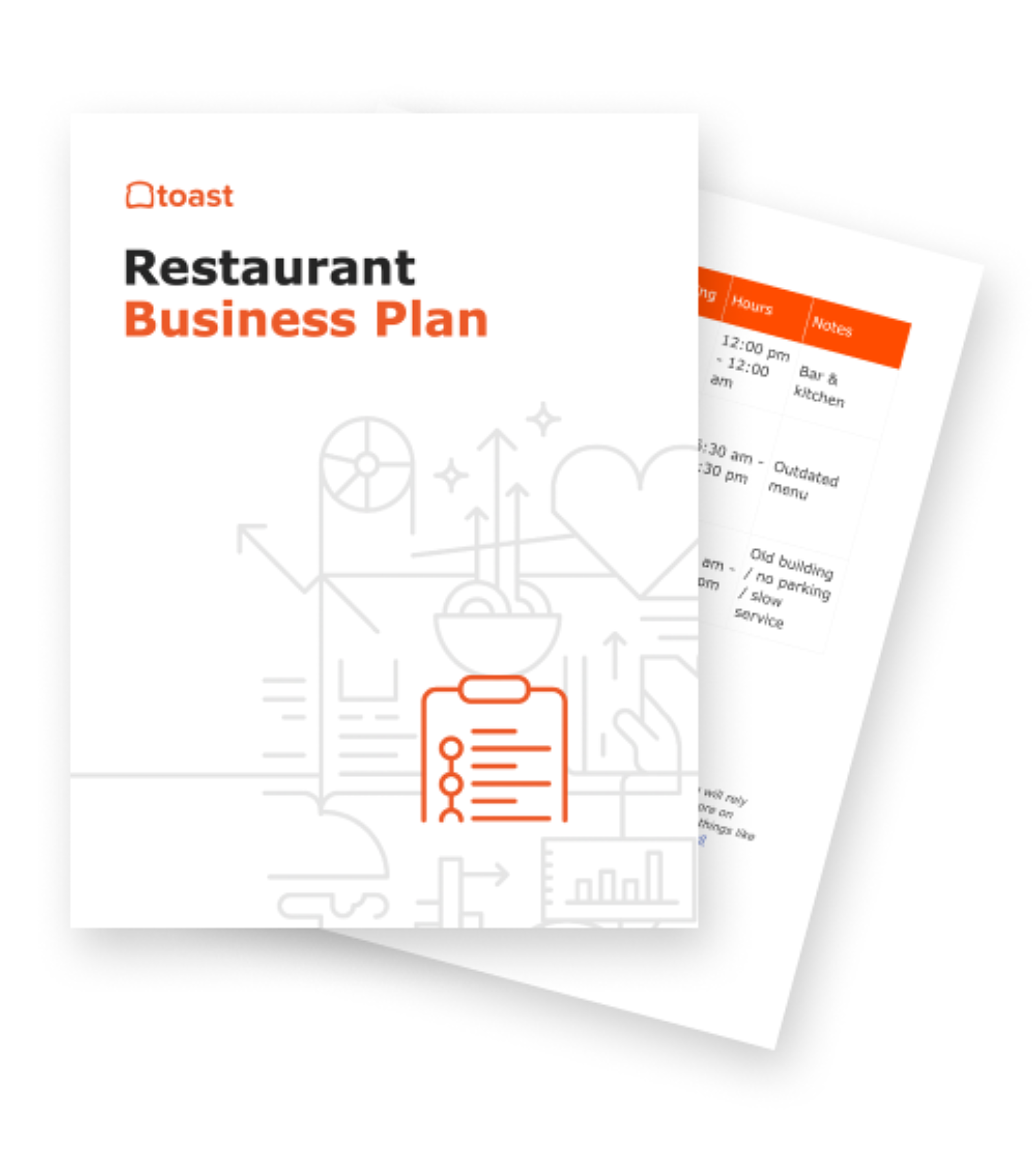 Restaurant Business Plan Template
No matter where you're at in your restaurant ownership journey, a business plan will be your north star. Organize your vision and ensure that nothing is overlooked with this free template.
Download