How to Do Email Marketing for Restaurants
Creating an email marketing strategy for your restaurant can help you build lifelong relationships with your diners. Here's how to use email for restaurants.
A solid marketing strategy is essential to the success of restaurants of every shape, size, and specialty. Whether you are running a recently opened independent restaurant or are the general manager of the branch of a popular chain, a well strategized marketing effort can help you attract new customers, welcome back your favorites, and overall improve business.
The secret to running a successful email marketing program for restaurants? Providing value. With so many different types of emails you can send to customers as part of a well thought out campaign, sending them all at once to see what sticks is a natural impulse. However, there is a fine line between sending emails that benefit the customer and overloading their inbox with unwanted messages.
Once you start sending thoughtful, strategic messages to your restaurant audience, you can begin to learn more about your audience and tailor the messages even more. Email serves as a cost-effective customer acquisition and return customer strategy and can be managed by those without much experience using the software.
Why invest in restaurant email marketing?
Email Marketing Tools for Restaurants
Email marketing tools offer ways for restaurants to send marketing or informational emails out regularly to large groups of recipients, along with analytics and design features to ramp up your efforts. Find email marketing software that can accommodate your email list size, design expertise (look for templates), and works with your other restaurant software or website platform.
Restaurant Email Marketing Benchmarks
When you start an email marketing program, you'll want to test out subject lines, time of day, list segmentation, and other experiments. Here's a baseline of restaurant email engagement averages to compare your results to.
Open rate: 23.3%

Click rate: 2.94%

Unsubscribe rate: 0.28%
Once you've reviewed the tools and industry benchmarks you'll need, it's time to create your strategy. Email marketing usually starts out as an ad hoc effort, but with careful planning can generate new business and become a fairly automated part of your restaurant marketing efforts.
RESOURCE
Restaurant Marketing Plan
Create a marketing plan that'll drive repeat business with this customizable marketing playbook template and interactive calendar.
A Step-by-Step Guide to Restaurant Email Marketing Strategy
Step 1: Collecting Customer Data
Before you can begin writing emails, you first have to have email addresses to send them to. And not just any email addresses, you'll need to get them from your guests themselves— your first captive audience. Depending on how your restaurant tech is already structured, there are a few different ways you can approach collecting customers' email addresses.
If you have a popular, user-friendly restaurant website that sees a lot of traffic and guests often use it to make reservations, order takeout, and otherwise interact with your establishment then prompting customers to provide their email on the site using a form or pop-up is the way to go. Don't have your restaurant website set up yet? Have your servers leave physical email signup forms at tables for guests to fill out after they've enjoyed their meal.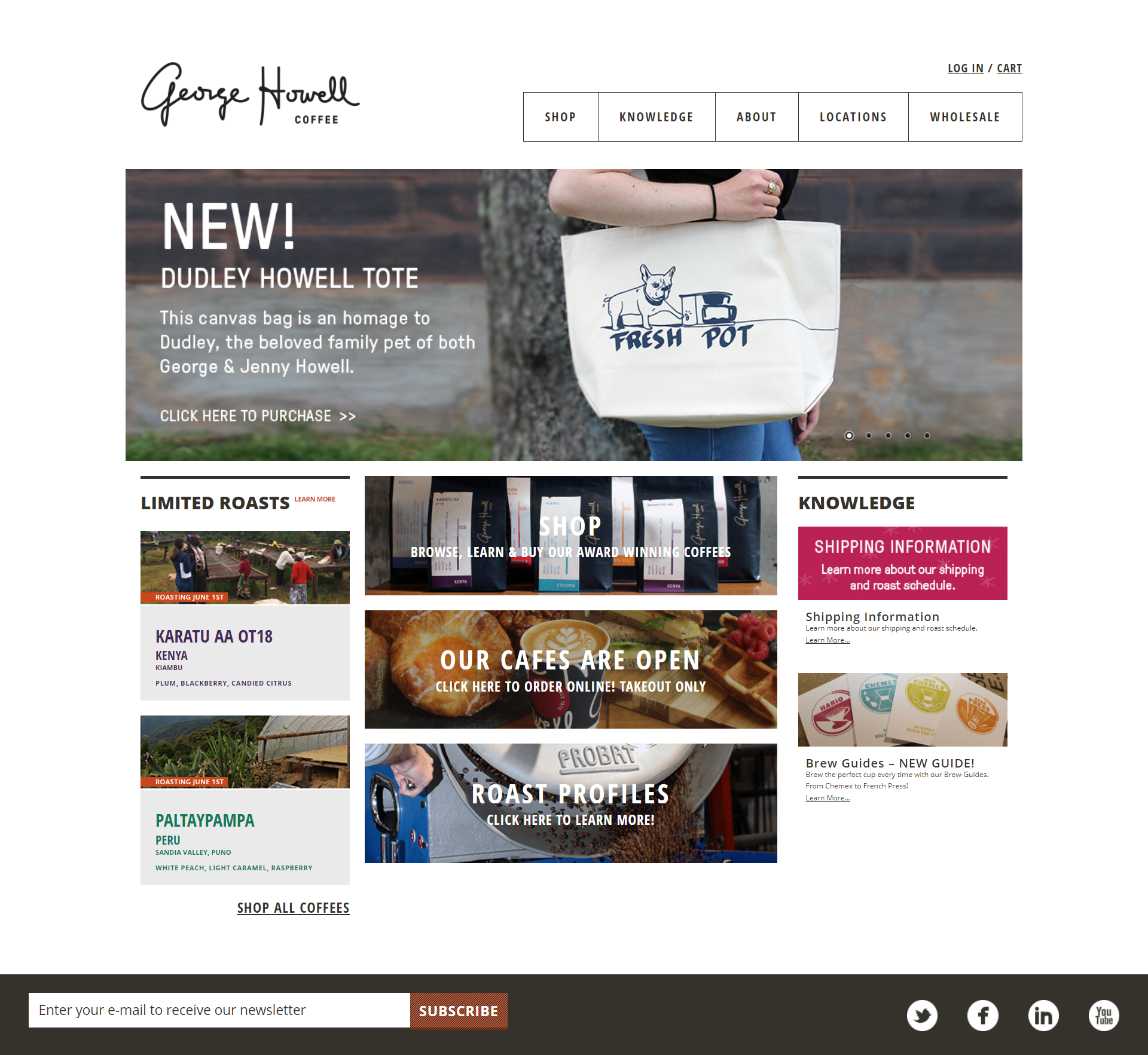 Source: George Howell Coffee
For restaurants that use all-in-on POS systems, you can not only use your system to collect guest email addresses, but also track the dining habits of the owner of each email address to better optimize and customize your email marketing efforts.
However you decide to go about collecting customer data, offer something of value in return for their information, whether it's information, discounts, a newsletter, or personalized recommendations.
RESOURCE
Restaurant Website Checklist
This template will help you update and optimize your website, so guests can easily find and order from you.
Step 2: Create an Email Marketing Campaign
Now that you've put in place ongoing systems for customer data collection, you can turn your attention to creating email marketing campaigns. As mentioned above, with so many different types of email marketing to choose from, your campaign will be tailored to your goal and audience.
Email marketing campaigns aren't one size fits all so don't be discouraged if you aren't immediately seeing the click through rates of your dreams, it may take time and several months of tweaking your campaign until you perfect your email marketing efforts.
Types of Email Marketing
One major benefit of email marketing is that by the time you've collected customer email addresses, you already know that they are interested in your restaurant. Now all you need to do is not lose them as customers (and hopefully get them to engage with you, keeping your restaurant top of mind). Sounds easy, right? Actually, many restaurant marketers find that retaining customers is just as much of a delicate dance as it is to attract them in the first place. Because of this, you'll want to be thoughtful in your email execution. Similarly to how you don't want to overstep when collecting customer data, you also don't want to be needy within your emails themselves.
Regardless of which email format you use during your campaign, it's a good practice to:
Use catchy subject lines

Incorporate branding and bold headers in your emails

Keep email messaging short and sweet

Stick to a primary goal or call to action in each email, don't overload any one single email with too much information

Highlight the most important information in the email with eye-catching design so they are easily skimmable
Welcome Emails
The first email you'll want to send once you receive a customer's email address is a good ole fashioned welcome email. This email should feature some warm, welcoming copy and branding to remind guests what they love so much about your organization. If you ran a promotional campaign while collecting guest data, this is where you'll place that initial coupon or offer. Otherwise, take this email as an opportunity to advertise any upcoming events that your customers won't want to miss out on.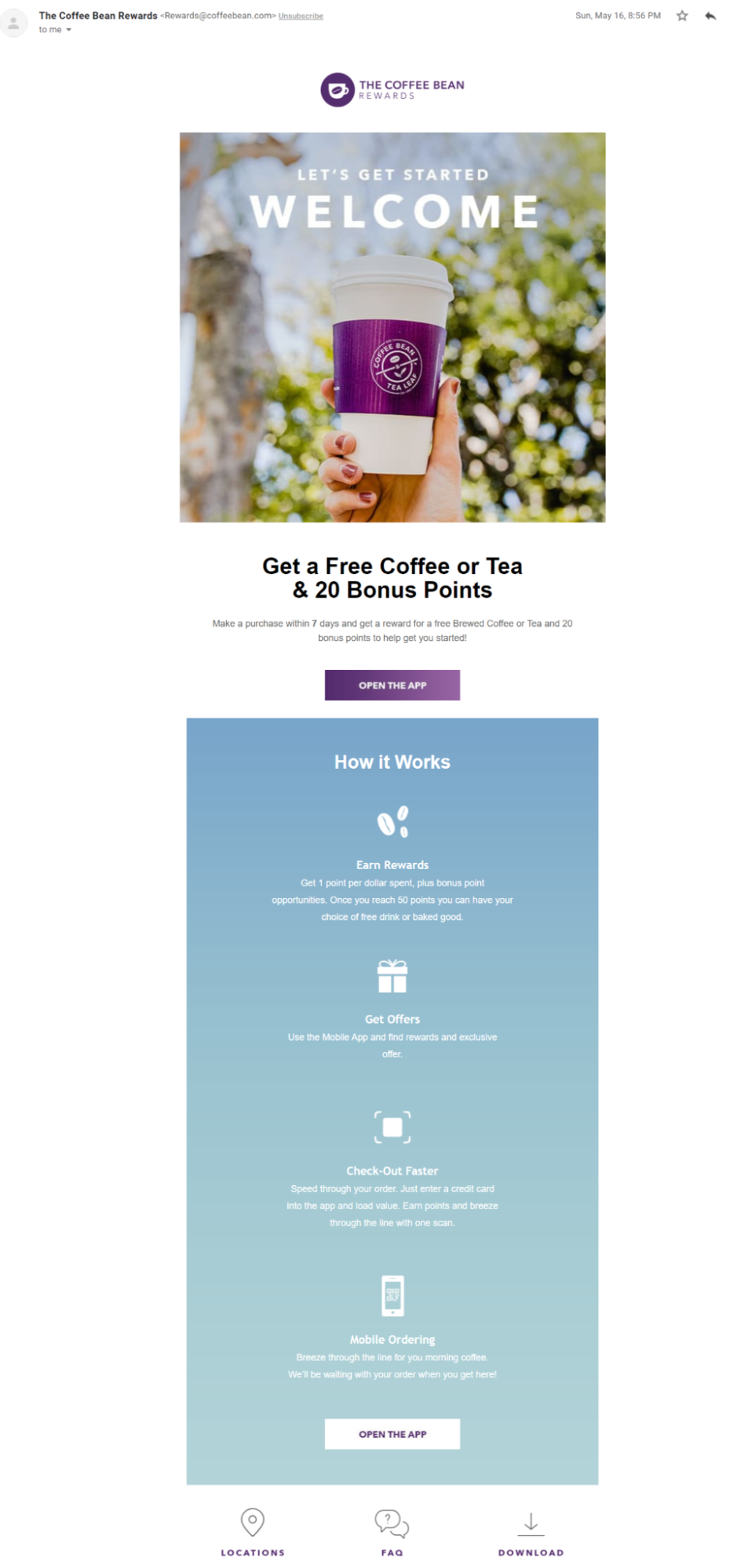 Celebratory Coupons
Who doesn't love coupons? Especially celebratory coupons on guest birthdays, personal anniversaires, and the anniversary of when guests first ate at your restaurant. Sending celebratory coupons to customers is not only a great way to show them how much you care about them, but to also up your customer retention rates. By offering guests free dessert on their birthday, free apps on their anniversary, or even a free entree on the anniversary of their patronage of your restaurant you are all but guaranteeing that they will become a loyal customer.
Loyalty Rewards Updates
If you haven't developed a loyalty program yet at your restaurant, this is your sign to do so now! Loyalty programs are a streamlined way to up your customer retention in a natural way, especially when you are tracking frequent guest's loyalty and can send them an email when they're close to redeeming a reward to all but guarantee that you'll be seeing them again soon.
Promotional Emails
Promotional emails are a catchall for any other coupons or offers you want to send your customers. Announcing a new drink special for the summer months? Send it in a promotional email. Are you close to being fully booked on Valentine's Day? Send out a promotional email prompting customers to make their reservations sooner rather than later if they don't want to miss out on dining with you on such a special day.
Another way to use promotional emails is to boost sales during otherwise slow days or seasons. For example, you could email customers you haven't seen in a while the offer of the next 50 customers to dine-in at your restaurant will get BOGO appetizers. Just make sure you're all stocked up on mozz sticks before you send it out!

Newsletters
Incorporating weekly, monthly, or quarterly newsletters into your email marketing campaign is a great way to update all guests on the biggest changes going on with your restaurant. Think big picture for your newsletter, because it is regularly scheduled it will be less about sudden announcements and more for ongoing promotions or to make big announcements. If you have any big seasonal events, you'll want to include them in your newsletter ahead of time to give customers a chance to buy tickets or RSVP. Then, you'll be primed to send a reminder email about your event to all of the customers who haven't RSVP'd yet when it's closer to your event.
"We Miss You" Emails
A "We miss you" email is just like it sounds, a way to remind your customers that you are ready and waiting for them to revisit your restaurant. Sometimes the only reason that you haven't seen a customer in a long time is because they simply forgot about your restaurant. This could have happened for any number of reasons, most likely they get swept up in the natural hecticity of their everyday life. For really loyal customers you haven't seen in a long time, feel free to tack on a promotion to these emails as well. The only thing better than being told you are valued and missed is being handed a gift at the same time.
Retargeting works— when Toast customers automated email marketing efforts and retargeted their patrons, they saw 20% more repeat guests. 20% more business from integrated email marketing efforts? Worth the effort.
When it comes to developing the right email marketing campaign for your restaurant, remember to always stay true to your brand. Being too pushy or flooding customers' inboxes with constant updates is sure to drive them away, but you don't want to play it too cool either or you run the risk of your patrons forgetting about what a great time they had dining out at your establishment. To hit that sweet spot and up your customer retention rates, create an email marketing campaign that feels true to your company ethos. And to ensure you are always learning and growing as a restaurant, check out our post on How to Set Short-Term and Long-Term Goals for Your Restaurant.
Related Restaurant Marketing Resources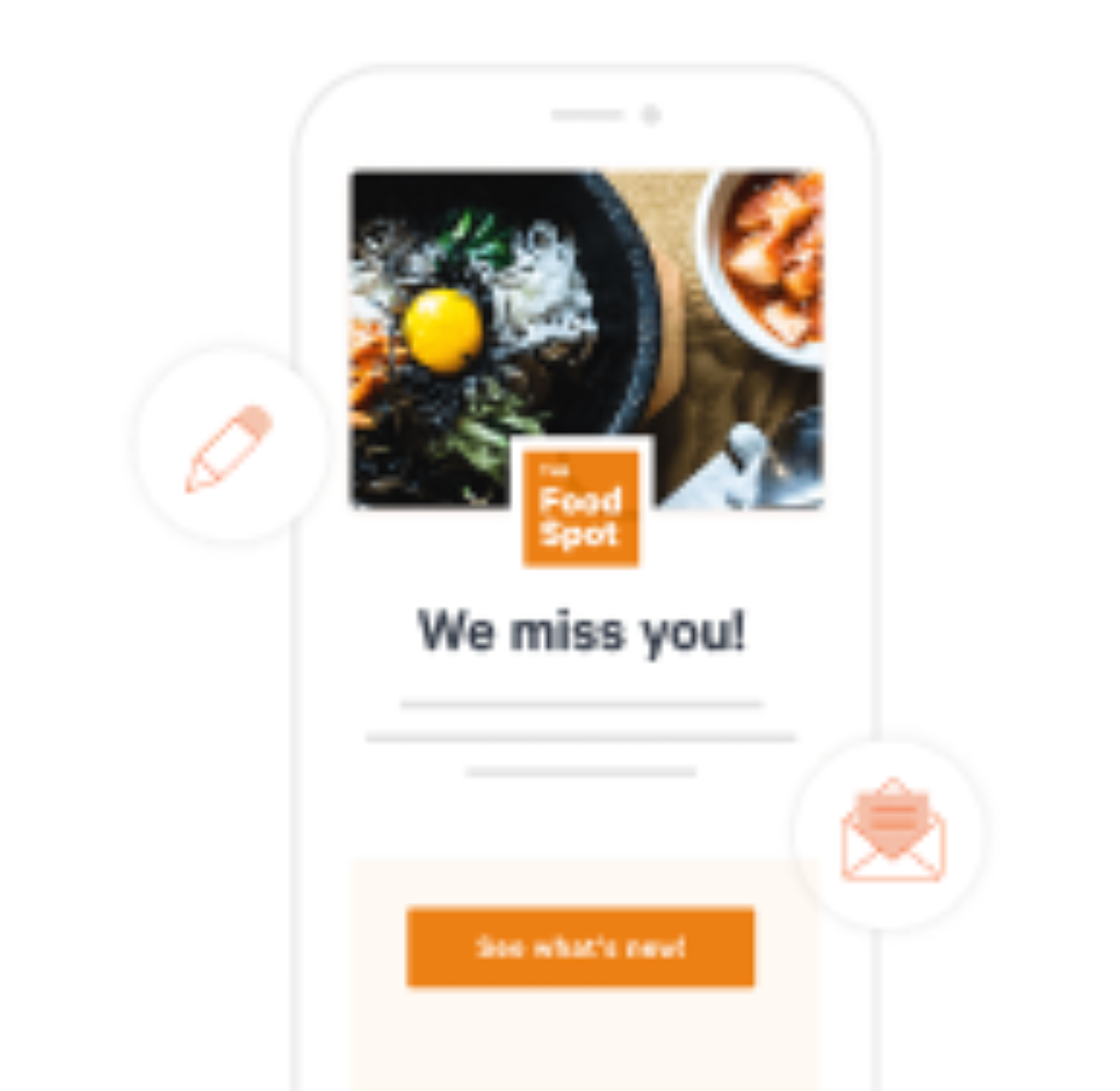 Tech Tip
Learn how guest marketing tools can help you get your customers coming back.
Read more
DISCLAIMER: This information is provided for general informational purposes only, and publication does not constitute an endorsement. Toast does not warrant the accuracy or completeness of any information, text, graphics, links, or other items contained within this content. Toast does not guarantee you will achieve any specific results if you follow any advice herein. It may be advisable for you to consult with a professional such as a lawyer, accountant, or business advisor for advice specific to your situation.