DISCLAIMER: This content is provided for informational purposes only and is not intended as legal, accounting, tax, HR, or other professional advice. You are responsible for your own compliance with laws and regulations. You should contact your attorney or other relevant advisor for advice specific to your circumstances.
Over the years, restaurants have stepped up big time, going from businesses driven by pen and paper to tech-savvy spots that know just how important digital marketing is to making a restaurant stand out and capture guests' attention. But standing out and grabbing attention has only gotten more challenging.
According to Toast's 2019 Restaurant Success Report, 33% of restaurant professionals named "Attracting and Retaining Customers" a top challenge to success in 2019. The restaurant landscape has only gotten more crowded, and now, with restaurants having to adapt their businesses to off-premise only in the face of COVID-19, they're having to find new ways to promote their businesses.
That's why it's more important than ever for restaurateurs to know how and where to reach new and existing customers online.
Guide to Restaurant Social Media Marketing
Learn how to optimize your social media presence to showcase your brand, tell your story, attract new customers, and engage with your audience.
Get free download
When it comes to restaurant marketing, everyone has an opinion about the next big thing or what's most important or effective. So let's cut through the noise and focus on what will really move your business forward. Check out the infographic below, which outlines the top five restaurant digital marketing trends that should be on your radar for the rest of 2020. Incorporate these trends as marketing activities, campaigns, or initiatives in your restaurant marketing plan to capture guest attention and keep them coming back for more.
Looking to rework your marketing plan? Click here to download a customizable restaurant marketing plan template and calendar.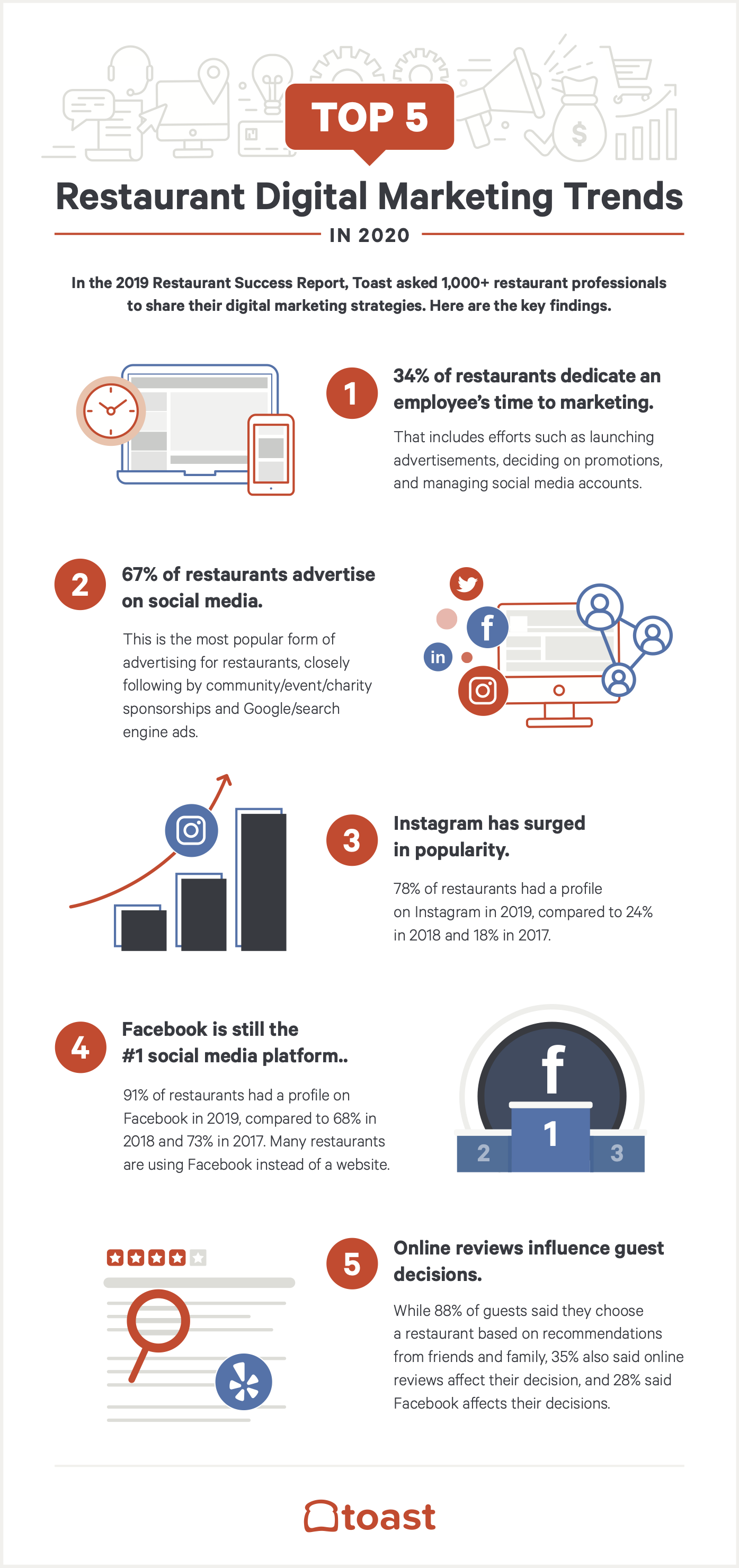 Now let's break down how to approach these marketing trends in your restaurant.
1. 34% of restaurants dedicate an employee's time to marketing
Nowadays, standing out requires more than great food and guest experiences. With more than 1 million restaurant locations in the U.S., restaurateurs know just how important marketing is to attracting first-time customers and turning them into regulars.
But adding marketing to a plate already heaped high with daily, necessary responsibilities can be kind of overwhelming. So who exactly is taking care of marketing for restaurants?
12% of restaurant professionals surveyed said they don't bother with marketing at all, but a surprisingly high percentage were at the other end of the spectrum: 34% said they have a dedicated employee whose full-time job it is to market the restaurant. This includes marketing campaigns and efforts such as putting out advertisements, deciding on promotions, and managing social media accounts.
The growing number of restaurateurs who are not only marketing their restaurant online but dedicating employee resources to handle marketing full-time speaks volumes.
2. 67% of restaurants advertise on social media
While it's free to use social media sites and post content to your business's feed or page, many restaurateurs now choose to pay to advertise their businesses on social media.
Social media advertising continues to be the most popular form of advertising for restaurants — 67% of restaurants surveyed do paid advertising on social media — due to its ease of use, cost-effectiveness, and ability to be done from a smartphone. Social media also gives you access to a large customer base — 79% of Americans have a social media profile.
Other popular advertising channels for restaurants include community/event/charity sponsorships (53%), Google/search engine ads (42%), and newspaper/magazine ads (32%).
3. Instagram has surged in popularity
Instagram is showing a huge growth trajectory in popularity with restaurateurs. In 2017, only 18% of restaurateurs used Instagram to promote their businesses, and in 2018, it grew to 24%. In 2019, that number skyrocketed to 78%.
Instagram is a strong channel for restaurateurs to connect with audiences due to its highly visual nature, ideal for capturing delicious menu items and the smiling faces of restaurant teams. One billion people use Instagram every month, and of Instagram's one billion monthly active users, more than 500 million use the platform every day.
The potential reach — along with the possibility to showcase your restaurant's brand and menu items in such a visual way — is hard to deny.
Restaurant Website Checklist
This template will help you update and optimize your website, so guests can easily find and order from you.
Get free download
4. Facebook is still the #1 social media platform
Despite Instagram's surging popularity, Facebook remains the number one social media platform for restaurants.
Restaurateurs have had a love-hate relationship with Facebook over the past few years. The platform's algorithm has undergone many changes that have affected how consumers see posts from business pages, which may have contributed to restaurateurs' negative feelings.
In 2017, 73% of restaurateurs used Facebook for promotion, and in 2018, that number dropped down to 68%. In 2019, it jumped back up to 91%. In fact, many restaurants are using Facebook instead of a website.
While Facebook is at its most popular among restaurateurs, you may be overestimating the impact that Facebook has on diner decision-making. Only 28% of guests said that Facebook impacts their decision of where they choose to order or eat, but 38% of restaurateurs thought it had more influence. This finding might inform how much energy or money you end up spending on Facebook promotion, because there might be more effective ways to capture the attention of new customers.
5. Online reviews influence guest decisions
As noted above, 28% of guests said Facebook plays a role in their decision to choose one restaurant over another. The biggest source of influence on the restaurant guest decision-making process are friends and family — 88% of guests said they choose a restaurant based on recommendations from those close to them. But the second largest influence on guest decisions are online reviews, with 35% of guests saying that online reviews affect where they choose to order and eat out.
Online reviews can make or break a restaurant — a Harvard Business School study showed that a one-star increase on Yelp can increase revenue by 5-9% — so it's important to manage your online review profiles and respond to guest reviews and feedback, whether they're positive or negative.
Digital Marketing for Your Restaurant
Using digital marketing to advertise your restaurant to the masses increases brand recognition, and ultimately, helps you gain more customers.
Now it's your turn: Download the 2020 Marketing Plan Template to map your marketing budget, timeline, and strategy. Soon you'll be on your way to incorporating the trends above into your very own marketing activities.
Related Restaurant Marketing Resources
Guide to Restaurant Social Media Marketing
Learn how to optimize your social media presence to showcase your brand, tell your story, attract new customers, and engage with your audience.
Get free download