DISCLAIMER: This content is provided for informational purposes only and is not intended as legal, accounting, tax, HR, or other professional advice. You are responsible for your own compliance with laws and regulations. You should contact your attorney or other relevant advisor for advice specific to your circumstances.
You finally did it, you accomplished your dream of opening a cafe in your neighborhood. You have strong coffee and great pastries, but you're still looking for ways to bring in new customers.
Beyond having the latest barista equipment and Wifi, it takes marketing savvy and an understanding of the community to thrive as a cafe owner.
1 in 3 restaurants won't survive their first year — but what sets successful cafes apart from the rest? Having a solid restaurant marketing strategy, a great location, and an inviting atmosphere will lead to increased traffic.
But before we delve into specific marketing tactics for your cafe, let's start with why you need a marketing plan.
What exactly is a marketing strategy and why do you need one for your cafe?
A restaurant marketing strategy is a series of tactics used to showcase and promote your business to customers, including communications, ads, and branding. It's how you engage with your customers and generate demand for your products. Marketing strategies differ greatly depending on industry, target demographic, resources, and location.
Restaurant marketing combines search engine optimization, social media, email marketing, and reputation management. It can be as simple as placing an advertisement in the newspaper to as complex as filming a commercial.
In a world where you'll be competing against massive chains like Starbucks, you'll need a solid marketing strategy to stand out.
How much should you spend on cafe marketing?
According to the 2019 Restaurant Success Report, 67% of restaurants pay for social media ads, 53% pay for sponsorships, 42% pay for Google or search engine ads, and 32% pay for newspaper or magazine ads.
It's important to think about the following channels:
Social Media Advertising (Facebook, Yelp, Instagram, and TikTok)
Google & Search Engine Ads
Email Marketing Tools & Platforms
Community Events & Sponsorships
Video Commercials
Digital Menus and Signage
Print Ads and Direct Mail
Navigate potential marketing costs with our guide to How to Create Your Restaurant Marketing Budget.
Marketing Ideas for Your Cafe
Start off by thinking about what distinguishes your cafe from the competition. Do you have tons of seating? Lots of outlets and plugs? Feature art from local painters? Do you have an open mic night? It's important to remember that you're selling an experience.
1. Leverage your business' selling point
Think about ways you can position your cafe and use it to your advantage – then make sure your marketing message aligns with that.
Spoken Cafe in Chicago was founded by Southern natives, and they infuse Cajun flavors into their recipes and specials. With an active social media presence and website, Spoken attracts locals and visitors by showcasing their unique menu items.
Restaurant Marketing Plan
Create a marketing plan that'll drive repeat business with this customizable marketing playbook template and interactive calendar.
Download
2. Mix in offline marketing strategies such as promotions and local partnerships
Digital marketing is essential for brick-and-mortar cafes, but don't forget about the power of using offline tactics as well.
Offline marketing strategies for cafes include:
Offering discounts to students or healthcare providers
Joining your local chamber of commerce and attending networking events to build your local business reputation
Placing an ad in a local newspaper or university newspaper with a coupon
Hosting fundraising events in your cafe and offering discounts
Using direct mail to send out a discount code for a free drink or snack to addresses within a 10-mile radius
For example, Mimi's Cafe offers a 20% Back Fundraiser Program where they allow schools, booster clubs, sports organizations, or charitable groups to run fundraisers Monday-Thursday. They offer 20% off food and non-alcoholic beverages to members who show their fundraising flyer.
3. Run a Facebook advertising campaign on social media
There are over 2.910 billion monthly active users on Facebook, making it one of the most popular platforms in the world for advertisers. Run a simple local campaign by targeting anyone within a 5-10 mile radius of your cafe. If you have a lunch promotion, you could set the ad to display during lunch hours and on certain days of the week.
4. Host an influencer event
Influencer marketing is projected to expand to a $16.4 billion industry. Whether you decide to focus on building your community on Yelp, Facebook, TikTok, or Instagram, having an influencer marketing strategy will be helpful in growing your following and brand awareness.
The Ultimate Guide to Restaurant Branding
Use this guide to get tips on how to create a restaurant brand that stands out, attracts customers, and drives repeat visits.
Download
Yelp Elite Squad member events attract local foodies and influencers to generate engagement on the platform. As most attendees only expect a free meal, this is an affordable way to gather new reviews and leverage the influencers' community.
How to Measure the Effectiveness of Your Cafe Marketing Strategy and Make Adjustments
It's important to monitor your progress and measure your results to get smarter with each campaign.
Here are some ways to measure the effectiveness of your marketing strategy:
If you run a Facebook (Meta) ad, you can track your ad spend and conversions using their ads manager. Read more on how to use Facebook ads for restaurants.
If you run a direct mail campaign, you can keep track of how many customers actually brought in the flyer and compare it to the cost of how much you spent on the campaign.
Using Google Ads? Pay close attention to your CPC or CPL and compare it to your average ticket price.
With email marketing, you can track open and click-through rates.

With email, if you're finding that your open rates are low, the issue is most likely your subject line. Improve it and your open rates will rise.

If your click-through rates are low, focus on improving your call-to-action.
The success of your restaurant marketing efforts depends on measuring results against your own goals, rather than generic industry benchmarks.
What are the most common restaurant marketing strategies for cafes?
Most restaurant marketing strategies use a mixture of email marketing, social media, and loyalty programs.
1. Email Marketing
With email marketing generating $42 for every $1 spent, it's one of the most effective and cost-effective ways to market your cafe. You can use email marketing to:
Remind your customers about your latest promotion
Update them about seasonal additions to your menu
Make them aware of changes in hours
Build a relationship with them by sharing your story
2. Social Media
89% of U.S. diners have a social media account, and 45% have tried a restaurant for the first time because of a social media post made by the establishment itself.
You can market your cafe using social media by sharing posts and videos that:
educate visitors on different types of coffee
showcase popular dishes or interesting drinks
feature employees
show the inside of your cafe
connect with customers by letting them know more about you and your business
Old Town Coffee and Cake had a video go viral with 14.1M views, featuring a behind-the-scenes look at how they train their baristas.
Cafe Lola knows their target market is on the lookout for a cute and trendy spot to sip coffee and uses that to their advantage by showcasing their beautiful interior.
Learn more about restaurant social media marketing and the best ways to reach new customers online.
What are effective marketing strategies for new cafes?
When first launching a new restaurant or cafe, the most important thing is getting your name and cafe brand out there, and making sure your online presence is up-to-date.
1. Google Business Profile
A Google Business Profile is important because it lets you post updates to searchers putting in queries like "cafes near me." Your updates appear on the local panel and on Google Maps, making them an efficient way to increase traffic to your website and boost sales.
Having a Google Business Profile makes it easy for you to:
Create posts, offers, and events
Respond to reviews
Send and receive messages
Post answers to questions
Setting up a Google Business Profile is free.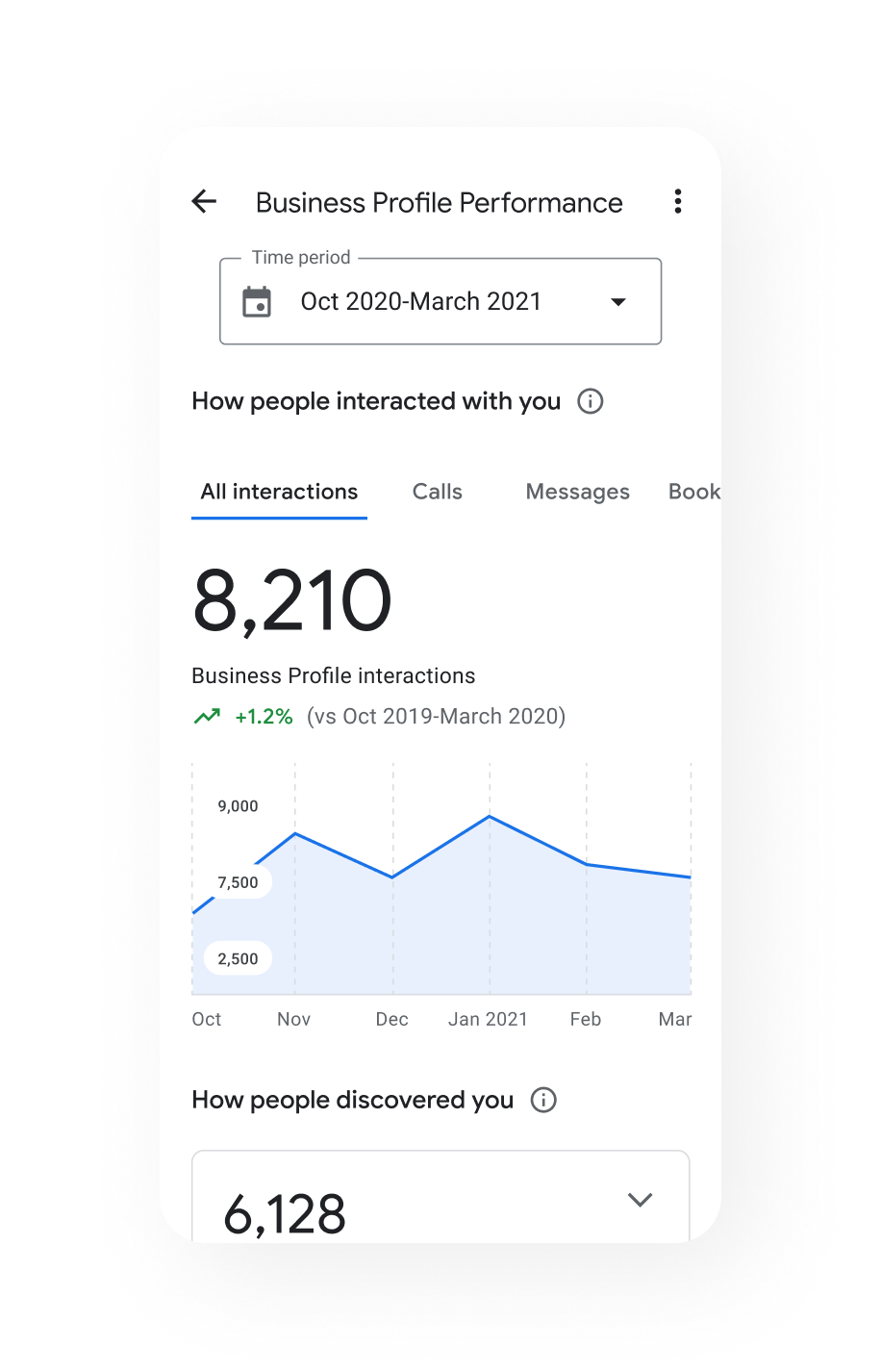 2. An Optimized Yelp Page
Yelp is a goldmine for restaurants since it serves as an online directory for consumers to discover local businesses. 92% of users make a purchase after visiting the site, and Yelp boasts over 178 million unique visitors monthly across mobile, desktop, and app platforms.
Here's how to market your cafe using Yelp:
Upload your own photo slideshow.
Use this to your advantage and focus on capturing shots of your cafe interior, your most popular dishes, your friendly staff, and more.


Fill out your Yelp Profile completely and add your amenities.
Make sure your business is listed under the right category and add the amenities you offer (Do you have Wifi? A Drive-Thru? Are you Dog-Friendly?). Don't forget to upload your store hours and menu.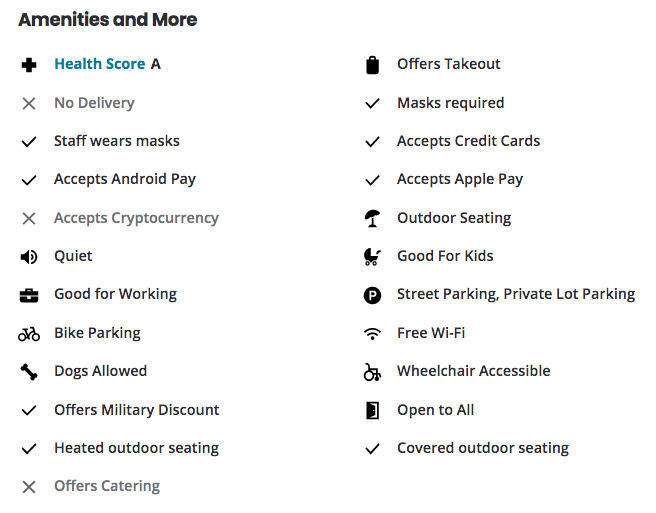 Source: Yelp
3. Using SEO
You'll want to optimize your cafe using SEO, to make it as easy as possible for locals to find your business. Ensure your business information like name, address and hours are consistent across all platforms.
As a brick-and-mortar cafe, you can also use local keywords in your content.
Local keywords contain location-specific phrases, such as "Cafe in Long Beach".
If you were near a college town, you could write "Our coffee shop has plenty of seating which makes it perfect for students from (local university here). We're located in (address here), only 5 minutes away from downtown (city)."
What are effective marketing strategies to increase cafe revenue?
Repeat customers spend up to 67% more than new customers, meaning that increasing customer loyalty plays a big part in increasing revenue.
Investing in a customer retention strategy will help ensure that you keep your loyals happy and continue to drive in new faces.
1. Send a post-purchase email
This is the automated message sent after a customer has purchased a product.
You could use these automated emails to:
Ask your customers to write your cafe a review.
Recommend a similar product that they may enjoy based on their purchase.
Remind them to join your loyalty program to start redeeming their rewards.
Ask if they have any recommendations on what they'd like to see in-store.
Explore Toast marketing and email features that help automate receipts to save time for your staff.
2. Invest in a loyalty program
A loyalty program is a great way to encourage repeat customers. It can be as simple as offering a free coffee after 10 visits, or something more involved, such as offering points-based rewards.
Here's an example of Sprinkles cupcakes loyalty program.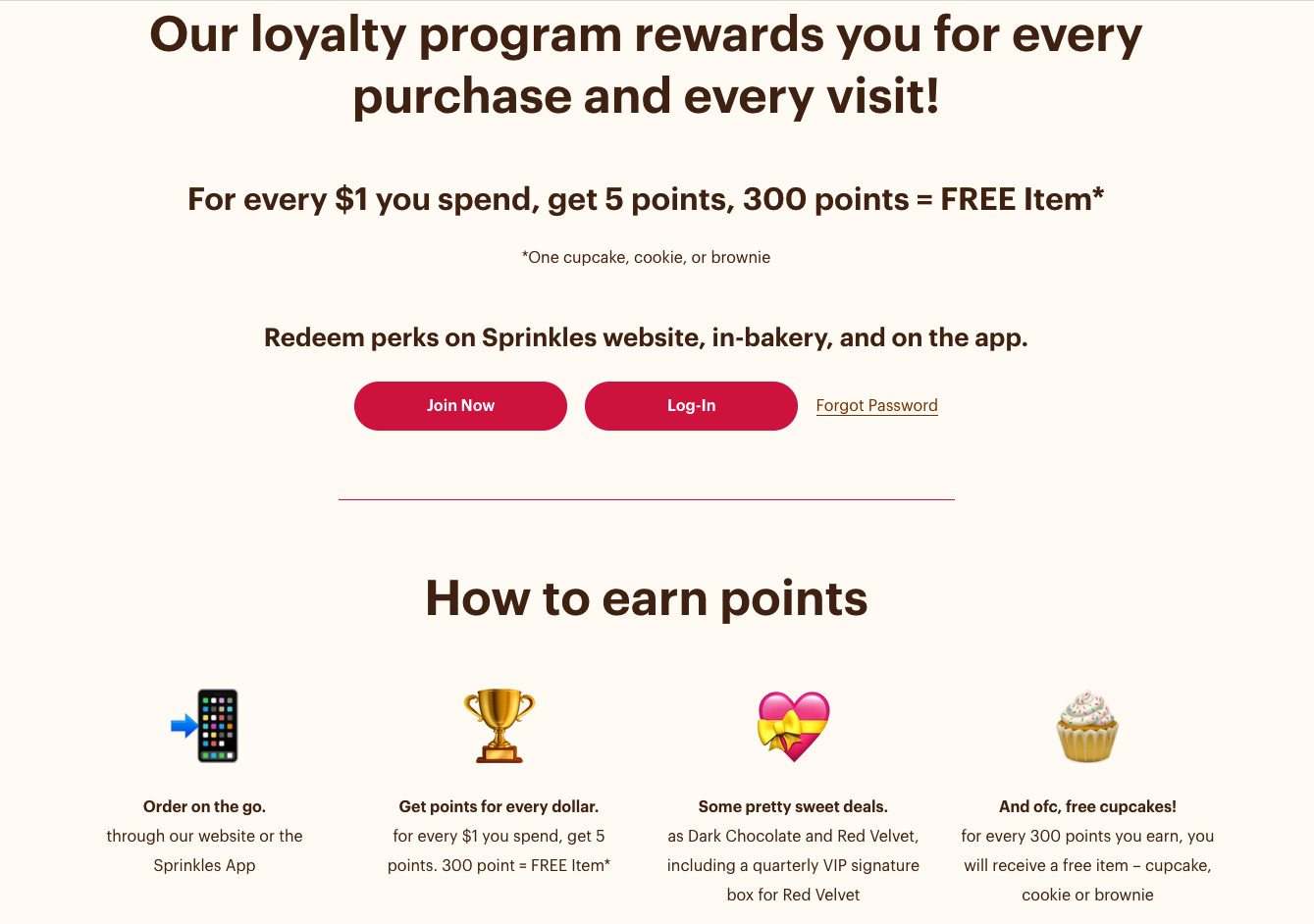 Be sure to train your staff on how to advertise your loyalty program, as they have the most interaction with your customers on a daily basis. Simply asking customers if they want to sign up for the program at checkout can yield bigger results than you think.
Make it easy for your customers to view and redeem their perks. Toast's restaurant loyalty program allows you to set up sign-up bonuses for repeat customers and provide birthday rewards.
3. Offer exclusives to your most loyal customers
Reward your most loyal customers with free samples of upcoming menu items, access to member-only hours, or invites to private tasting events.
Bringing in New Cafe Customers Starts with a Strong Marketing Strategy
Hopefully, you're feeling inspired to use the marketing tools available to you and boost your cafe's promotion strategies. Need more help with restaurant operations and growth? Subscribe to the Toast On the Line blog.
Related Cafe Related Resources