With 60 million coffee drinkers in the U.S. saying they need coffee to start their day, it makes sense that you're considering starting a coffee shop. People love their coffee! Statistic Brain cites that Americans spend 18 billion dollars annually (billion - with a "B") on their beloved brews.
In theory, starting a coffee shop sounds like a fun idea, but it's no small investment. According to Crimson Cup, the cost of opening a coffee shop ranges from $80,000 to $250,000. Aside from the financial load, there are many other considerations to be made before pursuing the endeavor.
Is there a fitting location available?
How do you handle accounting?
What about licensing and permits?
Consider this article to be a comprehensive checklist and resource compilation to better inform your coffee shop planning should you decide to take the plunge.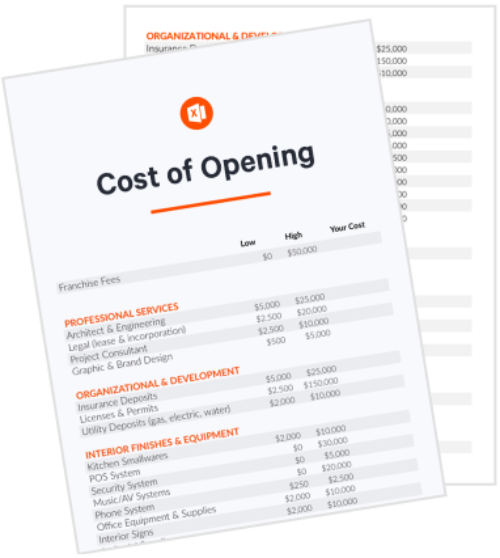 The Cost of Opening a Restaurant
How much does it cost to open a restaurant? Find out using this interactive calculator from Toast.
Download
How to Start a Coffee Shop: 20 Considerations
1. Coffee Shop Business Plan
Teachers provide rubrics to their students at the start of the semester to ensure they know everything that is expected of them. Similarly, a coffee shop's business plan is an organizational outline to ensure future success. It helps you map your vision for your coffee shop and will include pieces like your competition, staffing hierarchy, marketing plan, policies, operations overview, and accounting strategy. A huge part of developing a business plan is figuring out where you're going to get funding from to make your restaurant dreams a reality.
Whether your goal is to open a new location, invest in new equipment, or just manage cash flow over the next few months, you're going to need a reliable source of funding to make your dreams a reality. Toast Capital offers restaurants access to fast, flexible funding for any restaurant need. Toast restaurants may be eligible for financing from $5K to $250K. Toast Capital Loans have one fixed cost - with no compounding interest and no personal guarantees. Better yet: Once approved, you can receive your funds as soon as the next business day.*
More Resources
2. Location
In choosing a location for your coffee shop, you'll want to consider factors like rent cost, competitor locations, neighborhood trends, target market, visibility, size of the site, previous tenants, and even your gut feeling. Location choice is no small decision, so take your time!
More Resources
3. Menu
A smart menu design can capture your restaurant's unique brand and culture as well as drive revenue. The design should illustrate your cafe's vision to your customers. Some basic menu tips are to keep the menu simple (without too many options), stick to your brand, know what the competition is offering, and get feedback before finalizing.
More Resources
4. Coffee
After all, the coffee is the core ingredient, isn't it? Two main considerations are roaster choice and latte art. You should sample many roasters before choosing and consider going local. Cafe-goers love buying local! Decorate that lovely local coffee with latte art both instills a sense of pride in your baristas and ensures your customers remember the care you put into your product.
More Resources
5. Equipment
As coffee will be your foundation, you'll need the equipment to help you prepare it. Choose your espresso machine and water filtration system wisely. It's important to be willing to invest, but don't feel the need to break the bank for brand name's sake.
More Resources
6. Inventory
Do yourself a favor and be proactive about inventory management from the start. Even better if you choose a POS with inventory management software. Inventory can help you monitor food/beverage cost percentage, which is one of the most important statistics for your cafe.
More Resources
7. Pricing
Proper pricing is crucial to your coffee shop's survival. You'll want to ensure all of your product costs are covered. Use menu engineering to determine which products are your plow-horses, stars, dogs, and puzzles in terms of profitability and popularity.
More Resources
8. Values and Culture
Core values and culture are additional important foundational pieces to support your coffee shop's success. Having clear and evident values and culture will result in loyal customers, happier employees, and higher profits.
More Resources
9. Brand
When crafting your brand, ask yourself who you are, what you're doing, and why you're doing it. The foundation of your brand should be built on the values you seek to exemplify. Once established, you'll want your brand to be consistent and recognizable.
More Resources
10. Accounting
Whether you choose to outsource the accounting or hire someone to keep things in-house, you'll want an expert to handle this complex matter. There are so many moving parts to opening a coffee shop - your finances should be one aspect that is being handled with care.
More Resources
11. Marketing
Don't fall into the "build and they will come" trap. Make sure to market early, consistently, and strategically. Marketing should start way before you open with strategies like offering free coffee samples, dropping BOGO coupons in nearby businesses, and a social media campaign.
More Resources

12. POS System
Choosing a POS system is one of the most important aspects of opening a coffee shop. This piece of technology will be the foundation for your entire operation. It should be reliable and innovative so you can focus on customer service and stay ahead of the competition.
More Resources
13. Training
In addition to finding an efficient POS system, your POS partner should offer comprehensive and regularly updated training content to keep your employees up to date on how to use the technology. Aside from being up to speed on the technology, your baristas should be trained in how to properly craft coffee masterpieces.
More Resources
14. Education
A key to success is staying educated about your industry. You should be following trends, getting certifications, attending trade shows, and subscribing to magazines like QSR Magazine and Restaurant Hospitality. Just as quickly as you learn something new, there will be another trend, so it's important to keep up!
More Resources
15. Ergonomics
Just like physical cafe space, ergonomics is currency. The layout of your business should allow baristas to minimize the amount of steps they take, therefore maximizing profit and order fulfillment time. This leads to happier customers and a more successful coffee shop.
More Resources
16. Licenses/Permits
Acquiring the proper licenses and permits is one of the most grueling parts of opening a coffee shop. The legalities involve much paperwork and patience and the more informed you are from the start, the better off you are.
More Resources
17. Hiring
You'll want to immediately identify another person to help you run the restaurant. You can't do it alone! For baristas and cooks, referrals are a great place to start. It's also a good idea to hire from a restaurant-specific job board. One tip to recruiting success is to keep your brand, values, and culture in mind. Consider whether or not your new hire will be a good fit!
More Resources
18. Online Ordering
You don't have to implement online ordering, but the statistics indicate a real opportunity for success if you do. QSR Web found that digital restaurant ordering is growing 300 percent faster than dine-in traffic. Implementing an online ordering program could be what sets you apart from your competitors or helps you in the fight against corporate coffee chains.
More Resources

19. Rewards & Loyalty
It's important to entice your customers to come back with great coffee. In addition, restaurant loyalty programs increase customer visitation frequency to your shop by an average of 35%. Even further, these customers spend 46% more with businesses that have rewards programs!
More Resources
20. Gift Cards
Not only will your customers want to give the present of a gift card to their loved one, it'll also mean extra cash in your pockets. Customers almost always spend more than the value of the card when they make purchases with gift cards. Use a POS system for restaurants with integrated gift cards.
More Resources