DISCLAIMER: This content is provided for informational purposes only and is not intended as legal, accounting, tax, HR, or other professional advice. You are responsible for your own compliance with laws and regulations. You should contact your attorney or other relevant advisor for advice specific to your circumstances.
What Do You Need to Start a Coffee Shop Business? (Checklist)
An average of 400 million cups of coffee are poured every day in the U.S. and with 79% of coffee drinkers admitting to having at least one cup every day. That adds up to a whole lot of mojo.
Coffee has long been a staple of American life and the trend shows no signs of slowing down anytime soon. That's why it's no surprise that coffee shops represent the fastest growing segment of the food industry, with a 7% annual growth rate lending itself to the coffee shop market being projected to hit $237.6 billion by 2025. These numbers look promising and they pose the question, "Who wouldn't want to open a coffee shop when the industry is booming in such a major way?"
However, before you start placing bulk orders for aprons and portafilters, remember that joining this growing league of coffee shop owners may take more time, money, and resources than you initially think. Learn more about how to open a restaurant with the best chance of success and profitability.
How Much Money Do You Need to Start a Coffee Shop?
In theory, starting a cafe sounds like a fun idea, but it's no small investment and there is no single, easy answer to this question. Instead, the cost of starting a coffee shop ranges depending on the location, size, and design of your shop. According to the successful coffee shop chain Crimson Cup, the range of costs can be:
$80,000 to $300,000 for a coffee shop with seating

$80,000 to $200,000 for a coffee shop with a drive-thru only

$80,000 to $300,000 for a coffee shop with both seating and a drive-thru

$60,000 to $105,000 for a coffee stand or kiosk

$50,000 to $154,000 for a coffee food truck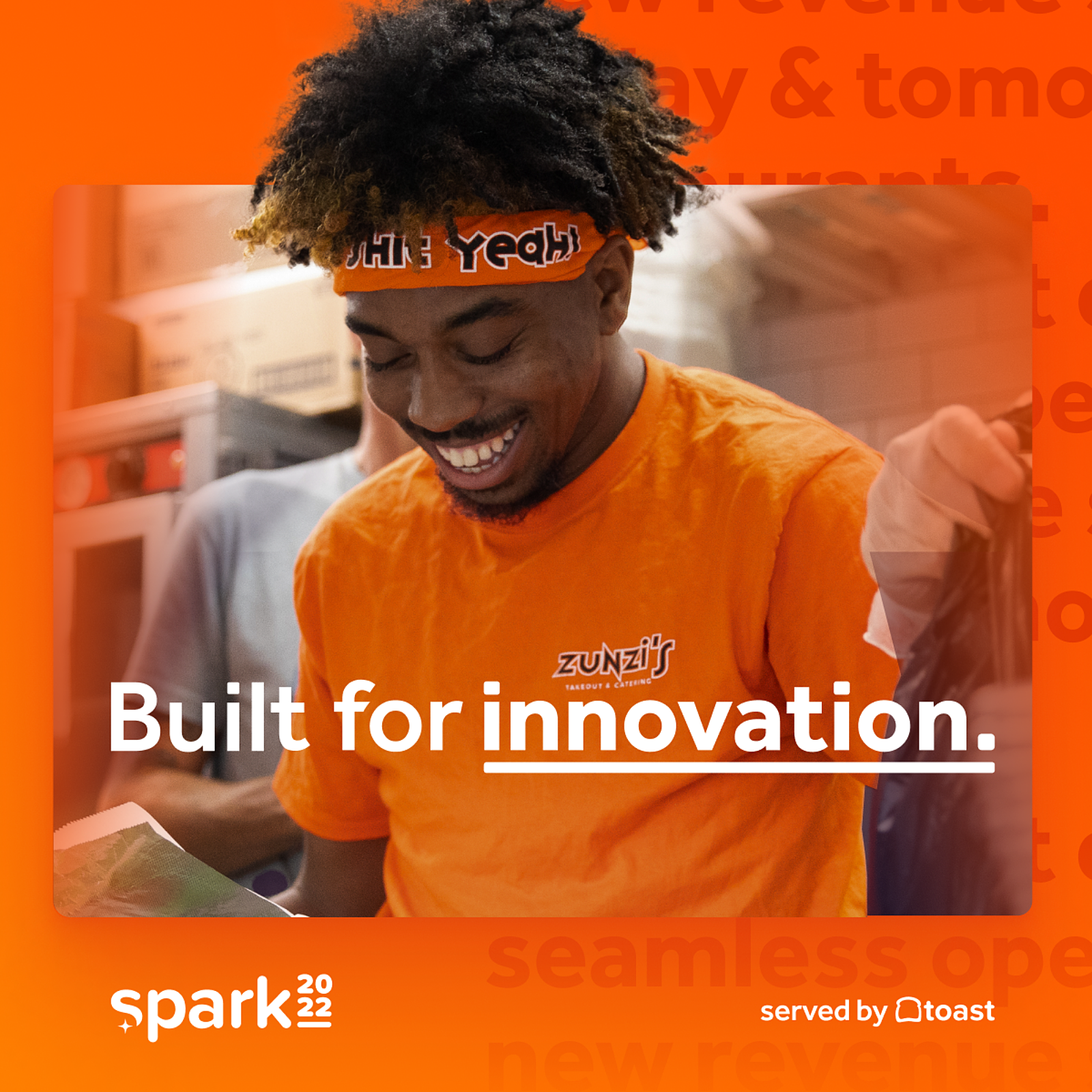 Spark: Served by Toast
Learn how Toast is building better experiences for restaurants, guests, and staff at Spark, an innovation event for restaurant people.
What Do Coffee Shop Startup Costs Include?
Like most restaurant startup costs, when you open a cafe there are a few things you'll need to pay for up front using your own startup capital, a small business loan, or other forms of restaurant financing.
Real estate + utilities

Inventory (namely, coffee!)

Equipment

Tables, chairs, decorations

POS system + other technology

Marketing and promotions
Once you've considered the average cost of opening a coffee shop for the specific type of establishment you want to open along with some of the more specific details on what you need capital for, you're ready to dive into the nitty gritty details of getting your store up and running.
To help you get started on your journey to coffee shop ownership, we've created this 20 step checklist to keep you on track until opening day.
Restaurant Opening Calculator
This calculator lays out some of the fundamental financial costs of opening a restaurant, so you can start planning and bring your dream restaurant to life.
Get free download
Opening a Coffee Shop Checklist
1. Create your coffee shop business plan.
Teachers provide rubrics to their students at the start of the semester to ensure they know everything that is expected of them. Similarly, a coffee shop's business plan is an organizational outline to ensure future success. It helps you map your vision for your coffee shop and will include pieces like:
Who your competition is

Your staffing hierarchy

The outline of your marketing plan

An overview of the workplace policies you plan to enact

A clear operations overview and accounting strategy

And last but certainly not least, a huge part of developing a business plan is figuring out where you're going to get funding from to make your restaurant dreams a reality.
2. Find your coffee shop location.
Whether your dream cafe is in a brownstone, a food truck, or somewhere in between, the process of finding the best place for your shop can be a long and arduous process. In choosing a location for your coffee shop, you'll want to consider factors like:
Rent cost

Competitor locations

Neighborhood trends

Where your target market is located

Visibility

Size of the site

Previous tenants

And even your gut feeling
Location choice is no small decision, the best way to go about finding the perfect location is to take your time and not to rush the process. For a crash course in Restaurant Real Estate 101, check out this post: How to Find a Site for Your Restaurant.
Restaurant Floor Plan Templates
Use these restaurant floor plan templates to get inspired as you map, or reimagine, the layout and space setup for your restaurant.
Get free download
3. Determine your coffee shop menu.
A smart menu design can capture your restaurant's unique brand and culture as well as drive revenue, all factors that have the power to make or break a coffee shop in its first years in business. Menu design shouldn't be taken lightly, instead it should be designed with intention in an effort to illustrate your cafe's vision to your customers.
There's more to cafe menu creation than meets the eye. In addition to there being a glossary of menu terms to know, here are some basic menu tips to keep in mind when designing the menu for your coffee shop:
Keep the menu simple (without too many options)

Stick to your brand

Know what the competition is offering

Get feedback before finalizing your menu design
4. Choose your coffee.
After all, the coffee is the core ingredient, isn't it? There are two main considerations to keep in mind when choosing your coffee provider: choosing a roaster and latte art. Before choosing which coffee you will be offering, take the time to sample as many roasters as you can in order to choose the coffee that speaks to you and your brand.
Here's a tip: consider going local. Cafe-goers love buying local! And when you decorate that lovely local coffee with latte art you will be instilling a sense of pride in your baristas, while ensuring your customers remember the care you put into your product along the way.
5. Order your coffee shop equipment.
With coffee as the foundation of your cafe, you'll need the right equipment to help you prepare it. When ordering equipment for your coffee shop, it's important to be willing to invest, but don't feel the need to break the bank for brand name's sake.
Here is a rundown of the essential equipment for opening a coffee shop:
Espresso machines

Coffee grinders

Coffee brewer

Blender

Refrigerators and coolers

Water source

Dishwasher
6. Manage your coffee shop inventory.
Do yourself a favor and be proactive about inventory management from the start. Even better, set yourself up for success by choosing a POS with inventory management software.
One of the most important aspects of running a successful cafe is monitoring your food, beverage, and materials costs. Before you open for business, you'll want to familiarize yourself with this Glossary of Restaurant Inventory Management Terms to Know as well as take a crash course in Restaurant Food Inventory 101.
Here is a quick overview of the specific inventory you'll need to run a coffee shop:
Equipment mentioned above

Coffee related paper and ceramic products

Coffee beans as well as additional food supplies like various creamers and sweeteners

Various other products including napkins, straws, and stirrers
7. Determine your coffee and food pricing.
Proper pricing is crucial to your coffee shop's survival. You'll want to ensure all of your product costs are covered while offering fair prices to your customers. Use menu engineering to determine which products are your plow-horses, stars, dogs, and puzzles in terms of profitability and popularity. Remember, it may take some time for you to create the right menu pricing strategy for your coffee shop that boosts your menu items' profit and popularity. The easiest way to get a feel for the pricing standards in your area is to check out the competition.
8. Form your coffee company's values and culture.
Core values and culture are additional important foundational pieces to support your cafe's success. Having clear and evident values and culture will result in loyal customers, happier employees, and higher profits. And the path to creating a coffee shop with values that attract an inclusive group of customers starts with a single job description.
9. Craft your unique coffee shop brand.
The foundation of your brand should be built on the same core values and company culture you seek to exemplify. Once established, you'll want your brand to be consistent and recognizable.
To craft a brand that is a true representation of your values, ask yourself:
Who you are

What you're doing

Why you're doing it
To help you determine the coffee shop brand that is right for you, check out Restaurant Branding Ideas: How to Build Your Restaurant Brand.
10. Choose your restaurant accounting strategy.
When you start a new business one of the first decisions you have to make is choosing whether you are going to outsource your accounting or hire an in-house accounting department. Whether you choose to outsource your restaurant accounting or hire someone to keep things in-house, you'll want an expert to handle this complex matter. There are so many moving parts to opening a coffee shop, your finances should be one aspect that is being handled with care and by someone with experience.
11. Create your coffee shop's marketing strategy.
Don't fall into the "build and they will come" trap. The key to successful coffee shop and restaurant marketing is to market early, consistently, and strategically. Marketing should start way before you open with strategies like:
Offering free coffee samples

Dropping BOGO coupons in nearby businesses

Getting people talking with word of mouth marketing

Partnering with local restaurants or businesses to share promotion

Creating a memorable, well-designed brand for your coffee shop

Developing a comprehensive restaurant social media marketing strategy to spread the word about your coffee shop
Download Toast's Restaurant Marketing Plan to get started creating your coffee shop marketing strategy today.
12. Choose a POS system.
Choosing a POS system is one of the most important aspects of opening a coffee shop. This piece of technology will be the foundation for your entire operation. The system you choose to accept payments and manage your restaurant operations should be reliable and innovative so you can focus on customer service and stay ahead of the competition.
With so many POS systems on the market today, finding the right one to handle all of your coffee shop needs has the potential to be an overwhelming process. Check out Toast's Cafe and Bakery POS system to learn more about how a POS tailored to your business type can help your cafe.
13. Train your staff.
In addition to finding an efficient POS system, your POS partner should also offer comprehensive and regularly updated employee training content to keep your employees up to date on how to use the technology. Aside from being up to speed on the technology, your baristas should be trained in how to properly craft coffee masterpieces as well as be trained on how to properly handle all coffee shop equipment. To create a comprehensive training schedule that upholds all onboarding best practices, take the time to create a thorough training manual that can be distributed to employees upon their hiring.
For a resource to teach your baristas how to make expert coffee beverages, check out Clive Coffee on Instagram. They post helpful videos and have courses on making unbeatable espresso drinks and other coffee shop favorites.
14. Stay educated on restaurant industry trends.
A key to success is staying educated about your industry. And in such a quickly growing industry it's even more important to stay up to date on cafe industry trends. Just as quickly as you learn something new, there will be another trend, so it's important to keep up!
To stay educated, you should be:
Following industry trends

Attending trade shows

Subscribing to magazines like QSR Magazine and Restaurant Hospitality
15. Keep an eye on restaurant layout and design.
The layout of your coffee shop should allow baristas to minimize the amount of steps they take, therefore maximizing profit and order fulfillment time. This leads to happier customers, a more successful cafe, and ultimately more successful baristas. For inspiration, here are 10 Coffee Shop Decor Ideas for 2021.

Restaurant Floor Plan Templates
Use these restaurant floor plan templates to get inspired as you map, or reimagine, the layout and space setup for your restaurant.
Get free download
16. Obtain all necessary licenses and permits to operate your coffee shop.
Acquiring the proper licenses and permits is one of the most grueling parts of opening a coffee shop and involves a lot of paperwork and patience. The more informed you are from the start, the better off you are. Most importantly, it's key to start the process of obtaining all necessary licenses and permits as early as you can. With an abundance of permits and food licenses required to open a new coffee shop and some taking up to 4 weeks to obtain, it's smart to start these processes early to avoid any of them postponing your opening day.
17. Start the staff hiring process for your coffee shop early.
Early on in the coffee shop planning process, you'll want to identify another person to help you run the restaurant. You can't do it alone! For baristas and cooks, referrals are a great place to start. It's also a good idea to hire from a restaurant-specific job board. One tip to restaurant recruiting success is to keep your brand, values, and culture in mind. Consider whether or not your new hire will be a good fit! For a complete rundown of everything you need to hire, manage, and lead the perfect coffee shop team download the Restaurant Staffing Guide.
18. Offer online coffee ordering.
You don't have to implement online ordering, but the statistics indicate a real opportunity for success if you do. Digital restaurant ordering grew by over 100% in 2020 and continues to climb as the preferred food ordering method for most. Implementing an online ordering program could be what sets you apart from your competitors or helps you in the fight against corporate coffee chains.
19. Create a coffee shop rewards and loyalty program.
It's important to entice your customers to come back with great coffee. But that doesn't mean that you should bet it all on the strength of your beans. Consider creating a rewards or loyalty program for your coffee shop to boost sales and awareness.
If you are hesitant, you should know that loyalty programs are proven to boost sales. Take the Starbucks Reward Loyalty Program, for example. Starbucks attributes 40% of its total sales to the Rewards Program and has seen same store sales rise by 7%. With over 16 million active members, the Starbucks loyalty program is one of the most successful programs out there today and goes to show that a little loyalty can make a huge difference.
20. Offer coffee gift cards.
Not only will your customers want to give the present of a gift card to their loved one, it'll also mean extra cash in your pockets. Customers almost always spend more than the value of the card when they make purchases with gift cards and you can even use a POS system for restaurants with integrated gift cards to get started today.
Starting a coffee shop is a risk and an investment with the power to become a place for community, a go-to neighborhood spot for people's daily (or twice daily) coffee run, or a staple for remote workers. With these tools for opening and running a coffee shop, you'll have what you need to raise capital and start your dream cafe.
Related Coffee Shop Resources
Coffee Shop Business Plan Template
Use this free coffee shop business plan template to easily create a great business plan that organizes your vision and helps you start, grow, or raise funding for your coffee shop.
Get free download