You've heard it before: "Location, location, location." The idea that location is often the determining factor in whether a business succeeds or fails is especially true for restaurants. Even with a great concept, rockstar personnel, and a clear strategy, new restaurants often fail because they open in a location that isn't the right fit.
When aspiring restaurant owners look to bring their dreams to life, they often need to attract investors to help get the business off the ground. As part of that process, they must create a comprehensive restaurant business plan where they can lay out their entire vision for the new restaurant. In addition to the restaurant's projected finances, seasoned restaurant investors will also carefully evaluate the restaurant real estate portion of the business plan.
This means that choosing the right location is critical in getting your new business off the ground, and making sure it thrives once it's open.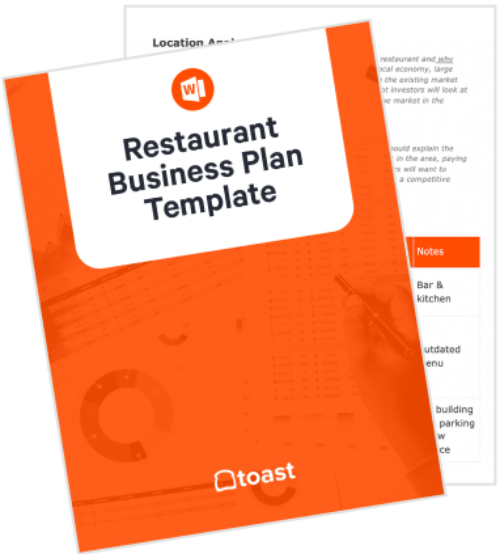 Restaurant Business Plan Template
A restaurant business plan explains in detail how the restaurant will operate once doors are open. Organize your vision and ensure that nothing is overlooked with these free template from Toast.
Download
Selecting the Neighborhood
Before you can look at specific sites for your new restaurant, you need to identify your ideal neighborhood, based on a number of factors.
In most cases, you probably won't sign on the dotted line for your restaurant space until you've received funding from investors. But in order to set the new restaurant up for success, and to attract investors, it's critical that you choose a neighborhood based on the following considerations.
Target Market and Ideal Customer Profile
The first step towards finding the ideal location for a new restaurant is identifying the market and customer profile your restaurant will aim to attract. Describe your ideal customer in as much detail as possible to build a persona. Answer the following questions, in as much detail as possible.
How old are they?

What's their income level, and what do they spend money on?

Do they live alone, with roommates, with a partner, with a family?

Are they married or single?
The idea is to create and describe a clear picture of who you intend to target, and who you believe will become your most loyal customers.
Market Conditions
As you consider neighborhoods for your new restaurant, pay careful attention to how the market in these areas matches up to your target buyer. Note demographic statistics, economic conditions and forecasts, traffic (including foot traffic), and nearby places of interest. This type of information will give you a good sense of how well an area is suited to your restaurant. If the existing market conditions do not seem to align with your vision, it's probably not the best fit for your new restaurant.
Competition
Competition is a big factor in neighborhood selection. What restaurants already exist in the area? How do they compare to your proposed concept? If you're hoping to open a quick service Mexican restaurant, it may not be the best idea to choose an area that is already saturated with restaurants of the same kind. Make a point of looking at not only the type of competition in the area, but also how those restaurants are faring and how your concept is unique. If similar restaurants have not done well in the neighborhood, why will you? If there is a lot of competition in the area, what is it about your concept that is going to give you a competitive advantage?
Selecting the Site
Once you've identified a neighborhood that fits your concept and target market, it's time to select the specific site for the new business. It takes some restaurateurs years to find and lock down their perfect location. Here are some things you should think about as you search for the site for your future restaurant.
Size
The size of the building should be based on your vision for the business. A space may look more than adequate, but restaurant spaces fill up very quickly. Don't just eyeball it. Take the time to consider everything and everyone that will occupy the space. Pick a site based on your intended seating capacity and operations. If you plan to have a bar area and a dining area, make sure both the size and layout of the space will be able to comfortably accommodate them. In the kitchen, you're going to need space for staff, ingredients, and (very large) equipment. The best way forward is to analyze the full potential of the space by drawing out some detailed floor plans.


Visibility
When you're the new sign on the block, a little visibility can go a long way. You need to be able to alert potential customers in the area to the fact that your restaurant exists and is open for business, so you want the local traffic to be able to see your restaurant as they pass by. It's difficult for people to get excited about a new dining option in their area if they can't see it. Do your best to find a location that is visible from the street or in an area with heavy foot traffic. If the concept is a discreet, underground speakeasy, you better have a solid strategy for attracting business in other ways.
Previous Tenants
You may want to look into who occupied the space in the past. How long did they stay in the space and why did they leave? If there have been many restaurants in that location and they have all turned over relatively quickly, it's worth trying to understand why that is.
If possible, talk with some of the previous tenants to learn about their experience in the area and with the landlord (if you're leasing). Unless you uncover a serious issue with the site or landlord (or if you believe in curses), you shouldn't give up on the space just because other businesses have failed in that space in the past. Instead, treat it the same way as your competitive analysis. If the previous tenants were restaurants, how is your concept better suited for the location than they were? If you can't answer that question, then maybe it's worth looking elsewhere.
Finding the right restaurant location can take years. There's a reason that people spend so long looking for the perfect spot; the location can make or break a new restaurant. Make sure that you take your time and consider all relevant factors before picking the site for your new restaurant.