DISCLAIMER: This content is provided for informational purposes only and is not intended as legal, accounting, tax, HR, or other professional advice. You are responsible for your own compliance with laws and regulations. You should contact your attorney or other relevant advisor for advice specific to your circumstances.
Business Plan for Coffee Shops Guide
The market for coffee is saturated and highly competitive – luckily, in the U.S. 70% of people drink coffee every week and 62% every day, generating incredible, consistent demand. Coffee shops have the imperative, and the luxury, of selecting a fraction of that market to target. And since every neighborhood needs one — or a few to choose from — the opportunity for getting into the coffee shop business is huge.
The coffee industry divides coffee shops and cafes into waves based on the kind of coffees served and the brewing methods used. First wave coffee is usually reserved for talking about the kinds of coffee served at restaurants that don't focus on coffee – imagine the pot of generic dark roast you get at your favorite diner or dive. Second and third-wave coffee describes what we generally think of as coffee shops.
The second wave refers to the popular, corporate chains that popped up on every corner in the late 90s and early 2000s – second wave coffee shops tend to serve consistent coffee and market drinks with lots of flavors and syrups.
Third-wave coffee shops focus on the bean – coffees are roasted in small batches and roasters take great care to enhance the desirable flavor notes that occur naturally in coffees. There is also an emphasis on optimizing brewing and extraction to create the best-tasting cups of coffee possible while complimenting the coffee's taste with often housemade syrups or flavorings.
But no matter which type of coffee shop you want to open, once you have your idea you've got a long list of to-dos ahead of you. That's where your coffee shop business plan comes in.
Why Write a Coffee Shop Business Plan?
Like any restaurant business, the process of opening a cafe or coffee shop has dozens of steps. They often overlap, or one needs to be done to start the next one, and things can get complicated quick. That's why you need a map — and that map takes the form of a coffee shop business plan.
The type and style of coffee you want to sell, the customer base you wish to attract, and the experience you want to provide all contribute to the overall success of your coffee shop concept, and all of these factors are clarified by writing a business plan.
A coffee shop business plan is crucial in defining what niche of the coffee industry your what your coffee shop to occupy and determining the best business model and concept to succeed in that niche in your location. Your business plan forces you to think through every single detail of your business, helping you (and potential investors) determine that it's not just viable, but a recipe for success.
How to Write a Coffee Shop Business Plan (Description, Examples, Proposals)
As a genre, business plans are pretty straightforward, which is why this coffee shop business plan template is a helpful tool for imagining and planning your coffee shop. Download a customizable version of the business plan template and read on to learn more about how to make it work for your coffee shop.
Related Business Plan Resources
Coffee Shop Business Plan Executive Summary
Coffee Shop Financial Plan
Coffee Shop Shop Operations Plan
Coffee Shop Management Team
Coffee Shop Industry Market Analysis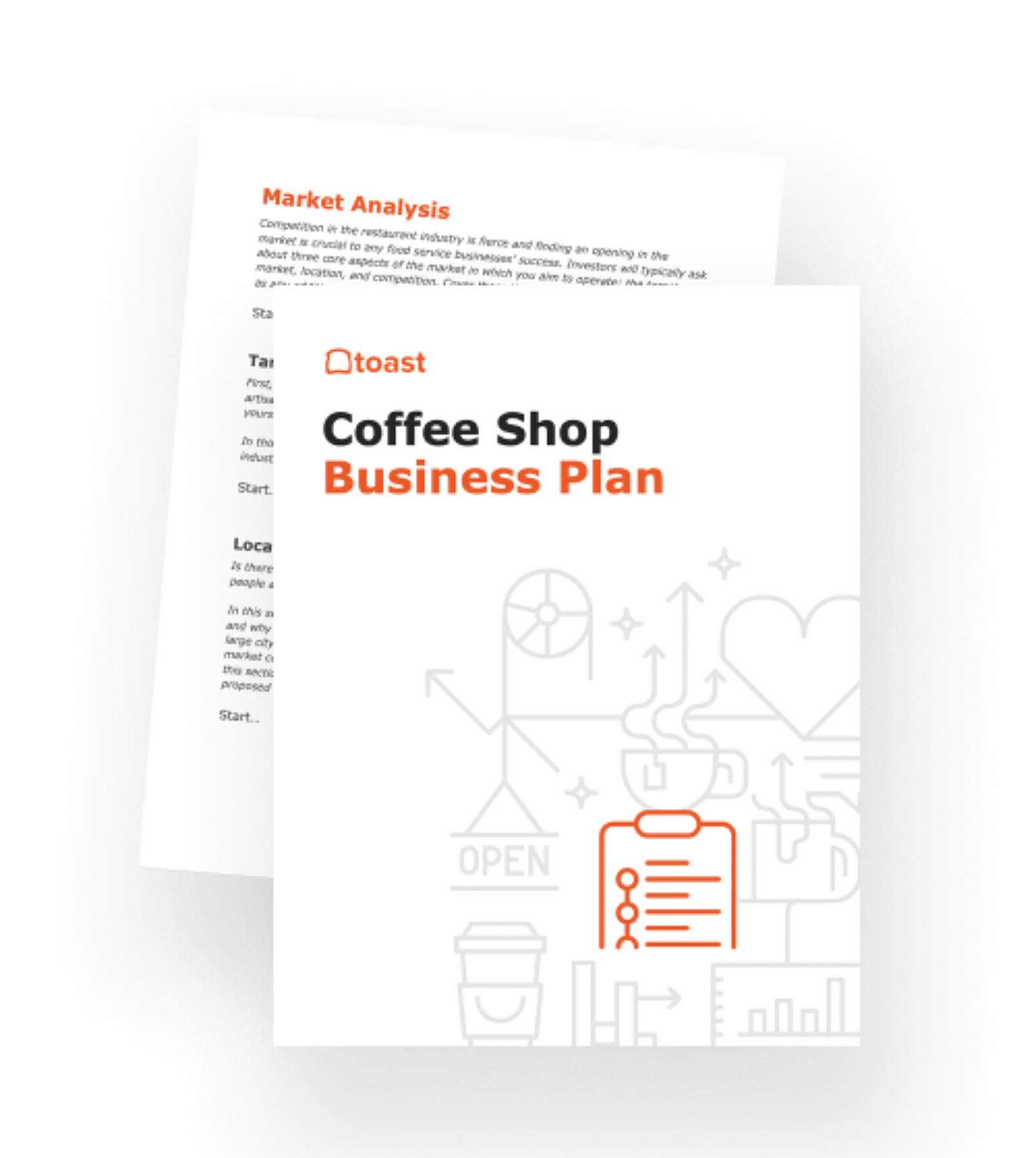 Coffee Shop Business Plan Template
Use this free coffee shop business plan template to easily create a great business plan that organizes your vision and helps you start, grow, or raise funding for your coffee shop.
Download
Elements of a Coffee Shop Business Plan
Executive Summary
A concise introduction to your coffee shop's concept in the form of an executive summary is the first section of a business plan. The executive summary introduces key elements of your business plan, such as an overview of the budget, the business's mission, market, and core values, and a coherent vision for your product and style of coffee service.
Most coffee shops are counter-service restaurants focused on quality coffee, but some function as kiosks, or drive throughs, or even full-service cafes. Knowing what market space you want your shop to occupy in relation to the local competition is crucial.
As you write the executive summary for your coffee shop's business plan, imagine your reader and how you might capture an interest of theirs and persuade them to keep reading and potentially invest.
Company Overview
The differences between a company overview and an executive summary may seem subtle, but the company overview is more of a glossary for the rest of your business plan rather than a summary – more practical than attention-grabbing.
The company overview introduces the type of restaurant, ownership structure, and customer experience. In the case of a coffee shop, the company overview will define the brewing processes, coffee and food products, location, and labor and hiring practices for baristas.
The company overview is also your chance to communicate the more conceptual visions for your brand to investors. Consider including information about how your coffee shop's name, logo, color scheme, and presence make your customers feel and contribute to the experience.
Team and Management
Management and staffing in coffee shops can be highly specialized and competitive, and it's important to make decisions about team structure and management before you start hiring. Baristas are often asked to be salespeople, line cooks, and a beverage development team in addition to producing coffee drinks.
Who will be in charge of research and development for coffee drinks and brewing methods? Will you be outsourcing for food, cross-training baristas to make food, or hiring a kitchen staff? Are you hiring someone to do marketing and PR online and on social media, or do you expect your manager to fill that role as well?
Also consider including information about what kind of jobs you plan to create, whether they are full-time or part-time, how you will hire or train workers with the right skill set, and how you plan to provide benefits and good pay. Your staff will factor into other crucial elements of your business plan, such as the budget and food/beverage production, so it's important to have a concrete picture of your staffing needs.
Sample Menu
A sample menu is a unique feature of a business plan for a restaurant. Second and third-wave coffee shops, however, are expected to offer certain beverages while you might set your shop out from the competition with offerings unique to your shop.
Drip coffee, iced coffee, espresso beverages, teas – these are all standard. Coffee shops craft uniquely flavored beverages, partner with high-quality roasters, or create an ambiance that is in demand in an area to set themselves apart from the inevitable competition from second-wave corporations.
The sample menu will also force you to think concretely about how you plan to produce and serve the coffees and tea drinks and sandwiches or pastries on that menu. How will you store milk, brewed coffee, kegs for cold brew and nitro, and what brewing equipment will you need?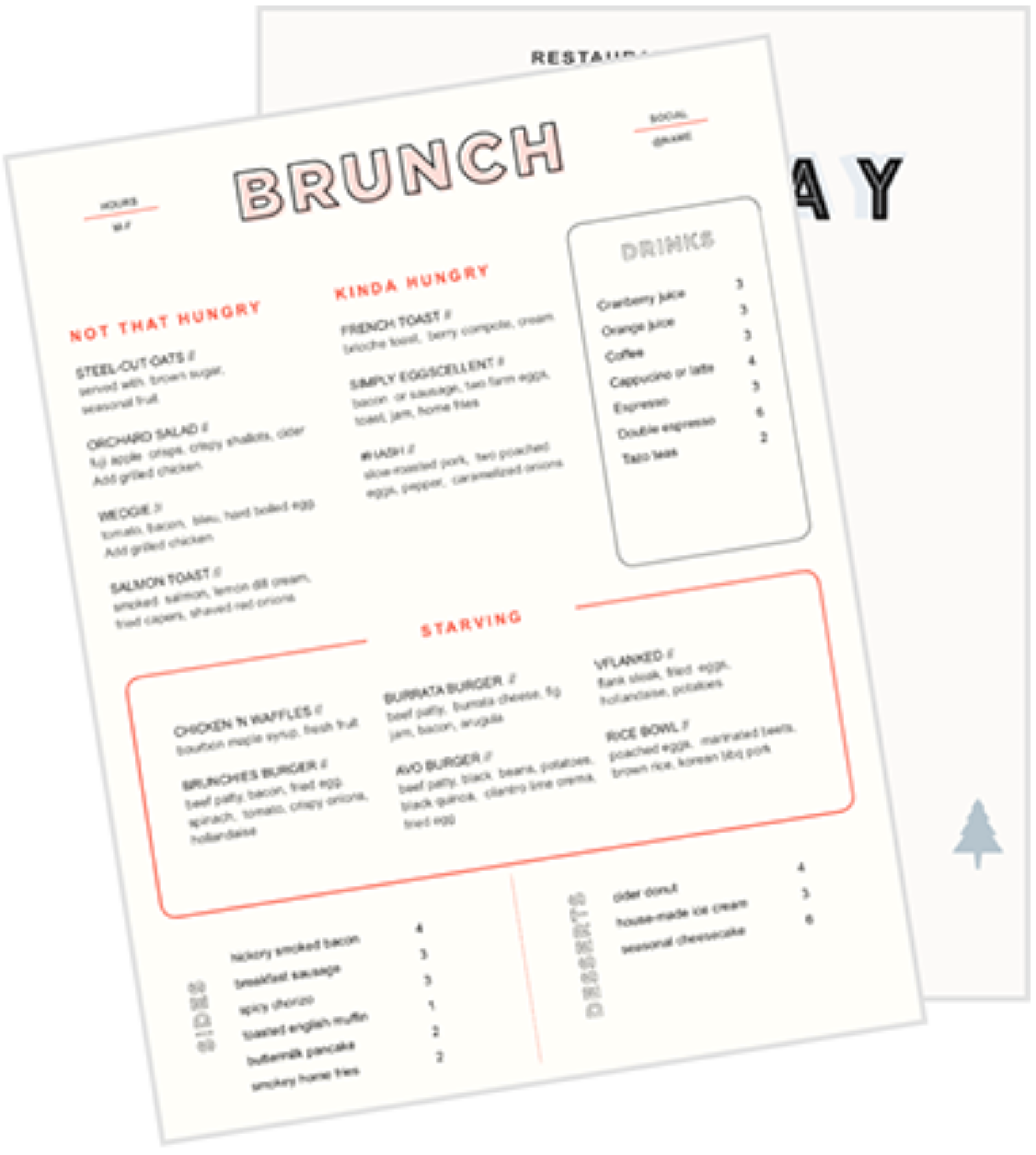 Restaurant Menu Templates
Use these menu templates as a starting point for your menu design or to give your menus a refresh.
Download
Market Analysis
Competition in the coffee industry is stiff and finding an opening in the market is crucial to the success of any foodservice business. Investors will typically ask about three core aspects of the market in which you operate: the target market, location, and competition.
There is always a demand for coffee – but, does what you want to offer meet a gap in what other local coffee shops offer. Maybe there is a space in the market for a coffee shop with a nice patio or one that has a robust menu for the inevitable customer that makes your coffee shop their office or the lunchtime coffee drinker.
Concerning location, it's not uncommon to see two coffee shops as neighbors – one serving sweet second wave drinks and the other brewing pour overs for adherents of third-wave coffee culture.
That second-wave shop next door isn't your competition nor are you theirs because you attract a different segment of the coffee-drinking population. What you should be concerned about are the other specialty cafes or coffee roasters in the area that might be competing for the same customers. Maybe your shop is set apart, then, by walkability, superior quality, or ambiance.
It's important to research the routes to meeting your sales goals for your restaurant and communicate those routes in your business plan to potential lenders or investors.
Marketing and Publicity
Many coffee shops focus on digital marketing: they stay very active on social media and ensure they have a robust web presence with a great website. Because there is so much competition in the coffee market, a clear, cohesive brand is crucial to helping you attract customers but consistent, quality coffee and service will create regular customers.
You might also think about what opportunities you have to draw customers in by opening your coffee shop as a venue for performers or artists – lots of coffee shops allow local artists to hang prints, paintings, or macramé on the walls, or host open mic nights.
If there's a space in the market for something like that in your community, it might be a good chance to create a loyal, local customer base while supporting local arts. Investors and customers alike, especially if they are locals, will be impressed by your plans to enhance the community.
---
Read this next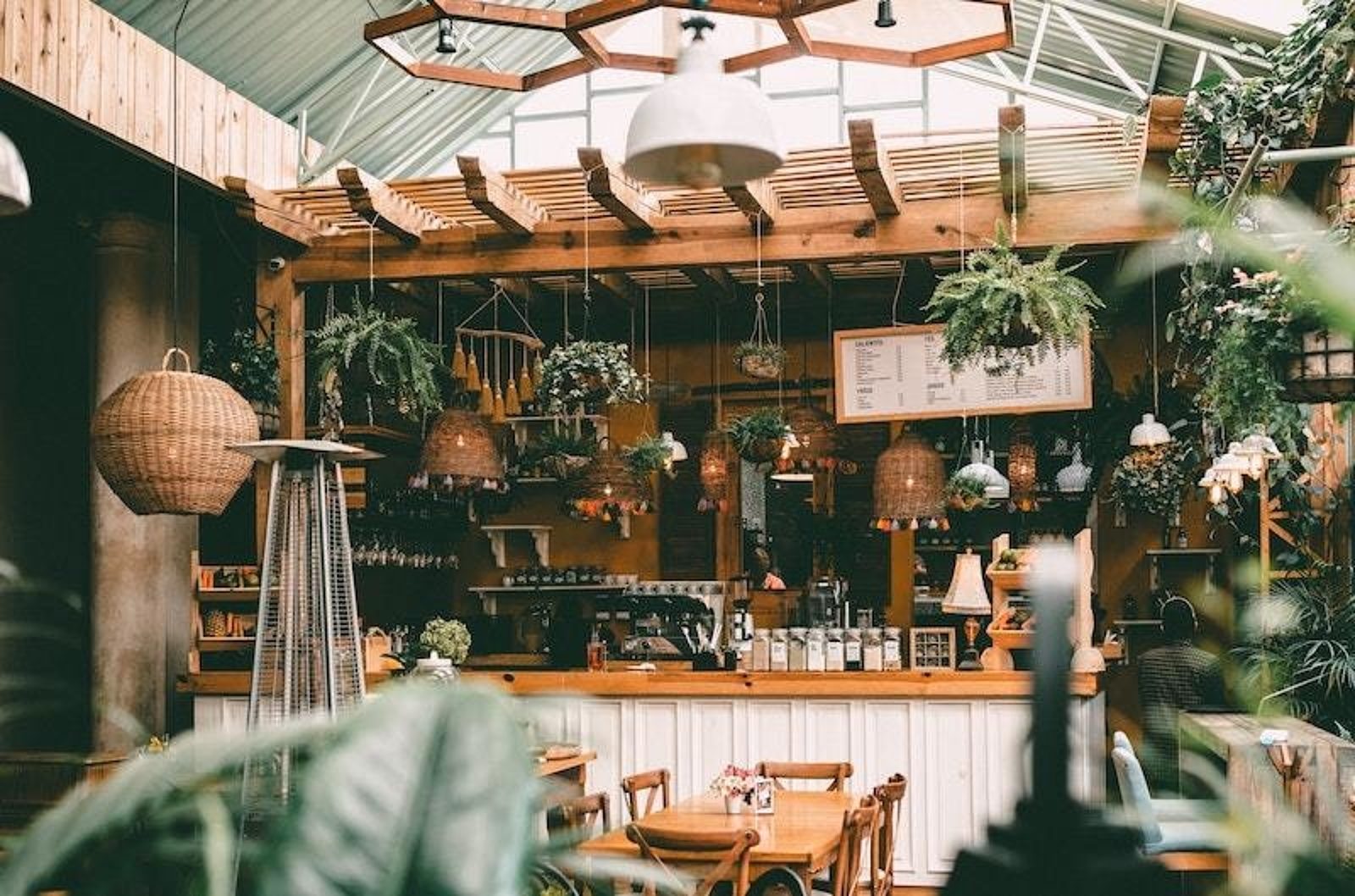 Unique Coffee Shops to Inspire Your New Cafe
The best coffee shops offer something unique: they provide more than just a place to get your morning caffeine fix.
Branded Graphics
One of the most exciting parts of building a business plan can be imagining a cohesive brand for your new business. Think about how the ambiance of your coffee shop and the ethos of your business can be represented through your business's logo and aesthetic. Display your branding consistently throughout presentations and documents in your business plan.
Business Operations
Business plans include information about customer service, the point of sale, sales and inventory tracking, accounting, and the supply chain of the products on your menu. Business operations concerns unique to coffee shops include where you will park the truck and how that spot will let you access your customers.
Do you plan to be an owner/operator in your coffee shop, acting as the general manager and the owner, or do you plan to hire management staff to handle everything from payroll to production? Will you need a seasoned barista to develop brewing methods and beverage recipes or a kitchen manager to make pastries and sandwiches?
Because coffee shops can offer such a range of food and drinks, it's important to plan for the complexities of how management and production will work, how employees are expected to guide customers through the experience, and how you will balance quality, consistency, and speed in production.
These myriad responsibilities are complicated further when spread across the handful of employees on a coffee shop payroll. Balancing employees, products, customers, inventory, and finances can be a daunting task and the business operations section is your opportunity to tell investors that you're up to it.
Sales Forecasts and Operating Expenses
It's especially important when starting a coffee shop to consider management and labor when considering costs: coffee shops are small storefronts with relatively low profit margin, depending on demand, and can easily go in the red when juggling an inventory for a small kitchen in addition to all the necessities for serving coffee and tea drinks.
One common analysis to include in a business plan is a break-even point analysis, which compares how much sales are required to break even with the cost of expenses each month. Investors will be interested in the potential for profit and loss before they contribute to your business, but to produce a profit a loss statement for a restaurant that isn't open yet will require some educated projections.
Finally, a cash flow analysis will detail how you will spend money on labor, supplies, and operations which will show investors that the coffee shop can support itself without additional investment. Consider how the process of coffee beans, teas, pastry, your own and your employees' salaries, and the costs of maintaining the coffee shop and brewing equipment balance at the end of each fiscal quarter.
Financing and Loans
If you are seeking to secure funding, have already secured partial funding, or have a plan to fund your coffee shop, it is crucial to include that information in your business plan.
Some coffee shops go with SBA loans, others get microloans or work with alternative lenders, and others work with brick and mortar banks. Whatever route you choose — and there are so many different funding options! — provide your audience (and potential investors) with your detailed funding goals and plans, including projections and expected expenses.
---
Read this next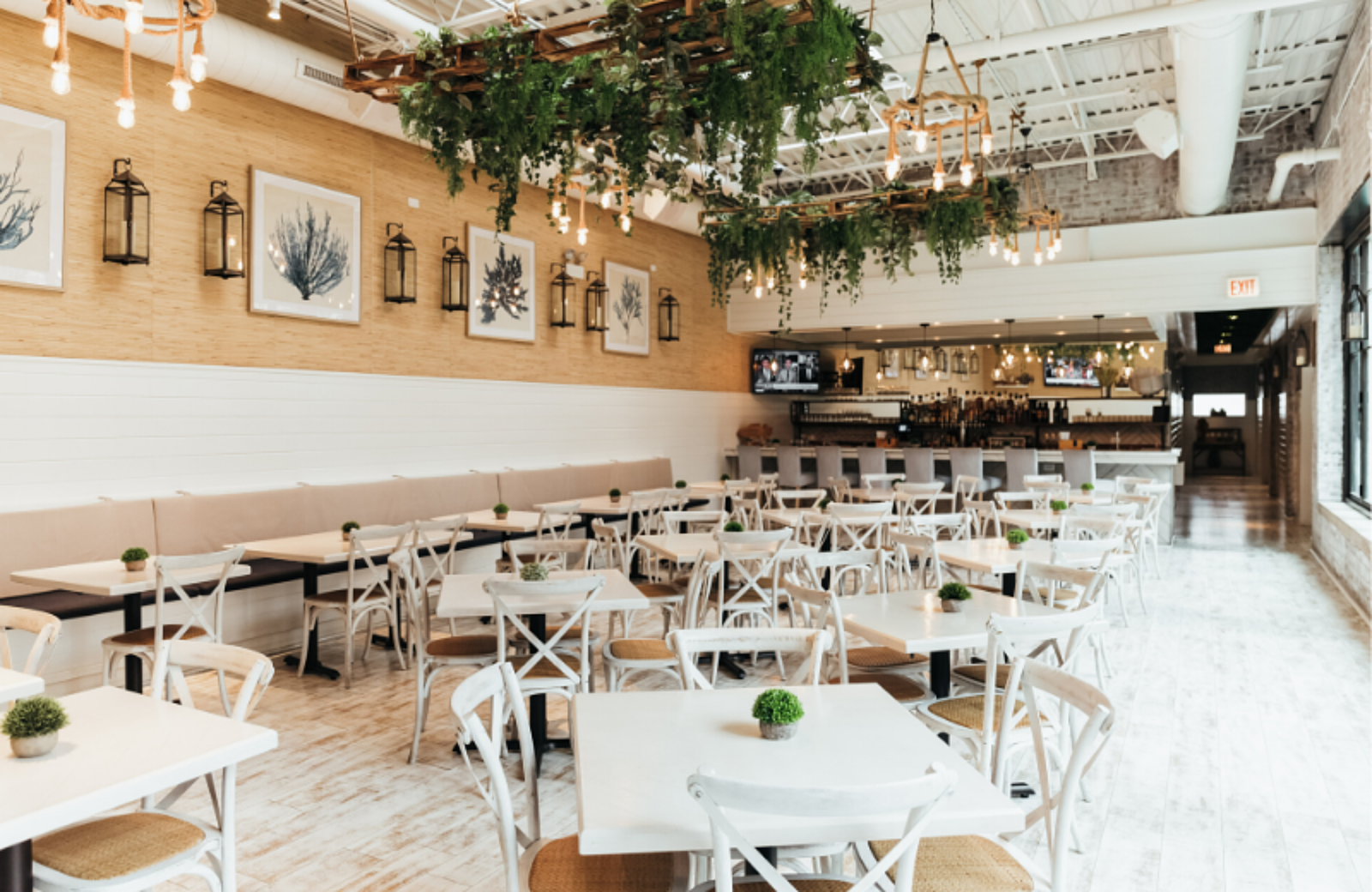 The Complete Guide to Restaurant Financing and Loans
Whether you're opening a new restaurant, expanding your concept, or renovating within your existing four-walls, you're going to need capital to make it all happen.
How to Present a Coffee Shop Business Plan
There are a few ways to prepare to communicate with investors about your business plan and get them interested. As you write and edit your plan, you'll have become the world's only expert on your coffee shop. Remember that the way you talk about your business should be tailored to the situation you find yourself in.
Related Coffee Shop Resources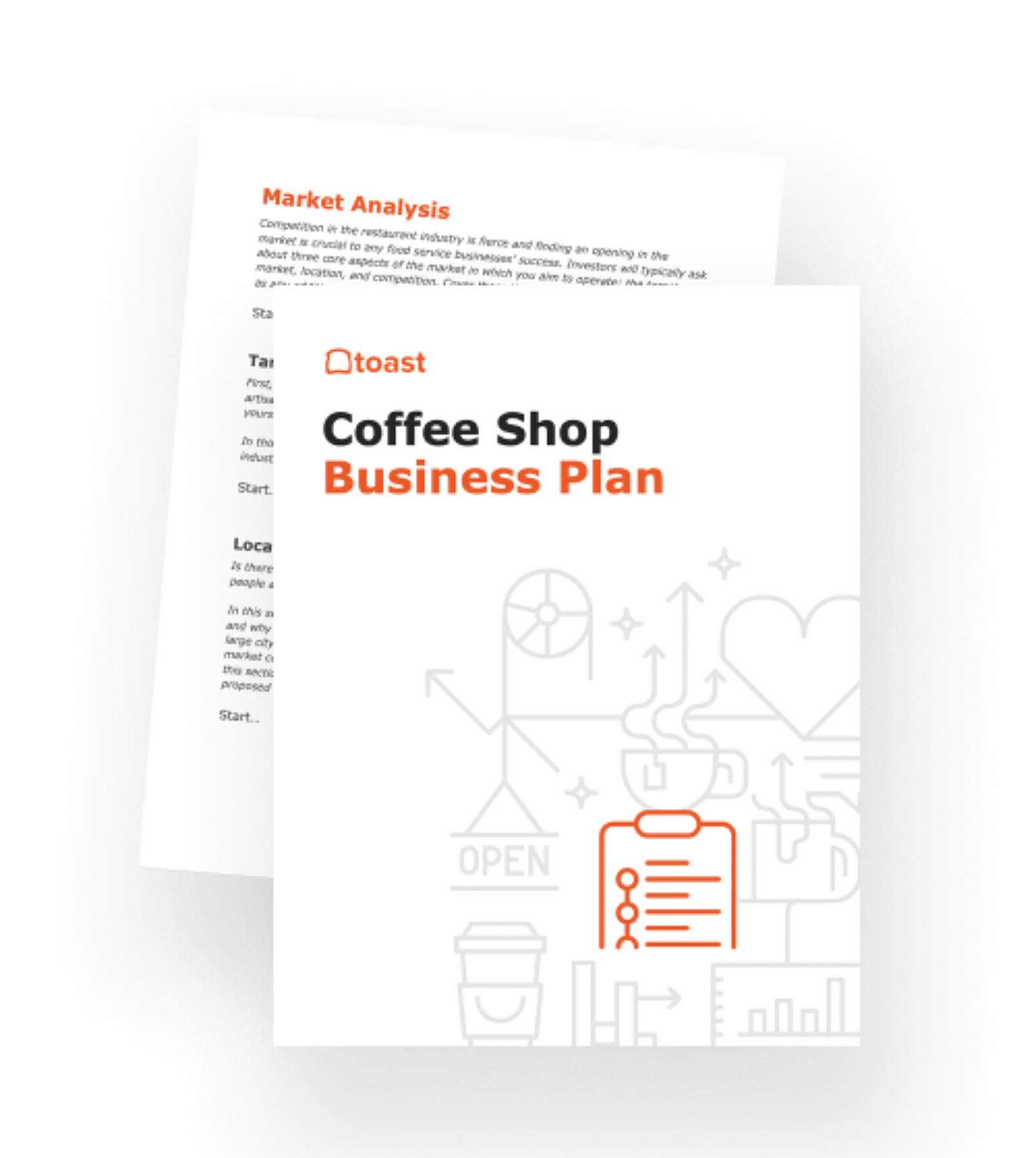 Coffee Shop Business Plan Template
Use this free coffee shop business plan template to easily create a great business plan that organizes your vision and helps you start, grow, or raise funding for your coffee shop.
Download