DISCLAIMER: This content is provided for informational purposes only and is not intended as legal, accounting, tax, HR, or other professional advice. You are responsible for your own compliance with laws and regulations. You should contact your attorney or other relevant advisor for advice specific to your circumstances.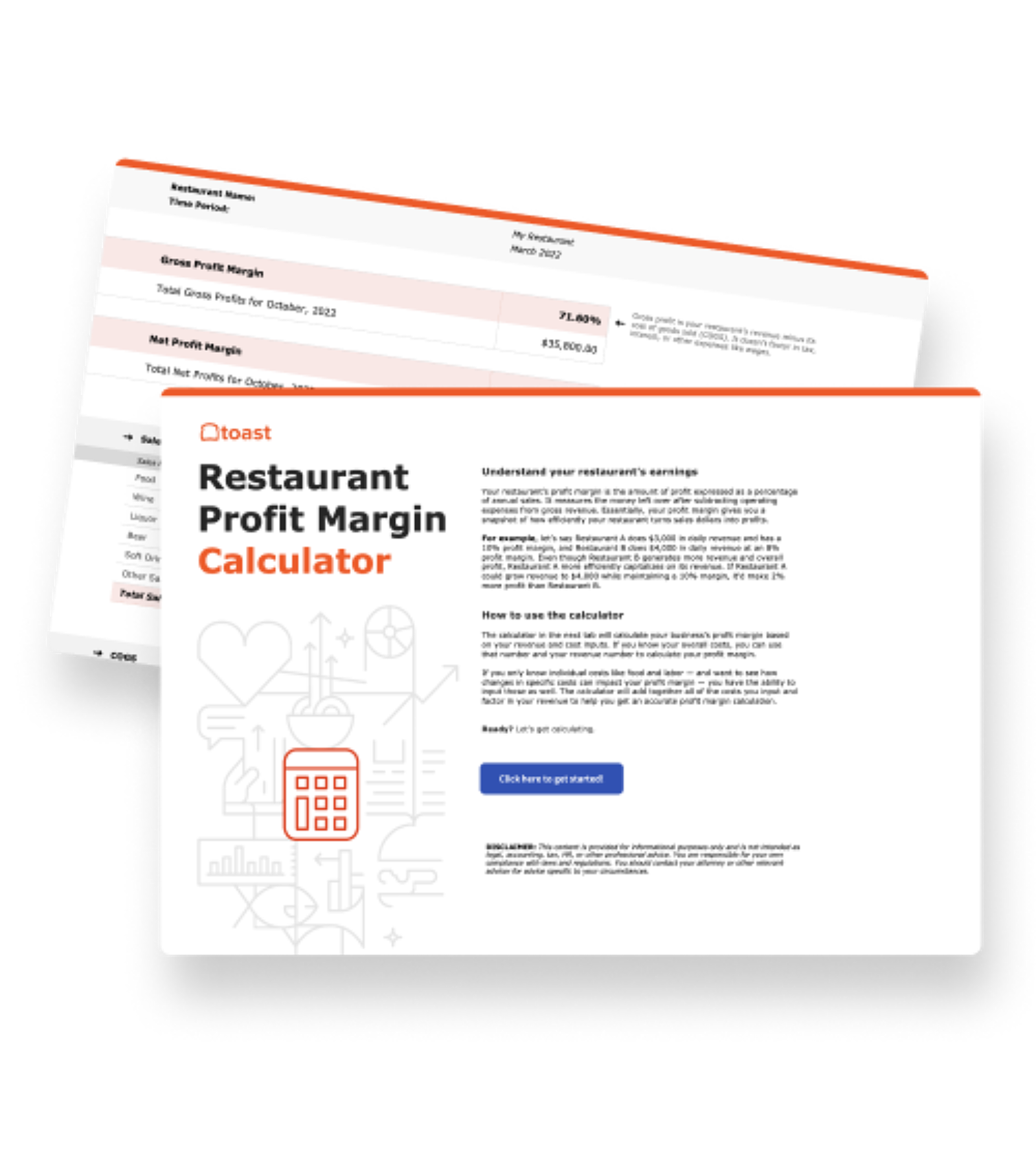 Restaurant Profit Margin Calculator
Use this free Restaurant Profit Margin Calculator to see how efficiently you turn sales dollars into profits.
Download
Costs to Start a Coffee Shop
Whether your coffee shop is a small grab-and-go counter or a cozy cafe, you'll need specialized equipment to brew the best cup on the block. Use this guide to budget for all of your coffee shop's startup costs, like labor, fresh roasted coffee beans, food, and initial marketing.
Startup - $500,000- $1,500,000
Equipment - $80,000-$300,000
Permits/licenses - $500-$3,000
Marketing - $300-$3,000
Contingency Funds - $20,000 - $700,000
Financing for Your First Year
The first year of business is critical – and costly. Startup costs, hiring the right team, renting a space in the right neighborhood, planning for operating costs, and lining up all the permits and licenses takes time and careful accounting.
Contingency funds help your coffee shop run smoothly for the first few years until it becomes profitable. Liquid assets from a combination of financial avenues such as loans, savings, and lines of credit help pay for unforeseen expenses and labor. Even the best businesses aren't immune to Murphy's law.
Average Coffee Shop Costs
The monthly expenses of operating your coffee shop will likely total 75-85% of your monthly sales. For your first few years, you might have to invest in the shop to make up for losses in labor, food costs, or marketing. While you might have the best cold brew process in town, the proper financial plans solidify your coffee shop's long-term success.
Operating Costs $13,000 - $65,000
Insurance - $500-$8,000/month
Utilities - $1,000-$1,200/month
Marketing - $500- $5,000 (3-6% of sales)
Food Costs $5,000-$25,000 (30-35% of sales)
Labor $2,500-$25,000 (24-40% of sales)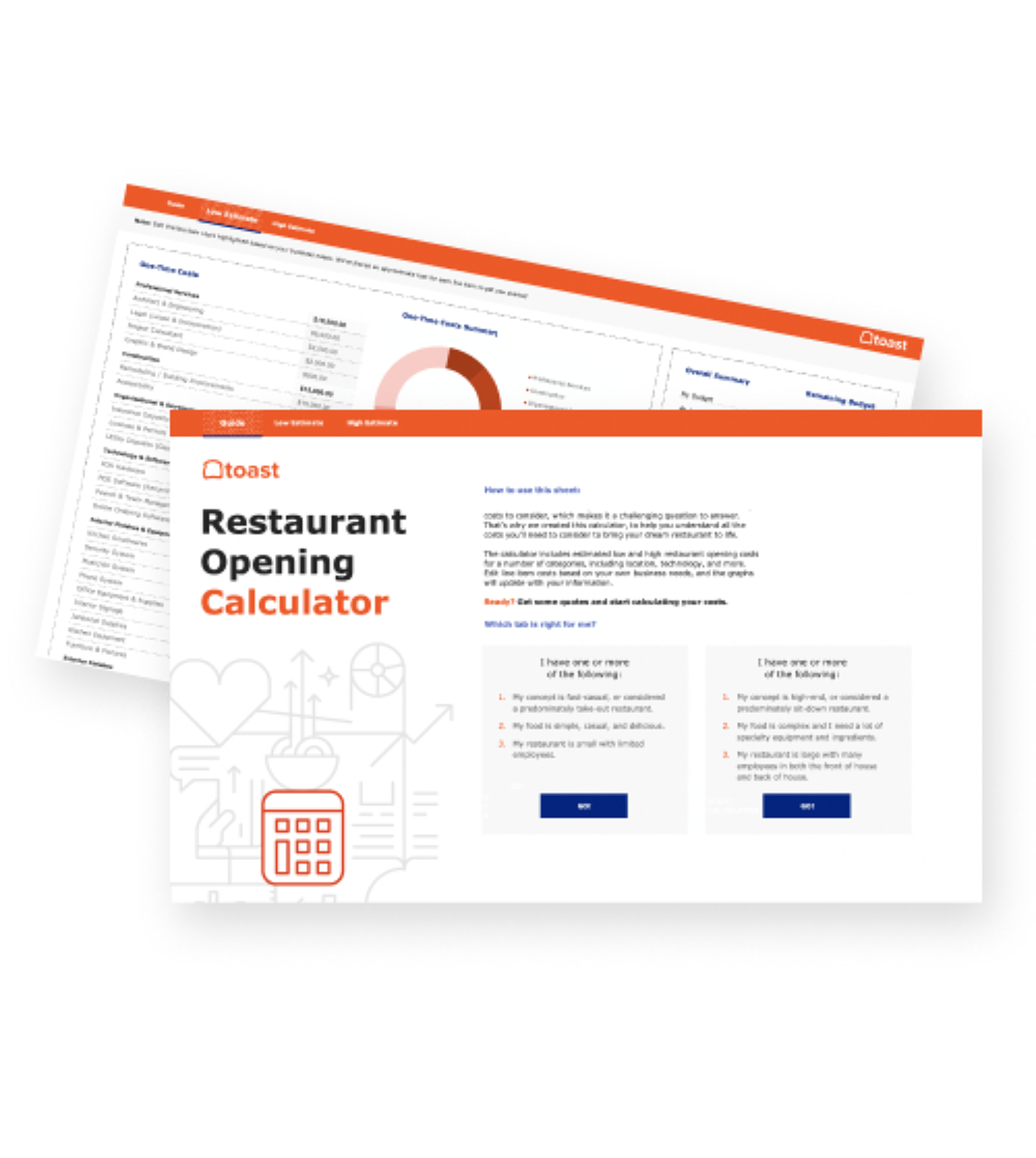 Restaurant Opening Calculator
This calculator lays out some of the fundamental financial costs of opening a restaurant, so you can start planning and bring your dream restaurant to life.
Download
Forecasting Your Coffee Shop's Sales
Without sales history, it's difficult to make accurate calculations about how your restaurant will grow from month to month in the first year. Factors like seasonal peaks in your area or the launch of a marketing strategy are key performance indicators (KPIs) that can help you to predict growth.
First, calculate daily capacity. How many guests can your coffee shop seat and serve during each shift? Then, based on the profits your shop will make on coffee and food costs, you can calculate how much your shop has the potential to make during a shift.
You likely won't be working at capacity every shift – perhaps not even most of them during your first year. If you have sales data from a month (or even a week) you can view the average sales from each of those days – with the proper Point of Sale (POS) technology – and calculate the average for each shift.
Average Coffee Shop Revenue
The average revenue of coffee shops, nationally, is between 75%-80% of sales, which is higher than some restaurant business models. The revenue of your coffee shop depends on its location, menu, labor costs, and a host of other factors.
Coffee Shop Profit Per Month
A restaurant's profit margin is typically between 3% and 5%, but some places make as little as 0% while others pull in as much as 15%. To calculate your coffee shop's profit margin, use the following equation:
monthly sales x profit margin = profit
If your coffee shop averages $16,000/month in sales, and the profit margin is 4%, the profit is $640.
Coffee Shop Owner's Salary
Owners of small to medium-sized coffee shops can make anywhere from $60,000-$160,000 annually. Usually, the owner's salary is between 2% and 6% of the restaurant's sales. In a small operation, your salary may be a higher percentage of the profits, relative to how much labor you put in. If you are the head roaster, bagger, accountant, and cold-brewer, you can afford to pay yourself more.
Usually, a business owner's salary is less than 50% of the business's total profits. As the owner, the tough decisions about how much to pay yourself while investing profits into the growth of the business are yours to make. The first year can be especially daunting, but improving your sales with marketing and technology will put your shop on the road to success.
Timeline to Breaking Even
Most coffee shops become profitable within the first few years of operation, depending on food production costs and other KPIs. Coffee shops can expect sales to double by year five.
Budget contingency funds, startup costs, and the costs of your first year of operations carefully. Now that you have a full picture of how to forecast your coffee shop's revenue, you can estimate how long it will take for your business to break even and predict its first profitable month.
Here's an example for a coffee shop's timeline to breaking even:
Authenticity Coffee is a small, neighborhood place in Cleveland, Ohio. Their business plan reflects that.They start with lines of credit totaling $300,000 and $300,000 in owner's investments.
| | |
| --- | --- |
| Category | Cost |
| Coffee Shop Equipment | $175,000 |
| Permits & Licenses | $1,800 |
| Contingency Funds | $423,200 |
The coffee shop sees steady business from neighborhood traffic in the first year. The labor costs of operating a high-quality coffee shop in a major city are higher than they might be for other restaurant models.
| | |
| --- | --- |
| Category | Cost/month |
| Restaurant Rental/Mortgage | $6,000 |
| Insurance | $3,000 |
| Utilities | $2,000 |
| Food Costs | $7,000 |
| Labor | $14,000 |
| Marketing | $1,500 |
| Loan payment | $5,300 |
| Total: | $38,800 |
The annual cost of operation for Authenticity Coffee is $537,600.
The shop opens from 6:30am and closes at 2pm Monday through Saturday. The average profit on a cup of brewed drip coffee, their best seller, is $2.50, and they can serve about 600 customers on their best days. Of those 600 customers, 95 order an espresso beverage, on which the profit is $3.00. Authenticity buys baked goods from a local artisanal commissary, adding an average of $1.25 to 25% of transactions. Authenticity coffee can make a total of $1,782.5/shift in sales at full capacity, $10,695 a week, $42,780 a month, and $513,360 a year.
| | |
| --- | --- |
| Category | Earnings |
| Monthly Sales | $42,780 |
| Operating Expenses | $38,800 |
| Profit | $3,980 |
| Profit Margin at 100% capacity: | 9.3% |
Of course, Authenticity Coffee won't operate at 100% capacity throughout the year. For the first year, Authenticity operates between 35% and 60% capacity, because of a good location and a grand opening marketing campaign. After that, the sales plateau and slowly rise at the end of the third year. The restaurant is profitable at an average of 90% sales, which the shop is on the way to achieving by the start of year 4.
| | | |
| --- | --- | --- |
| Quarter | Performance (average) | Revenue |
| Q1 | 37% | $47,485 |
| Q2 | 42% | $53,902 |
| Q3 | 52% | $66,736 |
| Q4 | 60% | $77,004 |
| Q5 | 55% | $70,587 |
| Q6 | 57% | $73,153 |
| Q7 | 62% | $79,570 |
| Q8 | 77% | $98,821 |
| Q9 | 83% | $108,522 |
| Q10 | 90% | $112,806 |
| Q11 | 87% | $111,655 |
| Q12 | 91% | $116,789 |
Improving Your Coffee Shop's Sales
There are concrete steps coffee shop owners can take to improve their sales and timeline to profitability.
Your menu is one of your greatest assets. Calculating your food and beverage costs carefully can help you budget for success. Train your employees to upsell your highest-profit items to increase sales potential. You might even strategically design your menu to spotlight some of these items for guests.
Another way to increase sales is through marketing. Having a website and social media pages is almost a necessity in today's digital world. So don't be stubborn about spending on marketing costs. Investing in an effective digital marketing strategy is a guaranteed way to bring more customers to your shop.
The Right Technology
Technology can empower your coffee shop with all the tools it needs to maximize efficiency and profitability. Set your business up for success by utilizing inventory, time-tracking, and financial software from the start. When you're ready to scale up, the right technology keeps the business organized and your growth on track.
Success, One Cup at a Time
Running a coffee shop might seem like a high-risk venture, but with your passion, excitement, and business savvy, you're set up to reap the rewards. Don't slack on doing the numbers – this step can be crucial to your long term success.
It's never too late to open the coffee shop of your dreams, and now is the perfect time to start. On the Line's latest how to start a coffee shop article has all the tips you'll need on the journey to brewing the best cup of joe in town.
Related Coffee Shop Resources