This post was last updated on Jul 08, 2020.
DISCLAIMER: This content is provided for informational purposes only and is not intended as legal, accounting, tax, HR, or other professional advice. You are responsible for your own compliance with laws and regulations. You should contact your attorney or other relevant advisor for advice specific to your circumstances.
We're one month into 2019 and the restaurant landscape is already buzzing with exciting introductions, inventions, and innovations.
In years past, we've seen an increase in diner demand for delivery, experimentation with new business models, an emphasis on sustainability and hyper-local ingredient sourcing, and even fermented foods making their way onto plates and into cocktails across the country.
Short of whipping out a crystal ball, we've been hard at work surveying the scene to report the top 2019 restaurant trends you can expect to make landfall this year.
Here's what we found.
Restaurant Success Report
This industry report collects data from restaurant professionals and guests to help you understand what it takes to create a successful restaurant experience from start to finish.
Download
1. Activism
From natural disaster relief to the #MeToo movement, gun control, Black Lives Matter, and immigration reform, in 2018 we felt the tides of change as grassroots social activism picked up steam on both the local and national level.
In the United States, restaurants have historically found themselves to be at the epicenter of social movements, even dating back to colonial America where taverns acted as meeting halls and planning outposts for the American revolution. There's something poetic about breaking bread and discussing your vision for a better world with friends, colleagues, and co-patriots.
In 2018, Celebrity Chef Guy Fieri rolled up his sleeves and answered the call when California experienced its largest wildfire devastation in history by providing locals, evacuees, firefighters, and first responders with meals at makeshift sites throughout the affected region.
In 2017, James Beard Award-winner – and now Nobel Peace Prize nominee – Chef José Andrés began a non-profit organization, World Central Kitchen, to feed victims of natural disaster. He has since helped feed the entire island of Puerto Rico, Houston hurricane survivors, 2018 California wildfire first responders and evacuees, victims of the 2018 hurricanes that made landfall in the Carolinas, and furloughed federal employees left without work as a result of the longest government shutdown in U.S. history.
How will this 2019 restaurant trend impact our industry?
Community involvement and cause-related activism aren't just good for the soul – they're also effective forms of restaurant marketing and customer engagement tools. A 2018 study conducted by Cone Communications found that 79% of Americans are more loyal to "purpose-driven brands" and 73% more likely to defend said brands.
In the wake of the 2018/19 U.S. government shutdown, restaurants were quick to lend their support to furloughed workers while they went without pay and without the ability to put food on the table. The Livery in Benton, MI, for example, offered 50% off to furloughed workers and their immediate families throughout the duration of the shutdown.
Supporting community members in need not only helps the local economy but it also gives those who received support from your restaurant a reason to return the favor with their future patronage.
Not sure which cause to choose? It all starts with your restaurant's mission, vision, and values.
2. Experiences
We talk a lot about the dining experience. Well, it turns out that diners today want an experience within the experience.
Last year, the popular vacation rental site Airbnb introduced their new experiences feature where guests can pay and sign up for a guided activity led by a local AirBnB host. Examples include a chef's tour of Pike Place in Seattle, an afternoon playing with rescued horses at a sanctuary in Los Angeles, and an aerial aerobics class taught by a Cirque Du Soleil cast member in Las Vegas.
In restaurants, we've seen similar "experiences" rise in popularity with diners. From Paint Nite and Plant Nite events to guided yoga and meditation held at breweries to axe throwing bars (yes, you read that right), restaurant goers in 2019 are interested in and pursuing dining (and drinking) experiences with an activity baked in.
How will this 2019 restaurant trend impact our industry?
Typically, restaurants have favored hosting events that supplement without distracting from the dining experience – like a band or a promotion with a liquor distributor. But with diners now seeking dining experiences that include an activity, "distracting" from the dining experience has become the name of the game. Though it may seem like a lot of effort, an activity will give your guests reason to hang out, spend more money, and create a memorable experience they'll want to share with friends and family.
You don't need to go big to test this trend with your diners: Invest in some board games or lawn games if your restaurant has an open area where guests can play freely. Other options include renting a photo booth or gif booth (you can brand the photos with your restaurant's logo for some added social media oomph), or turning a menu item into an activity. At One Door North in San Diego, CA, guests can make their own s'mores table-side, complete with a bunsen burner to roast your own 'mallow.
3. A Speedy Checkout Process
Don't care how, I want it now. Veruca Salt would be perfectly at home in the modern era of on-demand living.
In the food and beverage space, we've seen the introduction and adoption of new restaurant technology that speeds up the reservation process, ordering process, cooking process, and payment process, enabling guests to spend less time going through the motions and instead get to the meat and potatoes of their dining experience.
In 2018, the prevalence and popularity of cashless payment options like ApplePay, SamsungPay, and Venmo may have signaled the end of paper currency as we know it, kiosk ordering went from trend to norm in June as McDonald's rolled out self-ordering kiosks across 9,000 locations worldwide, and handheld technology like Toast Go™ helped both restaurant guests and staff remove age-old hiccups that have made the restaurant ordering and payment process clunky and uncomfortable.
As more restaurants and restaurant technology companies continue to test with hands-free products, robots, and AI (artificial intelligence), only time will tell what amazing innovations we'll see on the restaurant scene this year.
How Will This 2019 Restaurant Trend Impact Our Industry?
In the new year, we'll likely see an increase in both the introduction and adoption of restaurant technology that removes any barriers to entry between a diner and their meal, like these innovative cashless coffee cups debuted by Barclays in the UK this past December.
If the future of restaurant technology interests and excites you, keep your eye on the big technology conventions, conferences, festivals, showcases, and awards this year, like CES, Adobe Summit, TechCruch Disrupt, HardwareCon, SXSW, IFA, and Dreamforce to name a few. We're only a month into 2019 and the technology scene is already a buzz after Samsung unveiled their hotly awaited foldable smartphone at this year's Samsung Developer Conference.
4. Eco-Friendly and Green Alternatives
Following 2018's "summer of the straw ban," we saw brands, cities, states, and even multi-national alliances throw their support behind legislation discouraging the use of single-use plastics – like cutlery and plastic bags – and styrofoam containers. In October of last year, The New York Times reported that the European Union had voted overwhelmingly to prohibit single-use plastics in member nations with legislation slated to go into effect by 2021.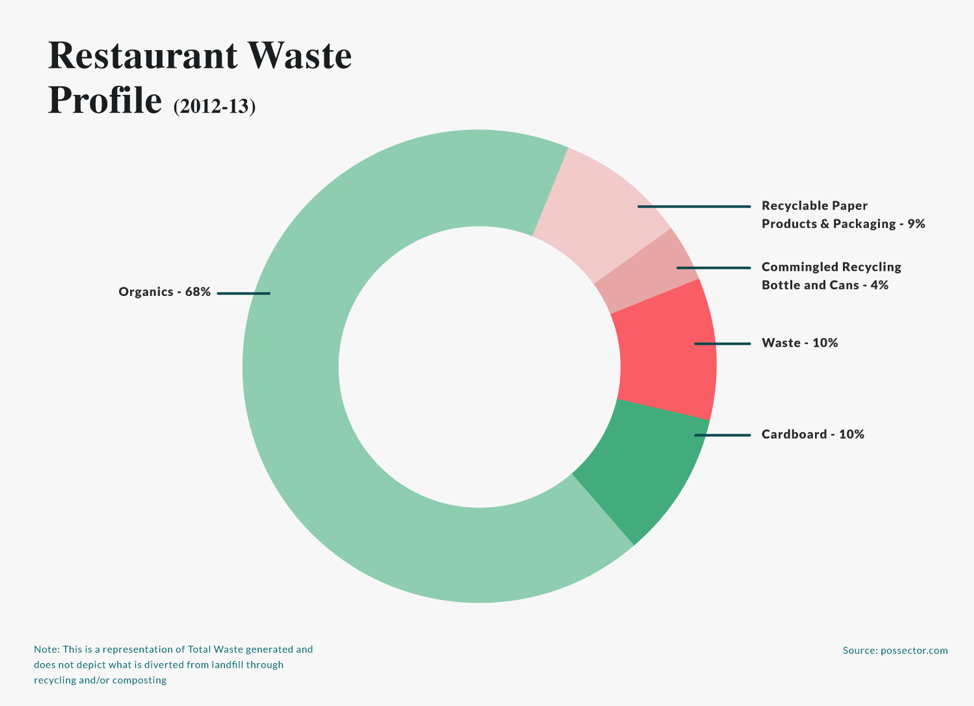 The public push for an increase in eco-friendly business practices is a trend whose effect we've been feeling for quite some time now. A 2015 study by The Nielsen Company found that 75% of the global millennial population are willing to pay more for sustainable products, and that 66% of the global millennial population are willing to pay more to support brands "committed to a positive social and environmental impact."
In response to consumer demand for sustainable products and services, we've seen a shift away from fossil fuels, non-recyclable/compostable products, and manufactured goods or ingredients that aren't ethically or sustainably sourced. In June, major car manufacturer Volvo announced they intend to "electrify" their fleet of car models by 2020.
Following the release of a bombshell report at the end of 2018 highlighting the impact of climate change and what the future world will look like should we not change our ways, the end of the year brought a collective push toward exploring and implementing greener alternatives in the months ahead.
How Will This 2019 Restaurant Trend Impact Our Industry?
Businesses and consumers will continue to reassess their relationships with single-use plastics, both to avoid penalties and fines and to preserve the health of the environment.
Already this year, a coalition of major brands including Proctor & Gamble, Nestle, and PepsiCo announced the launch of Loop, a zero-waste initiative aimed at reducing the amount of plastics polluting our water and airways. Eight of the 10 listed on Greenpeace's largest contributors to "the plastic crisis" are participants of Loop.
To build on this trend, consider offering customers a discount for bringing reusable cutlery or dinnerware – like a thermos – when they visit your restaurant. By doing so, you not only align your restaurant's brand with environmental advocacy and protection but you're also helping to reduce your restaurant's water usage and overall waste.
Another option that allows your restaurant to decrease your spend AND your carbon footprint is to invest in restaurant technology like kitchen display screens – also known as KDS – and digital receipts to cut down on paper usage and waste in your restaurant. In 2017, Toast restaurants using KDS technology and digital receipts saved 2,500 trees.
What Does 2019 Have in Store for Restaurants?
If we could predict the future, we'd cash in on our skills and retire tomorrow.
Sadly, that doesn't seem to be in the cards. In the meantime, we'll keep reporting back about the biggest 2019 restaurant trends you can expect to impact your restaurant.