With LGBTQ+ issues at the forefront of societal consciousness, Pride has seen increased popularity around the world over the past several years. Inclusivity, acceptance, community, remembrance, and celebration are just a few of the important messages ofPride month, when we commemorate the Stonewall riots and pay homage to the birth of the LGBTQ+ rights movement.
In 2019, a number of major restaurant brands actually launched large-scale marketing campaigns in honor of LGBTQ+ Pride month. Sweetgreen partnered with Covenant House to raise awareness for LGBTQ+ homeless youth and donated $1 from each bowl purchased on June 2nd to support programming for LGBTQ+ youth. Shake Shack sold limited edition Pride swag and donated $25,000 to The Trevor Project. Chipotle's "Love What Makes You Real" retail collection also benefitted and celebrated the LGBTQ community this past June.
Major LGBTQ+ inclusive restaurant marketing campaigns were not a part of the social consciousness even a few years ago. So what is responsible for the sudden change?
Recent research suggests that diners are now interested in supporting restaurants that take a stand on social issues, and have a high sense of purpose. According to Think With Google, prior to marriage equality, 45% of consumers younger than 34 said they are more likely to do repeat business with an LGBTQ+ friendly company.
Edelman research found that a brand's political and social stance is 59% of the decision-making process for potential customers. A 2018 survey conducted by Community and Marketing Insights found that more than 75% of Americans choose to spend their money at establishments that support equality.
"I do believe that has been an attitude and prevailing sense of exclusion towards the LGBTQ community in the restaurant and hospitality spaces; and that needs to be addressed and remedied. Diversity in every aspect is key to growth of any business and it is crucial we make this philosophy apart our mindset," says James Park, owner of NYC West Village restaurant WindRose.
While it's encouraging to see restaurateurs show support during Pride month, it's even more critical that they continue to promote inclusivity year round. Customers are increasingly wary of businesses that only show support during June, and then fall silent for the rest of the fiscal year.
"Restaurants and hospitality organizations have LGBTQ employees and LGBTQ patrons, so issues that impact LGBTQ folks impact restaurants on these two levels," says Lindsey Danis, LGBTQ+ author and food writer. "Accordingly, restaurant and hospitality business owners should care about protecting the welfare of their employees who happen to be LGBTQ, as well as providing a safe atmosphere for patrons.".
The best way for you to get ahead of customer wariness as a restaurant owner is to understand the issues affecting the LGBTQ+ community today so that you can best support your employees and patrons.
What Are The Issues Affecting the LGBTQ+ Community Today?
To best support your restaurant's LGBTQ+ employees, you must first understand the issues affecting them.
"There are so many different issues affecting LGBTQ Americans, [since there are] many different sectors of the LGBTQ population," explains Lindsey." I'd say that issues affecting the largest numbers of LGBTQ folks include mental health, physical well being/safety, and financial insecurity.".
"These issues play out in different ways across the queer population," she continued. "A trans person might not be able to find meaningful stable employment or might suffer income loss post-transition, while a bi person might be afraid to come out on the job if they're presumed straight (some 50 percent of LGBTQ folks are closeted at work).".
It's also crucial to remember that any issue that affects how someone could do their job will also affect the restaurant. For instance, if an LGBTQ employee is experiencing housing insecurity or mental health issues as a result of their sexuality or gender orientation, it will likely hamper their work performance.
How You Can Create A LGBTQ Safe Space in Your Restaurant
Make it clear that your restaurant is a safe space
Your goal should be to create an inclusive environment where patrons and employees immediately feel safe and welcomed. Whether it's having a Pride flag hanging in your restaurant 365 days a year, or hiring security to protect your LGBTQ guests, each establishment must find their own approach to creating a welcoming atmosphere.
Business owners can also demonstrate allyship in their hospitality community by speaking out against any discriminatory policies or hate crime incidents. And when it comes to patrons, it's always important to use gender neutral language and be sensitive to different gender identities when taking an order.
"A simple greeting like 'How's everyone doing today?' or 'Can I get you folks anything else?' is friendly and inclusive," says Lindsey.
It's also crucial for business owners to have gender neutral bathrooms in their establishments, and include the queer community in their marketing initiatives, similar to how Sweetgreen, Chipotle, and Shake Shack did last year during Pride month.
Set a positive example from the top down
Creating a safe and supportive channel for employees to voice concerns and find reasonable solutions is helpful. For example, an employee may need a flexible schedule for their doctors appointments while undergoing a transition.
It's also helpful when management uses pre-meal discussions to allow LGBTQ employees to voice any issues they are facing, such as mental health. As mental health and stress affect every employee, an open forum to voice concerns is beneficial to your team as a whole.
Employment discrimination is a huge concern in states that don't protect sex and gender identity. So business owners in those states should really be proactive, when it comes to shoring up their support of queer workers.
"They can advocate for legislation, or affirm not to discriminate against workers who are LGBTQ," says Lindsey. "They can also make sure their hiring practices are inclusive, and their dress code allows for employees to dress how they feel, by not policing hair length, hair style, or gender affirming clothing."
It's also critical not to stereotype your LGBTQ employees and patrons, as the queer community is incredibly diverse.
Not all LGBTQ people are cisgender, likewise not all transgender people are lesbian, gay, or bisexual," says writer and trans activist Hannah Simpson.
"Some of us are interested in sexuality, others not. We are monogamous, or non-monogamous. Some of us wear or enjoy drag, others prefer sports. We drink, or we are sober. Offering a variety of queer content at your establishment will help diversify your appeal," she continues.
"Please don't fall into the tropes that all LGBTQ content is loud dance parties with lots of alcohol and less clothing. Cater to those of us who have partners, and those who are single."
By respecting your LGBTQ employees and patrons from the top and avoiding stereotypes, your management style will trickle down to create a more inclusive environment. Your restaurant will only be as accepting as your employees are, so share your values with your entire team to create a natural alignment.
Provide LGBTQ+ awareness and ally training
No matter how open-minded you and your team are, chances are you don't have a full understanding of different nuances and issues in the community, if you don't identify as LGBTQ+. As a restaurant owner, it's imperative you make use of the Ally resources available to you, to understand how to best support your LGBTQ employees. Partner with LGBTQ+ organizations in your community, to provide your team with thorough training and education.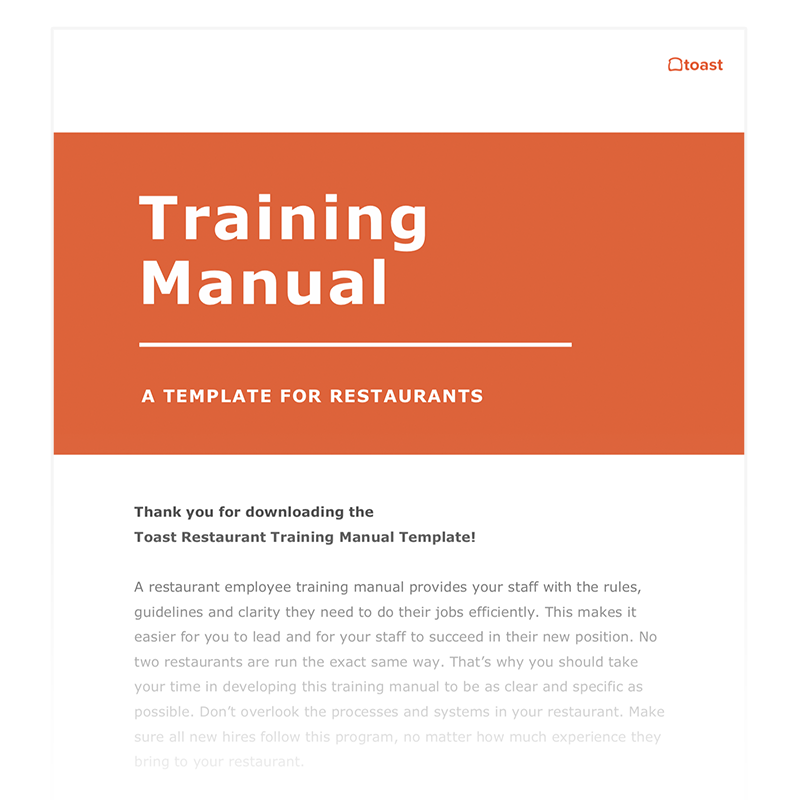 Training Manual Template
Use this restaurant training manual template, a customizable Word Doc, to provide your staff with the rules, guidelines, and clarity they need to do their jobs efficiently.
Download
"Education is key," James chimes in. "You must learn what diversity in the LGBTQ space actually entails and then implement what's been learned. Ensuring that the LGBTQ staff is not only the forefront of a brand, but are also present in key decision-making roles is essential. Keeping authentic voices at the forefront of inclusivity ensures that the authenticity of diversity integration isn't disrupted."
Representation in a restaurant space truly matters, and in order to thoroughly educate and train your straight and cisgender staff members, you must have a team that reflects the true dynamic of society.
Educational communities such as the #FairKitchensInitiative seek to provide a more positive kitchen culture for employees and recently worked with Unilever's Diversity & Inclusion to come up with questions that leaders could use to create a diverse workplace and business culture.
"Our Fair Kitchens community has many examples of high-performing teams that create an inclusive environment where people understand their purpose and respect each other. What's important is that teams treat each and every person with respect – not differentiating based on race, ethnicity, gender, sexual orientation, socio-economic status, age, physical abilities, religious beliefs, political beliefs, or other ideologies," a representative for the initiative says.
Include LGBTQ+ people in your marketing initiatives
"We are a very social community and are not afraid of experimenting," says Los Angeles celebrity Chef Wayne. "We are the ones that go out and support all new restaurants and venues that pop up to give them a chance. We are the trendsetters."
But unless it's Pride month, restaurant marketing predominantly features people who are straight and cisgender. When working on such marketing initiatives, it is important that you hire and collaborate with LGBTQ people and actively work with queer nonprofit partners to show your support for the community. By featuring LGBTQ people in your campaigns, you will instantly promote a welcoming and open restaurant environment.
Do your homework on vendors and products
The key is to understand which vendors and products support the LGBTQ community year-round, and not just during Pride month. Take care to select vendors that promote thoughtful support of the community and consistently give back to LGBTQ organizations.
"Really take a look at the companies you're supporting or whose products you're selling," says Haley Henry, owner and operator of haley.henry and nathalie. "If you're going to jump on the bandwagon, hopefully you're doing your research based on what these companies and vendors stand for."
While societal support for the LGBTQ community continues to grow, it is of the utmost importance for you to create an inclusive environment in your restaurant for both patrons and employees. By expanding your own awareness of the issues the queer community faces, you will then pass these values onto your staff members, creating a team environment that roots for everyone.
"If care is not taken to address LGBTQ issues within the environment hospitality, it can lead to a dearth of LGBTQ employees and customers," says James.
"If customers find a place is inclusive and welcoming of the LGBTQ community, they will be inclined to not only frequent the establishment, but also refer others. On the flip side, LGBTQ customers who feel alienated will take their business elsewhere."