Resource
Hiring the Modern Restaurant Workforce
Take the headache out of staffing a restaurant with this free, hiring-focused, interactive course from Toast.
---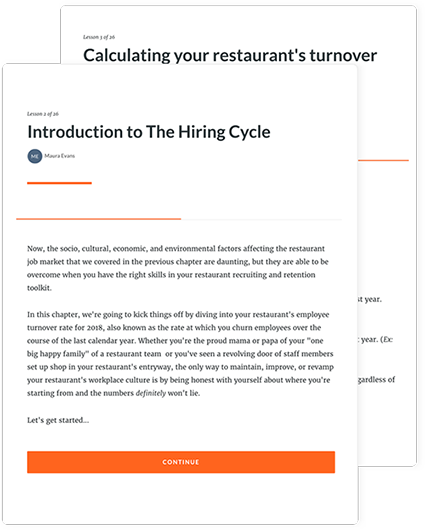 You have enough on your plate.
Staffing a restaurant has long been a complicated ordeal for restaurant owners, operators, and managers. Unfortunately, recruiting, hiring, and retaining staff has morphed into distraction from restaurant management's main course: creating a memorable dining experience for every guest.
Hiring the Modern Restaurant Workforce, a free, 5 chapter, interactive course by Toast, trains restaurant owners, operators, and managers to master the hiring cycle from soup to nuts.
You will learn transformative hiring skills, like:
Developing and maintaining a workplace culture grounded in core values,
How to start an employee referral program in your restaurant,
Where to post a job online,
How to screen restaurant job applicants, and,
Why and how to conduct new hire onboarding in your restaurant.
Powered by Froala Editor
Powered by Froala Editor