DISCLAIMER: This content is provided for informational purposes only and is not intended as legal, accounting, tax, HR, or other professional advice. You are responsible for your own compliance with laws and regulations. You should contact your attorney or other relevant advisor for advice specific to your circumstances.
Business Plan for Pizzerias Guide
Pizza is one industry where competition is hotter than the ovens – which can get up to around 800° F and higher. It is almost inevitable that a new pizza restaurant will be in competition with a corporate delivery chain and some iteration of a local pizza joint. From its humble Neapolitan roots, pizza has become a staple of the American diet, whether you prefer New York style, Detroit style, Chicago deep dish, New Haven's apizza, Sicilian square pies, or the traditional, burnished and light Neapolitan style.
Americans seem determined to prove that everything goes on pizza, and the interpretations of this classic are massive in range. Your new pizza restaurant will need to carve out a niche that helps it stand out among the crowd of pizzerias.
Here's everything you need to know crafting a solid business plan as you open your pizzeria restaurant.
Why You Need a Pizzeria Business Plan
Starting a pizzeria is expensive and time-consuming, but with enough passion, dedication, and — why you're here! — planning, it can be a lot of fun. You'll be busy getting all the necessary licenses, finding a space to rent or mortgage, hiring staff, and planning to market your new business, so a plan will guide the complex, interwoven steps of that process.
Aside from helping your business to get up and running, a business plan will help you to secure funding and convince investors, partners, and other interested parties that you've done the mental legwork needed to succeed in this industry. Your business plan communicates both your vision for a pizzeria and your path to success.
How to Write a Pizzeria Business Plan (Description, Examples, Proposals)
Starting any writing project can be a challenge when faced with the unlimited opportunity of a blank page – so don't start with a blank page. This fully customizable restaurant business plan template provides a helpful framework. And this article provides all writing advice, creative encouragement, and tips for how to present your business plan to potential investors and partners – everything you'll need to meet the challenge.
Related Restaurant Resources
Pizza POS Comparison Tool
A free, customizable Pizza POS Comparison Tool to research and compare point of sale systems in one Excel spreadsheet or editable PDF.
Get free download
Elements of a Pizzeria Business Plan
Executive Summary
As the first section of your business plan, the executive summary, a concise description of your vision, will perform best if both functional and flashy. Focus on answering a simple question as persuasively as possible – why do you want to open a pizzeria?
Introduce key elements of your business plan, such as details about the pizzeria's core mission and values, a coherent vision for the brand, and an overview of the budget. Keep your audience in mind – get investors excited about your business plan to keep them reading. Consider describing the consumer your business will cater to and what kind of experience and service you will provide them.
Company Overview
The company overview complements the executive summary as a comprehensive glossary of your business plan. This section is more practical than attention-grabbing and guides your reader through the rest of your business plan with ease.
Again, it's good to consider structuring the layout and glossary of your business plan from the perspective of your reader. Define the internal structure of your pizzeria, describe the products and services you plan to offer guests, summarize information about the market and financial projections, and introduce your marketing strategy.
Team and Management
From the owner to the servers or cashiers, everyone in the structure of your pizzeria should have a place in the team and management section of your business plan. Tell investors which role you plan to fill as the owner – head chef, research and development, CEO/CFO, or some combination of those roles.
Then, make plans to hire talent for the roles you need to fill. Are you going to provide competitive wages to attract the city's best pizza chefs and keep your team engaged? Will you find talent fresh out of culinary school or will you look to industry contacts to refer you to former colleagues?
Create detailed job descriptions for each of the roles in your pizzeria business. What kind of culture do you plan to create for those employees and what are the baselines for customer and interpersonal relations across the business?
Don't forget to look to the future – build job descriptions for not just the roles you'll need to fill to open, but the roles you'll need to hire for as you grow and expand. Staffing needs are a major factor in the budgetary considerations of planning for your deli so it's crucial that you are detailed in this section so that your financial projections are accurate.
Sample Menu
A sample menu for a pizzeria might seem like a no-brainer, but there are so many kinds of pizza restaurants that this section will decide if your business plan stands out from the pack. Tell investors about the kind of pizza you'll be making, the toppings you'll source regularly and seasonally, and, crucially, the labor and equipment you'll need to prepare those pizzas.
And have fun with it – plan to use local ingredients and give those pizzas recognizable names. Or, break tradition with your own spin on sweet-and-savory or an untraditional sauce. Who says brown gravy can't be used as pizza sauce?
The sample menu will inform several other sections of your business plan so it's time to make some decisions. Make a sample menu that you can be proud of, then write up a plan for all the time, labor, equipment, and money it'll take to make some of your signature dishes. This will expand into your market analysis, financial, and operations sections later in your pizzeria's plan.
Restaurant Menu Templates
Use these menu templates as a starting point for your menu design or to give your menus a refresh.
Get free download
Market Analysis
Luckily (or unluckily, depending on your location) pizza is one of America's favorite foods – 98% of Americans eat pizza of some kind. That means there's a big market for pizza, even if not all of that market if for the specific style your pizzeria will offer.
The market analysis is one of the most crucial sections of your business plan. It shows investors that you're not just prepared to open a business, but that you've charted a clear path to its success. Connect your motivation for opening a pizzeria to your plan to make it profitable.
Consider also providing details about how you'll expand your immediate access to customers through a brick-and-mortar location through delivery services or online ordering. This is also the time to contend with competition – what makes your pizzeria a better choice over the market competition?
Branded Graphics
Working with a designer to create unique graphics that will become the calling card for your new business is exciting. Capture the ethos of your pizzeria and remember that your logo or typography will be a crucial factor in generating brand recognition among your customers.
Graphics will be in your pizzeria, on carryout boxes, on your websites, and on marketing and ads. Plan carefully how you want to brand your pizzeria – rebranding can be costly and risky down the line. The Pizza Trust in Baltimore serves up quick, fast-fired pizza with local flare. Their bold graphics stand out from the competition while generating brand recognition.
Marketing and Publicity
Since almost everyone eats pizza, marketing your pizza restaurant has the additional challenge of pinpointing the specific type of customer that will be interested in your pizzeria. Use this section to plan your pizzeria's grand opening, describe loyalty programs, and detail how you will get customers to provide valuable word-of-mouth marketing.
Your marketing and publicity strategy will be crucial to the success of your pizzeria and lets potential investors know that you're not just business savvy. This section outlines how you will convince customers to visit your restaurant so that you can turn them into regular guests. Email marketing and social media are two great ways to get started.
Restaurant Marketing Plan
Create a marketing plan that'll drive repeat business with this customizable marketing playbook template and interactive calendar.
Get free download
Business Operations
The business operations section is where it all comes together. In this section, make plans for everything from the micro-level of each customer transaction to the macro-level of quarterly financial projections. If sample menus are the heart of the business plan, the business operations section is the brain, responsible for storing, sorting, and applying the information in the rest of the plan.
Make a map of the network that will keep your ovens fired up and pizzas hot and fresh, including how each step lines up with the core values of your restaurant outlined in the executive summary. How does each piece of the plan – your hiring strategy, marketing, financial plan, etc. – build toward your vision?
Include detailed information about loyalty programs, seasonal recipes or discounts, and local partnerships with breweries or farms and show readers how they work together. Keep in mind, too, how all these details work to create an experience worth returning for.
Restaurant POS Comparison Tool
A free, customizable Restaurant POS Comparison Tool to research and compare point of sale systems in one Excel spreadsheet or editable PDF.
Get free download
Financing and Loans
The startup costs for a pizzeria are considerable – the cost of a commercial pizza oven alone is in the thousands of dollars. Use this section of your business plan to share how you'll prepare to rent or lease a space, market your pizzeria's opening, hire and train staff, and purchase equipment and ingredients.
Consider all your financing options when planning to open a pizzeria – some of which include lines of credit, small business administration (SBA) loans, merchant cash advances, crowdfunding, commercial real estate loans, equipment financing, purchase order financing, and bank or alternative loans.
---
Read this next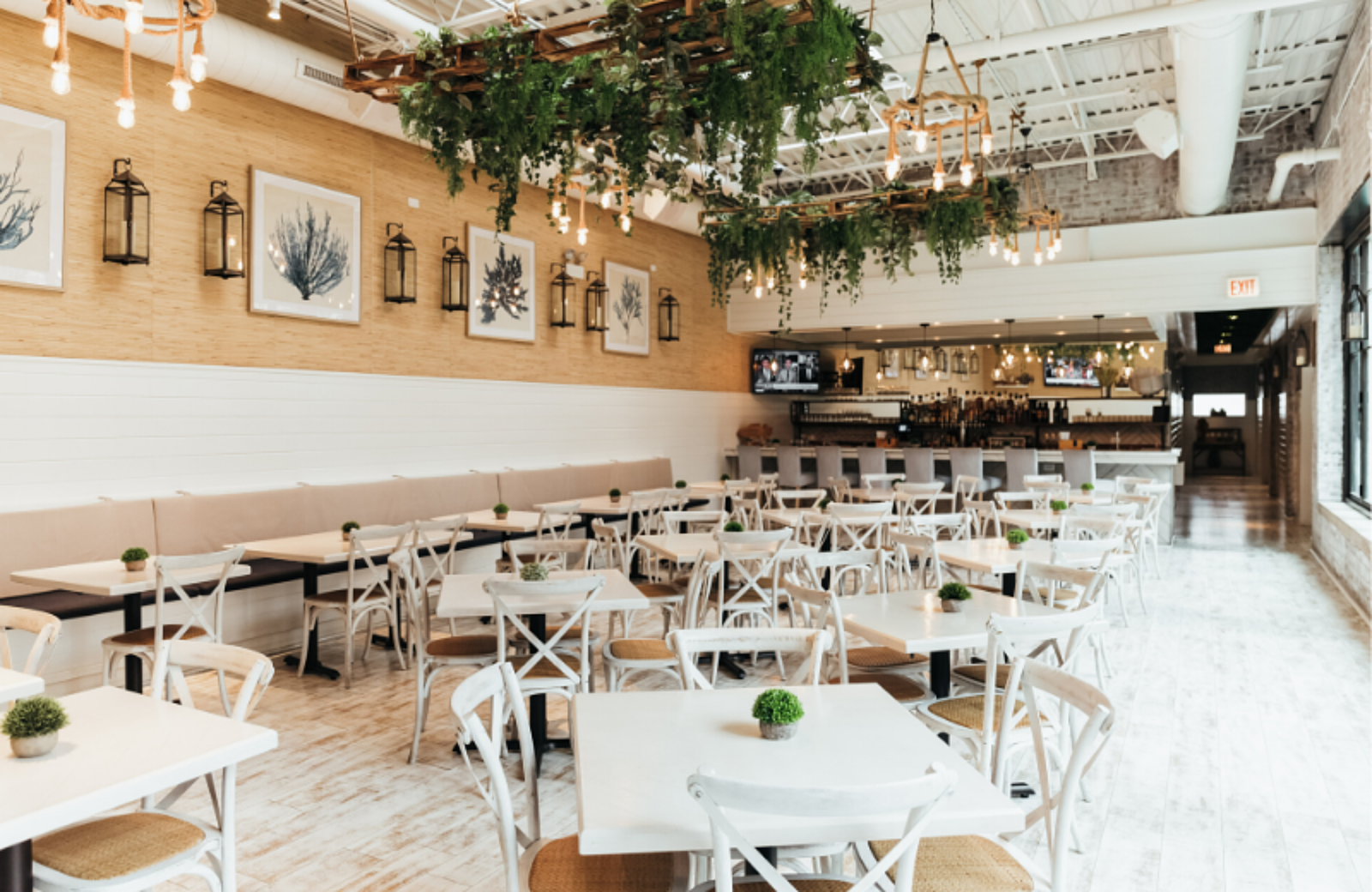 The Complete Guide to Restaurant Financing and Loans
Whether you're opening a new restaurant, expanding your concept, or renovating within your existing four-walls, you're going to need capital to make it all happen.
Sales Forecasts and Operating Expenses
All the hard work you've done to detail your pizzeria's menu, equipment, and staff are combined in this section as you plan a budget of your operating expenses. These include all the costs of running your pizzeria, including training, equipment, maintenance, labor, supplies, rent, loan payments, etc.
Business plans commonly include a break-even analysis which compares the sales required to break even with the cost of expenses each month. Investors will be interested in the potential for profit and loss to assess the risk of contributing to your business, but a profit and loss statement for a business that isn't open yet requires some educated projections.
A cash flow analysis shows investors that the company can support itself without additional investments by detailing planned spending on labor, supplies, and operations. Be sure to consider how the costs unique to your pizzeria, such as a brick pizza oven and its regular maintenance, balance at the end of each quarter.
How to Present Your Pizzeria Business Plan
There are a few ways to prepare to communicate with investors about your business plan and get them interested.
A full-length presentation is what you should prepare for a sit-down meeting with investors who are already interested, but you'll also want to prepare a shorter pitch of a few minutes to pique peoples' interest. And then, the ever-important elevator pitch sums up your whole business plan in just 30 seconds — and be sure to include something exciting or make an opportunity for questions to keep people talking.
Send your business plan to potential investors far and wide. You can't hear no (or yes!) unless you ask. Once you secure a meeting with a potential investor or partner, you'll share that more detailed presentation that presents all the key elements of your business plan. It's also good to anticipate potential questions and prepare answers for questions you encounter for the first time.
When networking, be honest and genuine, even if you don't have a ready answer for each question that comes your way – investors will be interested in your charisma and savvy as well as your ability to build a detailed plan.
Related Pizzeria Resources
Restaurant Business Plan Template
No matter where you're at in your restaurant ownership journey, a business plan will be your north star. Organize your vision and ensure that nothing is overlooked with this free template.
Get free download