DISCLAIMER: This content is provided for informational purposes only and is not intended as legal, accounting, tax, HR, or other professional advice. You are responsible for your own compliance with laws and regulations. You should contact your attorney or other relevant advisor for advice specific to your circumstances.
What Do You Need to Start a Pizzeria Business? (Checklist)
So, you're considering opening a pizza shop? No neighborhood is complete without one. And, with 83% of Americans eating pizza at least once a month, it's one of the most failsafe paths in hospitality. In fact, pizzerias have the lowest closure rates across all restaurant categories, according to primary research conducted by Toast in 2020.

Opening up a pizzeria entails many of the same steps as opening any restaurant. In this guide you'll find play by play instructions for how to start a pizza shop so you can become your community's go-to spot.
How to Start a Pizzeria Business
1. Choose a pizza shop style
Pizza concepts run the gamut, from neighborhood house-of-pizza takeout joints to high-end full service operations with wood-burning ovens sourced overseas. Determining where you fall along the spectrum and the dining options you'll provide are an essential step at this stage.

Here are different formats and service options to consider:
Full Service Pizzeria - Pizza lends itself well to dine in, especially when paired with a bar. It's communal food that's a good fit for big groups, events, and celebrations. If you're going full service, consider whether you'll have TVs to cater to the sports crowd or if you'll offer a higher-end experience.

Takeout Pizzeria - Pizza is classic takeout food. It's relatively inexpensive, customizable, and travels well. Even if your pizzeria is full service, it's a good idea to offer takeout. Customers expect it.

Delivery Pizzeria - If you plan to offer delivery, consider whether you'll staff in-house drivers or outsource to a third party.

Food Truck Pizzeria- Mobile pizzerias have caught fire in recent years and for good reason - they're a great fit for business districts, college towns, and events like weddings and festivals. Consider the special licenses and permits you'll need if you go this route.

Ghost Kitchen Pizzeria - A concept that grew in popularity during the pandemic, ghost kitchens dish up food exclusively for online ordering and delivery. There's no storefront for guests to visit - and none of the associated costs along with managing one.
2. Create a pizzeria business plan
As with any restaurant, your first step is to draft a business plan. This is the game plan that'll take you from pie-in-the-sky idea to opening day. Creating a business plan will not only help you get organized, it'll also serve as your primary tool for communicating your vision to partners, investors, and other stakeholders needed to get your concept off the ground. Here are the key elements to include:
Executive Summary: Hook your reader and give them the TL;DR version of what they'll find inside.

Company Overview: Break down the basics of ownership structure, location, type of pizza concept, and introduce your brand. What type of experience are you looking to deliver?

Industry Analysis: Detail the gap you'll be filling in your market with an analysis of your target market, your chosen location, and nearby competition. If your city already has a dozen pizzerias, what special element is your concept bringing to the table?

Marketing Plan: If you build it they will come, right? Not so fast. A solid understanding of how you plan to entice guests and keep them coming back is essential at this stage.

Operations Plan: Get down to brass tacks in this section by laying out your policies and procedures, staffing needs, technology needs, and anticipated suppliers.

Financial Analysis: Last but not least, you need a roadmap for how you'll fund your opening and manage finances going forward. Include here an investment plan, a projected P&L statement, cash flow projections, and a break-even analysis.
For additional guidance, and so you don't have to start from scratch, check out our restaurant business plan template.
Restaurant Business Plan Template
No matter where you're at in your restaurant ownership journey, a business plan will be your north star. Organize your vision and ensure that nothing is overlooked with this free template.
Download
3. Decide on a pizzeria location
When considering how to open a pizzeria, location may have the biggest potential impact on your bottom line. Is the market already saturated? Is there a lot of foot traffic? Is it near destinations or landmarks like a college campus or sporting venue? These are all questions you need to consider when scouting a location. Even the best pizza can have trouble overcoming a crummy location. Use this checklist to evaluate your options:
Identify your ideal customer - Describe your buyer in as much detail as possible: Hungry college kids looking for late-night fuel? Concert-going tourists visiting the theater district? With a clear image defined, you can better target your offerings.

Evaluate Your Competition - Who's already set up shop where you intend to be and how does business look for them?

Select Your Site - When you've zeroed in on a general area, look for properties that meet your size and capacity needs. Consider the area's foot traffic and if it's an existing build, how the previous tenant fared.

Partner with Professionals - An experienced commercial real estate agent will save you legwork in your search and also help you navigate the (often byzantine) licenses and permits you need to secure to open.
Check out this article for more tips on restaurant real estate.
4. Collect the tax, DBA, and EIN information for your pizzeria
In addition to having various restaurant licensing and permit requirements, states also have differing tax and employer requirements that are required for opening a pizzeria. And similarly, it's also a good idea to start this process early to avoid missing deadlines. Understanding restaurant tax requirements is key to avoiding fees and fines as a new business.
Collect the necessary tax paperwork through either an in-house or third party tax professional. Then, if applicable, file for your DBA (Doing Business As) — also known as your unique trade name.
Finally, if you plan to hire employees at any point, you'll need to apply for an EIN (Employer Identification Number) that will allow you to file income and payroll tax returns.
These are just a few of the important regulatory steps that you'll need to follow, so just like with licenses and permits, get googling and find out exactly what you need to do in your state and county, and consult with a professional.
5. Design your pizzeria branding, marketing, promotion, and advertising strategy
Set up your grand opening for success and get customers in the door with great marketing. The best place to start is by creating your restaurant marketing plan - where you can set goals, plan which best practices and tips you'll try, and plot out your marketing calendar and budget for that critical first year.
Developing your marketing strategy begins by defining exactly what it is you are marketing. What is the unique appeal of your pizzeria? What does your atmosphere or aesthetic have to offer customers? The specific offering of your pizzeria and its intended audience will drive your branding.
When determining your approach to marketing and advertising, ask yourself questions such as:
Who is your target pizzeria customer?

What platforms will you use for online marketing?

Will you use organic marketing practices or pay for advertising?

Will influencer marketing play a role in your strategy?

Where does your target audience spend their time? How can you advertise in these spaces?
When you launch your new shop, developing a strong restaurant social media marketing strategy can help to showcase your pizza in a visual and shareable format. Social media helps put pizzerias on the map and attract new customers, and it's a largely free way to start getting the word out.
You can also use Toast's Restaurant Marketing Plan template to build out your plan for how you'll keep the guests coming through your door — and coming back for more.
Restaurant Marketing Plan
Create a marketing plan that'll drive repeat business with this customizable marketing playbook template and interactive calendar.
Download
6. Figure out your pizzeria finances, sales forecasts and operating expenses
At this stage, it's time to revisit your restaurant business plan and look at your initial financial projections for your pizzeria so you can plan out day-to-day operating expenses. With a more thorough understanding of your operating and marketing costs, you can more accurately predict the future earnings.
How much does it cost to start a pizzeria?
How much does it cost to open a pizzeria? While there isn't any set amount, and your costs will vary widely depending on location, model, staff needs, and equipment needs, the general cost of opening a restaurant is between $95,000 and $2,000,000.
For more information on the typical costs of opening a pizzeria, check out this post.
How much does it cost to run a pizzeria?
When factoring in the costs of running a pizzeria business, think about equipment, staff, marketing, building, tech, and food. The typical operational costs for running a restaurant include fees such as:
Utilities: $1,000-$1,200/month

Equipment and appliances: $20,000-$400,000

Licenses, permits, deposits: $2,500-$200,000

Technology, including a POS system: Varies

Food costs: $5,000-$25,000

Restaurant labor costs: 30-35% of total revenue
To make sure you keep your personal and pizzeria expenses separate, open your business bank account. Depending on which state you live in, opening a separate business bank account might be necessary for tax purposes, so do your research and work with a great accountant. Either way, this step is also where you will get your business credit card. Work with professionals through this whole process to make sure it's done right.
7. Secure pizzeria funding and loans
Most people don't have thousands in the bank to start a new business. The good news is that restaurant financing is available, and there are numerous options to consider. Trying to figure out how to open a pizzeria with no money? The various means of funding you may utilize to start your pizzeria include (but are not limited to) a business line of credit, SBA Microloans for small-businesses, startup business grants, equipment financing for the pizza oven and other big equipment purchases, merchant cash advances, and alternative loans.
To learn more, read this post about all the different ways you can get restaurant financing.
Once you've got your financing, you can start buying equipment and setting up your space with the basics that you'll need to get started.
---
Read this next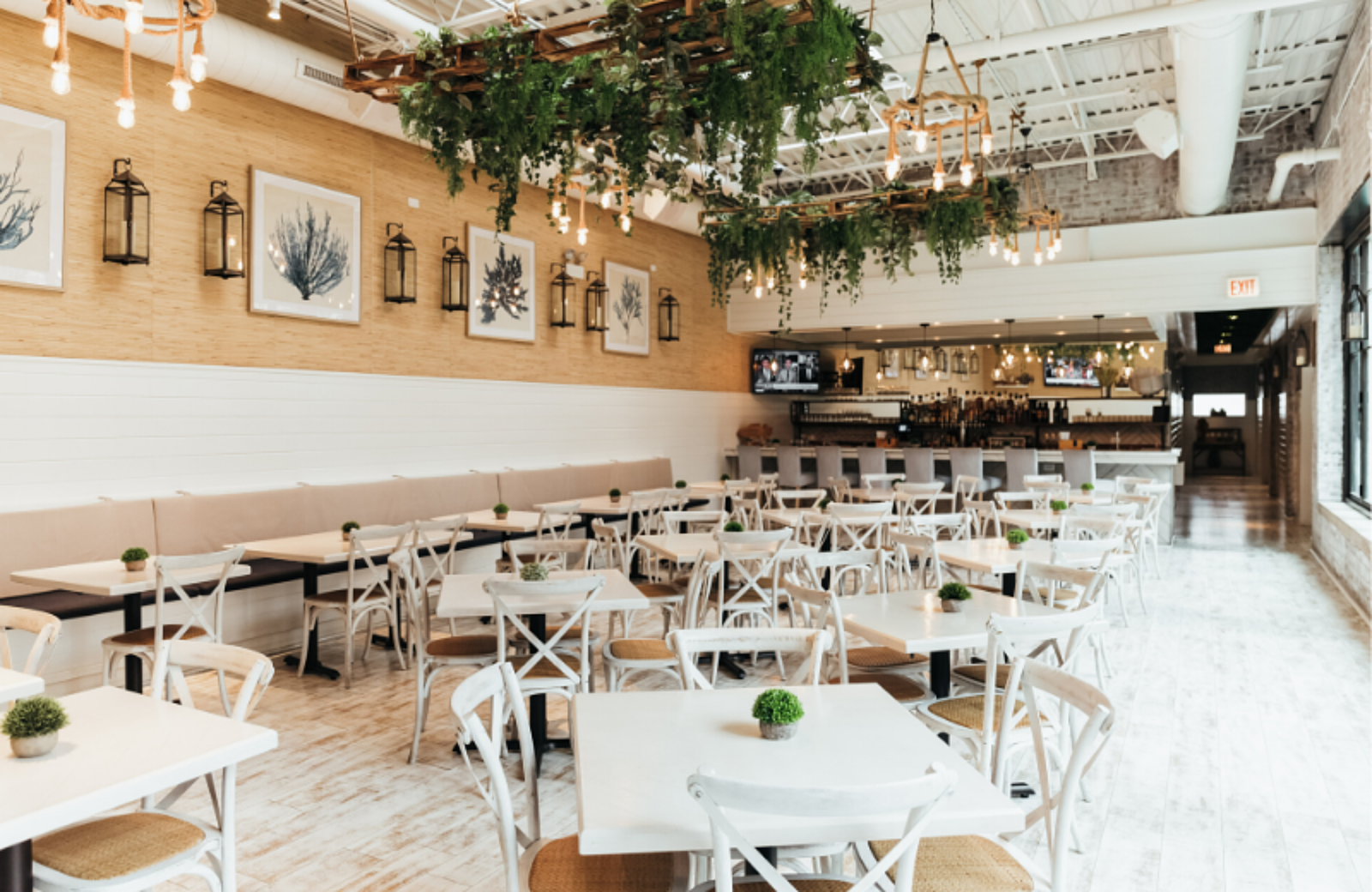 The Complete Guide to Restaurant Financing and Loans
Whether you're opening a new restaurant, expanding your concept, or renovating within your existing four-walls, you're going to need capital to make it all happen.
8. Build your pizzeria menu
Will your pizzeria be slinging old-school deep-dish, Detroit, or New York-style pies? Perhaps artisan, wood-fired pizza like they make in Italy are more your speed. Designing your pizza menu starts with the style(s) of pizza you'll be offering. From there, add flavor with apps, salads, sides, and more.
Pizza Style - Zero in on the type of pies you'll be known for. Your choices here will impact who wants to buy your pizza, as well as your equipment and supplier needs, too.

Appetizers - Traditionally pizza menu starters include items like breadsticks, chicken wings, meatballs, garlic knots, and mozzarella sticks. More modern selections like antipasto plates, soups, and raw bar selections are increasingly common especially at higher-end dine-in establishments.

Salads - A basic slate of salads are a must-have for any pizzeria. Go-to classics like Greek, Caesar and Garden never go out of style, though this is an area of opportunity to experiment with on your menu.

Sandwiches - At pizzerias working primarily on takeout and delivery, subs are a staple. Hot offerings like chicken and eggplant parm, meatball, and steak and cheese are standard; others add cold cut offerings to the roster too.

Desserts - Dessert offerings at pizzerias are most often associated with dine-in establishments. Italian classics like Tiramisu and gelato are common, as are crowd-pleasers like cheesecake and ice cream.

Drinks - Beverage offerings are heavily influenced by dining format. At takeout pizza spots, sodas and other bottled drinks are almost always on offer for grab and go. At dine-in pizzerias, beer, wine, and full bars are popular pairings.
Restaurant Menu Templates
Use these menu templates as a starting point for your menu design or to give your menus a refresh.
Download
9. Find your pizzeria inventory supplier
Now that you have determined your menu items — in addition to the ingredients and materials you'll need to make them — you can begin purchasing your inventory. Of course, first you'll need to decide where you'll be purchasing your supplies from.
There are many food industry wholesale platforms that you can use for your inventory. Additionally, depending on your location, you'll be able to find a collection of local retailers from which to obtain your products.
Wherever you decide to get your inventory from, it's always a good idea to take your time reading reviews and chatting with your peers about potential suppliers. Overcoming supplier delays and miscommunications can be a real hassle for pizzerias, especially when they are just getting started establishing themselves. To avoid inventory hassles, partner with a supplier who you trust and respect.
Remember to continuously track your inventory shipments using restaurant inventory management software and create a backup plan to account for any delays. At this stage, you can also implement a restaurant accounting system to track bookkeeping and help identify areas for financial optimization.
10. Invest in the proper technology and pizzeria point of sale system
You're getting closer! With a business plan, location, and equipment in place you're ready to start considering your daily operations. This is where your technology needs come in. Although at its core pizza is dough, sauce, and cheese, getting every order right with the infinite customizations customers expect can be a challenge. A POS system that can accommodate the complexity of pizza menus is essential to how to run a successful pizza shop. Look for a pizza POS that can deliver the following:
Dynamic toppings pricing based on size (e.g. sausage is $1 on a small pizza, $2 on a large)

The flexibility to run promotions, discounts, and coupon codes

Commission-free online ordering

Curbside pickup capabilities

Kitchen display screens

Guest loyalty and rewards programs

Delivery

3rd party delivery integrations
Pizza POS Comparison Tool
A free, customizable Pizza POS Comparison Tool to research and compare point of sale systems in one Excel spreadsheet or editable PDF.
Download
11. Craft your pizzeria design and atmosphere
With a thorough restaurant business plan and vision, you'll now need to design a restaurant floor plan and layout that will align with your pizzeria business goals. As an owner, your passion for the craft and your story will influence the design and atmosphere of your pizzeria.
The goal is to make your pizzeria into a place where customers can feel comfortable and welcome, a warm space that offers tasty delights and an inviting atmosphere.
What should your pizzeria floor plan include?
When designing your restaurant layout, keep these elements in mind:
The kitchen

Large pizza making equipment like pizza ovens, fryers, mixers, etc.

Tables and chairs

The counter, if you're a counter service pizzeria

Restrooms

Windows

Doors

Exits
12. Hire your pizzeria team and management
Recruiting, hiring, and managing your crew is one of the most important activities for any pizzeria owner. It can also be the most daunting. To tackle, break the task down into the following steps:
Work with a lawyer or accountant to get the wheels moving - For legal tasks including, but not limited to, securing an EIN (Employer Identification Number), registering with the labor department, signing up for worker's comp insurance, and setting up payroll, consider working with a lawyer and/or accountant to make sure you get everything done according to your state's regulations.

Define the positions you need - No matter your service model, you'll need someone making the pies. Other BOH positions could include prep cooks, line cooks, and dishwashers. If you'll be full service you'll need servers and hosts, and bartenders if you're offering alcohol.

Find great people - This is the hard part. Competition for restaurant labor is fierce and it's an industry with a notoriously high turnover rate. Hook people with a well-written job description and highlight why joining your team will be worth their while. Spotlight compensation and perks you can offer like vacation, healthcare benefits, and meal discounts.

Design a training program - With a bit of upfront effort you can design an onboarding experience that will excite new team members and put in place a turnkey process for future hires. Achieve this with an Employee Handbook. Here's a free template to get you started.

Prioritize a retention plan - It takes a lot of effort to hire a great employee. Don't squander it by failing to consider why they should stick around. Like other workers, restaurant staff are loyal to employers who consider their happiness, show a commitment to work-life balance, extend growth opportunities, and pay them fairly.
Pizza time!
Once you've gone through all these steps, you'll be well on your way to running the pizzeria of your dreams. With great pizza, great people, and a great location, your guests will be clamoring for more.
Related Pizzeria Resources
Restaurant Business Plan Template
No matter where you're at in your restaurant ownership journey, a business plan will be your north star. Organize your vision and ensure that nothing is overlooked with this free template.
Download