So, you're considering opening a pizza shop? No neighborhood is complete without one. And, with 83% of Americans eating pizza at least once a month, it's one of the most failsafe paths in hospitality. In fact, pizzerias have the lowest closure rates across all restaurant categories, according to primary research conducted by Toast in 2020. Opening up a pizzeria entails many of the same steps as opening any restaurant. In this guide you'll find play by play instructions for how to start a pizza shop so you can become your community's go-to spot.
Create a Pizza Business Plan
As with any restaurant, your first step is to draft a business plan. This is the game plan that'll take you from pie-in-the-sky idea to opening day. Creating a business plan will not only help you get organized, it'll also serve as your primary tool for communicating your vision to partners, investors, and other stakeholders needed to get your concept off the ground. Here are the key elements to include:
Executive Summary: Hook your reader and give them the TL;DR version of what they'll find inside.

Company Overview: Break down the basics of ownership structure, location, type of pizza concept, and introduce your brand. What type of experience are you looking to deliver?

Industry Analysis: Detail the gap you'll be filling in your market with an analysis of your target market, your chosen location, and nearby competition. If your city already has a dozen pizzerias, what special element is your concept bringing to the table?

Marketing Plan: If you build it they will come, right? Not so fast. A solid understanding of how you plan to entice guests and keep them coming back is essential at this stage.

Operations Plan: Get down to brass tacks in this section by laying out your policies and procedures, staffing needs, technology needs, and anticipated suppliers.

Financial Analysis: Last but not least you need a roadmap for how you'll fund your opening and manage finances going forward. Include here an investment plan, a projected P&L statement, cash flow projections, and a break-even analysis.
For additional guidance and templates to get started head to How to Build a Restaurant Business Plan.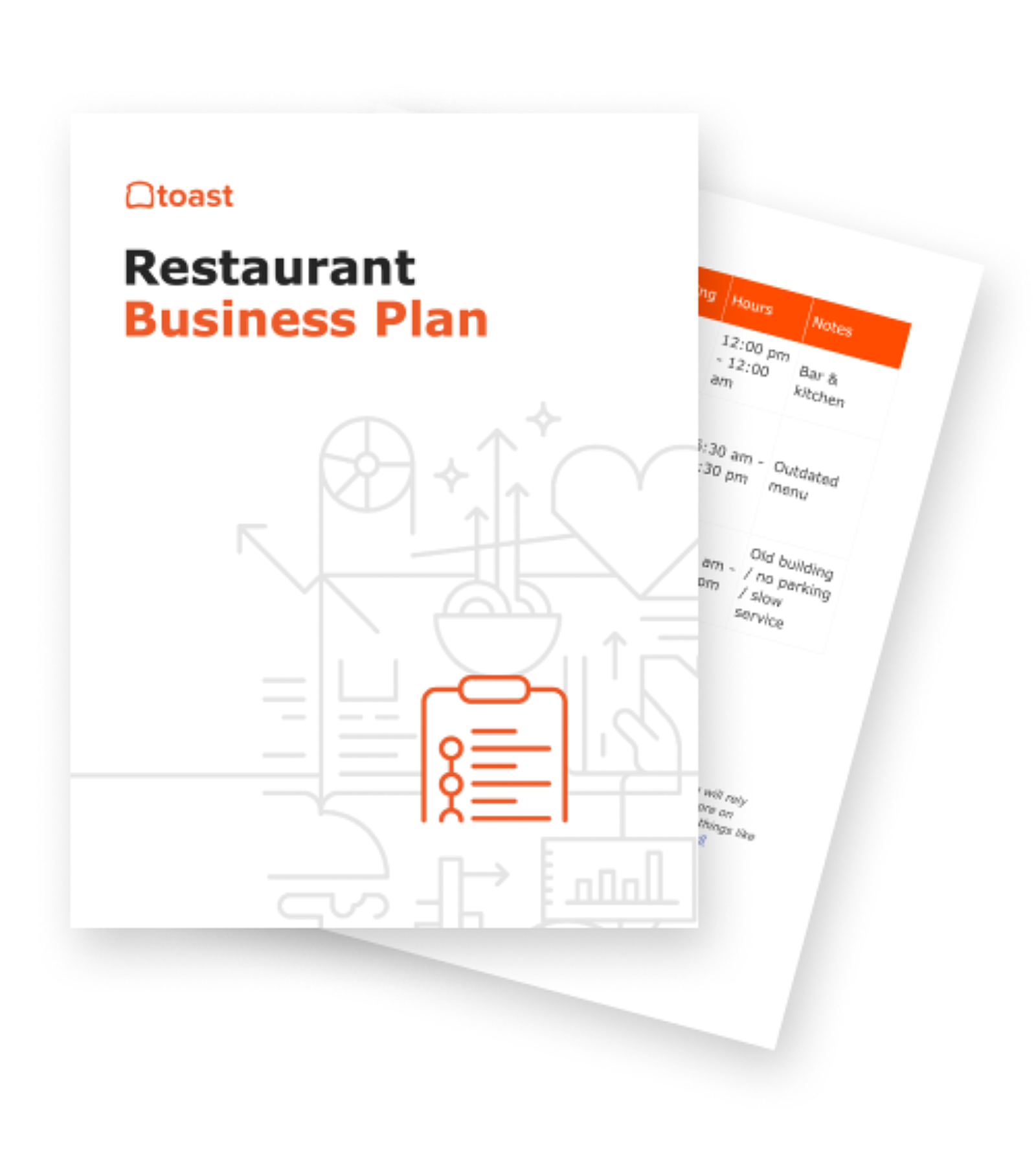 Restaurant Business Plan Template
No matter where you're at in your restaurant ownership journey, a business plan will be your north star. Organize your vision and ensure that nothing is overlooked with this free template.
Download
Decide On Your Pizza Shop Style
Pizza concepts run the gamut, from neighborhood house-of-pizza takeout joints to high-end full service operations with wood-burning ovens sourced overseas. Determining where you fall along the spectrum and the dining options you'll provide are an essential step at this stage. Here are different formats and service options to consider:
Full Service Pizzeria - Pizza lends itself well to dine in, especially when paired with a bar. It's communal food that's a good fit for big groups, events, and celebrations. If you're going full service, consider whether you'll have TVs to cater to the sports crowd or if you'll offer a higher-end experience.

Takeout Pizzeria - Pizza is classic takeout food. It's relatively inexpensive, customizable, and travels well. Even if your pizzeria is full service, it's a good idea to offer takeout. Customers expect it.

Delivery Pizzeria - If you plan to offer delivery, consider whether you'll staff in-house drivers or outsource to a third party.

Food Truck Pizzeria- Mobile pizzerias have caught fire in recent years and for good reason - they're a great fit for business districts, college towns, and events like weddings and festivals. Consider the special licenses and permits you'll need if you go this route.

Ghost Kitchen Pizzeria - A concept that grew in popularity during the pandemic, ghost kitchens dish up food exclusively for online ordering and delivery. There's no storefront for guests to visit - and none of the associated costs along with it.
Create Your Pizzeria Menu
Will your pizzeria be slinging old-school deep-dish, Detroit, or New York-style pies? Perhaps artisan, wood-fired pizza like they make in Italy is more your speed. Designing your pizza menu starts with the style(s) of pizza you'll be offering. From there, add flavor with apps, salads, sides, and more.
Pizza Style - Zero in on the type of pies you'll be known for. Your choices here will impact who wants to buy your pizza, as well as your equipment and supplier needs, too.

Appetizers - Traditionally pizza menu starters include items like breadsticks, chicken wings, meatballs, garlic knots, and mozzarella sticks. More modern selections like antipasto plates, soups, and raw bar selections are increasingly common especially at higher-end dine-in establishments.

Salads - A basic slate of salads are a must-have for any pizzeria. Go-to classics like Greek, Caesar and Garden never go out of style, though this is an area of opportunity to experiment with on your menu.

Sandwiches - At pizzerias working primarily on takeout and delivery, subs are a staple. Hot offerings like chicken and eggplant parm, meatball, and steak and cheese are standard; others add cold cut offerings to the roster too.

Desserts - Dessert offerings at pizzerias are most often associated with dine-in establishments. Italian classics like Tiramisu and gelato are common, as are crowd-pleasers like cheesecake and ice cream.

Drinks - Beverage offerings are heavily influenced by dining format. At takeout pizza spots, sodas and other bottled drinks are almost always on offer for grab and go. At dine-in pizzerias, beer, wine, and full bars are popular pairings.
Need help navigating menu creation and design? Check out Toast's menu engineering course.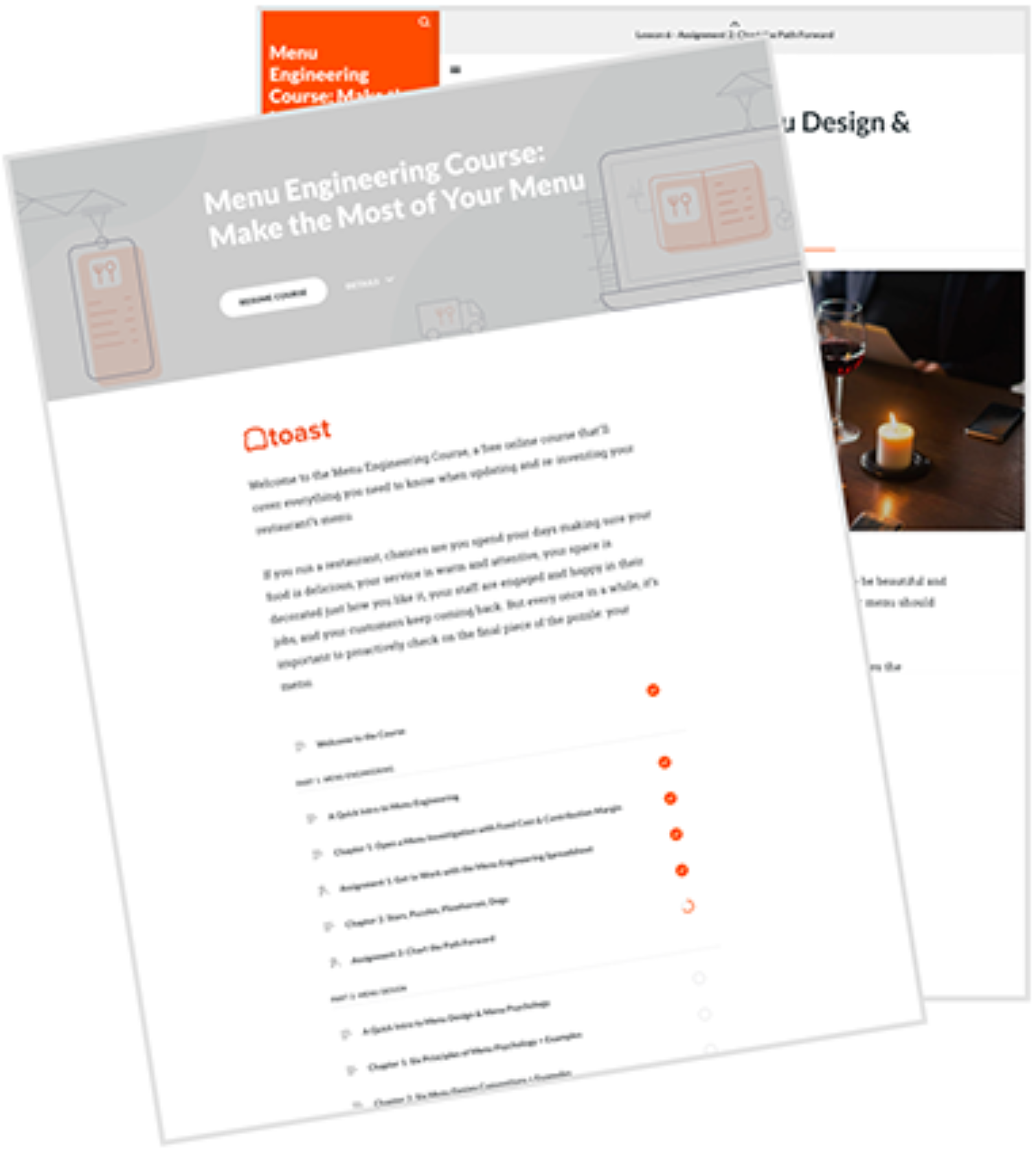 Menu Engineering Course
Take this course to make the most of your menu. Learn about menu psychology and design, managing your menu online, and adapting your menu to increase sales.
Download
Choose the Ideal Business Location
When considering how to open a pizzeria, location may have the biggest potential impact on your bottom line. Is the market already saturated? Is there a lot of foot traffic? Is it near destinations or landmarks like a college campus or sporting venue? These are all questions you need to consider when scouting a location. Even the best pizza can have trouble overcoming a crummy location. Use this checklist to evaluate your options:
Identify your ideal customer - Describe your buyer in as much detail as possible: Hungry college kids looking for late-night fuel? Concert-going tourists visiting the theater district? With a clear image defined, you can better target your offerings.

Evaluate Your Competition - Who's already set up shop where you intend to be and how does business look for them?

Select Your Site - When you've zeroed in on a general area, look for properties that meet your size and capacity needs. Consider the area's foot traffic and if it's an existing build, how the previous tenant fared.

Partner with Professionals - An experienced commercial real estate agent will save you legwork in your search and also help you navigate the (often byzantine) licenses and permits you need to secure to open.
Check out this article for more tips on restaurant real estate.
Purchase Your Pizza Shop Equipment
Like any restaurant, your pizza shop will need ovens, ranges and ventilation, food prep counters, freezers and refrigerators, storage racks and shelving, sinks, and safety equipment. Depending on the style of pizza you're making, you may also consider specialized equipment like dough mixers, pizza peels and paddles, wood-fired pizza ovens, cappuccino and espresso machines, and industrial can openers.
Find our ultimate restaurant equipment checklist here.
---
Read this next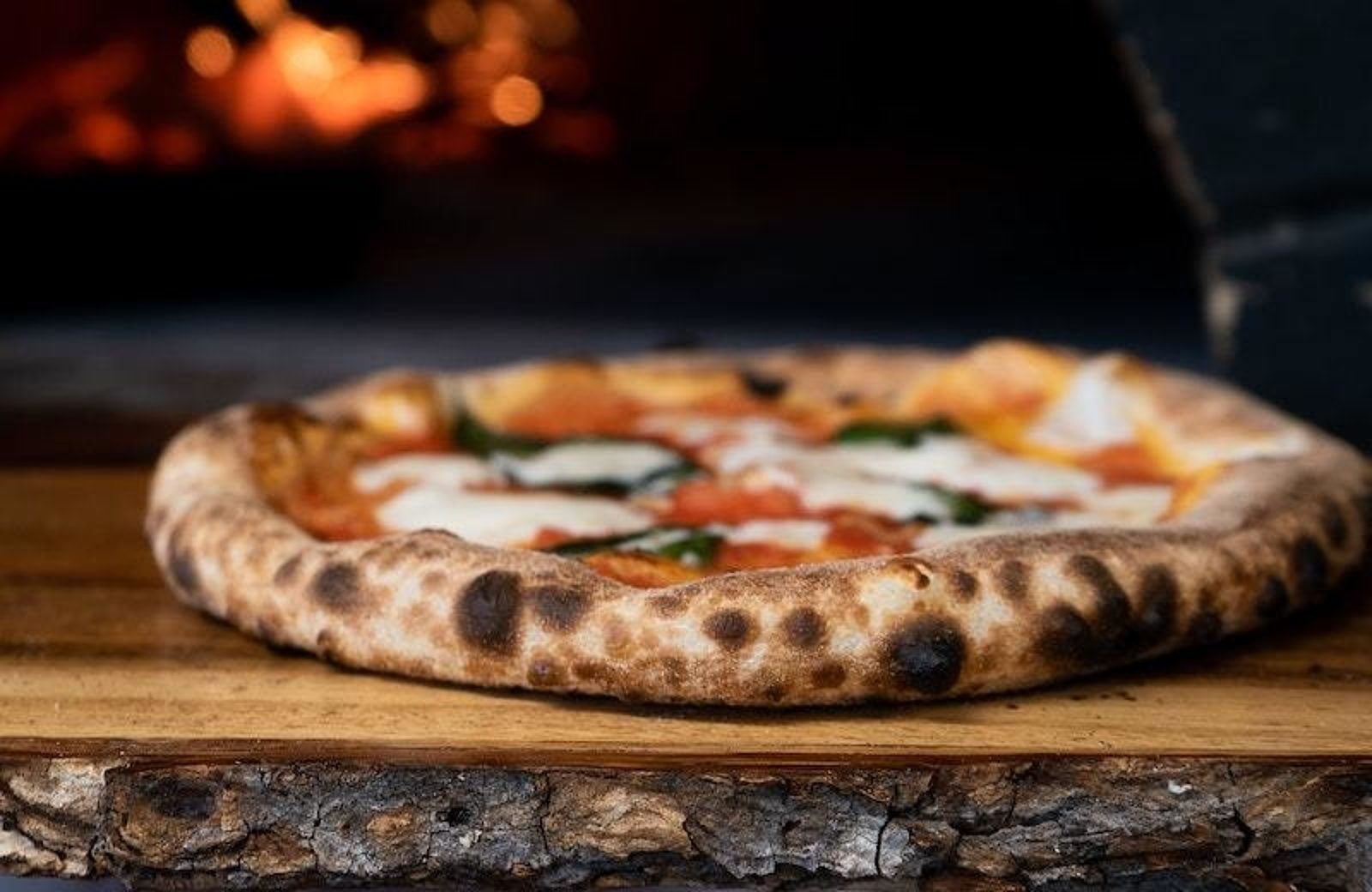 What Pizzeria Supplies Are Needed for Business?
Looking to start a pizzeria? Learn about the pizzeria supplies and equipment needed to start your own pizza business.
Buy the Proper Technology
You're getting closer! With a business plan, location, and equipment in place you're ready to start considering your daily operations. This is where your technology needs come in. Although at its core pizza is dough, sauce, and cheese, getting every order right with the infinite customizations customers expect can be a challenge. A POS system that can accommodate the complexity of pizza menus is essential to how to run a successful pizza shop. Look for a pizza POS that can deliver the following:
Dynamic toppings pricing based on size (e.g. sausage is $1 on a small pizza, $2 on a large)

The flexibility to run promotions, discounts, and coupon codes

Commission-free online ordering

Curbside pickup capabilities

Kitchen display screens

Guest loyalty and rewards programs

Delivery

3rd party delivery integrations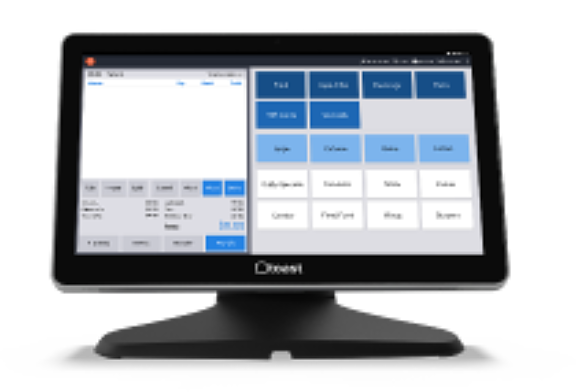 Learn how a better point of sale system can help you run your restaurant.
Read now
Hire Your Pizza Shop Team
Recruiting, hiring, and managing your crew is one of the most important activities for any pizzeria owner. It can also be the most daunting. To tackle, break the task down into the following steps:
Work with a lawyer or accountant to get the wheels moving - For legal tasks including, but not limited to, securing an EIN (Employer Identification Number), registering with the labor department, signing up for worker's comp insurance, and setting up payroll, consider working with a lawyer and/or accountant to make sure you get everything done according to your state's regulations.

Define the positions you need - No matter your service model, you'll need someone making the pies. Other BOH positions could include prep cooks, line cooks, and dishwashers. If you'll be full service you'll need servers and hosts, and bartenders if you're offering alcohol.

Find great people - This is the hard part. Competition for restaurant labor is fierce and it's an industry with a notoriously high turnover rate. Hook people with a well-written job description and highlight why joining your team will be worth their while. Spotlight compensation and perks you can offer like vacation, healthcare benefits, and meal discounts.

Design a training program - With a bit of upfront effort you can design an onboarding experience that will excite new team members and put in place a turnkey process for future hires. Achieve this with an Employee Handbook. Here's a free template to get you started.

Prioritize a retention plan - It takes a lot of effort to hire a great employee. Don't squander it by failing to consider why they should stick around. Like other workers, restaurant staff are loyal to employers who consider their happiness, show a commitment to work-life balance, extend growth opportunities, and pay them fairly.
Check out our Complete Guide to Hiring and Managing Restaurant Staff for more tips and templates.
Pizza time!
Once you've gone through all these steps, you'll be well on your way to running the pizzeria of your dreams. With great pizza, great people, and a great location, your guests will be clamoring for more.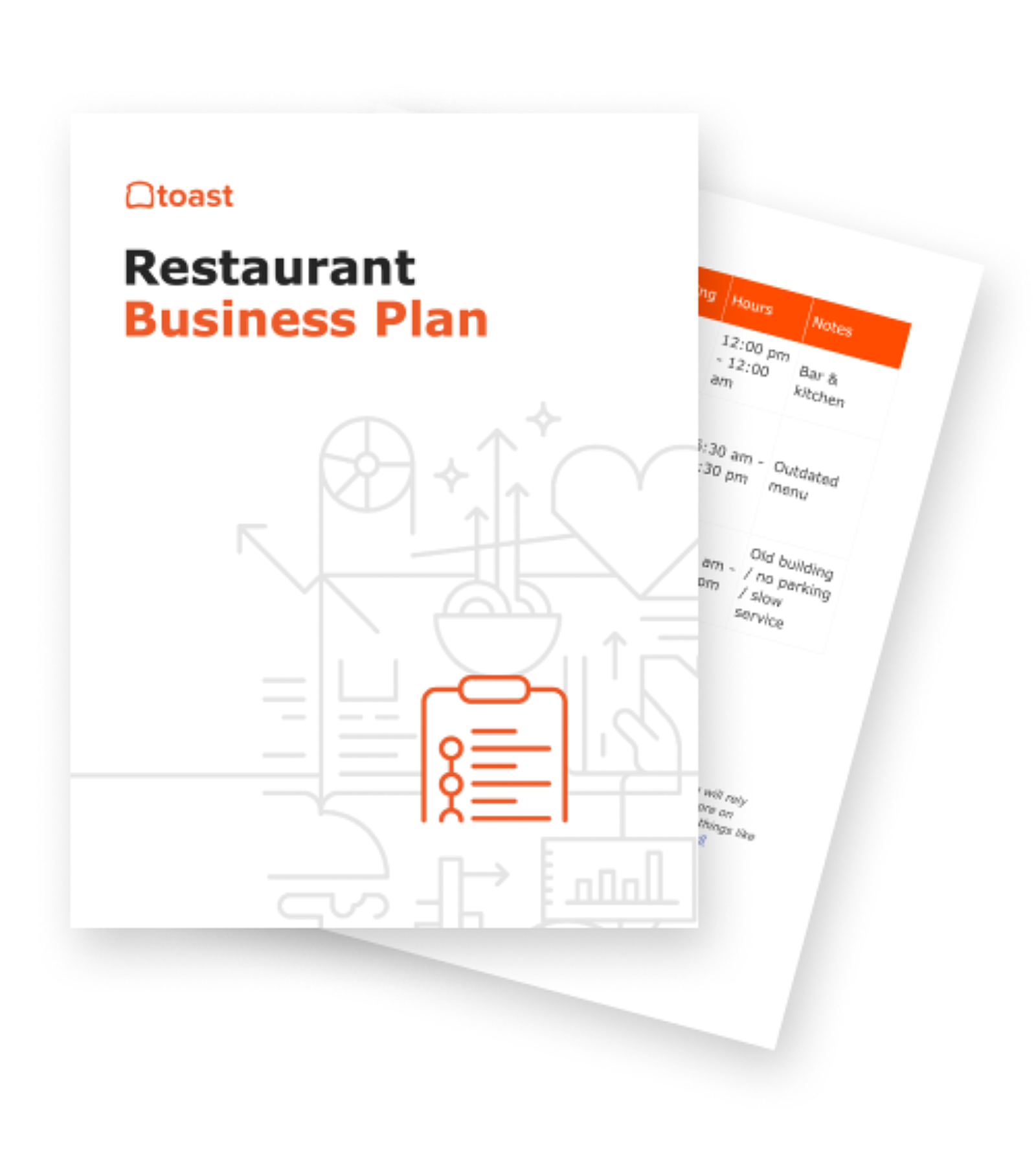 Restaurant Business Plan Template
No matter where you're at in your restaurant ownership journey, a business plan will be your north star. Organize your vision and ensure that nothing is overlooked with this free template.
Download