Resource
Restaurant Employee Handbook Template
A template to help you establish restaurant employee rules and build your own custom Restaurant Employee Handbook.
---
What's Inside?
A Restaurant Employee Handbook Template
Instructions
Mission Statement & Core Values
Presentation & Workplace Behavior
Procedures & Emergencies
Pay & Benefits
Avoiding & Reporting Harassment
---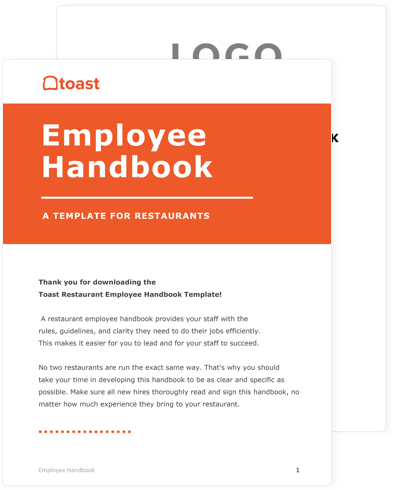 Staffing Issues Are the Biggest Challenge for Successful Restaurants
According to the Restaurant Success Report, more restaurateurs cite "staff training, hiring, and retaining" as the biggest challenge to their success.

With a turnover rate of 72.9% in the hospitality industry, staffing issues are an issue for restaurants. That's why clarity and positivity in the onboarding process are keys to well-informed and productive restaurant staff.

In this free template, we've made the task of writing your restaurant employee handbook as easy as filling in the blanks. Just enter your restaurant-specific policies in the given areas, and you'll be good to go.
Powered by Froala Editor