DISCLAIMER: This content is provided for informational purposes only and is not intended as legal, accounting, tax, HR, or other professional advice. You are responsible for your own compliance with laws and regulations. You should contact your attorney or other relevant advisor for advice specific to your circumstances.
Cost to Open a Pizza Shop
Pizza is a crowdpleaser — it's no wonder that pizza is the go-to option for everything from lazy days on the couch, to birthday parties, to sporting events. If you're thinking about starting your own pizzeria, it's important to dig into how much money you'll need available to do so.
To assess the cost to open a pizza shop, you'll have to consider many different factors — some that any restaurant would deal with, and a few others that are specific to pizzerias.
Will you open an independent shop, or become a franchisee? Are you building from scratch, or taking over an existing pizza shop? No matter what route you take, you'll need to build out a business plan and a budget so that you can start thinking about assembling the right restaurant startup costs you need to hit the ground running.
Pizza POS Comparison Tool
A free, customizable Pizza POS Comparison Tool to research and compare point of sale systems in one Excel spreadsheet or editable PDF.
Get free download
How Much Does It Cost to Open a Pizza Shop?
Like any other restaurant, the cost of setting up a pizza shop can vary widely — starting from around $95,000 to a whopping $2,000,000 and up. As with many restaurant concepts, building the pizza shop of your dreams comes down to your budget and your business plan.
Restaurant Business Plan Template
No matter where you're at in your restaurant ownership journey, a business plan will be your north star. Organize your vision and ensure that nothing is overlooked with this free template.
Get free download
5 Pizzeria Startup Costs to Know
Location Costs
Your location costs to open a pizza shop will vary based on the city, state, and type of location you're looking at, but the cost for a location can be roughly $100-$800 per square foot. There's a lot of variation in this range — and that's because the type of restaurant you decide to invest in matters. Consider the size, concept, materials, accessibility features, proximity to a major city, and interior furnishings as well.
Here are three other factors in considering the cost to open a pizza shop, each with its own benefits and drawbacks:
Are you building and investing in new construction for your pizza shop? This option gives you the most flexibility in designing exactly what you want but is the most costly.

Will you purchase a pizza shop that already exists? This may lower the cost of your location expense, and you likely will need to purchase less equipment to get running. However, this option provides the least flexibility in terms of customization.

Will you purchase an existing commercial space, then convert it into a pizza shop? Depending on your budget, this could be the sweet spot where you get the advantages of a commercial space, with the option to build out with some customization.
If you decide to lease a space, be prepared to pay anywhere from a few thousand to upwards of $11,000 for a lease security deposit.
No matter where you decide to set up your pizza shop, the location should be easily accessible and visible, with either high foot traffic or ample parking if possible.
Check out this article to learn more about restaurant real estate.
Marketing Costs
Marketing is a major component in the cost to open a pizza shop — and it varies depending on whether you decide to hire an agency or go the DIY route. There are many ways to market your pizza shop, using more traditional methods like broadcasting, newspapers, magazines, and radio to newer outlets like social media. While social media is by far the most popular (and least expensive option), costs can add up once you add in targeted advertisements.
Public relations agencies may offer you more channels to advertise on and manage your social media accounts, but they are the most expensive. However, keep in mind that marketing your pizza shop is a continual process, and you'll need to budget accordingly.
The cost of marketing has the most variability, depending on your goals. The SBA recommends that when you're starting out, it's prudent to spend between 2% and 3% of your sales on marketing to keep the customers coming in. Then, you can ramp up to up to 10-12% of your sales, if you're going for bigger brand awareness plays or working with an agency.
Administrative Costs
In order to operate your pizza shop legally, you'll need to obtain licenses, health, and compliance permits, insurance, and pay any applicable fees — usually totaling around $1000, but it can be significantly more depending on your state, so do your research. Ideally, you'll also want to hire a lawyer to review all contracts and ensure that your shop is legally compliant and not incurring unnecessary liabilities — this will add significant costs up front, but can be very helpful in the long run by preventing any issues.
In addition to licenses, permits, and legal fees, factor in the cost of getting utilities. On average, every year a restaurant will spend $2.90 per square foot for electricity and $0.85 for gas. Then throw in the variables of water, internet service, and trash removal, which can vary significantly by region.
Staff Costs
You'll also want to factor in staff payments in the cost of setting up a pizza shop. Of course, you'll want to be aware of your expected labor costs and what kind of staff you'll need, from prep cooks and dishwashers to line cooks and servers (if you're a sit-down pizzeria). But also do consider that many team members will have to join you well before your grand opening. For example, to hire a manager, budget around $50,000 a year for their salary, including the amount that you'll be paying them even before you open your doors.
---
Read this next
Equipment and Inventory Costs
Similar to scouting a location, you'll need to factor in the cost of setting up a pizza shop's equipment and ingredients. The most cost-effective solution is to use existing equipment from a pizza shop that already exists. However, depending on whether you're starting from the ground up, budget anywhere from $50,000-$150,000 for kitchen equipment. You can also buy used restaurant equipment from Facebook Marketplace at great discounts!
Here's a list of some essential pizza shop equipment you'll need - for the full list of restaurant supplies, check out our guide to restaurant equipment.
Pizza oven (if you're specializing in artisanal pizzas, you may want to budget more for an authentic wood-fired oven, but many conventional pizza shops use brick, electric, or gas ovens)

Dough mixers and rollers

Commercial dishwasher and fridge

Canopy/hood

Pizza delivery system for deliveries (if you're adding delivery services)

Assorted pizza trays

Fryers

Workstations

Utensils and accessories
Keep in mind that your actual food costs — flour, cheese, yeasts, vegetables, and meats — are often cheaper than other types of restaurants. If you're considering adding vegan or gluten-free options, budget more for your food costs.
Also, many pizza shops also offer supplemental menu items like salads, pasta, and desserts, so you'll likely want to add those items to your menu. While the cost of food varies significantly depending on size and menu offerings, budget about $30,000-$50,000 for your initial food costs.
Finally, you'll have to choose a POS (point-of-sale) system, which allows you to keep tabs on inventory and orders and collect payments. Look into a POS that has special functionalities for pizzerias, like the ability to account for toppings and increased delivery volume.
Related Pizzeria Resources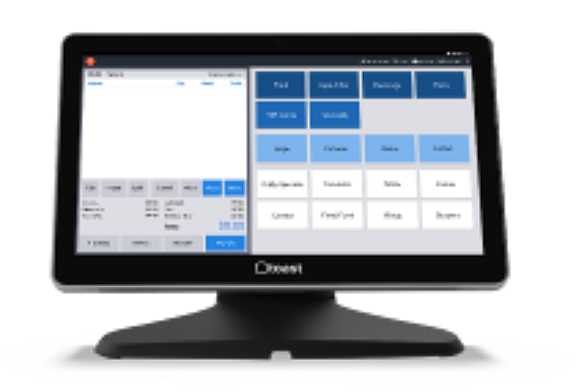 Learn how a better point of sale system can help you run your restaurant.
Read now